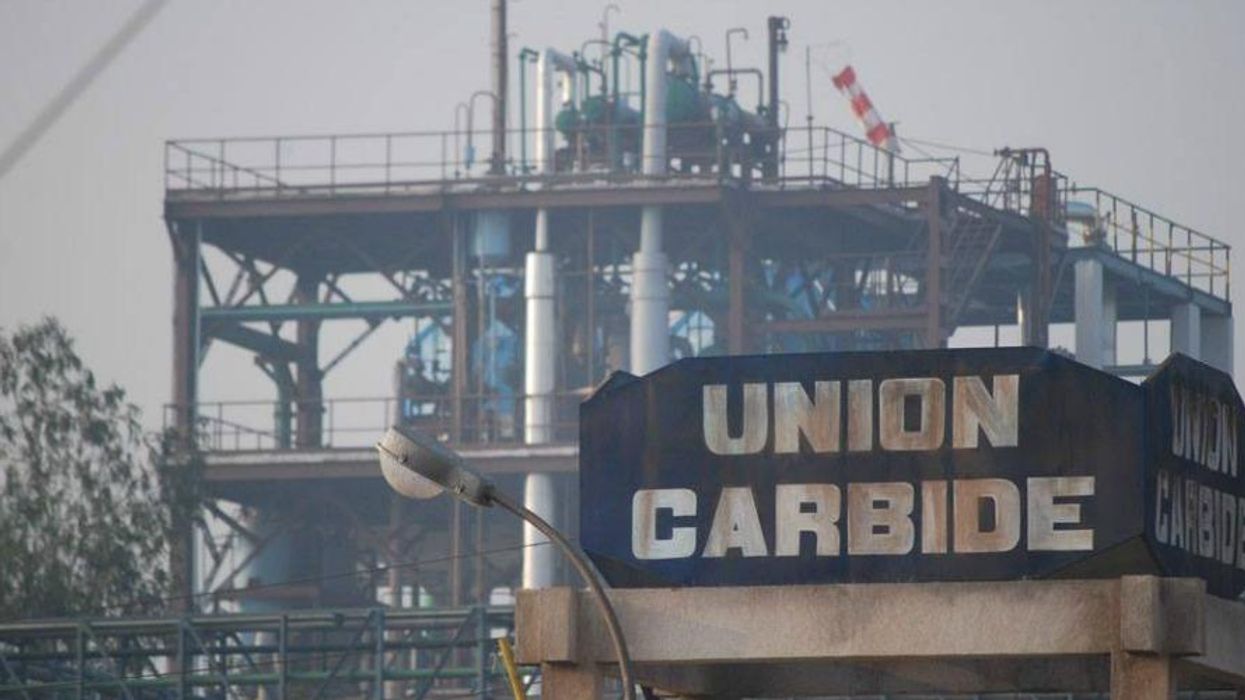 'This was not an unavoidable accident,' says Martin Sheen
A new film puts the spotlight on the disaster dubbed the Hiroshima of the chemical industry.
In December 1984, a cloud of toxic gas leaked from a Union Carbide pesticide plant in Bhopal, India, killing nearly 20,000 people and injuring tens of thousands more. It has been called a "calamity without end," as the disaster left a haunting legacy of polluted soil and water, and children who continue to be born with severe birth defects.
On Friday, just weeks ahead of the 30th anniversary of the disaster, the film Bhopal: A Prayer for Rain, which takes a fictionalized look at the events that led up to the infamous events, opens. The film stars acclaimed actor Martin Sheen as Warren Anderson, then-CEO of Union Carbide.
Sheen has partnered with Amnesty International to call for Union Carbide--now a wholly owned subsidiary of Dow Chemical--to be held responsible.
Amnesty International told (pdf) the UN Human Rights Council earlier this year: "The Bhopal disaster is a case study for so far unsuccessful attempts to obtain effective remedies for a gross corporate abuse of human rights."
In a video for the human rights group, Sheen stresses how Bhopal victims have spent decades searching for justice.
"Bhopal is not just a human rights tragedy from the last century," Sheen says in the video. "It is a human rights travesty today."
"This was not an unavoidable accident," he says. "There is evidence that the companies responsible for the factory site failed to take adequate precautions both before and after the leak."
"Those who survived have faced long-term health problems, but receive little medical help. For 30 years the survivors of Bhopal have campaigned for justice, for fair compensation, health care and for Union Carbide, now owned by Dow Chemicals, to be held to account," he continues.
As human rights advocates Bill Quigley and Alex Tuscano have summed up: "Union Carbide put profit for the corporation above the lives and health of millions of people."
Anderson, though arrested day after the disaster, left on bail and returned to the United States. He died in September. Advocates for Bhopal victims say he died unpunished for his crimes.
Dow, which has denied responsibility for victims of the disaster, faces a November 12 court date in Bhopal.
"The time has come for Dow to appear in an Indian court and account for the failure of its wholly-owned subsidiary, Union Carbide, to respond to the criminal charges against it," Audrey Gaughran, Amnesty International's Director for Global Issues, said in a statement.
A trailer for the film, which also stars Mischa Barton and Kal Penn, is below:
BHOPAL A PRAYER FOR RAIN | Official Trailer | Kal Penn, Mischa Barton, Martin SheenThe official trailer of the much anticipated movie 'Bhopal A Prayer For Rain' starring for the first time Mischa Barton, Kal Penn and ...
News