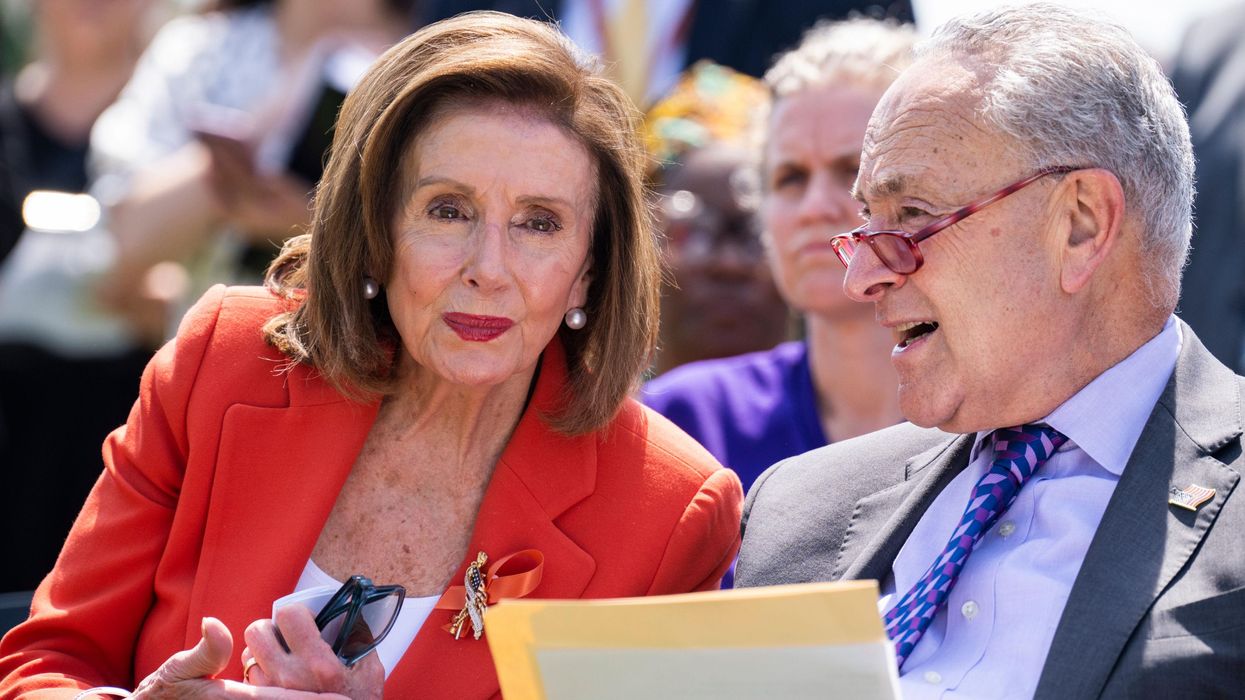 "We cannot sit by idly and watch our government advance policies that will quite literally fan the flames of the climate crisis, which is already threatening humanity."
More than 400 scientists and health professionals on Thursday demanded top Democrats in Congress block Sen. Joe Manchin's federal permitting legislation that would fast-track more fossil fuel projects, exacerbating the climate emergency.
"Scientists who document the evidence for harm and health professionals who treat the harm are now speaking out with one voice."
The experts delivered a letter to House Speaker Nancy Pelosi (D-Calif.) and Senate Majority Leader Chuck Schumer (D-N.Y.) the morning after Manchin (D-W.Va.) unveiled the full text of his Energy Independence and Security Act, which one campaigner called "even more reckless and dangerous than previous drafts."
While according toThe Hill, the legislation "is on life support" given Republicans are backing an alternate bill led by Sen. Shelley Moore Capito (R-W.Va.), she is also reportedly supportive of Manchin's version and Schumer--who secured the right-wing Democrat's vote for the Inflation Reduction Act by promising to push through permitting reforms--plans to pair the "dirty deal" measure with a funding resolution that must pass this month to avert a government shutdown.
A growing number of progressives in the House and Senate are pushing Democratic leadership to decouple the measures--a demand echoed in the letter, which tells Pelosi and Schumer: "You have the power to untether this wrongheaded legislation from the continuing resolution and prevent it from moving forward. Please find the courage."
The letter was spearheaded by Sandra Steingraber of the Science and Environmental Health Network and circulated with help from the advocacy group Food & Water Watch--whose executive director, Wenonah Hauter, said Wednesday that the Manchin bill "is little more than a shameless handout to the fossil fuel industry--a green light for oil and gas companies to keep on digging, drilling, fracking, and polluting."
\u201cNEW: Today we delivered a letter from 400+ scientists & health professionals calling on @SpeakerPelosi & @SenSchumer to reject the energy permitting reform bill released by Senator Joe Manchin yesterday. #StopTheDirtyDeal\n\nRead the full letter here: https://t.co/6Ip4SO1pzH\u201d

— Food & Water Watch (@Food & Water Watch) 1663857671
"The climate crisis is a public health crisis, with people living on the frontlines of oil and gas extraction suffering the most. Scientists who document the evidence for harm and health professionals who treat the harm are now speaking out with one voice," Steingraber said in a statement.
Initial signatories to the letter were the climate and health leaders Robert Howarth, Katie Huffling, Mark Jacobson, Peter Kalmus, Dr. Philip Landrigan, Michael Mann, Barbara Sattler, Dr. Ted Schettler, and Farhana Sultana.
"Having spent more than 50 years working to protect children against health threats in the environment, I feel compelled to speak out against any political deal that would expose them to decades more pollution from fossil fuels," explained Landrigan, a pediatrician and director of a pair of programs at Boston College.
"Fossil fuel extraction harms prenatal development. Fossil fuel combustion causes prematurity, stillbirth, and asthma in children," the doctor noted. "The single, most effective strategy for protecting our children against these dangers is a rapid transition to clean, renewable energy and away from fossil fuels. The sooner the better."
The letter similarly stresses that fossil fuel projects like the Mountain Valley Pipeline (MVP), an incomplete fracked gas project in West Virginia and Virginia endorsed in Manchin's bill, "carry enormous risks to public health that include not only diverse widespread health impacts from an overheated climate but also direct harm to those living near them."
While endangering the health of frontline communities--which, in the United States, disproportionately include low-income workers and people of color--extracting and burning fossil fuels warms the entire planet and causes "extreme heat, catastrophic flooding, widespread drought, rising seas, collapsing ice shelves, and failing crops," the letter highlights.
"We cannot sit by idly and watch our government advance policies that will quite literally fan the flames of the climate crisis, which is already threatening humanity," the experts wrote to Pelosi and Schumer. "You both have spoken eloquently about climate change and the need for bold action. We have heard you affirm the necessity of science for policymaking and the importance of listening to scientists for guidance."
"We are those scientists. And we are the doctors and nurses who take care of those harmed by this unfolding crisis," they continued. "Speaking together, we urge you in the strongest possible terms to reject this attempt to force through legislation that weakens our bedrock environmental laws and fast-tracks ill-conceived fossil fuel ventures."
Meanwhile, climate and environmental justice campaigners on Thursday reiterated their opposition to Manchin's legislation, along with the competing GOP proposal, and demanded a clean energy transition.
"This bill assumes that building more infrastructure is the goal. It's not," said Matt Casale, U.S. PIRG's environment campaigns director. "To ensure clean air, safe drinking water and to tackle climate-warming emissions, we don't just need more infrastructure, we need the right infrastructure."
Several leaders of environmental groups were arrested Thursday at the U.S. Senate office building in Washington, D.C. to show their determination to kill the Manchin deal.
\u201c\ud83d\udea8\ud83d\udea8 BREAKING: Greenpeace USA co-Executive Director @Ebony_4_Justice and E.D.'s of over 10 envirojustice orgs are protesting & risking arrest at the Senate to denounce @Sen_JoeManchin and @SenSchumer\u2019s #DirtyDeal! \n\nTake action: https://t.co/eXz4ynFwmZ\u201d

— Greenpeace USA (@Greenpeace USA) 1663865161
Union of Concerned Scientists president Johanna Chao Kreilick emphasized that "this proposal includes a slew of changes long pushed by polluting industries. It would allow projects to be approved with little to no public input or analysis of how the project could harm public health and the environment."
"Exhibit A: the Mountain Valley Pipeline project," she said, arguing that "scientific assessments and public input should underpin projects, not the profit motives of fossil fuel companies."
Kreilick and others are calling on Congress to instead focus on passing the Environmental Justice for All Act, which is sponsored by House Natural Resources Committee Chair Raul Grijalva (D-Ariz.), who last week led a letter urging Democratic leaders to hold separate votes on the continuing resolution and Manchin's legislation.
"Sen. Manchin's dirty deal is a misguided wreck," declared Erik Schlenker-Goodrich, executive director of the Western Environmental Law Center. "To open new doors to a thriving, just, and equitable renewable energy future, we urge Congress to support a fair and meaningful dialogue with all stakeholders and to pass the Environmental Justice for All Act."
"We simply cannot let ourselves be tied to outdated ideas, advanced by fossil fuel interests, that the systematic sabotage of crucial bedrock environmental safeguards is a solution," he added. "These reckless ideas will merely perpetuate the very problems that underlie the climate crisis we are now living through."
This post has been updated with reporting that Sen. Shelley Moore Capito will support Sen. Joe Manchin's bill.
News