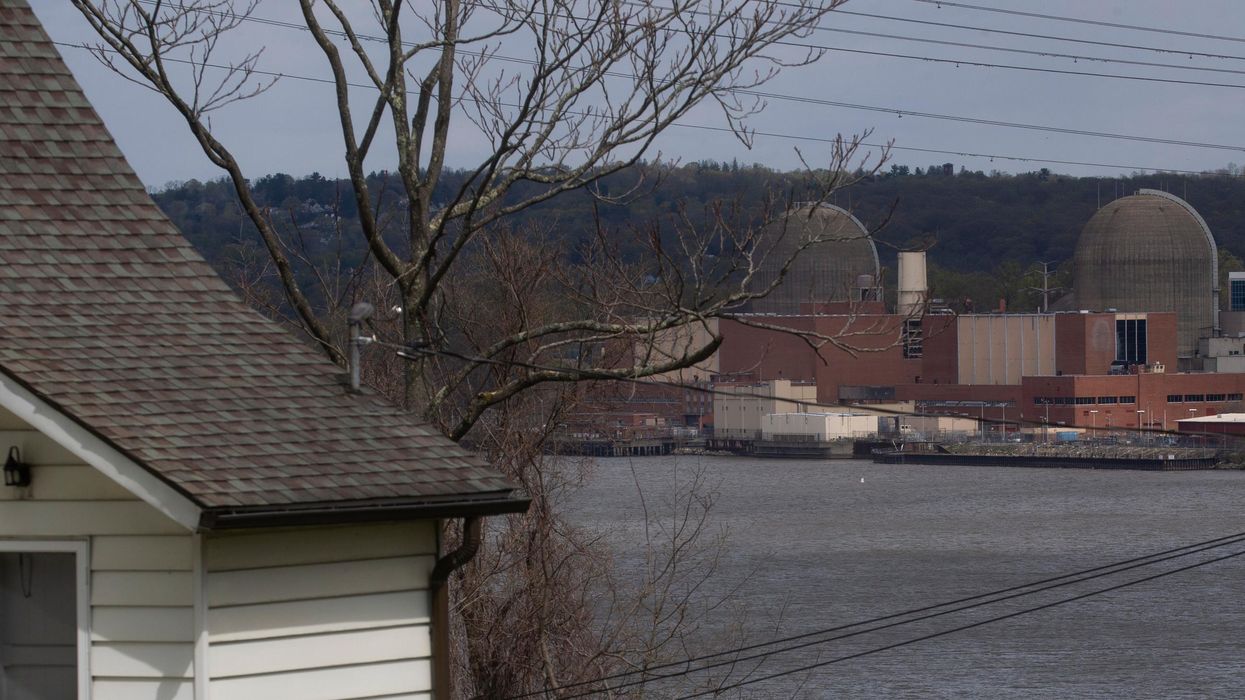 "Doctors know that there is no such thing as a safe dose of radiation, and that harmful impacts are cumulative," said the president of Physicians for Social Responsibility.
Two years after the closing of Indian Point Energy Center, a nuclear power plant in Buchanan, New York, public health experts and campaigners are warning that an energy technology company's plan to discharge one million gallons of wastewater from the plant's fuel-cooling pools into the Hudson River could harm at least 100,000 people who rely on the river for their drinking water.
Physicians for Social Responsibility (PSR) is among the groups sounding the alarm about radioactive contaminants, including the radioactive isotope tritium, which could be present in the treated water that Holtec International plans to release into the Hudson.
Spent fuel pools at the plant, which was decommissioned after decades of advocacy by anti-nuclear campaigners, have cooled radioactive fuel for more than 45 years, and health experts from PSR and other groups warned on Thursday at the first of several public forums that Holtec has not been transparent about the risks associated with the wastewater discharge plan.
"There has been no prior disclosure of what pollutants or radioactive contaminants are in the wastewater or any public education on the environmental safety and public health risks associated with any potential discharges from the site," said the groups in a statement.
The Hudson River is the primary drinking water source for seven cities and towns including Poughkeepsie, Rhinebeck, and Hyde Park, as well as the backup water source for other communities along the river.
"Since the Hudson is a tidal river, radioactive wastewater can affect communities all the way up to Poughkeepsie and down to Manhattan, Staten Island, and New Jersey," said Nancy S. Vann, president of the Safe Energy Rights Group, last year.

\u201cSince the Hudson is a tidal river, radioactive wastewater can affect communities all the way up to Poughkeepsie & down to Manhattan, Staten Island & New Jersey\n\nWater from the nuclear plant has already leaked into the river and dead & mutant fish were common when plant was active\u201d

— Nancy S Vann, Esq. (JD) (@Nancy S Vann, Esq. (JD)) 1649617375
Dr. Helen Caldicott, president of PSR, was among the experts who spoke at the forum on Thursday and warned that tritium poses risks for adults, children, and developing fetuses.
"It's highly carcinogenic, of course, it enters the fetus," she said at the meeting. "There's no way to remove tritium from the water."
Tritium has also been the subject of concern in Japan as officials prepare to release wastewater from the decommissioned Fukushima Daiichi nuclear power plant into the Pacific Ocean, with fishing communities and South Korean officials warning of potential harm to marine life.

Holtec International that told local outlet News 12 that during the 12-15 year process of decommissioning the plant, the discharge of the wastewater will be regulated by the U.S. Environmental Protection Agency and the U.S. Nuclear Regulatory Commission and will result in the presence of substances that "are typically indistinguishable from the natural radioactivity present in the environment."
Caldicott dismissed the company's claims.

"Physicists talk convincingly about 'permissible doses' of radiation," she said in a statement. "They consistently ignore internal emitters—radioactive elements from nuclear power plants that are ingested or inhaled into the body, giving very high doses to small volumes of cells. They focus instead on external radiation from sources outside the body."
"Doctors know that there is no such thing as a safe dose of radiation, and that harmful impacts are cumulative," Caldicott added. "Children are ten to twenty times more vulnerable to the deleterious effects of radiation than adults and little girls twice that of boys."
Also speaking at the forum on Thursday was Diane Turco, director of the grassroots group Cape Downwinders in Cape Cod, Massachusetts, where Holtec is also planning to discharge wastewater from Pilgrim Nuclear Power Station, another decommissioned facility.
"From California to Massachusetts to New York to Michigan to New Mexico, Indigenous and civil society groups are connecting in our efforts," said Turco. "Holtec has no right to dump radioactive wastewater into our waterways or radioactive waste into our communities."
The experts also raised concerns about the demolition activities taking place at Indian Point without efforts to mitigate the spread of radioactive dust and other airborne contaminants, even as Buchanan-Verplanck Elementary School stands less than 4,000 feet from the site and lacks air, water, and soil monitoring.

"Although a school air monitoring study has been under consideration, a Request for Proposal for an air monitoring program was only recently issued," said the experts. "Still, hundreds of students were allowed to return to the school this past September. Parents still lack critical information regarding emergency planning and preparedness, monitoring, and protections."
They noted that in 2019, a middle school in Piketon, Ohio was forced to close due to radioactive contamination from demolition projects at a nuclear enrichment facility less than two miles away.
"Independent expert analysis regarding potential health and environmental impacts from these exposures is imperative," said the experts.

Another public forum will be held at nearby Cortlandt Town Hall on February 3, according toNews 12.
News