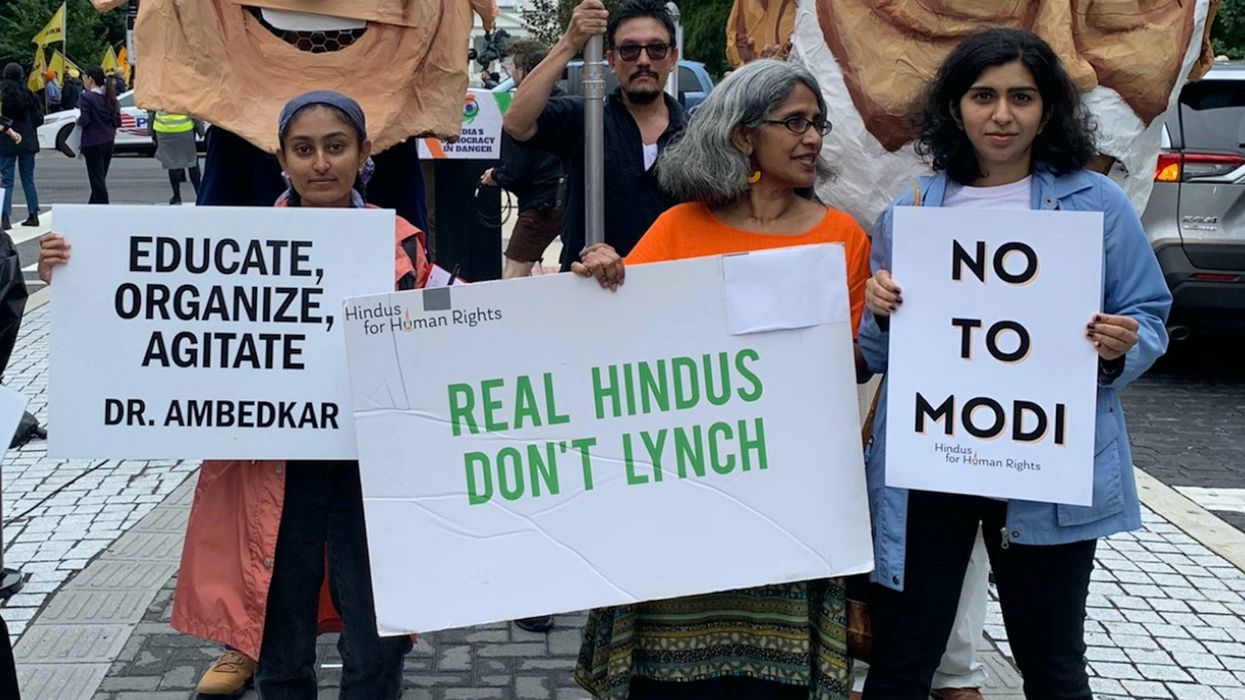 "A joint address is among the most prestigious invitations and honors the United States Congress can extend. We should not do so for individuals with deeply troubling human rights records."
As Indian Prime Minister Narendra Modi prepared to deliver a rare address by a foreign leader to a joint meeting of the U.S. Congress, progressive New York Congresswoman Alexandria Ocasio-Cortez on Wednesday joined other Democratic lawmakers in boycotting the right-wing leader's speech due to human rights violations perpetrated by his government.
Modi is set to be feted by President Joe Biden at a state dinner Thursday evening after speaking before Congress. The prime minister, who is the parliamentary leader of the ruling Bharatiya Janata Party (BJP), is a longtime adherent of Hindutva—literally, "Hindu-ness"—a political ideology critics say espouses Hindu supremacy and the transformation of secular India into ethno-nationalist state.
While many U.S. political and business leaders—including billionaire "fan" Elon Musk—welcomed the chance to meet with Modi, Ocasio-Cortez and at least six other House Democrats said they will not attend the prime minister's Capitol speech.

"I will be boycotting Prime Minister Modi's address to Congress tomorrow, and I encourage my colleagues who stand for pluralism, tolerance, and freedom of the press to join me in doing the same," Ocasio-Cortez said in a statement Wednesday evening.
Ocasio-Cortez explained:
In 2005, Narendra Modi was denied a U.S. visa because of his violations of religious freedom, including his complicity in an anti-Muslim riot that left over 1,000 dead. India currently ranks 161 out of 180 in the World Press Freedom Index—in part due to Modi's raids on BBC India's offices and his court challenges against a critical documentary. Additionally, a report from the U.S. Holocaust Museum found that India is at high risk for mass killings—the 8th most at risk of 162 countries studied.

A joint address is among the most prestigious invitations and honors the United States Congress can extend. We should not do so for individuals with deeply troubling human rights records—particularly for individuals whom our own State Department has concluded are engaged in systematic human rights abuses of religious minorities and caste-oppressed communities.
"It's shameful that Modi has been given a platform at our nation's capital—his long history of human rights abuses, anti-democratic actions, targeting Muslims and religious minorities, and censoring journalists is unacceptable," Tlaib tweeted on Tuesday.
Omar, meanwhile, is set to hold a briefing with human rights activists "to discuss Modi's record of repression and violence."
On Tuesday, Congressional Progressive Caucus Chair Pramila Jayapal (D-Wash.) and Sen. Chris Van Hollen (D-Md.) led a letter to Biden signed by scores of Democratic lawmakers urging the president to press Modi on upholding democracy and human rights.
Jayapal, however, plans to attend Modi's speech, as do the four other Indian-American members of Congress, all of them Democrats: Reps. Ami Bera (Calif.), Raja Krishnamoorthi (Ill.), Shri Thanedar (Mich.), and Ro Khanna (Calif.)—a staunch critic of Hindu nationalism who has come under fire for asking House Speaker Kevin McCarthy (R-Calif.) to invite the prime minister to address lawmakers.
Sen. Bernie Sanders (I-Vt.), who signed Jayapal and Van Hollen's letter, tweeted: "Prime Minister Modi's government has cracked down on the press and civil society, jailed political opponents, and pushed an aggressive Hindu nationalism that leaves little space for India's religious minorities. President Biden should raise these facts in his meeting with Modi."
Human rights groups are also speaking out against Modi's human rights record. In an open letter published earlier this month, dozens of organizations in the U.S. and Canada called on Biden to press Modi to "halt the use of anti-terror laws to arbitrarily detain political critics."
"Given the urgency of this crisis, we ask you to engage directly with Indian-American and human rights civil society leaders to explore solutions to address India's human rights crisis," the letter states. "We also ask you to employ the tools at your disposal to ensure that the Indian government cannot attack Indians' human rights with impunity."

The Council on American Islamic Relations (CAIR) said in an action alert that "the evidence of Modi's expanding effort to place a boot firmly on the collective heads of India's religious minorities is extensive."
"CAIR has already noted that under Modi his political allies have banned young Muslim women from wearing hijabs at school, ignored widespread lynchings of Muslims, and censored a BBC documentary about Modi's role in an anti-Muslim pogrom," the group added.
The advocacy group Hindus for Human Rights promoted a Wednesday morning New York rally with the message, "Modi and his fascist regime have been decimating human rights, especially for minorities, in India and have been exporting their Hindutva ideology across the globe."
Hindus for Human Rights, the Indian American Muslim Council, and others also hosted a Thursday protest in Washington, D.C.
"The red carpet welcome for the Butcher of Gujarat Narendra is a slap in the face for India's religious minority communities who continue to face violence and vitriol, and to those who dare to stand up against his hateful politics," Hindus for Human Rights tweeted. "Help us hold him to account."
In 2002, Modi was chief minister of the western state of Gujarat and blamed Muslims for burning a train full of Hindu pilgrims, an act that sparked retaliatory massacres in which at least hundreds and perhaps thousands of Muslims were murdered, tortured, and raped and hundreds of Hindus were also killed.
A U.K. government investigation found that Modi was "directly responsible" for the "climate of impunity" surrounding the massacre, although he was cleared by India's Supreme Court a decade later.
The George W. Bush administration prohibited Modi from entering the United States following the Gujarat slaughter, a proscription left in place until Modi became prime minister in 2014. Then-President Barack Obama—under whom Biden was vice president—subsequently rescinded the visa ban.
As India—now the world's most populous nation—has grown in power, subsequent U.S. administrations have courted the country for its growing economic clout and as part of a strategic policy of encircling China and countering its rise.

News