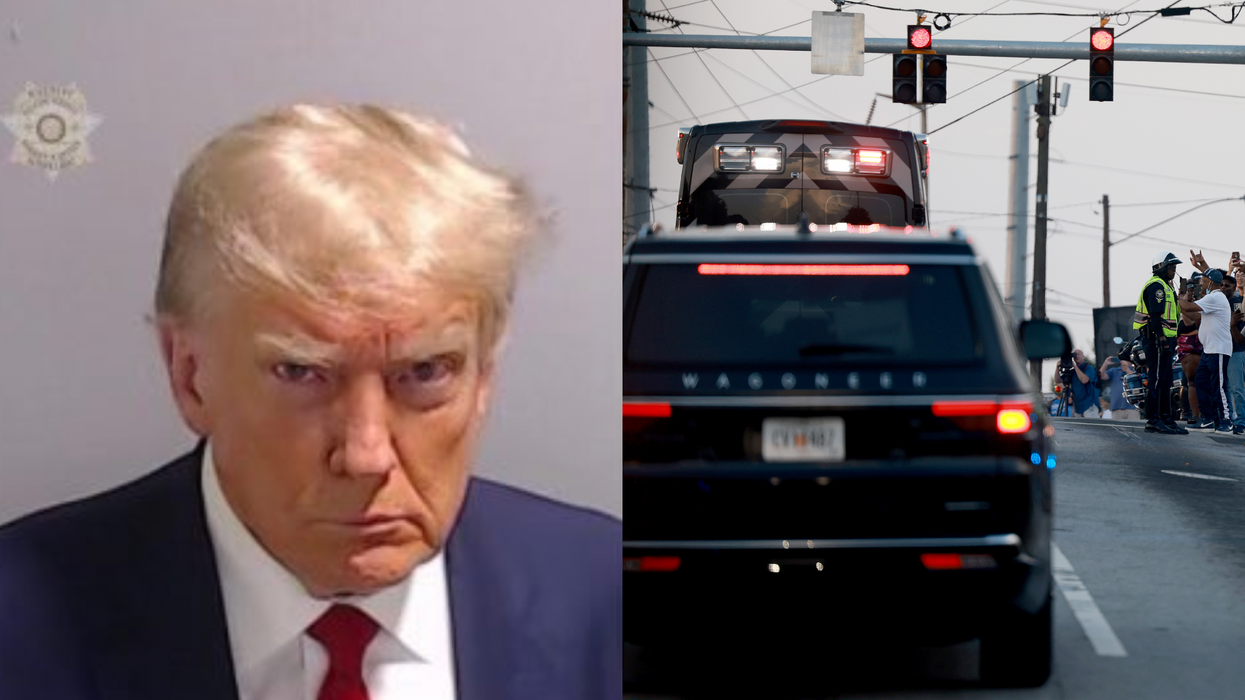 "It is not inconceivable that Trump or a future anti-democratic leader could incite another mob to attack a different government institution," reads a new report by CREW and Common Cause.
As former Republican President Donald Trump surrendered at Fulton County Jail in Atlanta Thursday evening, a new analysis warned that his extremist political movement poses a continued threat to U.S. government institutions nearly three years after he and 18 co-conspirators allegedly tried to change the 2020 election outcome in Georgia.
Government watchdogs Common Cause and Citizens for Responsibility and Ethics in Washington (CREW) on Thursday released a report titled Donald Trump: Threatening Courts and Justice, warning of the threat that is posed to the nation's court system by the outgrowth of the so-called "Stop the Steal" movement, which emerged after the 2020 election and led the violent insurrection at the U.S. Capitol on January 6, 2021.
The groups noted that a document titled "1776 Returns" was uncovered by prosecutors as they investigated the perpetrators of the January 6 attack. The document detailed a plan to "seize and occupy the Supreme Court and other government buildings to disrupt the peaceful transfer of power and force federal officials to overturn election results."
"It's unclear exactly why these attacks did not fully materialize, but the lack of a specific call to action could have played a part," reads the report. "This is in contrast to Trump's specific call for his followers to come to Washington, D.C. on January 6th for a 'wild' event at the Capitol. Given the continued incendiary, anti-democratic rhetoric toward government institutions and officials coming from extremist groups and leaders, it is not inconceivable that Trump or a future anti-democratic leader could incite another mob to attack a different government institution."
As Trump's legal issues have mounted this year, he has continued to make threats against the judiciary, including New York Supreme Court Acting Justice Juan Merchan, who is presiding over one of the former president's four criminal cases—one involving 34 felony counts regarding multiple alleged hush money payments made to adult film actress Stormy Daniels.
Shortly after being arraigned in New York in April, Trump publicly called Merchan "a Trump-hating judge with a Trump-hating wife and family whose daughter worked for [U.S. Vice President] Kamala Harris," ignoring the judge's instructions to "refrain from making comments or engaging in conduct that has the potential to incite violence, create civil unrest, or jeopardize the safety or well-being of any individuals."
Trump has also publicly said Judge Tanya Chutkan, who is presiding over a case in Washington, D.C. regarding the former president's alleged incitement of the January 6 attack, would not give him a "fair trial."
A Texas woman was arrested earlier this month for making a death threat in a voicemail to Chutkan, and Common Cause and CREW noted that "Judge Merchan and his family received dozens of threats, including death threats, in the immediate aftermath of Trump's comments" in April.
"Put together, these examples and others illustrate a clear pattern of conduct of Trump supporters levying threats against judges whom Trump publicly attacks, when, in reality, they are simply applying the law," said the groups. "Given Trump's ongoing legal fights, and his continued public criticism of the courts, it is likely that judges presiding over Trump-related cases will continue to face serious threats in the future."
The report was released the same day that Trump surrendered to the authorities in Atlanta following his indictment earlier this month in a case regarding his attempts to overturn Georgia's 2020 election results.

Trump's arrival at Fulton County Jail Thursday evening marked the first time in any of his criminal cases that officials released a mug shot, which he soon after posted on X—formerly known as Twitter—months after owner Elon Musk reinstated his account. Trump was banned from the platform after January 6, 2021, due to fears that he could incite more violence.
Earlier this week, as his fellow 2024 Republican candidates for president participated in the first debate of the election cycle, Trump told former Fox News anchor Tucker Carlson in an interview that Fulton County District Attorney Fani Willis is "getting killed" for indicting him and said his political enemies are "savage animals."
Willis has asked Fulton County Judge Scott McAfee to hold Trump's arraignment on September 5.
"Although the courts were ultimately not attacked on January 6, Trump's sustained anti-democratic rhetoric continues to make federal and state courts potential targets for his supporters," said Common Cause and CREW. "As Trump's legal battles intensify, and the 2024 presidential election approaches, the threat of violence posed by the far right to the judiciary is one which demands serious attention and vigilance."
News