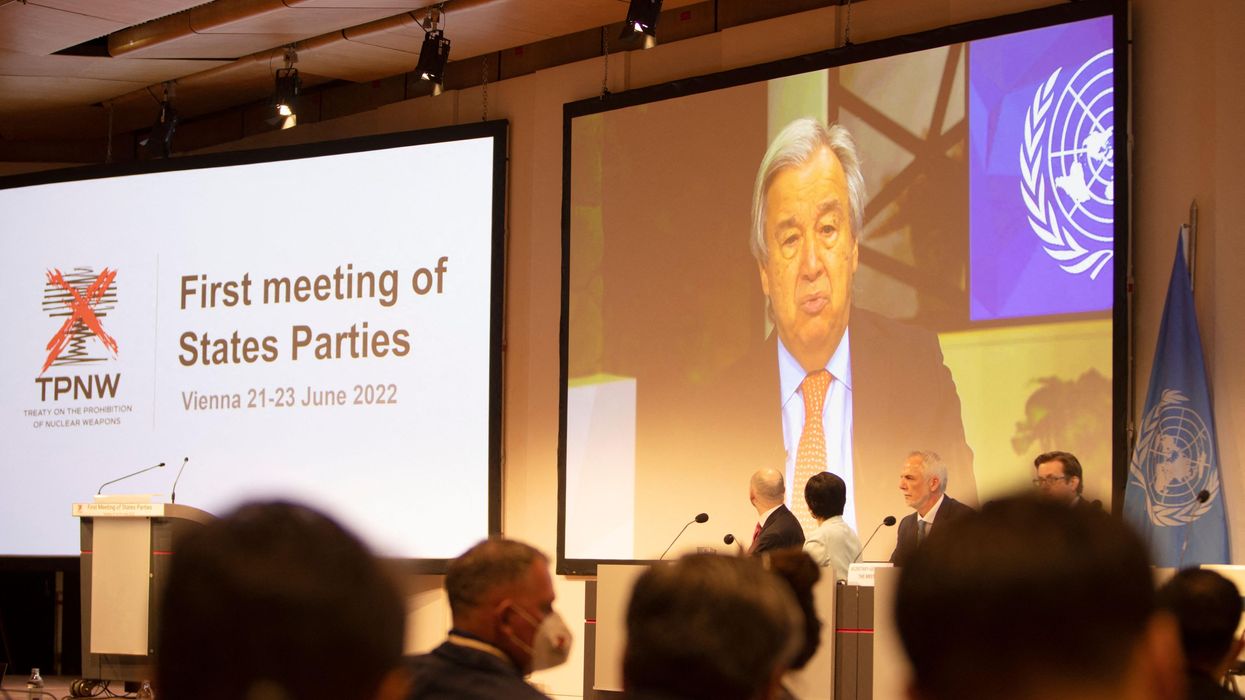 "Let's eliminate these weapons before they eliminate us," U.N. Secretary-General António Guterres said at the start of a summit in Vienna.
Warning of the heightened threat of nuclear war in a "world rife with geopolitical tensions and mistrust," United Nations Secretary-General Antonio Guterres on Wednesday called upon nuclear nations to join the scores of countries that have adopted a landmark treaty banning atomic weapons.
"The once-unthinkable prospect of nuclear conflict is now back within the realm of possibility."
Addressing the first meeting of state parties to the landmark United Nations Treaty on the Prohibition of Nuclear Weapons (TPNW) in Vienna, Guterres called the world's thermonuclear arsenals "a deadly reminder of countries' inability to solve problems through dialogue and collaboration."
"These weapons offer false promises of security and deterrence--while guaranteeing only destruction, death, and endless brinksmanship," Guterres said in his video message.
"Let's eliminate these weapons," he added, "before they eliminate us."
\u201cIn a video message to the #TPNW1MSP, @UN Secretary-General @antonioguterres said this inclusive participation reflects a central truth: disarmament is everybody\u2019s business, because life itself is everybody\u2019s business. \ud83d\udc47(2/3)\u201d

— ODA (@ODA) 1655813072
Guterres lamented that the "terrifying lessons" of the U.S. atomic bombings of Hiroshima and Nagasaki, Japan--the only nuclear war ever waged--are fading from memory. With nine nations now armed with over 13,000 nuclear weapons, the U.N. chief warned that "the once-unthinkable prospect of nuclear conflict is now back within the realm of possibility."
The TPNW was adopted in 2017 and took effect in January 2021 after Honduras became the 50th nation to ratify the accord. To date, 86 countries have signed and 65 have ratified the TPNW. None of the nine nuclear countries--China, France, India, Israel, North Korea, Pakistan, Russia, the United Kingdom, and the United States--have signed the agreement.
"This is a recipe for annihilation," Guterres stressed. "We cannot allow the nuclear weapons wielded by a handful of states to jeopardize all life on our planet. We must stop knocking at doomsday's door."
Guterres' remarks come amid heightened nuclear tensions during Russia's invasion and Western powers' arming of Ukraine, and as the world's nuclear stockpile expands for the first time since the last decade of the Cold War a generation ago.
News