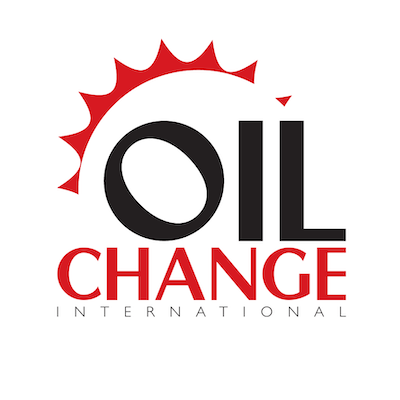 Oil Change International: Congress betrays people and planet, but Mountain Valley Pipeline will not be built
In response to the Senate vote to approve the debt ceiling bill, Collin Rees, United States Program Manager at Oil Change International, said:
"By voting for a dirty deal that fast-tracks the Mountain Valley fracked gas pipeline and guts bedrock environmental laws, Congress betrayed people and the planet. These provisions, which are totally unrelated to the national debt, will turn historically underserved and environmental justice communities into sacrifice zones.
"The pipeline would be a climate and environmental justice disaster, with emissions equivalent to building 26 new coal plants or adding 19 million passenger vehicles to the road. While this bill attempts to prolong the use of fossil fuels, science and justice unequivocally demand a swift transition to renewable energy. President Biden cannot claim to be a climate leader while boosting deadly oil and gas projects. We must end the era of fossil fuels.
"We applaud the bold leaders in Congress who voted to strip the Mountain Valley Pipeline from the Fiscal Responsibility Act and put people over polluters. We will continue to stand with frontline communities opposing this dirty project, and we will not back down. This pipeline will not be built."

Oil Change International is a research, communications, and advocacy organization focused on exposing the true costs of fossil fuels and facilitating the ongoing transition to clean energy.
(202) 518-9029
LATEST NEWS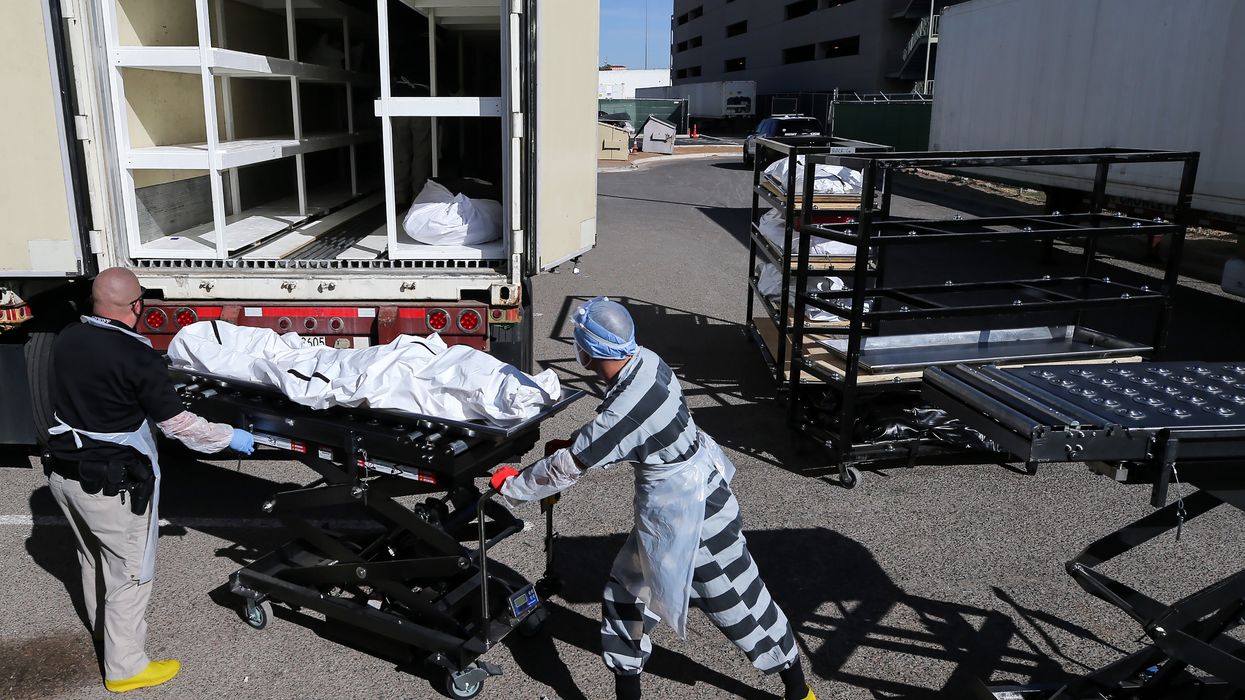 One of the U.N. experts who compiled the report after visiting the U.S. earlier this year said its findings "point to the critical need for comprehensive reform."

A report published Thursday by United Nations human rights experts condemns systemic racism in the U.S. criminal justice system and policing, while describing "appalling" prison conditions and decrying forced unpaid convict labor as a "contemporary form of slavery."
The U.N. International Independent Expert Mechanism to Advance Racial Justice and Equality in the Context of Law Enforcement report follows a visit to the U.S. earlier this year by a team of human rights experts. The U.N. officials collected testimonies from 133 affected people, visited five prisons and jails, and held meetings with advocacy groups and numerous government and police officials in Atlanta, Chicago, Los Angeles, Minneapolis, New York City, and Washington, D.C.
"In all the cities we went to, we heard dozens of heartbreaking testimonies on how victims do not get justice or redress. This is not new, and it's unacceptable," Tracie Keesee, an expert member of the mechanism, said in a statement. "This is a systemic issue that calls for a systemic response."
"Law enforcement and criminal justice institutions in the United States share and reproduce values, attitudes, and stereotypes of U.S. society and institutions. These must be reformed."
The experts found that "racism in the U.S.—a legacy of slavery, the slave trade, and 100 years of legalized apartheid that followed slavery's abolition—continues to exist today in the form of racial profiling, police killings, and many other human rights violations."
The report cites instances of prisoners locked away in solitary confinement—widely recognized as a form of psychological torture—for a decade or longer, children sentenced to life in prison, and pregnant inmates chained during childbirth, "who due to the chaining, lost their babies."
"All these practices—including shackling pregnant women before, during, and after labor—are an affront to human dignity and the best interest of the child," the report states. "Instruments of restraint shall never be used on women during labor, during childbirth, and immediately after childbirth, in accordance with the U.N. Standard Minimum Rules for the Treatment of Prisoners," also known as the Nelson Mandela Rules.
The experts were "astonished" that forced unpaid or poorly paid convict labor "exists to this day in the United States, constituting a contemporary form of slavery." The 13th Amendment to the U.S. Constitution outlawed slavery and involuntary servitude, "except as punishment for crime," and congressional efforts to close the loophole have been unsuccessful.
The report notes:
The delegation received shocking information over "plantation-style" prisons in Southern states, in which contemporary forms of slavery are reported. Commonly known as "Angola," the Louisiana State Penitentiary occupies an 18,000-acre former slave plantation, larger than the island of Manhattan. The plantation prison soil worked by incarcerated labor today is the same soil worked by slaves before the Civil War. Angola currently houses nearly 5,000 adult men, the majority of them Black men, forced to labor in the fields (even picking cotton) under the watch of white "freemen" on horseback, in conditions very similar to those of 150 years ago. The mechanism received direct testimonies from Angola victims and allegations of children being transferred to this prison, held in solitary confinement, and in general under appalling detention conditions.
Earlier this month, a federal judge ordered Louisiana officials to stop imprisoning children on Angola's former death row by September 15.

Addressing the more than 1,000 people killed annually by U.S. law enforcement officers—only 1% of which result in the killer being criminally charged—the report warns that such killings will continue unless police use of force regulations are aligned with international standards.
"We reject the 'bad apple' theory," There is strong evidence suggesting that the abusive behavior of some individual police officers is part of a broader and menacing pattern," said mechanism expert member Juan Méndez. "Law enforcement and criminal justice institutions in the United States share and reproduce values, attitudes, and stereotypes of U.S. society and institutions. These must be reformed."
To that end, the report contains a lengthy list of over 30 recommendations, including:
Fully implementing the United Nations High Commissioner for Human Rights' four-point agenda for transformative change for racial justice and equality;
Tackling poverty and lack of quality education, employment opportunities, healthcare, adequate housing, and other human rights violations as a way to combat systemic racism;
Adopting a human rights-based approach to policing and a national strategy—including legislation—to reduce killings by law enforcement;
Eliminating all racial profiling;
Creating an effective nationwide record system of individuals under investigation or found criminally or administrative guilty for police misconduct;
Removing police from schools in favor of alternatives, including counselors, social workers, nurses, and mental health professionals;
Adopting an immigration system with a human rights-based approach and addressing systemic racism within the ranks of immigration authorities;
Ending the "War on Drugs" and adopting a human rights-based approach to drug policies, in part by decriminalizing low-level drug offenses;
Reducing and strictly regulating militarized police and "no knock" entries;
Abolishing the death penalty, "death by incarceration" sentencing, and the charging of children as adults;
Exercising clemency powers in favor of condemned prisoners, people serving sentences beyond life expectancy, and those who were convicted for confessions under torture—especially children;
Strictly regulating solitary confinement and other forms of restrictions in detention in accordance with international standards;
Eliminating free or poorly paid prison labor; and
Reducing former felon disenfranchisement.
"Our findings," said Méndez, "point to the critical need for comprehensive reform."
News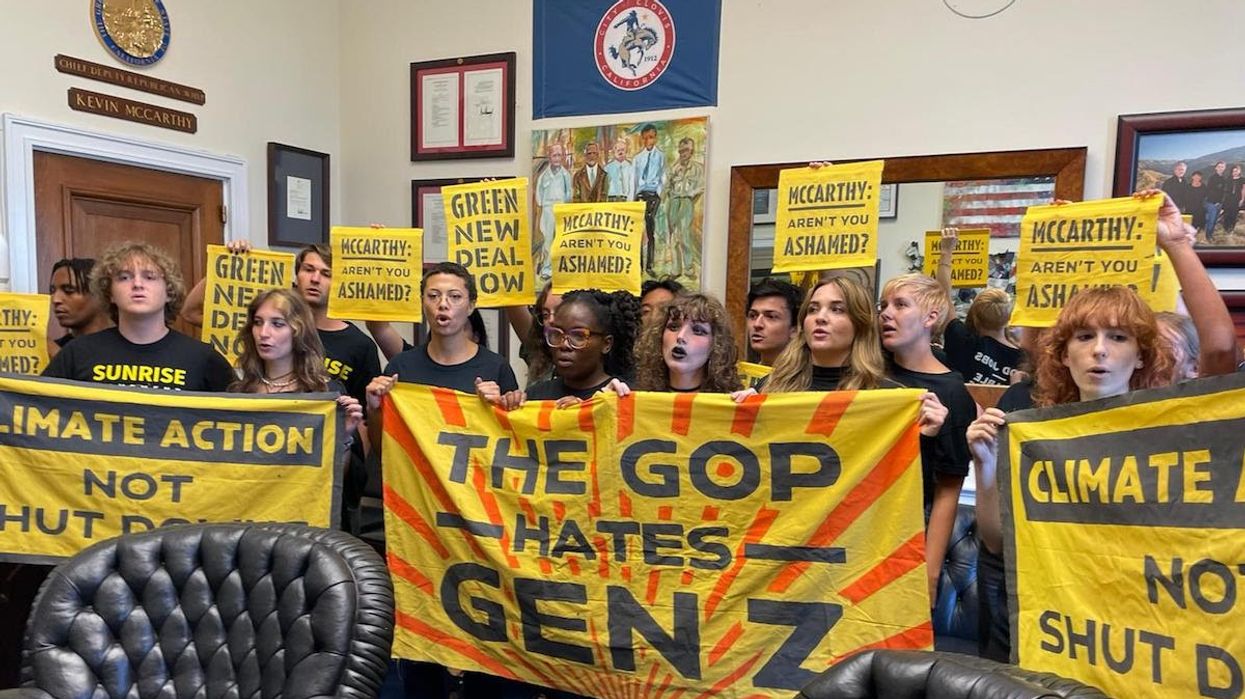 "Young people are here because Kevin McCarthy and other Republicans are playing political games with our lives. We're over this bullshit."
A group of youth climate activists occupied House Speaker Kevin McCarthy's office in Washington, D.C. on Thursday to condemn the Republican leader and his caucus for pushing the U.S. government to the brink of a destructive shutdown as they demand draconian cuts to food aid, housing assistance, and environmental programs.
"We are fed up and we won't take it anymore," said Adah Crandall a 17-year-old Sunrise Movement organizer who joined a number of other climate activists inside McCarthy's (R-Calif.) office. "As storms rage stronger, fires grow hotter, and heatwaves grow more deadly, Kevin McCarthy is playing political games with our futures. We're facing a climate emergency and McCarthy can't even do his job."
The Sunrise Movement said around 150 students from across the nation traveled to Capitol Hill Thursday to take part in the protest, which comes just two days before the federal government is set to shut down.
Eighteen youth activists were arrested outside of McCarthy's office during the demonstration, according to the climate group.
Earlier Thursday, the Biden administration began notifying government employees that they could soon be temporarily furloughed after McCarthy rejected a bipartisan short-term funding proposal put forth in the U.S. Senate this week.
"Speaker McCarthy is a coward," Shiva Rajbhandari, a 19-year-old Sunrise Movement organizer. "McCarthy and Republicans can either do their jobs, act on the climate crisis, and fund our schools, or they can risk our economy to appease a few extremists. Our generation is watching and we will hold them accountable for their actions."
The impacts of a shutdown on critical government functions and programs—and the overall U.S. economy—could be massive.
"With each passing day, Washington would further deplete federal safety net programs that carry over their unused money from past years," The Washington Post's Tony Romm reported earlier this week. "Eventually, the government might not be able to provide some poor families with childcare, nutrition assistance, housing vouchers, or college financial aid. The longer a shutdown persists, the greater the blow it could ultimately deliver to an economy that has teetered for more than a year on the precipice of recession."
Food & Water Action warned Thursday that "in the event of a shutdown, serious and specific threats to food and water safety could immediately arise," noting that Environmental Protection Agency (EPA) regulators "could be forced to suspend critical safety inspections at drinking water sources, hazardous Superfund waste sites, and chemical facilities."
Additionally, the group noted, the EPA "would be forced to shut down the $15 billion project to replace dangerous lead water pipes throughout the country, putting impacted families at continued risk."
"By driving this country to the brink of a shutdown, congressional Republicans are proving once again, in stark relief, that they simply don't care about the health and well-being of the American people," said Mitch Jones, deputy director of Food & Water Action. "Nowhere is this more obvious than in their willingness to shut down critical food and water safety inspections that occur every day across the country."
"Rather than working with Democrats to responsibly fund the government, Speaker McCarthy and his slim majority are catering to the most extreme right-wing members in an already extreme caucus," Jones added. "House Republicans should be thoroughly ashamed of themselves, and they must be shown the door in 2024."
News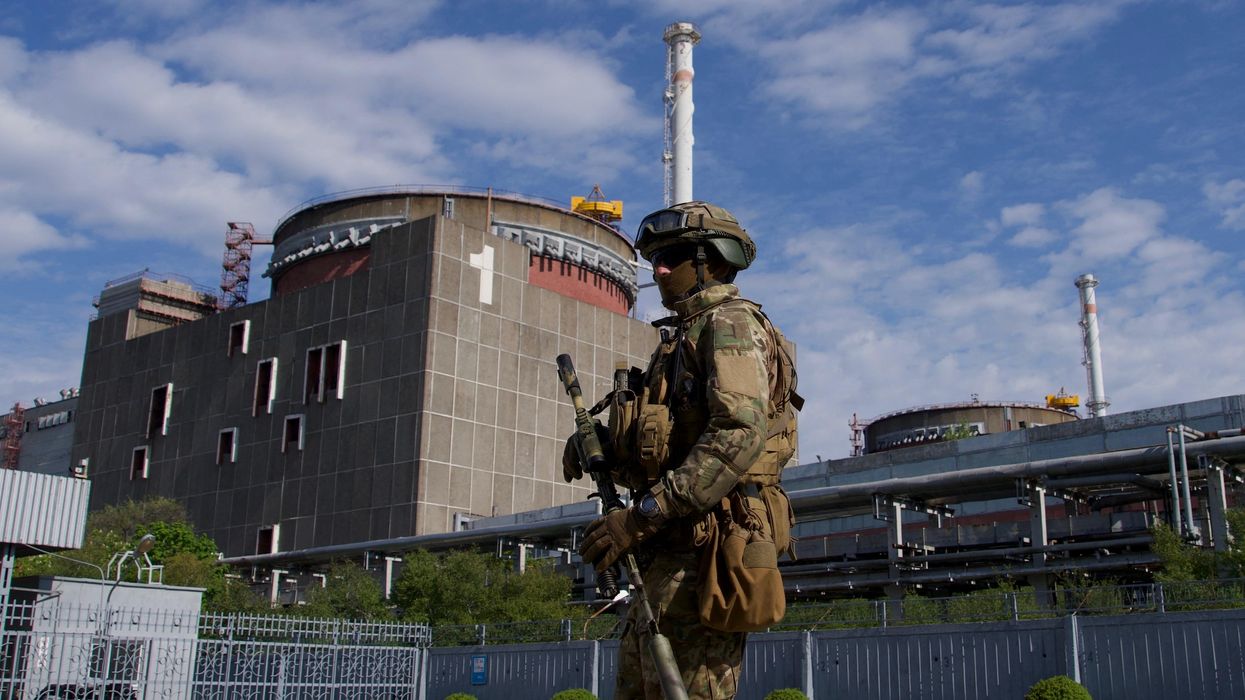 A new report found that Russian troops were likely "using the plant as a shield" in violation of the safety principles laid out by the International Atomic Energy Agency.
The Russian forces occupying Ukraine's Zaporizhzhia nuclear plant have been violating the safety principles established by the International Atomic Energy Agency, and the watchdog body has not been able to effectively monitor the situation.
That's the warning from a new Greenpeace report sent to Western leaders on Thursday, which argues that the IAEA needs to be more upfront about the reality of the situation.
"The IAEA reporting risks normalizing what remains a dangerous nuclear crisis, unprecedented in the history of nuclear power, while exaggerating its actual influence on events on the ground," wrote report authors Shaun Burnie, a senior nuclear specialist from Greenpeace East Asia, and Jan Vande Putte, a Greenpeace Belgium radiation and nuclear expert.
Russian forces seized the Zaporizhzhia plant on March 4, 2022, less than a month into the invasion.
"Since 2022 we have been deeply concerned by the multiple hazards and risks to the Zaporozhzhia nuclear plant posed by the Russian armed forces and the Russian state nuclear corporation, Rosatom," Burnie and Putte wrote.
To address these concerns, Greenpeace Germany commissioned former U.K. military specialists at McKenzie Intelligence Services to report on conditions at the plant.
"The Russian armed forces and Rosatom occupation pose a constant nuclear threat to Zaporozhzhia and must be condemned."
The result, Greenpeace said, "provides detailed evidence that the Zaporizhizhia nuclear plant is being used strategically and tactically by Russian armed forces in its illegal war against Ukraine."
For example, the report found that Russian troops were firing from positions between one and 18 kilometers (approximately 0.6 to 11 miles) from the plant, had constructed small defensive positions with sandbags on the roofs of some of the reactor halls, and are using a type of truck near the plant that is commonly used to transport weapons and combustible material.
It also concluded that both Russian forces and Rosatom are acting in violation of the five principles that IAEA Director General Rafael Mariano Grossi laid out in June to prevent a nuclear accident at the plant.
These principles are:
No launching attacks from or at the plant;
No storing weapons at the plant;
No threatening outside power sources;
Making sure all important structures are protected; and
No taking actions that go against these principles.
McKenzie found evidence that Russian forces have a firing pattern of settling in one location, attacking from another, and then moving again to avoid counterattacks. In this process, they appear to be "using the plant as a shield."
"All activity observed over the reporting period does suggest a precarious environment continues to exist at the plant," Burnie and Putte concluded.
The Greenpeace experts also reviewed the IAEA's monitoring in the context of McKenzie's findings, and argued that the agency could be more upfront about its limitations and Russia's violations.
IAEA only has four monitors for the largest nuclear plant on the continent, and they must conduct their investigation with restrictions placed on their movements and access, as well as the requirement that they make access requests a week in advance.
Despite all this, Burnie said in a statement, "the director general's reporting is incomplete and misleading, including the assessment of Russian noncompliance with safety and security principles."
"The Russian armed forces and Rosatom occupation pose a constant nuclear threat to Zaporozhzhia and must be condemned—but currently the IAEA is unable to fully report on the security and safety hazards they pose," Burnie continued. "That has to change."
The advocacy group prepared the report ahead of an IAEA discussion of the situation in Ukraine in Vienna Thursday, as well as the IAEA Board of Governors meeting October 2. On Wednesday night, Greenpeace sent copies to the board's member governments, The Guardian reported.
IAEA did not comment on the report directly. However, it told The Guardian that, without its inspectors stationed there since September 2022, "the world would have no independent source of information about Europe's largest nuclear power plant."
However, Greenpeace argued the agency could take steps to improve that information.
"Greenpeace is calling on the IAEA board member governments to review the scale and scope of the IAEA mission, and to work with member states, and in particular the government of Ukraine, to institute whatever measures that will bring maximum pressure to bear on the Russian armed forces and Rosatom at the plant and to bring about an early end to the current military occupation of the Zaporizhzhia nuclear plant," Burnie and Putte wrote.
These measures could include an improved analysis by the IAEA and sanctions against Rosatom, Greenpeace said.
News
Independent, nonprofit journalism needs your help.
Please Pitch In
Today!