Report Fails Global Banks for Financing, Investment in Oil & Gas in Amazon Rainforest
Banks remain highly exposed to risk of fueling corruption, human rights violations, and environmental harms despite commitments; advocacy groups call for end to new financing by 2022, existing financing by 2025.
WASHINGTON
A new scorecard and report released today by environmental advocacy groups Stand.earth and Amazon Watch fails global banks for their financing and investment in the oil and gas industry in the Amazon rainforest, revealing that despite sustainability commitments and risk management screening processes, banks remain highly exposed to the risk of funding corruption, human rights violations, environmental harms -- and ultimately, climate chaos -- due to their ongoing relationships with companies and traders operating in the region.
"Our research reveals the environmental and social risk frameworks banks rely on are inherently flawed. Banks might follow what they consider best practices in ESR, but these policies have loopholes that allow money to continue to flow to companies involved in oil expansion, deforestation, biodiversity loss, pollution, corruption, and the violation of Indigenous peoples' rights. To put it simply, banks' current ESR policies are failing them. These policies do not adequately manage risks, are not strong enough to avoid Amazon destruction, and do not meet the urgent need to stop fossil fuel expansion globally," said Angeline Robertson, Senior Investigative Researcher at Stand.earth Research Group and one of the lead authors of the report.
This new report, titled "Banking on Amazon Destruction", comes on the heels of an August 2020 investigation revealing European banks financing the trade of Amazon oil from the headwaters region of Ecuador and Peru. This led to commitments by top banks to uphold their policies and end trade financing in that region, but the 2020 investigation also revealed additional relationships between banks, oil companies, and oil traders in contradiction with banks' ESR policies and risk management screening processes in the broader Amazon rainforest.
BANK SCORES & KEY FINDINGS
The report evaluated banks' ESR policies (risk management) versus their finance and investment in the Amazon (risk exposure), giving each bank positive and negative scores combined into an overall risk rating identifying the potential for banks' investments and financing to contribute to Amazon destruction. Rabobank, ABN Amro, and ING are at "moderate" risk; BNP Paribas, Credit Suisse, UBS, Societe Generale, and Credit Agricole are at "high" risk; and Natixis, Citigroup, JPMorgan Chase, Goldman Sachs, Deutsche Bank, and HSBC are at "very high" risk. All banks were provided a summary of their scoring and given the opportunity to respond before the release of the report. Among the key findings:
BNP Paribas, Credit Suisse, Goldman Sachs, JPMorgan Chase, Credit Agricole, Deutsche Bank, and UBS hold hundreds of millions of dollars in bonds issued to PetroAmazonas, the oil exploration unit of Ecuador's national oil company, PetroEcuador. PetroAmazonas is leading oil expansion in Yasuni National Park, a UNESCO Biosphere Reserve, where the process of building roads to access new oil drilling sites often triggers deforestation, and brings drilling to the doorstep of Indigenous peoples living in voluntary isolation. The company is responsible for thousands of oil spills over the last decade.
JPMorgan Chase and Deutsche Bank are dragging their heels on implementing sound ESR policies, including in the Amazon. JPMorgan Chase is the biggest banker for the fossil fuel industry worldwide, and it continues to fund Brazil's national oil company, Petrobras, which is ranked one of the largest fossil fuel expansion companies globally.
Credit Suisse continues to finance the trade of oil from the Putumayo region in the Colombian Amazon, which faces heavy Indigenous resistance and brutal police crackdowns, despite existing biodiversity and human rights policies that clearly indicate it should not be financing in the region.
Societe Generale, ABN AMRO, Citi, Credit Agricole, Credit Suisse, Deutsche Bank, Goldman Sachs, ING, Rabobank, and UBS all provide financing via revolving credit facilities to problematic oil traders including Gunvor and Vitol, which have been implicated in recent bribery scandals. This is happening despite all banks having corruption policies, but only viewing it as a business risk and not including it in their ESR frameworks.
Since the report text was finalized, Amazon Watch investigators have learned that JPMorgan Chase and Credit Suisse, along with another bank not listed in this report, recently helped arrange the issuance of a $150 million dollar bond for GeoPark, a Chilean oil company currently operating in the Colombian Amazon that is allegedly paying paramilitary groups to ensure the continuation of its operations on and near the territories of Indigenous groups that opposed oil operations.
RED FLAGS OVER EXCLUSIONS, REVOLVING CREDIT FACILITIES
The International Energy Agency's sweeping call for nations around the world to stop investing in new fossil fuel supply underscores the need for banks to take more stringent actions to decarbonize their portfolios. However, the report reveals most banks continue to rely on policies that don't curb oil expansion in the Amazon, preferring instead to "tilt" oil companies rather than divest or defund.
The report identified that many banks lack deforestation exclusions that include the oil and gas sector, and their biodiversity exclusions focus on traditionally protected areas such as UNESCO World Heritage Sites while ignoring the vital role that Indigenous territories play in protecting biodiversity. And despite a long legacy of pollution from the oil and gas industry in the Amazon, the report uncovered only three banks with pollution exclusions. The report also flags additional blind spots in banks' lending policies: the use of revolving credit facilities, the lack of Indigenous consent, and inadequate grievance processes.
Banks provide revolving credit facilities worth billions of dollars to their oil trading clients, but don't always ask how the money will be spent, which means that clients may fund projects, transactions, and companies that wouldn't otherwise pass banks' ESR screening processes.
Even when banks screen for Free, Prior, and Informed Consent (FPIC), they often fail to acknowledge that Indigenous peoples must be able to give, change, or take away consent at any time -- or else it isn't free.
Very few banks have adequate and accessible grievance processes to address violations to their policies, and when they do, they put the burden on other stakeholders -- many of whom have less power and fewer financial resources -- to raise issues.
"For centuries, Indigenous peoples have been responsible for the preservation of the largest forest on the planet. We are being killed for defending our home. An Amazon biome-wide exclusion of all oil and gas finance and investment, aimed at stopping oil expansion in the most biodiverse place on the planet, will keep the Amazon Rainforest off the precipice of a disastrous ecological tipping point, eliminate toxic oil-related disasters, and end rights violations perpetrated by the industry. This is the path for a possible planet and the way for us to guarantee that our rights are respected. The financial sector must invest in recovering what has already been lost and finance the solutions our peoples offer to humanity in the climate change era," said Jose Gregorio Diaz Mirabal, General Coordinator of the Coordinating Body of the Indigenous Organizations of the Amazon Basin (COICA).
AMAZON AT A TIPPING POINT
The Amazon rainforest is nearing a tipping point thanks to the massive degradation of this interconnected ecosystem. Scientists define the tipping point as the moment at which enough deforestation occurs that the Amazon will no longer be able to sustain itself, which will trigger the dieback of the entire rainforest. Due to the looming nature of these threats, which would have massive implications in the region and for the global climate, advocacy groups Stand.earth and Amazon Watch are calling for:
An immediate commitment to no new oil and gas financing and investment in the Amazon biome by the end of 2021.
The extension of existing Amazon oil trade finance exclusions to the entire Amazon biome by the end of 2021.
A commitment to exit all loans, letters of credit, and revolving credit facilities for all oil traders (especially those implicated in corruption controversies) active in the Amazon biome as soon as possible, or at the latest by the end of 2024.
A commitment to ending all existing oil and gas financing and investment in the Amazon biome as soon as possible, or at the latest by the end of 2025.
"The Amazon rainforest is the last place on Earth that oil expansion should happen -- especially at a time when we know that no fossil fuel expansion should occur at all. If banks have Arctic exclusions to protect biodiversity and fragile ecosystems, and the same logic can be applied to the Amazon, then why don't banks have exclusions for the Amazon? The Amazon rainforest is at a tipping point. Are banks going to continue to rely on mediocre risk management policies that they don't even follow, or take a bold step that will actually end their contribution to the destruction of this critical ecosystem?" said Moira Birss, Climate and Finance Director at Amazon Watch.
Stand.earth (formerly ForestEthics) is an international nonprofit environmental organization with offices in Canada and the United States that is known for its groundbreaking research and successful corporate and citizens engagement campaigns to create new policies and industry standards in protecting forests, advocating the rights of indigenous peoples, and protecting the climate. Visit us at
LATEST NEWS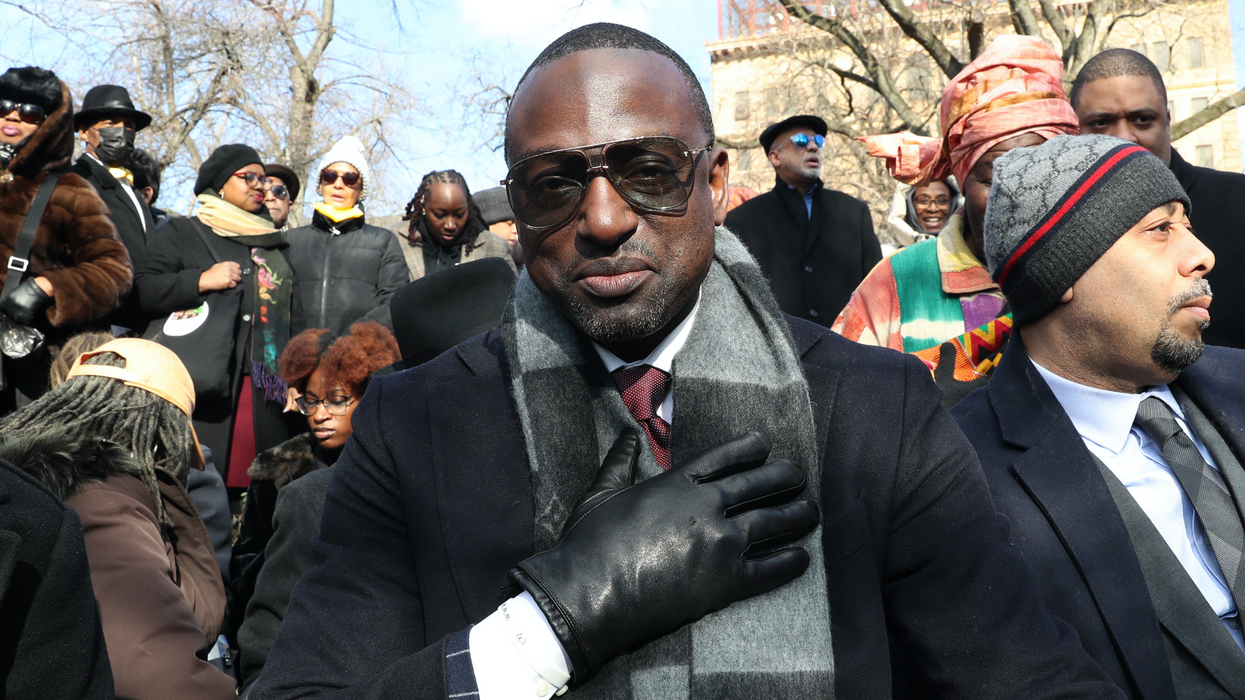 "For those asking about my statement on the indictment of Donald Trump—who never said sorry for calling for my execution—here it is," said Yusef Salaam.
Yusef Salaam, one of the five New York teens wrongfully convicted and imprisoned for the 1989 rape of a jogger in Central Park, issued a brief statement following Thursday's criminal indictment of former U.S. President Donald Trump—who called for bringing back the state's death penalty to execute the defendants and never apologized after they were cleared.
Salaam tweeted: "For those asking about my statement on the indictment of Donald Trump—who never said sorry for calling for my execution—here it is: Karma."
\u201c#PowerPost\u270a\ud83c\udffb\u270a\ud83c\udffc\u270a\ud83c\udffd\u270a\ud83c\udffe\u270a\ud83c\udfff\u2122\ufe0f\n\nFor those asking about my statement on the indictment of Donald Trump - who never said sorry for calling for my execution - here it is:\n\nKarma\u201d

— Yusef Abdus Salaam (@Yusef Abdus Salaam) 1680212837
Trump spent $85,000—over $200,000 today—on a full-page ad that ran in all four of New York's major newspapers calling for the restoration of capital punishment so that the Central Park Five could be executed.
\u201cOne of the exonerated five aka Central Park five reacting to Trump indictment. \n\nTrump took out this ad in four NY newspapers in 1989 and never apologized for it.\u201d

— Yashar Ali \ud83d\udc18 \u06cc\u0627\u0634\u0627\u0631 (@Yashar Ali \ud83d\udc18 \u06cc\u0627\u0634\u0627\u0631) 1680214390
The ad read, in part:
Mayor [Ed] Koch has stated that hate and rancor should be removed from our hearts. I do not think so. I want to hate these muggers and murderers. They should be forced to suffer... Yes, Mayor Koch, I want to hate these murderers and I always will... How can our great society tolerate the continued brutalization of its citizens by crazed misfits?
The five Black and Latino teens—Antron McCray, Kevin Richardson, Raymond Santana, Korey Wise, and Salaam—were beaten and coerced by New York City police into falsely confessing to the rape. They spent years behind bars for the horrific crime that they did not commit.
Salaam, who was 15 years old when his life was upended, was imprisoned for six years and eight months before his exoneration.

In a 2019 interview with the BBC, Salaam—who is now a motivational speaker—said that "I look at Donald Trump, and I understand him as a representation of a symptom of America."
"We were convicted because of the color of our skin. People thought the worst of us," he added. "And this is all because of prominent New Yorkers—especially Donald Trump."
In a statement, National Action Network founder and president Rev. Al Sharpton said that "it's not lost on those of us who were there in 1989 that Donald Trump will likely walk into the same courthouse where the Exonerated 5 were falsely convicted for a crime they did not commit."
\u201cREV. AL SHARPTON RESPONDS TO REPORTS OF PENDING TRUMP INDICTMENT\u201d

— NationalActionNet (@NationalActionNet) 1680216860
"Let's not forget that it was Donald Trump who took out full-page ads calling for these five Black and Brown young men to get the death penalty," Sharpton continued. "This is the same man who's now calling for violence when he has to go through the same system. The same man will have to stand up in a courtroom and see firsthand what the criminal justice system is like."
"All I can say is, what goes around comes around," he added.

News
The historic charges against the 2024 candidate "are the first ever brought against him, but they will not be the last," said one Trump critic, noting that "we know of literally dozens of credible allegations of crimes."
This is a developing story… Please check back for possible updates...
A Manhattan grand jury voted to indict former U.S. President Donald Trump for his role in a hush money payment to porn star Stormy Daniels, The New York Timesreported Thursday, citing five people with knowledge of the matter.
The grand jury's move makes Trump the first ex-president to face criminal charges—and comes as the 76-year-old is seeking the 2024 Republican presidential nomination. An indictment or even conviction in the case would not prevent him from running.
After other outlets also confirmed the historic vote, a spokesperson for District Attorney Alvin Bragg said that "this evening we contacted Mr. Trump's attorney to coordinate his surrender to the Manhattan DA's office for his arraignment on a [New York] Supreme Court indictment, which remains under seal. Guidance will be provided when the arraignment date is selected."
"Donald Trump has spent his entire political career dodging accountability for his wanton disregard for the law. It is finally catching up to him."
In a phone call with ABC News producer John Santucci, Trump said this is an "attack on our country" and "political persecution," adding that "they are trying to impact an election." The twice-impeached former president made similar remarks in a lengthy statement.
Asked by Santucci asked if he will turn himself in, Trump responded, "You take care, John," and hung up. Trump attorney Joe Tacopina toldNBC News that his client is expected to surrender to the DA's office early next week.
Trump supporters expressed outrage over the development—as did Republican Florida Gov. Ron DeSantis, who is expected to also run for the 2024 GOP presidential nomination but said Thursday that his state "will not assist in an extradition request."
Despite warnings that this case "is the first to result in an indictment, though arguably the toughest to win," as Mark Joseph Stern wrote for Slate, critics of Trump still welcomed the news as a long-awaited step toward accountability.

\u201cDonald Trump was the most corrupt president in American history. He was the first president to be impeached twice, and now he\u2019s the first former president to be criminally indicted.\n\nTrump's corruption is finally catching up to him.\u201d

— Citizens for Ethics (@Citizens for Ethics) 1680214108
"We know of literally dozens of credible allegations of crimes committed by Donald Trump as president or running for it, with no charges filed. Until now," tweeted Noah Bookbinder, president of the watchdog group Citizens for Responsibility and Ethics in Washington (CREW). "We can't yet evaluate these charges, but make no mistake, this is a huge deal for accountability."
"Donald Trump has spent his entire political career dodging accountability for his wanton disregard for the law. It is finally catching up to him," Bookbinder added. "The charges in New York are the first ever brought against him, but they will not be the last."
Congresswoman Ilhan Omar (D-Minn.) similarly said "this is just one of many criminal acts for which Donald Trump is being investigated. Make no mistake: the fact that one of the most powerful people in the world was investigated impartially and indicted is testament to the fact that we still live in a nation of laws. And no one is above the law."
Daniels has alleged that she had an extramarital sexual affair with Trump, which he denies. Daniels' attorney, Clark Brewster, said that "the indictment of Donald Trump is no cause for joy. The hard work and conscientiousness of the grand jurors must be respected. Now let truth and justice prevail. No one is above the law."
Trump's former fixer Michael Cohen, who made a $130,000 payment to Daniels, said Thursday that "accountability matters and I stand by my testimony and the evidence I have provided" to the district attorney.
Aaron Scherb, senior director of legislative affairs at Common Cause, pointed to Cohen's prison time on Thursday.
"No American is above the law, including former presidents, and Donald Trump will get his day in court," said Scherb. "Donald Trump and his co-conspirators clearly appeared to have broken the law and his attorney at the time has already served time in federal prison for charges related to the $130,000 hush money payout. The Manhattan district attorney's office is right to hold the former president to the same standard as every other American."
\u201cHere\u2019s my new piece for \u2066@MSNBCDaily\u2069 on the importance of Donald Trump being indicted. Hope you\u2019ll have a look. https://t.co/QzNpk2iM2Q\u201d

— Glenn Kirschner (@Glenn Kirschner) 1680212959
John Bonifaz, president of Free Speech for People, said that "Donald Trump must face the rule of law for all of the crimes he has committed, and this indictment by the Manhattan grand jury is an important first step."
Free Speech for People has argued that Trump and congressional Republicans who provoked and supported the January 6, 2021 attack on the U.S. Capitol should be ineligible to serve, citing the
section
of the 14th Amendment that
bars
from federal office anyone who has taken an oath to support the Constitution then "engaged in insurrection or rebellion."
Urging secretaries of state and chief election officials across the country to "do their job," Bonifaz said that "the insurrectionist disqualification clause of the 14th Amendment makes clear that Trump is disqualified from holding any future public office based on his role in inciting and mobilizing the January 6th insurrection."
"No prior indictment or conviction is required in order to enforce Section 3 of the Fourteenth Amendment against Trump," he added. "To protect our republic, we must uphold this critical constitutional provision at this moment in history."
News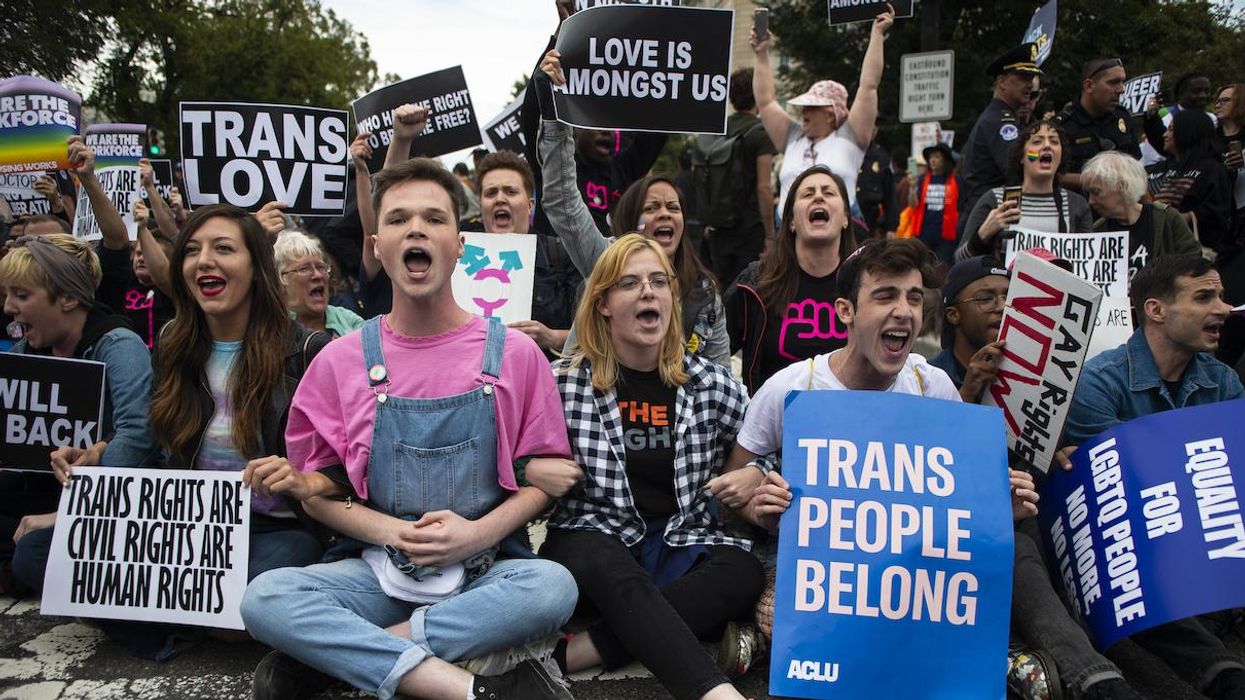 "Lives are at stake. The health, safety, and freedom of trans people are at stake," said Sen. Ed Markey. "Congress must take a stand in the face of dangerous, transphobic attacks waged by far-right state legislatures."
Amid a growing wave of Republican attacks on transgender rights—including a recently passed U.S. House bill targeting trans youth—a pair of progressive congressional lawmakers on Thursday prepared to reintroduce a resolution codifying protections for transgender Americans.
The revived Transgender Bill of Rights—introduced by Rep. Pramila Jayapal (D-Wash.) and Sen. Ed Markey (D-Mass.) and co-sponsored by dozens of congressional Democrats—comes a day ahead of International Transgender Day of Visibility on March 31. According to Jayapal's office, the measure "provides a comprehensive policy framework to provide protections for transgender and nonbinary people, ensuring that everyone has the opportunity to thrive, regardless of their gender identity or expression."
Jayapal, who co-chairs the Transgender Equality Task Force and whose daughter is trans, said in a statement: "Day after day, we see a constant onslaught of anti-trans rhetoric and legislation coming from elected officials. Today we say enough is enough."
"Day after day, we see a constant onslaught of anti-trans rhetoric and legislation coming from elected officials."
Markey asserted that "on this and every International Transgender Day of Visibility, we are reminded of our moral obligation to defend the fundamental rights of trans people against the violence, discrimination, and bigotry that too often mark their lived experience in our country."
"Lives are at stake. The health, safety, and freedom of trans people are at stake," he added. "Congress must take a stand in the face of dangerous, transphobic attacks waged by far-right state legislatures and once again reaffirm our nation's bedrock commitment to equality and justice for all."
According to Jayapal's office, "in 2023 alone, there have been more than 450 anti-LGBTQ+ bills proposed in both state and federal legislature, jeopardizing the safety and mental health of LGBTQ+ youth and trans youth in particular."
"Trans Americans are also four times more likely than cisgender peers to be victims of violent crime and more than 40% have attempted suicide," the congresswoman's office added.
State laws targeting transgender people include—but are not limited to—bans on lifesaving gender-affirming healthcare for trans youth and on trans students from participating on sports teams or using the bathrooms that match their gender identity; and prohibition of public drag shows.
Common Dreamsreported Thursday that West Virginia and Kentucky are the latest states to ban gender-affirming care for trans minors.
Meanwhile, the Kansas House of Representatives on Wednesday approved a bill which would bar transgender individuals from entering single-sex spaces including bathrooms, domestic violence shelters, and prison wards, while labeling intersex people as disabled.

No state is safe from at least the introduction of transphobic legislation, including California, where a Republican state lawmaker earlier this month proposed a bill that would force schools "out" transgender students to their parents under the pretext of boosting parental rights and helping children.
Not content with banning gender-affirming healthcare in their own state, a bill passed earlier this month by Idaho's Republican-controlled House of Representatives included a provision that criminalizes parents or guardians who allow their children to travel outside the state to receive such care.

At the federal level, anti-trans legislation includes the Parents Bill of Rights, passed last week by the Republican-controlled House in a 213-208 vote along party lines.
Among other things, the Transgender Bill of Rights calls on the federal government to amend the Civil Rights Act of 1964 to explicitly include gender identity and to codify the U.S. Supreme Court's Bostock v. Clayton County ruling, which affirmed that Title VII of the Civil Rights Act protects LGBTQ+ employees from discrimination.

Biden continued:
As kids, they deserve what every child deserves: the chance to learn in safe and supportive schools, to develop meaningful friendships, and to live openly and honestly. As adults, they deserve the same rights enjoyed by every American, including equal access to healthcare, housing, and jobs and the chance to age with grace as senior citizens. But today, too many transgender Americans are still denied those rights and freedoms. A wave of discriminatory state laws is targeting transgender youth, terrifying families and hurting kids who are not hurting anyone. An epidemic of violence against transgender women and girls, in particular women and girls of color, has taken lives far too soon. Last year's Club Q shooting in Colorado was another painful example of this kind of violence—a stain on the conscience of our nation.
The president highlighted how his administration "fought to end these injustices from day one":
On my first day as president, I issued an executive order directing the federal government to root out discrimination against LGBTQI+ people and their families. We have appointed a record number of openly LGBTQI+ leaders, and I was proud to rescind the ban on openly transgender people serving in the military. We are also working to make public spaces and travel more accessible, including with more inclusive gender markers on United States passports. We are improving access to public services and entitlements like Social Security. We are cracking down on discrimination in housing and education. And last December, I signed the Respect for Marriage Act into law, ensuring that every American can marry the person they love and have that marriage accepted, period.
"There is much more to do," Biden added. "I continue to call on Congress to finally pass the Equality Act and extend long-overdue civil rights protections to all LGBTQI+ Americans to ensure they can live with safety and dignity."
News
SUPPORT OUR WORK.
We are independent, non-profit, advertising-free and 100%
reader supported.