On Earth Day, 350 US Sends Clear Message to Biden Administration as Climate Summit Unfolds
Glasgow, NYC, DC "Climate Clocks" send message to Biden, world governments on Earth Day: #ActInTime!
Climate Clock light projection launches in Glasgow as youth climate activists deliver portable clocks, 300,000 petition signatures to top Biden officials demanding real climate action.
WASHINGTON - As President Joe Biden's 'Leaders Summit on Climate' unfolds today, April 22, through tomorrow, Friday, April 23, communities around the world are escalating the demand for immediate and more ambitious climate action. This week's events are a key milestone on the road to the United Nations Climate Change Conference (COP26) this November in Glasgow. 
Commitments from the Biden administration, including reports of a 50% reduction of emissions at 2005 levels by 2030, fall short of the United States's fair share of global climate action. Top officials from the Biden administration, including Gina McCarthy, met with oil and gas executives last month, yet failed to meet with Black, Indigenous, and frontline leaders of color who are most impacted, and who must be centered in real climate solutions.
"On Day 1 in office, Biden cancelled Keystone XL. Now he must do the same with Line 3, the Dakota Access pipeline, and all new fossil fuel projects. There can be no meaningful climate action if we don't keep all fossil fuels in the ground. By doing so, Biden will show the world that the U.S. is serious about facing the climate crisis at scale and centering the communities most impacted," said Natalie Mebane, U.S. Policy Director of 350.org.
Biden must go beyond promises, and take immediate action to stop the bad, build the good, and repair harm. This includes drastically increasing emission reduction targets to limit global warming to 1.5 degrees Celsius by doing what science and justice demand: 
Stop approving all new fossil fuel projects and shut down Line 3, Dakota Access, and all fossil fuel projects that violate Indigenous sovereignty, pollute and poison communities, drive up emissions and fuel the climate crisis. 

Stop funding the problem. The US government must cut off the flow of funding to fossil fuels from all institutions and invest in job creation, renewable energy, sustainable infrastructure, and support the frontline communities that are hardest hit by climate change.

Never Miss a Beat.

Get our best delivered to your inbox.

Declare a climate emergency to lead a clean energy revolution, invest in historically marginalized communities, and create millions of good union jobs.
Yesterday, a global petition with over 300,000 signatures, was delivered to the Biden administration, underscoring that to Build Back Better, we must #BuildBackFossilFree.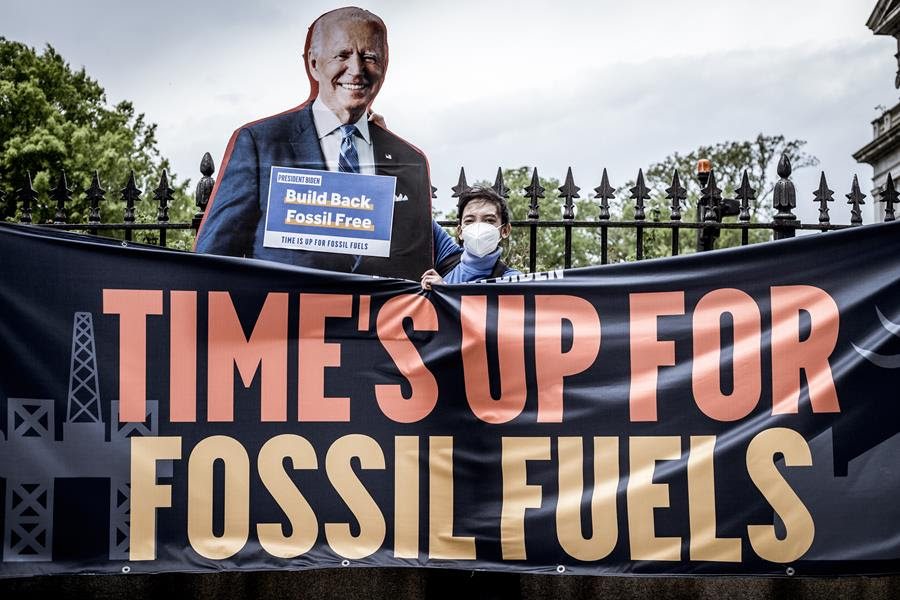 As part of the day of actions leading up to the Summit, youth strikers, climate impacted communities, and climate and environmental justice activists with
350.org
, the Build Back Fossil Free coalition, Fossil Free Bailout, and more delivered the Climate Clock to the Biden administration.
The climate clock,
which has been on display in New York, Union Square is a reminder of the urgent need to take immediate climate action at scale.
"By using the Climate Clock as a tool, we are pressuring world governments to take bold action for a just recovery from the compound crisis our communities are facing from COVID-19, climate impacts, and racial and economic injustice" said Thanu Yakupitiyage, 350.org US Communications Director. "President Biden It's time for Biden to be a real Climate President, show the world that the U.S. is serious about keeping fossil fuels in the ground, and lead by example on the world stage.  Biden needs to go beyond promises and take immediate action to stop the bad, build the good, and repair the harm. "
Glasgow City Council and UK youth climate activists light-projected a CLIMATE CLOCK onto Glasgow's landmark Tolbooth Steeple. Like its counterpart in Union Square, New York, the Glasgow CLIMATE CLOCK will count down the time until the threshold of carbon emissions for 1.5 degrees of warming is exceeded, and show the percentage of the world's energy that is generated from renewable sources. It will run continuously every night for the six months from Earth Day until the COP26 begins, turning the eyes of the world to the upcoming UN Summit in November.
"There can be no meaningful climate action if world leaders don't make a decisive move to keep all fossil fuels in the ground. The Biden Summit is a critical meeting of world leaders ahead of COP26 this November. Talk of "net-zero" won't cut it: we demand more from our world leaders than false promises, false solutions and empty negotiations at Biden's Climate Summit," added Agnes Hall, Global Campaigns Director at 350.org. "The task now is to hold politicians to their lofty words,  and to do that the global climate movement needs to keep up the pressure on our governments at home as well as on the international stage to take urgent action now to reduce carbon emissions and ensure a Just Recovery by creating a sustainable, fossil-free world.
###
This is the world we live in. This is the world we cover.
Because of people like you, another world is possible. There are many battles to be won, but we will battle them together—all of us. Common Dreams is not your normal news site. We don't survive on clicks. We don't want advertising dollars. We want the world to be a better place. But we can't do it alone. It doesn't work that way. We need you. If you can help today—because every gift of every size matters—please do. Without Your Support We Simply Don't Exist.
Please select a donation method:
350 is the red line for human beings, the most important number on the planet. The most recent science tells us that unless we can reduce the amount of carbon dioxide in the atmosphere to 350 parts per million, we will cause huge and irreversible damage to the earth. But solutions exist. All around the world, a movement is building to take on the climate crisis, to get humanity out of the danger zone and below 350. This movement is massive, it is diverse, and it is visionary. We are activists, scholars, and scientists. We are leaders in our businesses, our churches, our governments, and our schools. We are clean energy advocates, forward-thinking politicians, and fearless revolutionaries. And we are united around the world, driven to make our planet livable for all who come after us.
Organization Links