350 Action Responds to Georgia U.S. Senate Runoff Results
Raphael Warnock and Jon Ossoff defeated Senator Kelly Loeffler and Senator David Perdue in Georgia's twin Senate runoff races. Democrats now hold 50 seats in the Senate, with Vice President-elect Kamala Harris serving as a tie-breaking vote.
WASHINGTON
Raphael Warnock and Jon Ossoff defeated Senator Kelly Loeffler and Senator David Perdue in Georgia's twin Senate runoff races. Democrats now hold 50 seats in the Senate, with Vice President-elect Kamala Harris serving as a tie-breaking vote. This grants Democrats unified power over the executive and legislative branches. Both of the winning candidates have climate platforms and neither have endorsed a Green New Deal. This news arrived yesterday amidst an attempted coup in the U.S. Capitol by white supremacist insurrectionists. Soon after, Congress officially certified Biden's presidential win.
350 Action Campaigner Betamia Coronel gave the following response:
"This election season, Black women, Indigenous, Latinx, and Asian-Pacific Islander communities, youth voters, and many organizers showed up in Georgia to save our democracy and planet. Together, we are shifting the balance of power -- first by electing Biden and Harris, and now by electing Raphael Warnock and Jon Ossoff. This election was about upping pressure on elected officials to enact real progress at the federal, state, and local levels. Now, we will hold them accountable to the communities who elected them.

"This is our chance to push real climate legislation through the Senate, including a Green New Deal and a just recovery from the pandemic, racial and economic injustice. On a state level, we expect both Senator-elects to unyieldingly prioritize housing, racial, and climate justice, including by backing a Green New Deal and the Thrive resolution. Ossoff must act on his support for renewable energy investment and green jobs through his infrastructure plan, rejoining the Paris Agreement, and reversing Trump's environmental rollbacks. Warnock must fulfill his commitment to a renewable energy transition that centers low income and BIPOC Georgians, prioritize environmental justice, and ensure investment in climate resiliency."
Throughout the election, 350 Action held phone banks, ramping up efforts in Georgia ahead of the run-off elections.
350 Action is the independent political action arm of the non-profit, non-partisan climate justice group 350.org.
LATEST NEWS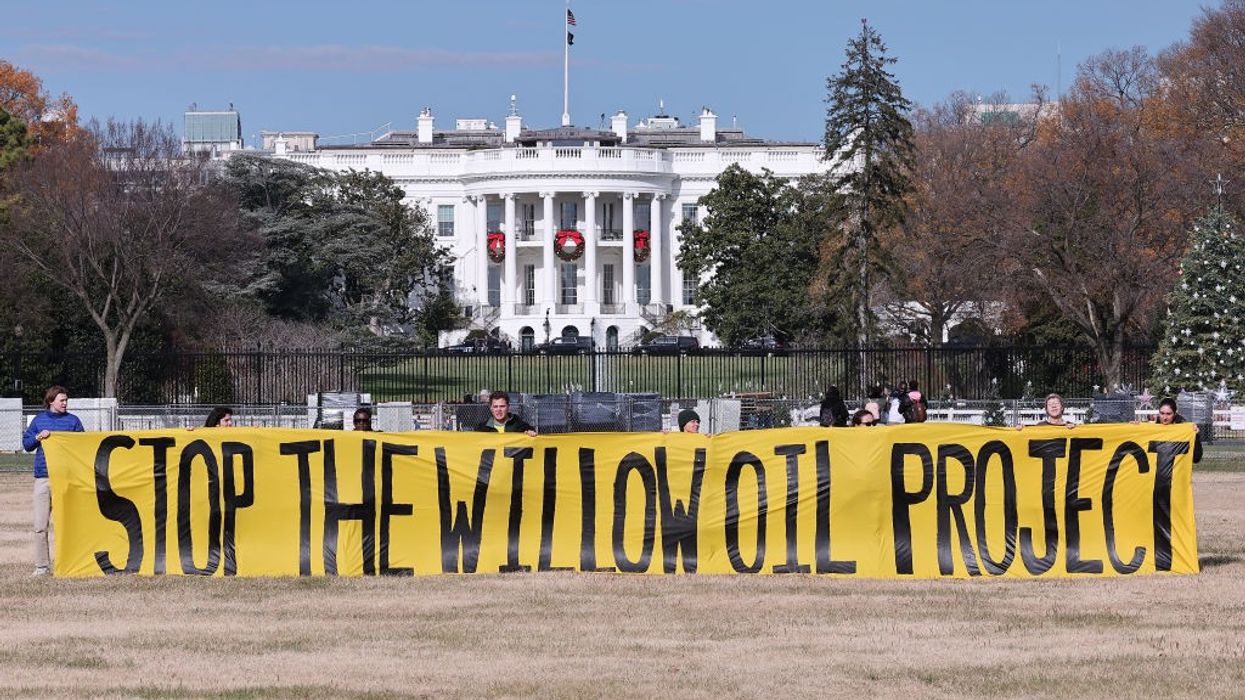 A new report also concludes that the United States should put $97.1 billion per year toward helping poor countries with their energy transitions.
In order to limit global heating to 1.5°C in a way that prioritizes climate justice, wealthy nations like the United States must stop extracting oil, gas, and coal by 2031.
That's the conclusion of a report released Tuesday by the Civil Society Equity Review titled Equitable Phaseout of Fossil Fuel Extraction: Toward a Reference Framework for a Fair and Rapid Global Phaseout. The report, published to coincide with the ongoing United Nations Climate Change Conference (COP28) in the United Arab Emirates, provides both timelines of when it would be fair for different countries to end fossil fuel extraction and payment schedules for how much wealthier nations should provide to help poorer ones finance their energy transitions.
"Limiting warming to 1.5°C requires all countries to reduce their fossil fuel extraction and use, starting now. But fairness dictates that some should reduce faster than others," Greg Muttitt of the International Institute for Sustainable Development and Global Gas and Oil Network said in a statement. "To make a just transition possible in countries whose economies depend heavily on fossil fuel revenues and jobs, wealthy countries should phase out their fossil fuels within just eight years, and provide significant amounts of support to poorer countries."
"The only hope that we'll back away from the brink is a globally fair arrangement that gives poorer countries the time and resources to manage rapid transitions away from fossil fuel production and consumption."
The new report came the day after the publication of the annual Global Carbon Budget report, which found that carbon dioxide emissions from the burning of fossil fuels reached a record 36.8 billion metric tons in 2023 and that, if human societies continue to burn fossil fuels at current rates, they have a 50% chance of pushing temperatures consistently above 1.5°C in around seven years.
"All countries need to decarbonize their economies faster than they are at present to avoid the worse impacts of climate change," Corinne Le Quéré, Royal Society research professor at the University of East Anglia's School of Environmental Sciences, said in response to the Carbon Budget findings.
The Civil Society Equity Review agreed that emissions must fall rapidly everywhere, but argued that "this will be politically achievable only if it is widely accepted as fair."
"The speed and scale of the transformations required to move away from the fossil economy can look daunting, particularly in countries that are dependent on fossil fuel revenues, while millions of people within them depend on fossil fuel extraction for jobs and livelihoods," Anabella Rosemberg, senior adviser on just transition for Climate Action Network International, said in a statement.
The report concluded that
No country should build any new infrastructure for extracting fossil fuels;
Wealthy countries that are less dependent on fossil fuels, including the U.S., U.K., Australia, Germany, and Canada, should stop all extraction by 2031;
Countries that are generally less dependent on fossil fuels should stop extraction by the early 2030s; and
Poorer nations that are highly reliant on fossil fuels should stop all extraction by 2050.
The findings come despite the fact that, during 2023, both the U.S. and the U.K. announced plans for new oil and gas drilling projects, including the
Willow project
in Alaska and the
Rosebank oilfield
in the North Sea.
"Everyone knows that countries' mitigation pledges under the Paris agreement are far off track from keeping warming below 1.5°C, or even 2°C. But there is far less awareness that countries' and corporations' plans for producing oil, gas, and coal are even farther off track," said Sivan Kartha of the Stockholm Environment Institute.
"Practically speaking," Kartha continued, "the only hope that we'll back away from the brink is a globally fair arrangement that gives poorer countries the time and resources to manage rapid transitions away from fossil fuel production and consumption."

The report also provides guidelines for those resources based on "fair share" contributions from wealthier nations derived from their capacity and their responsibility for the climate crisis. The U.S., which is the No. 1 historical emitter of carbon pollution, would owe 46.3% of the total, or $97.1 billion per year. The E.U. comes next, owing 20.7% or $43.4 billion per year. It is followed by Japan (9.3% and $19.5 billion), Canada (4.1% and $8.6 billion), and the U.K. (3.8% and $8 billion.)
"The Civil Society Equity Review report clearly shows that the richest countries are largely responsible for the climate crisis. They also have the greatest capacity to deliver the solutions we need," Oxfam International climate policy lead Nafkote Dabi said in a statement. "Rich countries should be the first to commit to the phaseout of fossil fuels. They should also commit to providing crucial financial support to developing countries to facilitate their transition to clean energy."
The Civil Society Equity Review was first convened in 2015 and now has the backing of more than 500 organizations and movements. Its latest report comes amid the greatest push to negotiate a total phaseout of fossil fuels at a U.N. climate conference to date.
"As the climate negotiations pivot, finally, to the central issues of fossil fuel extraction and developmental justice, this report steps back and takes a long-overdue hard look at the overall structure of the problem," Tom Athanasiou of the Climate Equity Reference Project said in a statement. "Its goal is to move the discussion forward and we think that, by giving real numbers—both phaseout dates and support needs—it does just that."
News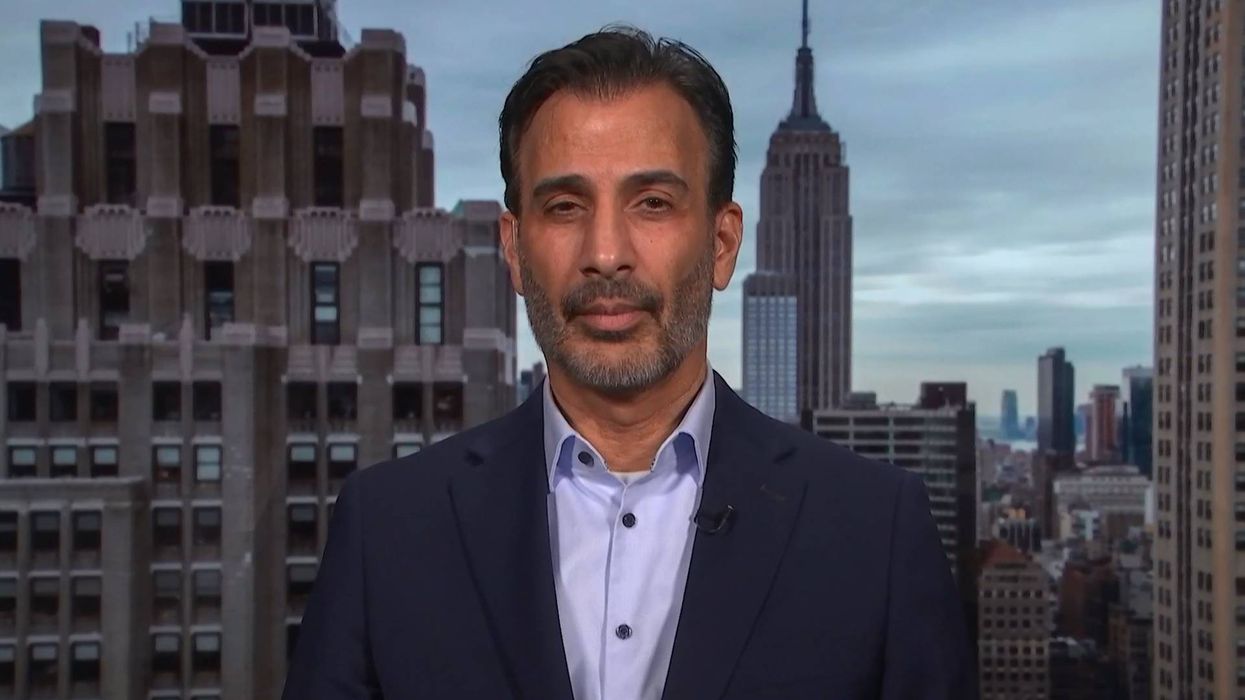 Meanwhile, a Biden administration spokesperson says it is "too soon" to judge whether Israel is protecting Palestinian civilians in Gaza.

A former United Nations human rights official who resigned from his job in October over what he called the world body's refusal to prevent Israel's slaughter of thousands of Palestinian civilians said this week that Israeli forces are undeniably committing genocide in Gaza.
In a Sunday interview with Al-Araby Al-Jadeed translated by The New Arab, Craig Mokhiber—formerly the New York director for the Office of the High Commissioner for Human Rights—described Israel's Gaza onslaught as the "most clear-cut case of genocide I have seen in my career."
"We are witnessing genocide in the 21st century, and it seems that the United Nations is once again unable to stop it," the American attorney added. "I realize that the term 'genocide' is being politicized and misused in some circumstances—so as a human rights lawyer, I am careful to apply the term only when there is a prima facie case and the evidence is clear."
"We are witnessing genocide in the 21st century, and it seems that the United Nations is once again unable to stop it."

Mokhiber, who is 63 years old, worked at the U.N. for more than 30 years as a human rights specialist, serving in places including Gaza, Afghanistan, and Darfur. He also worked during the Tutsi, Bosnian, Yazidi, and Rohingya genocides.
He quit in late October, penning a scathing resignation letter excoriating the U.N. Echoing earlier comments by Israeli Holocaust scholar Raz Segal, Mokhiber called Israel's conduct "a textbook case of genocide."
"What's interesting about this case compared to others is that generally when you try to prove genocidal intent, you need to get secret government documents and files, and dig through old secret archives to find indicators of intent," Mokhiber said Sunday.
"Here we have frank and clear statements of genocidal intent by senior Israeli officials, both public and official," he added.
Numerous senior Israeli officials have made what critics have called genocidal statements, including Prime Minister Benjamin Netanyahu, President Isaac Herzog, Defense Minister Yoav Gallant, Agriculture Minister Avi Dichter, and a number of Knesset lawmakers.
"They have a strong sense of impunity, frankly because of the protection they enjoy from the United States, Britain, and Europe in international forums," said Mokhiber.
During a Monday press conference, U.S. State Department spokesperson Matthew Miller was asked about Mokhiber's genocide assertion.
"The State Department has a rigorous process for evaluating... what constitutes genocide, ethnic cleansing, or a crime against humanity," he replied. "Those are terms we only use with very explicit care."
"We are monitoring the evolving situations and are examining facts as they develop," Miller continued. "It's an extremely challenging space to get all the information... But we support Israel's right to continue to take action to ensure that Hamas can never conduct terrorist attacks like it did on October 7th again. And as part of that, we urge Israel to take all possible measures to minimize civilian harm."
Asked if Israel is heeding Biden administration exhortations to protect civilians in Gaza, Miller said that "I think it's too early to draw a definitive assessment. I will say that unfortunately, we do expect to see civilian casualties as a result of this campaign."
"We believe that far too many civilians have been killed," Miller said later during the press conference. "But again, this goes back to the underlying problem of this entire situation, which is that Hamas has embedded itself inside civilians—inside civilian homes, inside its mosques, in schools, in churches. It is Hamas that is putting these civilians in harm's way."
Gaza officials said Tuesday that nearly 16,000 Palestinians—including more than 4,000 women and over 6,000 children—have been killed by Israeli bombs and bullets, with upward of 42,000 others wounded, around 80% of the besieged strip's 2.3 million people forcibly displaced, and approximately 60% of the territory's homes destroyed or damaged.
President Joe Biden—who is seeking $14.3 billion in additional military aid for Israel—and other U.S. officials have been accused of genocide denial for aspersing Gaza authorities' casualty reports because they were issued by Hamas. However, Israeli military officials said off the record this week that Hamas' figures are accurate.
News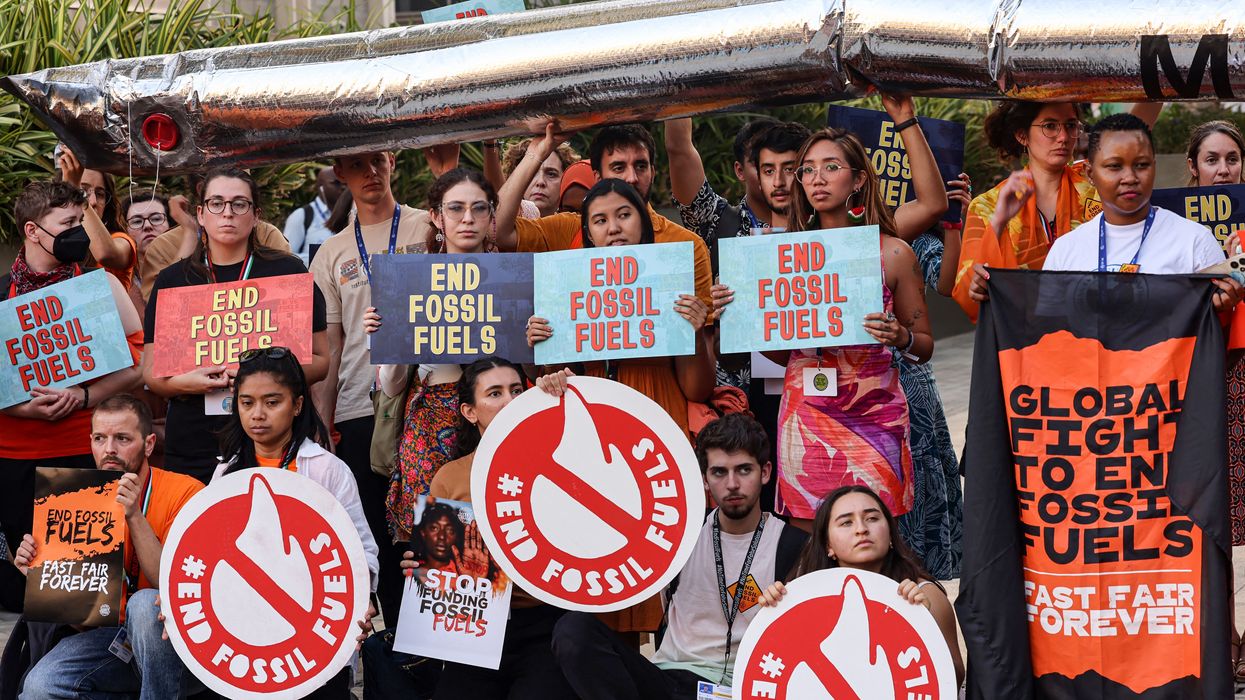 The draft offers "the fossil fuel industry a lifeline with dangerous distractions, like carbon capture and storage, and other abatement technologies," said one campaigner.
With a week left until the 28th United Nations Climate Change Conference wraps up with a long-awaited "Global Stocktake" that will measure countries' progress towards the objectives of the Paris climate agreement, a draft of the document released Tuesday revealed a strong push to include a major loophole for the biggest fossil fuel producers—in the form of language that would allow so-called "abated" emissions.
More than 100 countries reportedly support a clause in the Global Stocktake that would call for "accelerating efforts toward phasing out unabated fossil fuels"—emissions that are not "captured" through technological fixes like carbon capture and storage (CCS) before they reach the atmosphere. That option in the text also calls on countries to "rapidly" reduce unabated fossil fuels "so as to achieve net zero CO2 in energy systems by or around mid-century."
The Biden administration, among other wealthy governments, has backed an expansion of CCS, offering $1.2 billion in grants for two projects this year. Analysts warn the technology would actually increase energy consumption by 20%, ultimately increasing the carbon emissions that CCS proponents claim are "abated" by the technology, as well as worsening environmental injustice by ramping up smog, benzene, and formaldehyde emissions in fenceline communities.
Other options in the draft text include a call for "an orderly and just phaseout of fossil fuels," which more than 25 countries support, according toBusinessGreen, and no mention at all of a phaseout.
Another paragraph in the draft included an agreement that countries will rapidly phase out "unabated coal power this decade" and ban the building of new coal power plants, and a second option would omit any mention of phasing out coal.

Romain Ioualalen, global policy manager for Oil Change International, acknowledged that just "three years ago, it would have been unimaginable to see governments consider an inclusion of fossil fuel phaseout in any [Conference of the Parties] agreement," which organizers and governments in the Global South have aggressively campaigned for in recent years.
The ultimate goal for the Global Stocktake, however, said Ioualalen, is "an agreement to immediately decline fossil fuel production and use... as well as a full, fast, fair, and funded fossil fuel phaseout."
The draft released on Wednesday goes in the opposite direction, he said, giving "the fossil fuel industry a lifeline with dangerous distractions, like carbon capture and storage, and other abatement technologies."

"We urge parties to hold a strong line against these failed technologies and refuse any language that allows fossil fuel companies to justify continued oil and gas extraction," said Ioualalen.
Pivoting to technologies like carbon capture and storage instead of focusing on sharply dialing down all carbon emissions, he added, would "blow us well past 1.5°C [in planetary heating], and lead to catastrophic climate consequences."
As author and 350.org co-founder Bill McKibben wrote in a column earlier this week, countries that are embracing technologies like CCS are playing into the hands of fossil fuel giants.
"It's abundantly clear that coal, oil, and gas are breaking the climate system; it's also abundantly clear that the people who own coal, oil, and gas reserves don't care," wrote McKibben. "In an effort to keep burning them, so they can continue to collect the returns, they propose building vast engineering projects alongside fossil-fuel generating plants, to capture the carbon dioxide from the exhaust stream. That is, they want to 'abate' the damage of their product."

Scientists have warned that eight years after the Paris climate agreement was finalized with a goal of limiting planetary heating to 1.5°C—or as far below 2°C as possible—the world is currently on track to warm by 3°C this century.
Global carbon emissions have continued to rise in recent years as countries including the U.S. and the U.K. have approved major fossil fuel projects despite warnings from energy and climate experts that oil, gas, and coal extraction have no place on a pathway to 1.5°C.
The final Global Stocktake, said Shirley Matheson, the World Wildlife Fund's global nationally-determined contribution enhancement coordinator, must force governments to "face up to the consequences of their collective inaction, and commit to strengthen climate ambition and action in line with limiting global warming to 1.5°C."
Matheson called the current draft "bloated" and expressed hope that countries in attendance at the conference (COP28) will adopt a Global Stocktake with the best options included in the draft.

"Good language on phasing out fossil fuels is included as an option, and new text options have been added that call for stronger ambition in the national climate plans, and a new collective goal for 60% emissions cuts by 2035," she said. "These signals are essential to create the conditions for more ambitious commitments and more international cooperation to achieve them."
"Time is running out for negotiators to agree on a draft text with clear political options for ministers later in the week," she added. "Countries must work together to achieve science-aligned guidance and ways forward for a dramatic course correction of climate action. This will give us the best chance of securing a livable planet."
As Common Dreamsreported Wednesday, a record number of fossil fuel industry lobbyists are also attending COP28, leaving campaigners concerned that the final agreements out of the summit will include significant loopholes for the industry.
"Global leaders have to deliver a full package," said Ioualalen. "We will not accept weak outcomes only on coal or renewables, and without addressing the primary driver of the climate crisis, fossil fuels."
News