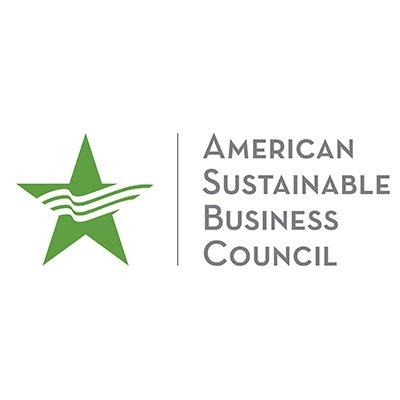 American Sustainable Business Council Celebrates NY State Pension Fund Move to Divest from Fossil Fuels
Following years of campaigning, American Sustainable Business Council (ASBC) and other members of the DivestNY coalition are celebrating today's climate win: New York State's decision to begin divesting its $226 billion pension fund - the world's largest - from fossil fuels in the next four years. "We are delighted to know that NY State will start divestiture from the most concerning oil and gas companies near-term and will decarbonize the entire fund by 2040, and we're proud to have helped in DivestNY's vital climate campaign toward this goal," says ASBC President David Levine.
WASHINGTON
Following years of campaigning, American Sustainable Business Council (ASBC) and other members of the DivestNY coalition are celebrating today's climate win: New York State's decision to begin divesting its $226 billion pension fund - the world's largest - from fossil fuels in the next four years. "We are delighted to know that NY State will start divestiture from the most concerning oil and gas companies near-term and will decarbonize the entire fund by 2040, and we're proud to have helped in DivestNY's vital climate campaign toward this goal," says ASBC President David Levine. "On behalf of the 250,000-plus responsible business leaders and investors ASBC represents, we applaud the NY State Comptroller for this significant move and the example it sets for the rest of our country."
The comptroller's office, custodian of the state's $226 billion pension fund, will initiate measures to decarbonize the pension fund's portfolio entirely by 2040, with interim targets. It will complete a systematic review of all fossil fuel investments within four years, including divesting from any companies lacking a plan to leave fossil fuels behind, which would include aligning with the Paris Climate Agreement and transitioning away from oil and gas production, servicing or transport. The state will provide news updates each time it undertakes and completes review of a particular investment, plus annual in-depth reports on implementation. It will also engage more rigorously with companies' leadership, including voting against board directors of non-fossil fuel companies that fail to take climate action in line with the fund's decarbonization goal.
"Like New York's ban on fracking, this move will earn global acclaim and makes good economic sense," says New York Sustainable Business Council Executive Director Bob Rossi. "While the future of fossil fuel investments looks grim, the clean energy sector is booming with tech innovation and accelerating popular demand. New York should capitalize on this energy transition. We applaud Comptroller DiNapoli and urge him to take a step further: reinvest our pension fund specifically in the growing renewable energy business community based here in New York State. This would ensure their success."
ASBC member Ron Gonen, CEO of Closed Loop Partners, agrees. "This comprehensive climate action plan is a step in the right direction. Wasteful, extractive businesses cost taxpayers money and fuel an inefficient, linear, take-make-waste economy. Decarbonizing and dematerializing our economy is critical to create a more sustainable, circular economy that reduces waste and protects the environment."
"As the economic risks from climate change mount, it's clear we need strong, responsible action by government, business and investors," ASBC's Levine concludes. "If we redirect our considerable investment assets out of fossil fuels and into the many sectors that foster a more equitable, sustainable economy, we'll have an economy with returns we can truly live with."

Read more about the announcement in the DivestNY Coalition media release.
The American Sustainable Business Council (ASBC) advocates for policy change and informs business owners, policymakers and the public about the need and opportunities for building a vibrant, broadly prosperous, sustainable economy. Founded in 2009, its membership represents over 250,000 businesses in a wide range of industries.
(202) 660-1455
LATEST NEWS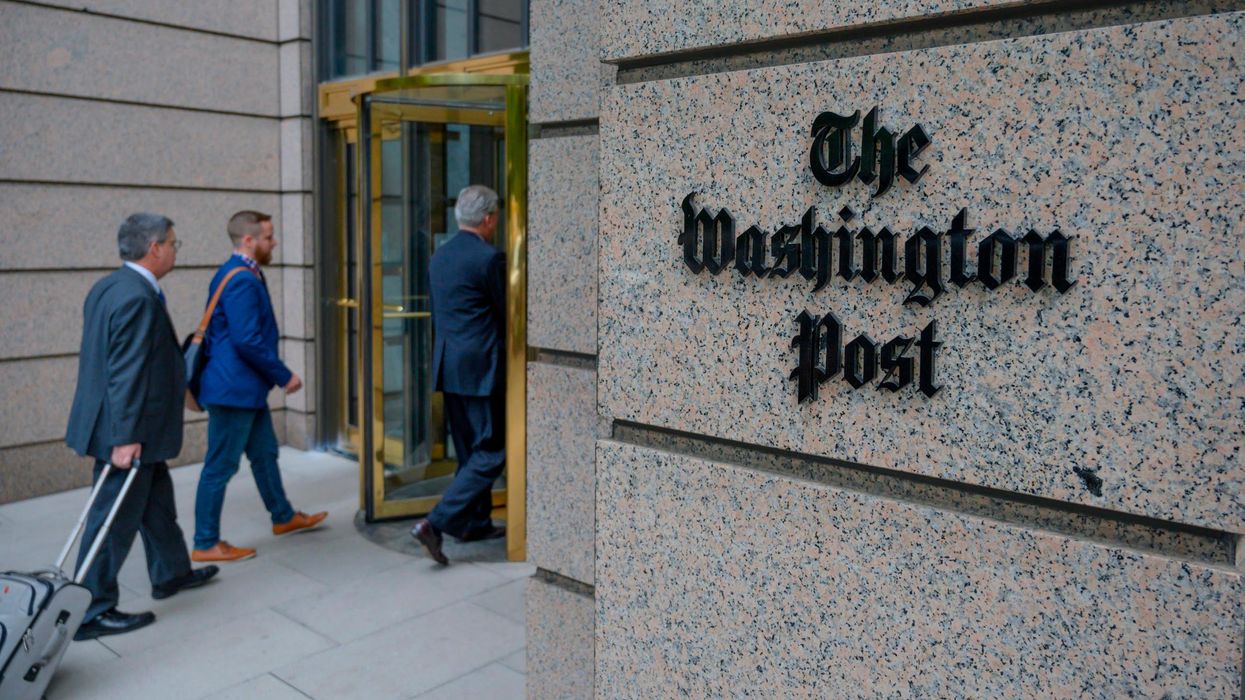 "We're worth more than what they're offering," said the Washington Post News Guild.
More than 700 unionized staffers of The Washington Post made a request of readers on Wednesday: For 24 hours starting on Thursday, December 7, they said, "please do not engage with any Washington Post content"—including reading the venerated newspaper's print and online editions, listening to podcasts, watching videos, or filling out the crossword puzzle.
The journalists and staff members are staging a one-day work stoppage to protest extensive staffing cuts in the newsroom over the past year and management's refusal to "bargain in good faith" and offer a fair contract to members of the Washington Post News Guild.
"For 18 months, members of our union, the Post Guild, have sought to negotiate a fairer contract for us all," wrote the union to readers. "But management has refused to bargain in good faith and repeatedly—and illegally—shut down negotiations over key issues, such as pay equity, raises that keep pace with inflation and our competitors, remote work policies, mental health supports, and a buyout package that seeks to reduce our workforce by 10%."
"That's why, on December 7, Washington Post workers are going on strike for 24 hours," the workers said.
On social media, the union detailed its demands and contrasted them with management's offers in the most recent negotiations.
The Post Guild asked for raises of 4% annually for three years to help staffers support themselves and their families amid inflation and the rising cost of living; management offered just 2.25% in the first year and 2% in the second and third year of the contract.
The newspaper—owned by Amazon founder Jeff Bezos, currently the third-richest person in the world with a net worth of $167.8 billion—also said it would provide "no mental health[care] guarantees" and that it has "absolute power to demand full-time return to the office at any time." The union had called for a continuation of the current hybrid working arrangement with staffers permitted to work from anywhere for four weeks out of the year.
"We're worth more than what they're offering," said the Post Guild.
The union has also voiced objections to repeated staffing cuts at the Post this year. The company has laid off nearly 40 people in 2023, said the Post Guild, as well as offering "voluntary" buyouts to 240 employees.

"Nowthe Post has threatened that if they don't get enough people to leave, more layoffs will be next," said the union in another message to readers in which members asked the public to write to the newspaper management and tell executives they support "its workers in our fight to keep our jobs and earn a living wage."
The Post currently aims to shrink its workforce by about 10%, with about 940 journalists in the newsroom.

"That means fewer Post employees making the critical journalism that keeps our communities informed and holds our public officials accountable. Democracy Dies in Darkness, right?" said the unionized workers, quoting the company's slogan that was adopted in 2017.
In a video posted on social media, some of the Guild's 700 dues-paying members—who work in editorial, advertising, and non-newsroom departments—shared how they are continuously covering a tumultuous time in U.S. history, from the January 6 insurrection, to the Covid-19 pandemic, to the climate crisis.
"I'm worth a fair and transparent pay process," said publicist Kathleen Floyd.
"I'm worth job protections that value my years of service," added health and medicine reporter Lenny Bernstein.
Nearly 750 Post workers are expected to join the walkout on Thursday, Reutersreported.
"Taking this historic action is not a decision we came to lightly. We take seriously the impact it will have on the people, issues and communities we cover," said the Guild in its letter to readers. "ThePost cannot stay competitive, retain the best talent, or produce the kind of elite journalism you rely on without giving its staff a fair deal."

News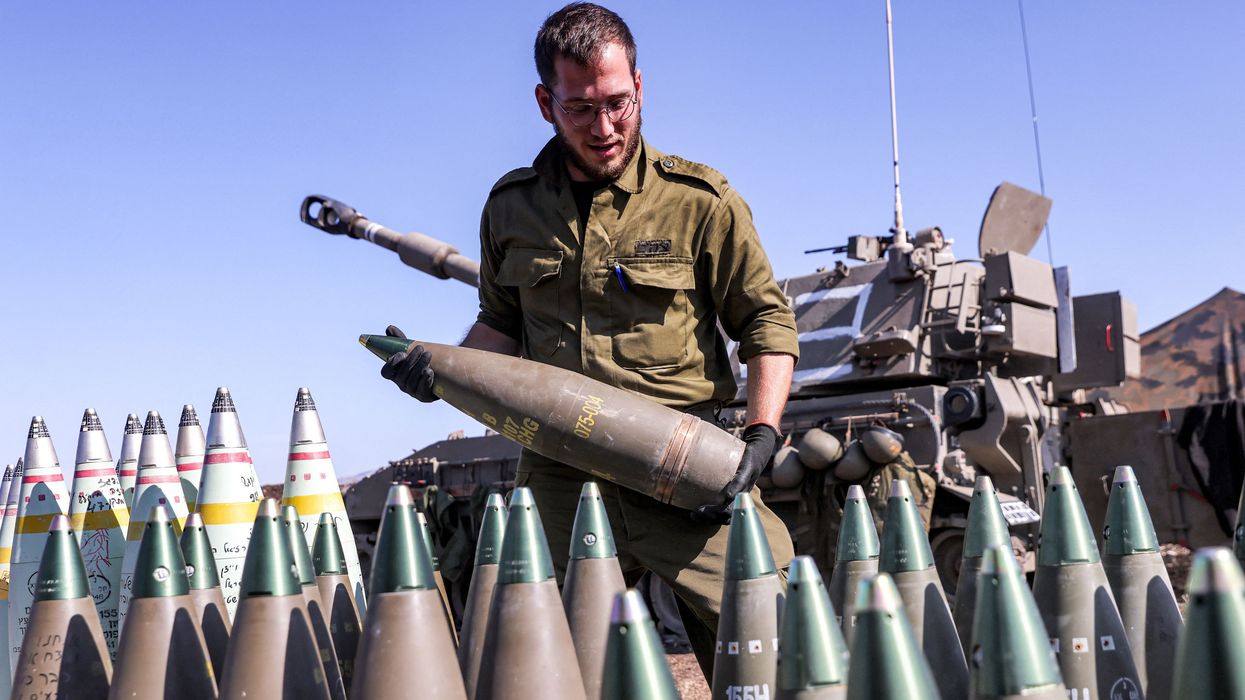 The senators—who are seeking improved oversight—sounded the alarm on the "staggering number of civilian deaths" caused by Israeli bombing with U.S.-supplied ordnance.
As the number of Gazans killed, maimed, or left missing by Israeli bombs and bullets—many of them manufactured in the United States— tops 60,000, a group of U.S. senators on Tuesday urged President Joe Biden to boost oversight of how American arms are used against Palestinian civilians.
Noting that Israel's response to the Hamas-led attacks of October 7 "has killed over 15,000 Palestinians in Gaza, the vast majority of whom are civilians," Sens. Elizabeth Warren (D-Mass.), Jeff Merkley (D-Ore.), Bernie Sanders (I-Vt.), Tim Kaine (D-Va.), and Martin Heinrich (D-N.M.) asked the White House for "information on the accountability and oversight measures that ensure any use of U.S. weapons is in accordance with U.S. policy and international law."
"U.S. allies and human rights groups have argued many of these deaths were preventable," the senators wrote in their letter. "In its campaign, Israel has also repeatedly targeted areas it previously designated as 'safe zones,' after telling Palestinians to move to these locations for safety."
"[Israel Defense Forces] airstrikes have also hit the densely populated Jabalia refugee camp multiple times," the lawmakers noted. "The first strike killed 'more than 100 people' and injured 'hundreds' more. The second strike left dozens wounded and rescuers said those killed included 'whole families'... Other strikes and operations have targeted hospitals."
A growing number of legal, human rights, and other experts have called Israel's war on Gaza a genocide.
The senators' letter continues:
While these strikes were aimed at Hamas, we have concerns that strikes on civilian infrastructure have not been proportional, particularly given the predictable harm to civilians. The United Nations Secretary-General António Guterres has said these strikes are 'clear violations of international humanitarian law.' Even Israeli Prime Minister Benjamin Netanyahu has admitted that his government's efforts to minimize civilian casualties to date are 'not successful.'
The letter singles out 155mm artillery shells, unguided explosive rounds with a "kill radius" of about 50 meters, with shrapnel able to kill and wound people hundreds of meters away.
"The IDF requires its ground forces to stay 250 meters away to protect its own forces," the letter states. "The IDF has previously used these shells to 'hit populated areas including neighborhoods, hospitals, schools, shelters, and safe zones,' causing a staggering number of civilian deaths."
"Over 30 U.S.-based civil society organizations warned against providing Israel 155mm shells in an open letter to [U.S. Defense Secretary Lloyd] Austin calling the shells 'inherently indiscriminate' and 'a grave risk to civilians,'" the lawmakers added.
Claiming that "civilian harm prevention is a cornerstone of American foreign policy"—a curious assertion given that the United States has killed more foreign civilians by far than any other armed force on the planet since the end of World War II—the senators argued that "we must ensure accountability for the use of U.S. weapons we provided to our ally."
"As you have acknowledged, Israel's military campaign has included 'indiscriminate bombing,'" they wrote. "Your administration must ensure that existing guidance and standards are being used to evaluate the reports of Israel using U.S. weapons in attacks that harm civilians in order to more rigorously protect civilian safety during Israel's operations in Gaza."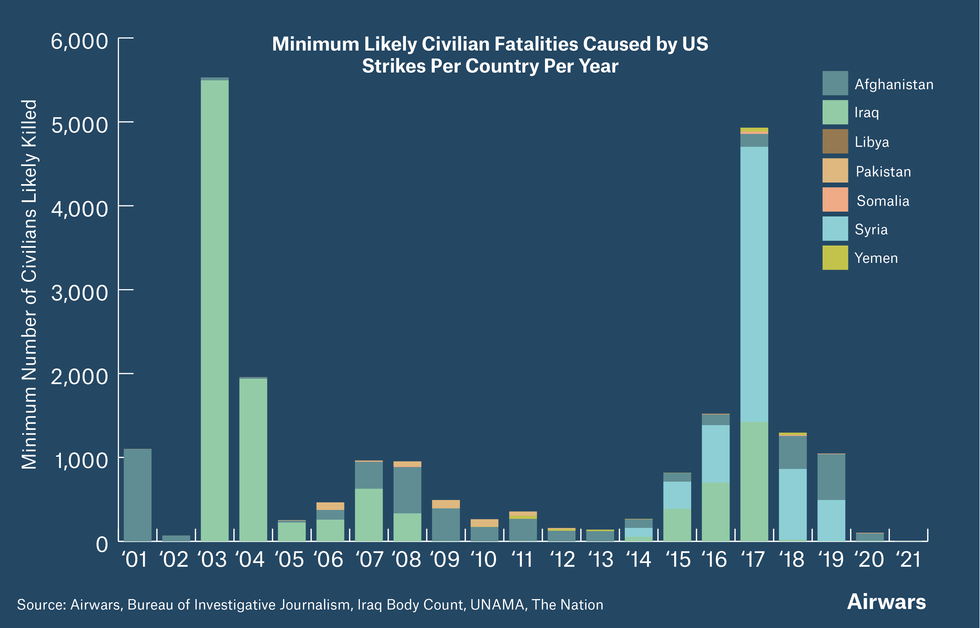 (Source: Airwars)
To that end, the senators ask Biden to answer 13 questions, including:
Are U.S. officials aware of the IDF's current policy on preventing civilian harm?
What insights does the U.S. government have into how the Israeli military assesses issues of proportionality?
What systems does the Israeli government have in place to investigate allegations of civilian harm?
Does the U.S. Defense Department or State Department plan to provide Israel with guidance on how 155mm shells should be
used when civilians are nearby?
Are you aware of any requests for inspector general reviews or audits of U.S. military assistance provided to Israel?
The senators' letter came ahead of Wednesday's procedural vote on whether to begin debating a $106 billion "national security" spending package requested by Biden, which includes more than $10 billion in additional U.S. military aid to Israel atop the nearly $4 billion it receives each year from Washington.
On Tuesday, Sanders—who has angered progressives by failing to demand a Gaza cease-fire—said he opposes sending billions of dollars in unconditional U.S. armed aid to the "right-wing, extremist" Israeli government led by Prime Minister Benjamin Netanyahu.

"Israel must dramatically change its approach to minimize civilian harm," he said, "and lay out a wider political process that can secure lasting peace."
News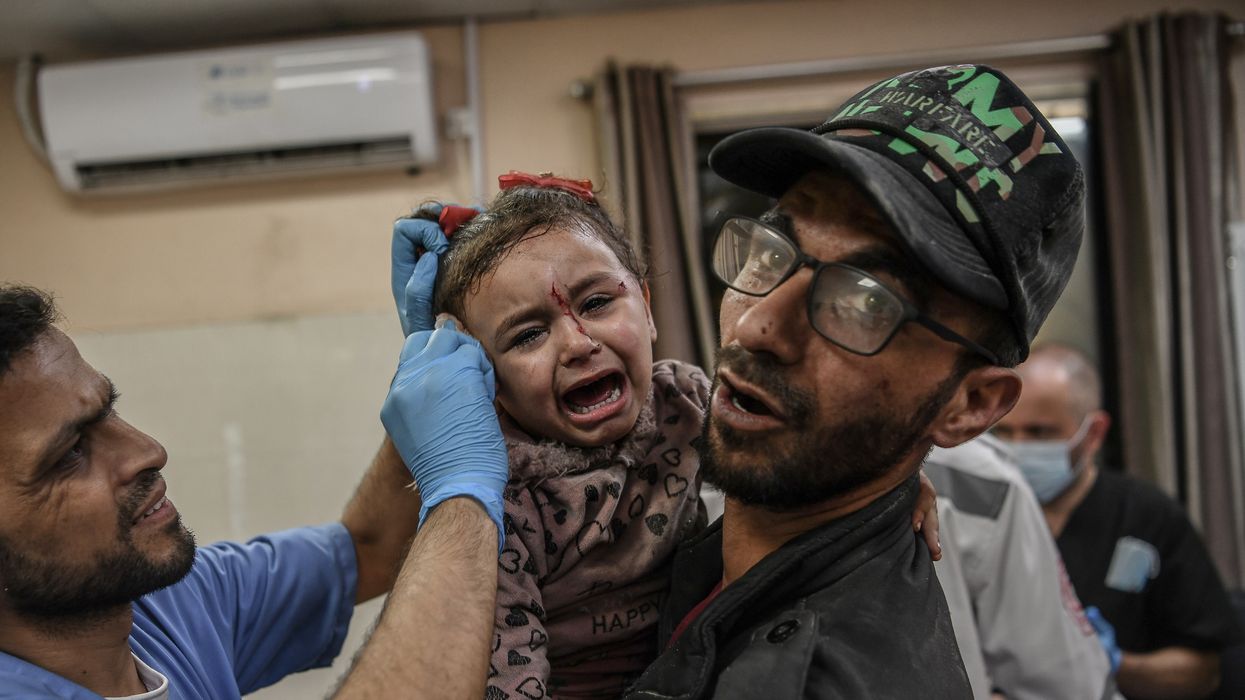 The Israeli military has admitted to a 66% civilian death rate, which it has called "tremendously positive."
Israel's public admission that it has killed two civilians in the Gaza Strip for every Hamas militant—a roughly 66% noncombatant death rate—is a major understatement, according to an analysis released Tuesday by the Euro-Mediterranean Human Rights Monitor.
Based on preliminary statistics, the Geneva-based nonprofit estimated that at least 90% of the people killed in Israel's assault on Gaza thus far have been civilians, a rate that exceeds those of the U.S. wars on Vietnam, Korea, Iraq, and Afghanistan, as well as Russia's war on Ukraine.
Euro-Med Monitor found that when including those believed to be missing under the rubble of Gaza's decimated infrastructure, Israeli forces have killed 21,022 people in the besieged Palestinian territory since October 7, an estimated 19,660 of whom were civilians. The nonprofit said that 60% of the civilians killed were women and children.
The group said its figures "clearly refute" Israel's claim of a two-to-one ratio of civilians to militants killed, which an Israel Defense Forces (IDF) spokesperson hailed as "tremendously positive" in a CNNinterview earlier this week. Israeli forces believe they have killed around 5,000 Hamas fighters since October 7.
"If you compare that ratio to any other conflict in urban terrain between a military and a terrorist organization using civilians as their human shields, and embedded in the civilian population, you will find that that ratio is tremendous, tremendously positive, and perhaps unique in the world," said the IDF's Jonathan Conricus.
But an analysis released last month by the watchdog Action on Armed Violence found that Israel's latest assault on Gaza—carried out with the help of artificial intelligence, according to recent reports—has been far deadlier for civilians than even its previous attacks on the strip.
The group estimated that each of Israel's casualty-causing strikes on Gaza since October 7 have killed an average of 10.1 civilians.
"This significantly surpasses previous Gaza operations which, at its historic recent worst in Operation Protective Edge, was just 2.5 civilian fatalities per casualty-causing strike," the watchdog said. "As such, the current operation appears to be four times more lethal, based on per injurious strike data, than previous Israeli operations. It also exceeds the global average of 7.4."
Citing military analysts, the Financial Timesreported Tuesday that "the destruction of northern Gaza in less than seven weeks has approached that caused by the yearslong carpet-bombing of German cities during the Second World War."
"Dresden, Hamburg, Cologne—some of the world's heaviest-ever bombings are remembered by their place names," U.S. military historian Robert Pape told the newspaper. "Gaza will also go down as a place name denoting one of history's heaviest conventional bombing campaigns."
Jan Egeland, secretary-general of the Norwegian Refugee Council, said Tuesday that the "pulverizing of Gaza now ranks amongst the worst assaults on any civilian population in our time and age."
News