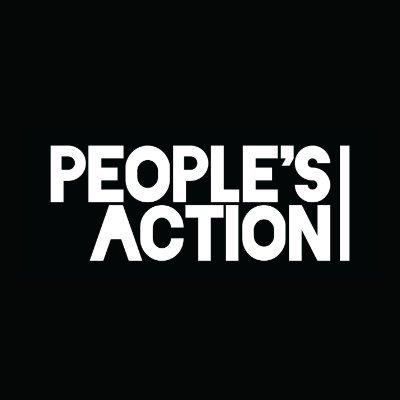 For Immediate Release
December, 01 2020, 11:00pm EDT
Rahm Emanuel's Failures Should Disqualify Him From Any Position in Biden's Administration
People's Action Director George Goehl today released the following statement after reports emerged that President-Elect Joe Biden is considering Rahm Emanuel for Secretary of the Department of Transportation:
WASHINGTON
People's Action Director George Goehl today released the following statement after reports emerged that President-Elect Joe Biden is considering Rahm Emanuel for Secretary of the Department of Transportation:
"Rahm Emanuel is a non-starter. As mayor of Chicago, he covered up the police killing of Laquan McDonald. And worse, when the video was released, he tried to frame the killing as a case of one bad apple, instead of taking responsibility and addressing the pervasive nature of police violence within the Chicago Police Department. If that's not bad enough, he also shuttered public mental health services in predominantly Black and Brown neighborhoods, eliminated a department overseeing environment standards, and defunded public schools.
"Under the Clinton and Obama administrations, he attacked public benefits for people in poverty and blocked immigration reform. Appointing Rahm Emanuel would show that the Democratic Party sees no harm in its culture of 'failing up' which gives more power to electeds who fail to govern and consultants who fail to win elections.
"People's Action ran one of the largest persuasion efforts to help elect Joe Biden and Kamala Harris. Rewarding Emanuel for this record would not only be a slap in the face, but also raise red flags about the values and direction of this administration."
People's Action is headquartered in Chicago, where one of its founding organizations, National People's Action, has had a home base for over forty years. People's Action has a petition to keep Rahm Emanuel out of Biden's administration.
People's Action builds the power of poor and working people, in rural, suburban, and urban areas to win change through issue campaigns and elections.
LATEST NEWS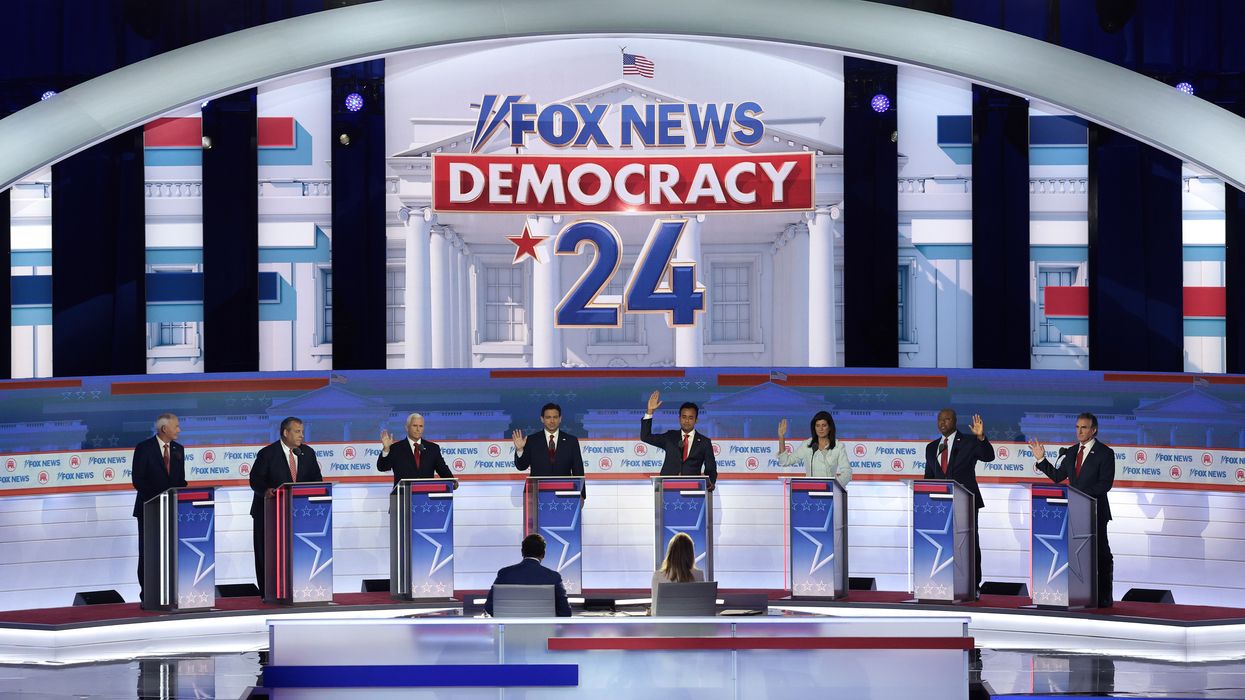 "The first Republican debate was nothing but a race to the bottom," said the head of Data for Progress. "Major candidates succeeded in turning off Independent voters and failed to offer voters a positive vision."
Polling results released Friday in the wake of the first 2024 Republican presidential debate this week show that majorities of Independent voters and those across the political spectrum disagree with key GOP positions addressed during the event.
While former U.S. President Donald Trump, the GOP front-runner, skippedFox's debate, eight candidates participated: North Dakota Gov. Doug Burgum, former New Jersey Gov. Chris Christie, Florida Gov. Ron DeSantis, former South Carolina Gov. Nikki Haley, former Arkansas Gov. Asa Hutchinson, former Vice President Mike Pence, entrepreneur Vivek Ramaswamy, and U.S. Sen. Tim Scott of South Carolina.

The progressive think tank Data for Progress found that 67% of all likely voters—including 85% of Democrats, 67% of Independents, and 49% of Republicans—oppose shutting down the U.S. Department of Education, a plan backed by Burgum, DeSantis, Pence, and Ramaswamy.
Meanwhile, Christie and Scott have taken aim at organized educators, with the senator declaring on the debate stage Wednesday that "the only way we change education in this nation is to break the backs of the teachers unions."
But, as Data for Progress found, that position is unpopular with voters, with 58% of respondents—including 78% of Democrats, 54% of Independents, and 39% of Republicans—saying they oppose breaking up teachers unions.
The group further found that majorities of voters oppose requiring citizens to pass a poll test before voting, sending U.S. military forces into Mexico to fight drug cartels, and pardoning Trump for any criminal charges against him.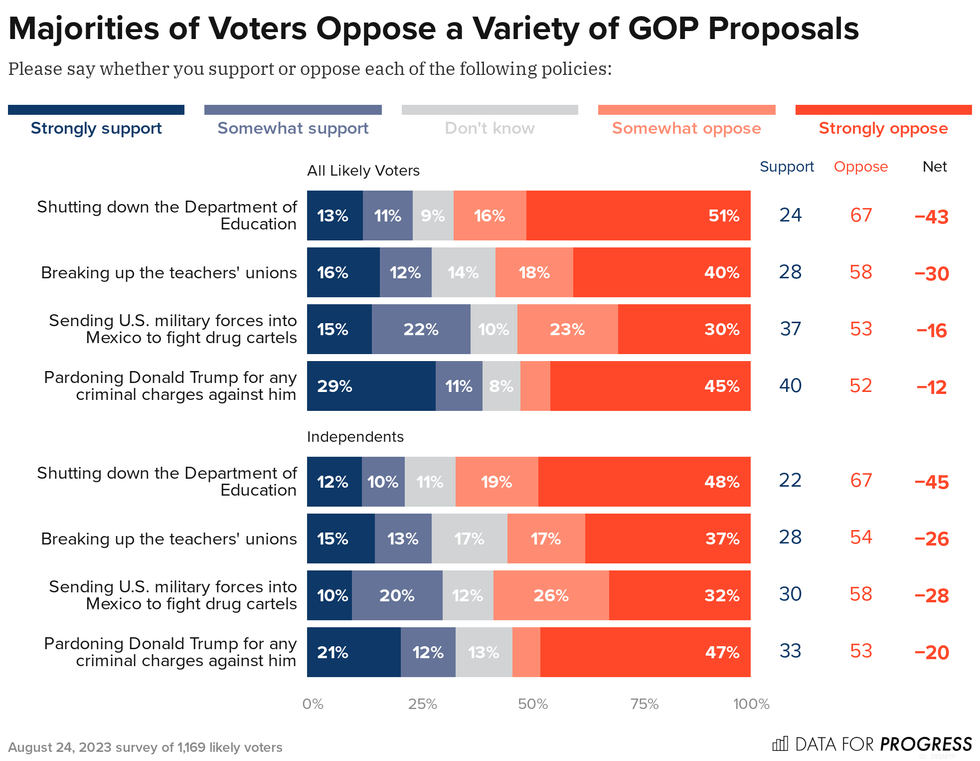 Trump—who recorded an interview with former Fox host Tucker Carlson as counterprogramming to the debate—faces 91 charges in four ongoing cases. He was first indicted in April, related to the Manhattan district attorney's investigation of alleged hush money payments during the 2016 election cycle.
The former president is also facing federal charges related to a pair of probes led by Special Counsel Jack Smith, one regarding classified documents, and another stemming from his efforts to overturn the last presidential election. Trump's failed attempt to reverse his 2020 loss is also the subject of the Fulton County, Georgia case, for which he was booked on Thursday.
Wednesday night, all candidates but Christie and Hutchinson signaled they would support Trump if he is selected as the party's 2024 nominee, even if he is convicted of a crime, and some are even willing to consider or issue a pardon. Data for Progress found that 52% of voters—including 83% of Democrats, 53% of Independents, and 17% of Republicans—would oppose such a pardon.
As Common Dreamsreported Thursday, during the debate, several candidates expressed support for various forced-pregnancy policies, including a federal abortion ban. A plurality of all voters surveyed, 48%, told Data for Progress they would not support a 15-week national abortion ban; that included 70% of Democrats, 47% of Independents, and 25% of Republicans.
"The first Republican debate was nothing but a race to the bottom. Major candidates succeeded in turning off Independent voters and failed to offer voters a positive vision for what the future of America could look like," Data for Progress executive director Danielle Deiseroth said in a statement.

"Rather than rolling back the progress made during the Biden administration, voters would rather see our country promote clean energy production, expand Medicare and Medicaid, and increase taxes on corporations and the wealthy," Deiseroth added.
Specifically, 77% of all voters—including 93% of Democrats, 76% of Independents, and 62% of Republicans—support expanding the production of clean energy in the United States, according to the poll. Similarly, 72% support addressing climate change.
Additionally, Data for Progress found, 93% support lowering prescription drug prices, 88% support holding Big Tech accountable to the law, 84% support increasing access to affordable housing, 76% support expanding Medicaid and Medicare to more people, and 75% support tax hikes for corporations and the rich.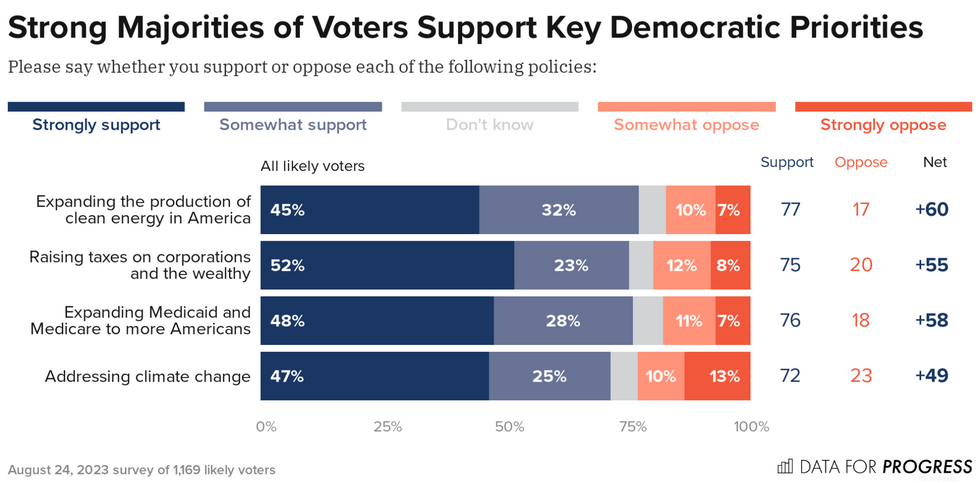 Democratic President Joe Biden and Vice President Kamala Harris are seeking reelection and—with only a few longshot presidential challengers—are expected to face the GOP candidates next year.
Harris said that during Wednesday's debate, "one by one, each extremist Republican candidate laid out a vision for an America that is less fair, less free, and less safe. These candidates want to raise costs for working families in order to benefit special interests and the ultrawealthy. To gut Social Security and Medicare. To strip fundamental rights and basic freedoms from millions of people. And to reverse the Bidenomics strategy that has helped create 13 million jobs, the strongest two years of small business creation in history, and record-low unemployment."
"President Biden and I will continue to grow the economy from the bottom up and the middle out and build a nation in which all people can truly thrive," she pledged. "We are laser-focused on finishing the job we've started: to create good jobs, lower costs, fix America's roads and bridges, create a clean energy economy, protect a woman's right to make decisions about her own body, keep our children safe from gun violence, and make sure all Americans can dream about their future with ambition and aspiration."
News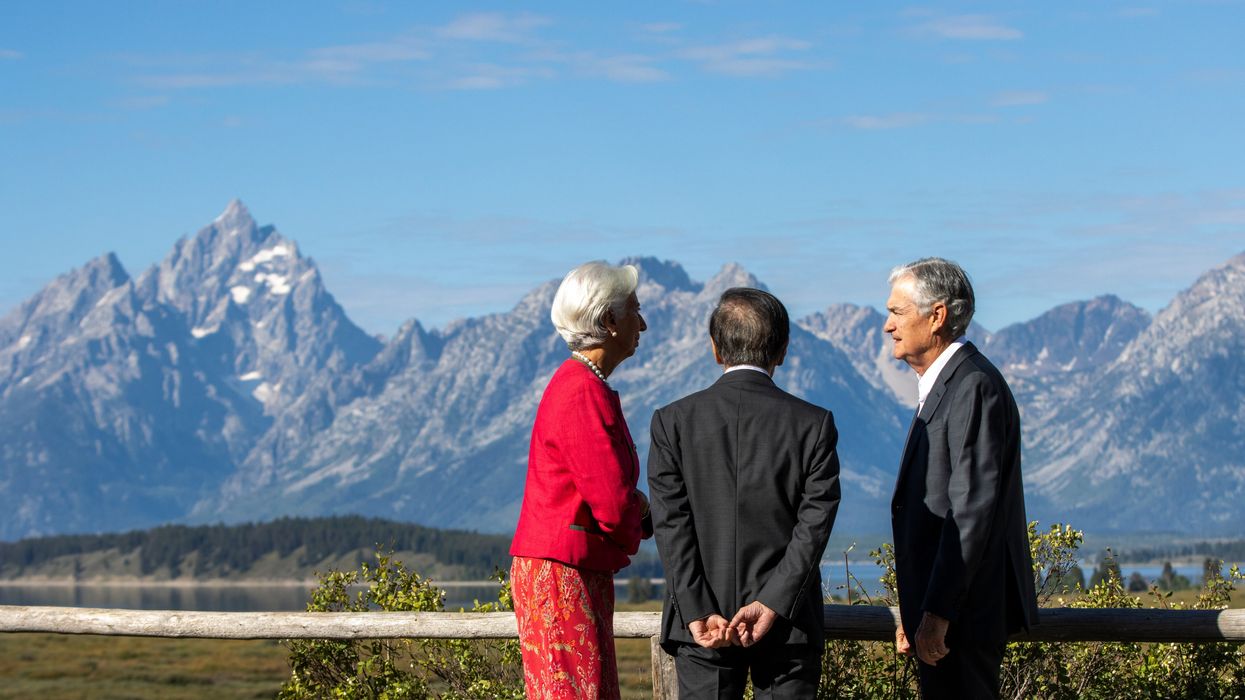 "We have no choice but to take direct action to put our bodies on the line because petitions, sign-waving, and chanting—we tried that for the past 50 years and it hasn't worked, and we're out of time," said one arrested activist.
Climate campaigners on Friday condemned the violent takedown of activists during a demonstration at the annual Jackson Hole Economic Policy Symposium in Wyoming, an elite gathering where U.S. Federal Reserve officials, central bankers from around the world, economists, and policymakers meet, mingle, and craft financial policies that critics say are exacerbating the planetary emergency.
Multiple videos posted on social media by the direct action group Climate Defiance show law enforcement officers slamming a pair of activists on a hard floor as they chant, "End fossil finance" at the conference, which is hosted by the Federal Reserve Bank of Kansas City. This year's theme is "Structural Shifts in the Global Economy."
One activist—25-year-old Teddy Ogborn of the group Planet Over Profit—was arrested, while other demonstrators were cited for criminal trespass, according to Eren Can Ileri, a policy advocate at the Stop the Money Pipeline coalition.
"I'm feeling a little sore but in pretty high spirits just thinking about the fact that someone has to be confronting these financial regulators who are actively choosing to fuel the climate crisis and burning the Rocky Mountains, where I'm from," Ogborn told Common Dreams.
"I am part of a global movement of young activists who see the world around us and know that progress is not being made fast enough on climate change," he continued. "People are climate laggards, they are climate delayists, they're climate deniers, and all that together means death in the near term for our futures and society as we know it."
"People want to do business as usual," Ogborn added. "Financial regulators have billionaire friends who want to watch the world burn from space. And so we have no choice but to take direct action to put our bodies on the line because petitions, sign-waving, and chanting—we tried that for the past 50 years and it hasn't worked, and we're out of time."
Ileri, who was also at the protest, told Common Dreams: "We tried to exert our democratic rights today. We tried to peacefully, nonviolently, and constructively engage the Federal Reserve on policy positions we believe are needed to save our futures. They showed us they were not open to conversation through their violence toward our activists but also by whisking the Fed chair away when we tried to approach him conversationally."
Federal Reserve Chair Jerome Powell once again took a hawkish stance during a speech in which he said that "although inflation has moved down from its peak—a welcome development—it remains too high," and that the Fed is "prepared to raise rates further if appropriate."
Powell did not address the climate emergency or the role central banks play in fueling it. Ileri asserted that "by isolating themselves from communities facing the real economy impacts of the climate crisis," Powell and other central bankers "are allowing themselves to define risk in a way that doesn't match the risks that normal Americans face on a day-to-day basis due to the climate breakdown."
Stop the Money Pipeline co-director and San Francisco Board of Supervisors candidate Jackie Fielder responded to the heavy-handed police tactics by telling Common Dreams that "it's absolutely horrendous how security and law enforcement would assault young climate activists who are simply calling out climate denialism at the Fed."
The direct action came as a coalition of more than 70 climate advocacy groups from around the world on Friday called on policymakers—especially in the banking and insurance sectors—to:
Adopt a precautionary approach to risk mitigation, given climate change's tipping points and unpredictable tail risks;
Design capital buffers that specifically take into account the systemic risks of climate change; and
Require the use of forward-looking tools, such as transition plans, which can help both authorities and market participants better understand and mitigate their own climate-related transition risks, as well as improve understanding of aggregated, systemic risks and promote accountability.
"Any symposium entitled 'Structural Shifts in the Global Economy' without a single mention of climate disasters and the billions they have cost everyday people and local economies should concern every American with a pension who agrees that climate change is here," Fielder said in a separate statement.
Akiksha Chatterji, lead campaigner at Positive Money U.S., a research and campaigning group "working to reimagine money, banks, and our economy for the well-being of people, communities, and the planet," said that "regulators are failing to act at the scale or pace necessary to curb the significant financial stability threats arising from climate change and fossil fuel financing."
"Rest assured, climate risks will materialize and we simply cannot quantify the precise nature and timing of these impacts as they are complex and ever-changing," she continued. "Emergency measures taken after a climate-driven financial crash may not suffice to contain such a meltdown."
"It's time," Chatterji added, "for the regulators and officials at this symposium to adopt a precautionary approach to climate and do their jobs before another financial crisis ensues."
News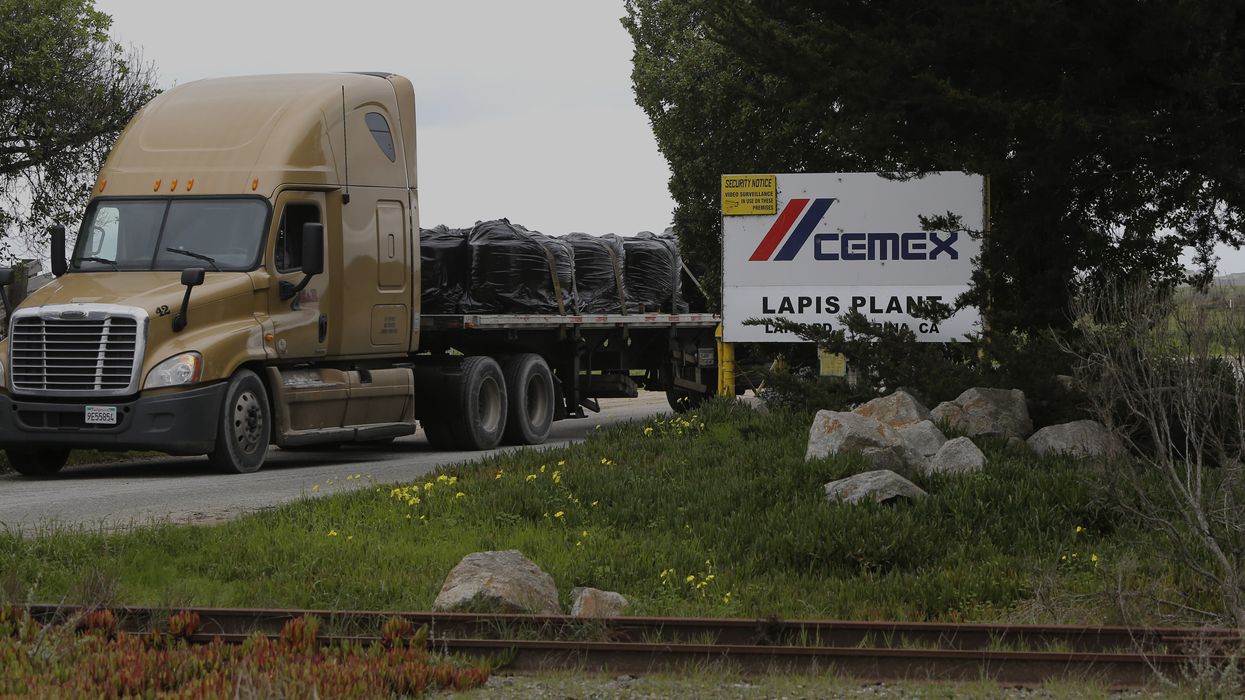 "The Cemex decision reaffirms that elections are not the only appropriate path for seeking union representation, while also ensuring that, when elections take place, they occur in a fair election environment," said the NLRB chair.
The National Labor Relations Board on Friday announced a new framework for determining when companies must bargain with unions without an election—a policy that supporters said will make union-busting much more difficult.
Following the NLRB's decision in Cemex Construction Materials Pacific, when workers ask an employer to voluntarily recognize a union as their bargaining representative, the company can voluntarily do so and begin good-faith negotiations.
Alternatively, the company may file a petition seeking an election, and as long as it does not commit unfair labor practices, one will be held. However, if a company does engage in such violations—or refuses to voluntarily recognize a union and fails to file a petition—the NLRB will now order the employer to recognize and bargain with the union without an election.
In other words, "union-busting just got a lot harder," More Perfect Unionsaid on social media. "This brings the board's position closer to the old Joy Silk doctrine, which held that if a majority of workers signed union cards, there didn't need to be an election at all and bosses just had to recognize the union and bargain in good faith."
The Joy Silk doctrine came from a 1949 NLRB decision and was replaced by the Gissel doctrine in a 1969 U.S. Supreme Court case.
As VICEreported Friday:
NLRB General Counsel Jennifer Abruzzo issued a memo earlier this year demanding that the board revive Joy Silk, something that labor activists have been fighting for since it was overturned. The Cemex decision issued on Friday is a partial step in that direction.

"What this new decision does is, it's a compromise," said Eric Blanc, an assistant professor of labor studies at Rutgers University. "It's not a return to 'card check,'" the unionization process in the 1930s and '40s that said if a majority of workers signed cards stating they wanted a union, the company was obligated to recognize and bargain with them—which Joy Silk had upheld.

"If there's intense illegal union-busting, as is very often the case, the NLRB can force the employers to immediately recognize the union rather than have to go through another union election," Blanc said. "But it's far short of what many union organizers were hoping for. By not making 'card check' the norm, [it] still opens up the process to all sorts of legal appeals and delays, which is ultimately one of the main tactics of employers—to delay the union first and then hold things up in endless appeals. This unfortunately doesn't avoid that dynamic, but it does get the NLRB more powers to require employers to recognize unions, and that should be at least a partial deterrent on employers' willingness to break the law."
Brishen Rogers, a professor at Georgetown University Law Center, said on the social media platform X that "Cemex may be the most important NLRB decision in a generation."
It is "hard to say if it will survive review," Rogers added. "But labor and the state can use it to change power alignments right now through organizing—which in turn would *help* it survive review."
In the case of Cemex—a U.S. subsidiary of a multinational that provides ready-mix concrete, cement, and aggregates to the construction industry—the NLRB "found that the employer engaged in more than 20 instances of objectionable or unlawful misconduct during the critical period between the filing of the election petition and the election," the agency said in a statement. "Accordingly, the board found that the employer was subject to a bargaining order under both the Supreme Court's decision in NLRB v. Gissel Packing Co. and under the newly announced standard, applied retroactively in this case."
NLRB Chair Lauren McFerran connected the Cemex decision and the board's Thursday rollback of policies established under the Trump administration that dragged out union elections—a move also welcomed by workers and labor rights advocates.
"Today's decision, along with the board's recently issued final rule on representation, will strengthen the board's ability to provide workers across the country with a timely and fair process for seeking union representation," McFerran said. "The Cemex decision reaffirms that elections are not the only appropriate path for seeking union representation, while also ensuring that, when elections take place, they occur in a fair election environment. Under Cemex, an employer is free to use the board's election procedure, but is never free to abuse it—it's as simple as that."
News
We Must Raise $80,000 by September 1st
Please Support Our
Summer Campaign Today!