End Rape On Campus Launches Campus Accountability Map
WASHINGTON
Today, End Rape On Campus launches the Campus Accountability Map, an interactive map and database of campus sexual assault policies and practices. This map empowers current and prospective students, parents, alumni, and community members to be better informed about how schools are measuring up nationally and empowered to hold schools accountable.
The Campus Accountability Map allows users to view in-depth information on each institution's sexual assault investigation policies, prevention efforts, and survivor support resources as well as high-level statistics on prevention, adjudication processes and survivor support in standardized, easy-to-read summaries. The Campus Accountability Map also allows easy comparison between schools.
Today's launch includes the two largest four-year undergraduate colleges and universities in each state and the District of Columbia as well as the fifteen most prominent Historically Black Colleges and Universities (HBCUs) in the nation, for a total of 117 institutions with their collective undergraduate enrollment exceeding 2 million students. End Rape On Campus will continue to expand the number of schools included and regularly update existing data. The public can add to this map through a crowd-sourcing tool, available through EROC's website.
Said End Rape on Campus Managing Director Jess Davidson, "In the coming months, prospective students will apply to colleges and make one of the most important decisions of their lives: which college to attend. Though safety on campus is often a key concern of prospective students and their families, it has been difficult to access and compare sexual assault response practices and policies at multiple schools--until now. Such information should be instrumental in the college decision process, and the Campus Accountability Map will add a powerful tool to the arsenal of prospective students and their families. The Campus Accountability Map will also help current students who are calling on their schools to uphold best practices. End Rape on Campus is committed to helping students and their families obtain the institutional transparency and accountability they deserve."
End Rape On Campus (EROC) provides confidential services. This message is intended only for the named recipient. If you are not the intended recipient, you are notified that disclosing, copying, distributing or taking any action in reliance on the contents of this information is strictly prohibited. This email and all other communication from EROC employees are not substitutes for legal or mental health advice, as EROC employees are not lawyers or mental health professionals.
LATEST NEWS
"Investing in teachers is investing in our kids," said one educator. "Investing in our kids is investing in New Zealand's future."

An estimated 50,000 New Zealand educators walked off the job Thursday to demand better pay, improved working conditions, and more government support amid a worsening cost-of-living crisis and a teacher shortage that has left many questioning their future in the profession.
The one-day nationwide strike, spearheaded by the Post Primary Teachers' Association (PPTA) and New Zealand Educational Institute (NZEI), kicked off after the trade unions rejected the Labour government's offers on pay, benefits, and other issues as inadequate to meet the needs of educators who have been under massive strain since the coronavirus pandemic began three years ago.
"I'm striking because the early years are the most important for our children," said kindergarten teacher Virginia Oakly, who joined tens of thousands of her fellow educators at Thursday's demonstrations.
"I'm striking because our kindergarten teachers currently don't have enough sick leave," Oakly added. "We know that it's one of the highest sectors in the country to suffer from illness and that has been made worse with Covid-19. We also can't get enough relievers to cover those absences because of the pay cap that doesn't recognize their experience and knowledge."
The New Zealand strike is part of a growing global wave of labor actions as teachers, nurses, transit workers, and others revolt against government austerity and pay that has lagged behind inflation, which remains elevated around the world.
The Guardianreported Thursday that New Zealand teachers "have so far turned down three pay rise offers from the government of 3%, and say they want 15% or more to continue their work."

In a report released late last year, the United Nations Educational, Scientific and Cultural Organization (UNESCO) found that "six out of 10 countries pay primary school teachers less than other professionals with similar qualifications."
"This criterion is particularly evident in high-income countries," UNESCO noted. "In five out of six countries in this group, primary school teachers earn less than other comparable professionals."

As part of their push for higher pay and better conditions, teachers in the U.K. are currently on the second day of a two-day strike, and tens of thousands of Los Angeles teachers are planning a three-day walkout beginning next week.
Last month, around 100,000 teachers took to the streets of Lisbon, Portugal to demand "respect for our profession."
New Zealand teachers, who have been engaged in contract negotiations with the government for nearly a year, echoed that call on Thursday.
"Teachers are crying out for a better work-life balance and to be recognized as the professionals that we are," said Maiana McCurdy, an Auckland primary school teacher. "As a mother, I'm striking because I want to know that my child's teacher is going to have the support they need to manage the increasingly difficult challenges that our tamariki are coming into the classroom with."
In an op-ed for The New Zealand Herald ahead of Thursday's walkouts, science and math teacher Peter Wills wrote that "we're striking so your kids can have teachers with the time to create great lessons for your children."
"Investing in teachers is investing in our kids," Wills added. "Investing in our kids is investing in New Zealand's future."

News
"This hostile takeover threatens to close schools, drive out teachers, and take away the power of local communities to elect their own leaders," said the ACLU of Texas.
Public education advocates on Wednesday were outraged as Texas Republican Gov. Greg Abbott's administration announced the state would take over the Houston Independent School District despite recent improvements in school performance that were achieved as the district remains chronically underfunded.
State education commissioner Mike Morath announced the takeover by the Texas Education Agency (TEA) in a letter to district officials, saying the decision had been made largely due to several years of low "accountability ratings" for a single high school—one of 50 high schools and 276 public schools in the city.
Phillis Wheatley High School, where 96% of students financially qualify for a free lunch program and the student body is made up almost entirely of people of color, was cited as a primary reason for the TEA's original attempt to take control of the district in 2019.
In 2015, the Republican-controlled state legislature passed a law mandating a state takeover of any school district where at least one campus was given a failing grade for student performance by the TEA for five consecutive years—a threshold Wheatley met in 2019.

HISD sued the state to block the 2019 takeover attempt, and has made strides in improving test scores since then. Wheatley earned a C grade from TEA in 2022, and the school district reduced the number of schools that earned a D or F—50 in 2019 compared to just 10 last year. According to the Texas Tribune, 94% of schools in the state's largest school district were given an A, B, or C grade last year, while HISD earned a B.
"The test scores have risen, but they're still trying to take over after we have worked so hard to accomplish that," Nyla McCullum, who is set to graduate from Wheatley this spring, told the Tribune.
The improvements have been achieved even as the state of Texas has spent more than $3,000 less per pupil on public school funding, according to the Kinder Institute for Urban Research at Rice University. HISD teachers earn nearly $1,000 less on average than other educators in Texas, teaching in a district where more than 78% of students are economically disadvantaged. More than 61% of HISD students are Latino and 22% are Black.
Despite the improvements in academic performance, the Republican-led state legislature passed education laws in recent years clearing the way for the takeover to move forward.

"The state takeover of HISD is not about public education—it's about political control of a 90% Black and brown student body in one of the country's most diverse cities," said the ACLU of Texas. "And it's not what our students and teachers need."
Under the takeover, which will officially take effect in June, the TEA will replace Superintendent Millard House II, who joined the district in 2021, and will appoint a "board of managers" in place of the district's elected board of trustees. The board will be in control of the district for at least two years, according to the Associated Press.
"The state-appointed managers will hold immense power," reportedHouston Public Media. "They can control the budget, school closures, collaborations with charter networks, policies around curriculum and library books, as well as hiring or firing the superintendent, among other important decisions."
American Federation of Teachers President Randi Weingarten called the takeover "a shameful power play" with the ultimate aim of weakening public schools.
The takeover comes as Republicans in Missouri are pushing a proposal to place St. Louis police under the control of the governor and right-wing lawmakers in Mississippi are advocating for state control of the police, courts, and the water system in Jackson, which has a higher percentage of Black residents than any other major U.S. city.
The Houston-based advocacy group Community Voice for Public Education called the takeover "an irresponsible experiment that will disenfranchise Houston voters, lead to skyrocketing teacher turnover, school closures, and endless [standardized testing] prep."
A national study in 2021 found that state takeovers of schools—which have also happened in cities including Philadelphia, New Orleans, and Detroit—did not improve academic performance. The 35 school districts the researchers examined "generally saw dips in English test scores," reportedChalkbeat, while "in math, there were no clear effects at all."
Schools in New Orleans and Camden, New Jersey also saw the number of teachers of color decline after state takeovers.

"This hostile takeover threatens to close schools, drive out teachers, and take away the power of local communities to elect their own leaders," said the ACLU of Texas.
Houston Mayor Sylvester Turner said in a statement that the TEA and Abbott's government "deserves an F on how they have handled this process up to this point."
"No community engagement, no engagement with the parents, no information being provided to the students, dropping this in the middle of spring break," Turner said.
"What other resources are you bringing to the school district that's going to have a different outcome?" he added. "What the state is saying [is], 'We are going to commit to you that there will be no failing schools in HISD.' What additional resources will you be bringing to HISD?"
News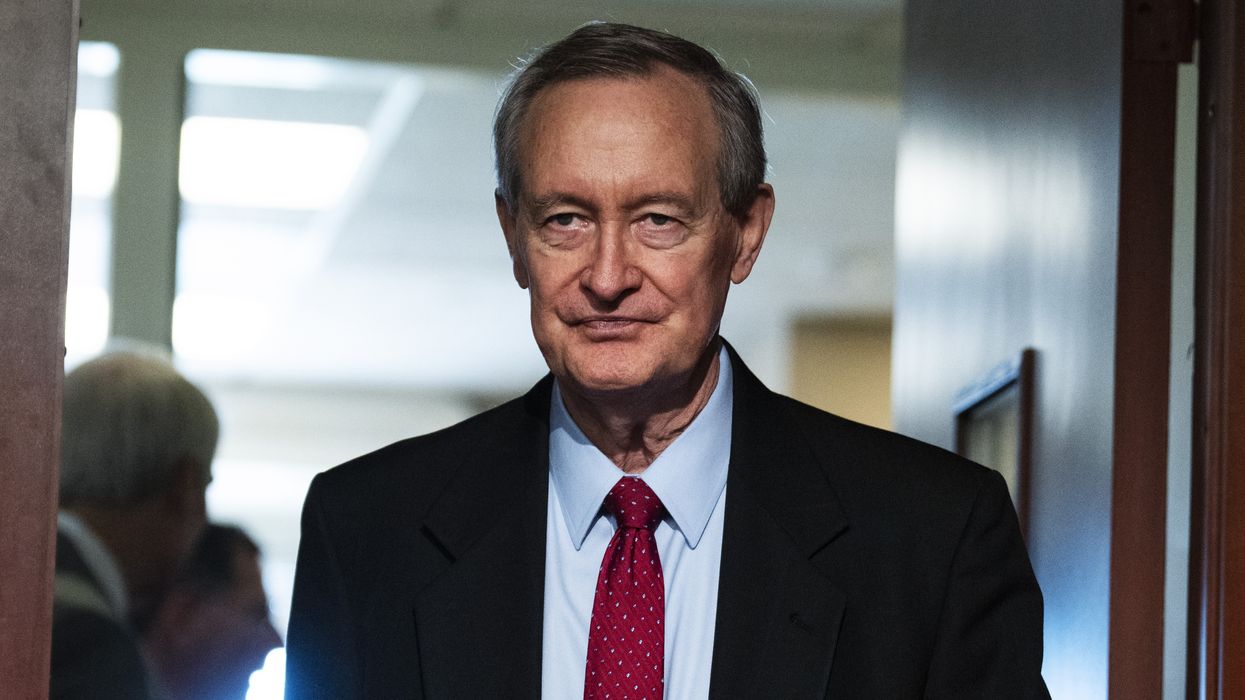 "You have to be hard-core committed to mindless free-market fundamentalism—or truly in thrall to your donors—to insist there's no need for new regulations after Silicon Valley Bank," said one critic.
Republican Sen. Mike Crapo, the lead author of a 2018 bank deregulation law that weakened key guardrails designed to prevent another financial crisis, insisted this week that there is "no need" to impose more strict rules following two of the largest bank collapses in U.S. history.
"There is no need for regulatory reform," said Crapo, who chaired the Senate Banking Committee when Congress passed the 2018 law despite vocal warnings from experts that it would destabilize the banking sector. Dozens of Democrats supported the measure.
In a Fox Business appearance on Tuesday, the Idaho Republican deflected blame for the failures of Silicon Valley Bank and Signature Bank, both of which were in the category of firms that saw regulatory relief thanks to the 2018 law.
"The fact is that President Biden—through all of the spending that he did in the last Congress and the last two years—has driven inflation up to the point where wage earners have to get a 14.8% wage increase just to hold even with this kind of inflation," said Crapo. "And when the Fed responded to push interest rates up, that's what caused a liquidity crisis for these two banks."
While analysts agree that the Fed's aggressive interest rate hikes are at least partly to blame for the collapse of SVB and Signature Bank, they also argue that the 2018 law's removal of enhanced capital requirements and stress tests for banks with between $50 billion and $250 billion in assets—reforms implemented by the post-financial crisis Dodd-Frank Act—also played a significant role.
"You have to be hard-core committed to mindless free-market fundamentalism—or truly in thrall to your donors—to insist there's no need for new regulations after Silicon Valley Bank," wrote Robert Weissman, the president of Public Citizen. (Crapo received more than $880,000 in donations from the securities and investment industry between 2017 and 2022, according to OpenSecrets.)
In effect, the 2018 law ( S.2155) removed the "systemically important" designation and the associated regulations from SVB and Signature Bank—a change that didn't stop the Fed and the Biden administration from rushing in to backstop the financial system and prevent "contagion" after the firms collapsed.
"Congress gave regulators permission to take their eyes off of these mid-sized regional banks."
SVB's announcement last week that it sold its bond portfolio at a major loss and was trying to raise funds led venture capitalists to advise startups—SVB's primary clientele—to withdraw their money, setting off a bank run that ultimately resulted in the firm's failure and takeover by regulators.
"The federal government then stepped in to guarantee the deposits, a dramatic move designed to prevent the panic from spreading to other banks," HuffPost's Arthur Delaney noted Wednesday. "But this kind of intervention... was not supposed to be necessary. The enhanced prudential standards under Dodd-Frank include liquidity requirements that would have automatically covered Silicon Valley Bank if Congress hadn't relaxed the law in 2018."
As former FDIC attorney Todd Phillips toldThe Washington Post earlier this week, "Congress gave regulators permission to take their eyes off of these mid-sized regional banks."
Hilary Allen, a law professor at American University, similarly observed that the 2018 law "did indeed reduce regulatory requirements for banks like Silicon Valley Bank."
"While it is impossible to say categorically that legislative rollback equals the bank's collapse," Allen added, "it does seem that it made it more likely."
The Fed, as then-central bank governor Lael Brainard lamented in 2019, proceeded to take the Republican-authored law and run with it, further weakening safeguards against financial chaos.
"I see little benefit to the banks or the system from the proposed reduction in core resilience that would justify the increased risk to financial stability in the future," Brainard said in a statement at the time.
On Tuesday, dozens of lawmakers led by Sen. Elizabeth Warren (D-Mass.) and Rep. Katie Porter (D-Calif.) introduced legislation that would repeal the section of the 2018 law that relaxed regulations for banks with less than $250 billion in assets.
In a floor speech, Warren said that "both SVB and Signature Bank suffered from a toxic mix of poor risk management and weak supervision."
"If Congress and the Federal Reserve had not rolled back key provisions of Dodd-Frank, these banks would have been subject to stronger liquidity and capital requirements to help withstand financial shocks," Warren continued. "These threats never should have been allowed to materialize. Now, we must prevent them from occurring again by reversing the dangerous bank deregulation of the Trump era."
News
SUPPORT OUR WORK.
We are independent, non-profit, advertising-free and 100%
reader supported.