For Immediate Release
Contact:
Tel: +1-212-216-1832,Email:,hrwpress@hrw.org
UN: Press Turkey to Open Border
Summit Should Tackle Responsibility for Refugees
ISTANBUL
United Nations member states and UN agencies attending the World Humanitarian Summit in Istanbul on May 23-24, 2016, should press the Turkish authorities to reopen Turkey's border to Syrian asylum seekers, Human Rights Watch said today. Partners should make clear that any border guards who shoot at or beat asylum seekers should be held accountable.
Since Turkey closed its border to all but seriously injured Syrian asylum seekers in early 2015, Turkish border guards have pushed back thousands of Syrians and - according to victims and witnesses interviewed by Human Rights Watch have killed at least five and seriously injured at least 14 Syrians who tried to cross the border into Turkey. The closure is trapping tens of thousands of people fleeing conflict, including those previously pushed back at the border, in dangerous Syrian border displacement camps where recent shelling and airstrikes have killed and injured dozens of civilians.
"Turkey casts a dark shadow over the World Humanitarian Summit in Istanbul as its border guards have killed Syrian asylum seekers and pushed others back into the world's worst war zone," said Gerry Simpson, senior refugee researcher at Human Rights Watch. "Governments and UN agencies should end their deafening silence on Turkey's abuse of Syrian asylum seekers and press Turkey to reopen its border to civilians fleeing the horrors in Syria."
Turkey's president and other officials deny the border is closed to refugees. Neither the European Commission nor any European Union member state - or any other country - has called on Turkey to reopen its border to Syrian asylum seekers and to end border guard violence, while UN agencies have remained publicly silent.
The world's - and in particular the EU's - silence over Turkey's breach of the cornerstone of international refugee law condones Turkey's border abuses, Human Rights Watch said.
Governments, UN agencies, and nongovernmental organizations will meet at the first World Humanitarian Summit to discuss how to halt the global erosion of international human rights and humanitarian law and to improve protection for people in need. Human Rights Watch is participating in events on including people with disabilities in humanitarian response and protecting schools in conflict, but has also questioned whether the governments that are frequently the cause of serious abuses will alter their conduct as a result of the summit.
Turkey hosts more Syrian refugees - 2.75 million - than the whole of the EU and rest of the world combined, but Human Rights Watch has documented that, since at least mid-August 2015, Turkish border guards enforcing the country's March 2015 border closure have pushed back Syrians trying to reach Turkey.
In early May 2016, Human Rights Watch also documented that Turkish border guards killed three asylum seekers and two smugglers and seriously injured 14, including three children and a woman. In April, Human Rights Watch reported that Turkish border guards at the country's new border wall with Syria shot at Syrians escaping advances by the extremist group Islamic State (also known as ISIS), northeast of Aleppo.
Human Rights Watch has also revealed that Turkish border guards blocked thousands of fleeing displaced people from entering Turkey after their camps near the border were hit by artillery fire on April 13 and 15. Most had previously tried to flee to Turkey but were pushed back by Turkish border guards. On May 5, airstrikes hit the Kamuna camp, five kilometers from Turkey's closed border, which had been sheltering 4,500 displaced Syrians. The attack killed at least 20 people, including two children, and injured at least 37, including 10 who lost limbs and who were transferred to Turkey for medical care.
Turkey has long promoted the concept of a "safe zone" inside Syria where people fleeing the fighting could go instead of entering Turkey. As part of its controversial migration deal with Ankara to curb refugee and migration flows to Europe, the EU has pledged to work with Turkey to create in Syria "areas which will be more safe" where "the local population and refugees [will be able] to live."
"The attack on Syria's Kamuna camp underscores that 'safe zones' are often little more than wishful thinking," Simpson said. "Wasting time discussing 'safe zones' is a dangerous distraction from developing workable systems to protect Syrian refugees in Turkey and the EU."
Turkish military sources have denied turning Syrian asylum seekers back at the border and using violence against them. On May 17, Human Rights Watch wrote to the Turkish Interior Ministry asking for clarification of the Turkish military's position.
Turkey is entitled to secure its border with Syria, but is obliged to respect the principle of non-refoulement, which prohibits rejecting asylum seekers at borders when that would expose them to the threat of persecution, torture, and threats to life and freedom. Turkey is also obliged to respect international norms on use of lethal force as well as the rights to life and bodily integrity, including the absolute prohibition on subjecting anyone to inhuman and degrading treatment.
Although no other country has called on Turkey to reopen its border, on May 12, Germany's foreign minister, Frank-Walter Steinmeier, said that the Human Rights Watch May 10 reporting on Turkish border guard killing and injuring Syrian asylum seekers was "alarming" and that it was in Turkey's "own interest" to explain what was happening at the border.
The EU's failure to take in more Syrian asylum seekers and refugees also contributes to the pressure on Turkey to deal with greater numbers. The EU should swiftly fulfill commitments to relocate Syrian and other asylum seekers from Greece and, together with other countries, should expand safe and legal channels for people to reach safety from Turkey, including through increased refugee resettlement, humanitarian admissions, humanitarian and other visas, and facilitated family reunification.
"As host of the World Humanitarian Summit, Turkey should be setting a positive example on the treatment of people at its borders and not trapping them in a war zone," Simpson said. "It has been a year since Turkey shut down its border to the world's most war-ravaged people, and it is well past time for the world's leaders to speak up."
Human Rights Watch is one of the world's leading independent organizations dedicated to defending and protecting human rights. By focusing international attention where human rights are violated, we give voice to the oppressed and hold oppressors accountable for their crimes. Our rigorous, objective investigations and strategic, targeted advocacy build intense pressure for action and raise the cost of human rights abuse. For 30 years, Human Rights Watch has worked tenaciously to lay the legal and moral groundwork for deep-rooted change and has fought to bring greater justice and security to people around the world.
LATEST NEWS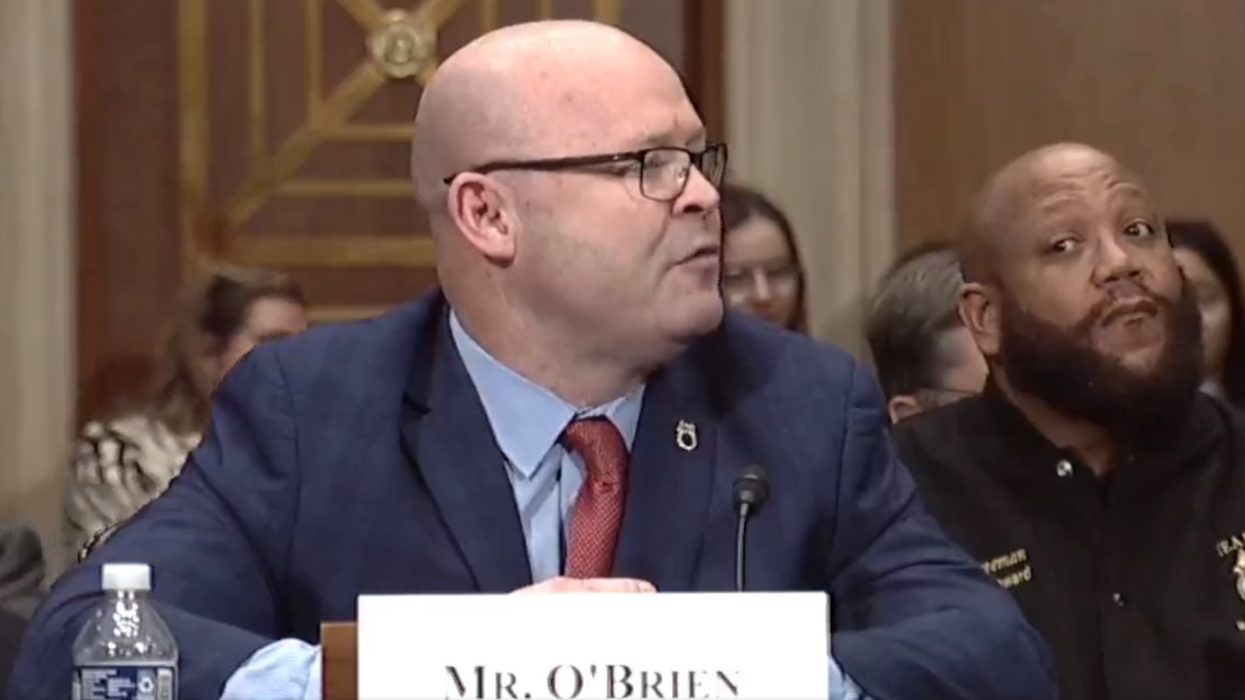 "Don't let them distract you," said Teamsters president Sean O'Brien. "Unions create jobs, make work safer, and put more money in workers' pockets."
Sparks flew at a congressional hearing Wednesday when International Brotherhood of Teamsters president Sean O'Brien told Republican Sen. Markwayne Mullin of Oklahoma—a multimillionaire whose family previously owned five non-union plumbing companies—that "we hold greedy CEOs like yourself accountable."
The exchange happened during a hearing convened by Sen. Bernie Sanders of Vermont—chair of the Senate Committee on Health, Education, Labor, and Pensions—titled "Defending the Right of Workers to Organize Unions Free from Illegal Corporate Union-Busting."
Watch:
\u201cIncredible exchanges between @TeamsterSOB and Republican Senator, former(?) non-union construction company owner, Markwayne Mullin, at the Senate HELP Committee\u201d

— People for Bernie (@People for Bernie) 1678291887
Asked by O'Brien how much he made from his plumbing business, Mullin claimed, "I kept my salary down at about 50,000 a year because I invested every penny into it."
But in 2013, then-Rep. Mullin reportedly pocketed more than $600,000 from the companies in violation of House ethics rules and federal laws limiting how much outside income members of Congress are allowed to receive.
Although Mullin transferred ownership of the companies to his family, he continued to serve as a board member and chief advertiser while raking in hundreds of thousands of dollars.
As O'Brien pointed out on social media, Mullin saw his reported net worth surge from between $7.3 million to $29.9 million at the end of 2020 to between $31.6 million and $75.6 million after he sold his family's plumbing companies in late 2021.
\u201cFor the record, @SenMullin saw his reported assets balloon from a range of $7.3 million to $29.9 million at the end of 2020 to a range of $31.6 million to $75.6 million.\n\nhttps://t.co/65oRCTOen9\u201d

— Sean O'Brien (@Sean O'Brien) 1678291996
"Don't let them distract you," O'Brien tweeted. "Unions create jobs, make work safer, and put more money in workers' pockets. Most importantly, everything we do is to improve the lives of our members. I wonder if some others can say the same about their constituents?"
Sanders, for his part, declared at the conclusion of Wednesday's hearing that "there's a class war going on whether we want to recognize it or not."
"People on top have the money, they have the power," said Sanders. "They're spending hundreds of millions of dollars to try to prevent ordinary workers from coming together to fight for dignity."
News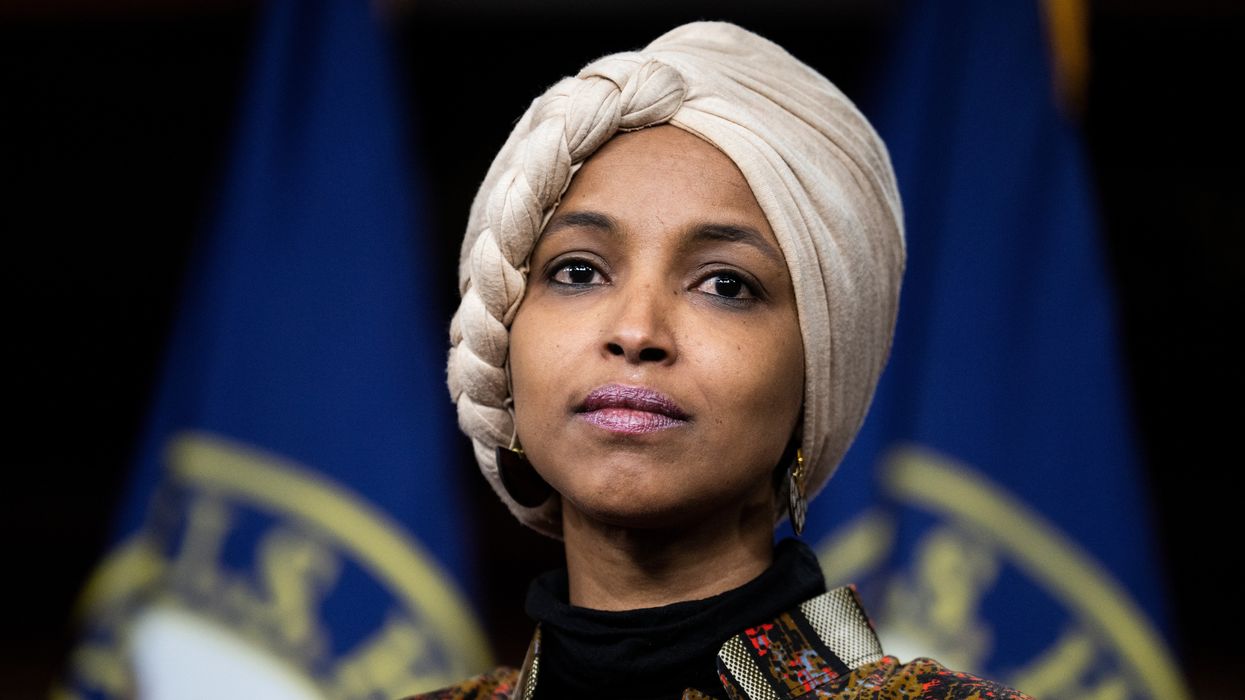 "I will never apologize for speaking out on behalf of children hiding under their bed somewhere like I was, waiting for the bullets to stop. I am proud to introduce the Stop Arming Human Rights Abusers Act."
Citing her experience as a Somali war refugee, Congresswoman Ilhan Omar on Wednesday unveiled the Stop Arming Human Rights Abusers Act, which "imposes universal human rights and humanitarian conditions on security cooperation with the United States."
"I am a survivor of civil war, and I understand personally how it terrorizes children around the world," the Minnesota Democrat said. "I also know the moral authority the United States carries on human rights and international law. We have an opportunity to live up to these values, to ensure that no child lives through violent conflict like I did, and to mean what we say when it comes to championing human rights worldwide."
"That is why I cannot remain silent in the face of children being bombed in buses in Yemen," she explained, referencing the U.S.-backed assault led by Saudi Arabia and the United Arab Emirates. "That is why I cannot remain silent as the poorest countries in the world face climate devastation—even though they are the least able to afford it and are the least responsible for its causes."
"We have an opportunity... to ensure that no child lives through violent conflict like I did, and to mean what we say when it comes to championing human rights worldwide."
"And that is why I will never apologize for speaking out on behalf of children hiding under their bed somewhere like I was, waiting for the bullets to stop," Omar added. "I am proud to introduce the Stop Arming Human Rights Abusers Act to ensure that there are consequences to human rights abuses regardless of who commits them. America has led the world in standing up for human rights before. It's time for us to seize the mantle of leadership again."
The legislation would establish a bipartisan, independent commission—modeled after the U.S. Commission on International Religious Freedom—that would determine when other countries cross "red lines" in terms of human rights and international law. Nations that commit these violations would be barred from receiving any U.S. security aid, from arms sales to exchanges with U.S. law enforcement.
Such sanctions would only be lifted if the violations ceased and the country took steps to ensure they are not committed in the future. The bill specifically mentions criminal prosecutions of perpetrators; reparations to victims; structural, legal, and institutional reforms; and truth-telling mechanisms.
Although the proposal has no clear path forward in the Republican-controlled U.S. House of Representatives, countries that could be impacted by the bill, if passed, include Saudi Arabia and Israel. The latter is currently facing global criticism, including from American Jews, for violence against Palestinians in illegally occupied territory.

The legislation is part of Omar's "Pathway to Peace" and comes about a month after the House GOP, led by Speaker Kevin McCarthy (R-Calif.), voted to remove her from the chamber's Committee on Foreign Affairs. She declared at the time that "I didn't come to Congress to be silent... My leadership and voice will not diminish if I am not on this committee for one term."
News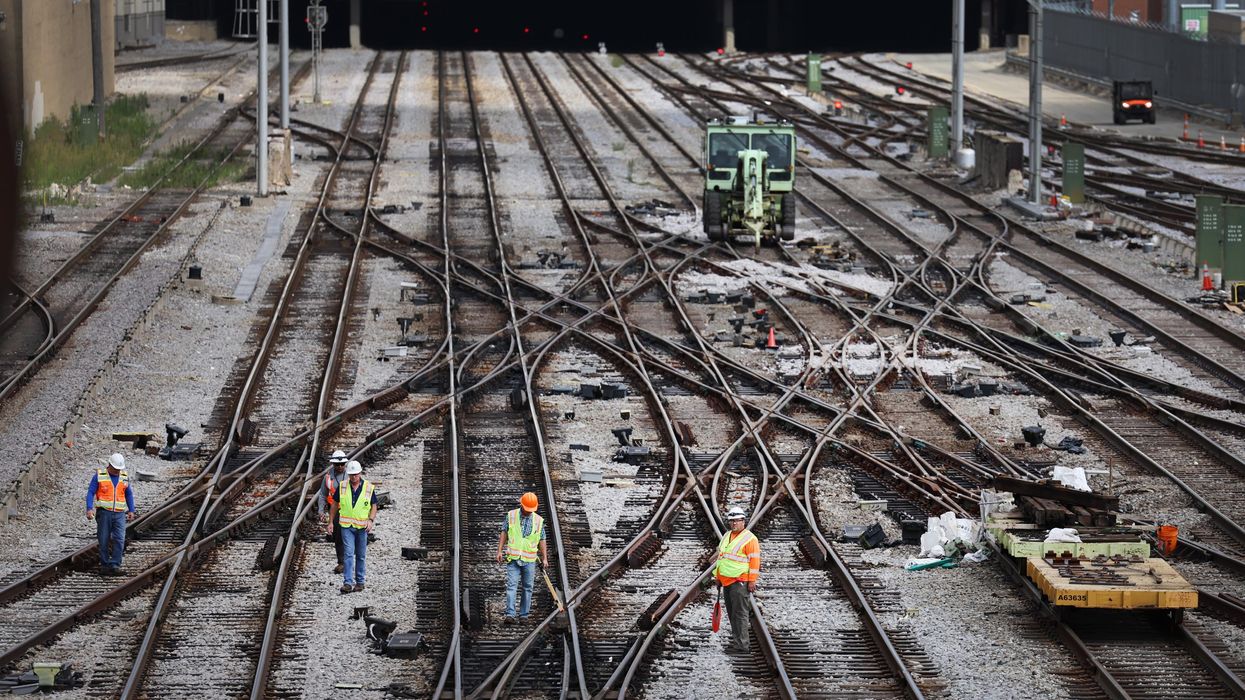 "You can't just replace the manpower with a machine when it's not always as effective," said one railroad worker.
With railroad operator Norfolk Southern involved in numerous significant train derailments and other accidents in recent weeks, the company on Monday unveiled a "six-point safety plan" that officials claimed would "immediately enhance the safety of its operations."
But critics including rail workers were quick to point out that one aspect of the plan could worsen the growing problem of reduced railroad crews, which they say has contributed to dangerous conditions on railroads.
The plan calls for a number of improvements to Norfolk Southern's systems to detect overheated wheel bearings, which the National Transportation Safety Board said in a preliminary report appeared to be the cause of the train derailment in East Palestine, Ohio on February 3.
In addition, Norfolk Southern said it aims to accelerate its "digital train inspection program" by partnering with Georgia Tech Research Institute to develop new safety inspection technology the company claims could "identify defects and needed repairs much more effectively than traditional human inspection."
The technology would use "machine vision and algorithms powered by artificial intelligence," the plan reads—offering what journalist Sam Sacks said is likely a thinly veiled proposal for "further reductions" in the company's workforce.
\u201cNorfolk Southern put forward a safety plan that likely includes further reductions in its workforce.\u201d

— Sam Sacks (@Sam Sacks) 1678116938
As Common Dreams reported last month, the national inter-union organization Railroad Workers United (RWU) has called for comprehensive legislation and robust action from regulators to keep rail workers and communities safe, warning that rail companies including Norfolk Southern have been lobbying for years for federal approval to reduce train crews and loosen safety protocols.
Rather than rail companies developing safety plans themselves, federal action is needed to guarantee "proper and adequate maintenance and inspection of rail cars and locomotives, track, signals, and other infrastructure, RWU co-chair Gabe Christenson said in a statement Monday.
Rail workers have "predicted stuff like" an increased reliance on automation, railroad worker and RWU steering committee member Matt Weaver told Common Dreams on Tuesday, as "the Precision Scheduled Railroading [PSR] business model" used by rail companies "calls for doing more with less."
Under PSR, rail companies attempt to maximize profits by running trains on strict schedules and cutting back on equipment and staff. Railroad unions have said the system and the resulting lax safety protocols are an underlying cause of recent train accidents including the East Palestine derailment, another derailment that took place in Michigan less than two weeks later, and a collision between a Norfolk Southern train and a dump truck on Tuesday in Ohio, in which conductor Louis Shuster was killed.
Weaver noted that RWU and his own union, the Brotherhood of Maintenance of Way Employes Division (BMWED), aren't opposed to the use of automation in inspections entirely.
"We used to have 12-man gangs that put all the ties in by hand and everything, and now we have lots of machines which do help us live longer and not have our backs or our hips, knees, shoulders [get injured]," he told Common Dreams. "But you can't just replace the manpower with a machine when it's not always as effective. Eyes on the rails and the tracks can catch some things the machines do not."
"We've accepted those as additional help," he added. "Not as a replacement."

Last year, as railroad companies including Norfolk Southern demanded that the Federal Railroad Administration (FRA) allow them to continue pilot programs testing automated safety inspections, BMWED noted that according to FRA data, the causes of 48 train accidents that took place between 2016 and 2021 could only be detected through visual inspections while just 14 could be detected through "enhanced track geometry inspection" done by machines.

"Over 50% of the accidents that happened from 2016 to 2021 do not even have the ability to be found by the technology that they're looking to use," Roy Morrison, director of safety for the union, toldFreight Waves last May.
In recent days rail unions have denounced an attempt by Norfolk Southern to use workers' demands for paid sick leave against them—offering BMWED members four days of sick leave in exchange for the union's support for its automated inspection program.
"Norfolk Southern's proposal was ultimately for the union to be complicit in Norfolk Southern's effort to reduce legally required minimum track safety standards through supporting their experimental track inspection program without a sensible fail-safe or safety precautions to help ensure trains would not derail," wrote Jonathon Long, general chairman of the American Rail System Federation of the BMWED, in a letter to Ohio Gov. Mike DeWine. "In other words, Norfolk Southern's proposal was to use your community's safety as their bargaining chip to further pursue their record profits under their cost-cutting business model."
Weaver argued that strong comprehensive railroad safety legislation is needed to compel railroad companies to keep workers and communities safe. RWU has expressed support for some aspects of the bipartisan Railway Safety Act of 2023, introduced last week, but warned that loopholes will allow companies to "avoid the scope of the law without violating the law" and ultimately use the legislation to reduce staff.
"That's kind of their ultimate goal," Weaver told Common Dreams. "And you can't trust a capitalist industry, a for-profit industry to self-regulate. We have to have government intervention. So it's time for the regulators to regulate and the public servants to serve the public."
News
SUPPORT OUR WORK.
We are independent, non-profit, advertising-free and 100%
reader supported.