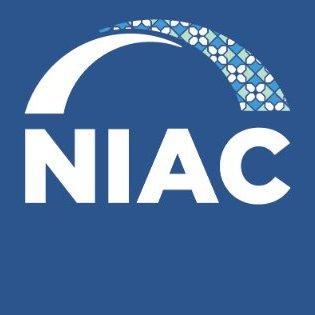 For Immediate Release
Contact:
Reza Marashi, NIAC Research Director, 206.383.9173, rmarashi@niacouncil.org
Trita Parsi, NIAC President, 202.386.6325, tparsi@niacouncil.org
Jamal Abdi, NIAC Action Executive Director, 202.386.6408, jamal@niacaction.org
Tyler Cullis, NIAC Legal Fellow, 202.386.6325, tcullis@niacouncil.org
Iran Nuclear Talks Experts Available for Analysis
WASHINGTON
Experts from the National Iranian American Council (NIAC) and its sister organization, NIAC Action, will be available to the media as negotiators from the P5+1 and Iran near a historic comprehensive nuclear agreement.
Negotiators have made significant progress in converting an agreement in principle into a written deal. Such an agreement has the potential to prevent war, ensure that Iran does not acquire a nuclear weapon, and transform the U.S.-Iran relationship. However, Congress is preparing for a contentious review period and some lawmakers have already signaled their intent to reject the deal.
NIAC analysts available in Vienna:
Reza Marashi is on the ground for negotiations in Vienna and serves as NIAC's Research Director.
He came to NIAC after four years in the Office of Iranian Affairs at the U.S. Department of State. Prior to his tenure at the State Department, he was an analyst at the Institute for National Strategic Studies (INSS) covering China-Middle East issues, and a Tehran-based private strategic consultant on Iranian political and economic risk. Marashi is frequently consulted by Western governments on Iran-related matters. His articles have appeared in The New York Times, Foreign Policy, The Atlantic, and the National Interest, among other publications. He has been a guest contributor to CNN, NPR, the BBC, TIME Magazine, The Washington Post, and the Financial Times, among other broadcast outlets. Follow Reza on Twitter:@rezamarashi
NIAC analysts available in Washington, DC:
Trita Parsi, PhD is the founder and president of NIAC and an expert on US-Iranian relations, Iranian foreign politics, and the geopolitics of the Middle East.
He is the author of Treacherous Alliance: The Secret Dealings of Iran, Israel and the United States (Yale University Press 2007) and A Single Roll of the Dice - Obama's Diplomacy with Iran (Yale University Press, 2012). He is the 2010 recipient of the Grawemeyer Award for Ideas Improving World Order. Parsi's articles on Middle East affairs have been published in the Wall Street Journal, New York Times, Los Angeles Times, Financial Times, Jane's Intelligence Review, the Nation, The American Conservative, the Jerusalem Post, The Forward, and others. He is a frequent guest on CNN, PBS's Newshour with Jim Lehrer, NPR, the BBC, and Al Jazeera. Follow Trita on Twitter: @tparsi
Jamal Abdi closely monitors the Congressional and political landscape regarding U.S.-Iran relations as the Executive Director of NIAC Action.
Abdi leads NIAC Action's efforts to monitor policies and legislation, and to educate and advocate on behalf of the Iranian-American community. He has written for The New York Times, USA Today, CNN, Foreign Policy, Huffington Post and The Hill, is a frequent guest contributor in print, radio, and television. Follow Jamal on Twitter: @jabdi
Tyler Cullis is an expert on sanctions and international law and serves as NIAC's Legal Fellow and Policy Associate.
Tyler is a graduate of the Boston University School of Law, with Honors in International Law. He is one of the foremost experts on Iran sanctions and has written extensively on sanctions, international law and the negotiations, including for The New York Times, CNN, Foreign Policy, Huffington Post, The National Interest, and Opinio Juris. Prior to entering law school, Tyler also had considerable experience as an organizer at United for Peace and Justice, a broad peace coalition opposing the Iraq War. Follow Tyler on Twitter: @TylerCullis
The National Iranian American Council (NIAC) is a nonpartisan, nonprofit organization founded in 2002 to give voice to the Iranian-American community. From being the trusted voice on U.S.- Iran relations, to pushing forth legislation that protects individuals of Iranian heritage from systematic discrimination, to celebrating our cultural heritage, NIAC creates a lasting impact in the lives of the members of our community.
(202) 386-6325
LATEST NEWS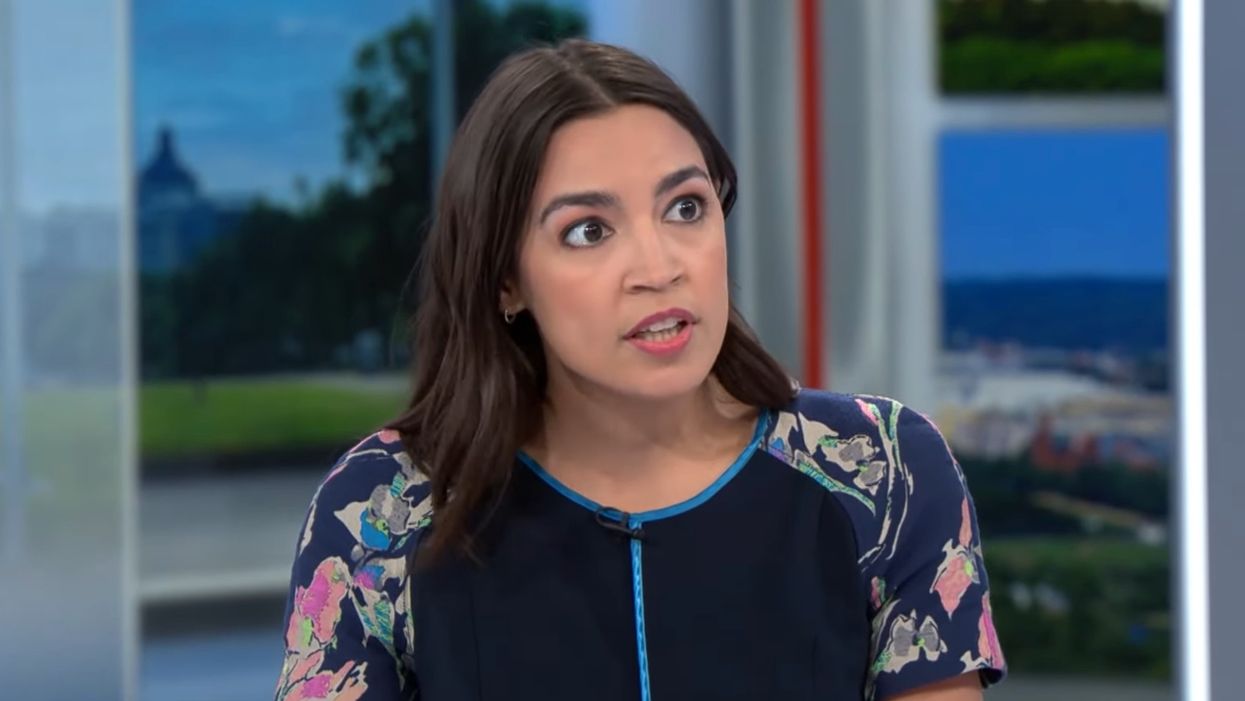 "Consistency matters. It shouldn't matter if it's a Republican or a Democrat," Ocasio-Cortez asserted.
New York Congresswoman Alexandria Ocasio-Cortez on Sunday became the first progressive House Democrat to call on Sen. Bob Menendez to resign following the former Senate Foreign Relations Committee chair's indictment last week on federal bribery charges.
Menendez (D-N.J.) and his wife, Nadine Menendez, were charged Friday with accepting hundreds of thousands of dollars in bribes—including gold bars, cash, home mortgage payments, and a Mercedes-Benz—from businessmen in exchange for influence. The indictment also accuses Menendez of giving "sensitive U.S. government information" to Egypt's dictatorship.

Appearing on CBS' "Face the Nation," Ocasio-Cortez said that "the situation is quite unfortunate, but I do believe that it is in the best interest for Sen. Menendez to resign in this moment."
"Consistency matters. It shouldn't matter whether it's a Republican or a Democrat. The details in this indictment are extremely serious. They involve the nature of not just his, but all of our seats in Congress," added Ocasio-Cortez, who is the vice-ranking member of the House Oversight Committee.
Asked for her reaction to Menendez's assertion that some of his congressional colleagues "are rushing to judge a Latino and push him out of his seat," Ocasio-Cortez said: "As a Latina, there are absolutely ways in which there is systemic bias, but I think what is here in this indictment is quite clear. And I believe it is in the best interest to maintain the integrity of the seat."
Ocasio-Cortez joins a growing list of Democrats including Sen. John Fetterman (Pa.) and Reps. Jeff Jackson (N.C.), Dean Phillips (Minn.), Josh Gottheimer (N.J.), Tom Malinowski (N.J.), Frank Pallone (N.J.), Mikie Sherill (N.J.), Bill Pascrell (N.J.), and Andy Kim (N.J.) who are urging Menendez to resign.
On Saturday, Kim said he would run for Menendez's Senate seat amid the senator's refusal to resign.
"I feel compelled to run against him. Not something I expected to do, but N.J. deserves better," Kim wrote in a fundraising pitch on social media. "We cannot jeopardize the Senate or compromise our integrity."
While defiantly declaring that he is "not going anywhere," Menendez did step down from his chairmanship of the Senate Foreign Relations Committee, a position he had held since 2021.

Following her "Face the Nation" appearance, Ocasio-Cortez flew to Missouri to stand in solidarity with striking United Auto Workers members. The congresswoman said the nation is facing "a crisis of inequality," while hailing President Joe Biden's planned trip to join Michigan UAW workers on the picket line Tuesday as "a historic event."
"We have never seen in modern history a president show up to a picket line like this," she said.
News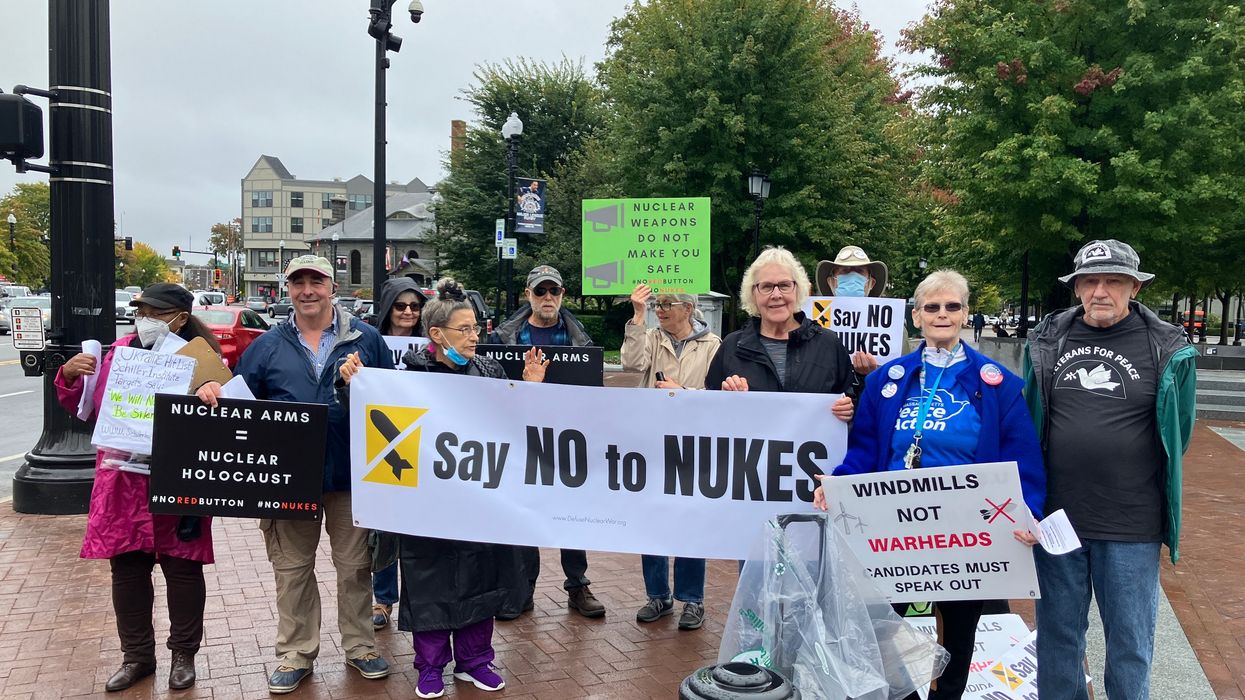 "The need for action to curtail the possibility of nuclear conflict could not be more urgent," said the campaign's organizer.
Activists from the Defuse Nuclear War coalition on Sunday launched a week of action to demand the U.S. government take steps to reduce the existential threat of thermonuclear annihilation, including by reinstating arms control treaties, shutting down hair-trigger missiles, and engaging in "genuine diplomatic efforts to end the war in Ukraine."
Defuse Nuclear War is organizing around 40 events across the United States. Demonstrations are planned in Baltimore, Boston, Philadelphia, Tucson, Fresno, and Salt Lake City, pickets are scheduled across Washington state, vigils are set to take place in Hawaii and California, activists plan to unfurl a banner at a Lockheed Martin facility in Pennsylvania, and an interfaith gathering will be held outside United Nations headquarters in New York.
"Our coalition of activists is demanding that the Biden administration seriously consider the consequences of their inaction in addressing this threat."
"The U.S. has allowed far too many weapons treaties to lapse in recent years, and the Ukraine War threatens daily to plunge the world into nuclear war," Defuse Nuclear War national campaign organizer Ryan Black said in a statement. "Our coalition of activists is demanding that the Biden administration seriously consider the consequences of their inaction in addressing this threat."
Chris Nelson of the California group Chico Peace Alliance—which is planning a Monday march through the Chico State University campus and the city's downtown—said:
The annual obscene "Defense" Authorization Act maintains and grows constant war infrastructure that can only be curtailed by the action of civilians. The revolving door in Congress for the arms contractors now makes representative government ineffective for arms control. Nuclear weapons are illegal under the International Treaty for the Prohibition of Nuclear Weapons. It is up to us to make that normative and create effective pressure to get interim treaties reestablished.
The landmark treaty—which was signed in 2017 and went into effect in 2021—has been signed by 97 nations.

Sean Arent of Physicians for Social Responsibility and Washington Against Nuclear Weapons—which is holding 12 demonstrations around the Evergreen State later this month—said that "Washington state is at the center of the atomic world, with more deployed nuclear weapons than anywhere else in the United States based out of the Kitsap-Bangor Trident nuclear submarine base."
"The plutonium for some of the very first bombs were made at the ongoing disaster site known as Hanford, still radioactive to this day," Arent continued. "It is past time that our members of Congress recognize this legacy and lead our country away from nuclear weapons."
"We're asking our members of Congress to support justice for communities impacted by these weapons like the Marshallese, support diplomatic negotiations towards arm reductions, and to fight tooth and nail to phase out—not enhance—our nuclear weapons arsenal in the impending National Defense Authorization Act," Arent added. "The world is at stake."

This year, the Bulletin of Atomic Scientisits' Doomsday Clock—which tracks the world's proximity to a possible nuclear war—was set to 90 seconds to midnight, the closest it has been to thermonuclear armageddon since it was created in 1947.
News
"The endorsement of the fossil fuel treaty proposal by Antigua and Barbuda and Timor-Leste... shows who are the real climate leaders," said the initiative's political director.
Two island nations on Saturday joined the growing bloc of countries endorsing a fossil fuel nonproliferation treaty amid a worsening climate emergency and continued inadequate action by the larger and wealthier polluters most responsible for causing the planetary crisis.
Answering United Nations Secretary-General António Guterres' exhortation at this week's Climate Ambition Summit for countries to accelerate efforts to end fossil fuels, the Caribbean nation of Antigua and Barbuda and Timor-Leste in Southeast Asia announced their support for a binding FFNPT.

Their announcement came on the main stage at the Global Citizen Festival in New York City. The nations became the first non-Pacific island states to support the treaty; Vanuatu, Tuvalu, Tonga, Fiji, the Solomon Islands, and the self-governing New Zealand territory of Niue previously endorsed the agreement.
"The climate crisis is the most existential threat facing all humanity," declared Antigua and Barbuda Prime Minister Gaston Browne. "It doesn't distinguish between European forests and Caribbean waters. Some carry the burden more than others, as in the case of small island developing states. This is why today I'm honored to announce that Antigua and Barbuda join our Pacific friends in calling for a negotiation of a fossil fuel treaty."
"This Treaty will be more than words," Browne continued. "It's a binding plan to end the fossil fuel era, a pledge to a rapid shift to clean energy, a commitment to a future where economies transcend their fossil fuel past, and an assurance that no community is left behind."
"With this endorsement, we send a clear message: unity in purpose, unity in action," he added. "We are proud to become the first Caribbean nation to rally behind this cause, and we invite others to join us."
Timor-Leste President José Ramos-Horta said that his country "stands in solidarity with Pacific nations and is formally joining the call for the negotiation of a fossil fuel treaty."
"Its mission is simple—to halt new fossil fuel ventures, phase out existing ones, and fund a fair shift to clean energy," the Nobel peace laureate added. "It is more than a climate agreement between nations—it is a health, development, and peace accord that can foster genuine wellbeing and prosperity for all."
Timor-Leste's embrace of the FFNPT is considered especially encouraging, as petroleum accounts for the vast majority of the country's export revenue.

Gillian Cooper, political director of the FFNPT Initiative, hailed the development:
At the Climate Ambition Summit, we saw world leaders finally bring fossil fuels to the center stage of climate negotiations. Now the endorsement of the fossil fuel treaty proposal by Antigua and Barbuda and Timor-Leste at the main Global Citizen stage shows who are the real climate leaders. This bold move also shows that even fossil fuel-producing countries want to break free from the grip of oil, gas, and coal, a system imposed on them by wealthy nations. Today Timor-Leste picked a side—and they're clearly saying that we need international cooperation so they are not forced by the fossil fuel industry to continue to expand a product that they know is destablizing the global climate and creating long-term economic dependency and vulnerability.
Launched in 2020 and backed by hundreds of groups, thousands of scientists, and people around the world from youth to grandparents, the FFNPT is based on three pillars:
Ending expansion of new coal, oil, or gas production in line with the best available science;
Phasing out the production of fossil fuels in a manner that is fair and equitable; and
Ensuring a global just transition to 100% access to renewable energy globally.
In addition to the countries mentioned above, the European Parliament, World Health Organization, and scores of cities and other subnational governments have also endorsed the FFNPT, including London, Paris, Los Angeles, Sydney, Lima, Toronto, and the Hawaiian Legislature.
Earlier this month, California became the largest economy in the world to endorse the treaty.
"This climate crisis is a fossil fuel crisis," Democratic California Gov. Gavin Newsom said Wednesday at the Climate Ambition Summit. "It's not complicated. It's the burning of oil. It's the burning of gas. It's the burning of coal. And we need to call that out.
News
Independent, nonprofit journalism needs your help.
Please Pitch In
Today!