For Immediate Release
June, 19 2015, 10:00am EDT
Contact:
Sam Husseini, (202) 347-0020; or David Zupan, (541) 484-9167
South Carolina Church Killings and Roots of White Supremacy
JIM LOEWEN, jloewen at uvm.edu
Loewen taught race relations for twenty years at the University of Vermont. His books include Lies My Teacher Told Me; The Confederate and Neo-Confederate Reader;Sundown Towns: A Hidden Dimension of American Racism and Lies Across America: What Our Historic Markers and Monuments Get Wrong.
WASHINGTON
JIM LOEWEN, jloewen at uvm.edu
Loewen taught race relations for twenty years at the University of Vermont. His books include Lies My Teacher Told Me; The Confederate and Neo-Confederate Reader;Sundown Towns: A Hidden Dimension of American Racism and Lies Across America: What Our Historic Markers and Monuments Get Wrong.
Rev. GRAYLAN S. HAGLER, gshagler at verizon.net
Hagler is senior pastor with the Plymouth Congregational United Church of Christ in Washington, D.C. He said today: "There are attacks against black people all around the world: from attack on a church in Charleston; police violence in Baltimore; deportation of 'Haitian' looking people in the Dominican Republic; violence against Africans in Israel and oppression of Palestinians there. We must stand and act against racism wherever it manifests itself -- worldwide and without geographical or ethnic limits."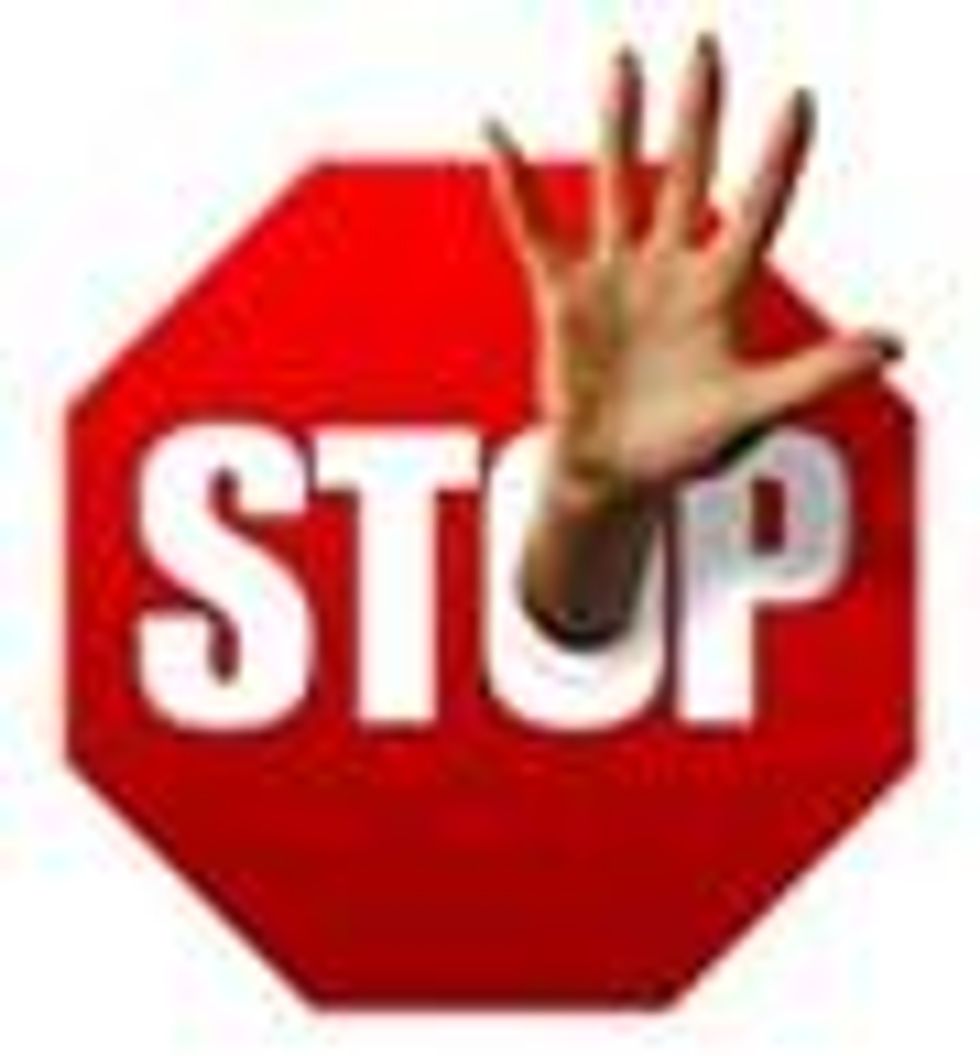 We Interrupt This Article with an Urgent Message!
Common Dreams is a not-for-profit news service. All of our content is free to you - no subscriptions; no ads. We are funded by donations from our readers.

Our critical Mid-Year fundraiser is going very slowly - only 779 readers have contributed so far. We must meet our goal before we can end this fundraising campaign and get back to focusing on what we do best.
If you support Common Dreams and you want us to survive, we need you now.
Please make a tax-deductible gift to our Mid-Year Fundraiser now!
KEVIN ALEXANDER GRAY, kevinagray57 at gmail.com, @kevinagray
Gray is an activist in South Carolina and was just interviewed by Chris Hayes on MSNBC -- see video.
Gray's books include co-editing Killing Trayvons: An Anthology of American Violence. He posted on his Facebook page: "Some tried to chide me on issuing a call of sorts to white people about the environment that creates a Dylann Roof. Well, the Confederate flag, a flag of white supremacy flies on the South Carolina Statehouse grounds along with a statute of white supremacist 'Pitchfolk' Ben Tillman. Countless streets and buildings are named after Confederate heroes. The president of the College of Charleston routinely dresses up as a Confederate general and fights mock battles. And this is the same man who blocked putting a statute of Denmark Vesey on the Statehouse grounds calling him a murderer of white people. This is where we live and what is ingrained everyday in our psyche without apology. I'm against white supremacy and I apologize to nobody for being against it." See his piece from 2002: "South Carolina and Its Confederate Flag."
A nationwide consortium, the Institute for Public Accuracy (IPA) represents an unprecedented effort to bring other voices to the mass-media table often dominated by a few major think tanks. IPA works to broaden public discourse in mainstream media, while building communication with alternative media outlets and grassroots activists.
LATEST NEWS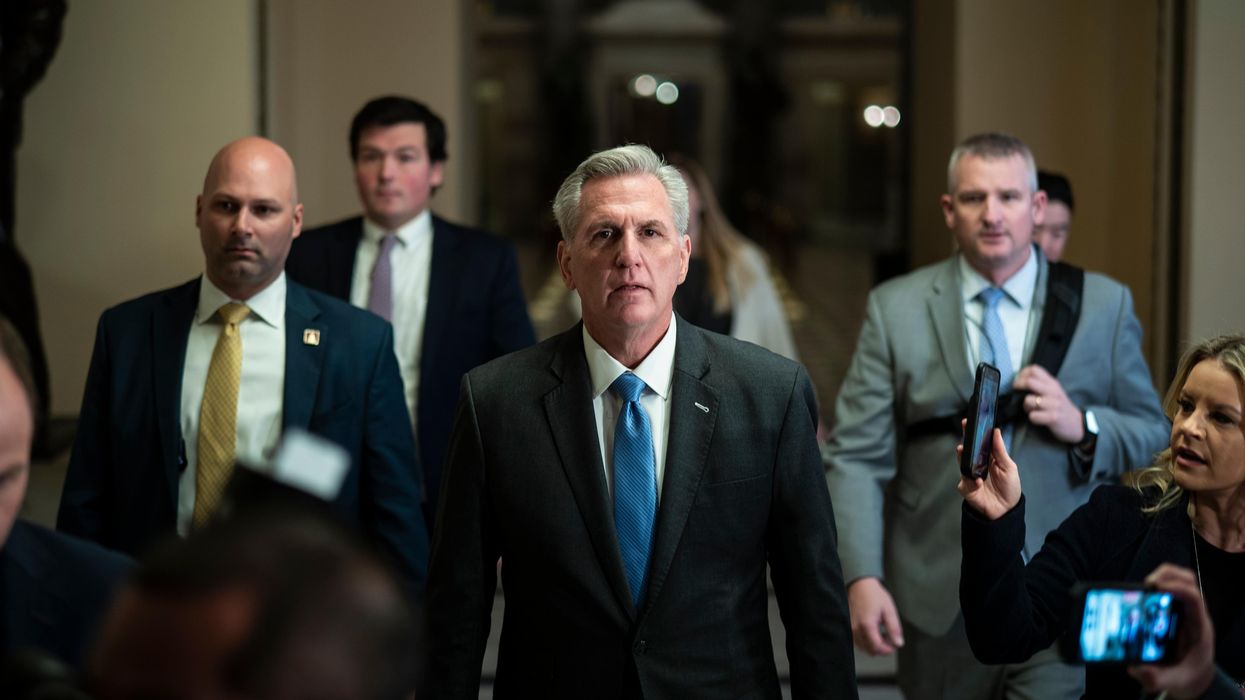 "They don't care about breaking the institutions, breaking the economy," said Rep. Ro Khanna.
Democratic Rep. Ro Khanna of California said Tuesday that House Republicans are threatening to "hijack the entire U.S. economy" and "subject it to collapse" in pursuit of cuts to Social Security and other right-wing policy goals, a warning that came as the Treasury Department prepared to take emergency measures to prevent the U.S. from breaching the debt ceiling.
"This is what the Freedom Caucus wants," Khanna said in an appearance on Democracy Now!, referring to the far-right faction of House Republicans pushing to use the debt ceiling as leverage to enact deep cuts to federal spending—a strategy that Speaker Kevin McCarthy (R-Calif.) has embraced.

"The consequence of that is also a massive default of the U.S. economy and higher interest rates, probably a severe recession, and jolting the global economy," added Khanna, who stressed his support for expanding rather than cutting Social Security. "But they don't care. They don't care about breaking the institutions, breaking the economy."

Watch:
\u201cCongressmember Ro Khanna says many Republicans are eager to use the looming fight over the debt ceiling as a way to undermine Social Security, Medicare and other popular public programs. "They don't care about breaking the institutions, breaking the economy," Khanna says.\u201d

— Democracy Now! (@Democracy Now!) 1673963102
Khanna's remarks came days after Treasury Secretary Janet Yellen announced her agency will begin taking certain "extraordinary measures" this week to prevent the U.S. from breaking through the debt ceiling, an arbitrary—and arguably unconstitutional—borrowing limit set by Congress that dictates how much the federal government can borrow to meet its obligations, which include Social Security and Medicare benefits.
If lawmakers fail to raise the borrowing limit due to GOP obstruction and the Biden administration refuses to take unilateral action, the U.S. could default on its debt, an unprecedented outcome that would carry far-reaching and devastating economic consequences such as the potential loss of millions of jobs.
The Washington Postreported Friday that House Republicans—who have repeatedly pledged to exploit a coming debt ceiling fight to secure Social Security cuts—are already "preparing a plan telling the Treasury Department what to do if Congress and the White House don't agree to lift the nation's debt limit later this year."
"The plan, which was previously unreported, was part of the private deal reached this month to resolve the standoff between House conservatives and Rep. Kevin McCarthy (R-Calif.) over the election of a House speaker," the newspaper continued. "Rep. Chip Roy (R-Texas), a leading conservative who helped broker the deal, told The Washington Post that McCarthy agreed to pass a payment prioritization plan by the end of the first quarter of the year."
"The emerging contingency plan shows how Republicans are preparing to threaten to not lift the nation's debt ceiling without major spending cuts from the Biden administration," the Post added. "Congress must pass a law raising the current limit of $31.4 trillion or the Treasury Department can't borrow anymore, even to pay for spending lawmakers have already authorized."
In a blog post on Tuesday, former U.S. Labor Secretary Robert Reich argued that the GOP agreement outlined by the Post "could be the most economically irresponsible backroom deal in Republican history (even conservative economists are warning that the consequences could include a stock-market spiral and significant job losses)."
"Congress could defuse this bomb by simply raising the debt limit, as it has dozens of times under presidents of both parties for decades," Reich wrote. "But the MAGA radicals now in control of the House of Representatives are refusing to raise the debt ceiling unless President Biden agrees to devastating cuts to Social Security, Medicare, and other key programs."
President Joe Biden has said he would not accept any cuts to Social Security or Medicare, a promise the White House reiterated on Friday.
"This should be done without conditions," White House Press Secretary Karine Jean-Pierre said of lifting the debt ceiling—something Republicans readily did when Donald Trump was president.
"There's going to be no negotiation over it," Jean-Pierre added. "This is something that must get done."
Biden previously indicated that he—unlike Yellen—would not support a complete elimination of the debt ceiling, raising questions about what executive steps the White House would be willing to take in the case of a perilous impasse in Congress.
The American Prospect's Robert Kuttner wrote in a column Tuesday that it is time for the White House to "call a halt to this whole game."
"As a number of legal scholars, led by Garrett Epps, have pointed out, the 14th Amendment explicitly dispenses with the need for a separate vote on increasing the debt. Section 4 provides that 'the validity of the public debt of the United States... shall not be questioned,'" Kuttner noted. "Biden could announce that he is not going to play the Republicans' game and relitigate spending that has already been approved by Congress. The Republicans would contend that this breaching of the legislated debt ceiling is illegal, and appeal it to the high court."
"By refusing to play," Kuttner added. "Biden would signal that if Kevin McCarthy wants to tank the world economy by allowing the U.S. to default on Treasury bonds, that's on him."
While acknowledging that such a "hardball" strategy would come with risks, Kuttner argued that "allowing McCarthy to call the tune, forcing disabling budget cuts and humiliating Biden's presidency, has even greater risks."

News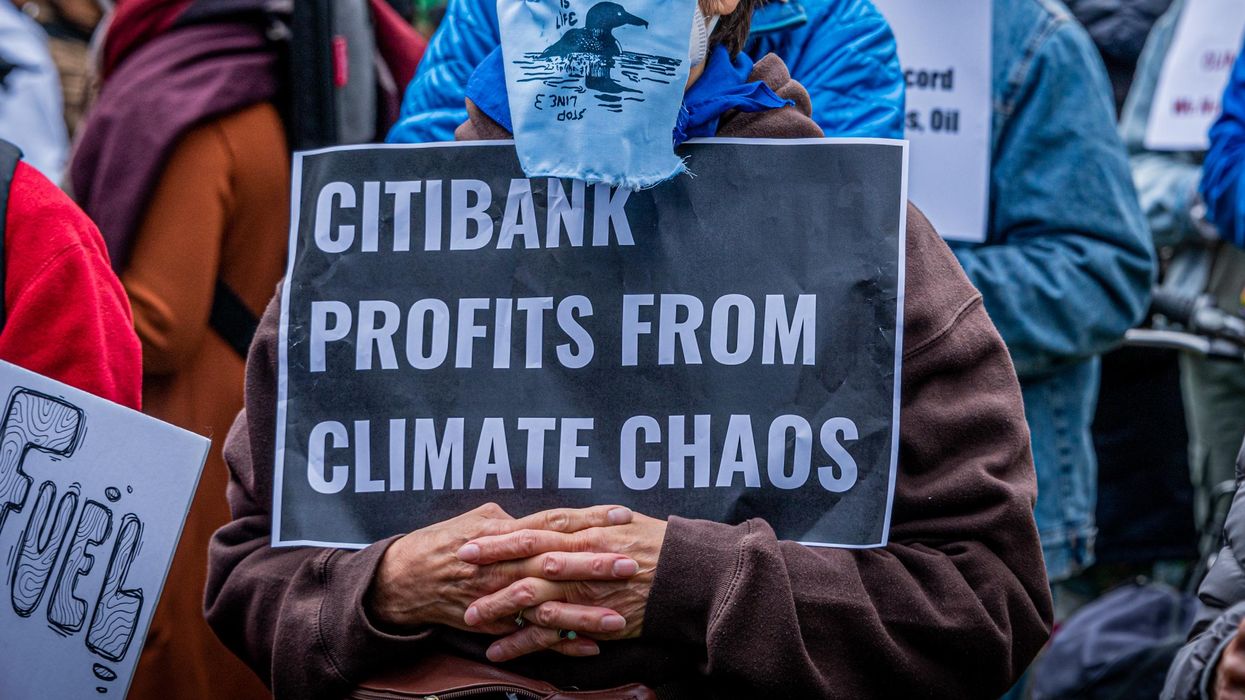 "It is business as usual for most banks and investors who continue to support fossil fuel developers without any restrictions, despite their high-profile commitments to carbon neutrality."
Top banks in the United States and around the world have made a show of embracing net-zero emissions pledges, portraying themselves as allies in the fight against the global climate emergency.
But a new analysis published Tuesday by a group of NGOs makes clear that the world's leading financial institutions—including major Wall Street banks such as Citigroup, JPMorgan Chase, and Bank of America—are still pumping money into fossil fuel expansion, bolstering the industry that is primarily responsible for worsening climate chaos.
According to the report, 56 of the largest banks in the Net-Zero Banking Alliance (NZBA)—a coalition convened by the United Nations—have provided nearly $270 billion in the form of loans and underwriting to more than 100 "major fossil fuel expanders," from Saudi Aramco to ExxonMobil to Shell.
Additionally, 58 of the biggest members of the Net-Zero Asset Managers (NZAM) initiative—including the investment behemoths BlackRock and Vanguard—held at least $847 billion worth of stocks and bonds in more than 200 large fossil fuel developers as of September.
Both the NZBA and the NZAM are under the umbrella of the Glasgow Financial Alliance for Net-Zero (GFANZ), a campaign launched in 2021 with the goal of expanding "the number of net zero-committed financial institutions." Climate advocates have long argued that net-zero pledges are fundamentally inadequate to the task of stopping runaway warming.

"The science is very clear: we need to stop developing new coal, oil, and gas projects as soon as possible if we want to meet our climate goals and avoid a worst-case scenario," said Lucie Pinson, the executive director and founder of the watchdog group Reclaim Finance. "Yet, it is business as usual for most banks and investors who continue to support fossil fuel developers without any restrictions, despite their high-profile commitments to carbon neutrality."
"Their greenwashing is all the more damaging as it casts doubt on the sincerity of all net-zero commitments and undermines the efforts of those who are truly acting for the climate," Pinson added.
\u201c\ud83d\udea8 NEW REPORT: since joining the Glasgow Financial Alliance for Net Zero #GFANZ, financial institutions have provided HUNDREDS OF BILLIONS of $ to fossil fuel expansion \ud83d\udca3\n \nIt's the finding of a report published today by 13 NGOs including Reclaim Finance.\n\n#GFANZFuelsFire #wef23\u201d

— Reclaim Finance (@Reclaim Finance) 1673944009
The groups found that the U.S.-based Wall Street giants Citigroup, JPMorgan Chase, Bank of America, Morgan Stanley, and Wells Fargo provided nearly $90 billion in total financing for fossil fuel expansion between the dates they joined the NZBA and August 2022.
Citigroup, which touts its net-zero commitments on its website, led the pack with $30.5 billion in fossil fuel financing from April 2021 to August 2022.
"The U.S. financial sector cannot be taken seriously on climate change until it stops investing in new fossil fuel projects," said Adele Shraiman, a representative for the Sierra Club's Fossil-Free Finance campaign. "We need an urgent transition to a green economy and the financial sector must help deliver that."
Overall, according to the new report, "229 of the world's largest fossil fuel developers received finance from the 161 GFANZ members covered... which will support them to develop new coal power plants, mines, ports, and other infrastructure, as well as new oil and gas fields and pipelines and LNG terminals."
"These new fossil fuel projects are incompatible with the objective of limiting global warming to 1.5°C, as confirmed in the latest International Energy Agency's World Energy Outlook published in October 2022," the report states. "They will lock in greenhouse gas emissions for decades, despite the adoption of decarbonization targets by some GFANZ members."
Paddy McCully, a senior analyst at Reclaim Finance, said in a statement that "GFANZ members are acting as climate arsonists."
"They've pledged to achieve net-zero but are continuing to pour hundreds of billions of dollars into fossil fuel developers," said McCully. "GFANZ and its member alliances will only be credible once they up their game and insist that their members help bring a rapid end to the era of coal, oil, and fossil gas expansion."

News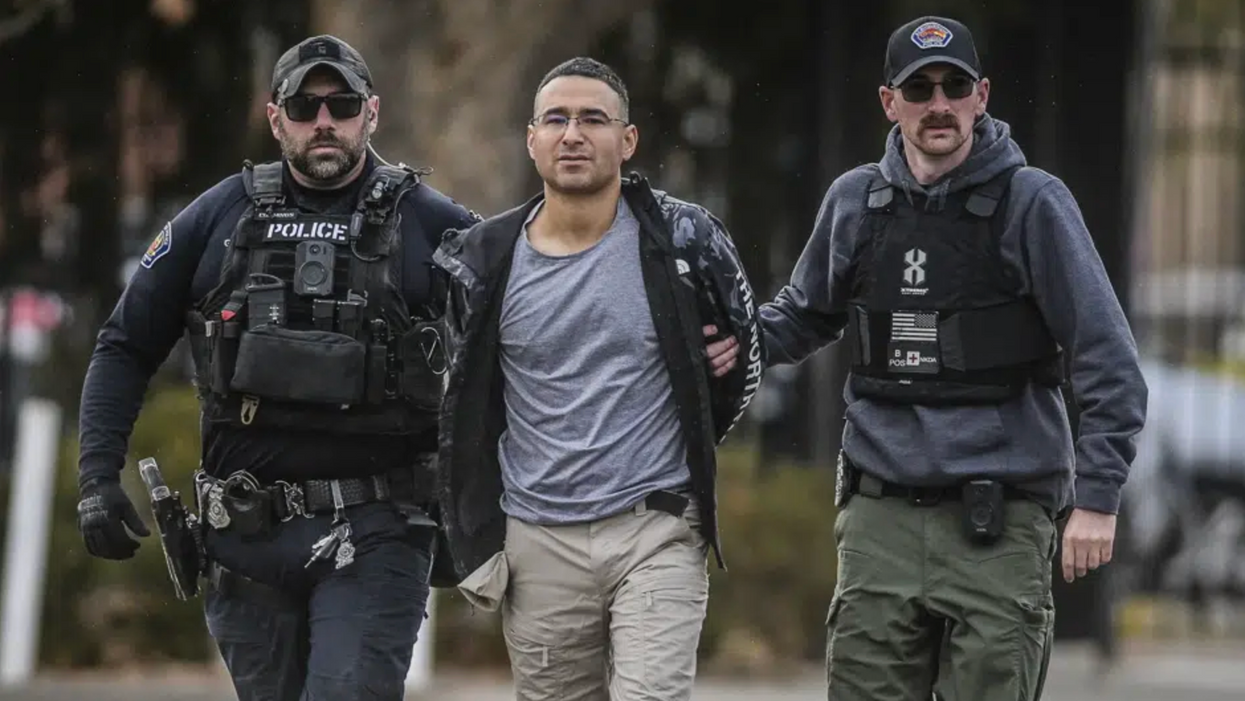 Republican Solomon Peña is suspected of hiring gunmen to help carry out drive-by shootings targeting the homes of Democratic lawmakers in the state.
Solomon Peña, a Republican former candidate for New Mexico's state House, was arrested by Albuquerque police on Monday in connection with a string of recent drive-by shootings targeting the homes of Democratic lawmakers.
Peña, who lost his November race by an overwhelming margin of 26% to 74%, is suspected of orchestrating the four shootings that began in early December. Local authorities accused Peña of hiring four men to help carry out the attacks, and Peña himself "pulled the trigger" in one of the shootings.
An outspoken supporter of former President Donald Trump, Peña "has made repeated claims that the election was rigged and appears to have attended the January 6, 2021 riot in Washington, D.C.," the Albuquerque Journalreported Monday.
"He also visited three of the targeted officials' homes unannounced in November complaining the election was fraudulent and should not be certified," the newspaper added.
The Democratic lawmakers targeted were Bernalillo County Commissioner Adriann Barboa, State House Speaker Javier Martinez, Bernalillo Commissioner Debbie O'Malley, and state Sen. Linda Lopez. No one was injured in the attacks but, as the Associated Pressreported, three bullets "passed through the bedroom" of the state senator's 10-year-old daughter.
At a press conference following Peña's arrest, which came after a standoff with police, Albuquerque Mayor Tim Keller (D) said that police "essentially discovered what we had all feared and what we had suspected—that these shootings were indeed politically motivated."
"They were dangerous attacks not only to these individuals," Keller added, "but, fundamentally, also to democracy."
\u201cThank you to our @ABQPOLICE officers and partners in law enforcement who worked tirelessly to make this arrest. \n\nThis radicalism is a threat to our city, our state, and our nation. We will continue to push back against hate in all forms and stop political violence.\u201d

— Mayor Tim Keller (@Mayor Tim Keller) 1673916021
New Mexico Gov. Michelle Lujan Grisham said in a statement that "there is no place in our society or our democracy for violence against any elected official or their families, and I trust the justice system will hold those responsible for such attacks to full and fair account."

NBC News reported Monday that "a key to the investigation, police said, was a traffic stop early January 3 of Peña's Nissan Maxima, driven by a man named Jose Trujillo, who was arrested based on a felony warrant."
The outlet continued:
The arrest triggered an "inventory search" of the vehicle, a sweep allowed under law in order to impound it safely, and authorities discovered more than 800 fentanyl pills in the center console, police said.

More crucial to the case were the two handguns found in the Nissan, one of which appeared to have fired shots outside the home of state Sen. Linda Lopez roughly 40 minutes before the traffic stop and 4 miles away, according to the latest police statement.

One of the guns matches the description of one police allege Peña took to one of the four shootings with plans to join in the gunfire, according to the statement. The gun malfunctioned, and he left the shooting to one of the men he hired, police alleged. "Another shooter fired more than a dozen rounds from a separate handgun," police said in their statement Monday night.
Speaking to reporters on Monday, Albuquerque police spokesperson Gilbert Gallegos said of Peña, "He was an election denier—he doesn't want to accept the results of his election."
News
SUPPORT OUR WORK.
We are independent, non-profit, advertising-free and 100%
reader supported.