For Immediate Release
January, 23 2013, 02:39pm EDT
Contact:
Sam Husseini, (202) 347-0020; or David Zupan, (541) 484-9167
WASHINGTON
STEPHEN ZUNES, [email]
Professor of politics and chair of Middle Eastern Studies at the University of San Francisco, Zunes recently wrote the piece "The Case Against Kerry," which states: "John Kerry's attacks on the International Court of Justice, his defense of Israeli occupation policies and human rights violations, and his support for the U.S. invasion of Iraq raise serious questions about his commitment to international law and treaty obligations. His false claims of Iraqi 'weapons of mass destruction' and his repeated denial of human rights abuses by allied governments well-documented by reputable monitoring groups raise serious questions about his credibility.
"In the 1980s, during the early part of his Senate career, Kerry was considered one of the more progressive members of the U.S. Senate on foreign policy. ... More recently, however, Kerry became a prominent supporter of various neoconservative initiatives. ...
"In 2002, he voted against an unsuccessful resolution authorizing the president to use force against Iraq only if the United Nations Security Council permitted such force under the UN Charter and instead voted for an alternative Republican resolution, which authorized President Bush to invade that oil-rich country unilaterally in violation of the UN Charter.
"The October 2002 war resolution backed by Kerry was not like the 1964 Gulf of Tonkin resolution regarding Vietnam, where there was no time for reflection and debate. Kerry had been briefed by the chief UN weapons inspector and by prominent scholars of the region, who informed him of the likely absence of any of the alleged 'weapons of mass destruction' and the likely consequences of a U.S. invasion, but he voted to authorize the invasion anyway. It was not a 'mistake' or a momentary lapse of judgment. It demonstrated Kerry's dismissive attitude toward fundamental principles of international law and international treaties that prohibit aggressive war.
"Kerry and his supporters claim he does not really reject international law. They note that, in voting to authorize the invasion of Iraq, Kerry stated at that time that he expected President Bush 'to work with the United Nations Security Council and our allies ... if we have to disarm Saddam Hussein by force.' He then promised that if President Bush failed to do so, 'I will be the first to speak out.'
"However, Senator Kerry broke that promise. When President Bush abandoned his efforts to gain United Nations Security Council authorization for the war in late February 2003 and pressed forward with plans for the invasion without a credible international coalition, Kerry remained silent. Indeed, when President Bush actually launched the invasion soon afterwards, Senator Kerry praised him, co-sponsoring a Senate resolution declaring that the invasion was 'lawful and fully authorized by the Congress' and that he 'commends and supports the efforts and leadership of the President ... in the conflict with Iraq.'"
See video of some of Kerry's statements on Iraq leading to his war vote as well as the IPA news release "Kerry's Judgement Questioned Because of Pro-War Vote."
A nationwide consortium, the Institute for Public Accuracy (IPA) represents an unprecedented effort to bring other voices to the mass-media table often dominated by a few major think tanks. IPA works to broaden public discourse in mainstream media, while building communication with alternative media outlets and grassroots activists.
LATEST NEWS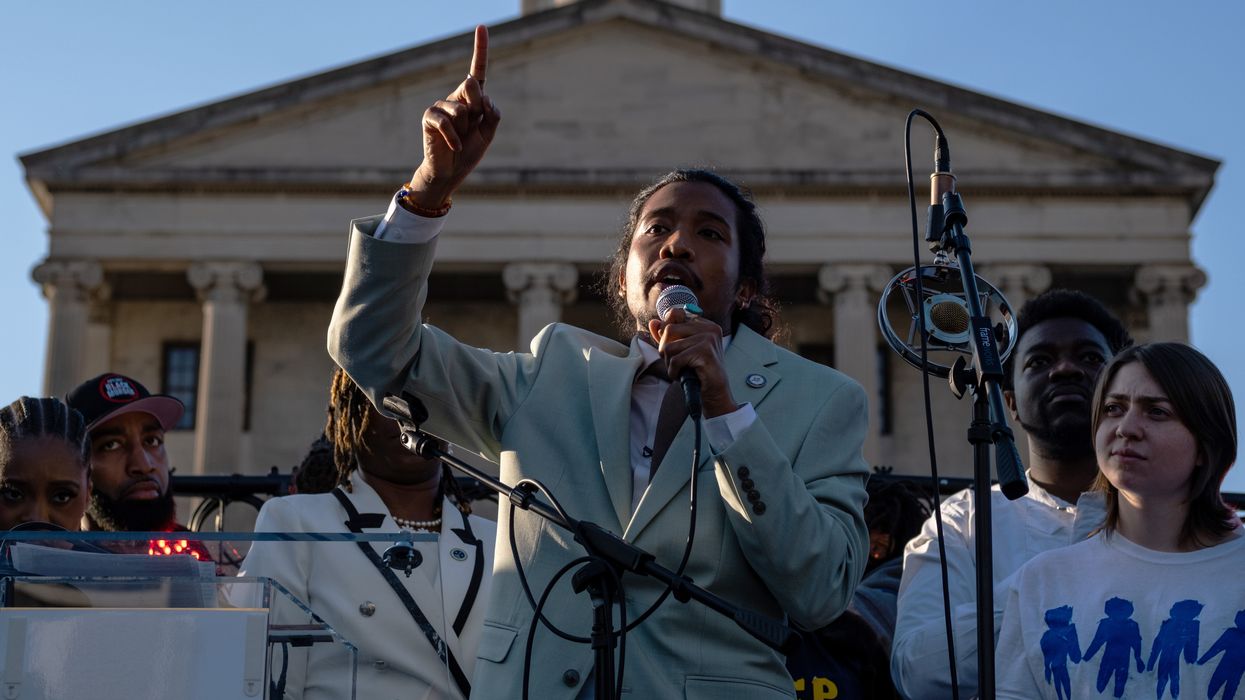 "It is clear that the house speaker, Cameron Sexton, is determined to continue leading our state down the path to failure, humiliation, and authoritarianism."
Tennessee State Rep. Justin Jones announced Monday that he will be calling for a vote of no confidence against Republican House Speaker Cameron Sexton, pointing to multiple allegations of misuse of taxpayer dollars and the Republican's repeated attempts to smear gun violence protesters.

"It is clear that the house speaker, Cameron Sexton, is determined to continue leading our state down the path to failure, humiliation, and authoritarianism," Jones (D-52) wrote in a letter to his Tennessee House colleagues as they prepared to resume a special session ostensibly aimed at generating a legislative response to the deadly shooting at Covenant School in Nashville earlier this year.
Following that shooting, Jones and two fellow Tennessee Democrats took to the House floor with a bullhorn and joined demonstrators in calling for action to curb gun violence.
The Republican-dominated House, with Sexton (R-25) leading the way, responded by voting to expel Jones and Rep. Justin Pearson (D-86). The two Democratic lawmakers were swiftly reinstated by county officials, and both handily won reelection earlier this month.
In his letter on Monday, Jones rattled off a number of accusations that have been leveled against Sexton, including his alleged use of taxpayer funds to "relocate an intern after the former Republican House vice chairman was found to be sexually harassing her."
Jones also cited Sexton's role in the "unprecedented retaliatory effort to expel three duly elected lawmakers, an unapologetic abuse of power debasing the office of the speaker."
"It is for these reasons that the House must perform its duty to hold the speaker to account and exercise an internal check on power," Jones wrote. "At a time of record low approval ratings for the Legislature, this is not just a vote of no confidence in the speaker but a vote to restore confidence in this body with the people of Tennessee."
The Tennessee Legislature's special session got off to a chaotic start last week, with one commentator describing the proceedings as "a conundrum of epic proportions." Both the Tennessee House and Senate have passed a number of bills thus far, but none come anywhere close to the kinds of gun law reform that Jones and other lawmakers and advocates are demanding.
The Tennessee House "has moved forward proposals without the Senate, including one to let people with carry permits bring guns to schools," TheAssociated Pressreported.

Sexton and other House Republicans, meanwhile, have done their best to stifle dissent at the special session. As part of a new slate of rules, GOP lawmakers attempted to ban members of the public from bringing signs into committee rooms—though firearms were still allowed under the rules.
"One mother of children who attend Covenant was left in tears after a subcommittee chair ordered state troopers to clear the room after demonstrators held up small signs, a violation of new House rules," the Chattanooga Times Free Pressreported Sunday.
Days after the rules were enacted, a Tennessee judge temporarily blocked the sign ban after the ACLU sued.

In an interview on Democracy Now! late last week, Jones compared Sexton to former President Donald Trump, saying that "it has been a very disturbing special session in which we have our own mini Trump, a man who violates constitutional rights, who tries to shut down dissent, who tried to overturn the election results in my district and Rep. Pearson's district by expelling us and ignoring the voices of our constituents."
"The Tennessee Capitol does not look like the People's House," said Jones. "There are cords, cordoned ropes, put around the rotunda so people cannot protest and exercise their First Amendment right fully. Half of the gallery has been shut down, is only open to lobbyists, and so people can only sit on one side and have to get there hours early."
"You can still bring a gun into committee," Jones added. "But you cannot bring in a small paper sign that says 'stop gun violence'—until the judge granted that temporary restraining order that the speaker is now challenging. And in his continued attempt to silence lawmakers, if we are ruled out of order, we can be silenced indefinitely on the House floor under the new House rules that were instituted by the Republican supermajority."
News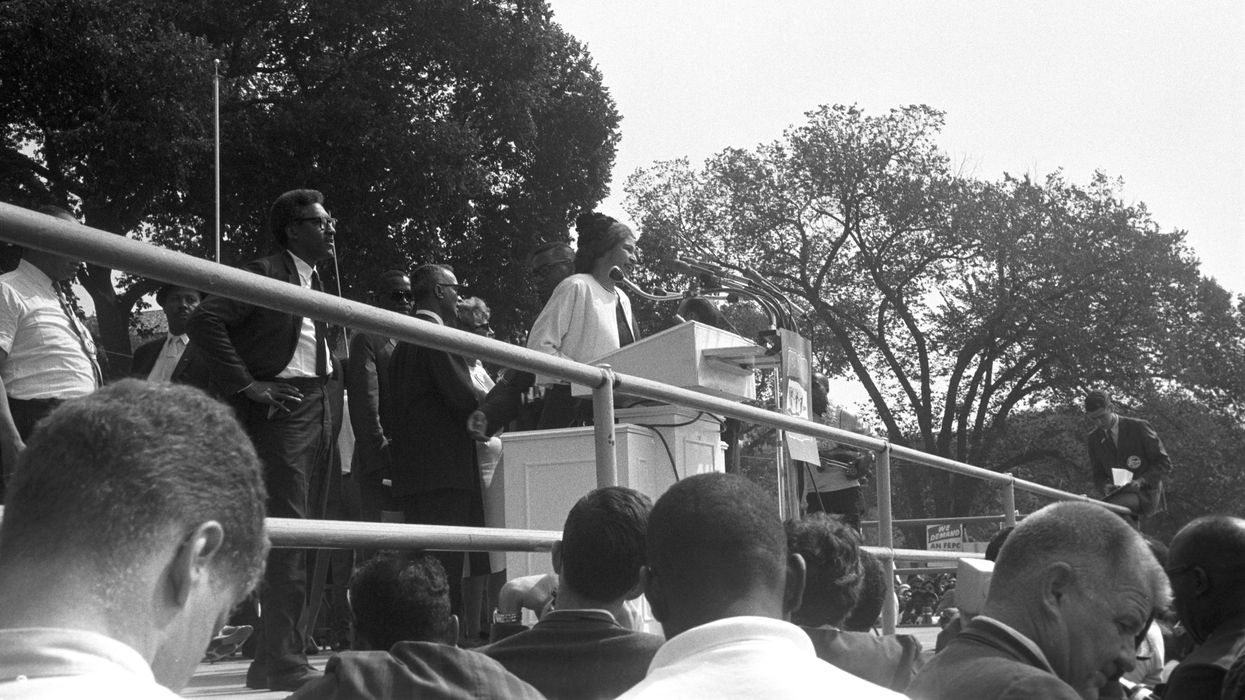 "Extremist lawmakers are using state capitols to subvert our democracy and erode voting rights, denying living wages, and suppressing access to healthcare, all while concentrating this rich nation's wealth," said Hanna Broome of AME Zion Church.
Six decades after civil rights and labor groups held the March on Washington for Jobs and Freedom, women from across the country plan to come together Monday evening for a virtual "She Speaks" mass assembly to honor female leaders from 1963 and draw attention to issues that persist today.
"While numerous brave and brilliant women—including Rosa Parks, Dorothy Day, Fannie Lou Hamer, Anna Arnold Hedgeman, Diane Nash, Dorothy Height, and Mahalia Jackson—were central voices behind the March on Washington, they were not given the chance to speak," organizers said in a statement. "Sixty years later, thousands of women are joining together at the Lincoln Memorial and speaking out to ensure not another anniversary goes by where women's voices aren't central to the conversation."
As Meghan Weaver of Stanford University's Martin Luther King Jr. Research and Education Institute detailed last year, Parks said a quick "hello" and "thank you" to the 1963 crowd, the NAACP's Daisy Bates delivered a couple of brief remarks, and actress and activist Lena Horne shouted "Freedom!" into the microphone. According to the researcher, activist and entertainer Josephine Baker "spoke for just over two minutes, in the longest address that day by a woman."
Speakers for Monday's event include Hanna Broome of AME Zion Church; Rev. Kazimir Brown of Repairers of the Breach; Mary Kay Henry of the Service Employees International Union; Rabbi Sheila Katz of the National Council of Jewish Women; Roz Pelles of the Center for Public Theology & Public Policy at Yale Divinity School; Ai-Jen Poo of the National Domestic Workers Alliance; Joy Reid of MSNBC; Karen Georgia A. Thompson of United Church of Christ; and members of Black Voters Matter, Beloved Community, and the League of Women Voters.
"Women refuse to stay silent as we fight back against the most pressing issues harming our communities today," declared Broome. "Right now across the country, extremist lawmakers are using state capitols to subvert our democracy and erode voting rights, denying living wages, and suppressing access to healthcare, all while concentrating this rich nation's wealth into fewer and fewer hands."

"Until the systemic injustices that have been plaguing our communities end," she vowed, "we will continue to make our voices heard across the nation."

During the assembly—set to be livestreamed at 6:00 ET—speakers plan to "demand a lifesaving agenda that includes living wages, voting rights, reproductive healthcare, and more," according to organizers.
"Sixty years ago, the agenda of the March on Washington was to raise the minimum wage 75% to a living wage, expand and protect voting rights, secure healthcare for all, and expand the Labor Standards Act to end racial discrimination," noted Bishop William Barber, who is expected to speak at the event. "Today, we are not finished with that agenda."
"Right now, 73 million women make up our nation's poor and low-wealth population. And millions of these women continue to be impacted by voter suppression," he added. "At a time when poverty is the fourth leading cause of death in our nation, these women are calling on all people of moral conscience—regardless of race, gender, or political affiliation—to join the fight for the moral soul of our nation and call out these attacks on our rights. We need all voices in this movement. This 60th anniversary is not an occasion just for nostalgia, it is a moment for action."
News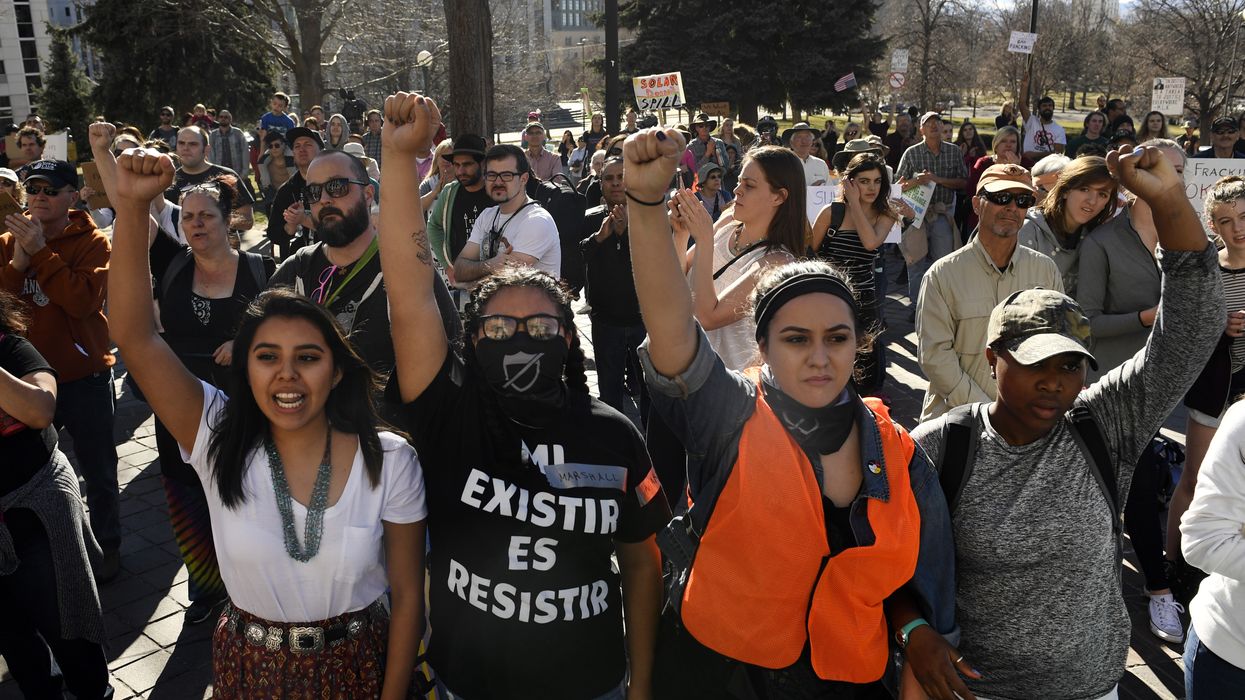 "States should take positive measures to ensure that children are protected from foreseeable premature or unnatural death and threats to their lives," reads the updated document

A group of children in Portugal who are expected to present arguments in a climate case at the European Court of Human Rights next month may have a stronger legal standing following a formal opinion issued Monday by a United Nations committee, which affirms that the climate, biodiversity, and pollution crises present "an urgent and systemic threat to children's rights globally."
After consulting with more than 16,000 children in more than 120 countries, the U.N. Committee on the Rights of the Child updated the 1989 Convention on children's rights to say that there is an urgent need to address the "triple planetary crisis" and to explain "how children's rights under the Convention on the Rights of the Child apply to environmental protection, and confirms that children have a right to a clean, healthy and sustainable environment."
"The right to life is threatened by environmental degradation, including climate change, pollution, and biodiversity loss, which are closely linked to other fundamental challenges impeding the realization of this right, including poverty, inequality, and conflict," reads the document, which was updated after a two-year period of gathering input from children around the world. "States should take positive measures to ensure that children are protected from foreseeable premature or unnatural death and threats to their lives that may be caused by acts and omissions, as well as the activities of business actors, and enjoy their right to life with dignity."
The formal opinion—called General Comment No. 26—and updated document were released four weeks before the Portuguese case is set to go to court, where six children are preparing to argue that the 33 member-states of the European Union have failed to fight the climate crisis and to seek a legally binding decision requiring the countries to make immediate, deeper cuts to their fossil fuel emissions.
At least 19 other cases filed by youths in countries including Brazil, the United States, and Indonesia make similar arguments, and legal analysts said Monday that the updated treaty may help the young people in court.
"This could definitely strengthen their hand because now there's a fully articulated set of guidance that pulls everything together in one place," lawyer Ann Skelton, who chairs the U.N. Committee on the Rights of the Child, told Reuters.
Noam Peleg, a law professor at the University of New South Wales in Australia, wrote at The Conversation that the changes offer "a practical guide to help children" fight their government's continued support of planet-heating fossil fuels and clarifies that governments have an obligation to protect children from the climate emergency as part of their duty to defend human rights.
"The general comment also identifies children as agents in their own lives," said Peleg. "By extension, this means children have a right to participate in the drafting of environmental policies or laws that will affect them."
As Common Dreamsreported last month, climate litigation has emerged in recent years as a key driver of climate justice.

The committee's changes were announced two weeks after a state judge in Montana ruled that the state violated the constitutional rights of 16 young residents by promoting fossil fuel extraction.
"Children worldwide have been leading the fight against climate change; calling on their governments and corporations to take action to protect the planet and their future," said David Boyd, U.N. special rapporteur on human rights and the environment. "With its General Comment No. 26, the Committee on the Rights of the Child not only echoes and amplifies children's voices, but also clearly defines the rights of children in relation to the environment that state parties should respect, protect and fulfill collectively and urgently."
Some young people and advocates who were consulted by the committee had pushed the panel to put the world's children in an even stronger legal position by calling on countries to take action beyond that which is demanded by the 2015 Paris climate agreement, which calls for emissions cuts that would limit planetary heating to 1.5°C above preindustrial temperatures.
Kelly Matheson, deputy director of global climate litigation at Our Children's Trust—which represented the children in the Montana case—toldReuters that the new document represents "such a missed opportunity."
"It's an exercise in incrementalism instead of taking quantum leap forward," Matheson said.
Committee member Philip Jaffé toldReuters that climate leader Greta Thunberg, who at 15 began a protest outside the Swedish Parliament that grew into the global school strike demanding climate action, had called on the panel "to be more vigorous and somewhat bolder."
News
We Still Must Raise $40,000 by September 1st
Please Support Our
Summer Campaign Today!