For Immediate Release
Contact:
Liz Bartolomeo 202-742-1520 x226
Will Super PACs Determine the 2012 Election?
Nonprofit, Legal, Media Leaders to Discuss the Influence of Super PACs on Jan. 23
WASHINGTON
The Advisory Committee on Transparency (ACT), a project of the Sunlight Foundation, will host a panel discussion on the role of super PACs in the 2012 election on Monday, January 23. The event is the first of eight ACT is hosting throughout the year that will address important and wide-ranging transparency policy issues with those in Congress, think tanks, the media and other experts.
Since recent court rulings, including the Supreme Court's Citizens United v Federal Election Commission decision two years ago, a tidal wave of unlimited and often secret money has flooded our airwaves, phones and inboxes in an effort to influence congressional and presidential campaigns. Super PACs, especially, have fundamentally changed the relationship between money and politics, and all too often are misunderstood. These new vehicles for political advocacy have upended traditional political alliances, infused tremendous amounts of undisclosed (or partially disclosed) money into the political system, and kicked off controversies over what our 21st century democracy should look like.
Panelists -- who include the journalist who coined the term "super PAC," the lawyer for faux-TV pundit Stephen Colbert and campaign finance reform opponents and advocates -- will discuss what the public knows -- and should know -- about super PACs.
The event is open to the public and the media. Please register online at https://snlg.ht/RSVPSuperPAC.
The Advisory Committee on Transparency is a project of the Sunlight Foundation that educates policymakers and shares ideas with the Congressional Transparency Caucus. Visit https://transparencycaucus.org for more information.
WHAT: Advisory Committee on Transparency Panel Discussion on Super PACs
WHEN: Monday, January 23 from 2:15 to 4:15 pm
WHERE: Rayburn House Office Building, room 2203 on Capitol Hill, Washington, DC
WHO:
Eliza Newlin Carney -- Staff Writer for CQ Roll Call covering the issues of lobbying and influence
Allen Dickerson -- Legal Director and Interim Executive Director of the Center for Competitive Politics
Mimi Marziani -- Counsel for the Democracy Program at the Brennan Center for Justice at New York University School of Law
Trevor Potter -- Attorney leading Caplin & Drysdale's political law practice; attorney for Stephen Colbert; former Federal Election Commission Chairman
Daniel Schuman (moderator) -- Policy Counsel at the Sunlight Foundation and Director of the Advisory Committee on Transparency
The Sunlight Foundation was co-founded in 2006 by Washington, DC businessman and lawyer Michael Klein and longtime Washington public interest advocate Ellen Miller with the non-partisan mission of using the revolutionary power of the Internet to make information about Congress and the federal government more meaningfully accessible to citizens.
LATEST NEWS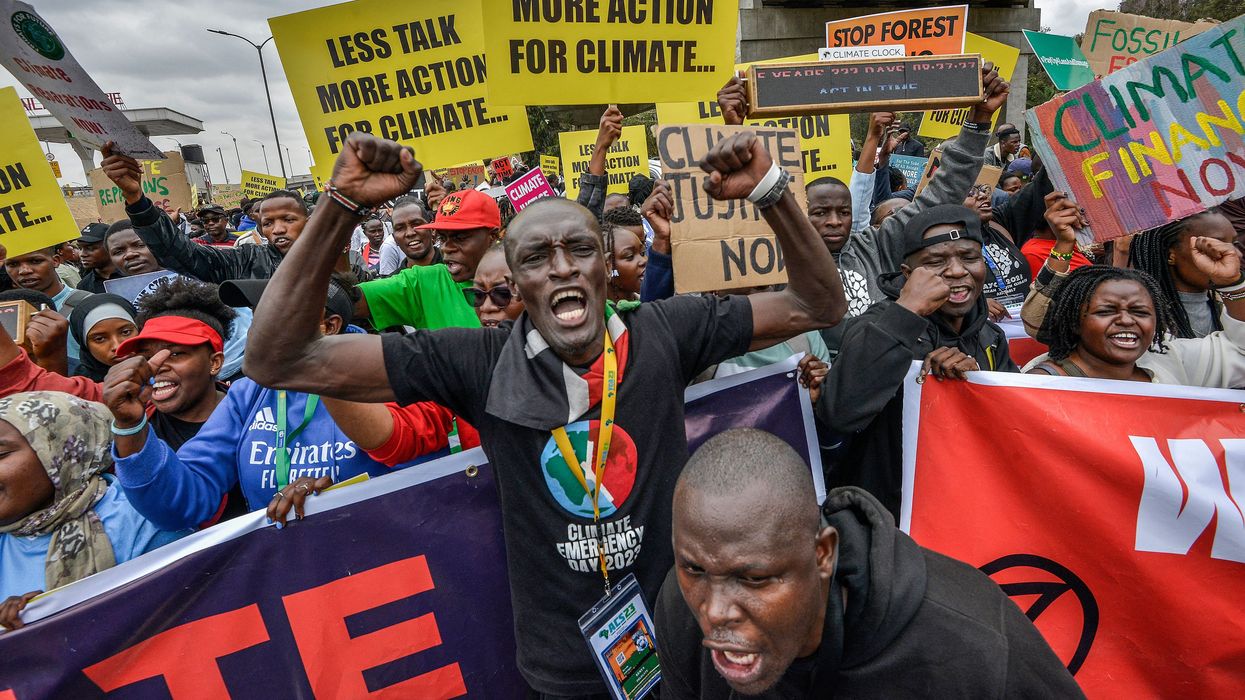 "We have an abundance of clean, renewable energy," said one African activist. "But to unlock it, Africa needs funding from countries that have got rich off our suffering."
As the first-ever Africa Climate Summit kicked off in Nairobi, Kenya on Monday, an analysis by the humanitarian group Oxfam found that rich nations have delivered just a small fraction of the development aid that East African nations say they need each year to meet their climate goals.
Unlike rich countries that account for a disproportionate share of planet-warming greenhouse gas pollution, East Africa has contributed "almost nothing" to global carbon emissions that are driving record-shattering heat worldwide, Oxfam's new report notes. In 2021, according to one recent estimate, the average North American emitted 11 times more carbon dioxide than the average African.
The World Meteorological Organization pointed out Monday that Africa is responsible for less than 10% of global carbon emissions.

Yet "East Africa is one of the world's worst-hit regions by climate change and is now experiencing its worst climate-induced extreme weather, fueling an alarming hunger crisis," Oxfam's report states. "Over 31.5 million people are currently facing acute hunger across Ethiopia, Kenya, Somalia, and South Sudan."
Those countries, which suffer billions of dollars worth of climate-related damage each year, have said they will need at least $53.3 billion annually to meet critical targets under the Paris Climate Agreement. According to Oxfam, wealthy countries provided just $2.4 billion in aid to East African nations in 2021.
More broadly, Oxfam noted, high-income countries pledged that they would provide $100 billion a year by 2020 to help lower-income countries fight climate chaos.
"Oxfam estimates that in 2020 the real value of financial support specifically aimed at climate action was only around $21 billion to $24.5 billion—much less than officially reported figures suggest," the group's report states.
Fati N'Zi-Hassane, Oxfam's Africa director, said Monday that "even by their own generous accounts, polluting nations have delivered only pittance to help East Africa scale up their mitigation and adaptation efforts."
"Nearly half the funds (45%) they did give were loans, plunging the region further into more debt," N'Zi-Hassane added.
Climate finance is expected to be a major topic of discussion at the Nairobi summit, which comes after months of scorching heat on the continent.
"Africa is seen as a sunny and hot continent," Amadou Thierno Gaye, a research scientist and professor at Cheikh Anta Diop University in Dakar, toldBloomberg in July. "People think we are used to heat, but we are having high temperatures for a longer duration. Nobody is used to this."
The Associated Pressreported Monday that "there is some frustration on the continent about being asked to develop in cleaner ways than the world's richest countries—which have long produced most of the emissions that endanger climate—and to do it while much of the support that has been pledged hasn't appeared."
Mohamed Adow of Power Shift Africa told AP that "we have an abundance of clean, renewable energy and it's vital that we use this to power our future prosperity. But to unlock it, Africa needs funding from countries that have got rich off our suffering."
In addition to calling on rich nations to contribute the aid they've promised to help accelerate Africa's renewable energy transition, African civil society groups are urging their leaders to reject fossil fuel expansion, specifically warning against the completion of TotalEnergies' East African Crude Oil Pipeline (EACOP).
A recent Human Rights Watch report warned that more than 100,000 people in Uganda and Tanzania are set to "permanently lose land to make way for the pipeline and Tilenga oilfield development." One analysis indicates the pipeline could result in 379 million tonnes of planet-warming emissions over its lifespan—more than 25 times the combined annual emissions of Uganda and Tanzania.
Zaki Mamdoo, coordinator of the Stop EACOP Coalition, said Monday that "the African Climate Summit could provide the platform needed for the continent to dramatically shift its trajectory and future—from one that is set to bear the brunt of climate collapse, to one of energy security and prosperity driven by decentralized and people-centered renewables."
"For this to happen," said Mamdoo, "African leaders will need to rise to the occasion and make firm commitments to significantly upscale renewable energy developments while resisting and withdrawing any and all support for exploitative and destructive projects like the East African Crude Oil Pipeline."

News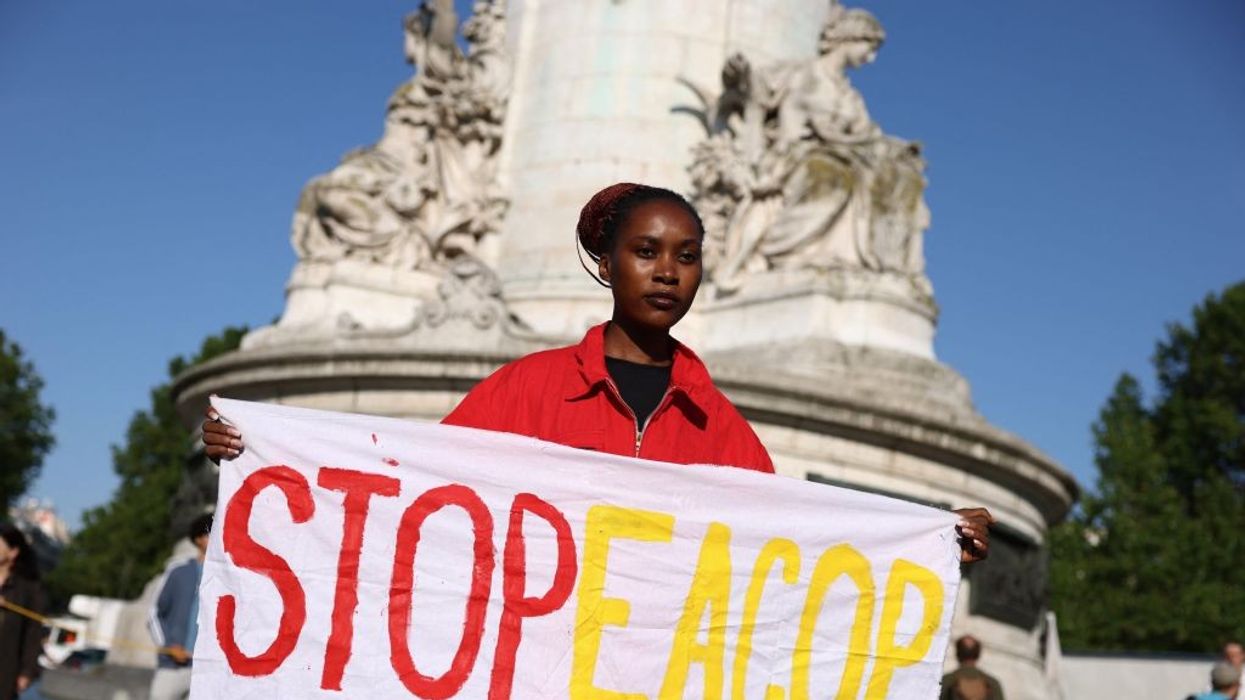 ActionAid found that since the Paris agreement, banks have funded the largest Big Ag companies doing business in the Global South to the tune of $370 billion and the fossil fuel sector to the tune of $3.2 trillion.

Since the international community promised to limit global heating to 1.5°C above preindustrial levels, the world's major banks have funneled 20 times more money to climate-polluting industries in the Global South than Global North governments have given those same countries to address the climate emergency.
That's just one of the findings of How the Finance Flows: The Banks Fueling the Climate Crisis, an ActionAid report released Monday.
"This report names the biggest offenders in the banking world and calls on them to see that they are destroying the planet, while harming the present and future for their children," Ugandan climate activist Vanessa Nakate wrote in the foreword. "It's time to hold financial institutions to account, and demand that they end their funding of destructive activity."
The report focuses on the financing of two major climate-heating industries in the 134 nations of the Global South: fossil fuels and industrial agriculture.

"People generally know that fossil fuels are the number one cause of greenhouse gas emissions. But what is less understood is that industrial agriculture is actually the second biggest cause of climate emissions," Teresa Anderson, the global lead on climate justice at ActionAid International, said during a press briefing ahead of the report's release.
This is because of the sector's link to deforestation, as well as the emissions required to produce industrial fertilizers, she added.
In total, since the 2015 Paris agreement, banks have funded the largest Big Ag companies doing business in the Global South to the tune of $370 billion and the oil, gas, and coal sectors to the tune of $3.2 trillion.
"Global banks often make public declarations that they are addressing climate change, but the scale of their continued support of fossil fuels and industrial agriculture is simply staggering."
The top three banks that invested the most in these sectors were the Industrial and Commercial Bank of China at $154.3 billion, China CITIC Bank at $134.7 billion, and the Bank of China at $125.9 billion. Citigroup came in fourth at $104.5 billion, followed by HSBC at $80.8 billion.
While China features prominently in the report as the world's largest economy, Anderson noted that much of what it produces ends up purchased by consumers in the Global North.
The top three banks in the Americas funding big agriculture and fossil fuels were Citigroup, JPMorgan Chase, and Bank of America. While Citigroup was the leading regional funder of fossil fuels, JP Morgan Chase gave the most to industrial agriculture.
In Europe, the top funders after HSBC were BNP Paribas, Société Générale, and Barclays, while Mitsubishi UFJ Financial rounded out the top Asian funders.
Where is all that money going? When it comes to agriculture, the leading recipient was Bayer, which bought out Monsanto in 2018. Banks have given it $20.6 billion to do business in the Global South since 2016.
Much of the fossil fuel money went to China's State Power Investment Corporation and other Chinese companies; commodities trader Trafigura; and the usual fossil fuel suspects like ExxonMobil, BP, Shell, Saudi Aramco, and Petrobras.
"This is absurd," Anderson said of the findings. "Global banks often make public declarations that they are addressing climate change, but the scale of their continued support of fossil fuels and industrial agriculture is simply staggering."
ActionAid called the report the "flagship" document of its Fund Our Future campaign to redirect global money from climate crisis causes to climate solutions. The report calls on banks to make good on their climate promises and stop funding fossil fuels and deforestation, as well as to put additional safeguards in place to protect the rights of local communities, raise the ambition of their goals to reach "real zero" emissions, and improve transparency and other measures to make sure the projects they fund are behaving ethically.
"This can be stopped," Farah Kabir, the country director of ActionAid Bangladesh, said during the press briefing. "The banks cannot continue to fund fossil fuel industries and industrial agriculture."
In addition, the report offers recommendations to Global North governments to ensure a just transition to a sustainable future for everyone. These included setting stricter regulations for the banking, fossil fuel, and agricultural industries as well as ending public subsidies for these sectors and channeling the money to positive solutions like renewable energy and agroecology.
However, the form that funds take when sent to the Global South makes a big difference, said ActionAid USA executive director Niranjali Amerasinghe. Instead of coming in the form of private loans, it needs to be in the form of public money.
"Providing more loans to countries that are already in significant debt distress is not going to support their transition to a climate-compatible future," she said.
One reason that loans are counterproductive is that nations that accept them are forced to provide a return on investment, and currently the main industries that offer this are in fact fossil fuels and industrial agriculture.
In addition to public funds, debt forgiveness or restructuring and new taxes could also help these countries with their green transition. If companies like Exxon or Bayer doing business in the Global South "were taxed in an equitable way, that would allow those governments to raise public revenue that can then be used to support climate action," Amerasinghe said.
In particular, the report emphasizes agroecology as a climate solution that should be funded in Global South countries.
"Climate change is real in Zambia."
Mary Sakala, a frontline smallholder farmer from Zambia, spoke at the press briefing about how the climate crisis and current agricultural policy put a strain on her community.
"Climate change is real in Zambia," she said, adding that it had brought flooding, droughts, pests, and diseases that meant that "families currently, as I'm speaking right now, sleep on an empty stomach."
Sakala saw hope in agroecology, which would help with food security and resilience, and make farmers less dependent on the government and large companies.
"We need policies to allow [us] to conserve our environment in a cultural way, to help us eat our food," Sakala said. "We want… every seed to be utilized and saved and shared in solidarity."
And she said that the companies and governments of the Global North have a duty to help them get there.
"Those people who are continuing to pollute and let the climate change increase, those people need to pay us, because we are suffering from the things that others are doing," she said.
News
"House Republicans are listening to their most extreme members on steps that could slow the flow of relief and put us to the brink of a government shutdown," warned Democratic Rep. Rosa DeLauro.

Republican threats to shut down the federal government if spending isn't drastically cut have put funding for a critical nutrition aid program at risk as hunger grows across the nation, with the recent lapse of pandemic-era assistance leaving many low-income families struggling to put food on the table.
The Special Supplemental Nutrition Program for Women, Infants, and Children, commonly known as WIC, is one of many federal programs that could face severe impacts if Congress fails to fund the government by September 30.
As The Washington Post's Tony Romm reported Sunday, "While USDA technically can operate WIC if federal funding lapses, states could only continue paying benefits for as long as they had leftover money."
"A shutdown at the end of 2018 into the following January, for example, brought some states within a month of having to cut benefits, institute waitlists, or take other drastic actions," Romm noted, citing a Washington state nutrition official. "Nearly a decade later, state leaders and nutrition experts fear the fight in the nation's capital once again could leave millions of women and children in a financial bind."
WIC, long a target of Republican lawmakers, gives states grants to provide nutrition aid and other assistance to pregnant and postpartum adults and children up to the age of five. House Republican appropriators have proposed sharp cuts to WIC for the coming fiscal year, even as policy experts say a significant funding increase is needed as participation in the program grows.
In a recent report, the Center on Budget and Policy Priorities (CBPP) warned that up to 750,000 eligible toddlers, preschoolers, postpartum adults, and others eligible for WIC could be turned away from the program if the House GOP's proposed funding levels become law.
"Another 4.6 million toddlers and preschoolers and pregnant, postpartum, and breastfeeding participants would have their benefits cut significantly," the group estimated. "In total, the House bill would cut food assistance for, or take it away altogether from, roughly 5.3 million young children and pregnant, postpartum, and breastfeeding adults."
CBPP argued that the program will need roughly $7.3 billion in total funding for fiscal year 2024 to provide full benefits to WIC recipients. Republicans, who already secured more strict work requirements for SNAP recipients in a debt ceiling deal with the White House, want to approve just $5.5 billion for WIC.
In an effort to stave off disaster, the Biden White House last week urged the divided Congress to pass a short-term government funding measure that includes $1.4 billion in additional funding for WIC.
Romm emphasized Sunday that "the request hinges on House Republicans, who recently have tried to slash WIC funding in a move that could spell cuts to poor Americans' monthly nutritional support."
The White House estimates that the GOP's proposed WIC cuts "could reduce monthly fruit and vegetable benefits by 70% for pregnant women and 56% for children, while potentially forcing 1.9 million participants onto a waitlist for aid," Romm added.
The far-right House Freedom Caucus, which has dozens of members, has threatened to oppose any short-term funding agreement that does not impose steep cuts to federal spending and put an end to the "unprecedented weaponization" of the Justice Department, an apparent reference to the prosecution of former President Donald Trump.
The House, led by Republican Speaker Kevin McCarthy (R-Calif.), is set to return from August recess next week. As CNNreported Sunday, "GOP hardliners in the House are eager to play a game of chicken over the end-of-the-month deadline to fund federal agencies, seeking to force the White House and Senate to make a choice: Accept a slew of conservative priorities or risk a debilitating government shutdown."
Republican appropriators have called for major cuts to a range of federal programs related to education, environmental protection, and more.
Rep. Rosa DeLauro (D-Conn.), the top Democrat on the House Appropriations Committee, wrote on social media over the weekend that "House Democrats are ready to move on funding for disaster relief and other crises."
"House Republicans," she added, "are listening to their most extreme members on steps that could slow the flow of relief and put us to the brink of a government shutdown."
News
Independent, nonprofit journalism needs your help.
Please Pitch In
Today!