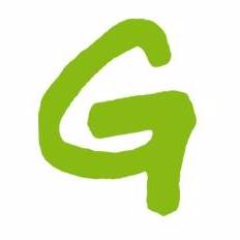 Where is the Oil, and What Effects is it Having on the Gulf's Marine Ecosystem?
Experts available on board the Greenpeace ship Arctic Sunrise to discuss scientific research into Gulf oil spill impacts
GULF OF MEXICO
Greenpeace Research Director Kert Davies, and
scientists Rainer Amon and Clifton C. Nunnally are currently on board
the Arctic Sunrise and available for interview. The Arctic Sunrise is a
164-foot ice-class Greenpeace ship currently on a three-month expedition
in the Gulf of Mexico to study the environmental impacts of the
Deepwater Horizon oil spill disaster.
The independent scientific research team on board the Arctic Sunrise
is studying the extent, composition and impacts of the oil and gas that
has entered the Gulf's deep water following the oil spill. Following
the report released in early August by the National Incident Command
that revealed that between three and four million barrels of oil remain
in the Gulf environment, this research will make an important
contribution to increasing our understanding of the environmental
aftermath of the spill. The work will include documenting the status of
the chemical and biological aspects of the Gulf's waters, in order to
assess the impact of the oil spill on the gulf ecosystems, gauging
dissolved oxygen levels, and the ratio of stable carbon isotopes present
in dissolved inorganic carbon chemicals, as a way to locate areas
affected by the oil spill.
The Arctic Sunrise is performing transects of the Gulf in an area
to the west of the Deepwater Horizon site, south of Texas and
Louisiana, collecting water samples from depths of up to 1.25 miles. The
ship will also spend time close to the disaster site, where the science
team plans to take sediment samples, to find out how much oil has
reached the sea floor and what effect it has had on the organisms that
live there.
Kert Davies, Research Director at Greenpeace US will be available to discuss:
The ongoing effects of the disaster
The Arctic Sunrise three-month mission
What's really happening in the gulf - compared to what BP or the government are saying
The influence of big oil on US politics
Future alternatives to oil
Rainer Amon will be available to discuss:
The significance of his research into dissolved oxygen levels
How his work complements that of other scientists
What the science will tell us
How, technically, the work is carried out
What they have discovered so far during this expedition
The potential impact on the Gulf ecosystem, based on findings
Cliff Nunally will be available to discuss:
The significance of his sediment research, and what the oil spill means for the Gulf ecosystem
How the team is working with other scientists to understand the oil spill effects
How his research is carried out
What he has learned so far
Kert Davies
Greenpeace US Research Director
Davies directs
Greenpeace's research team. He works closely with investigative
journalists and frequently represents Greenpeace at international
climate negotiations and scientific conferences. Davies has also
partnered with major global corporations to help them implement
solutions to global environmental problems. In 2008, he served as part
of a team that convinced Unilever to introduce the first
climate-friendly freezers into the United States. He also created and
runs the Greenpeace websites and blogs ExxonSecrets.org and
PolluterWatch.org, which expose how ExxonMobil, Koch Industries and
other polluters have attempted to influence the public debate about
global warming and energy policy.
Since the BP oil disaster, Davies has been interviewed on PBS
Newshour, CNN, BBC, MSNBC, Al Jazeera and quoted in major publications
such the Washington Post. Kert Davies studied environmental studies at
Hampshire College, and received his master's in environmental studies
from the University of Montana in 1994.
Dr Rainer Amon
Associate
Professor, Department of Marine Sciences, Texas A&M University, at
Galveston, and Department of Oceanography at Texas A&M University,
at College Station
In June 2010, Dr Amon was on board the NSF vessel RV Cape Hatteras,
tracing the movement of subsurface oil plume near to the Deepwater
Horizon site. This time out, he will be studying the extent, composition
and impacts of the oil and gas that has remained in the Gulf's deep
water, by gauging dissolved oxygen levels and stable carbon isotopes of
dissolved inorganic carbon as a way to locate areas affected by the oil
spill.
Dr. Amon holds a Ph.D. in marine sciences from the University of
Texas and a Masters in Zoology from University of Vienna. After his
Ph.D. Dr. Amon spent eight8 years as a researcher at the Alfred Wegener
Institute in Germany before accepting his position at TAMUG in 2003. He
has worked extensively in the Arctic, using organic matter from Russian
rivers flowing into the Arctic Ocean, to trace pollution, the movement
of water masses, and other environmental changes. Amon has participated
in numerous research expeditions to the Amazon River and the Arctic
Ocean during his career. More locally, Amon is a co-investigator to
study the growth of E coli in Houston bayous by combining geochemistry
with molecular ecology, a multiyear study funded by the Texas Commission
for Environmental Quality.
Clifton C Nunnally, Phd. Student in Oceanography, Texas A&M, at Galveston
Nunnally's
focus on board the Arctic Sunrise is on the sediment communities close
to the Deepwater Horizon disaster site, where he will investigate
whether oil has reached the bottom, and if it has, to examine the how it
has affected the biota - such as marine invertebrates.
With a Bachelor Degree in Science from Abilene Christian University
(1998) and a Masters from Texas A&M University (2003), Nunnally's
work has centered on two large oceanographic studies: the Deep Gulf of
Mexico Benthos (DGoMB) project which was a initial survey of deep-water
habitats prior to the expansion of oil and gas exploration on the
Northern Gulf of Mexico continental slope, and the physical and
biological processes behind the Gulf of Mexico 'Dead Zone'. Clifton
Nunnally also spends each summer at Alice Cover Research Station located
near Simpson Bay in Prince William Sound, Alaska, where he focuses on
benthic invertebrates such as clams and starfish, which sea otters feed
on.
Contact:
Dave Walsh, Greenpeace Media Officer on board the Arctic Sunrise , dwalsh@greenpeace.org , +31 20 712 2616
Molly Dorozenski, Greenpeace Media Officer in New York, molly.dorozenski@greenpeace.org, +1 917-864-3724
Please join us at https://greenpeace.org/usa/live on Friday, September
24th for a live video press/blogger briefing and Q&A with
Greenpeace experts at the front lines of the campaign for clean energy
future, including Greenpeace USA Research Director Kert Davies live from
the ship.
Greenpeace is a global, independent campaigning organization that uses peaceful protest and creative communication to expose global environmental problems and promote solutions that are essential to a green and peaceful future.
+31 20 718 2000
LATEST NEWS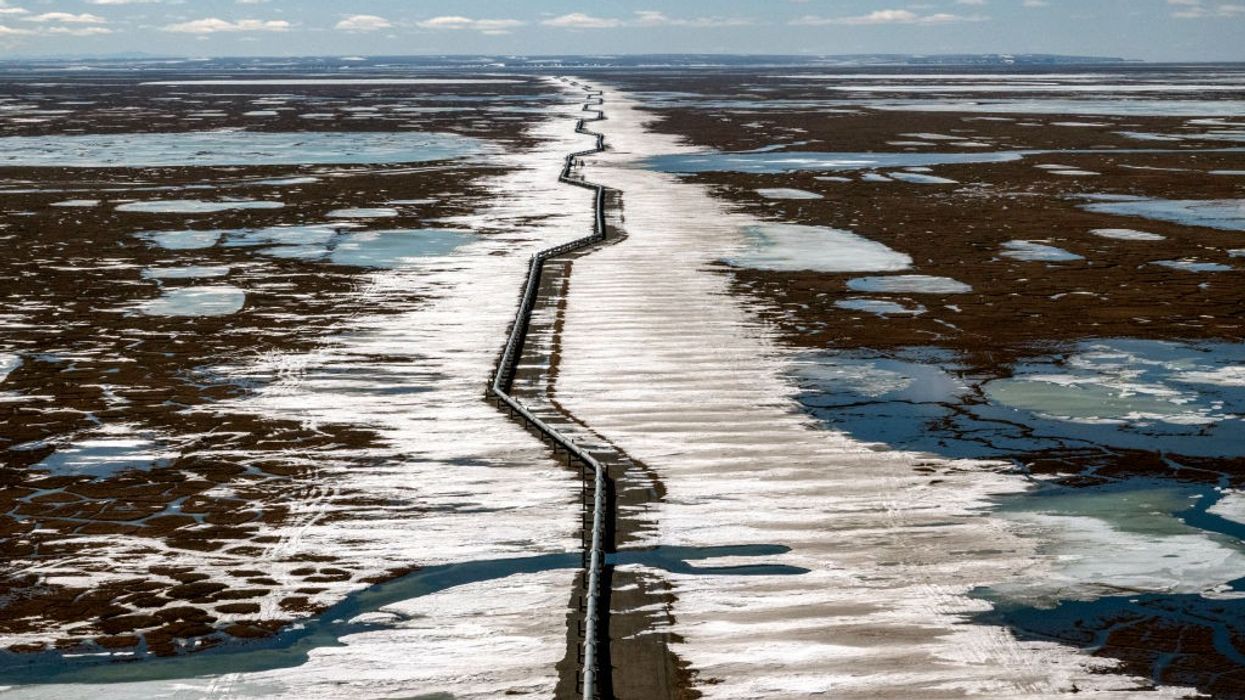 "There is simply no justification for President Biden's decision to approve a massive new oil drilling scheme that will lead to decades of air and climate pollution," said one critic.
U.S. President Joe Biden on Monday greenlighted a massive oil drilling project on federal land in Alaska, eliciting outrage from climate advocates who say the administration's accompanying restrictions on oil and gas leasing in the region cannot make up for the destruction set to be unleashed by the approved Willow project.
Progressives sought for months to dissuade Biden from approving ConocoPhillips' $8 billion Willow project, noting that it could enable the production of more than 600 million barrels of crude over 30 years. If all of that oil is burned, roughly 280 million metric tons of heat-trapping carbon dioxide emissions will be spewed into the atmosphere at a time when United Nations Secretary-General António Guterres warns that the planet is reaching a "point of no return."
"There is simply no justification for President Biden's decision to approve a massive new oil drilling scheme that will lead to decades of air and climate pollution," Food & Water Watch executive director Wenonah Hauter said in a statement.
"This decision is part of a disturbing and disappointing trend with this White House," Hauter continued. "President Biden refuses to take the necessary actions to rein in climate catastrophe while issuing rhetoric that professes concern for the existential threat that we all face. He cannot have it both ways. Promoting clean energy development is meaningless if we continue to allow corporations to plunder and pollute as they wish."
"President Biden refuses to take the necessary actions to rein in climate catastrophe while issuing rhetoric that professes concern for the existential threat that we all face."
In what The New York Timesdescribed as a bid "to temper criticism over the Willow decision and, as one administration official put it, to form a 'firewall' to limit future" fossil fuel development in the region, Biden announced restrictions on offshore oil lease sales in the Arctic Ocean and across Alaska's North Slope, while the U.S. Department of the Interior "said it would issue new rules to block oil and gas leasing in more than 13 million of the 23 million acres that form the National Petroleum Reserve-Alaska," where the Willow project is located.
But given the overwhelming scientific evidence—and warnings from even the relatively conservative International Energy Agency—that new fossil fuel projects are incompatible with averting the worst consequences of the planetary emergency, climate justice campaigners rejected the president's attempt to soften the blow of his Willow approval by announcing new protections for areas surrounding the extraction site.
"It's insulting that Biden thinks this will change our minds about the Willow project," Kristen Monsell, a senior attorney at the Center for Biological Diversity, said in a statement. "Protecting one area of the Arctic so you can destroy another doesn't make sense, and it won't help the people and wildlife who will be upended by the Willow project. We need to protect the entire Arctic and stop building massive oil and gas developments that will contribute to greenhouse gas emissions for years to come."
"Biden approved Willow knowing full well that it'll cause massive and irreversible destruction, which is appalling," said Monsell. "People and wildlife will suffer, and extracting and burning more fossil fuel will warm the climate even faster. Biden has no excuse for letting this project go forward in any form. New Arctic drilling makes no sense, and we'll fight hard to keep ConocoPhillips from breaking ground."
"Even one new oil well in the Arctic is one well too many," Monsell added. "If Biden wants to protect the Arctic, he needs to protect all of it. The president has left us in the cold and missed a major opportunity to live up to his climate commitments. This project is on weak legal ground, and we're gearing up for action."
Earthjustice president Abigail Dillen echoed that sentiment, telling the Times that the Biden administration's "tinkering at the margins... won't remedy legal failures to address this project's outside harms and we expect to see them in court."
News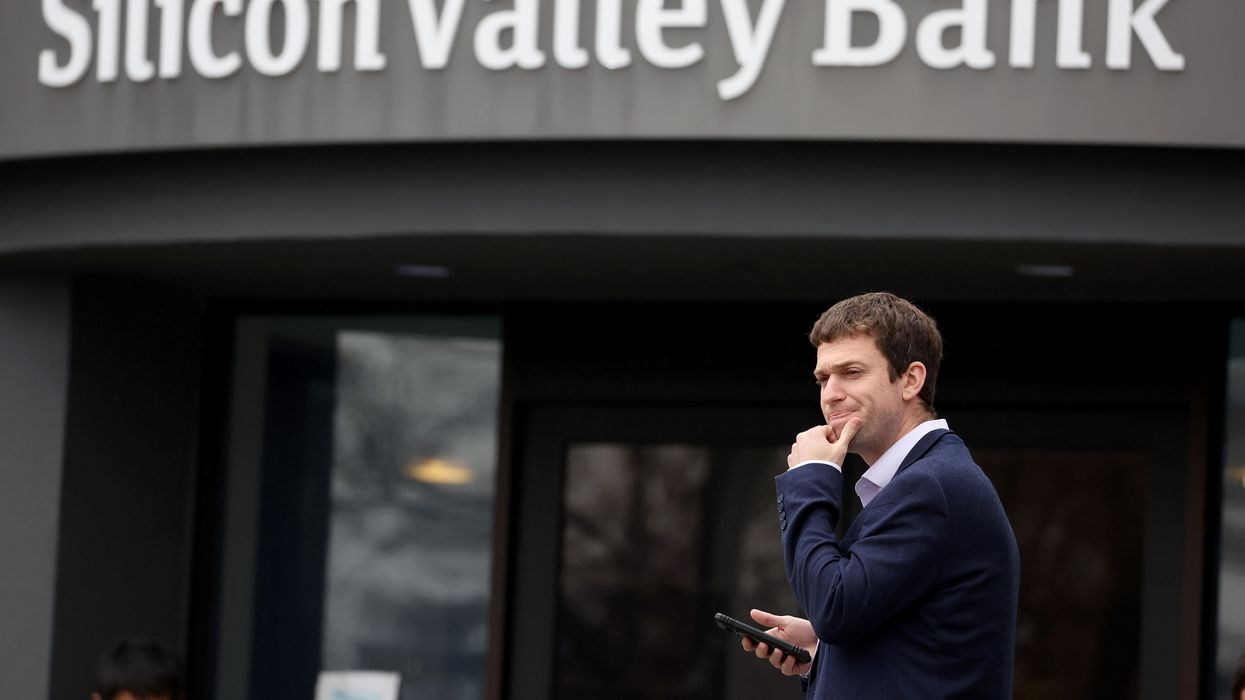 "We cannot continue down the road of more socialism for the rich and rugged individualism for everyone else," said the U.S. Senator from Vermont.
Sen. Bernie Sanders on Sunday night called for a full repeal of the 2018 banking deregulations signed into law by former President Donald Trump and declared that "now is not the time for taxpayers bail out Silicon Valley Bank"—the California bank that collapsed Friday.
On Sunday evening, the U.S. Treasury Department, Federal Reserve, and Federal Deposit Insurance Corporation (FDIC) issued a joint statement outlining a plan to make all deposits for Silicon Valley Bank as well as Signature Bank, which was shuttered by New York regulators earlier in the day, available to costumers Monday morning.
In his statement, Sanders said, "If there is a bailout of Silicon Valley Bank, it must be 100 percent financed by Wall Street and large financial institutions. We cannot continue down the road of more socialism for the rich and rugged individualism for everyone else. Let us have the courage to stand up to Wall Street, repeal the disastrous 2018 bank deregulation law, break up too big to fail banks and address the needs of working families, not the risky bets of vulture capitalists."
The statement the Fed, Treasury, and FDIC noted that "no losses" associated with the rescue plan "will be borne by the taxpayer," though the extraordinary intervention—the largest of its kind since the 2008 financial collapse—is still seen by many economists and financial experts, even if bank investors and debt holders are not protected, as a "bailout" for the financial industry only made possible by taxpayers.
"Let us have the courage to stand up to Wall Street, repeal the disastrous 2018 bank deregulation law, break up too big to fail banks and address the needs of working families, not the risky bets of vulture capitalists."
Warren Gunnels, longtime staffer and top advisor to Sanders, made the connection between venture capitalists clamoring for a speedy government intervention to save the banking sector from a wider shock and the same kind of people who have adamantly opposed financial relief for the struggling middle- and working-class Americans:
As the Washington Postreports, "The decision by Treasury to backstop all deposits at SVB and Signature — not just those up to $250,000 that are insured under federal law — rested on a judgment that it was necessary to avoid a wider 'systemic' meltdown. The move will likely ignite a political firestorm over the decision to protect the assets of tech firms, venture capitalists, and other rich people in California."
In 2018, as Sen. Mike Crapo's (R-Idaho) Economic Growth, Regulatory Relief, and Consumer Protection Act was making its way through Congress, Sanders took to the floor of the U.S. Senate to oppose the bill, warning of exactly this kind of economic disaster if the deregulation was approved:
"Let's be clear," Sanders said Sunday night in his statement. "The failure of Silicon Valley Bank is a direct result of an absurd 2018 bank deregulation bill signed by Donald Trump that I strongly opposed. Five years ago, the Republican Director of the Congressional Budget Office released a report finding that this legislation would 'increase the likelihood that a large financial firm with assets of between $100 billion and $250 billion would fail.'"
"Unfortunately," he added, "that is precisely what happened."
On Monday, Lindsey Owens, executive directive of the progressive economic watchdog Groundwork Collaborative, focused on the additional lending facility made available to the bank customers and said the latest actions expose a deep "rot" within the Federal Reserve—especially as the central bank squeezes workers with increasingly higher interest rates, hikes that played at least a part in the banks' failures.
"This weekend, the Federal Reserve moved mountains to protect wealthy venture capitalists from the fallout of its aggressive interest rate hikes," said Owens. " Today, the Fed will return to its core work of pushing hardworking Americans out on the street to meet its inflation goals."
Such a set of policies, said Owens, shows the Fed "is irreparably broken and can no longer be trusted to go it alone on monetary policy. As Congress works to re-regulate mid-size banks after the misguided 2018 rollbacks that set this weekend's crisis in motion, they should also address the rot at the Fed."

In a statement on Sunday ahead of the government's rescue plan announcement, Matt Stoller, research director for the American Economic Liberties Project, made the case against any taxpayer bailout for SVB.
"Silicon Valley Bank was a badly managed and corrupt institution that entangled itself with powerful actors in the technology industry," Stoller argued. "The operative question government regulators are now facing is whether to use taxpayer funds to bail out the depositors from the failures of SVB's management."
But a full bailout, Stoller warned, "will only encourage other large regional banks to take similar risks in the future, just as Silicon Valley Bank did."
While bank investors and executives will not be included in the emergency actions announced on Sunday, Rep. Ro Khanna, the California Democrat who represents Silicon Valley, applauded the actions taken by Treasury to keep depositors whole.
Among his constituents impacted by the bank's collapse, he said, were "non-profit leaders, small business owners, start-up founders, and impacted employees of small businesses."
While expressly arguing that government intervention "should not and need not ... cost taxpayers a dime" during a news interview Sunday morning, Khanna later applauded the government plan while echoing Sanders' call for a reversal of the deregulation that led to the current crisis.
"I am glad that the Department of Treasury listened and moved to protect workers, the innovation pipeline, and the economy at large," Khanna said. "But the work doesn't end here. We've known since 2008 that stronger regulations are needed to prevent exactly this type of crisis. Congress must come together to reverse the deregulation policies that were put in place under Trump to avert future instability."
News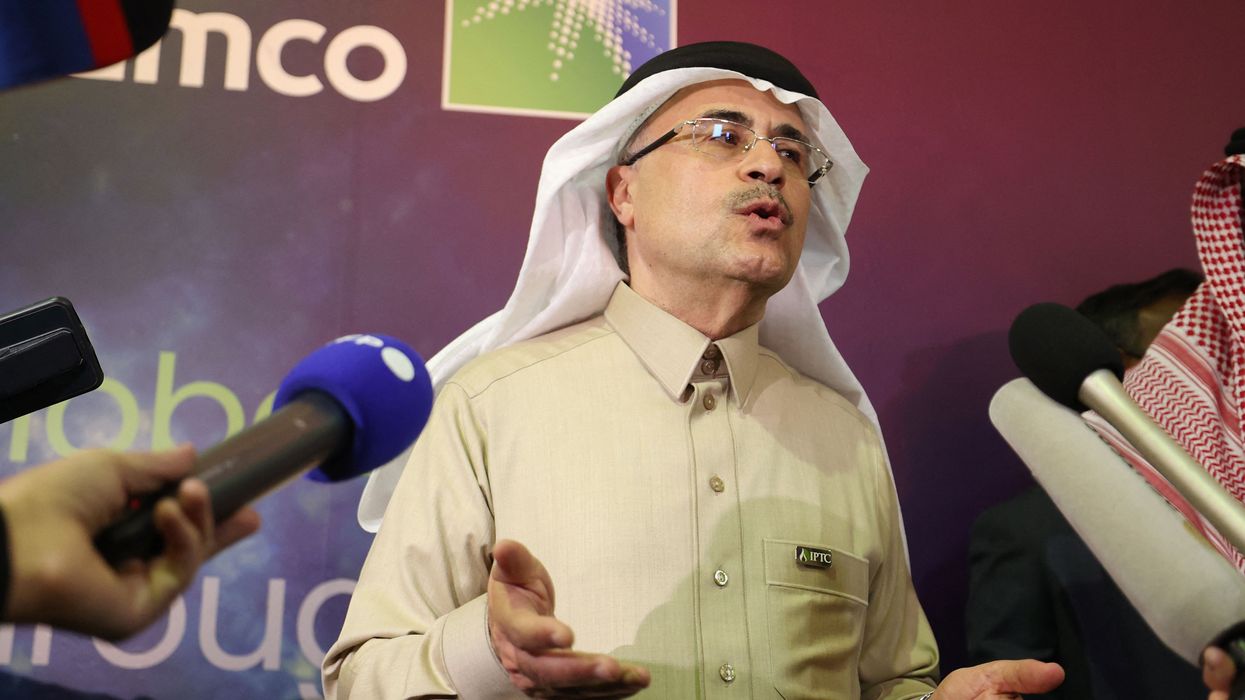 "These extraordinary profits, and any future income derived from Aramco, should not be deployed to finance human rights abuses, cover them up, or try and gloss over them," said Amnesty International.
Saudi Aramco, an oil giant almost entirely owned by the government of Saudi Arabia, announced Sunday that it brought in a staggering $161.1 billion in profits last year as it joined other fossil fuel companies in capitalizing on energy market turmoil sparked by Russia's invasion of Ukraine.
The company's profit figure for 2022 is the largest ever recorded by an oil corporation. Amin Nasser, Aramco's CEO, declared on an earnings call that "this is probably the highest net income ever recorded in the corporate world."
For comparison, ExxonMobil—the second-largest oil company in the world behind Aramco—reported $56 billion in net income last year, a record for the U.S. firm but nowhere close to the Saudi corporation's haul.
"It is shocking for a company to make a profit of more than $161.1 billion in a single year through the sale of fossil fuel—the single largest driver of the climate crisis," Agnès Callamard, secretary-general of Amnesty International, said in a statement. "It is all the more shocking because this surplus was amassed during a global cost-of-living crisis and aided by the increase in energy prices resulting from Russia's war of aggression against Ukraine."
Aramco said its banner profits—driven by "stronger crude oil prices, higher volumes sold, and improved margins for refined products"—were up nearly 47% compared to 2021, a windfall the company has used to reward investors.
"Aramco declared a dividend of $19.5 billion for the fourth quarter, to be paid in Q1 2023," the oil firm said in a press release. "This represents a 4.0% increase compared to the previous quarter, aligned with the company's dividend policy aiming to deliver a sustainable and progressive dividend. Additionally, the Board of Directors also recommended the distribution of bonus shares to eligible shareholders in the amount of one share for every 10 shares held."
While Aramco said it intends to devote resources to "lower-carbon technologies" and carbon-capture initiatives that climate campaigners have dismissed as false solutions, the company made clear that it has no intention of shifting aggressively away from fossil fuel production—a transition scientists say is necessary to avert climate catastrophe.
In its earnings announcement, Aramco said it is committed to "expanding oil, gas, and chemicals production."
Saudi Arabia is the second-largest oil producer in the world behind the United States. Late last year, the Saudi-led Organization of the Petroleum Exporting Countries (OPEC) agreed to slash oil production by 2 million barrels a day in a bid to keep prices high—benefiting companies like Aramco, Exxon, and other fossil fuel majors that have posted record-shattering 2022 profits as households struggle to heat their homes.
"It is past time that Saudi Arabia acted in humanity's interest and supported the phasing out of the fossil fuel industry, which is essential for preventing further climate harm," Callamard said Sunday. "These extraordinary profits, and any future income derived from Aramco, should not be deployed to finance human rights abuses, cover them up, or try and gloss over them."
News
SUPPORT OUR WORK.
We are independent, non-profit, advertising-free and 100%
reader supported.