For Immediate Release
July, 02 2010, 02:55pm EDT
Contact:
Michelle Bazie,202-408-1080,bazie@cbpp.org
Statement: Chad Stone, Chief Economist, on the June Employment Report
WASHINGTON
The good news in today's jobs report is that the private sector
continued adding jobs in June - though, as expected, the economy lost
jobs overall due to the scheduled reduction in temporary census jobs
(see chart). The bad news is that private sector job creation must be
much stronger going forward- at least 200,000 to 300,000 jobs per month
- to bring people back into the labor force and lower the unemployment
rate at the same time. Unfortunately, hopes that Congress will enact
effective jobs measures are fading fast as too many lawmakers seem to
think that their immediate priority should be the budget deficit rather
than the jobs deficit.
Efforts to pass an adequate jobs bill
unraveled in recent weeks, and Congress did not pass even minimal
measures before leaving for its July 4th recess to help unemployed
workers who are exhausting their benefits and states struggling to
close their gaping budget shortfalls. That not only means more hardship
for many individuals, but also additional obstacles for an economic
recovery that is struggling to gather steam.
Unemployed workers
won't have as much money to spend and will cut back their purchases.
States will have to raise taxes, lay off workers, cancel contracts and
scale back programs even more than they otherwise would. Reduced
spending by unemployed workers, newly laid-off state employees, and
state contractors who lose business will be a significant drag on the
recovery and will impede job growth. Temporary unemployment insurance
benefits and state fiscal relief are two of the most effective measures
to stimulate economic growth and job creation. A smaller program, the
TANF (Temporary Assistance for Needy Families) emergency fund, is one
of the most cost-effective job-creating programs we have.
Yet
they all languish in legislative limbo because many lawmakers believe
that Congress must offset such measures with tax increases or spending
cuts to keep the budget deficit from increasing. This is seriously
misguided. Not only is the impact of these temporary measures on the
long-term budget deficit minimal, but requiring contemporaneous deficit
offsets would reduce or undo the job-creating effects of the measures
they are paying for.
Congress needs to act quickly when
lawmakers return from recess to renew unemployment insurance benefits
and extend state fiscal assistance and TANF emergency funds. Today's
jobs report shows that the economy can use all the help it can get to
stimulate a faster pace of job creation.
About the June Jobs Report
The
labor market remains mired in a deep slump with weak underlying job
growth, many more people looking for work than there are new jobs being
created, and a disturbingly high unemployment rate.
Private
and government payrolls combined fell by 125,000 jobs in June. Private
payrolls rose by 83,000 jobs, while government payrolls fell by
208,000. Government reductions were dominated by the scheduled
elimination of 225,000 temporary jobs associated with the decennial
census, but state and local payrolls also shrank by 2,000 and 8,000
jobs, respectively (non-Census federal employment rose slightly). There
are 7.5 million fewer jobs on nonfarm payrolls than there were when the
recession began in December 2007 and 7.9 million fewer jobs on private
payrolls.
So far this year, private sector job creation has averaged 99,000 jobs per month.
The
unemployment rate edged down to 9.5 percent in June, the lowest it has
been since last July, and the number of unemployed fell slightly to
14.6 million. Unfortunately, the decline in unemployment was due to
people leaving the labor force rather than an increase in the number of
people with jobs.
The labor force participation rate (the
percentage of people with a job or actively looking for a job) has now
declined for two straight months and is back to where it was at the
start of the year-and 1.3 percentage points lower than it was at the
start of the recession.
The number of people with a job
(which is estimated from a different survey from the one used to
estimate payroll employment) fell slightly in June. As a result, the
percentage of the population with a job edged down to 58.5 percent.
Both the labor force participation rate and the percentage of the
population with a job remain near lows that were last seen in the 1980s.
The
Labor Department's most comprehensive alternative unemployment rate
measure - which includes people who want to work but are discouraged
from looking and people working part time because they can't find
full-time jobs - edged down to 16.5 percent in June. While that figure
is below the peak of 17.4 percent reached in October 2009, it is still
quite high.
Long-term unemployment remains a significant
concern. Over two-fifths (45.5 percent) of the 14.6 million people who
are unemployed - 6.8 million people - have been looking for work for 27
weeks or longer. These long-term unemployed represent 4.4 percent of
the labor force. Prior to this recession, the previous highs for these
statistics over the past six decades were 26.0 percent and 2.6 percent,
respectively, in June 1983.
The Center on Budget and Policy Priorities is one of the nation's premier policy organizations working at the federal and state levels on fiscal policy and public programs that affect low- and moderate-income families and individuals.
LATEST NEWS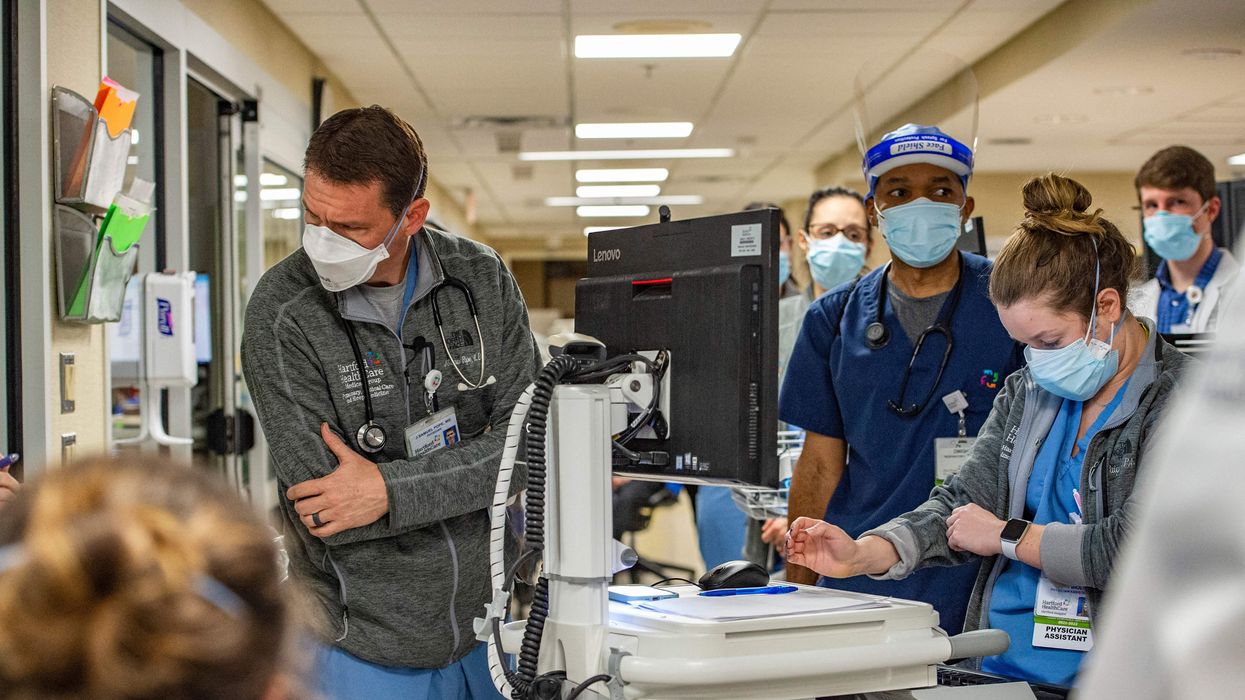 "Doctors' sense of our complicity in putting profits over people has grown more difficult to ignore."
A U.S. physician took to the op-ed pages of The New York Times on Sunday to offer a scathing condemnation of the country's for-profit healthcare system and his profession's historical complicity in campaigns against universal coverage.
"Doctors have long diagnosed many of our sickest patients with 'demoralization syndrome,' a condition commonly associated with terminal illness that's characterized by a sense of helplessness and loss of purpose," wrote Eric Reinhart, a physician at Northwestern University. "American physicians are now increasingly suffering from a similar condition, except our demoralization is not a reaction to a medical condition, but rather to the diseased systems for which we work."
"The United States is the only large high-income nation that doesn't provide universal healthcare to its citizens," Reinhart continued "Instead, it maintains a lucrative system of for-profit medicine. For decades, at least tens of thousands of preventable deaths have occurred each year because healthcare here is so expensive."
The coronavirus pandemic accelerated that trend and spotlighted the fatal dysfunction of the nation's healthcare system, which is dominated by a handful of massive corporations whose primary goal is profit, not the delivery of care.
According to one peer-reviewed study published last year in the Proceedings of the National Academy of Sciences, a universal single-payer healthcare system could have prevented more than 338,000 Covid-19 deaths in the U.S. from the beginning of the crisis through mid-March 2022.
"In the wake of this generational catastrophe, many healthcare workers have been left shaken," Reinhart wrote Sunday. "One report estimated that in 2021 alone, about 117,000 physicians left the workforce, while fewer than 40,000 joined it. This has worsened a chronic physician shortage, leaving many hospitals and clinics struggling. And the situation is set to get worse. One in five doctors says he or she plans to leave practice in the coming years."
"To try to explain this phenomenon, many people have leaned on a term from pop psychology for the consequences of overwork: burnout. Nearly two-thirds of physicians report they are experiencing its symptoms," he added.
But for Reinhart, the explanation lies more in "our dwindling faith in the systems for which we work" than in the "grueling conditions we practice under."
He explained:
What has been identified as occupational burnout is a symptom of a deeper collapse. We are witnessing the slow death of American medical ideology.

It's revealing to look at the crisis among healthcare workers as at least in part a crisis of ideology—that is, a belief system made up of interlinking political, moral, and cultural narratives upon which we depend to make sense of our social world. Faith in the traditional stories American medicine has told about itself, stories that have long sustained what should have been an unsustainable system, is now dissolving.

During the pandemic, physicians have witnessed our hospitals nearly fall apart as a result of underinvestment in public health systems and uneven distribution of medical infrastructure. Long-ignored inequalities in the standard of care available to rich and poor Americans became front-page news as bodies were stacked in empty hospital rooms and makeshift morgues. Many healthcare workers have been traumatized by the futility of their attempts to stem recurrent waves of death, with nearly one-fifth of physicians reporting they knew a colleague who had considered, attempted, or died by suicide during the first year of the pandemic alone.

Although deaths from Covid have slowed, the disillusionment among health workers has only increased. Recent exposés have further laid bare the structural perversity of our institutions. For instance, according to an investigation in The New York Times, ostensibly nonprofit charity hospitals have illegally saddled poor patients with debt for receiving care to which they were entitled without cost and have exploited tax incentives meant to promote care for poor communities to turn large profits. Hospitals are deliberately understaffing themselves and undercutting patient care while sitting on billions of dollars in cash reserves.
Acknowledging that "little of this is new," Reinhart wrote that "doctors' sense of our complicity in putting profits over people has grown more difficult to ignore."
"From at least the 1930s through today, doctors have organized efforts to ward off the specter of 'socialized medicine,'" he wrote. "We have repeatedly defended health care as a business venture against the threat that it might become a public institution oriented around rights rather than revenue."
Confronting and beginning to solve the myriad crises of the U.S. healthcare system will "require uncomfortable reflection and bold action," Reinhart argued, and "any illusion that medicine and politics are, or should be, separate spheres has been crushed under the weight of over 1.1 million Americans killed by a pandemic that was in many ways a preventable disaster."
"Doctors can no longer be passive witnesses to these harms," he concluded. "We have a responsibility to use our collective power to insist on changes: for universal healthcare and paid sick leave but also investments in community health worker programs and essential housing and social welfare systems... Regardless of whether we act through unions or other means, the fact remains that until doctors join together to call for a fundamental reorganization of our medical system, our work won't do what we promised it would do, nor will it prioritize the people we claim to prioritize."
Reinhart's op-ed came as the prospects for legislative action to transform the U.S. healthcare system appear as distant as ever, despite broad public support for a government guarantee of universal coverage.

With the for-profit status quo deeply entrenched—preserved by armies of industry lobbyists and members of Congress who do their bidding—the consequences are becoming increasingly dire, with tens of millions uninsured or underinsured and one health crisis away from financial ruin.
In a study released last month, the Commonwealth Fund found that "the U.S. has the lowest life expectancy at birth, the highest death rates for avoidable or treatable conditions, the highest maternal and infant mortality, and among the highest suicide rates" among rich countries, even as it spends far more on healthcare than comparable nations both on a per-person basis and as a share of gross domestic product.
"Not only is the U.S. the only country we studied that does not have universal health coverage," the study added, "but its health system can seem designed to discourage people from using services."
News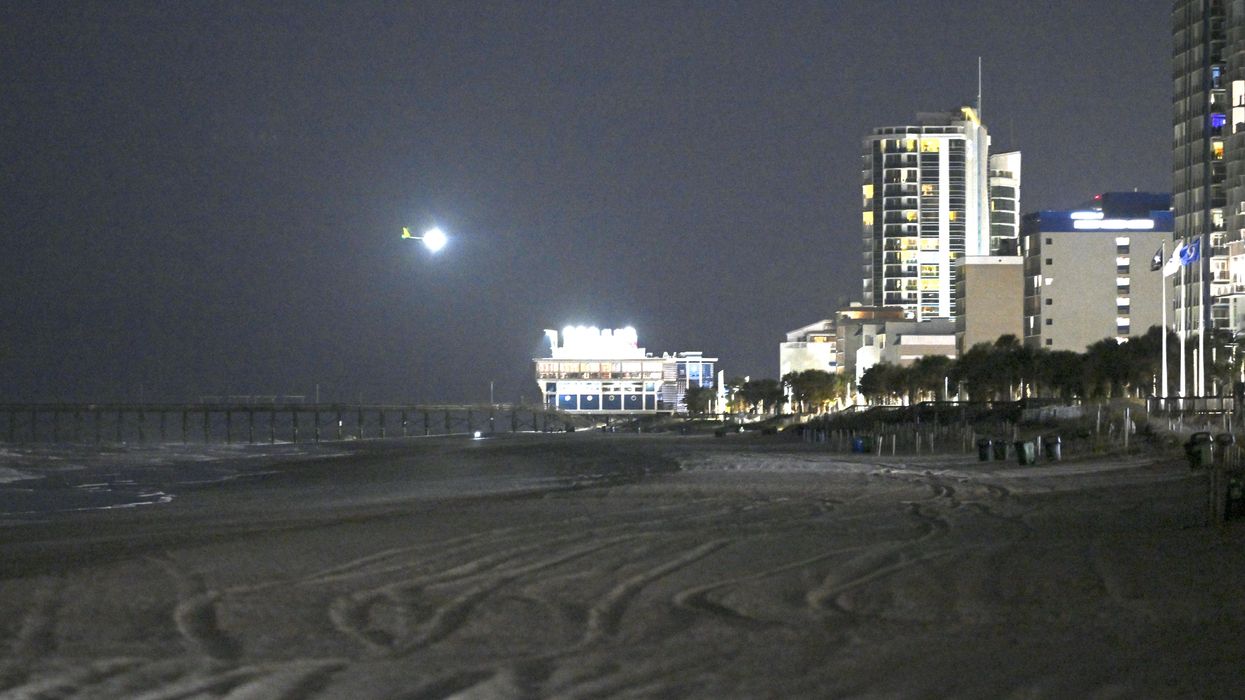 China's Ministry of Foreign Affairs said the U.S. military's move, ordered by President Joe Biden, "seriously violates international convention."
China's Foreign Affairs Ministry issued a
statement
Saturday condemning the Pentagon for
shooting down
a balloon that Beijing says was a civilian aircraft that drifted over the United States by mistake.
"The Chinese side clearly requested that the U.S. appropriately deal with this in a calm, professional, and restrained manner," the ministry said, again dismissing the Pentagon's claim that the high-altitude balloon was part of a surveillance operation aimed at monitoring sensitive military sites.
"For the United States to insist on using armed force is clearly an excessive reaction that seriously violates international convention," the ministry continued, invoking force majeure, which under international law refers to unforeseen circumstances that are beyond a state's control. China has claimed the balloon was a civilian weather research aircraft that was blown way off course by unexpected winds.
"China will resolutely defend the legitimate rights and interests of the enterprise involved, and retains the right to respond further," the ministry concluded.
War hawks in the Republican Party, including former President Donald Trump, predictably reacted with hysteria to the Pentagon's Thursday announcement that it detected the balloon over the state of Montana.
"President Biden should stop coddling and appeasing the Chinese communists. Bring the balloon down now and exploit its tech package, which could be an intelligence bonanza," said Sen. Tom Cotton (R-Ark.), one of the most vocal warmongers in Congress. "And President Biden and Secretary Austin need to answer if this was detected over Alaskan airspace. If so, why didn't we bring it down there? If not, why not? As usual, the Chinese Communists' provocations have been met with weakness and hand-wringing."
An unnamed Pentagon official said Saturday that this latest incident is one of several times a Chinese balloon has been detected in U.S. airspace in recent years. The other balloons were not shot down.
"[People's Republic of China] government surveillance balloons transited the continental United States briefly at least three times during the prior administration and once that we know of at the beginning of this administration, but never for this duration of time," the official said in a briefing with reporters.

Tensions between the U.S. and China have risen sharply in recent months, largely over Taiwan. The Biden administration recently announced that it is expanding the U.S. military's footprint in the Philippines, a move widely characterized as a message to China.
As The New York Timesreported Thursday, "A greater U.S. military presence in the Philippines would... make rapid American troop movement to the Taiwan Strait much easier. The archipelago of the Philippines lies in an arc south of Taiwan, and the bases there would be critical launch and resupply points in a war with China. The Philippines' northernmost island of Itbayat is less than 100 miles from Taiwan."

Rep. Michael McCaul (R-Texas) said late last month that the odds of a U.S. war with China within the next two years are "very high," echoing the assessment of the head of the Air Mobility Command.

Far from promoting diplomatic talks with China, Republicans in Congress appear bent on ratcheting up tensions further—and some Democrats are joining them. Last month, with overwhelming bipartisan support, House Republicans established the Select Committee on the Strategic Competition Between the United States and the Chinese Communist Party.
Upon her appointment to the panel on Thursday, Rep. Mikie Sherrill (D-N.J.) called the Chinese Communist Party "a threat to our democracy and way of life" and said the select committee represents the "best opportunity to accomplish real results for Americans and respond to China's aggression."
Rep. Mike Gallagher (R-Wis.), the chair of the select committee, has said the panel's goal is to help the U.S. "win this new Cold War" with China.
Nearly two dozen House progressives issued a statement last month opposing the formation of the committee, saying the U.S. "can and must work towards our economic and strategic competitiveness goals without 'a new Cold War' and without the repression, discrimination, hate, fear, degeneration of our political institutions, and violations of civil rights that such a 'Cold War' may entail."
News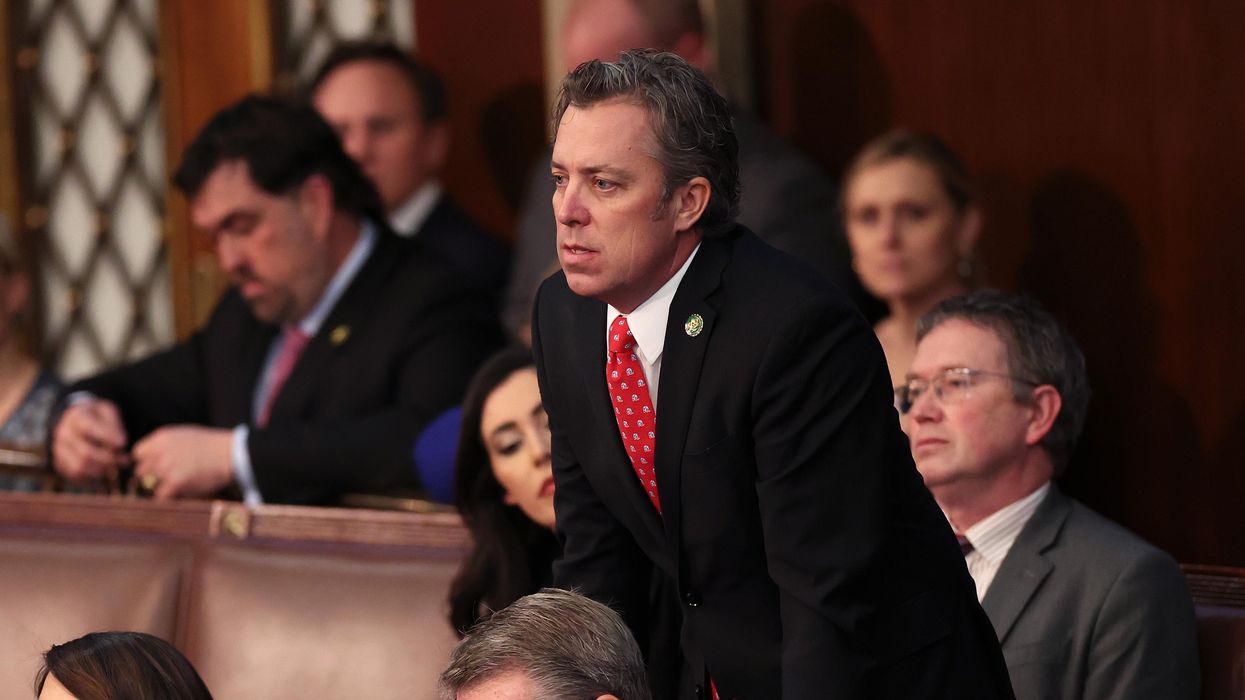 "House Republicans are trying to slash lifelines for middle-class families on behalf of rich special interests," said a White House spokesperson.
The White House on Saturday condemned a newly introduced Republican bill that would repeal the Inflation Reduction Act, a law that includes a number of changes aimed at lowering costs for Medicare recipients.
Unveiled Thursday by freshman Rep. Andy Ogles (R-Tenn.), the bill has 20 original co-sponsors and is endorsed by several right-wing groups, including the Koch-funded organization Americans for Prosperity.
The Biden White House argued that rolling back the Inflation Reduction Act, which also contains major climate investments, would represent "one of the biggest Medicare benefit cuts in American history" as well as a "handout to Big Pharma." According to Politico, which first reported the White House's response to the GOP bill, the administration is planning to release "state-by-state data indicating how this would affect constituents in different areas."
"House Republicans are trying to slash lifelines for middle-class families on behalf of rich special interests," White House spokesperson Andrew Bates said in a statement. "Who on earth thinks that welfare for Big Pharma is worth selling out over a million seniors in their home state?"

The Inflation Reduction Act authorized a $35-per-month cap on insulin copayments for Medicare recipients, as well as an annual $2,000 total limit on out-of-pocket drug costs.
The bill will also, among other long-overdue changes, allow Medicare to begin negotiating the prices of a subset of the most expensive prescription drugs directly with pharmaceutical companies, which fiercely opposed the law and are working with Republicans to sabotage it. The newly negotiated prices are set to take effect in 2026.
Ogles, whose two-page bill would eliminate the above reforms, repeatedly attacked Medicare, Medicaid, and other federal programs and protections during his 2022 campaign for the U.S. House.
\u201cNEW @Campbell4TN ad in TN-5: \u201cExtreme Andy Ogles in his own words \u2014 a SUPERCUT\u201d\n\nWatch @AndyOgles back a no exceptions abortion ban, cutting Medicare & Medicaid, eliminating Dept of Ed, impeaching Biden, deny the election was legit, etc\u2026 do better, TN-5.\nhttps://t.co/YhCRGXIPsU\u201d

— The Tennessee Holler (@The Tennessee Holler) 1667748662
The White House's critique of Ogles' bill comes as Biden is facing pressure from advocates and physicians to cancel a Medicare privatization scheme that his administration inherited from its right-wing predecessor and rebranded.
It also comes as the White House is locked in a standoff with House Republicans over the debt ceiling. Republican lawmakers have pushed for deeply unpopular cuts to Medicare, Social Security, and other critical federal programs as a necessary condition for any deal to raise the country's borrowing limit and avert a catastrophic default.
"In less than a month, MAGA extremists have threatened to drive the economy into a recession by defaulting on our debt, promised to bring up a bill to impose a 30% national sales tax, and now have introduced legislation to repeal the Inflation Reduction Act," Patrick Gaspard, president and CEO of the Democratic Party-aligned Center for American Progress said in a statement. "This will cut taxes for corporations who earn billions in profit while empowering Big Pharma and Big Oil to continue ripping off the American people."
"It is vital that all Americans understand what is at risk if MAGA extremists succeed in passing their latest dangerous idea: millions of lost jobs, millions more without health insurance, and higher costs for lifesaving insulin, utilities, and more," Gaspard added.
News
SUPPORT OUR WORK.
We are independent, non-profit, advertising-free and 100%
reader supported.