For Immediate Release
June, 07 2010, 01:52pm EDT
Contact:
Peter Bjork 202.408.5565
CREW Asks HHS IG to Investigate Tobacco Panel's Conflicts of Interest
WASHINGTON
Earlier today, Citizens for Responsibility and Ethics in Washington
(CREW) sent a letter to the Inspector General (IG) of the Department of
Health and Human Services (HHS) asking for an investigation into two
appointments made by the Food and Drug Administration (FDA) to the
Tobacco Products Scientific Advisory Committee (TPSAC).
The two members, Drs. Neal Benowitz and Jack Henningfield, have
financial conflicts of interest based on their ties to pharmaceutical
companies that make smoking cessation products.
CREW Executive Director Melanie Sloan noted, "TPSAC panel members are
barred from having financial ties to cigarette companies. Common sense
dictates they shouldn't have ties to pharmaceutical companies that make
smoking cessation products either. The public needs to have confidence
that new regulations are aimed at preventing smoking, not increasing
drug companies' profits."
Dr. Neal Benowitz is a paid consultant for pharmaceutical companies,
including Pfizer, GlaxoSmithKline, Novartis and Aradigm, assisting with
the design, development and marketing of smoking cessation products. He
also has served as a paid expert witness for plaintiffs suing tobacco
companies, charging between $275-$600 per hour.
Dr. Jack Henningfield, through his firm, Pinney and Associates, is a
paid consultant for pharmaceutical companies seeking approval of smoking
cessation products. He is also a partner in a company that holds at
least one patent for a nicotine gum. Like Dr. Benowitz, he also has
been paid to testify for plaintiffs in tobacco cases.
The FDA has a history of allowing those with conflicts of interest to
sit on panels. In 2006, FDA Chairman Lester Crawford pleaded guilty to
conflicts of interest after it was revealed that he owned stock in
Pepsico and Sysco at the time he chaired the FDA's Obesity Working
Group, which made recommendations affecting food and soft drink makers.
To deal with its conflicts issues, in 2008 the FDA issued new
transparency and public disclosure policies for advisory committees,
including a requirement that committee members be screened for any
potential financial conflicts of interest. Absent a waiver, committee
members cannot participate in particular matters in which they have a
financial interest. Financial conflicts include stock holdings and
contracts with companies that would be affected by the committee's
recommendations.
Sloan stated, "Loathing tobacco companies does not justify ignoring
clear conflicts of interest. As great as it is that the FDA is finally
regulating tobacco products - and as credentialed as Drs. Benowitz and
Henningfield may be - there is no excuse for including those paid to
consult or create smoking cessation products on the panel." She
continued, "How can we have faith in the TPSAC's conclusions when some
of its members have a vested financial interest in the panel's
decisions?"
The TPSAC is scheduled to meet this week, June 8th and 9th.
Click
here to read CREW's letter to the Inspector General.
Citizens for Responsibility and Ethics in Washington (CREW) is a nonprofit 501(c)(3) organization dedicated to promoting ethics and accountability in government and public life by targeting government officials -- regardless of party affiliation -- who sacrifice the common good to special interests. CREW advances its mission using a combination of research, litigation and media outreach.
LATEST NEWS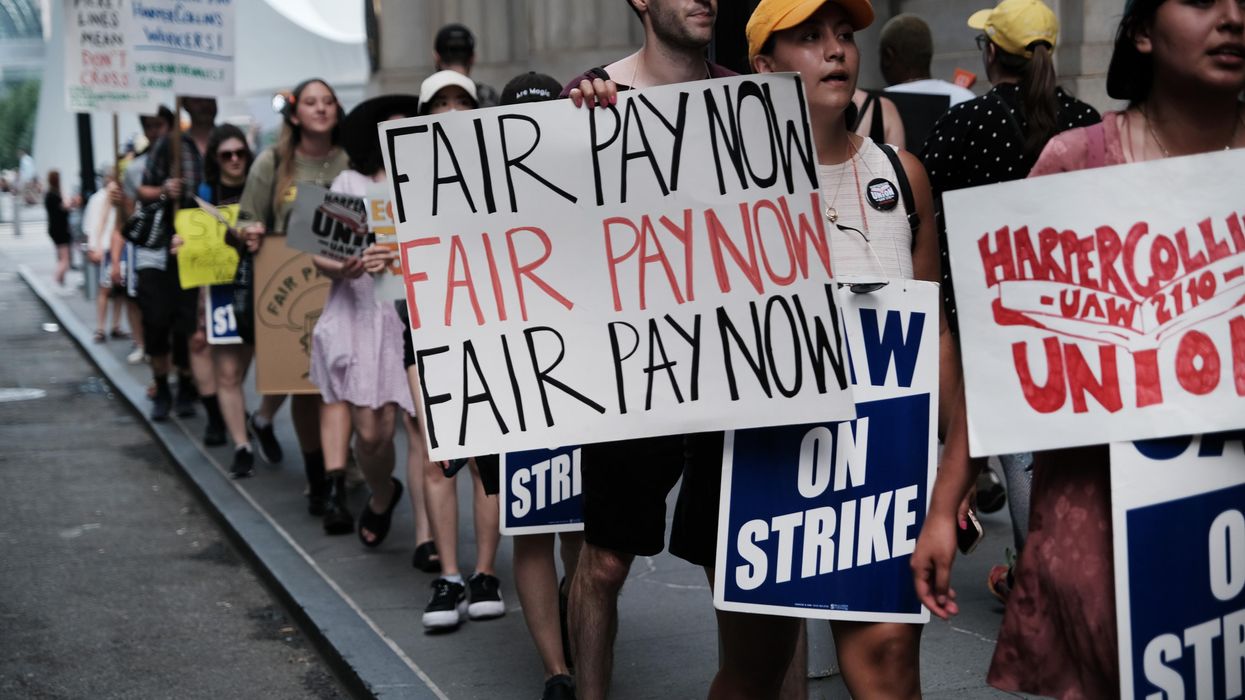 "The right to strike is a critical source of worker power, but that right could be under further threat from the Supreme Court," warned one expert.
The number of U.S. workers who staged work stoppages in a wide array of industries in 2022 surged by nearly 50% from the previous year, new federal data shows—but the resolve among employees demanding fair pay after years without a raise, better working conditions, and paid sick leave may be under threat as the U.S. Supreme Court weighs a key labor case.
An analysis by three Economic Policy Institute (EPI) experts—Margaret Poydock, Jennifer Sherer, and Celine McNicholas—of data released Wednesday by the Bureau of Labor Statistics (BLS) showed that at least 120,600 U.S. workers were involved in major strikes in 2022, up from 80,700 in 2021.
EPI noted that a number of significant strikes went uncounted by the bureau, as the federal government does not track strikes involving fewer than 1,000 people, such as the three-month work stoppage staged by 250 union members at HarperCollins Publishers recently, which successfully secured bonuses and raises.
Between 2021 and 2022, union membership grew by 200,000 people, with 16 million workers represented by collective bargaining units, EPI's report showed. More Americans expressed approval of unions last year than they have in more than 50 years.
"Workers are turning to strikes to fight for better wages and working conditions, as well as union recognition," said Poydock. "This strike activity is occurring despite our broken labor law failing to adequately protect workers' fundamental right to strike."
As EPI noted, the internationally recognized human right to go on strike is guaranteed to most private sector workers in the U.S. under the National Labor Relations Act, but the law does not cover employees in the railway or airline industries, the public sector, agriculture, or in domestic work including home health aides and childcare workers.

Last month the Supreme Court heard oral arguments in Glacier Northwest, Inc. v. International Brotherhood of Teamsters—a case that could further weaken American workers' right to stage work stoppages to demand fair treatment from employers.
"Workers will face potential liability for any damages the employer deems to be related to the work stoppage. This would greatly limit workers ability to strike and would be a gross misinterpretation of the NLRA."
The case involves concrete company Glacier Northwest, which filed a lawsuit for damages after its truck drivers in Washington state, who are represented by the International Brotherhood of Teamsters Local 174, went on strike. The company claimed the work stoppage caused concrete to harden in trucks before it could be delivered, leaving Glacier Northwest with lost sales.
"The case centers on the question of whether an employer's suit for damages related to a strike is preempted by the NLRA, which governs the right to strike," Poydock, Sherer, and McNicholas in the EPI report, referring to the National Labor Relations Act. "In the Glacier case, the employer is arguing that, in spite of workers' attempts to protect the employer's property, the union is liable for damages related to the strike. If the Supreme Court is persuaded by this argument, it will upend decades of precedent surrounding the right to strike and leave workers with a significantly diminished ability to strike."
"Workers will face potential liability for any damages the employer deems to be related to the work stoppage. This would greatly limit workers ability to strike and would be a gross misinterpretation of the NLRA," they continued.
\u201cGlacier Northwest v. Teamsters is the latest SCOTUS case that\u2019s flying under the radar \u2014 but you need to know about it.\n\nIf wealthy corporations get their way, companies would be able to sue striking workers for the cost of lost revenue, spoiled products, and more.\n\nBe warned.\u201d

— Robert Reich (@Robert Reich) 1673380580
EPI said the case offers the latest reason for Congress to ensure that the right to unionize and strike is protected by passing the Protecting the Right to Organize (PRO) Act. The legislation would prohibit employers from permanently replacing workers who go on strike, eliminate a ban on secondary strikes, and allow intermittent strikes.
The group also called for the passage of the Striking Workers Healthcare Protection Act to prevent companies from retaliating against striking workers by cutting off their health coverage, as well as a number of state-level reforms.
Recent proposals in Massachusetts and Maine would extend the right to strike to public workers, and in Connecticut and Pennsylvania lawmakers have proposed allowing workers to collect unemployment benefits while on the picket line—"promising signs of growing state-level interest in shoring up workers' right to strike," EPI said.

"The right to strike is a critical source of worker power, but that right could be under further threat from the Supreme Court," said Sherer. "We need Congress and state legislatures to step in and strengthen the right to strike by passing the PRO Act and other critical reforms."
News
The preliminary report came as U.S. Transportation Secretary Pete Buttigieg—under pressure to boost rail safety rules—visited East Palestine, the site of the Norfolk Southern train derailment.

Federal investigators on Thursday released a highly anticipated preliminary report about the February 3 derailment of a train carrying hazardous materials in East Palestine, Ohio, where residents are now worried about health and environmental effects.
Norfolk Southern Railway's (NS) train 32N featured two head-end locomotives, a distributed power locomotive, and 149 railcars—20 of which were transporting combustible liquids as well as flammable liquids and gas, including vinyl chloride.
Thirty-eight cars derailed, including 11 containing hazardous materials "that subsequently ignited, fueling fires that damaged an additional 12 non-derailed railcars," according to the new National Transportation Safety Board (NTSB) report. Amid fears of an explosion, crews conducted a "controlled venting of the five vinyl chloride tank cars."

While the release of hazardous materials and its short- and long-term impacts on residents and the region have garnered national attention—and the U.S. Environmental Protection Agency this week ordered Norfolk Southern to pay for cleaning up contaminated soil and water—the NTSB's four-page report has put focus on a potential cause of the derailment: a wheel bearing failure.

\u201cHere is the full report: https://t.co/WbSnen4smm\u201d

— Megan Gallagher (@Megan Gallagher) 1677165605
Citing Allan Zarembski, director of the Railway Engineering and Safety Program at the University of Delaware, The Washington Post reported Thursday that "an overheated bearing is perhaps the most common cause of a failed axle in a derailment."

"In recent years," the newspaper added, "railroads—including Norfolk Southern—have added sensors on tracks that measure the temperature of bearings to determine whether overheating could pose a derailment risk."
Train 32N, which Norfolk Southern workers say they knew was unsafe, passed three hot bearing detector (HBD) systems—designed to detect overheating and provide audible real-time warnings to crews—before it derailed, the NTSB report says. At milepost 79.9, the suspect bearing from car 23 was 38°F above ambient temperature; at milepost 69.01, it was 103°F; at milepost 49.81, it was 253°F.

NS crews are supposed to stop and inspect potential problems when alerts indicate that there is "a difference between bearings on the same axle greater than or equal to 115°F," or there is a bearing between 170°F and 200°F, the publication notes. If the recorded temperature is greater than 200°F, the instruction is to "set out" the railcar.

In this case, the HBD system at milepost 49.81 "transmitted a critical audible alarm message instructing the crew to slow and stop the train to inspect a hot axle," the document details. "The train engineer increased the dynamic brake application to further slow and stop the train. During this deceleration, an automatic emergency brake application initiated, and train 32N came to a stop."

"After the train stopped, the crew observed fire and smoke and notified the Cleveland East dispatcher of a possible derailment," the report continues. "With dispatcher authorization, the crew applied handbrakes to the two railcars at the head of the train, uncoupled the head-end locomotives, and moved the locomotives about 1 mile from the uncoupled railcars. Responders arrived at the derailment site and began response efforts."

\u201cAccording to this NTSB report on the #EastPalestine derailment, the crew notified the dispatcher after seeing fire and smoke, applied handbrakes, and uncoupled the locomotives from the railcars. That took a crew of 3 people. \n\nThe railroads have been pushing for one-member crews.\u201d

— Geoff Bennett (@Geoff Bennett) 1677168270
In addition to outlining the evidence collected from the scene, the NTSB document stresses that the investigation is ongoing:
Investigators examined railroad equipment and track conditions; reviewed data from the signal system, wayside defect detectors, local surveillance cameras, and the lead locomotive's event recorder and forward-facing and inward-facing image recorders; and completed interviews. NTSB investigators identified and examined the first railcar to derail, the 23rd railcar in the consist. Surveillance video from a local residence showed what appeared to be a wheel bearing in the final stage of overheat failure moments before the derailment. The wheel bearing and affected wheelset have been collected as evidence and will be examined by the NTSB. The vinyl chloride tank car top fittings, including the relief valves, were also removed and examined by the NTSB on scene. The top fittings will be shipped to Texas for testing under the direction of the NTSB.
The Brotherhood of Locomotive Engineers and Trainmen (BLET) national president Eddie Hall said in a statement Thursday that the union has been assisting the NTSB in its investigation, which will continue, and though an agreement with the board limits some of what he can say today, the former locomotive engineer wanted to emphasize a few points not included in the report.
"First, we were very fortunate this time that there were three crew members on this train," Hall said. "They were able to respond to the emergency, uncouple the locomotives from the train cars, and take other action. If this had been a train operated by one crew member it may have taken longer to react to the fire caused by the failure of the bearings, axles, and other mechanical items. It's not unusual for things to go wrong on trains and sometimes many things. This is why it is important to have experienced engineers and conductors onboard. But, despite running ever longer trains that routinely carry hazardous materials, railroad CEOs have pushed for having only one person on the train and to even use remotely-operated trains. This is a serious mistake."
"Second, the railroads and their trade association, the Association of American Railroads (AAR), employ armies of lobbyists on Capitol Hill who are there not to promote safety regulations but to slow the implementation of federal safety regulations or attempt to eliminate them altogether. Over the past two decades, they have spent nearly a half billion dollars lobbying Congress," he continued. "In the absence of federal requirements, it's important to note that the railroads will continue to self-regulate."
"The railroads have opposed any government regulation on train length; they have sought waivers to eliminate having trained inspectors monitor rail cars; and they have pushed back on the train crew staffing rule," he added. "Already, the AAR and the railroads are pushing back against attempts to learn from this derailment... Now is the time to toughen regulations on America's railroads to keep both railroad workers and the communities our members operate through safe."
The report was put out as U.S. Transportation Secretary Pete Buttigieg visited East Palestine—the day after an appearance there from former President Donald Trump, who is seeking the GOP's 2024 presidential nomination and whose administration rolled backback Obama-era rail safety regulations.

\u201cThis morning I\u2019m in East Palestine, Ohio, to see the site of the Norfolk Southern derailment, hear updates from investigators, and meet first responders. USDOT will continue its work to ensure safety and accountability.\u201d

— Secretary Pete Buttigieg(@Secretary Pete Buttigieg) 1677161466
Buttigieg's trip to the Ohio town also followed the Tuesday release of a U.S. Department of Transportation's plan to hold rail companies accountable and protect workers and affected communities—a plan which, as Common Dreams reported, has "too many holes," according to Railroad Workers United.

Politico noted that Buttigieg on Thursday morning addressed why he had not visited the town sooner.

"What I tried to do is balance two things: My desire to be involved and engaged and on the ground—which is how I'm generally wired to act—and my desire to follow the norm of Transportation secretaries, allowing NTSB to really lead the initial stages of the public-facing work," he said. "I'll do some thinking about whether I got that balance right, but I think the most important thing is first of all making sure the residents here have what they need."
This post has been updated with comment from the BLET.

News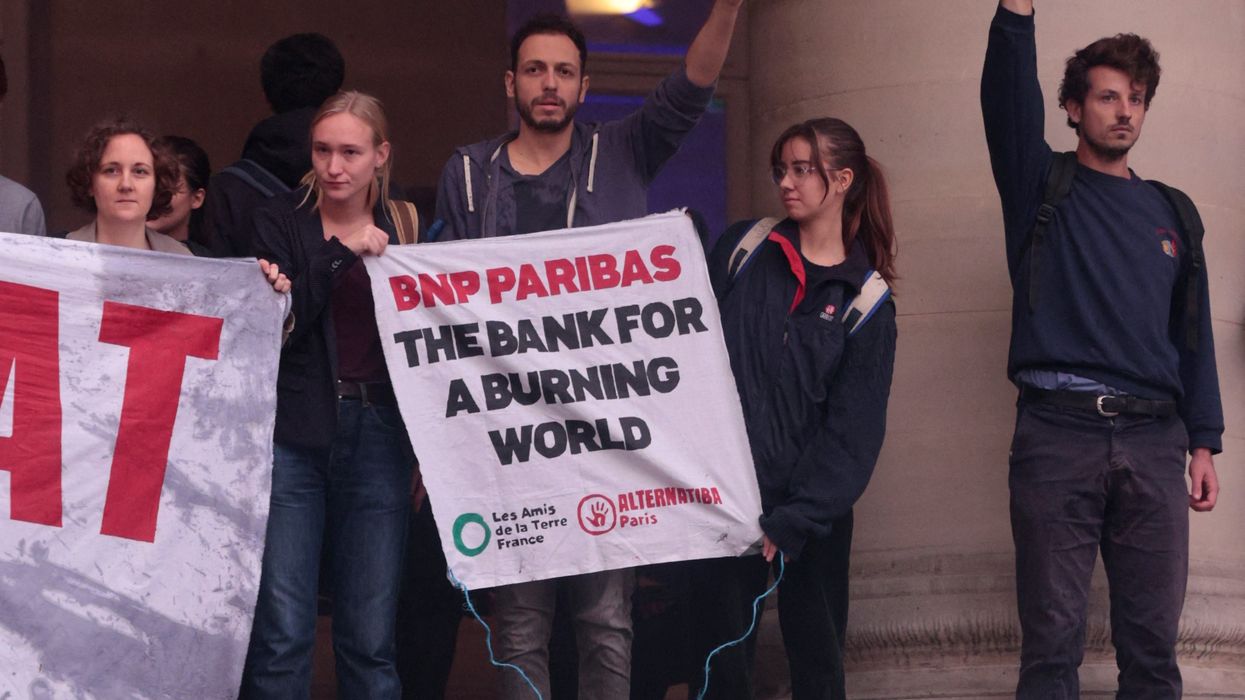 The French bank BNP Paribas "continues to write new blank checks to the largest fossil fuel companies without setting any conditions for an oil-free, gas-free ecological transition," said one campaigner.
A trio of advocacy groups on Thursday launched the world's first climate lawsuit against a commercial bank, alleging that the Paris-based firm BNP Paribas is violating its legal obligations by continuing to finance planet-wrecking oil and gas development on a massive scale.
BNP Paribas, Europe's largest funder of fossil fuel expansion projects, "continues to write new blank checks to the largest fossil fuel companies without setting any conditions for an oil-free, gas-free ecological transition," said Alexandre Poidatz, an advocacy officer at Oxfam France, which joined Friends of the Earth France and Notre Affaire à Tous in filing the unprecedented lawsuit.
"With this lawsuit," Poidatz continued, "we would like to reiterate that our organizations are firmly resolved to see the judge reach a verdict that forces the bank to honor its promises."
The groups specifically accuse BNP Paribas of violating France's duty of vigilance law, which—according to a summary from the European Coalition for Corporate Justice—"establishes a legally binding obligation for parent companies to identify and prevent adverse human rights and environmental impacts resulting from their own activities, from activities of companies they control, and from activities of their subcontractors and suppliers, with whom they have an established commercial relationship."
In October, the three advocacy organizations formally warned BNP Paribas that they would take the company to court if it failed to bring its business practices into line with French law within three months.
The groups said Thursday that BNP Paribas has dismissed their call to immediately stop financing new fossil fuel projects, which are imperiling hopes of limiting planetary warming.
"BNP's reaction indicates that Europe's leading funder of fossil fuel development is rejecting our organizations' urgent request to stop supporting new oil and gas projects, even though this request is based on science and was recently reiterated by the United Nations secretary-general," the groups said, pointing to a press release the company issued last month.
\u201cIt's on.\n\nThe world's first climate lawsuit against a commercial bank.\n\n@oxfamfrance @amisdelaterre @NotreAffaire taking legal action against BNP Paribas - Europe's largest funder of fossil fuel expansion - over its massive support to fossil fuels.\n\nMore\u2935\ufe0fhttps://t.co/hPYKmCxG1e\u201d

— Nabil Ahmed (@Nabil Ahmed) 1677163582
Justine Ripoll, a campaigner with Notre Affaire à Tous, said in a statement Thursday that "the French duty of vigilance law imposes an obligation on multinationals in all sectors to take action to protect human rights and the environment, and to do so efficiently."
"The financial sector has a huge responsibility in our collective ability to comply with the Paris agreement," said Ripoll. "This first climate litigation against a commercial bank is undoubtedly the first of many around the world."
As Reutersreported Thursday, the climate coalition is modeling its legal action after a prominent 2021 case in which a Dutch court ordered Shell to slash its carbon emissions by 45% by 2030. Shell is appealing the decision.
BNP Paribas was Shell's top banker between 2016 and 2021, according to a recent report, providing the oil giant with $8 billion in fossil fuel financing during that period.
"BNP Paribas was the biggest banker of offshore oil and gas over the six-year period since the Paris agreement," the report found.
News
SUPPORT OUR WORK.
We are independent, non-profit, advertising-free and 100%
reader supported.