Witness Against Torture Decries Obama's Broken Promises, America's Broken Laws, Lives Broken by Torture
Day of Action to Close Guantanamo and Bagram and End Torture
WASHINGTON
A year ago today, Barack Obama was inaugurated President, riding a
waves of hope and excitement into the Oval Office. Two days later, he
signed executive orders outlawing torture and committing his
administration to closing Guantanamo within a year.
"We in the anti-torture movement were so hopeful," comments Sherrill
Hogan from Western Massachusetts. "We looked forward to seeing
Guantanamo closed, to seeing the many innocent men there freed, and to
seeing those against whom the U.S. had credible evidence at last
charged and brought to trial. But now, we hear that the administration
plans to keep Guantanamo open at least until 2011. Its promises are
broken."
Under the banner "Broken Promises, Broken Laws, Broken Lives,"
Witness Against Torture is mobilizing for a march and action on
Thursday, January 21. The march of Guantanamo prisoners dressed in
orange jumpsuits and black hoods begins at the Obama White House and
travels a mile and a half in silent and solemn procession to the
Supreme Court and by the Capitol, highlighting all of the institutions
that have failed to execute their most basic function-- justice.
"We march to hold the Obama administration to its words and
promises," says Helen Schietinger of Washington, DC. "The United States
continues to detain dozens of men at Guantanamo who have been cleared
for release. In addition, the Obama administration is expanding the
prison at Bagram, and proposing indefinite detention without charge or
trial for many and an Illinois prison facility for others. We see
President Obama trying to replace the lawlessness of Guantanamo with a
"legal black hole" in the continental United States. The laws are
broken."
The day of action follows a twelve day fast and vigil for justice.
More than 150 people from around the country joined the fast, 50 of
them vigiling and meeting daily in Washington, DC. The fast ends on
Friday, January 22-- the Obama administration's widely proclaimed and
now-voided-- deadline for closing Guantanamo.
"We have been fasting to remember the men who continue to languish
at Guantanamo. For many, seven or eight years have gone by," says Matt
Daloisio of New York City. "Children have grown up without seeing their
fathers. Parents have died. Families, whole communities, have been torn
apart. The lives of these men have been broken."
Schedule of the Day
10:15 am Gather at the White House for a brief program
10:45 am Begin "prisoner" procession to Supreme Court (mile and a
half walk). This will be a silent and solemn procession of people
dressed in orange jumpsuits and black hoods
12:15 pm Arrive at the Supreme Court (across the street from the
U.S. Capitol) for vigil with "Broken Promises, Broken Laws, Broken
Lives" banners.
Witness Against Torture is a grassroots movement that came into
being in December 2005 when 24 activists walked through Cuba to the
Guantanamo base to condemn the prison camp and torture policies. Since
then, it has engaged in public education, community outreach, and
non-violent direct action.
To learn more visit www.witnesstorture.org
Witness Against Torture is a grassroots movement that came into being in December 2005 when 24 activists walked to Guantanamo to visit the prisoners and condemn torture policies. Since then, it has engaged in public education, community outreach, and non-violent direct action. For the first 100 days of the Obama administration, the group held a daily vigil at the White House, encouraging the new President to uphold his commitments to shut down Guantanamo.
LATEST NEWS
The parliamentary vote came a day after South Africa's government—which accuses Israel of "genocide" in Gaza—called on the ICC to arrest Israeli Prime Minister Benjamin Netanyahu.
South Africa's Parliament on Tuesday voted overwhelmingly for a suspension of diplomatic ties with Israel over what numerous lawmakers called its "genocidal" war on Gaza, a move that came a day after the country's government urged the International Criminal Court to issue an arrest warrant for Israeli Prime Minister Benjamin Netanyahu.
Lawmakers voted 248-91 for the resolution calling on South Africa to cut ties with Israel until it agrees to a cease-fire in Gaza, where authorities say that 46 days of relentless bombardment by air, land, and sea has left more than 14,000 Palestinians—including more than 3,900 women and 5,800 children— dead , with tens of thousands more wounded, thousands missing beneath the rubble, and nearly 1.7 million people, or about 70% of the population, forcibly displaced.
Israel and Hamas on Tuesday appeared close to agreeing on a Qatar-brokered multiday cease-fire, although far-right Israeli officials including National Security Minister Itamar Ben-Gvir and Finance Minister Bezalel Smotrich expressed opposition to the deal—which reportedly involves the release of around 50 Hamas hostages and Palestinian women and minors imprisoned by Israel.
Applause and chants of "Free, Free Palestine" and "From the River to the Sea, Palestine Will Be Free" rang out in South Africa's legislative chamber as the results of Tuesday's vote were announced.
The nonbinding motion, which requires presidential approval to take effect, was introduced by the left-wing opposition party Economic Freedom Fighters (EFF). The measure is backed by the ruling African National Congress (ANC) and opposed by the mostly white, largely pro-Israel Democratic Alliance.
"We support the amendment. We want to applaud the ANC for its maturity on this matter," said EFF leader Julius Malema. "It doesn't matter; politically we disagree, but when it comes to the issue of humanity, we must protect the human rights of all human beings all over the world."
The lawmakers' vote came on the same day that ANC South African President Cyril Ramaphosa asserted during a virtual meeting with leaders of the so-called BRICS nations—Brazil, Russia, India, China, and South Africa—that "the collective punishment of Palestinian civilians through the unlawful use of force by Israel is a war crime."
"The deliberate denial of medicine, fuel, food, and water to the residents of Gaza is tantamount to genocide," Ramaphosa said.
Calling out the Palestinian militant group that controls Gaza, Ramaphosa added that "in its attacks on civilians and by taking hostages, Hamas has also violated international law and must be held accountable for these actions."
Israel recalled its ambassador to South Africa, Eli Belotserkovsk, on Monday for consultations following Pretoria's call for an International Criminal Court (ICC) arrest warrant against Netanyahu.

South Africa's government on Monday called on the International Criminal Court (ICC) to issue an arrest warrant for far-right Israeli Prime Minister Benjamin Netanyahu.
"The world cannot simply stand by and watch," ANC Minister in the Presidency Khumbudzo Ntshavheni said Monday. "The global community needs to rise to stop this genocide now."
"Given that much of the global community is witnessing the commission of these crimes in real-time, including statements of genocidal intent by mainly Israeli leaders, we expect that warrants of arrest for these leaders, including Prime Minister Benjamin Netanyahu, should be issued shortly," she added.
Earlier this month, South Africa recalled all of its diplomats from Israel over what Ntshavheni called "the genocidal acts that the Israeli government is doing to the Palestinian people."
South Africa—which was an apartheid state for most of the latter half of the 20th century—has long been critical of Israeli apartheid and other human rights crimes in Palestine. In March, South African lawmakers voted to downgrade the country's embassy in response to what it called apartheid and illegal occupation being perpetrated against the Palestinians.
News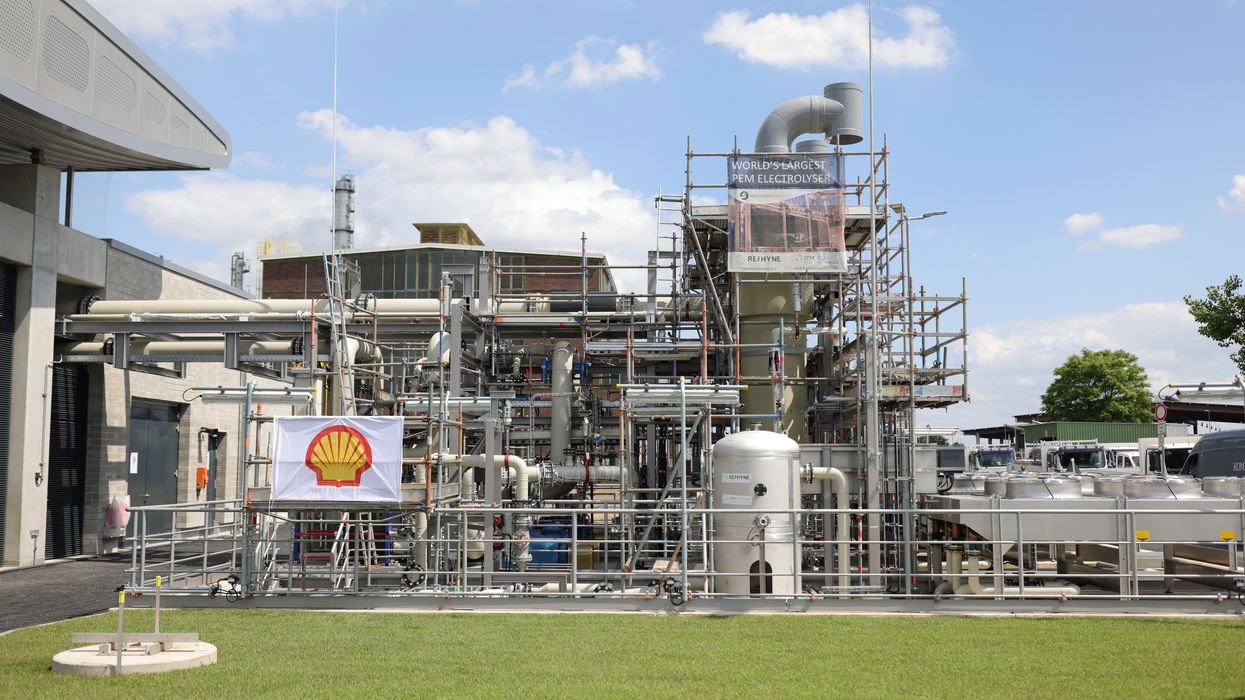 "Rather than betting on unproven and inefficient hydrogen technologies, we need rich countries to put their money towards a just energy transition," said a Friends of the Earth campaigner.
Amid preparations for COP28, the United Nations climate summit kicking off next week, a leading green group warned Tuesday that "hydrogen is big polluters' latest trick, and we can't afford to fall for it."
"Hydrogen is being promoted as a 'clean' alternative to the fossil fuels used for domestic heating, transport, and heavy industry," explains the new Friend of the Earth International (FOEI) paper, Don't Fall for the Hydrogen Hype , put out ahead of the global clilmate talks. "But it's expensive to produce, inefficient, and far from a low-carbon solution. In fact, the majority of the global hydrogen supply is made from fossil fuels."
An " energy carrier ," hydrogen stores and transports energy produced from resources such as biomass, fossil fuels, and water—but FOEI says industry promises of hydrogen's potential should not be trusted.
"Hydrogen, just like the fossil fuels and other false climate solutions pushed by that same industry, further reinforces neocolonial patterns of extractivism and exploitation."

The group's paper begins by debunking the hydrogen "rainbow." Citing the International Energy Agency, it states:
Globally, more than 62% of hydrogen production is derived from fossil gas (known as grey hydrogen, blue hydrogen when coupled with carbon capture and storage, or turquoise hydrogen when produced from methane pyrolysis). About 21% comes from coal and lignite (black/brown hydrogen), 16% is produced as a byproduct at refineries, 0.5% derived from oil, whilst only 0.1% is produced via water electrolysis (green from renewable electricity, purple/pink from nuclear).
While some groups support green hydrogen, critics including FOEI emphasize that along with being incredibly uncommon, it "demands huge amounts of cheap renewable electricity to function, rendering the process highly inefficient," and "requires vast amounts of water, an increasingly rare and precious resource that shouldn't be wasted."
"Pushed by the same fossil industry that has caused—and continues to fuel—the climate crisis, hydrogen is yet another false solution, sold by the industry as a magical fix which allows business as usual to continue," the paper asserts. "Like other false solutions, it represents a dangerous distraction from the urgent, deep, real emission cuts that are needed to address the climate crisis."
Climate scientists and energy experts have long said that humanity must rapidly phase out fossil fuels to avoid the most catastrophic effects of heating the planet and meet the Paris agreement goal of limiting global temperature rise this century to 1.5°C. A U.N. analysis revealed Monday that currently implemented policies put the world on track for 3°C of warming by 2100.
The FOEI paper points out that in addition to propping up polluters by "justifying more fossil gas, hydrogen conveniently allows the fossil industry to push another one of its lifelines: carbon capture and storage," an "unproven techno-fix" that global climate groups are also warning about in the lead-up to COP28 in the United Arab Emirates.
"It is unsurprising that hydrogen, just like the fossil fuels and other false climate solutions pushed by that same industry, further reinforces neocolonial patterns of extractivism and exploitation," the publication continues, highlighting how the oil and gas sector "has shown time and again its disregard for communities and the environment, especially in the Global South."
Yegeshni Moodley from Friends of the Earth South Africa/groundWork said in a statement that "in the Global South, 'green hydrogen' receives public money yet serves only private interests. As governments collude with corporations over mega-infrastructure projects, communities struggle to keep their ancestral lands and scant water resources intact."

The paper notes that like other "false solutions" to the climate emergency—including geoengineering, offsets, and so-called nature-based solutions—on top of "disproportionate social and environmental costs, hydrogen also comes with a high financial cost."
FOEI advocacy officer Lise Masson argued that "rather than betting on unproven and inefficient hydrogen technologies, we need rich countries to put their money towards a just energy transition, one that puts power in the hands of people, not corporations."
Already, some governments are pouring money into hydrogen. U.S. President Joe Biden last month announced a "historic investment" of up to $7 billion for seven hubs across the United States, the nation that has historically contributed the most to human-caused global heating.
Meanwhile, in the European Union, "the gas lobby has succeeded in securing several pieces of legislation promoting hydrogen—including legislation that allows public funds to go to fossil gas infrastructure as long as it promises to be 'hydrogen ready' despite the fact that Europe already has more gas infrastructure than necessary," FOEI detailed.
In Belgium, the European Commission, Hydrogen Europe, and the Clean Hydrogen Partnership are co-hosting European Hydrogen Week 2023—which activists with We Smell Gas disrupted with a protest involving fake green vomit on Tuesday.
"From Chile, to Namibia to South Africa, the story is the same. Communities are not being consulted on [hydrogen projects] destined for European consumption [with] the costs of false solutions violently outsourced," We Smell Gas said on social media Tuesday. "Hydrogen imports are imperial greed painted green."
"Our current energy system relies on appropriating space, resources, and cheap labor from racialized and working-class people inside and outside European borders," the group continued. "For the profit of E.U. multinational and the economic dominance of Western states. [Hydrogen] at scale reproduces this system."
The FOEI position paper stresses that "addressing the climate crisis can only come through deep systemic change, dismantling the neocolonial, patriarchal, neoliberal capitalist system that created the crisis, to build a more just and equitable world for all."
News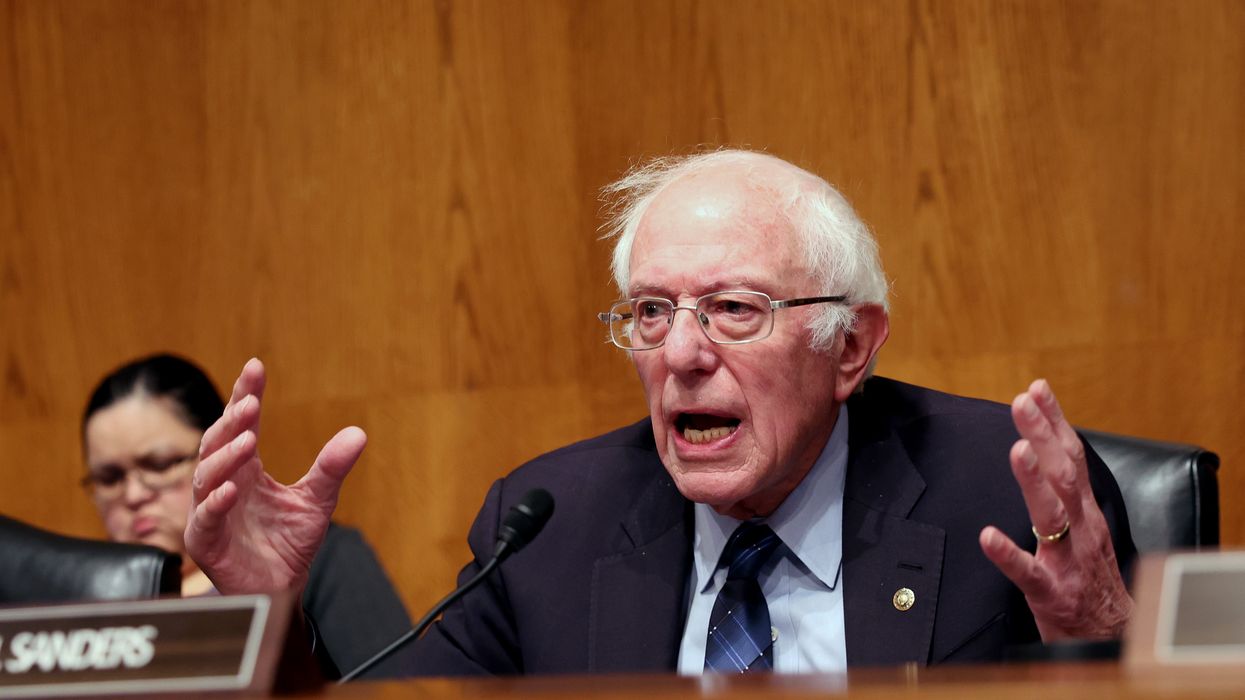 "The American people have a right to know why it is that they pay, by far, the highest prices in the world for prescription drugs," said the Vermont senator.
U.S. Sen. Bernie Sanders and every Democratic member of the committee he chairs sent letters on Tuesday inviting the CEOs of three major pharmaceutical companies to testify at an upcoming hearing on the nation's prescription drug costs, which are so high that millions of Americans are forced to ration their medications to save money.
"The American people have a right to know why it is that they pay, by far, the highest prices in the world for prescription drugs while the pharmaceutical industry in the U.S. makes hundreds of billions in profits and pays their CEOs tens of millions of dollars in compensation," Sanders (I-Vt.), chair of the Senate Health, Education, Labor, and Pensions (HELP) Committee, said in a statement.
In letters to the top executives of Johnson & Johnson , Merck , and Bristol Myers Squibb , Sanders and his Democratic colleagues asked, "How does it happen that one out of four Americans cannot afford to take the medicine their doctors prescribe while prescription drug companies make billions in profits and pay their executives exorbitant compensation packages?"
"How does it happen," the letters continue, "that the median price of new prescription drugs in the United States was over $220,000 last year, while the pharmaceutical industry spent billions on stock buybacks and dividends?"
Johnson & Johnson, Merck, and Bristol Myers Squibb are some of the U.S. pharmaceutical industry's biggest offenders when it comes to charging Americans exorbitant prices for medications that can be purchased at a fraction of the cost in other countries.
In a statement, Sanders' office pointed to Johnson & Johnson and AbbVie's Imbruvica, a blood cancer drug that carries a list price of roughly $204,000 for an annual supply in the U.S. The drug sells for $46,000 annually in the United Kingdom and $43,000 in Germany.
Imbruvica is one of the 10 drugs that the Biden administration selected for an initial round of price negotiations with Medicare, which was empowered to directly negotiate prescription medicine costs with pharmaceutical companies under the Inflation Reduction Act.
The three companies run by the invited executives have all sued the Biden administration over the Medicare price negotiations. In September, a federal judge in Ohio rejected an effort by the U.S. Chamber of Commerce to halt the negotiations.
Sanders said Tuesday that he looks forward to "hearing from the CEOs of large pharmaceutical companies directly on this critical issue."
"I also look forward to working with my colleagues in the Senate to lower the outrageously high price of prescription drugs," the senator added. "A lifesaving drug is not effective if the patient who needs that drug cannot afford it."
The hearing—titled "Why Does the United States Pay, By Far, the Highest Prices in the World for Prescription Drugs?"—is set to take place on January 25, 2024.
News