For Immediate Release
November, 20 2009, 10:59am EDT
Contact:
David Himmelstein, M.D.
Steffie Woolhandler, M.D., M.P.H.
Mark Almberg, PNHP, (312) 782-6006, mark@pnhp.org
Projections of Savings from Health IT are Baseless, Harvard Researchers Say
National survey of U.S. hospitals shows information technology has yielded neither administrative efficiencies nor cost savings
WASHINGTON
The increased computerization in U.S. hospitals hasn't made them
cheaper or more efficient, Harvard researchers say, although it may
have modestly improved the quality of care for heart attacks.
The findings, published in today's [Friday's] online edition of The
American Journal of Medicine, contradict claims by President Obama and
many lawmakers that health information technology (health IT),
including electronic medical records, will save billions and help make
reform affordable.
"Our study finds that hospital computerization hasn't saved a dime,
nor has it improved administrative efficiency," said lead author Dr.
David Himmelstein, associate professor at Harvard Medical School and
former director of clinical computing at Cambridge Hospital in
Massachusetts. "Claims that health IT will slash costs and help pay for
the reforms being debated in Congress are wishful thinking."
The study uses data from the most extensive survey ever undertaken
of hospital computerization. Data from approximately 4,000 hospitals
for the years 2003 to 2007, including those on a list of the "100 Most
Wired," were analyzed for evidence of increased quality, cost savings
or improvements in administrative efficiency.
The data came from the authoritative Healthcare Information and
Management Systems Society (HIMSS) Analytics annual survey of hospital
computerization; Medicare Cost Reports that virtually all hospitals
submit annually to the Centers for Medicare and Medicaid Services
(CMS); and the 2008 Dartmouth Health Atlas, which compiles CMS data on
costs and quality of care.
Although the researchers found that U.S. hospitals increased their
computerization between 2003 and 2007, they found no indication that
health IT lowered costs or streamlined administration, even in the
"most wired" institutions. While U.S. hospital administrative costs
increased slightly, from 24.4 percent in 2003 to 24.9 percent in 2007,
hospitals that computerized most rapidly actually had the largest
increases in administrative costs. (By way of comparison, older studies
have estimated administrative costs in Canadian hospitals at 12.9
percent).
The study found no evidence of lagged effects, e.g. lower costs in
2007 resulting from information technology introduced in 2003.
Modest quality gains were noted in the treatment of heart attacks
(acute myocardial infarction) in more-computerized hospitals, but even
these small improvements may merely represent better documentation
rather than actual gains to patients.
Himmelstein said a report from the Congressional Budget Office in
2008 signed by Peter Orszag, now Obama's budget director, expressed
skepticism about claims by the RAND Corp. and others that health IT
could generate $80 billion annually in savings.
"Part of the CBO's skepticism was based on the limited information
available to the RAND study and similar studies," Himmelstein said.
"But this new, detailed, national survey of diverse hospitals shows
such doubts are well-founded. Information technology can't rescue us
from our national health care crisis."
Dr. Steffie Woolhandler, professor of medicine at Harvard and study
co-author, said several factors may explain why health IT has failed to
reduce administrative costs.
"Any savings may have been offset by the costs of purchasing and
running new computer systems," she said. "In addition, most software is
designed around the accounting and billing needs of hospitals, not the
clinical side."
She noted that a computer success story in recent years has been at
the Veterans Administration, where global budgets eliminate most
billing and internal cost accounting, allowing physicians to focus
instead on delivering care.
"The VA system now has our nation's highest quality and patient
approval ratings," Woolhandler said. "Congress should take note: to get
the most benefit from our health care dollars and from health IT, we
should adopt a single-payer, Medicare-for-all program. Nothing short of
that will allow us to reap the full potential of computerization or to
provide comprehensive, quality and affordable care to all."
******
"Hospital computing and the costs and quality of care: a
national study," David U. Himmelstein, M.D., Adam Wright, Ph.D., and
Steffie Woolhandler, M.D., M.P.H., The American Journal of Medicine, Nov. 20, 2009 (online).
Physicians for a National Health Program is a single issue organization advocating a universal, comprehensive single-payer national health program. PNHP has more than 21,000 members and chapters across the United States.
LATEST NEWS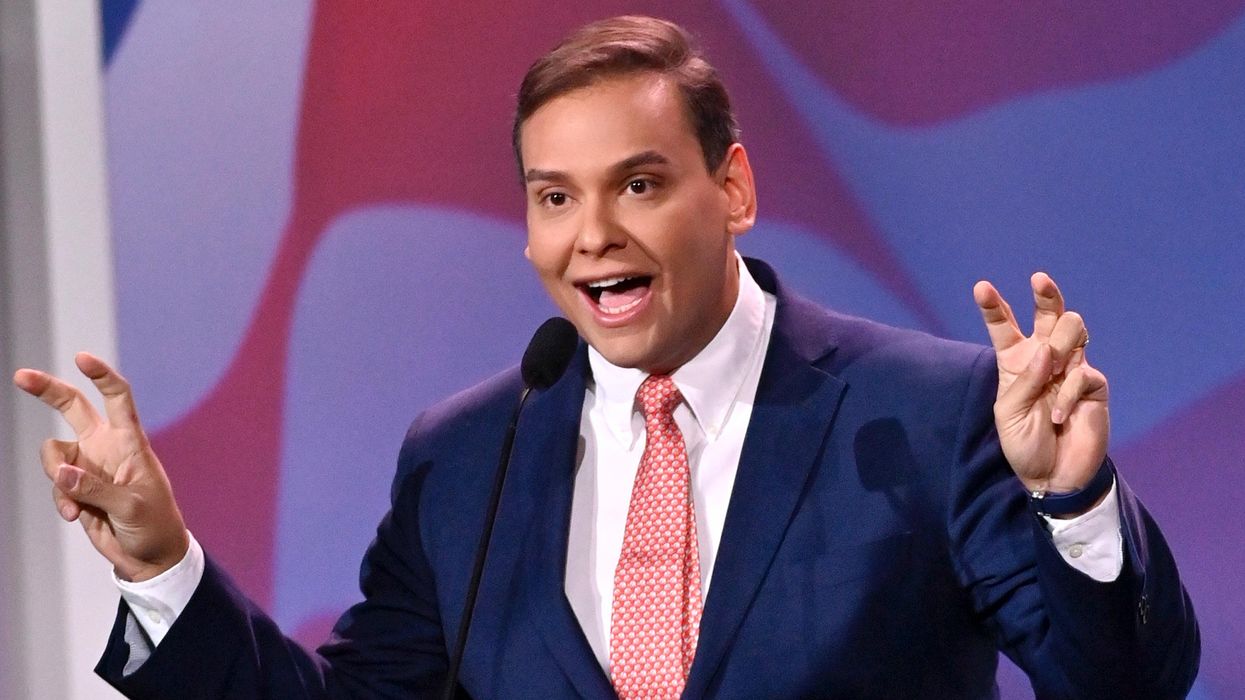 "Talk about buyers' remorse," cracked the director of Siena College Research Institute, which conducted the poll.
Close to 80% of voters in GOP Rep. George Santos' New York congressional district want him to resign—including 71% of Republicans—according to a poll published Tuesday, the same day the serial liar temporarily stepped down from his House committee assignments.
According to the Newsday/Siena College poll, Santos' overall approval rating is an abysmal 7%, with 83% disapproval. Seventy-eight percent of survey respondents said Santos should resign, including 89% of Democrats, 71% of Republicans, and 72% of Independents.
"Talk about buyers' remorse," Siena College Research Institute director Don Levy said in a statement. "Voters elected George Santos by a comfortable margin not even three months ago. But today, the vast majority of his new constituents—including the vast majority of those who voted for him—want him gone."
"Discouragingly, three-quarters or more of voters of every party say that Santos' behavior and now his refusing to resign show that our political system is broken, not that his behavior says little about the state of our politics," Levy added.
The survey of registered voters in New York's 3rd Congressional District was conducted last week.
\u201cSpecial Newsday / Siena College NY 3 Congressional District Poll:\nNY 3 Voters Say Santos Should Resign 78-13%, Including 71% of Reps\n\nhttps://t.co/29pwfP7Tx4\u201d

— SienaResearch (@SienaResearch) 1675161006
From intrigue surrounding how his net worth skyrocketed from almost nothing to $11 million in less than two years; to demonstrable lies about his education, employment history, residence, and purported Jewish heritage; to allegations of fraud perpetrated in Brazil and against a U.S. combat veteran and his dying dog, Santos' lies have dominated his short congressional career.
On Tuesday, Santos said he would temporarily step down from the House Small Business Committee and the Science, Space, and Technology Committee amid investigations into his campaign finances. The embattled congressman thanked House Speaker Kevin McCarthy (R-Calif.) for "allowing me to take time to properly clear my name before returning to my committees."
Responding to this, the political action group MoveOn tweeted: "Stepping down from committees is just the start. Santos needs to resign."

News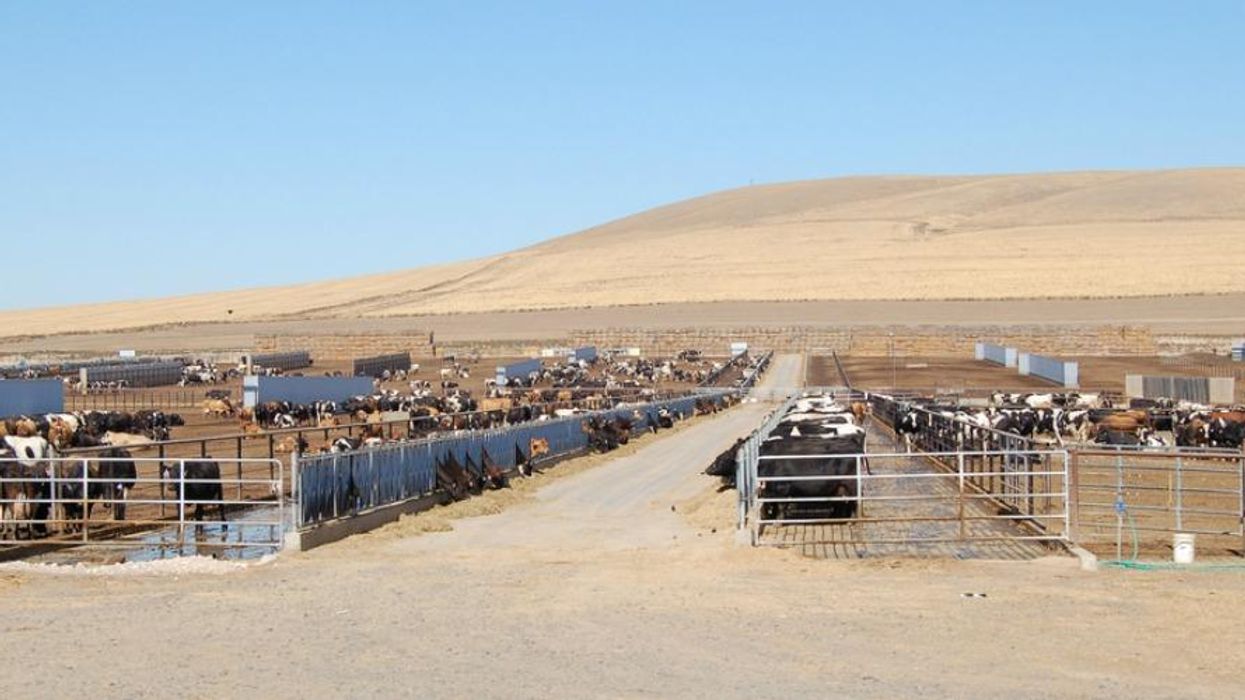 "Corporate consolidation is at the heart of our food system's dysfunction," said one policy analyst.
Food & Water Watch on Tuesday released an analysis of the U.S. dairy farming industry—the climate and food justice group's third in-depth report on the economic costs of food monopolies—revealing how corporate consolidation has helped push small family farms out of business over the past two decades, while worsening the climate emergency.
In The Economic Cost of Food Monopolies: Dirty Dairy Racket, Food & Water Watch (FWW) explains how factors including the gutting of farm supply management policies and higher production costs have helped cause rapid consolidation in the dairy sector, with 70% of family-scale dairy farms shutting down between 1997 and 2007.
"Corporate consolidation is at the heart of our food system's dysfunction," said Rebecca Wolf, food policy analyst for FWW. "Corporate-directed policymaking is throwing America's dairy industry into crisis. Family-scale dairies are collapsing at an alarming rate, and those that manage to hang on face rising costs, negative returns, and mounting debt, while consumers are sold an illusion of pastoral, sustainable milk products."
Just 30% of U.S. milk is now produced at family farms, while 83% of milk sales are controlled by just three dairy cooperatives: Land O' Lakes, DFA, and California Dairies, Inc.
In addition to forcing small farms to shut down, the consolidation of the dairy production industry has "serious climate implications," said FWW, with the shift to factory farms resulting in the doubling of annual methane emissions from the sector between 1990 and 2020.
"We can and must build better, more sustainable systems that support people, communities, and the environment," the group tweeted.
\u201cIn addition to polluting air and water, our research shows that the growth of megadairies is bad for small farmers. We can and must build better, more sustainable systems that support people, communities, and the environment. https://t.co/BIzjauXfUI\u201d

— Food & Water Watch (@Food & Water Watch) 1675191692
FWW traced the loss of family-scale farms back to factors including the loss of dairy price supports in the early 2000s, which caused production prices to rise even more sharply than they previously had for two decades, while sale prices rose far less quickly. This left the average family farm almost entirely unable to turn a profit—doing so just twice between 2000 and 2021—and in many cases, forced them to eventually close.
The "disastrous 1996 Farm Bill" also ended commodity grain supply management policies, allowing oversupplies to flood the market and "ushering in the era of factory farms," with family farms unable to compete with large facilities. Milk production rapidly increased since 1997, further driving down sale prices.
"We need prices that are fair, covering our cost of production and giving us a return to maintain our businesses and make a living. Overproduction and consolidation in the industry are making this increasingly difficult if not impossible."
Wisconsin dairy farmer Sarah Lloyd told FWW that dairy farm families "have our backs against the wall."
"We need prices that are fair, covering our cost of production and giving us a return to maintain our businesses and make a living. Overproduction and consolidation in the industry are making this increasingly difficult if not impossible," said Lloyd. "We need to manage the growth of dairy supply and we can do this with solid dairy policy that looks out for farm families and rural communities and not corporate profits."
The report argues that "there is a clear way forward," making recommendations including "a comprehensive federal supply management program that actively works to match supply with demand and does not use the export market as a dumping ground for oversupply."
"Curbing overproduction can bring a higher price to farmers through the market instead of through taxpayer-funded government payments and bailouts," reads the report. "It will also reduce the pressure to expand herd sizes and thereby avoid more factory farms and the entailing climate emissions."
FWW also called Congress to "stop the megamerger frenzy among agribusiness" by passing legislation to halt agribusiness mergers and ultimately ban factory farms, phasing them out and investing in a "just transition" for factory farm workers by 2040.
"The next Farm Bill is a critical opportunity to reverse course, by restoring supply management and reforming the farm safety net," said Wolf. "Passage of the Farm System Reform Act and Food and Agribusiness Merger Moratorium and Antitrust Review Act will help ensure we stop digging a deeper hole by halting consolidation and factory farm proliferation."

News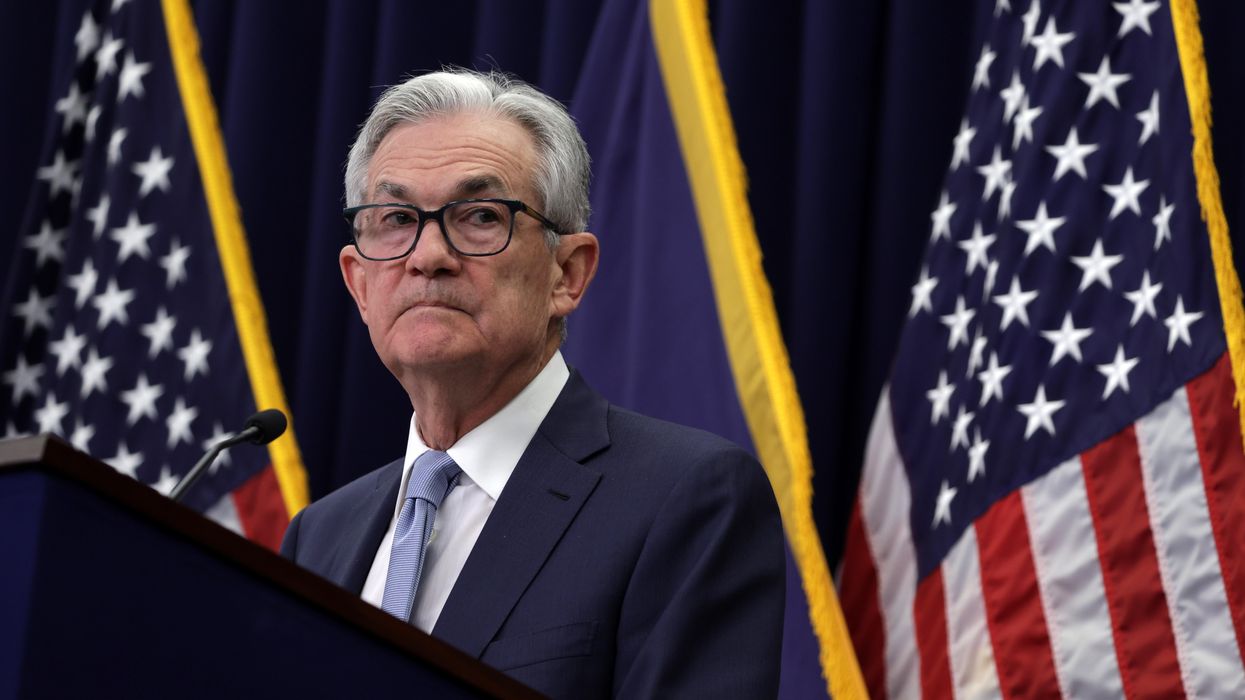 "There's a clear path forward to avoiding a devastating and completely avoidable recession: Chair Powell and the Fed should stop raising interest rates," said one economist.
As the Federal Reserve kicked off its first policy meeting of the new year on Tuesday, economists and progressive advocates reiterated their now-familiar call for the central bank to stop raising interest rates amid growing evidence that hiring, wage growth, and inflation are slowing significantly.
"Pushing millions of people out of work is not the answer to tackling inflation," Rakeen Mabud, chief economist at the Groundwork Collaborative, said in a statement. "Additional rate hikes could jeopardize our strong labor market—and low-wage workers and Black and brown workers would suffer the biggest economic consequences."
"There's a clear path forward to avoiding a devastating and completely avoidable recession: Chair Powell and the Fed should stop raising interest rates," Mabud added.
The latest push for an end to interest rate increases came as fresh data released by the U.S. Bureau of Labor Statistics (BLS) on Tuesday showed that wage growth continued to cool at the tail-end of 2022, an outcome that Federal Reserve Chair Jerome Powell has explicitly been aiming for even as experts have rejected the notion that wages are responsible for current inflation levels.
According to the BLS Employment Cost Index (ECI)—a measure watched closely by Fed policymakers—wage growth climbed just 1% in the final three months of 2022 compared to the previous quarter, a slower pace than analysts expected.
"The Fed has lost its excuse for a recession," Mike Konczal, director of macroeconomic analysis at the Roosevelt Institute, tweeted in response to the new BLS figures. "Over the last three months, inflation has come down exactly as a soft landing would predict, wage growth didn't persist but moderated with the reopening to solidly high levels within late 1990s ranges, and the economy added 750,000 new jobs."
"Too many hard-working families have everything to lose if the Fed stays the course with higher rates that only push the economy closer to a recession."
Though Powell has insisted that Fed decision-making will be driven by economic data, he made clear last month that the nation's central bankers don't think inflation has slowed enough to justify a rate-hike pause or reversal, brushing aside the recessionary risks of more monetary tightening.
On Wednesday, the Fed is widely expected to institute a 25-basis-point rate increase followed by another of the same size at its March meeting, bringing the total number of rate hikes to nine since early 2022.
Even the central bank's own models predict a sharp increase in the unemployment rate—and potentially millions of lost jobs—if Fed policymakers drive interest rates up to their desired range of between 5% and 5.25%.
Recent layoffs across the tech industry as well as data signaling a hiring deceleration have also intensified fears of a Fed-induced economic crisis.

"The Fed has every reason to halt further job-killing interest rate hikes as key indicators show inflation is slowing while the economic recovery remains fragile," said Liz Zelnick, director of the Economic Security and Corporate Power program at Accountable.US. "Too many hard-working families have everything to lose if the Fed stays the course with higher rates that only push the economy closer to a recession."
"Repeated interest rate hikes have done little to curb corporate greed that even Fed economists admit is what's really driving high costs on everything from groceries to gas," Zelnick continued. "The Fed faces a choice: back down and let policy and lawmakers continue to take impactful steps to rein in corporate profiteering—or keep needlessly threatening jobs and an economic downturn with further rate hikes."
\u201cExperts are warning the @federalreserve against further job-killing rate hikes\u2014it's time for the Fed to stop needlessly threatening Americans' livelihoods while doing nothing to address the rampant corporate greed raising prices on essentials. https://t.co/8S66qwXT5b\u201d

— Accountable.US (@Accountable.US) 1675177572
For months, economists and lawmakers have vocally questioned the Fed's aggressive rate hikes and laser focus on the labor market given the myriad causes of the 2021 inflation spike, from pandemic-induced supply chain snags to corporate profiteering to Russia's war on Ukraine to the climate crisis.
Some experts, however, have argued that the Fed's seemingly misguided approach is perfectly understandable when considering that a central goal of the institution is to help the rich "conserve and increase their concentrated wealth."
"Chair Jerome Powell and the Fed are willing to impose significant costs on workers and families in order to reduce inflation," Gerald Epstein and Aaron Medlin of the University of Massachusetts Amherst wrote in The American Prospect earlier this month. "This focus on inflation, by promoting high unemployment, contradicts the dual mandate given to the Fed by Congress."
"Why does the Federal Reserve treat its high-employment mandate so cavalierly when inflation is above 2%?" the pair continued. "The answer stems from the fact that since its founding, Fed officials have seen the world through 'finance-colored' glasses. Financiers do not like high inflation. Like all creditors who lend money today to be paid back in the future, financiers hate getting paid back in dollars that are worth less than the dollars they lent out in the first place."
In a blog post on Monday, Economic Policy Institute research director Josh Bivens noted that the Fed's dual mandate is "meant to balance the risks of inflation versus the benefits of fast growth and low unemployment."
"Right now, the benefits of low unemployment are enormous, and the risks of inflation are retreating rapidly," Bivens wrote. "If the Fed lets the current recovery continue apace by not raising interest rates further at this week's meeting, 2023 could turn out to be a great year for the economic fortunes of American families."
"The Fed should stand pat on interest rate increases," he added. "If they instead insist on raising rates, this will pose a dire threat to what could be an excellent 2023 for the economic prospects of America's working families."

News
SUPPORT OUR WORK.
We are independent, non-profit, advertising-free and 100%
reader supported.