Interior Dept. Calls for Investigation into Oil Shale Leases
Moves to Reform Program Following Bush-Era Cronyism
WASHINGTON
The Department of the Interior announced today it is calling on
the Inspector General to conduct an investigation into an unprecedented deal on
oil shale research, development and demonstration (RD&D) leases for a
select few companies during the final days of the Bush administration. The
Wilderness Society, Natural Resources Defense Council, and Western Resource
Advocates are encouraged by this announcement that should improve the process
and accountability of decisions on land leases.
"Apparently
the Obama administration is taking a more careful approach to potential oil
shale development on our public lands than we've seen in the past,"
said Chase Huntley, an
energy policy analyst with The Wilderness Society. "It is very encouraging that
Secretary Salazar has asked the Interior Department's Inspector General
to look into the circumstances of the 11th hour "lease
addenda" attached to the research leases obtained by oil companies,
including Shell."
Today's
announcement also opened an additional opportunity for companies seeking
federal lands for research, development, and demonstration of oil shale
technologies. Although conservation organizations and local officials have
questioned the necessity of making additional public lands open to oil shale
development given the significant oil shale resources already under private
control, the new solicitation reflects a commitment to science-based
decision-making not political favoritism, according to policy experts.
"The
history of oil shale has been plagued with scandal and cronyism, and
today's announcement shows why we need a better approach to
America's energy," said Bobby McEnaney, lands advocate for the
Natural Resources Defense Council, "We are encouraged that Secretary
Salazar is looking to make decisions based on an open and accountable system
that will protect our land, not the corporate favoritism of the previous
administration."
According to
land advocates, there are many technological, economic and environmental
questions that need to be resolved before oil shale development can make a
significant contribution to America's energy needs. The Bureau of Land
Management has called the technology rudimentary, and companies have asserted
that decisions about technological viability is still years away.
As research
from Western Resource Advocates has shown, (Water on the Rocks https://www.westernresourceadvocates.org/land/wotrreport/index.php), oil shale
will have profound effects on western water that have not yet been addressed.
"Washington must consider the effects of oil shale
development in the West," said Karin P. Sheldon, President of Western
Resource Advocates. "Impacts to our natural resources and
landscapes would be very real. Oil shale development would diminish already
limited water supplies, harm wildlife, and increase the threat of catastrophic climate change."
LATEST NEWS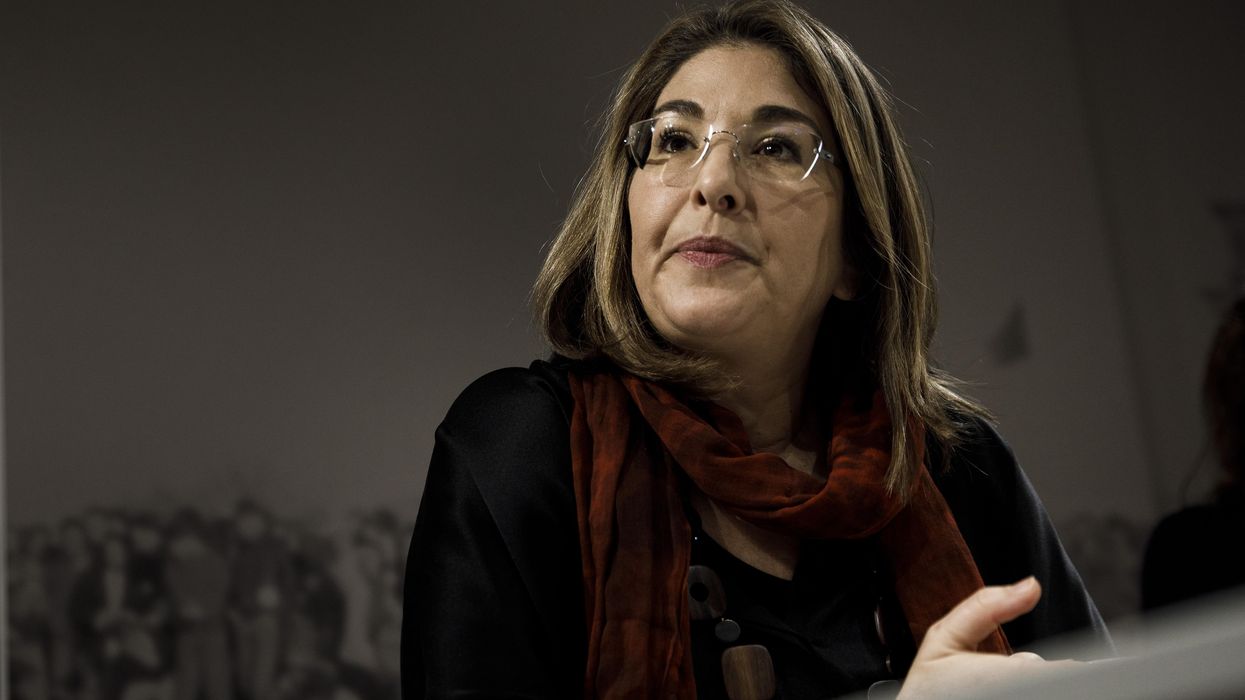 "Keep sharing reports from Gaza," said the author and activist. "Israel is freaking out at the implications, which is why the distraction machine is in overdrive."
Author and rights advocate Naomi Klein warned late Wednesday that supporters of a permanent cease-fire in Gaza must stay focused on one thing—Israel's mass killing of civilians in the blockaded enclave, a violation of international law—and resist efforts to distract the public from the issue at hand.
"The distraction machine is in overdrive," said Klein on social media after more than a day of commentary and outrage directed at the presidents of three top universities after they testified before the U.S. House Education and Workforce Committee at a hearing titled "Holding Campus Leaders Accountable and Confronting Antisemitism."
Republican members including Rep. Elise Stefanik (R-N.Y.) demanded to know whether the presidents of the University of Pennsylvania, Harvard University, and the Massachusetts Institute of Technology (MIT) would discipline students for "calling for the genocide of Jews."
The university leaders suggested that their schools typically do not punish students for speech alone—in accordance with the U.S. Constitution, Penn president Liz Magill said in a video posted later—but said such calls could qualify as harassment if they were "directed and severe, [or] pervasive," and could be punished if it "crosses into conduct."
Sally Kornbluth, president of MIT, said she had "not heard calling for the genocide of Jews on our campus." Stefanik replied that "chants for intifada"—a call for an "uprising" which is not inherently violent—have been heard at the school.
Videos of students holding an anti-war protest at University of California, Los Angeles were widely circulated in October, with some influential pro-Zionist celebrities and commentators asserting that students were proclaiming, "We want Jewish genocide." The protesters were actually addressing Israeli officials and saying, "We charge you with genocide."

"Can someone point me to an example of a student group calling for the genocide of Jewish people?" asked Mari Cohen, associate editor of Jewish Currents. "Why are we having this conversation?
The hearing wasn't the first to confront speech on college campuses since Israel began its U.S.-backed onslaught in Gaza, which has killed at least 17,177 Palestinians in just two months. Last month the House Judiciary Committee invited student leaders of conservative and pro-Zionist groups to testify about "hostility towards certain points of view" on campuses, and the hearing was interrupted by pro-Palestinian rights students who demanded to know whether their speech should also be protected.
Klein said Wednesday that the repeated hearings on the topic "are smoke and mirrors to distract from genocidal violence in Gaza."
Klein suggested that it has not gone unnoticed by Israeli officials that journalists and residents in Gaza have continued to widely share information about the reality on the ground, where dozens of Palestinians were killed Thursday in Israeli air raids on a home in Gaza City. The Israel Defense Forces (IDF) escalated attacks on the city of Khan Younis in the south—previously a relatively safe refuge for people who fled northern Gaza—with "multiple residential buildings and units... flattened," according toAl Jazeera.
"The occupation is trying to destroy all residential buildings in the eastern areas of Khan Younis," reported the outlet on Thursday.
Gastrointestinal and respiratory diseases as well as hepatitis have also begun spreading due to blockades on medical supplies, fuel, and safe drinking water, leading the World Health Organization to warn last month that disease could ultimately kill more civilians in Gaza than the bombs the U.S. has helped to provide for Israel.
"Congress should be working towards a lasting cease-fire to end Israel's deadly assault on Gaza, a hostage exchange, and a path to equality, justice, and safety for all Palestinians and Israelis," said the Jewish-led Palestinian rights group IfNotNow on Wednesday, responding to a House resolution that claimed anti-Zionism and antisemitism are one and the same. "Not wasting precious time using antisemitism as an excuse to shut down free speech."
News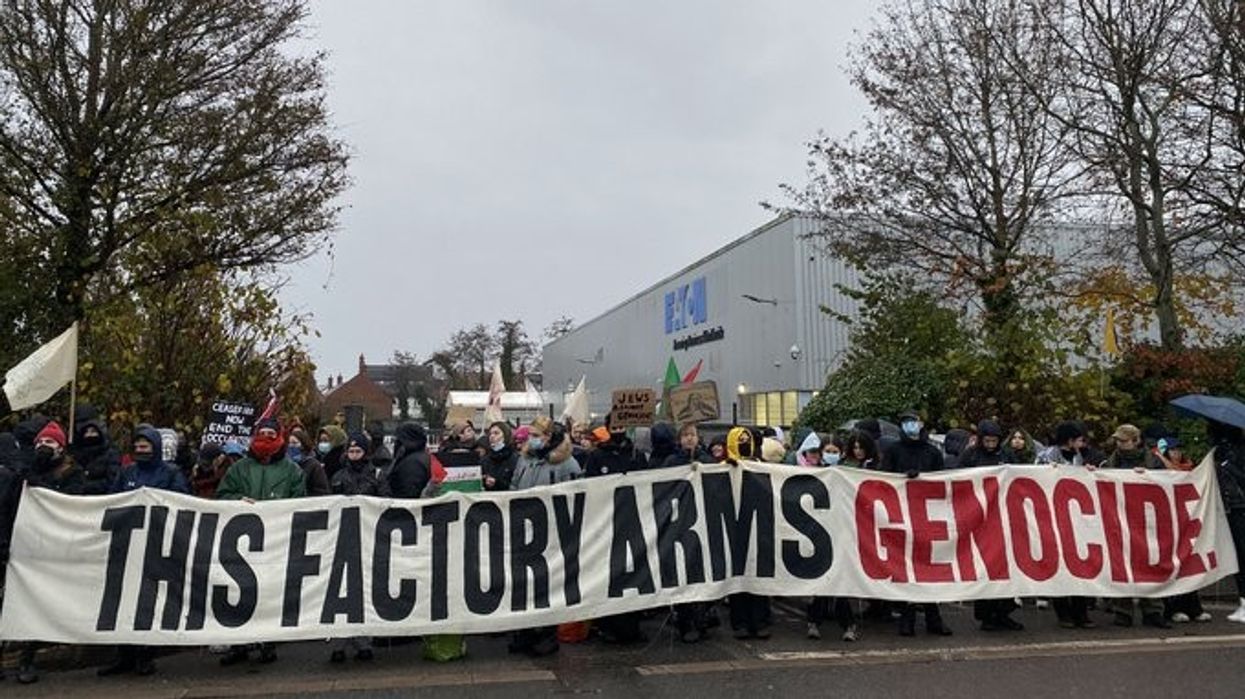 "We stand here ashamed that the weapons used in the ongoing ethnic cleansing of Palestine are partly made on our own doorstep," one participating doctor said.
More than 1,000 union members with Workers for a Free Palestine blockaded four weapons factories in the United Kingdom Thursday that make components for planes being used by Israel to bomb Gaza.
The workers, who include teachers and healthcare and hospitality professionals, said they had shut down plants in Bournemouth, Lancashire, Brighton, and Glasgow.
"As healthcare workers, we are tired of mourning the deaths of our colleagues—fellow nurses, doctors, dentists, medical students, and other health workers—along with all of the Palestinians massacred by the Israeli regime," a participating doctor named Mesh of Health Workers for a Free Palestine toldTribune. "We stand here ashamed that the weapons used in the ongoing ethnic cleansing of Palestine are partly made on our own doorstep."
All of the plants targeted by the workers make components for the F-35 fighter jet. Israel has killed 21,731 people in Gaza since October 7, including 8,697 children, according to Euro-Med Human Rights Monitor. The Geneva-based group said the death toll has risen by 40% since a temporary cease-fire ended last week.
"Our government could only bring itself to advocate for a temporary pause in these atrocities," Mesh continued from one of the blockades. "Israel has now resumed its violence: turning hospitals into graveyards, using equipment manufactured in this very factory. As health workers, we have a moral responsibility to act and we will not rest until the occupation ends."
More than 600 workers shut down all three entrances to the Eaton Mission Systems plant in Wimborne near Bournemouth in Dorset, the group said. It added that plant makes in-flight refueling probes for F-35s and that Eaton Mission Systems has an open export license for all F-35-related equipment.
Protesters carried banners reading, "Weapons made here kill in Gaza" and, "This factory arms genocide."
More than 200 trade unionists also blocked two entrances at BAE System's Samlesbury Aerodrome in Lancashire, which makes rear fuselages for all F-35s, the group said.
Workers for a Free Palestine also blockaded the BAE Govan site in Glasgow, which makes components for the F35s and the Mk 38 Mod 2 machine gun system. In coordination, Brighton & Hove Action for Palestine protested the L3Harris Release & Integrated Solutions Ltd factory in Brighton, which equips U.S.-made F-16s and F-35s. Workers for a Free Palestine also said that allied groups were carrying out similar actions in Denmark, France, and the Netherlands. Workers protested Exxelia in Paris and Terma Group in Denmark and the Netherlands, Al Mayadeen Englishreported.
The European and U.K. trade unionists are responding to a call for solidarity from Palestinian trade unions and professional associations.
"Palestinian trade unions call on our counterparts internationally and all people of conscience to end all forms of complicity with Israel's crimes—most urgently halting the arms trade with Israel, as well as all funding and military research," Workers in Palestine wrote. "The time for action is now—Palestinian lives hang in the balance."
"As the British government refuses to call for a cease-fire and directly supports Israel's military attack, a rapidly growing movement of workers are clearly saying 'not in our name.'"
Specifically, the Palestinian workers called on the international labor movement to refuse to build or transport weapons for Israel, to pass union-wide motions backing those refusals, and to put pressure on complicit companies and governments.
"We salute all those in the trade union movement taking a stand to disrupt the flow of arms to Israel," Workers in Palestine said in a statement to Tribune. "Shutting down four factories across the U.K. today, along with several simultaneous blockades in Europe, are critical acts of solidarity, refusing to conduct business as usual in the face of Israel's relentless bombardment of Gaza and ongoing genocide."
"As the British government refuses to call for a cease-fire and directly supports Israel's military attack, a rapidly growing movement of workers are clearly saying 'not in our name,'" the workers continued.
Workers for a Free Palestine, whose members belong to unions including the National Education Union (NEU); the British Medical Association; the University and College Union (UCU); the Broadcasting, Entertainment, Communications, and Theater Union (BECTU); and the Bakers, Food, and Allied Workers Union (BFAWU), is demanding that the British government stop being complicit in Israeli war crimes, that a permanent cease-fire be enacted immediately, and that Israel end its occupation of Palestine.
Before Thursday's action, the group had targeted an Elbit Systems subsidiary factory in Kent in October and another BAE Systems plant in Rochester in November, Tribune reported.
News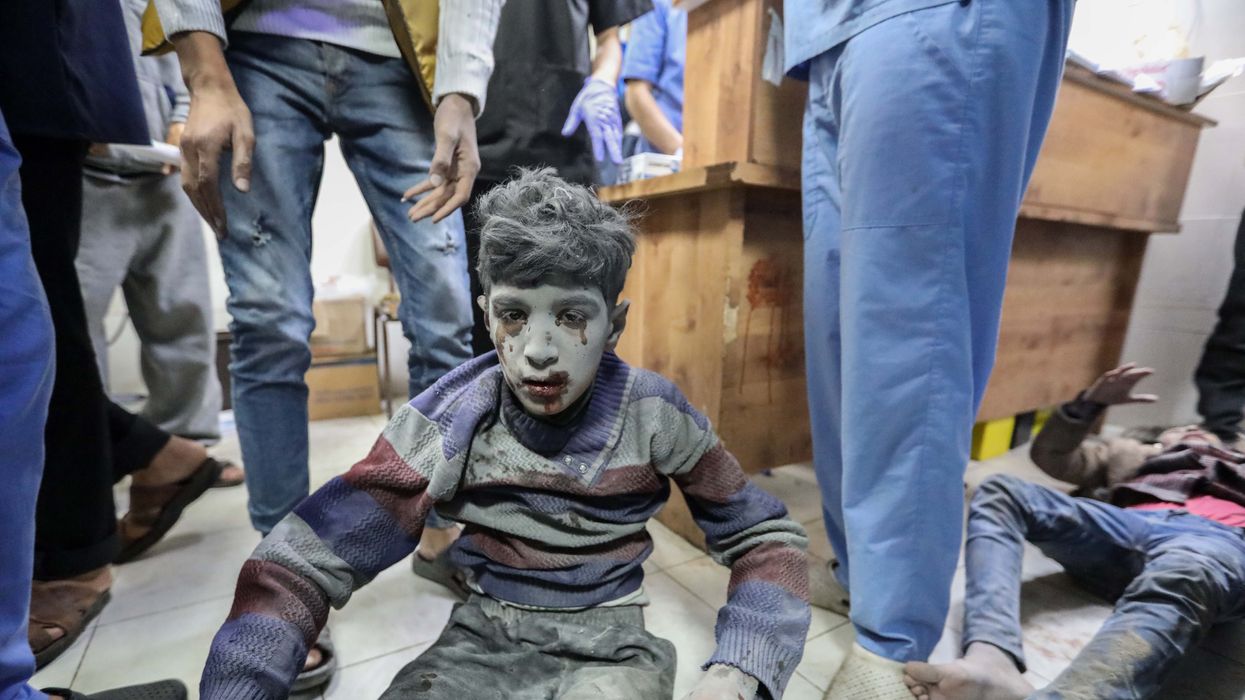 "We are in the darkest time for the right to health in our lifetimes," said one U.N. expert.
Doctors treating wounded patients on the ground in Gaza and medical experts watching in horror from the outside pleaded with world leaders on Thursday to push for an immediate, sustained cease-fire as Israeli forces continue to pummel the besieged Palestinian territory, leaving hospitals unable to cope with the rapid influx of airstrike victims.
Doctors Without Borders, known internationally as Médecins Sans Frontières (MSF), said that for the first time since Israel's latest war on Gaza began in early October, the number of deceased people who were brought to the MSF-backed al-Aqsa Hospital on Wednesday "surpassed the number of injured people."
"The hospital is full, the morgue is full," MSF wrote on social media. "We call on Israeli forces to stop the indiscriminate bombing of the Gaza Strip and protect civilians and civilian infrastructure."
At the two-month mark of Israel's assault, Gaza's healthcare system is barely standing, with many hospitals damaged by airstrikes or forced to cease operations due to a lack of fuel, anesthesia, sanitation equipment, and other critical supplies. Israel's blockade has deprived the territory's medical facilities of electricity, forcing them to generators and—when those have run out of fuel— phone lights.
"This war is raging because of a lack of political leadership. End the war on Gaza, and end it now."
Near-constant Israeli airstrikes and the lack of fuel caused by the blockade have forced ambulance services to shut down in parts of Gaza, undermining emergency rescue efforts.
Hundreds of healthcare personnel are among the more than 16,000 people in Gaza who have been killed by Israeli forces since October 7, 90% of whom have been civilians, according to one estimate. The United Nations has recorded more than 360 Israeli attacks on Gaza healthcare services.

Medical workers experiencing firsthand the devastating consequences of Israel's bombardment and siege have provided harrowing—and often sickening—accounts of the carnage.
(Warning: What follows is a graphic description of the scene at one hospital in southern Gaza.)
British war surgeon Tom Potokar, who is working for the International Committee of the Red Cross at the European Hospital in the embattled southern Gaza city of Khan Younis, toldThe Independent that he has "seen far too many children whose lives have been destroyed." Israeli forces have stormed Khan Younis in recent days, imperiling displaced people in an area previously deemed a "safe zone."
"I've treated a four-month-old with significant burn injuries. I treated an eight-year-old that had an open fracture of his skull with an exposed brain," said Potokar. "It is just awful to see and it's so relentless. It's just not stopping, they keep coming in every day."
Addressing anyone who doubts the appalling images and accounts emerging from the strip by the minute, Potokar said that "if you could bring any person here who was not sure, and you place them here, and you got them to smell the stench of rotting flesh, to see the sight of maggots creeping from wounds of a person who has necrotic flesh and to hear the screams of kids because there's not enough analgesia, and they want their mum, who's not going to appear because she's dead—I think people might feel a bit different about this."
On Sunday, the World Health Organization's (WHO) executive board is set to hold a rare emergency meeting on the spiraling healthcare crisis in Gaza, where infectious diseases such as Hepatitis A are beginning to spread in the territory's makeshift and badly overcrowded shelters for displaced people, who are struggling to survive without proper medical supplies and uncontaminated food and water.
"Gaza's health system is on its knees and near total collapse," WHO director-general Tedros Adhanom Ghebreyesus said Wednesday. "We need peace for health."
Tlaleng Mofokeng, a physician from South Africa and the United Nations special rapporteur on the right to health, issued a scathing statement Thursday accusing the Israeli military of waging an "unrelenting war" on Gaza's healthcare system and warning that "the practice of medicine is under attack."
"As a practicing medical doctor, I cannot fathom what my Gazan colleagues are enduring. They are working while their colleagues and loved ones are under attack. Many have been killed while treating their patients," said Mofokeng, who called for an immediate cease-fire. "We are in the darkest time for the right to health in our lifetimes."
"We bear witness to a shameful war on healthcare workers," she added. "This war is raging because of a lack of political leadership. End the war on Gaza, and end it now."
News