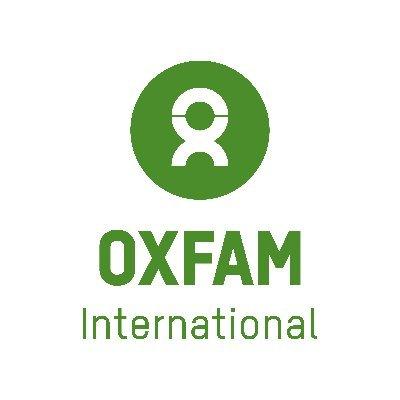 For Immediate Release
Contact:
Phone,+1 617 482 1211 (Toll-free 1-800-77-OXFAM),Email,info@oxfamamerica.org
DR Congo: Civilian Cost of Military Operation is Unacceptable
Enhanced protection urgently needed due to disastrous toll on civilian populations
GOMA
The Congolese government's military operation in
eastern Congo, Kimia II, backed by United Nations peacekeepers and
aimed at neutralizing the threat from a Rwandan Hutu militia group, the
Democratic Forces for the Liberation of Rwanda (FDLR), has resulted in
an unacceptable cost for the civilian population, said 84 humanitarian
and human rights groups in the Congo Advocacy Coalition today.
The coalition urged diplomats and UN officials, who are due to meet
in Washington, DC, this week to discuss the situation in eastern Congo
and the wider region, to take immediate steps to increase protection
for civilians.
"The human rights and humanitarian consequences of the current
military operation are simply disastrous," said Marcel Stoessel of
Oxfam. "UN peacekeepers, who have a mandate to protect civilians,
urgently need to work with government forces to make sure civilians get
the protection they need or discontinue their support."
Since the start of military operations against the FDLR militia in
January 2009, more than 1,000 civilians have been killed, 7,000 women
and girls have been raped, and over 6,000 homes have been burned down
in the eastern provinces of North and South Kivu. Nearly 900,000 people
have been forced to flee their homes and live in desperate conditions
with host families, in forest areas, or in squalid displacement camps
with limited access to food and medicine.
Satellite imagery
collected by the American Association for the Advancement of Science
(AAAS) provides visual confirmation of the widespread destruction of
homes and villages. In Busurungi, one of the main towns in the
Walualoanda area (North Kivu) and the surrounding 100 square
kilometers, AAAS estimates that 1,494 homes and structures have been
destroyed, some as recently as September, amounting to an estimated 80%
destruction rate.
Many of the killings have been carried out by the FDLR militia who are deliberately targeting civilians
to punish them for their government's decision to launch military
operations against the group. Congolese government soldiers have also
targeted civilians through killings and widespread rape, looting,
forced labor, and arbitrary arrests.
In a bleak calculation by the coalition, for every rebel combatant disarmed during the operation,
one civilian has been killed,
seven women and girls have been raped,
six houses burned and destroyed, and
900,000 people have been forced to flee their homes.
Sexual violence has grown even more brutal in areas affected by the
Kimia II operation. "We're seeing more cases of mutilation, extreme
violence, and torture in sexual violence cases against women and girls,
and many more of the victims are children," said Immaculee Birhaheka of
Promotion et Appui aux Initiatives Feminines (PAIF).
Some previously displaced people in the Kivus have returned home to areas that have become relatively secure. But the ongoing military operations have caused new displacement of civilians
in Masisi, Rutshuru, Lubero, Walikale, Kabare, Kalehe, Walungu,
Shabunda, and Uvira territories of North and South Kivu, as well as in
southern Maniema and northern Katanga provinces. Many civilians who
have recently left displacement camps around Goma and elsewhere have
moved on to secondary displacement sites since they fear returning home.
The UN peacekeeping mission in Congo, MONUC, has backed the
Congolese army in the Kimia II operation since March, following a joint
Rwandan and Congolese military operation against the FDLR militias,
some of whose leaders participated in the genocide in Rwanda in 1994.
According to UN statistics, 1,071 FDLR combatants have given up their
arms and been repatriated to Rwanda since January. The group's
estimated strength before military operations began was 6,000 to 7,000
combatants. Many reports indicate that the FDLR has recruited new
combatants to replace some of those who have been repatriated.
UN peacekeepers provide significant backing for the Kimia II
operation, including tactical expertise, transport and aviation
support, as well as food rations, fuel, and medical support to
Congolese army soldiers, at an estimated cost of well over US$6
million. Despite such support, UN peacekeepers have not used
their leverage to get the government to remove commanders with known
track records of human rights abuses from participating in the
operations.
"With an investment this big, the UN has clout and should not remain
silent when abuses occur," said Anneke Van Woudenberg, senior
researcher at Human Rights Watch. "The UN needs to make it clear that
if the Congolese government wants its continued military support, the
army should remove abusive soldiers from command positions and its
soldiers should stop attacking civilians."
Reprisal attacks against unarmed populations by the FDLR
militia have made the task of protecting civilians increasingly
complicated for the Congolese government and UN peacekeepers.
Yet the 3,000 additional UN peacekeepers authorized by the UN Security
Council in November 2008 are only just arriving in eastern Congo, and
the helicopters and intelligence support requested by UN officials have
still not materialized.
The coalition said that disarming the FDLR militia should remain a
top priority for the Congolese government and UN peacekeepers, but that
they need to act urgently to improve protection of civilians. The
coalition urged diplomats and UN officials meeting in Washington, DC,
at the Great Lakes Contact Group, to:
Press for a comprehensive, multi-pronged approach toward disarming the FDLR militia
that emphasizes protecting civilians. This would include taking into
custody and opening judicial proceedings against those wanted for
genocide and other more recent serious crimes, including the FDLR
leadership based in Europe and elsewhere, and reforming the disarmament
and demobilization program, among other measures.
Push
for accountability to ensure that those responsible for serious human
rights abuses, including sexual violence, are prosecuted
regardless of rank. Press the UN to make its support conditional on
effective action by military authorities to curb abuses against
civilians.
Press the Congolese government to develop and put into effect an action plan to prevent and end the recruitment of children
into the Congolese army and other armed groups, and insist that
commanders cooperate with child protection specialists screening troops
for children among their ranks.
Support comprehensive military reforms by the Congolese government, with strict controls on how donor funds are used.
Ensure that UN peacekeepers have the resources urgently needed to carry out their mandate to protect civilians.
For more of the work of the Congo Advocacy Coalition, please visit the following:
Oxfam International is a global movement of people who are fighting inequality to end poverty and injustice. We are working across regions in about 70 countries, with thousands of partners, and allies, supporting communities to build better lives for themselves, grow resilience and protect lives and livelihoods also in times of crisis.
LATEST NEWS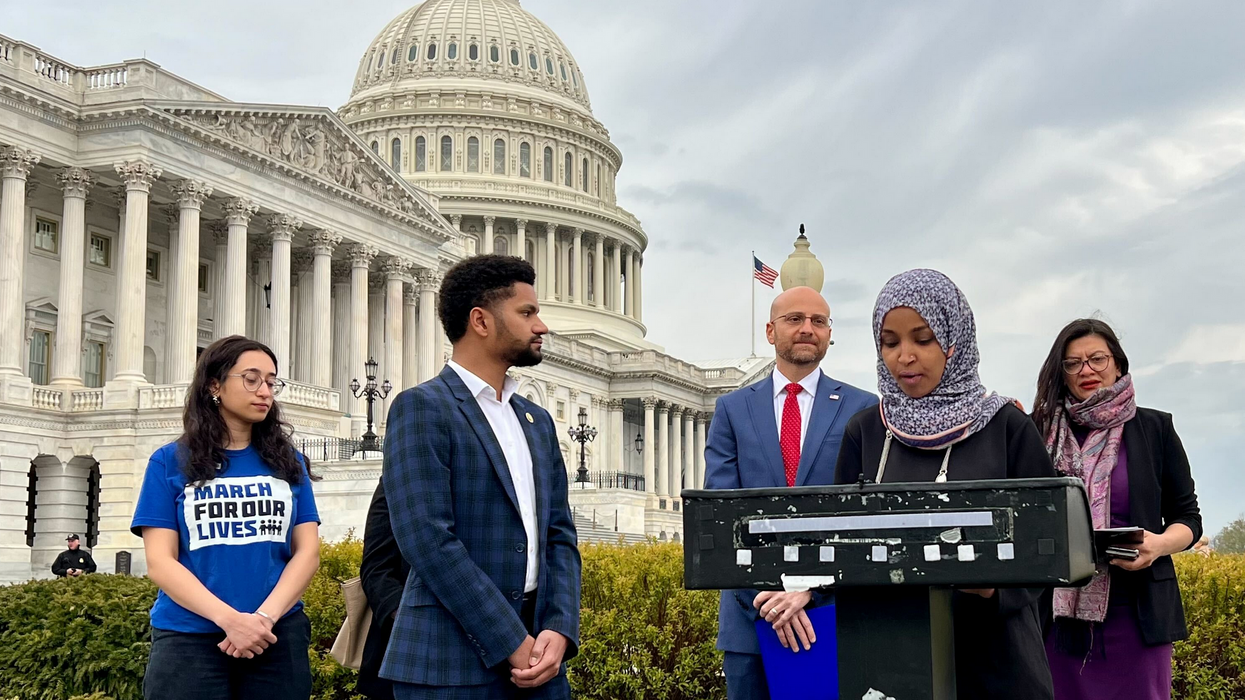 "In order to confront the evils of religious bigotry and hatred, we must come to understand that all our destinies are linked," said Omar, a former refugee from Somalia and one of two Muslim women in Congress.
Joined by Democratic House colleagues and activists outside the U.S. Capitol on Thursday—the first full day of Ramadan—Minnesota Congresswoman Ilhan Omar announced a new resolution condemning Islamophobia and commemorating the recent anniversary of the 2019 Christchurch, New Zealand mosque massacre.
Omar's office said the resolution—which is co-sponsored by more than 20 House Democrats—"comes after continued violence and threats made against religious minorities, particularly Muslims," while adding that the March 15, 2019 murder of 51 Muslim worshippers at the Al Noor Mosque in Christchurch by an Australian white supremacist "was a stated source of inspiration for mass shootings in the United States."
These include the deadly synagogue shooting in Poway, California; the massacre of 23 people, most of them of Mexican origin, at a Walmart in El Paso, Texas; and the murder of 10 people by a white supremacist in a Buffalo, New York grocery store.
Omar said:

As we begin the holy month of Ramadan, we must reaffirm that all people of faith should have the right to worship without fear. According to the Council on American-Islamic Relations, anti-Muslim hate crimes and attacks are at an all-time high. The attack in Christchurch, motivated by an extremist ideology of white supremacy, anti-Muslim hate, and the so-called replacement theory resonates deeply for Muslims in nearly every corner of the globe.

We also know that this increase in hate is not isolated to only Muslims. Church bombings, synagogue attacks, and racial hate crimes are also on the rise.
"In order to confront the evils of religious bigotry and hatred, we must come to understand that all our destinies are linked," Omar added. "That's why I'm proud to lead my colleagues in condemning the rise in Islamophobia and affirming the rights of religious minorities in the United States and around the world."
Robert McCaw, director of government relations at the Council on American-Islamic Relations, also spoke at Thursday's event, saying that "it is with a heavy heart that CAIR welcomes Omar's resolution," which "recognizes the threat posed by rising global Islamophobia to American Muslims and Muslims in other countries across the world, as well as the threat white supremacism poses to all people."
"It is incredibly important for Congress to lead the way in rejecting these hateful and dangerous ideologies, and CAIR calls on both sides of the aisle to co-sponsor and adopt this resolution," McCaw added. "As we remember the lives lost in Christchurch, we must continue to work towards a world where everyone is treated with humanity and dignity, regardless of their faith, ethnicity, or background."
In 2021, the Democratic-controlled House narrowly passed a resolution introduced by Omar aimed at combating Islamophobia after Rep. Lauren Boebert (R-Col.) referred to her and Rep. Rashida Tlaib (D-Mich.)—the only two Muslim women in Congress—as the "jihad squad."

The House GOP, which now narrowly controls the chamber, voted last month to remove Omar from the foreign affairs panel. Just before the vote, the congresswoman said that Republicans "are not OK with having a Muslim have a voice on that committee."
Omar's new federal resolution stood in stark contrast with Texas state Rep. Tony Tinderholt's (R-94) vote against a legislative resolution celebrating Ramadan.
"As a combat veteran, I served beside many local translators who were Muslims and good people," the Iraq War veteran explained. "I can also attest that Ramadan was routinely the most violent period during every deployment."
"Texas and America were founded on Christian principles and my faith as a Christian prevents me from celebrating Ramadan," Tinderholt added.
Responding to Tinderholt's statement, CAIR tweeted: "Every elected official has the right to express their own sincerely held religious beliefs—and we welcome that. But to insult another religion is uncalled for and harmful."

News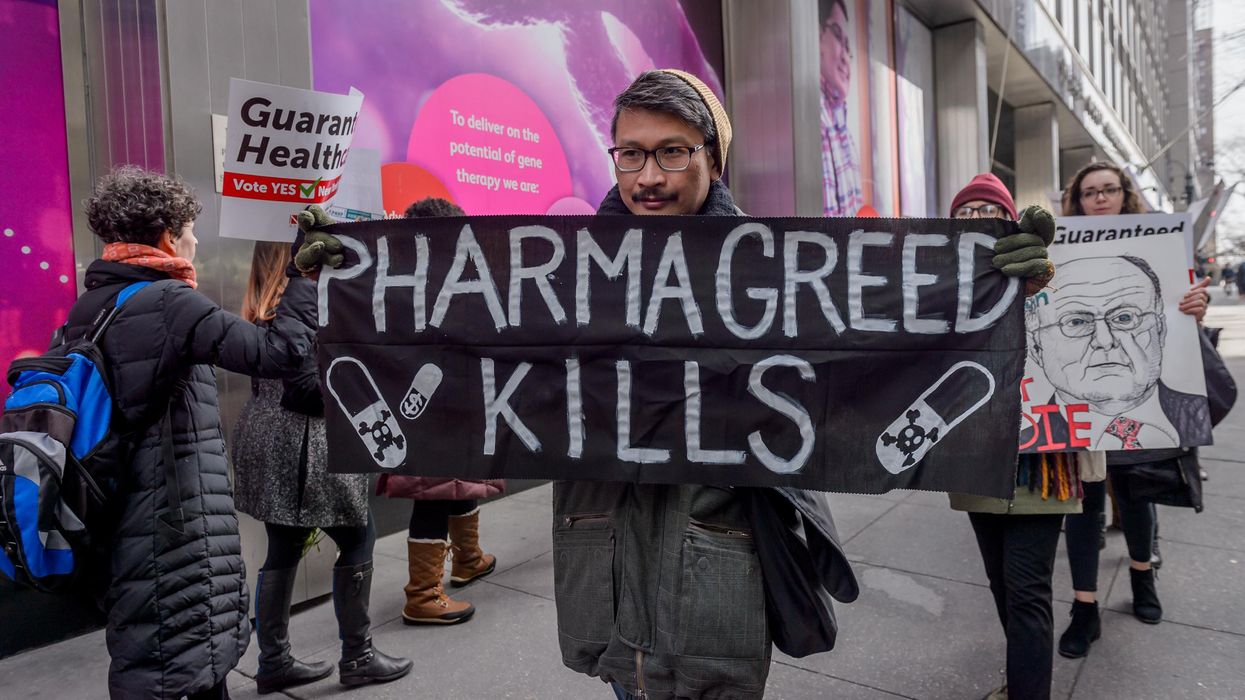 "We request HHS to consider this appeal directly... because the NIH has repeatedly demonstrated its unwillingness to even acknowledge that the Bayh-Dole Act includes an obligation to make products invented with federal funds 'available to the public on reasonable terms.'"
Two days after President Joe Biden's administration rejected a petition asking federal regulators to use their authority to lower the astronomical price of a lifesaving prostate cancer drug developed entirely with public funds, petitioners on Thursday filed an administrative appeal.
At issue is enzalutamide, a drug the Japanese pharmaceutical giant Astellas and its U.S. counterpart Pfizer sell under the brand name Xtandi. Although Xtandi owes its existence to U.S. taxpayers, who bankrolled 100% of its development, an annual supply of the drug costs $189,900 in the United States—three to six times more than its list price in other wealthy nations.
In late 2021, prostate cancer patients Robert Sachs, Clare Love, and Eric Sawyer petitioned the U.S. Department of Health and Human Services (HHS) to exercise its "march-in rights" against Xtandi. Under the Bayh-Dole Act, the federal government can reclaim and redistribute patents for inventions created with public funding—enabling generic competitors to produce cheaper versions—when "action is necessary to alleviate health or safety needs" or when an invention's benefits are not being made "available to the public on reasonable terms."
HHS Secretary Xavier Becerra referred the petition to the National Institutes of Health (NIH), whose acting Director Lawrence Tabak argued in a Tuesday letter that "Xtandi is widely available to the public on the market," citing Astellas' estimate that "more than 200,000 patients were treated with Xtandi from 2012 to 2021."
Even with insurance, co-pays for Xtandi are sky-high. Medicare recipients, for example, are expected to pay roughly $10,000 per year for the medicine. Especially for the millions of uninsured and underinsured people in the U.S., Xtandi remains completely out of reach.
Tabak's letter went on to say that Xtandi's "practical application is evidenced by the 'manufacture, practice, and operation' of the invention and the invention's 'availability to and use by the public….'" As Knowledge Ecology International executive director James Love lamented, the NIH completely elided any mention of "reasonable terms," editing out that key phrase from Bayh-Dole.
In their appeal, the petitioners wrote: "The petition focused on a single issue: the reasonableness of charging U.S. cancer patients three to six times more than residents of other high-income countries for the drug Xtandi."
"There is no dispute about the following facts," the appeal continues. "Xtandi was invented on grants from the U.S. Army and the NIH at UCLA, a public university. The patents were licensed eventually to Astellas, a Japanese drug company, with a partnership share now held by Pfizer, following its 2016 $14 billion acquisition of Medivation, UCLA's original licensee, that occurred just after the NIH rejected an earlier march-in request on Xtandi. The prices in the United States have consistently been far higher than the prices in other high-income countries."
Prior to the 2021 petition, Clare Love and prostate cancer patient David Reed filed a petition, later joined by Sachs, with the U.S. Department of Defense (DOD) after the Senate Armed Services Committee instructed the Pentagon to initiate march-in proceedings when the price of a drug created with a DOD grant exceeds the median price in seven large high-income nations. The Pentagon, however, has yet to acknowledge or act on the petition submitted to it in February 2019.
"If you consider both of these requests together, a petition to exercise the government's march-in or other rights in the Xtandi patents has been pending before the federal government for more than four years," Thursday's appeal states. "The HHS petition was filed 16 months ago."

It continues:
The petitions were filed with the DOD and HHS instead of the NIH because the NIH has repeatedly demonstrated its unwillingness to even acknowledge that the Bayh-Dole Act includes an obligation to make products invented with federal funds 'available to the public on reasonable terms.' This is demonstrated by a track record of dismissing multiple requests to use the government's Bayh-Dole safeguard to address pricing abuses and access restrictions, including those concerning the federal government's march-in rights under 35 USC § 203, and the federal government's global royalty-free license, under 35 USC § 202(c)(4). There are also extensive email records between Mark Rohrbaugh, currently NIH special adviser for technology transfer who is a long-time agency official, and lobbyists for drug companies and university rights holders, obtained through Freedom of Information Act requests, which not only express opposition to any safeguards regarding unreasonable pricing but organize public relations efforts against using a march-in request to address the pricing of products.
"HHS chose to assign to the NIH the evaluation of our petition regarding Xtandi," says the appeal. "We request HHS to consider this appeal directly, and not assign NIH to review its own decision. The latter would be tantamount to no review at all."
Since Bayh-Dole was enacted in 1980, "march-in rights have never been used... and NIH has repeatedly rejected the idea that affordability is a reasonable term," The American Prospectreported Wednesday. With Xtandi, "advocates thought they found the perfect test case for a new administration that paid lip service to lowering prescription drug costs."
As The Levernoted on Wednesday, the NIH's decision this week was consistent with Biden's track record:
Biden was vice president when the Obama administration rejected congressional Democrats' demand that the government use the same power to lower the skyrocketing prices of medicine in America.

As a senator in 2000, Biden was one of just eight Democrats who helped pharmaceutical lobbyists kill a measure spearheaded by Sen. Paul Wellstone (D-Minn.) and then-Rep. Bernie Sanders (I-Vt.) that would have reinstated the Reagan-era requirement that drug companies sell medicines developed with public money at a reasonable price.

That requirement was repealed by the Clinton administration in 1995, following pressure by drugmakers.
But Becerra's acquiescence to Big Pharma was more surprising. Prior to joining the Biden administration, the HHS secretary had expressed support for wielding the executive branch's authority to rein in soaring drug prices.
As the attorney general of California in the summer of 2020, "Becerra demanded the Trump administration use existing law to lower the price of medicines that were originally developed at taxpayer expense," The Lever reported. "As a member of Congress in 2016, Becerra signed on to a letter to the Obama Department of Health and Human Services calling on officials to broadly use 'march-in rights' to lower the cost of prescription drugs—including 'specialty drugs, like those to treat cancer, which are frequently developed with taxpayer funds.'"
Despite pressure from numerous members of Congress and medicine affordability advocacy groups, the NIH declared Tuesday that it "does not believe that use of the march-in authority would be an effective means of lowering the price of the drug."
Instead, the agency vowed to "pursue a whole-of-government approach informed by public input to ensure the use of march-in authority is consistent with the policy and objective of the Bayh-Dole Act," a move that progressive advocates denounced as a "pathetic" attempt to deflect criticism of its failure to use or threaten to use its legal power.
"This is a drug that was invented with taxpayer dollars by scientists at UCLA and can be purchased in Canada for one-fifth the U.S. price," Sanders said Tuesday. "The Japanese drugmaker Astellas, which made $1 billion in profits in 2021, has raised the price of this drug by more than 75%."
"How many prostate cancer patients will die because they cannot afford this unacceptable price?" asked Sanders, chair of the Senate Committee on Health, Education, Labor, and Pensions.
During a Wednesday hearing, Sanders made the case for changing "the current culture of greed into a culture which understands that science and medical breakthroughs should work for ordinary people, and not just enrich large corporations and CEOs."
News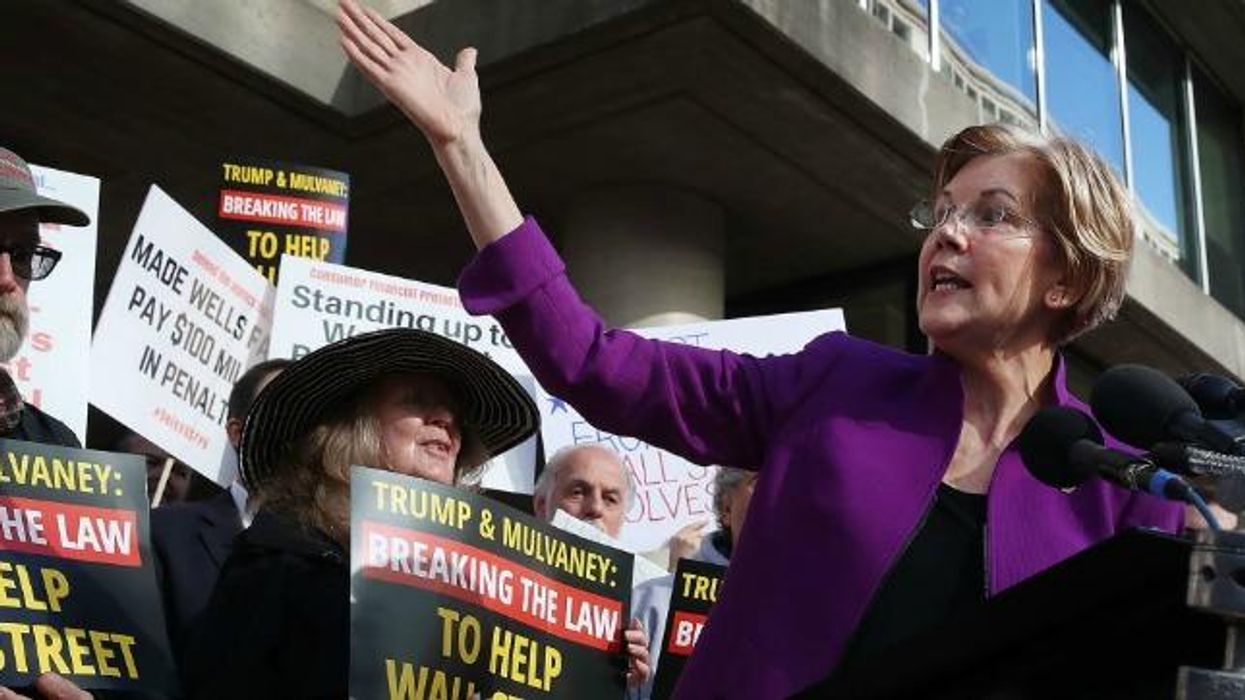 "If the Supreme Court follows suit," said one watchdog, "it will mark a major win for everyday consumers impacted by abusive fees, predatory lenders, and corporate greed."
U.S. Sen. Elizabeth Warren, who established the Consumer Financial Protection Bureau in 2010, was among the consumer advocates celebrating on Thursday as a federal court in New York City ruled that the bureau's funding structure is constitutional—rebuking years of right-wing and corporate attacks on the agency.
The Massachusetts Democrat expressed hope that the U.S. Supreme Court, which is expected to hear arguments in a separate but related case later this year, "follows more than a century of law and historical precedent" and also rules in favor of the CFPB, which has regulated debt collectors, payday lenders, credit card companies, and other financial businesses for more than a decade.

"Yet again, the constitutionality of the CFPB has been upheld, as it has been time and time before," said Warren.
The 2nd U.S. Circuit Court of Appeals ruled in favor of the bureau Thursday in a case stemming from a debt collector's attempt to avoid a subpoena from the CFPB in 2017.
A lower court ruled in the case in August 2020 that the bureau's funding structure is constitutional, but the 5th U.S. Circuit Court of Appeals in New Orleans said last year in the case set to be heard by the Supreme Court that the funding violates the Constitution's appropriations clause and the separation of executive and legislative powers.
The CFPB is funded by the Federal Reserve rather than through appropriations voted on annually by lawmakers.
Writing for the three-judge 2nd Circuit panel that voted unanimously in favor of the bureau, Judge Richard Sullivan noted that the justice system "has consistently interpreted the appropriations clause to mean simply that 'the payment of money from the Treasury must be authorized by a statute,'"—which doesn't apply to the CFPB since it receives no funding from the U.S. Treasury Department.
An upcoming ruling by the Supreme Court that supports the 2nd Circuit's finding would "mark a major win for everyday consumers impacted by abusive fees, predatory lenders, and corporate greed," said government watchdog Accountable.US.
"The CFPB is a vital voice for consumers and protects Americans from unfair and abusive practices," said Rep. Nydia Velázquez (D-N.Y.). "We can't allow these protections to be weakened."

News
SUPPORT OUR WORK.
We are independent, non-profit, advertising-free and 100%
reader supported.