How to Bring Healthier Food to Corner Stores
New Paper Explores Innovative Strategies from Across the U.S.
WASHINGTON
Corner stores around the country have used a number of innovative
strategies to bring healthier food to their shelves, finds a new paper by the Insti-
tute for Agriculture and Trade Policy. In many low-income neighborhoods without a
grocery store, corner stores are one of the few food options for consumers.
In Healthy Food for All: Healthy Corner Store Strategies from Across the United
States, IATP explores how corner stores have expanded their selection of fresh
fruits and vegetables, utilized social marketing strategies and transformed their in-
store facilities to successfully sell healthier food.
Changes in the federal Women, Infants and Children (WIC) program will make
healthier food options available across the country. In Minnesota, new WIC rules
were instituted on August 1 that allow WIC participants to use their benefits to
purchase a range of fruits and vegetables. Stores that accept WIC vouchers will be
required to carry certain minimum quantities of fresh fruits and vegetables.
"Making healthier foods more accessible, particularly in low-income communities,
is critically important in these times of rising diet-related disease and escalating
health care costs," said IATP's JoAnne Berkenkamp. "We found that corner stores
can overcome the logistical challenges of providing fresh fruits and vegetables
through a variety of strategies. This paper also illustrates how non-profit, govern-
ment and business partnerships can enable corner stores to make healthier op-
tions available in their neighborhoods."
IATP's paper reported on successful efforts by corner stores around the country
to expand their stocking of healthy food. These efforts include: social marketing
strategies of corner stores on the White Mountain and San Carlos reservations in
Arizona and in the uptown neighborhood of Chicago; efforts to expand fruit and
vegetable selection in Hartford, Conn. and San Francisco, Calif.; changes in corner
store infrastructure in Oakland, Calif. and Louisville, Ky.; and pilot programs to
expand the use of WIC vouchers to include fruits and vegetables in New York.
The paper also makes a series of recommendations for corner stores looking to
expand sales of healthier food, including: assessing consumer preferences; closely
monitoring store pricing and profitability; addressing procurement and distribution
challenges; ensuring effective produce handling and merchandising; and making
store improvements to increase the visibility of healthier food.
IATP is working in partnership with the Minnesota Department of Health and pro-
duce distribution partners to promote changes in Minnesota's WIC program and
connect corner stores with a stable supply of fresh, high quality produce.
The Institute for Agriculture and Trade Policy works locally and globally at the intersection of policy and practice to ensure fair and sustainable food, farm and trade systems.
LATEST NEWS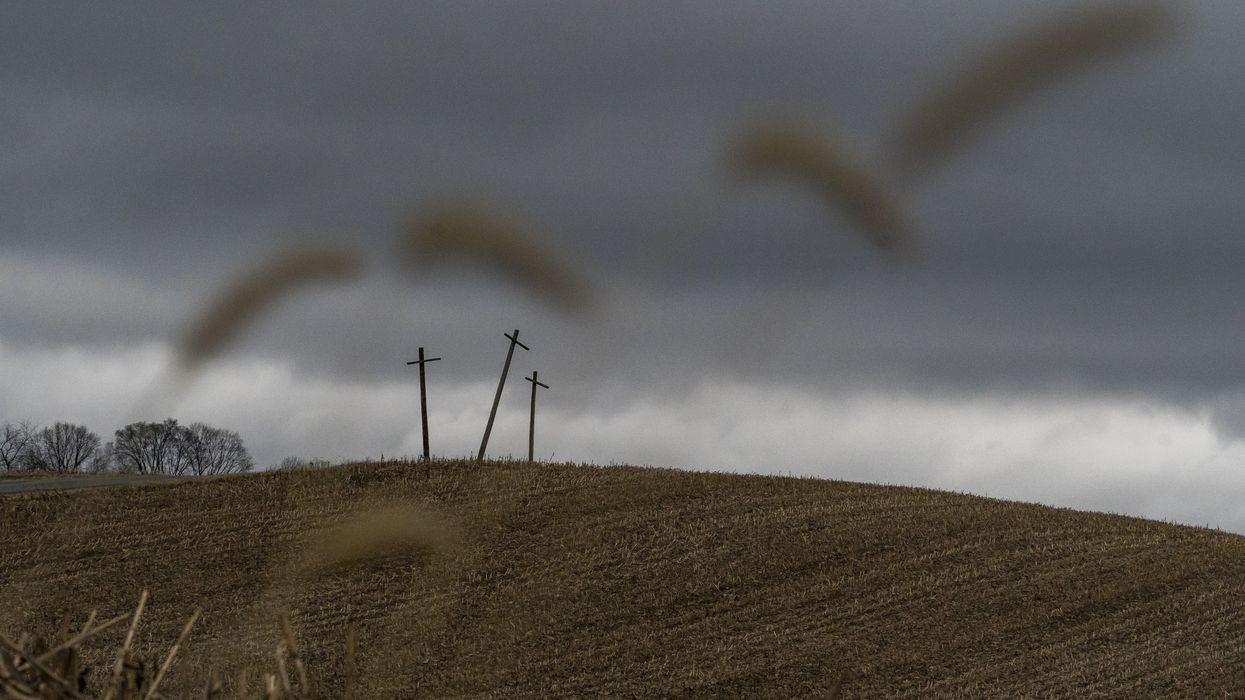 "The farmer shouldn't be penalized for this unfortunate and unique situation," said John Stock of the Ohio Ecological Food and Farm Association. "It's going to have an impact on these farms, and it's a reality that impacts all of us."
Just over a month after a Norfolk Southern train derailed in near the Ohio-Pennsylvania border, a trio of U.S. senators on Wednesday wrote to a pair of Biden administration leaders that "we are hearing from farmers and agricultural producers who are concerned about the impacts of the derailment and associated release of hazardous materials on their livelihoods."
After train cars derailed and caught fire in East Palestine, Ohio on February 3, the rail giant conducted a controlled release of vinyl chloride to prevent an explosion. The U.S. Environmental Protection Agency on February 21 ordered Norfolk Southern to identify and clean up contaminated soil and water; facing local pressure, the EPA on Friday told the company to test for dioxins, while maintaining the position that based on agency testing, it is unlikely those toxic chemical compounds were released.
"Dioxins are some of the most potent carcinogens on Earth—there's no 'safe' dose for humans, and pregnant women and young children are especially vulnerable to their effects," Judith Enck, a former EPA regional administrator now on the Bennington College faculty and president of the group Beyond Plastics, noted in a New York Times opinion piece Wednesday. In addition to cancer, dioxins—which persist in the environment for long periods—are tied to developmental, reproductive, and immune system issues.
However, so far, despite fears of various pollutants, neither the EPA nor the U.S. Department of Agriculture (USDA) "or any other federal or state agencies have provided clear guidance to either our agricultural producers in the region or consumers of those products," according to the letter from Sens. Sherrod Brown (D-Ohio), Bob Casey (D-Pa.), and John Fetterman(D-Pa.).
"As these farmers prepare for planting and marketing efforts, they are left wondering what impacts the derailment and chemical release will have on the safety of their products and the viability of their farms."
"The 2023 planting season is quickly approaching, followed by spring harvest of overwintered crops, such as alfalfa and winter wheat, that are typically sold as feed to dairies in the region," they wrote to EPA Administrator Michael Regan and Secretary of Agriculture Tom Vilsack. "As these farmers prepare for planting and marketing efforts, they are left wondering what impacts the derailment and chemical release will have on the safety of their products and the viability of their farms."
"Producers are concerned not only over the lack information about the safety of their crops and livestock but also whether they will be able to market them due to market and consumer concerns about the safety of their products," the senators continued, noting that "farmers in the region are already reporting receiving requests to cancel orders due to these very concerns."
The lawmakers are calling on the EPA and USDA to work with state agricultural departments and academics to provide farmers with relief, including the rapid deployment of resources for "any necessary testing of their soils, plant tissue, and livestock and to interpret the results of those tests as they pertain to the safety and marketability of their crops and products."
Given that some consumers will likely be nervous about buying from the region regardless of test results, the senators are also requesting a review of disaster assistance that can be deployed as well as technical assistance for language to include in the next farm bill to expand aid for "producers who have been impacted by man-made disasters, including chemicals spills."
Alarm about the pontential impact on local farming as well as criticism of how Norfolk Southern and various government figures and agencies have handled the environmental and public health disaster have mounted since the derailment last month.
"I have a part ownership in a farm, so I'm concerned about that," Eloise Harmon, of East Palestine, toldWHIO on Friday. "The soil at the farm: Can we plant? Can we not plant? Will anybody buy it, if we do plant?"
"We could, of course... probably go find some grass somewhere else, but why should we have to because of something that was not our fault?"
Rachel Wagoner—whose family's Tall Pines Farms in Darlington, Pennsylvania specializes in grass-fed beef and lamb— toldWTEA in late February that "it feels like you don't have a lot of options, so you've just gotta deal with it."
"In farming, you're tied to the land," she said. "We could, of course... probably go find some grass somewhere else, but why should we have to because of something that was not our fault?"
Since the train derailed just a few miles away, the family has not had any issues with their animals. Wagoner said that "it's been fairly normal, which feels sort of weird for how everyone in the community is experiencing things."
However, Wagoner—like so many other farmers and other residents of the region—is worried about pollutants including dioxins. She also expressed frustration with the difficulty in accessing information, including about testing.
If soil testing reveals contaminants, "the door opens to another question," as Lancaster Farmingpointed out Friday:

"What happens is these people can no longer make a living from that farm. Will these farms be bought out at a fair price?" asked John Stock, sustainable agriculture educator with the Ohio Ecological Food and Farm Association. "It would be great to have transparency with testing, but a lot of farms don't have a baseline for these contaminants."

If airborne contaminants are found in a soil test, Stock said it's unlikely the finding would jeopardize organic certification standards. The farmer didn't intentionally apply the contaminants, he said, and the occurrence was out of their control.

As for contaminated water used for irrigation, Stock said an affected farmer may have to change water sources or use filtration.

"The farmer shouldn't be penalized for this unfortunate and unique situation," Stock said. "It's going to have an impact on these farms, and it's a reality that impacts all of us."
Another issue is a lack of trust. Slate's Ellin Youse, who grew up not far from the derailment site, explained Tuesday that "so many people affected by this accident feel distrust toward the agencies in charge of dealing with the situation, toward the transportation companies responsible, and toward the national reporters who only seem to come around for close national elections and disasters, that it quickly felt almost impossible to communicate accurately."
After speaking with Jason Blinkiewicz, who owns a trucking company and repair shop just over a mile from where the train derailed, Grist's Eve Andrews wrote last week that "he, like most of his neighbors and employees, doesn't trust Norfolk Southern and assurances from the Environmental Protection Agency that the air and water have been safe to breathe and drink."
According to Andrews:

"It's normalized to some degree because there's already low air quality in the area," Blinkiewicz said. "The cracker plant is putting out volatile organic compounds, or what's the nuclear power plant doing, or how about the coal plant right behind it that they shut down not that long ago? What about the mills in Midland and the steel plant in Koppel?"

But all of those facilities are far enough from Blinkiewicz's home and workplace that he hasn't felt their impacts nearly as acutely as those of the derailment. "I think it's the first time, in my 46 years on this planet, in this area, that it gives you an uneasy feeling about everything," he said.

"And as much as it pains me to say, my trust has to lie in our government. Which is hard to do, right? But we have to rely on those government agencies to protect us. That's what they're there for."
The EPA administrator said Friday that "over the last few weeks, I've sat with East Palestine residents and community leaders in their homes, businesses, churches, and schools. I've heard their fears and concerns directly, and I've pledged that these experiences would inform EPA's ongoing response efforts."
"In response to concerns shared with me by residents, EPA will require Norfolk Southern to sample directly for dioxins under the agency's oversight and direct the company to conduct immediate cleanup if contaminants from the derailment are found at levels that jeopardize people's health," Regan continued. "This action builds on EPA's bipartisan efforts alongside our local, state, and federal partners to earn the trust of this community and ensure all residents have the reassurances they need to feel safe at home once again."
The EPA's statement added that the agency "will also continue sampling for 'indicator chemicals,' which based on test results to date, suggest a low probability for release of dioxin from this incident."
As The Washington Postreported:
Asked why EPA is delegating dioxin testing to Norfolk Southern, as opposed to conducting the sampling itself, agency officials said the railroad is required to submit its plans to the government and that EPA can modify them or step in and complete the work itself...

Railroad officials said in a statement Friday they are aware of EPA's directive on dioxin testing and "are committed to working with the agency to do what is right for the residents of East Palestine."

"We will continue to listen to the concerns of the community as restoration work moves forward," the statement continued.

It was not immediately clear how widely the railroad would be required to test for dioxins. EPA officials said more details would become available once the railroad submits its work plans.
In her piece for the Times, Enck argued that the EPA "should have ordered comprehensive testing the very day of the burn. It should have told residents, especially pregnant women and families with young children, not to return home until it was safe to do so. Instead, it timidly stood back, leaving local authorities, corporate interests, and rumors to fill the void."
Now, the EPA "needs to conduct comprehensive environmental testing for dioxins in and around East Palestine," wrote Enck, who was a regional director during the Obama administration. The agency also "needs to establish federally funded medical monitoring for everyone along the plume. Even those who appear healthy now should be offered baseline testing."
Additionally, she said, "for effective enforcement of our environmental laws, Congress needs to approve more funding for this crucial agency."

News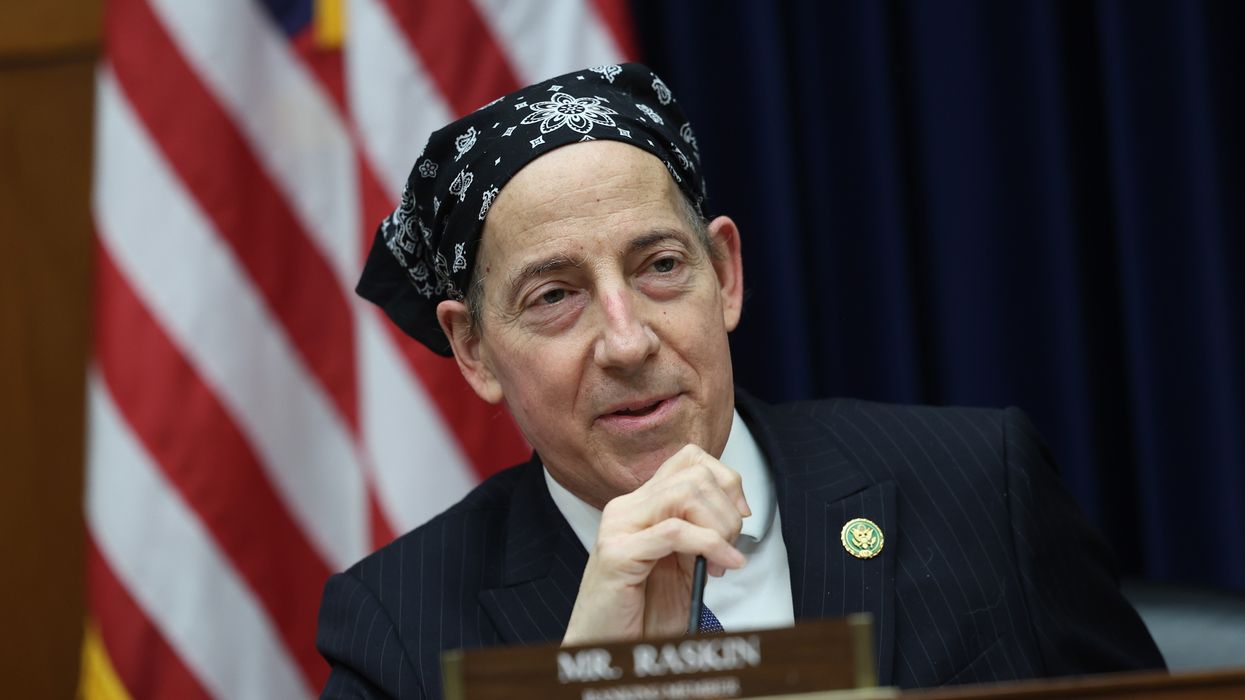 "America, we cannot let McCarthy and Carlson become the Orwellian editors of our past or the authoritarian authors of our future," exhorted the Maryland Democrat.
As right-wing politicians and pundits continue to peddle lies and conspiracies related to the January 6, 2021 attack on the U.S. Capitol by supporters of then-President Donald Trump, Democratic Maryland Congressman Jamie Raskin on Wednesday delivered a passionate rebuttal of Republicans' "nonsense."
Speaking on the House floor, Raskin asserted that "it all starts" with "Donald Trump's 'Big Lie'" that the 2020 presidential election was stolen.
He continued: "They say, 'Who knows, maybe he won, maybe he didn't. You say Joe Biden's president, we say Donald Trump's president.' Nonsense!"
"Sixty federal and state courts rejected every claim of electoral fraud and corruption that they put forward. Sixty," Raskin—who was the lead manager for Trump's historic second impeachment—reminded listeners. "They don't have a single court that ever ruled in their favor. Donald Trump lost that election by more than seven million votes, 306-232 in the Electoral College."

"So then... their Big Lie has to stretch all the way over January 6," Raskin said. "We have to disbelieve the evidence of our own eyes and our own ears. We saw them come and descend upon this chamber, this Congress, wounding and injuring 150 of our police officers, breaking people's noses, breaking people's fingers, putting people in the hospital, and already they're back on the news with big lies saying, 'No, no, no, it was a tourist visit.'"
Referring to the Fox News opinion host and the Republican House speaker, Raskin tweeted Wednesday that "Tucker Carlson's assault on the truth about January 6 is unconscionable, but more scandalous yet is Kevin McCarthy's central role in its design. America, we cannot let McCarthy and Carlson become the Orwellian editors of our past or the authoritarian authors of our future.
On Monday evening, Carlson—who according to legal documents said he "passionately hates" Trump even as he publicly amplified the ex-president's lies—dubiously dismissed the Capitol attack as "mostly peaceful chaos."
Carlson's characterization was roundly rejected even by numerous Republican senators including Thom Tillis of North Carolina, who called the false narrative "bullshit."

News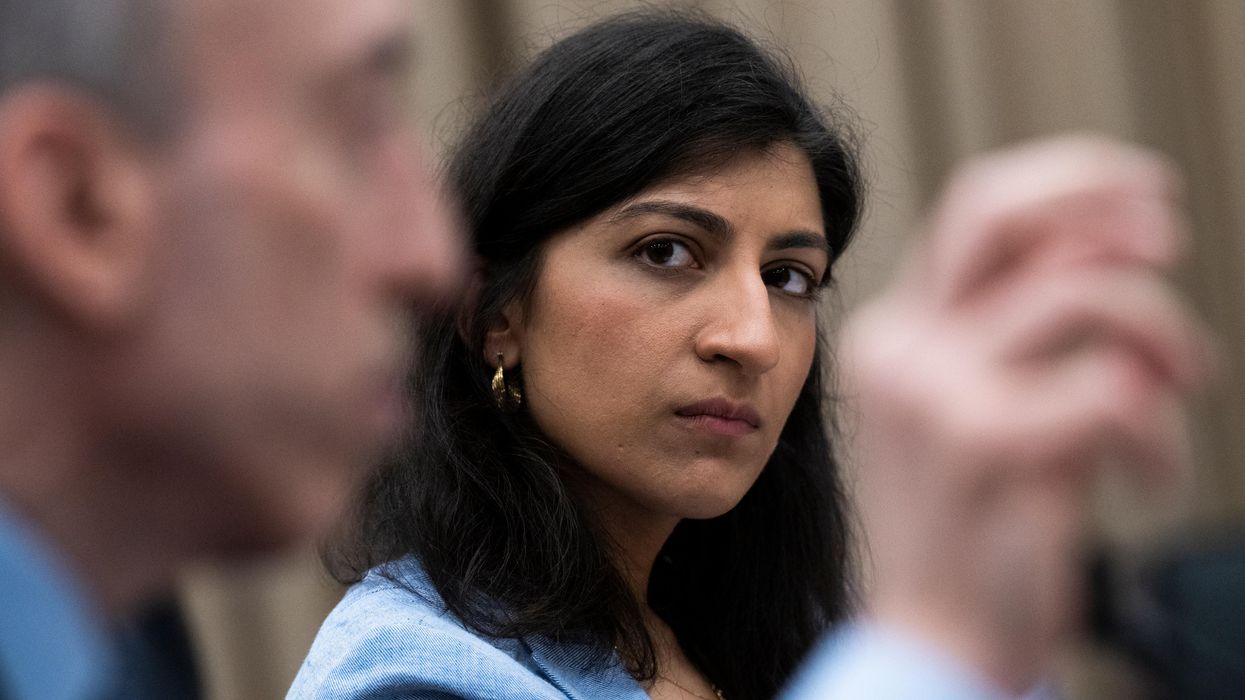 "Anyone who cares about the free press should be concerned by the FTC's demand that Twitter identify journalists who have received information that might embarrass the administration," said one critic.
Press freedom defenders on Wednesday expressed outrage after it was revealed that the Federal Trade Commission, as part of its investigation into Twitter's data privacy practices, demanded that the social media giant "identify all journalists" given access to company records, including in relation to owner Elon Musk's dissemination of the so-called "Twitter Files" purporting to expose censorship on the platform.
"Anyone who cares about the free press should be concerned by the FTC's demand that Twitter identify journalists who have received information that might embarrass the [Biden] administration, regardless of what they think of Elon Musk or Twitter," Freedom of the Press Foundation (FPF) advocacy director Seth Stern said in a statement.
According to FPF: "Government-compelled identification of journalists is dangerous on its own and enables further surveillance of those identified. Administrations from both political parties have overreached to spy on journalists—especially journalists investigating those in power."
"The Department of Justice has adopted policies against surveilling journalists," the advocacy group noted, "but other agencies like the FTC have not."
The Wall Street Journalreported Tuesday that in addition to the names of journalists granted access to Twitter records, the FTC also sought internal communications related to Musk as well as information regarding layoffs, which the agency said could undermine the corporation's capacity to protect users, and the launch of the Twitter Blue subscription service.
FTC spokesperson Douglas Farrar told the newspaper that the agency is "conducting a rigorous investigation into Twitter's compliance with a consent order that came into effect long before Mr. Musk purchased the company."
Farrar explained Wednesday on social media that Twitter in 2011 "agreed to a 20-year consent order over its data security practices and how it uses your private information."
"In 2022, the FTC charged Twitter with violating the 2011 order for misusing personal information. The company then paid a $150 million penalty and entered a new consent order," he continued. "Besides the penalty, the FTC added further provisions to protect consumers' sensitive data. This order was issued in May of 2022," several months before Musk's acquisition of the company was finalized.
"The FTC should not have to violate the privacy of journalists to protect the privacy of Twitter users."
Farrar added that the 12 demand letters the FTC has sent to Twitter since Musk took over in late October "are nonpublic, but cherry-picked portions of some have recently been made public."
This happened after the Republican-led House Judiciary Committee's Select Subcommittee on the Weaponization of the Federal Government published excerpts of the letters in an interim staff report about the FTC's Twitter probe.
As part of its investigation, the FTC on December 13 "asked about Twitter's decision to give journalists access to internal company communications, a project Mr. Musk has dubbed the 'Twitter Files' and that he says sheds light on controversial decisions by previous management," the Journal reported.
According to the newspaper: "The agency asked Twitter to describe the 'nature of access granted each person' and how allowing that access 'is consistent with your privacy and information security obligations under the order.' It asked if Twitter conducted background checks on the journalists, and whether the journalists could access Twitter users' personal messages."

Journalist Matt Taibbi—whose December 2 thread on Twitter's 2020 decision to suppress the Hunter Biden laptop story and subsequent reporting have put him at the center of the "Twitter Files" saga—tweeted Tuesday: "Which journalists a company or its executives talks to is not remotely the government's business. This is an insane overreach."

In response, Matt Stoller of the American Economic Liberties Project, an anti-monopoly think tank, wrote that "the FTC is seeing whether Twitter is violating its consent decree on privacy."
Farrar doubled down on that claim Wednesday, writing: "FTC investigations are straightforward and nonpolitical. They are to ensure that companies are following the law, including protecting people's privacy. The consent order the FTC has with Twitter isn't about Musk's acquisition of the company or their content moderation policies. This isn't about free speech, it's about the FTC doing its job to protect Americans' privacy."
Stern, for his part, was unconvinced by Farrar and Stoller's attempts to justify the FTC's actions as an exercise in protecting consumers' data.
"The FTC," said Stern, "should not have to violate the privacy of journalists to protect the privacy of Twitter users."
"It's especially disturbing," he continued, "that the demand could enable future efforts to obtain the journalists' newsgathering materials."
The FTC's actions underscore why Americans of all political persuasions "should support passing the PRESS Act," Stern added. "It's the only way to ensure that all administrations, and all government agencies, are prohibited from surveilling or retaliating against journalists."
News
SUPPORT OUR WORK.
We are independent, non-profit, advertising-free and 100%
reader supported.