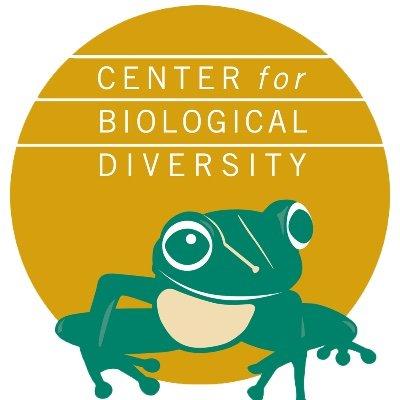 For Immediate Release
Contact:
Stacey Hamburg, Sierra Club, (928) 774-6514
Taylor McKinnon, Center for Biological Diversity, (928) 310-6713
Roger Clark, Grand Canyon Trust, (928) 774-7488
One Year Later: Uranium Threat to Grand Canyon Still Dire Despite Emergency Action by Congress
GRAND CANYON, Ariz.
A resolution to temporarily protect Grand Canyon National Park by
withdrawing 1 million acres from uranium exploration, passed by
Congress one year ago, has been ignored by the Bureau of Land
Management, leading to an increased risk of contaminating drinking
water consumed by millions of people.
Rep. Raul
Grijalva, D-Ariz., chairman of the House Subcommittee on National
Parks, Forests, and Public Lands, today announced that the House
Committee on Natural Resources passed the emergency resolution because
spikes in the price of uranium had led to thousands of new uranium
mining claims, dozens of exploratory drilling projects, and movement to
open several uranium mines on public lands immediately north and south
of Grand Canyon National Park.
But despite the
resolution, the Bureau of Land Management under the Bush and Obama
administrations has continued to authorize new uranium-mining
exploration, which drove the Sierra Club, Grand Canyon Trust, and the
Center for Biological Diversity to file a lawsuit against the secretary
of the interior in September 2008. The lawsuit challenges the continued
authorization of uranium exploration near Grand Canyon National Park in
defiance of Congress's emergency resolution. The Federal Land Policy
and Management Act also gives Secretary of the Interior Ken Salazar the
authority to temporarily protect the same lands from exploration and
claims; however, he has failed to act.
"The Grand
Canyon is one of the world's greatest natural wonders and a crown jewel
of our national park system," said Stacey Hamburg of the Sierra Club.
"Radioactive pollution from uranium mining is a threat to Grand Canyon
National Park visitors and wildlife, nearby Native American
communities, and southwestern cities that get their water from the
Colorado River. We need immediate action to protect these important
resources from proposed mining activities."
Concerns
about surface and groundwater contamination of Grand Canyon National
Park and the Colorado River have been expressed by former Arizona
Governor Janet Napolitano, the Metropolitan Water District of Southern
California, the Southern Nevada Water Authority, the Arizona Game and
Fish Department, the Navajo, Hopi, Havasupai, Hualapai, and Kaibab
Paiute tribes, Coconino County officials, and independent geologists.
"The
federal government's inaction risks the industrialization of public
lands adjacent to Grand Canyon National Park and the permanent,
irretrievable contamination of precious western water upon which people
and wildlife depend," said Taylor McKinnon of the Center for Biological
Diversity. "That inaction occurs on behalf of foreign mining
corporations over the objections of local and regional communities."
State
permitting has begun to open three existing mines in the area withdrawn
by the resolution. All three mines are owned by Denison Mines, a
Canadian firm, and are not subject to the congressional resolution. On
June 15, Denison Mines announced that it had entered into an agreement
to deliver 20 percent of its annual uranium production to KEPCO, a
Korean firm. KEPCO has also appointed Joo-Ok Chang, vice president of
KEPCO, to become a director of Denison. Federal environmental approvals
for all three mines were completed in the 1980s; despite the fact that
they are more than 20 years old, the Bureau of Land Management has
indicated that it does not intend to conduct any new environmental
studies or seek new public comments.
The Canyon
Mine near Red Butte is a sacred area for the Havasupai tribe and
immediately south of the main entrance to the Grand Canyon National
Park. Both the Havasupai and conservationists opposed the mine during
the original permitting process, completed in 1986, because it lies in
the upper watershed of Havasu Creek, which runs through the Havasupai
village, provides drinking water for the tribe, and is a scenic and
popular destination for visitors from around the world.
Congressional
emergency withdrawals for other public lands have been enacted four
times prior to this, most recently in 1981 and 1983 by the late Arizona
Congressman Mo Udall and the House Interior and Insular Affairs
Committee to halt destructive mineral and energy-leasing programs
pursued by Interior Secretary James Watt.
In January 2009, Representative Raul Grijalva, D-Ariz., reintroduced H.R.644, the Grand Canyon Watersheds Protection Act of 2009,
legislation that bans exploration and the establishment of new mining
claims on approximately 1 million acres of public lands (national
forests and Bureau of Land Management lands) bordering Grand Canyon
National Park.
###
April 23, 2007 Bureau of Land Management uranium exploration authorizations
April 27, 2009 Bureau of Land Management uranium exploration authorizations
Map of newly authorized uranium exploration in violation of emergency withdrawal
Map of all uranium exploration authorized since and in violation of emergency withdrawal
Conservationists' lawsuit against Kempthorne
Map of previous uranium exploration authorized in violation of emergency withdrawal
Map of uranium claims, seeps, and springs in withdrawal area
Letter by former Arizona Gov. Janet Napolitano
Letter by Metropolitan Water District of Southern California
Coconino County Grand Canyon uranium resolution
Testimony of Dr. Larry Stevens
Testimony of Dr. Abe Springer
Testimony of Robert Arnberger, former Grand Canyon National Park superintendent
Testimony of Roger Clark
Testimony of Chris Shuey
Supplement to Chris Shuey Testimony
Letter dated July 15 from Department of Interior
Letter dated July 16 by Congressman Rahall
At the Center for Biological Diversity, we believe that the welfare of human beings is deeply linked to nature — to the existence in our world of a vast diversity of wild animals and plants. Because diversity has intrinsic value, and because its loss impoverishes society, we work to secure a future for all species, great and small, hovering on the brink of extinction. We do so through science, law and creative media, with a focus on protecting the lands, waters and climate that species need to survive.
(520) 623-5252
LATEST NEWS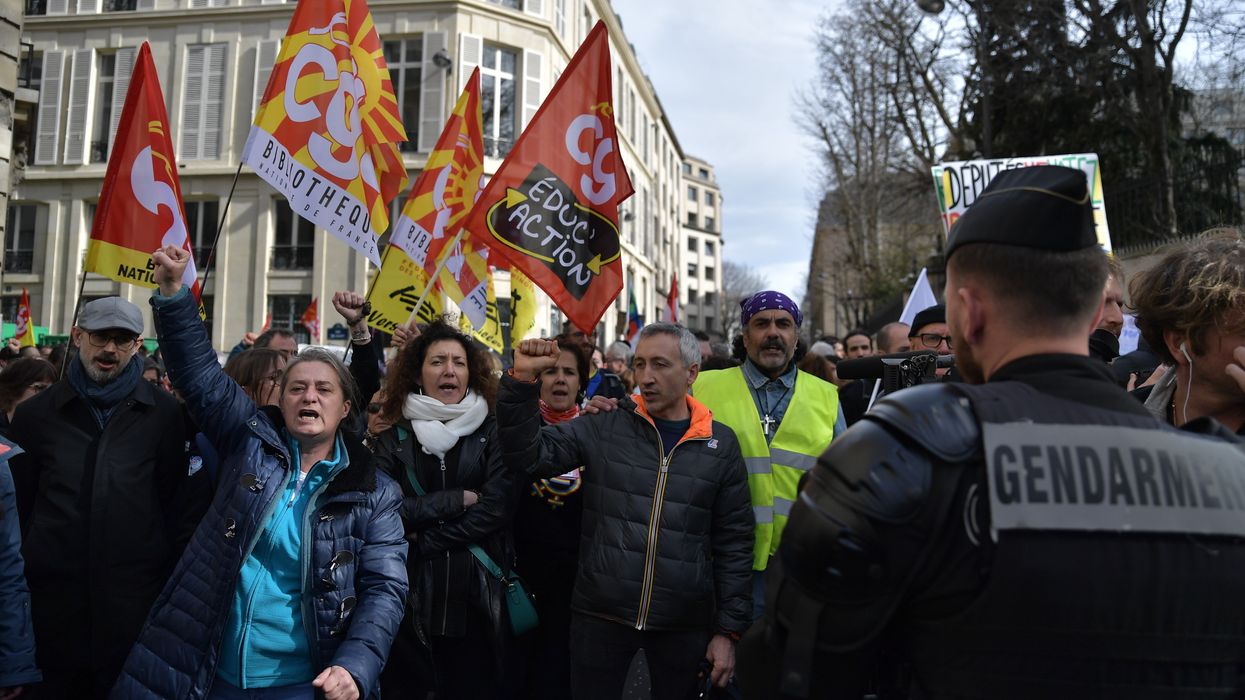 "What the government is doing makes people sick of politics. It should improve people's lives, not destroy them," said Rachel Keke, a leftist in France's National Assembly.
Amid protests against French President Emmanuel Macron's unpopular plan to overhaul the country's pension system, his government on Thursday chose the "nuclear option," opting to use a constitutional procedure to force through reforms, including raising the retirement age from 62 to 64, without a vote in the lower house of Parliament.
While the proposal passed the Senate, the upper chamber of Parliament, 193-114 Thursday morning, "reports indicated that the ruling party, which lost its overall majority in elections last year, was a handful of votes short" in the National Assembly, which led to an emergency Council of Ministers meeting about triggering the Article 49.3, Le Mondeexplained.

After announcing the government was invoking executive privilege, French Prime Minister Élisabeth Borne "faced scenes of anger and unrest in the National Assembly," reportedPolitico. "Far-left lawmakers belonging to the France Unbowed party booed and chanted the national hymn the Marseillaiseas far-right National Rally MPs shouted 'Resign! Resign!'"
Using the controversial procedure to push through the plan is risky for Macron—founder of the Renaissance party—because it allows members of Parliament "to submit motions of no-confidence within 24 hours," Politico added. "While the government has survived motions of no-confidence in recent months, the stakes are much higher this time around. If a majority of MPs vote in favor of a motion, Borne's government would be forced to resign."
While multiple opposition groups in Parliament may respond with no-confidence motions, Marine Le Pen's far-right National Rally party has already pledged to do so.
"It's a total failure for the government," Le Pen told reporters of the Article 49.3 decision, calling for Borne's resignation. "From the beginning, the government fooled itself into thinking it had a majority."
Socialist Party chief Olivier Faure also criticized the approach, saying that "when a president has no majority in the country, no majority in the National Assembly, he must withdraw his bill."
Fabien Roussel, head of the French Communist Party, declared that "this government is not worthy of our Fifth Republic, of French democracy. Until the very end, Parliament has been ridiculed, humiliated."
MP Rachel Keke of the leftist party La France Insoumise stressed that "what the government is doing makes people sick of politics. It should improve people's lives, not destroy them."
Former French presidential candidate and MP Jean-Luc Mélenchon, who launched La France Insoumise, tweeted: "It is a spectacular failure and a collapse of the presidential minority. United unions call for continued action. This is what we are going to focus on."
French trade unions have led national demonstrations and strikes against the overhaul since January. While protesters were oscillating "between rage and resignation" earlier this week, they filled the streets of Paris on Thursday, and "the leader of the CFDT labor union, Laurent Berger, announced there would be new protest dates," according to Le Monde.
The General Confederation of Labor (CGT) said in a statement that "this reform is unfair, unjustified, and unjustifiable, this is what millions of people have been asserting forcefully for weeks in the demonstrations, with the strike, and in all the initiatives. These massive mobilizations are supported by a very large majority of the population and almost all workers."
"The only response from the government and employers is repression: requisitions, police interventions on workplace occupations, arrests, intimidation, questioning of the right to strike," the confederation added. "We won't let it happen! What the CGT denounced as unfair yesterday is even more so today! This can only encourage us to step up mobilizations and strikes, the fight continues!"
News
In a sign of a major shift in U.S. public perception that's largely generational, U.S. Democrats favor Palestinians by an 11-point margin. A decade ago, the gap was 36% in favor of Israelis.

Gallup poll results revealed Thursday that while, for the first time, more U.S. Democratic voters now sympathize with Palestinians than with Israelis, left-leaning respondents also "want solutions that respect Israel's needs as well."
According to the survey of 1,008 U.S. adults, 49% of Democrats said they sympathize more with Palestinians, while 38% favored Israelis and 13% chose neither side or said they sympathize equally with both. A decade ago, 55% of Democrats sympathized more with Israelis, while only 19% said they had more sympathy for Palestinians.
Republican respondents overwhelmingly continue to favor Israelis, with 78% saying they sympathize with them, compared with just 11% for Palestinians. Independents backed Israelis by 17 percentage points, 49%-32%.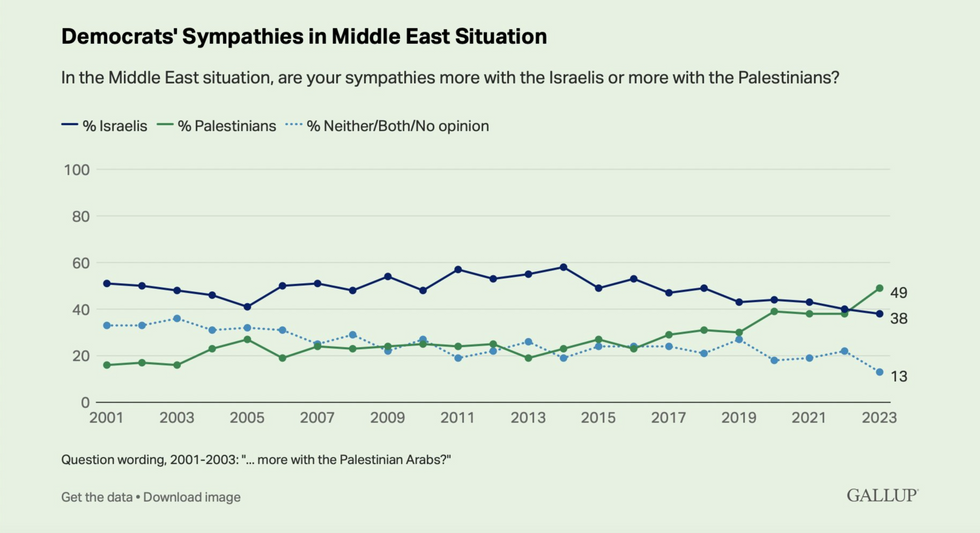 Gallup noted:

Aside from partisan differences, Gallup continues to see generational distinctions in how U.S. adults view the Palestinian-Israeli conflict. Net sympathy toward Israel—the percentage sympathizing more with the Israelis than the Palestinians—is solidly positive among older generations, including baby boomers (+46 points), Generation X (+32), and the silent generation (+31). By contrast, millennials are now evenly divided, with 42% sympathizing more with the Palestinians and 40% with the Israelis, yielding a -2 net-Israel sympathy score.

There are too few adult members of Generation Z (aged 18 to 22) in the recent poll to report, but the limited available data suggest their views on this question are similar to millennials'.
"Today's attitudes reflect an 11-percentage-point increase over the past year in Democrats' sympathy with the Palestinians," Gallup said. "At the same time, the percentages sympathizing more with the Israelis (38%) and those not favoring a side (13%) have dipped to new lows."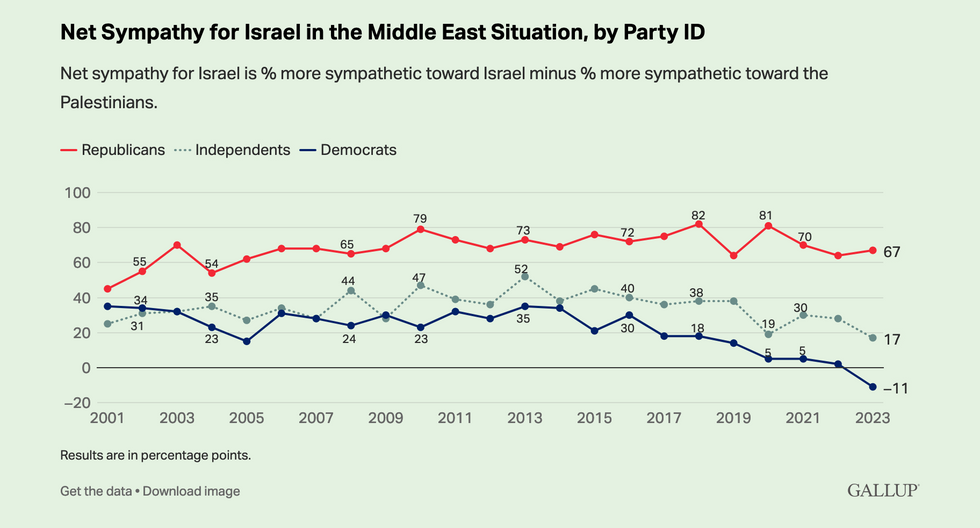 Gallup said "the high number of Palestinians killed" by Israeli forces last year—the deadliest year for West Bank residents since the end of the second intifada a generation ago—"could partly explain the most recent shift in Democrats' perspective."
The rise to power of far-right Israeli politicians and parties—who are escalating policies of apartheid and Jewish supremacy at the expense of Palestinian lives, land, and liberty—and the increasingly vocal opposition by congressional Democrats to Israeli crimes including apartheid, illegal occupation, ethnic cleansing, and settler colonization have played a role in the shift as well.
"Just a few years ago, it would have been unthinkable to have 12 members of Congress refer to Israeli occupation as colonialism, so I have no doubt that the needle on Palestinian human rights is moving," Rep. Rashida Tlaib (D-Mich.), the first Palestinian-American woman elected to Congress, said in 2021.
Gallup also said "Democrats' waning religiosity" could be a factor in declining support for Israel, as "sympathy for Israel has historically been highly correlated with religion."
The poll was published on the 20th anniversary of the killing of Rachel Corrie, an American volunteer with the International Solidarity Movement who was crushed to death by a Caterpillar bulldozer supplied by the U.S. to the Israeli military while trying to shield Palestinian homes from demolition.

News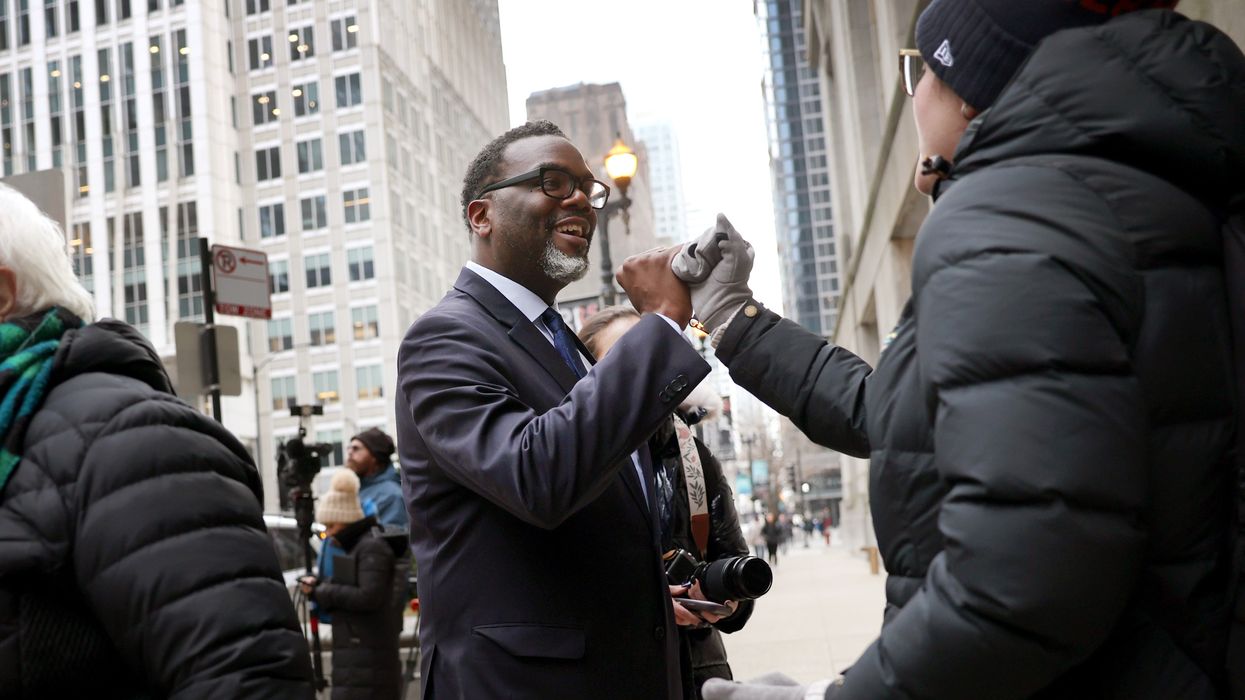 Johnson "is not afraid to stand up for strong unions and make big corporations and the rich pay their fair share," said the Vermont senator.
U.S. Sen. Bernie Sanders on Thursday endorsed progressive Cook County Commissioner Brandon Johnson in Chicago's mayoral race, calling the former public school teacher a "champion for working families" and touting his support for taxes on the rich to fund critical social services.
In a statement, Sanders said Johnson "is not afraid to stand up for strong unions and make big corporations and the rich pay their fair share to invest in affordable housing, quality healthcare, better schools, and good jobs."

"Brandon understands the struggles of working people, and is prepared to address them, and that is why I am proud to endorse his campaign for mayor of the city of Chicago," the Vermont senator added.
Johnson is set to face conservative Democrat Paul Vallas, a notorious school privatization advocate, in Chicago's April 4 mayoral runoff.
The progressive candidate said he is "honored to have the support of Senator Bernie Sanders in this campaign."
"This campaign is about fighting for working people, and that is what Senator Sanders has done his entire life," Johnson said in a statement. "Together, we will deliver the change we need to secure better schools, safer neighborhoods, affordable housing, quality healthcare, and support for working people across this city."
Sanders' endorsement came on the same day that powerful Rep. Jim Clyburn (D-S.C.)—whose electoral maneuvering and policy positions have frequently clashed with the Vermont senator's—threw his support behind Johnson.
HuffPostreported Thursday that "Clyburn, a prodigious fundraiser, has been 'bundling,' or gathering campaign donations for Johnson for weeks now, according to the Johnson campaign."
Sen. Elizabeth Warren (D-Mass.) and Reps. Delia Ramirez (D-Ill.) and Jan Schakowsky (D-Ill.) have also backed Johnson over Vallas.

News
SUPPORT OUR WORK.
We are independent, non-profit, advertising-free and 100%
reader supported.