For Immediate Release
Contact:
Tel: +1-212-216-1832,Email:,hrwpress@hrw.org
Malaysia: Release Burmese Celebrating Suu Kyi's Birthday
Rights of Asylum Seekers Should Be Protected
NEW YORK
District police in Petaling Jaya, Malaysia should free Burmese asylum seekers detained since June 19, 2009, at a peaceful celebration of the 64th birthday of the Burmese democracy leader Aung San Suu Kyi, Human Rights Watch said today.
"The Malaysian authorities only made themselves look ridiculous by cracking down on a peaceful celebration of Aung San Suu Kyi's birthday," said Elaine Pearson, deputy Asia director at Human Rights Watch. "By detaining Burmese asylum seekers who were calling for democracy in their homeland, Malaysia was broadcasting support for Burma's despotic generals."
The scheduled gathering in Malaysia was one of many held worldwide to condemn Suu Kyi's arbitrary detention and her current trial in Rangoon. The Nobel laureate has spent 14 of the last 20 years in some form of detention.
In connection with the birthday celebration, Malaysian authorities carried out surveillance, intimidation and eventually arrests, which infringed on the rights to free expression and peaceful assembly. The Malaysian opposition coalition Pakatan Rakyat (People's Alliance) and the Petaling Jaya City Council jointly organized the celebration, which was to feature performances by Malaysian and Burmese participants. From approximately 7 p.m., uniformed and plainclothes police used video and still photography to document the presence of organizers who were preparing the city park and the arriving attendees. Other officers questioned local and Burmese participants.
Efforts by participating organizations to discuss the police action were ignored by the police, who even refused to name the officer in charge. Police blocked all roads leading to the park. In all, more than 100 police officers, including a police riot squad, were dispersed to deal with an event that attracted about 50 participants.
Around 9 p.m. officers arrested 16 Burmese who had arrived to attend the celebration on suspicion of immigration offenses although the police initially mentioned "security concerns" and "illegal assembly." Due to the arrests, organizers called off the event.
Two of the 16, who had valid residency documents, were released. Of the 14 remaining in police custody, nine hold UN High Commissioner for Refugees (UNHCR) documents but some have not yet completed the refugee status determination process. The five others are not registered with UNHCR.
The Petaling Jaya officer in charge of the police district, Arjunaidi Mohamed, was reported in the media as saying that the detained Burmese would be transferred to the Immigration Department, the first step in a lengthy process leading to deportations. As of June 22, the 14 remain in police custody. Human Rights Watch called upon the authorities to allow UNHCR full access to those arrested, including those who have not obtained UNHCR registration.
Detention of refugees and asylum seekers is contrary to well-established standards of UNHCR's governing body, called the ExCom. ExCom's Conclusion No. 44 (1986) states that, because of the hardship it involves, detention of refugees and asylum seekers should normally be avoided. If necessary, detention is only permissible on grounds prescribed by law to verify identity; to examine the basis for claims of refugee status or asylum; in cases involving destroyed or fraudulent documents to mislead local authorities; or to protect national security or public order. While ExCom conclusions are not legally binding, they are adopted by consensus by the ExCom member states, broadly represent the views of the international community, and carry persuasive authority.
Human Rights Watch has long criticized Malaysia's treatment of refugees and asylum seekers. They, as well as undocumented migrants, are subject to arrest at any time and are often deported without adequate screening of their international protection needs. All face harsh conditions of detention that violate their rights, including whipping, other violence and maltreatment, and overcrowding, poor food, insufficient water and insufficient access to medical care.
Human Rights Watch said that the Burmese detainees should under no circumstances be deported to any place where their life or liberty would be at risk. This includes the Malaysia-Thai border, where they are likely to face further threats from human traffickers and criminal gangs. Burmese deported to the border who are able to pay can often return to Malaysia with the aid of smugglers or traffickers. But many who cannot pay are sold to Thai fishing boats, plantations, or brothels. On June 16, the US State Department's Trafficking in Persons Report 2009 downgraded Malaysia to tier 3, its lowest ranking, and expressed concern about the trafficking of Burmese at the border.
Human Rights Watch reiterated its call to the Malaysian government to ratify the 1951 Convention Relating to the Status of Refugees and its 1967 protocol, and the Convention on the Protection of the Rights of All Migrant Workers and Members of Their Families, among other major human rights treaties. At Malaysia's Universal Periodic Review at the UN Human Rights Council in Geneva last February, Malaysia rejected a recommendation from several member states that it ratify the Refugee Convention.
"Malaysia's poor record with respect to migrants and refugees is no secret," said Pearson, "One way for the government to signal a fresh start would be in its treatment of Burmese pressing for a democratic government at home."
Human Rights Watch is one of the world's leading independent organizations dedicated to defending and protecting human rights. By focusing international attention where human rights are violated, we give voice to the oppressed and hold oppressors accountable for their crimes. Our rigorous, objective investigations and strategic, targeted advocacy build intense pressure for action and raise the cost of human rights abuse. For 30 years, Human Rights Watch has worked tenaciously to lay the legal and moral groundwork for deep-rooted change and has fought to bring greater justice and security to people around the world.
LATEST NEWS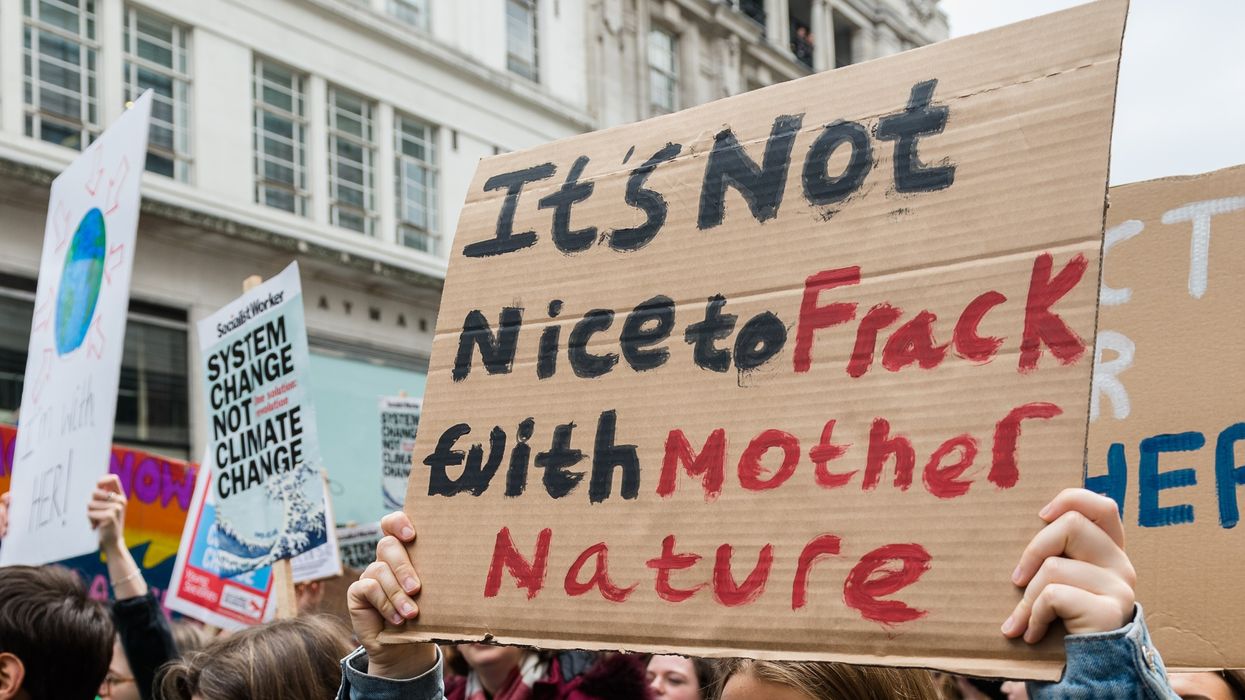 "We see the impact the climate crisis has on people each and every day. And we have a responsibility to sound the alarm," said one doctor. "We urge FERC to prioritize the health of our most vulnerable communities over profit."
As of Monday, more than 500 physicians and other medical professionals had signed on to a letter urging federal regulators to prevent the expansion of a fracked gas pipeline in the Pacific Northwest.
The sign-on campaign comes as the Federal Energy Regulatory Commission (FERC) is expected to weigh in on TC Energy's Gas Transmission Northwest (GTN) Xpress project as soon as this month.
The Canadian company's proposed expansion would boost the capacity of a pipeline that runs through British Columbia, Canada and the U.S. states of Idaho, Washington, Oregon, and California.
"FERC should deny the permit for this pipeline expansion proposal, which is both unnecessary to meet our energy needs and harmful to people in our communities."
"We are in a climate crisis, where we are already experiencing the devastating effects of rising temperatures, the direct result of burning fossil fuels, including so-called 'natural gas,' i.e., methane," the health professionals wrote, noting that methane has more than 80 times the warming power of carbon dioxide over its first 20 years.
Dr. Ann Turner of Oregon Physicians for Social Responsibility (PSR) said that "as medical practitioners, we see the impact the climate crisis has on people each and every day. And we have a responsibility to sound the alarm. We urge FERC to prioritize the health of our most vulnerable communities over profit."

As the letter explains:

TC Energy proposes to increase the amount of gas in its existing pipelines by expanding compressor stations which provide the force which propels gas through pipelines. These compressor stations emit significant amounts of air pollution, both from the operation of the engine which powers the pump as well as from venting. Compressor stations and meter stations vent methane, volatile organic compounds like formaldehyde, particulate matter, nitrogen dioxide, and carbon monoxide. All of these air pollutants have serious health impacts, including increased risks of stroke, cancer, asthma and low birth weight, and premature babies. Compressor stations also produce significant noise pollution. The air and noise pollution from these compressor stations disproportionately harms the rural, low-income, and minority communities that already experience significant health disparities, especially those that are living in proximity to the pipeline expansion project.
"In addition to the health consequences from the pipeline expansion project itself, gas in the GTN pipeline is extracted by fracking in Canada," the letter highlights. "Fracking degrades the environment including contamination of soil, water, and air by toxic chemicals. Communities exposed to these toxins experience elevated rates of birth defects, cancer, and asthma."
"The negative health impacts of methane gas, and its contribution to warming the climate and polluting the air, are unacceptable impacts that disproportionately affect Black, Indigenous, and people of color and low-income communities," the letter adds, arguing that the project is inconsistent with both global and regional goals to reduce planet-heating emissions.
Organizations supporting the letter include Wild Idaho Rising Tide as well as the San Francisco, Oregon, and Washington arms of PSR—which have previously joined other local groups in speaking out against the project alongside regional political figures including U.S. Democratic Sens. Jeff Merkley and Ron Wyden, both of Oregon.
\u201cTAKE ACTION: Sign on to the letter urging the Federal Energy Regulatory Commission to deny the bid to expand shipments of fracked gas through WA.\nhttps://t.co/A86LLz8lRY\u201d

— Washington Physicians for Social Responsibility (@Washington Physicians for Social Responsibility) 1678146398
"Idahoans dread FERC approval of the GTN Xpress expansion project, which would force greater fracked gas volumes and hazardous emissions through the aging GTN pipeline," according to Helen Yost of Wild Idaho Rising Tide.
"This expansion project would further threaten and harm the health and safety of rural communities, environments, and recreation economies for decades," she warned. "This proposed expansion does not support the best interests of concerned Northwesterners living and working near compressor stations and the pipeline route."
Dr. Mark Vossler, a board member at Washington PSR, pointed out that "states in the Northwest have made great strides in reducing our dependence on fossil fuels and creating healthier communities."
"I urge FERC to consider the human health impact of the proposed pipeline expansion and respect the leadership of local, state, and tribal governments in addressing the climate crisis," he said. "FERC should deny the permit for this pipeline expansion proposal, which is both unnecessary to meet our energy needs and harmful to people in our communities."
News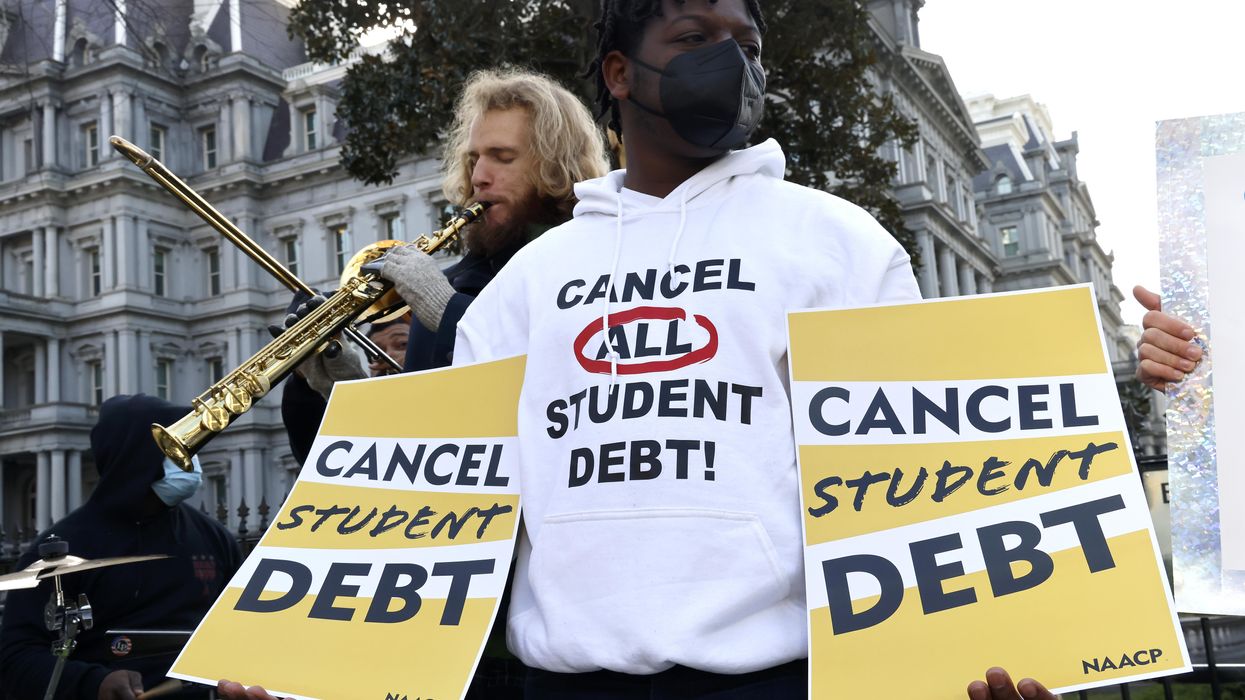 Thanks to the moratorium, said one advocate, "tens of millions of Americans have been able to put food on the table, pay for childcare, stay in their homes, and purchase their lifesaving medicine."
Supporters of U.S. President Joe Biden's plan to cancel over $400 billion in college debt to more than 43 million borrowers reacted angrily Monday to a lawsuit filed by an online finance company trying to overturn his administration's latest pause on student loan repayments—a policy that has cost the firm more than $100 million in lost profits.
San Francisco-based SoFi filed suit Friday in the U.S. District Court for the District of Columbia onFriday against the U.S. Department of Education and Education Secretary Miguel Cardona over the agency's rdecision in November to extend a Covid-19-based moratorium on student loan repayments due to ongoing legal battles.

Founded in 2011, SoFi "was once the leader of a booming private student loan refinancing industry," according to to the Student Borrower Protection Center (SBPC), a nonprofit advocacy group. SoFi's stock price has plummeted by more than 70% since its peak.
"SoFi has a long history of misleading student debtors and tricking them into refinancing their loans."
SoFi toldThe Washington Post that "we have supported and continue to support targeted student loan forgiveness, in addition to the student loan payment moratorium during the economic crisis at the height of the Covid-19 pandemic," but that the latest extension is an "illegal overreach."
However, according to the Debt Collective, the U.S.' first debtors union:
SoFi has a long history of misleading student debtors and tricking them into refinancing their loans in a way that costs hardworking Americans more interest in the long run. SoFi also engages in racist lending practices. The Debt Collective is encouraging its members—and anyone who has been misled or harmed by SoFi—to immediately file a complaint with the Consumer Financial Protection Bureau as well as their state's attorney general.

The Biden administration's pause extensions have kept cash in the pockets of people who desperately need it—disproportionately women, low-income families, and Black communities. Thanks to years of a pause on federal student debt, tens of millions of Americans have been able to put food on the table, pay for childcare, stay in their homes, and purchase their lifesaving medicine.
"SoFi CEO Anthony Noto is a financial vulture gorging himself on our bloated and broken student loan system," SBPC executive director Mike Pierce said in a statement. "Noto's failing company thinks it is entitled to engorge itself by skimming the cream off of the federal student loan portfolio and—after a failed back-room lobbying blitz—is running into court because the government doesn't agree."
\u201c.@SoFi (a failing private student lender) just sued @SecCardona to try to end the payment pause & send you student loan bills.\n\nWhy? So that CEO @anthonynoto can cash in by offering cheap loans to rich people while everyone else gets screwed.\n\n\u27a5https://t.co/ZyZ5qacfCB\u201d

— Student Borrower Protection Center (@Student Borrower Protection Center) 1678141269
"The real story here is the huge risk this poses to tens of millions of working people who SoFi would never lend to—families across the country that depend on the student loan payment pause to shield them from financial devastation," Pierce added.
As the Post's Danielle Douglas-Gabriel noted:
SoFi has a lot at stake with the ongoing payment pause. The company made a name for itself by refinancing education loans—lowering the interest rates and monthly payments of people with private and federal student loans. Refinancing federal student loans can save borrowers money, especially those with high-interest graduate debt. But it means giving up federal benefits, including access to income-driven repayment plans and public service loan forgiveness. The trade-off has become less appealing in the wake of the payment pause, according to SoFi.

The moratorium has eliminated the primary benefits of student loan refinancing by suspending interest on most federal student loans for the past three years, the complaint said. Whereas SoFi originated about $450 million to $500 million of refinanced federal student loans per month before March 2020, the volume plummeted by more than 75% following the initial pause, according to the company. The decline has accelerated and resulted in the company losing roughly $150 million to $200 million in profits over the past three years, the company said.
The current repayment pause—which costs the federal government $5 billion each month—could continue until August, depending upon the timing of the U.S. Supreme Court's ruling on two cases that will decide the fate of Biden's plan.
Last month, the nine justices heard oral arguments in the cases. Members of the court's right-wing supermajority repeatedly criticized the president's proposal and its estimated $400 billion-plus price tag. U.S. Solicitor General Elizabeth Prelogar told the Supreme Court that failing to cancel student debt and lifting the moratorium will bring extreme financial hardship to millions of borrowers and cause defaults to skyrocket.
"The Department of Education should immediately cancel all federal student loans. Don't feed the parasites."
Debt Collective spokesperson Braxton Brewington ripped SoFi's "ridiculous" filing as "just a continuation of the sham lawsuits pushed by Republican states and right-wing dark-money groups opposing student debt relief."
"What the Biden administration needs to do is fight back and choose working-class people over corporate profits," Brewington continued. "A predatory corporation losing revenue because the federal government continues good policy is not grounds to end that policy. "SoFi claims they want to lower Americans' interest rates, but they're working to destroy 0% interest to force Americans into a higher rate with them."
Debt Collective organizer Thomas Gokey called SoFi "a parasite on a policy failure."
"SoFi CEO Anthony Noto is starting to get desperate now that everyone realizes that there is no reason to ever restart student debt payments," Gokey contended. "The Department of Education should immediately cancel all federal student loans. Don't feed the parasites."
\u201cThis memo shows how the payment pause boosted borrowers\u2019 credit scores & lowered financial distress above-and-beyond other pandemic relief programs.\n\nPlus, the biggest help went to borrowers who already faced the greatest financial distress before COVID-19.\u201d

— Student Borrower Protection Center (@Student Borrower Protection Center) 1678129297
The lawsuit came on the same day that the Student Loan Law Initiative—an academic partnership between the University of California, Irvine School of Law and SBPC—published a new analysis detailing how "the ongoing student loan payment pause may have been even more beneficial for federal borrowers than previously understood."

News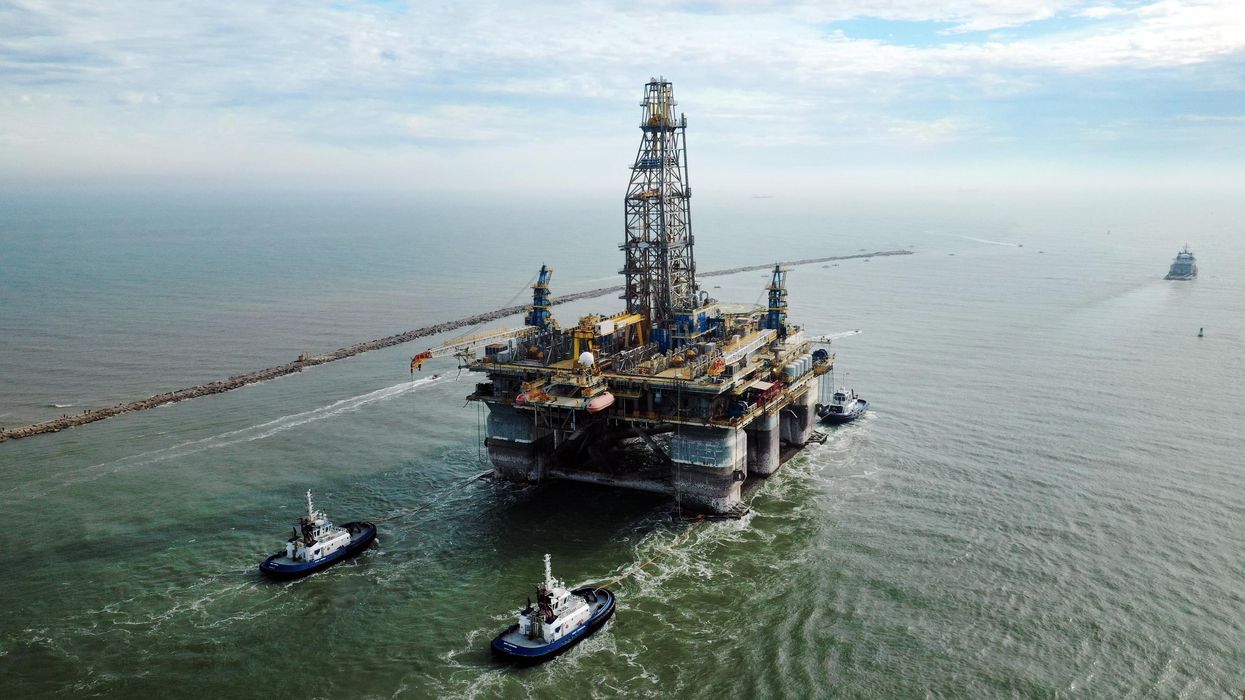 "We should be moving away from fossil fuels, not enabling an astounding amount of drilling for more than a generation to come," said one advocate.
Seven groups on Monday filed a legal challenge to the U.S. Interior Department's Lease Sale 259, which would offer 73.3 million acres of public waters in the Gulf of Mexico to the highest-bidding oil and gas drillers.
Earthjustice, the Center for Biological Diversity (CBD), the Natural Resources Defense Council, the Sierra Club, Healthy Gulf, Bayou City Waterkeeper, and Friends of the Earth filed the lawsuit in federal court in the District of Columbia. The complaint asks the court to "vacate or enjoin any leases issued or actions taken pursuant to the unlawful [sale] unless and until defendants comply with the law."
President Joe Biden's administration "previously canceled this and other sales, citing delays and 'conflicting court rulings,'" the groups explained in a joint statement. But then right-wing Democratic Sen. Joe Manchin of West Virginia—the top congressional recipient of fossil fuel industry cash during the 2022 election cycle and a long-time coal profiteer—made his support for Biden's landmark climate legislation, the Inflation Reduction Act (IRA), contingent on the inclusion of oil and gas leasing provisions.
Congressional Democrats, with zero votes to spare in the Senate amid unified Republican opposition, passed a Manchin-approved version of the IRA last August. Lease Sale 259, one of the largest offshore auctions in U.S. history, is now scheduled for March 28, less than a month before the 13th anniversary of the Deepwater Horizon BP disaster.
The groups acknowledged that the IRA directs the Bureau of Ocean Energy Management (BOEM) to hold the lease sale. However, they stressed, "it does not require such a vast area to be auctioned to industry, nor does it exempt the sale from any existing laws, including the National Environmental Policy Act."
"Holding this offshore oil lease sale without careful environmental review is both unlawful and morally reprehensible."
"Lease Sale 259 would offer up all unleased areas in the western and central Gulf of Mexico, which could lock in a massive drilling operation to extract more than 1 billion barrels of oil and 4.4 trillion cubic feet of natural gas over the next 50 years," the groups warned.
Such a move would fly in the face of the Biden administration's purported commitment to slashing planet-heating pollution and speeding up the adoption of renewables, critics argued.
"This administration has pledged to oversee a historic transition to clean energy, but actions speak louder than words," said Earthjustice attorney George Torgun. "We don't need a billion new barrels of crude oil threatening people and ecosystems in the Gulf."
Hallie Templeton, legal director of Friends of the Earth, said, "Yet again we find ourselves in the courtroom with the Biden administration over another unlawful and disastrous oil and gas lease sale in the Gulf of Mexico."
Last year, a federal judge blocked Lease Sale 257, the nation's largest-ever offshore lease sale wherein more than 80 million acres of the Gulf of Mexico were put on the auction block.
"With each carbon bomb he drops, the president's pledge to end oil and gas drilling feels long forgotten," said Templeton. "BOEM should be proceeding with the utmost caution and ensuring that its oil and gas decisions comply with federal laws, not adding to our climate crisis."
\u201cToday we & our Gulf partners filed a federal court legal challenge to the Department of the Interior\u2019s lease sale 259 that would offer 73.3 million acres of the Gulf of Mexico for oil and gas leasing. https://t.co/7XuIJnDgDj\u201d

— Bayou City Waterkeeper (@Bayou City Waterkeeper) 1678125892
According to the complaint, BOEM's approval of Lease Sale 259 "was based on insufficient and arbitrary environmental analyses" in violation of the National Environmental Policy Act and the Administrative Procedure Act.
The agency's final supplemental environmental impact statement (SEIS) "failed to take the required 'hard look' at the significant impacts of this massive lease sale," the suit alleges.
Specifically, the complaint says, BOEM "did not rationally evaluate the impacts of greenhouse gas emissions, relying instead on problematic modeling and assumptions to conclude that this massive lease sale will result in only 'slightly higher domestic emissions' than not leasing at all, and further failed to consider the impacts of such fossil fuel development on climate goals and commitments."
In addition, BOEM "arbitrarily dismissed the impacts of onshore oil and gas infrastructure—refineries, petrochemical plants, and other industrial sources that process fossil fuels and related products from Lease Sale 259—on Gulf communities," according to the suit. The groups also accuse the agency of ignoring "the latest air quality data" and presenting "an incomplete and misleading picture of oil spill impacts and risks based on flawed modeling that failed to properly consider reasonably foreseeable accidents."
Moreover, the complaint continues, BOEM "failed to properly disclose and consider the significant harm from ship strikes, pollution, and oil spills on endangered species such as the Rice's whale" and five of the world's seven species of sea turtles. The agency claimed that such impacts would be "negligible," even as experts fear the Rice's whale population has dropped below 50.
Finally, the suit accuses BOEM of failing "to consider reasonable scaled-back alternatives to its proposed action," and refusing "to adequately respond to plaintiffs' comments on the draft SEIS, offering only boilerplate responses and failing to grapple with and respond to substantive technical and legal critiques."
"The Biden administration needs to end new extraction, phase out drilling, and start taking its commitment to climate action seriously."
Athan Manuel, director of the Sierra Club's Lands Protection Program, said that "selling off more of our lands and waters to the fossil fuel industry is the last thing we should do at a time when we need to be rapidly transitioning away from oil and gas to meet our nation's climate goals and create a livable planet for all."
"Offshore drilling devastates millions of acres of nature, contributes to an increasing number of climate disasters, and creates a quarter of our greenhouse gas emissions," said Manuel. "While the IRA represents a historic step forward in achieving our nation's climate goals, we cannot let the bad provisions of the bill, including oil and gas leasing, undercut what we stand to gain."
Kristen Schlemmer, legal director for Bayou City Waterkeeper, echoed Manuel, noting that vulnerable residents of the Gulf Coast are already reeling from petrochemical pollution, sea-level rise, coastal erosion, and intensified storms.
"We're at a point where we should be moving away from fossil fuels, not enabling an astounding amount of drilling for more than a generation to come," said Schlemmer. "For communities along the Houston Ship Channel, which are predominantly Black, brown, and lower-income, Lease Sale 259 creates an especially toxic combination of risks."
"More drilling means more facilities in their backyards," she added. "This will compound already elevated rates of cancer and heart and lung diseases, while also increasing risks during major storms."
In the words of Kristen Monsell, oceans legal director at CBD, "Holding this offshore oil lease sale without careful environmental review is both unlawful and morally reprehensible."
"More oil drilling in the Gulf is too big a risk for the communities and wildlife living there, and too harmful to the climate," said Monsell. "The Biden administration needs to end new extraction, phase out drilling, and start taking its commitment to climate action seriously."
News
SUPPORT OUR WORK.
We are independent, non-profit, advertising-free and 100%
reader supported.