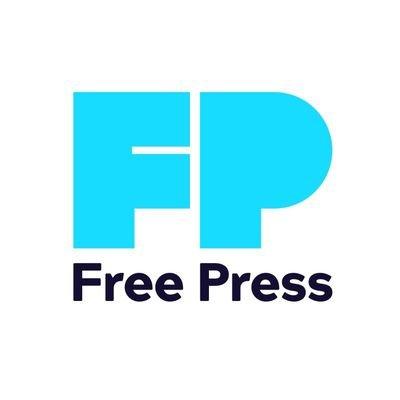 For Immediate Release
March, 10 2009, 01:01pm EDT
Contact:
Jen Howard, Free Press, (202) 265-1490 x22 or (703) 517-6273
Free Press Responds to First Public Meeting on Broadband Stimulus
WASHINGTON
Today, the three federal agencies charged with overseeing $7.2 billion in broadband stimulus funds -- the National Telecommunications and Information Administration (NTIA), the Department of Agriculture and the Federal Communications Commission -- held their first joint public meeting on the grants funded by the American Reinvestment and Recovery Act.
Free Press recently released Putting the Angels in the Details: A Roadmap for Broadband Stimulus Success, a set of specific recommendations for the public interest priorities, policies and procedures that should guide the broadband grantmaking process.
S. Derek Turner, research director of Free Press and author of the report, issued the following statement:
"We are greatly encouraged by the spirit of cooperation, dedication to public input and commitment to a data-driven process. These agencies are asking the right questions -- and the public will see the biggest bang for the buck once they determine the best path for delivering a high-quality network to the largest number of areas at affordable rates.
"Huge swaths of the country -- rural and urban -- will contain a mix of unserved and underserved households and businesses. We encourage the agencies to tackle the immediate problems of unserved areas and last-mile networks, but also to focus on critical questions of underserved areas, low-income communities and middle-mile infrastructure. And to maximize the public benefit, these agencies must ensure that the broadband programs adhere to principles of affordability, speed and openness."
Read Free Press' Putting the Angels in the Details: A Roadmap for Broadband Stimulus Success: https://www.freepress.net/files/Angels_in_the_Details.pdf
Free Press was created to give people a voice in the crucial decisions that shape our media. We believe that positive social change, racial justice and meaningful engagement in public life require equitable access to technology, diverse and independent ownership of media platforms, and journalism that holds leaders accountable and tells people what's actually happening in their communities.
(202) 265-1490
LATEST NEWS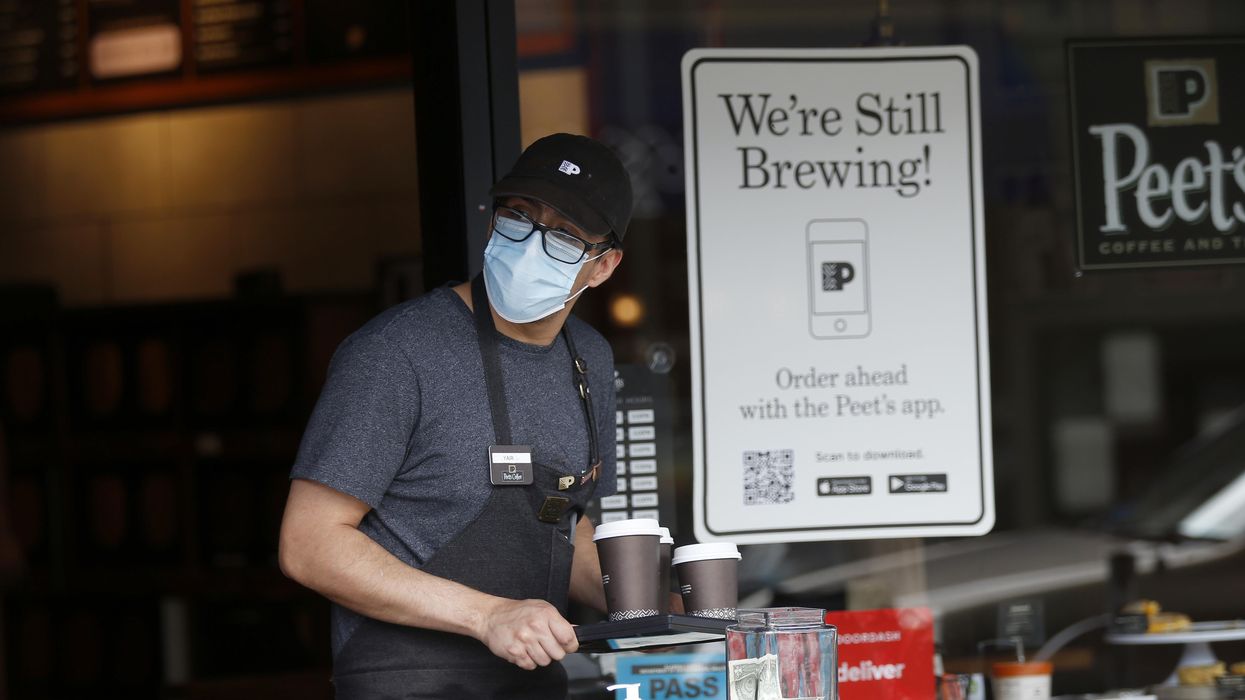 "We will not be the last," said Peet's Workers United.
In a win for workplace democracy, employees at a Peet's Coffee & Tea located in Davis, California formed the chain's first unionized shop in the United States on Friday.
Workers at the café voted 14-1 to join Service Employees International Union (SEIU) Local 1021.
"We will not be the last," tweeted Peet's Workers United (PWU), which organized the winning unionization campaign. PWU is the counterpart to Starbucks Workers United (SBWU), the outfit behind dozens of successful union drives nationwide.
"Solidarity, from coffee shop to coffee shop," SBWU wrote on social media ahead of Friday's vote at Peet's. After PWU won, their Starbucks allies gave them a warm "welcome to the labor movement."
SBWU organizer Tyler Keeling from Lakewood, California played an instrumental role in PWU's efforts, as detailed last week in Jacobin.
PWU expressed gratitude to Keeling before and after the union vote.
\u201cWe've been lucky to have Tyler by our side from the beginning! I don't know if we would have gotten this far without him!\u201d

— Peets United (@Peets United) 1674078218
\u201cThank you for all the help you've given us from day 1. Beyond appreciative of you. Together we are strong.\u201d

— Peets United (@Peets United) 1674342867
In November, Peet's workers at two locations in Davis filed for union elections with the National Labor Relations Board.
In a petition asking for community support, PWU wrote: "We are overworked, understaffed, and underpaid. Barista's raises are less than a tenth of inflation, there are pay discrepancies that do not align with seniority, skill, or any kind of logic, and we have been forced to shut down multiple times in the past month due to understaffing. We've had no viable recourse for removing toxic managers other than waiting for the problem to resolve itself."
"Meanwhile, our managers have been using union-busting tactics like Starbucks to divide and confuse us," organizers continued. "They've called in corporate higher-ups to have conversations about unionizing with employees, they've reinstated punitive scheduling and dress code measures, and posted misleading informational fliers in break rooms."
"We are fighting for fair wages, decent schedules, and corporate transparency, but two stores against a multimillion-dollar corporation is a lonely battle," they added. "Peet's has always taken pride in its loyal customers and loving community, and we need that now more than ever."
In a statement issued after workers voted overwhelmingly in favor of union representation, the company said that "while we had hoped for another outcome, we respect the right of our Davis employees to choose."
"As we follow the legally required next steps with the union at North Davis, we will continue to work for and with our employees companywide. That is the Peet's way," the company added.
According to PWU, Peet's executives went out of their way in the lead-up to the representation vote to dissuade workers from joining SEIU, including by holding anti-union captive audience meetings.
The corporation "paid a store manager from Chicago to fly to Davis to give his 'unbiased' opinion on unions," organizers said. "The president of the company came in and essentially begged people to give him another chance and to put all our faith in him."
The second Davis location that had also filed to hold a unionization vote withdrew its request last week. According to PWU, that happened because "corporate gave the entire staff... a $500 bonus for pulling their petition and for 'giving Peet's a chance.'"
Since December 2021, workers at more than 270 Starbucks locations across the United States have voted to unionize. Organizers have won more than 80% of their campaigns despite the corporation's unlawful intimidation and retaliation tactics.
Keeling of SBWU said Saturday that he is "so happy to have more coffee shops unionizing."
"The future looks bright," Keeling declared. "The new wave of unionization will save the world."
News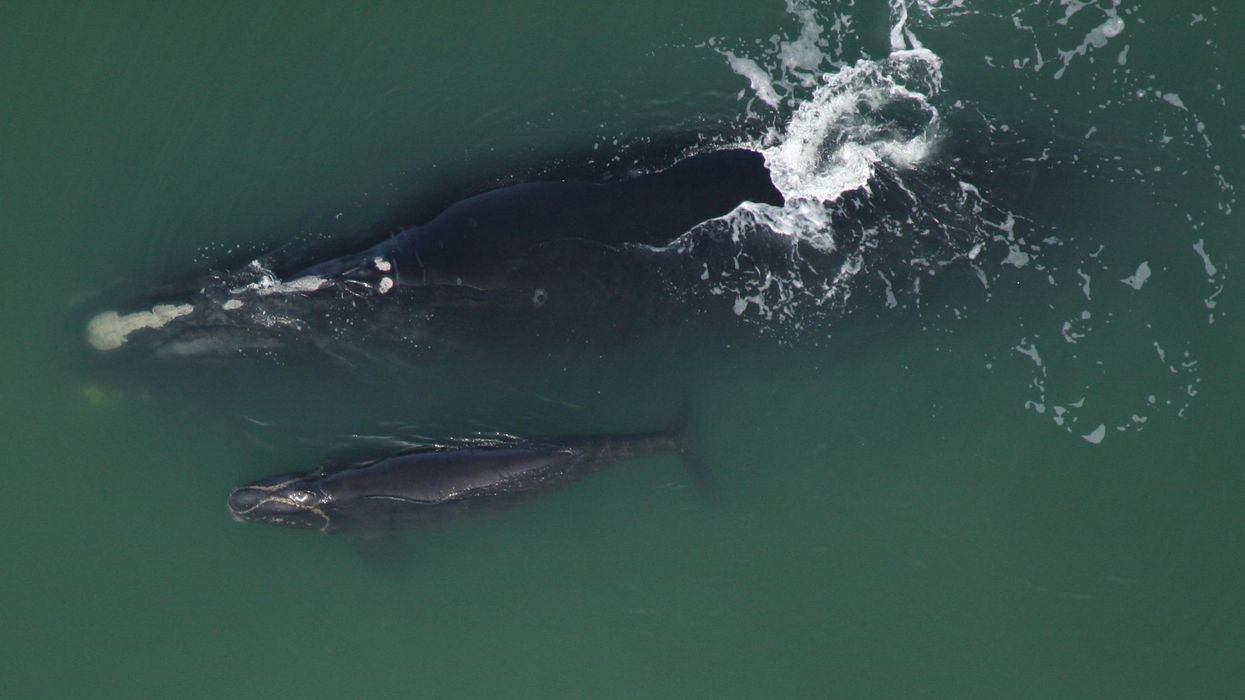 "This is an extinction-level emergency," said one campaigner. "Every mother right whale and calf is critical to the survival of the species."
The Biden administration on Friday denied an emergency petition aimed at protecting critically endangered North Atlantic right whales from being struck and killed by ships in their calving grounds off the southeastern coast of the United States.
Conservation groups in November asked the National Marine Fisheries Service to establish a rule that mirrors the agency's yet-to-be-finalized proposal to set speed limits for vessels longer than 34 feet and expand the areas where speed limits apply.
As the petitioners—the Center for Biological Diversity, the Conservation Law Foundation, Defenders of Wildlife, and Whale and Dolphin Conservation—explained, such a regulation "would have helped prevent incidents like the 2021 boat collision that killed a right whale calf off Florida and likely fatally injured its mother."
The species' precipitous population decline has continued year after year. Scientists recently estimated that only 340 North Atlantic right whales remain, including just 70 reproductive females that give birth every three to 10 years.
"I'm outraged that the Biden administration won't shield these incredibly endangered whales from lethal ship strikes," said Kristen Monsell, oceans legal director at the Center for Biological Diversity. "This is an extinction-level emergency. Every mother right whale and calf is critical to the survival of the species."
According to the petitioners, the federal agency responsible for stewarding the nation's marine resources said that it lacks the funds and staff necessary "to effectively implement the emergency regulations."
Officials from the fisheries service, part of the U.S. Department of Commerce's National Oceanic and Atmospheric Administration (NOAA), claim that "they are working with vessel operators to get voluntary slow-downs," the petitioners added, "but voluntary efforts have not proved effective in the past."
"NOAA has dragged its feet on updating the vessel speed rule for over a decade... The agency's decision not to take emergency action to protect mothers and calves puts the species' entire future at risk."
Defenders of Wildlife senior attorney Jane Davenport noted that "right whales have journeyed to the Southeast since time immemorial to birth and nurse their calves in the safety of warm, shallow waters."
"But the calving grounds have become killing grounds," said Davenport. "NOAA has dragged its feet on updating the vessel speed rule for over a decade; right whale mothers and calves have paid for this delay with their lives. The agency's decision not to take emergency action to protect mothers and calves puts the species' entire future at risk."
Existing regulations require ships longer than 64 feet to slow to 10 knots or less to safeguard right whales in certain areas at specific times. The fisheries service has acknowledged that bolstering its vessel speed rule is essential to prevent the species' extinction.
Vessel strikes are one of two leading threats to right whales' existence. The other key danger is entanglement in commercial fishing equipment.
Friday's rejection of stronger vessel speed limits comes just weeks after Congress enacted a policy rider that gives the fisheries service until 2028 to issue a new regulation requiring the lobster industry to reduce right whale entanglements. Conservationists condemned federal lawmakers' move to postpone action in spite of a court decision deeming the service's current rule unlawful, saying that the yearslong delay is almost certain to doom the species to extinction.
Entanglement in lobster fishing gear kills an estimated four right whales per year—six times higher than the rate considered biologically sustainable. Non-fatal entanglements can also result in illness and interfere with reproduction.
Monsell said Friday that Congress' betrayal last month makes "protecting right whales from vessel strikes... even more crucial."
Erica Fuller, senior attorney at the Conservation Law Foundation, expressed disappointment that "the government declined to take immediate action to protect these mothers and newborn calves, and instead chose to continue longstanding bureaucratic practices with a species that can't afford a single death of another breeding female."
"The whole world is watching how NOAA plans to save this species," said Fuller.
As the petitioners explained:
Right whales begin giving birth to calves around mid-November, and the season lasts until mid-April. Their calving grounds are off the southeastern coast from Cape Fear, North Carolina, to below Cape Canaveral, Florida. Pregnant females and mothers with nursing calves are especially at risk of vessel strikes because they spend so much time near the water's surface. Scientists know of no other calving grounds for the right whale.
"The road to a declining right whale population has been paved by the agency delaying or reducing needed actions," said Regina Asmutis-Silvia, executive director of Whale and Dolphin Conservation. "Denying our petition to take emergency action only increases the likelihood that even more drastic actions will be needed moving forward."
News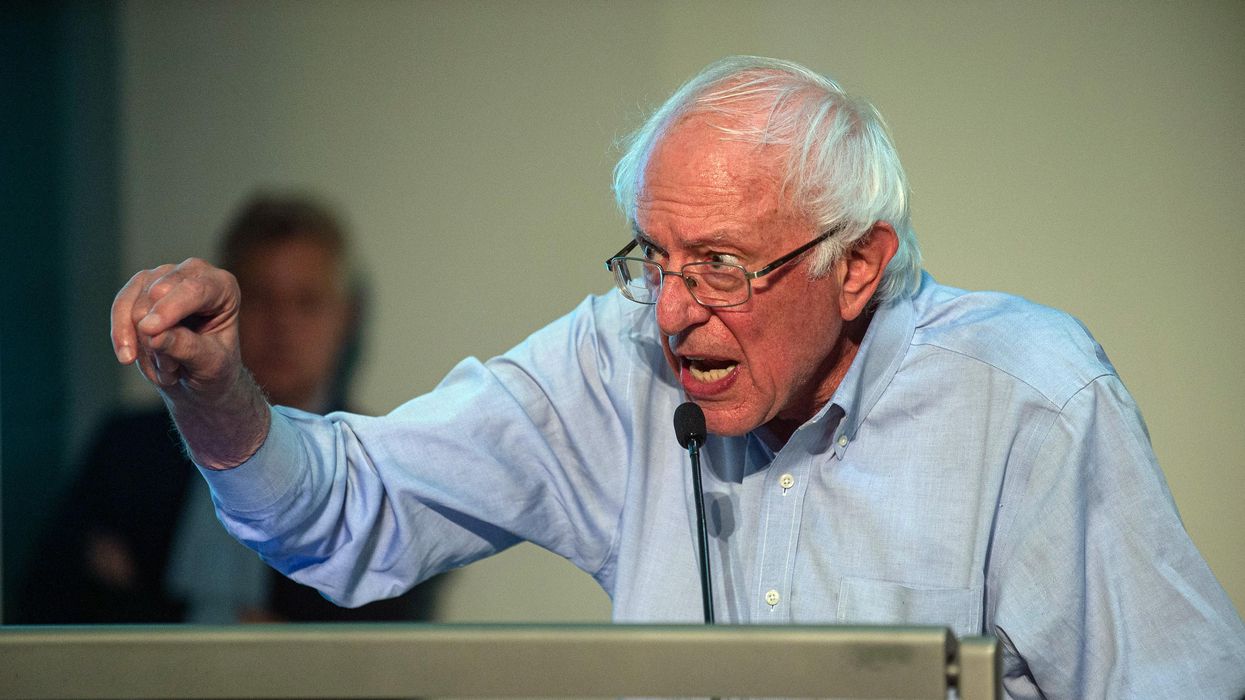 The Vermont Independent called for expanding popular federal programs rather than allowing a bipartisan commission to propose devastating cuts.
Progressive Sen. Bernie Sanders on Saturday slammed right-wing Democratic Sen. Joe Manchin's widely panned proposal to explore slashing Social Security benefits as part of a debt ceiling pact with Republicans.
During a Wednesday interview with Fox Business at the ruling class' annual gathering in Davos for the World Economic Forum, Manchin (W.Va.) suggested that members of both major U.S. political parties "work together" on solving the nation's so-called "debt problem." Although Manchin didn't explicitly demand cuts to Social Security and expressed opposition to GOP calls for privatization, he singled out the program for intervention, saying that Congress "should be able to solidify it."
Given that Republicans are currently threatening to tank the global economy unless Democrats agree to reduce social spending, Manchin's unilateral call for appeasement has set off alarm bells.
What's especially concerning to progressives is that the corporate-backed lawmaker is the co-author, alongside Sen. Mitt Romney (R-Utah), of the TRUST Act, a bill that would enable Congress to create bipartisan "rescue" committees for the nation's trust fund programs—including Social Security and Medicare—and give the panels 180 days to develop "legislation that restores solvency and otherwise improves each." Measures put forth by the bipartisan committees would be fast-tracked for floor votes in both chambers of Congress, with no amendments allowed.
Not only is Social Security legally incapable of adding to the federal deficit, but budget analysts have shown that the program is financially sound, requiring just a small increase in payroll tax revenue to ensure full benefits beyond 2035.
"The last thing we need is another commission to propose cuts to Social Security and Medicare," Sanders (I-Vt.) tweeted Saturday.
"The disastrous Bowles-Simpson 'fiscal commission' came very close to passing Congress some ten years ago. Bernie led the fight against it. It was a bad idea then, it is an even worse idea now."
"The last time we had one, it proposed cutting Social Security benefits for middle-class seniors by up to 35% and cutting tax rates for billionaires," Sanders added, referring to the notorious 2010 Bowles-Simpson Commission, on which Manchin and Romney's bill is based.
Former Clinton White House Chief of Staff Erskine Bowles and former Republican Sen. Alan Simpson (Wyo.), the Obama-appointed chairs of that commission, both endorsed the TRUST Act in 2021, calling it "important and vital."
Historically informed critics, by contrast, have condemned Manchin and Romney's legislation as "a Trojan horse to cut seniors' benefits."
Sanders' staff director Warren Gunnels provided additional historical context on Saturday, linking to a 2012 essay in which the senator explained that in addition to seeking to cut wealthy households' tax rates and current retirees' Social Security benefits, the panel also proposed raising the retirement age to 69 years, slashing veterans' benefits, increasing interest rates on student loans, and eliminating 450,000 federal jobs, among other harmful measures.
\u201cThe last "fiscal commission" proposed:\n\u2b07\ufe0f450,000 jobs\n\u2b07\ufe0fSocial Security by 35% for the middle class\n\u2b07\ufe0fSocial Security by $1,000 for 85-year olds\n\u2b07\ufe0fVeterans benefits by $2,260 for 65-year olds\n\u2b07\ufe0fTax rates for 1%\n\u2b06\ufe0fStudent loan rates\n\nNo. We don't need another cat food commission.\u201d

— Warren Gunnels (@Warren Gunnels) 1674321181
On Wednesday, Manchin asserted that his and Romney's bill could be used to secure a debt ceiling deal with House Republicans, many of whom have vowed to not lift the country's borrowing cap—an arbitrary and arguably unconstitutional figure set by Congress—unless Democrats agree to shred vital social programs.
The U.S. government's outstanding debt officially hit the statutory limit of $31.4 trillion on Thursday, at which point the Treasury Department started repurposing federal funds.
Treasury Secretary Janet Yellen told congressional leaders last week that "the use of extraordinary measures enables the government to meet its obligations for only a limited amount of time," possibly through early June. She implored Congress to "act in a timely manner to increase or suspend the debt limit," warning that "failure to meet the government's obligations would cause irreparable harm to the U.S. economy, the livelihoods of all Americans, and global financial stability."
Notably, Capitol Hill's deficit hawks do not support reducing the Pentagon's ever-expanding budget or hiking taxes on the rich to increase revenue. On the contrary, the first bill unveiled by House Republicans in the 118th Congress seeks to rescind most of the Inflation Reduction Act's roughly $80 billion funding boost for the Internal Revenue Service—a move that would help wealthy households evade taxes and add an estimated $114 billion to the federal deficit.
A 2011 debt ceiling standoff enabled the GOP to impose austerity and also resulted in a historic downgrading of the U.S. government's credit rating, but the country has never defaulted on its debt. Economists warn that doing so would likely trigger chaos in financial markets, leading to millions of job losses and the erasure of $15 trillion in wealth.
Knowing that a painful recession is at stake, "many leading Republican lawmakers are demanding that their new House majority use the debt limit as leverage to force the Biden administration to accept sweeping spending cuts that Democrats oppose, creating an impasse with no clear resolution at hand," the Washington Postreported last week.
Manchin claims to have spoken "briefly" with House Speaker Kevin McCarthy (R-Calif.) about the TRUST Act. Asked about the White House's opposition to attaching any policy concessions to a debt ceiling agreement, Manchin said he believes the Biden administration will change its tune and negotiate with Republicans.
Alex Lawson, the executive director of Social Security Works, toldCommon Dreams earlier this week that President Joe Biden should "reiterate his commitment to only signing a clean debt limit increase, and specifically rule out a closed-door commission designed to cut Social Security."
Lawson's sentiment was echoed Saturday by Gunnels, who wrote on social media: "I'm old enough to remember that the disastrous Bowles-Simpson 'fiscal commission' came very close to passing Congress some ten years ago. Bernie led the fight against it. It was a bad idea then, it is an even worse idea now."
Rather than allowing a bipartisan commission to propose devastating cuts, Sanders argued, "we must instead expand Social Security."
Surveys have shown that U.S. voters are strongly opposed to cutting or privatizing Social Security and want Congress to expand the program. Last year, Sanders and Sen. Elizabeth Warren (D-Mass.) led the introduction of the Social Security Expansion Act, which would lift the cap on income that is subject to the Social Security payroll tax and boost the program's annual benefits by $2,400.
According to Data for Progress, 76% of likely voters—including 83% of Democrats, 73% of Republicans, and 73% of independents—support imposing, for the first time, payroll taxes on individuals with annual incomes above $400,000 per year to fund an expansion of Social Security benefits. Currently, only those making $147,000 or less are subject to the Social Security payroll tax.
News
SUPPORT OUR WORK.
We are independent, non-profit, advertising-free and 100%
reader supported.