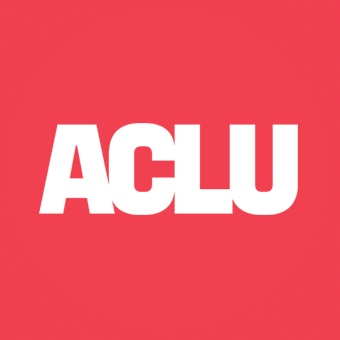 House Hearing Spotlights Need For Better Health Services For Immigration Detainees
Detainee Deaths Underscore Failed Medical System, Says ACLU
WASHINGTON
The
Homeland Security Subcommittee of the House Appropriations Committee
will hold a hearing today on health services for immigration detainees
in U.S. Immigration and Customs Enforcement (ICE) custody. This welcome
hearing highlights the need for the Department of Homeland Security
(DHS) to prioritize fixing this broken medical care system in its
Fiscal Year 2010 budget.
"Today's
hearing highlights the dire need to improve a dangerously failed
medical care system for immigration detainees," said Joanne Lin, ACLU
Legislative Counsel. "Congress and the Obama administration have an
opportunity to prioritize the treatment of immigration detainees with
serious medical or mental health conditions. Now is the time for
Congress and DHS to commit the necessary resources to ensure that all
immigration detainees receive health care based on medical clinical
judgments, not on government cost-savings."
DHS
annually detains over 300,000 immigration detainees on civil
immigration violations. Many detainees develop medical problems that
are repeatedly ignored, despite constant cries from the detainees about
unbearable pain and suffering. Over 80 immigration detainees have died
in DHS custody since 2002, and many of these detainees were in their
20s, 30s, and 40s, with U.S. citizen spouses and children.
Over
the past year, the negligent medical care of detainees has been well
documented in testimony before the House Judiciary Committee as well as
in the media on 60 Minutes and in the New York Times and the Washington
Post. In addition, the DHS Office of Inspector General has issued
reports on detainee deaths and poor medical care for immigration
detainees. Despite this attention, immigration detainees continue to
die in ICE custody, with deaths occurring in recent months in
facilities in Farmville, Virginia and Central Falls, Rhode Island.
ACLU
of Rhode Island client Hiu Lui Ng, a 34-year-old Chinese detainee who
died in August 2008 at the Wyatt Detention Facility in Central Falls,
Rhode Island, was diagnosed with terminal liver cancer and a broken
spine a few days before he died. For months, Ng had told prison
officials about his excruciating pain, but guards and medical staff at
Wyatt continually accused him of faking his illness. Despite Ng's
inability to walk, he was frequently denied use of a wheelchair,
including when his attorney sought to visit him. A week before Ng's
death, officials shackled his hands, feet and waist and dragged him
while he screamed in pain to a transport van. Parts of this abusive
treatment were captured on videotape.
"Mr.
Ng's case of medical abuse should have sounded an alarm that our health
services for immigration detention are badly broken," said Steven
Brown, Executive Director of the ACLU of Rhode Island. "Unfortunately,
Mr. Ng was just one of over 80 deaths in a system that undermines
American values of fairness and dignity. Congress must ask today's ICE
witnesses what steps they can take to prevent another
incident such as Mr. Ng's case from occurring in the future. Reforming
immigration detention is truly a matter of life and death."
The American Civil Liberties Union was founded in 1920 and is our nation's guardian of liberty. The ACLU works in the courts, legislatures and communities to defend and preserve the individual rights and liberties guaranteed to all people in this country by the Constitution and laws of the United States.
(212) 549-2666
LATEST NEWS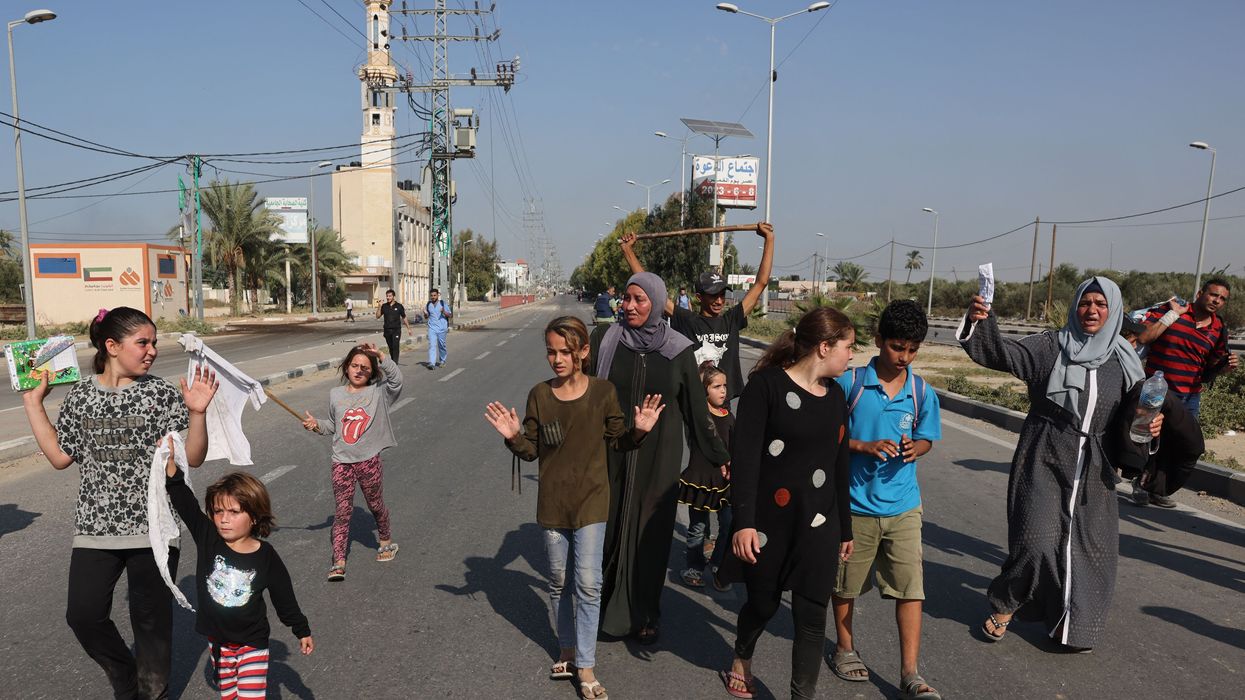 Israel has been accused of waging a genocidal war as multiple plans to ethnically cleanse Gaza have surfaced.
A month into Israel's war on Hamas, Sunday
reporting
from
The New York Times
is bolstering fears of Israelis using the devastating war to
ethnically cleanse
the besieged Gaza Strip of Palestinians.
According to the Times:
Israel has quietly tried to build international support in recent weeks for the transfer of several hundred thousand civilians from Gaza to Egypt for the duration of its war in the territory, according to six senior foreign diplomats.

Israeli leaders and diplomats have privately proposed the idea to several foreign governments, framing it as a humanitarian initiative that would allow civilians to temporarily escape the perils of Gaza for refugee camps in the Sinai Desert, just across the border in neighboring Egypt.
The proposal has been rejected by not only Palestinians but also "most of Israel's interlocutors—who include the United States and Britain—because of the risk that such a mass displacement could become permanent," the newspaper noted.
Spokespeople for both Israeli Prime Minister Benjamin Netanyahu and Egyptian President Abdel Fattah El-Sisi declined to comment, though the latter delivered a mid-October speech in which he forcefully opposed any relocation.
At least two separate Israeli plans to permanent expel Palestinians from Gaza to Egypt have circulated during the war. One, reported by the Israeli business daily Calcalist, came from Israel's intelligence minister, Gila Gamliel. Another, reported by Middle East Eye, was authored by Amir Weitmann, who chairs the Libertarian faction of Netanyahu's Likud party, and published by the Israeli think tank Misgav Institute for National Security & Zionist Strategy.
Recent comments from Israeli leaders have also stoked fears of "a second Nakba," or catastrophe—a reference to when more than 750,000 Arabs were ethnically cleansed from Palestine in 1947-48 during the creation of the modern state of Israel. For example, Ariel Kallner, a Likud lawmakers, last month
called for
a "Nakba that will overshadow the Nakba of '48."
Ameed Abed, a 35-year-old resident of Jabaliya—part of northern Gaza, from which the Israel Defense Forces (IDF) have told civilians to evacuate to the south—suggested in a phone interview with the Times that forced relocation to Egypt would be another Nakba: "As a Palestinian, I won't renew the Nakba again... We will not leave our homes."
Allegations of genocide and war crimes have mounted since Israel declared war on Hamas in retaliation for the Palestinian militant group leading an attack on October 7. Netanyahu has been accused of an "explicit call to genocide" due to a Biblical reference during an address last weekend in which he also described Israel's invasion of Gaza as a "holy mission."

The prime minister on Sunday indefinitely suspended Israeli Heritage Minister Amichai Eliyahu for publicly suggesting that dropping a nuclear bomb on Gaza was on the table. Israel is one of the world's nine nuclear-armed nations.
As Politicodetailed:
A member of the ultra-nationalist Otzma Yehudit (Jewish Power) party, Eliyahu earlier on Sunday claimed in a radio interview that since there were "no noncombatants in Gaza," using an atomic weapon on the Palestinian enclave was "one of the possibilities."

Eliyahu later sought to rectify his statement, saying it was "clear to all sensible people" that his reference to nuclear weapons had been "metaphorical."
Netanyahu said that "Minister Amihai Eliyahu's statements are not based in reality. Israel and the IDF are operating in accordance with the highest standards of international law to avoid harming innocents. We will continue to do so until our victory."

According to officials in Israel, over 1,500 Israelis have been killed in the past month and Palestinian militants still have around 240 hostages. The Gaza Health Ministry said Saturday that the Israeli assault has killed more than 9,400 Palestinians, including 3,900 children. Another 144 Palestinians have been killed in the West Bank, where Israeli settler violence has surged.
Some Israeli settlers in recent weeks have tried to scare Palestinians into fleeing the West Bank with displays of dolls covered in blood or a substance meant to mimic it and leaflets with messages like, "Run to Jordan before we kill our enemies and expel you from our Holy Land, promised to us by God."

News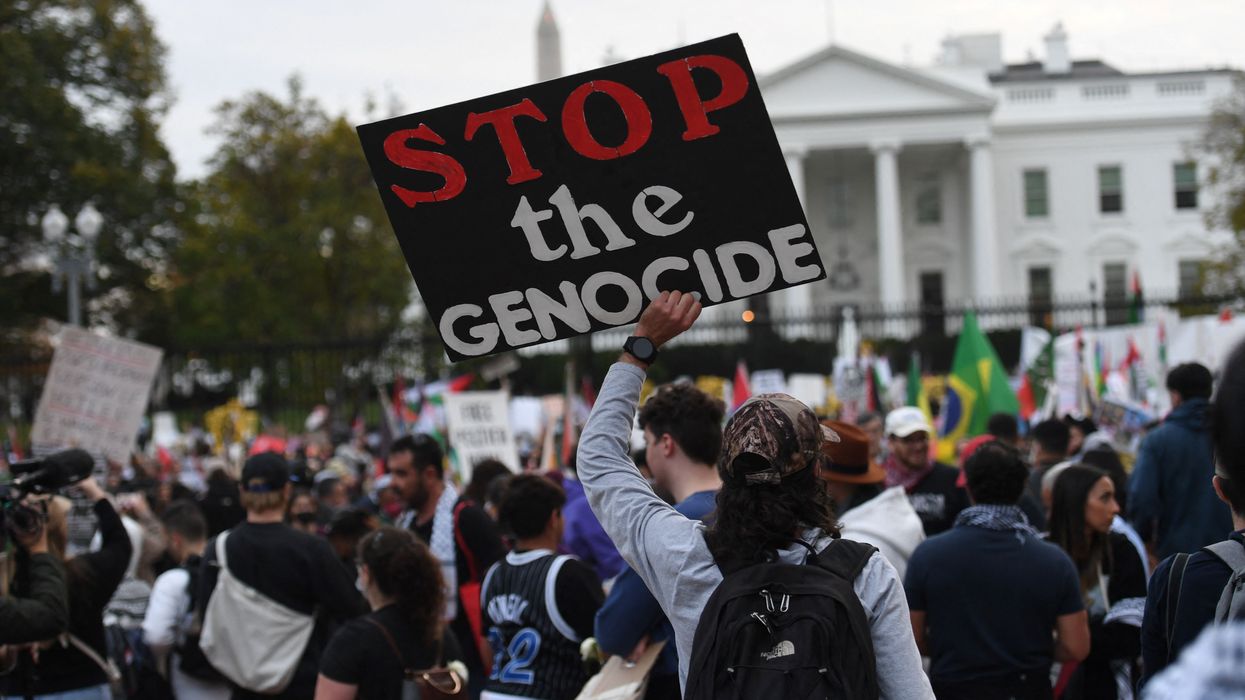 "We came here to let our voices be heard," said one demonstrator in Washington, D.C. "Every human is entitled to basic human rights, not killing kids, not torturing people."
This is a developing story… Please check back for possible updates...
Huge crowds of protesters filled the streets of Washington, D.C. and other U.S. cities on Saturday to demand a cease-fire in Israel's war on Hamas, which has killed and wounded thousands of Palestinian civilians in the Gaza Strip over the past month.
"We came here to let our voices be heard and our hearts and hoping we'll change the way people see this conflict," 70-year-old Manar Ghanayem toldThe Washington Post in the nation's capitol, where demonstrators gathered in and around Freedom Plaza.
"Every human is entitled to basic human rights, not killing kids, not torturing people," added Ghanayem, who traveled from North Carolina to march in D.C. with more than a dozen friends and family members, including young grandchildren.
Ghanayem also said that she voted for U.S. President Joe Biden in 2020 but was outraged by his response to the war. As she put it, "I can't believe Biden is turning a blind eye to this and gave Israel the green light."
Rather than advocating for a cease-fire, the Biden administration has pushed for "humanitarian pauses" in what critics are calling Israel's "genocidal" air and ground assault of Gaza—launched after a Hamas-led surprise attack on Israel on October 7.
After speaking with Israeli Prime Minister Benjamin Netanyahu at the beginning of the war, Biden said that "my administration's support for Israel's security is rock solid and unwavering." He quickly asked Congress for $14.3 billion for the Israeli war effort, on top of the typical $3.8 billion in annual U.S. military aid.
"Americans do not support the genocide in Palestine, we do not support the occupation, yet we are being robbed of our own resources in order to fund this oppression," said CodePink organizer Nour Jaghama earlier this week. Her anti-war group is a part of a broad coalition that supported Saturday's demonstrations in the United States.
"We need to show our government that we are outraged at them for forcing us to participate in such a disgusting and devastating attack on humanity," Jaghama continued. "As Americans, we have a responsibility to our brothers and sisters in Palestine to fight for them however we can."
Jaghama also delivered a speech on Saturday. According to CodePink:
"One of the most prominent questions we need to ask ourselves is: Why we can hear these words and firsthand accounts from Gaza yet the genocide still continues? Why do only 18 representatives and ONLY ONE senator support a cease-fire? And why does President Biden insist on funding Netanyahu's genocide?" she asked the crowd...

She then aimed her questions directly at President Biden: "Is this how you want to be remembered? A genocidal, destructive, warmonger? Shame! Look at this crowd, clearly the American people do not agree with your genocidal plans. You must call for a cease-fire now or solidify your position as one of the most inhumane presidents in American history. The American people demand a cease-fire, an end to the occupation, and the full liberation of Palestine."
Demonstrators in D.C. carried signs with messages like "Stop U.S.-funded genocide," "Cease-Fire Now," and "Let Gaza Live!"
Sharing a photo from the D.C. gathering on social media, Rep. Ayanna Pressley (D-Mass.) said: "Solidarity with the hundreds of thousands of people nationwide who marched in support of a #CeasefireNOW. Our pro-peace, pro-humanity movement is strong and it is growing daily."
The Saturday actions followed weeks of protests at places including congressional offices and major transit stations. Jewish Voice for Peace noted Monday that "Jewish people all throughout the United States are protesting in unprecedented numbers against Israel's destruction of Gaza and the United States' unwavering support."
Protesters, supporters, and journalists shared updates on social media.
New York, New York:
Minneapolis, Minnesota:
Olympia, Washington:
San Francisco, California: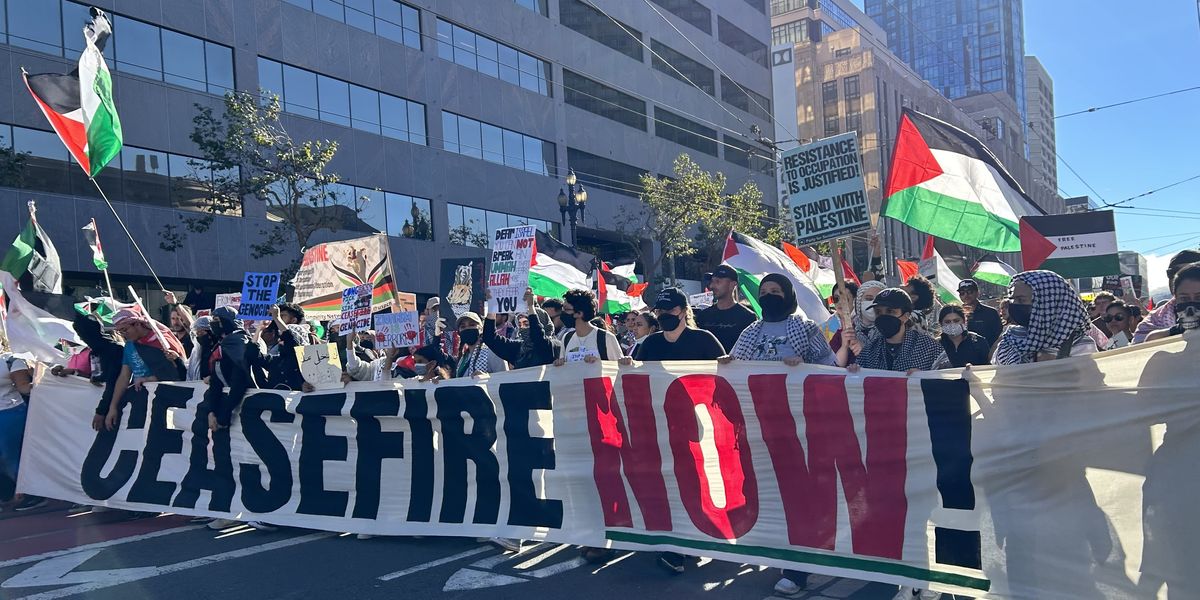 (Photo: Brett Wilkins)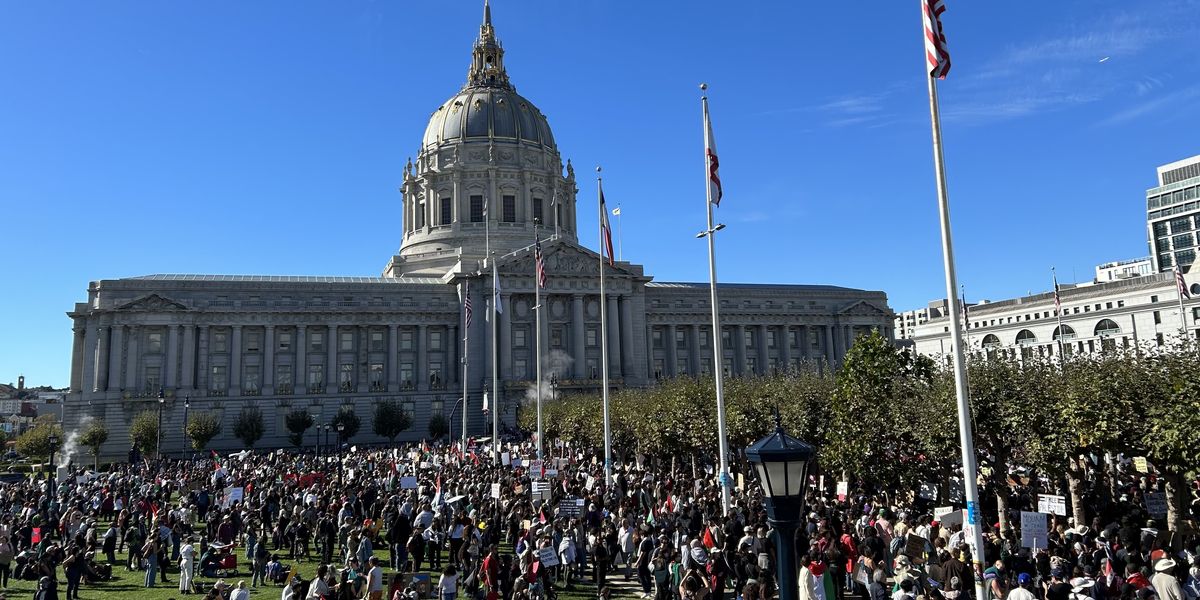 (Photo: Brett Wilkins)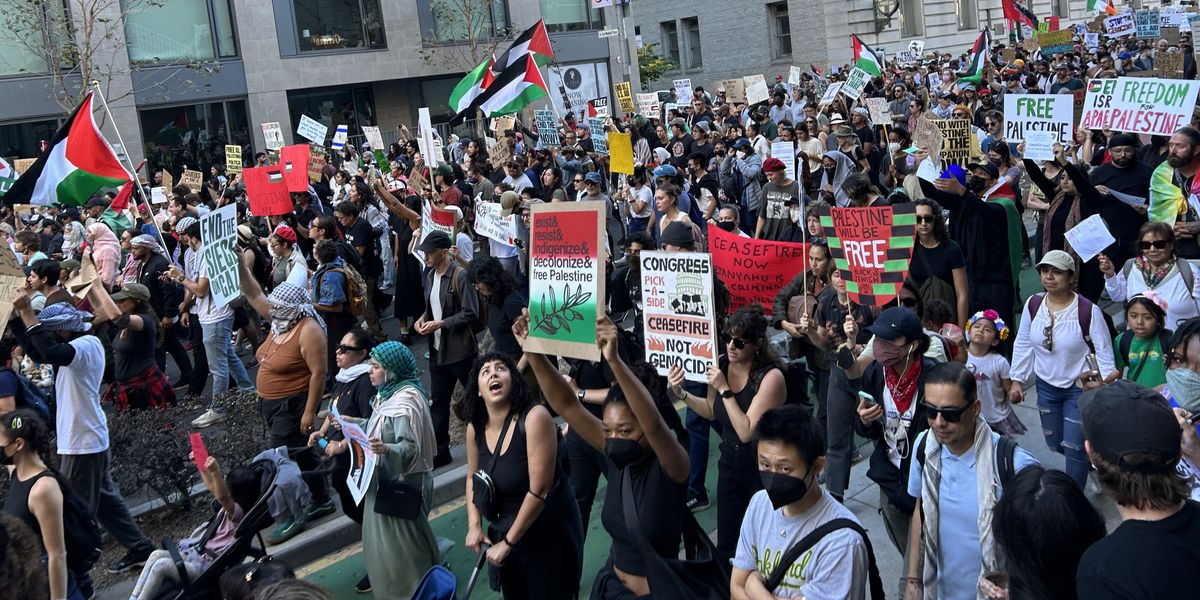 (Photo: Brett Wilkins)
The Associated Pressreported that U.S. Secretary of State Antony Blinken on Saturday "met with Arab foreign ministers in Jordan a day after talks in Israel with... Netanyahu, who insisted there could be no temporary cease-fire until all hostages held by Hamas are released."
Officials in Israel say Palestinian militants are holding around 240 hostages and more than 1,500 Israelis have been killed over the past four weeks. According to the Gaza Health Ministry, Israel's war on the besieged enclave has killed over 9,400 Palestinians. Amid a surge in settler violence, 144 Palestinians have been killed in the West Bank.
Israel has faced global criticism for cutting off the people of Gaza from food, water, fuel, and medicine as well as bombing homes, schools, medical facilities, religious buildings, and a refugee camp. Some citizens of Israel have joined in worldwide demands for International Criminal Court action on "escalating Israeli war crimes and genocide."
Pro-Palestinian protests were also held around the world on Saturday, including in Berlin, Germany; Dhaka, Bangladesh; London, England; Paris, France; Milan, Italy; Santiago, Chile; and Tokyo, Japan. Scientist and organizer Lucky Tran said on social media that "we are witnessing the biggest global anti-war protests since the Iraq War in 2003."
In the United Kingdom, tens of thousands of people blocked London's Oxford Circus and Piccadilly Circus, then marched to Trafalgar Square. Al Jazeerareported that "protesters held 'Freedom for Palestine' placards and chanted 'cease-fire now' and 'in our thousands, in our millions, we are all Palestinians.'"
News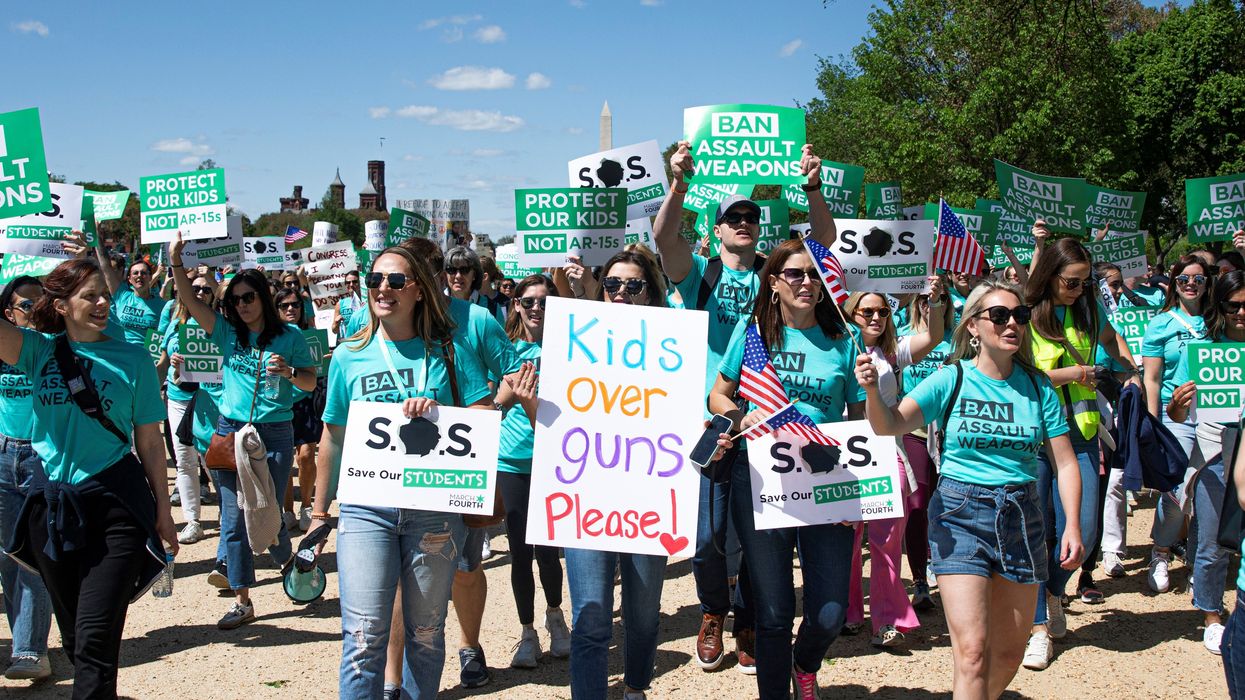 One lawyer said it is "proof that these laws are consistent with the Second Amendment and can—and should—be upheld by courts across the country."
Illinois Democrats and gun control advocates on Friday welcomed a federal appeals court decision upholding the state's ban on assault weapons and high-capacity magazines amid renewed demands for a similar restrictions nationwide in the wake of a mass shooting in Maine.
"The 7th Circuit Court of Appeals has affirmed what gun safety advocates have said from day one—the Protect Illinois Communities Act is a commonsense law that will keep Illinoisans safe," said Democratic Illinois Gov. JB Pritzker, who signed the law that state legislators passed after a July 4, 2022 massacre at a parade in Highland Park, a Chicago suburb.
"Despite constant attacks by the gun lobby that puts ideology over people's lives, here in Illinois we have stood up and said 'no more' to weapons of war on our streets," added Pritzker. "This is a victory for the members of the General Assembly who stood alongside families, students, and survivors who worked so hard to make this day a reality. Now Congress must act so Illinois is not an island surrounded by states with weak protections."
Illinois state Rep. Bob Morgan (D-58)—who represents Highland Park, was at the parade with his young children, and spearheaded the legislative fight for the law—similarly celebrated the new ruling "a huge win" while also calling for federal legislation.
Democratic Chicago Mayor Brandon Johnson also welcomed the decision, saying: "This landmark legislation is an important step for our communities, providing commonsense gun control measures that have been so desperately needed in our city and throughout the state. This decisive measure will aid in keeping weapons of war out of our neighborhoods and off our streets, creating safer communities for all."
The three-judge appellate panel collectively considered six cases challenging state and local bans: four out of the Southern District of Illinois; one against the state, Chicago, and Cook County; and another involving a firearm shop owner from suburban Naperville and the National Association for Gun Rights—who unsuccessfully sought an intervention from the U.S. Supreme Court.
The gun violence prevention group Brady served as counsel for the city of Naperville in the case. In response to the "important victory," Douglas Letter, the organization's chief legal officer, declared that "states and cities should have the right to stop these weapons of war from decimating our communities, and this ruling demonstrates that assault weapon and large-capacity magazine bans are indeed constitutional."
"When the victims of the Highland Park shooting were gunned down by an assault weapon, their local and state leaders took a stand to say enough is enough," he said. "The gun industry feels threatened by the groundswell of voices trying to hold them accountable, and after today, they should feel even more unsteady."
Everytown Law executive director Eric Tirschwell highlighted that the the Chicago-based court's ruling notably came after right-wing U.S. Supreme Court determined last year in New York State Rifle & Pistol Association Inc. v. Bruen that gun restrictions must be "consistent with the nation's historical tradition of firearm regulation."
The 2-1 decision Friday "to uphold this lifesaving law is not only a victory for gun safety," Tirschwell said, "it also marks the first significant appeals court decision on this issue since the Supreme Court's decision in Bruen and is proof that these laws are consistent with the Second Amendment and can—and should—be upheld by courts across the country."
U.S. Judges Diane Wood and Frank Easterbrook—respectively appointed by former Presidents Bill Clinton and Ronald Reagan—supported upholding the state and local laws, while Judge Michael Brennan, an appointee of President Donald Trump, dissented.
"The Second Amendment to the Constitution recognizes an individual right to 'keep and bear arms. Of that there can be no doubt, in the wake of the Supreme Court's decisions," Wood wrote, citing cases including Bruen. "But as we know from long experience with other fundamental rights, such as the right to free speech, the right peaceably to assemble, the right to vote, and the right to free exercise of religion, even the most important personal freedoms have their limits."
"Government may punish a deliberately false fire alarm; it may condition free assembly on the issuance of a permit; it may require voters to present a valid identification card; and it may punish child abuse even if it is done in the name of religion," she continued. "The right enshrined in the Second Amendment is no different."
Wood also pointed out that the ruling pertains to preliminary injunctive relief, so the panel did not "rule definitively on the constitutionality of the act or any of the municipal ordinances," meaning that the policies could face future challenges.
The decision in Illinois coincided with President Joe Biden's trip to Lewiston, Maine, where a mass shooter last month killed a total of 18 people at a bowling alley and a bar before being found dead from an apparent self-inflicted gunshot wound.
Biden—who is seeking reelection next year—and others in his administration have called for reinstating a federal assault weapons ban. After the Maine shooting, Vice President Kamala Harris said that "it is a false choice to suggest we must choose between either upholding the Second Amendment or passing reasonable gun safety laws to save lives. Congress can and must make background checks universal. Pass red flag laws. Ban high-capacity magazines. And renew the assault weapons ban."
Such policies are unlikely to pass during the current session, considering the makeup of Congress—though after the carnage in his hometown of Lewiston, Rep. Jared Golden (D-Maine) last month endorsed an assault weapons ban and sought forgiveness for his past opposition to it.
News