Our work is licensed under Creative Commons (CC BY-NC-ND 3.0). Feel free to republish and share widely.
Jacob Chamberlain
Jacob Chamberlain is a former staff writer for Common Dreams. His website is www.jacobpchamberlain.com.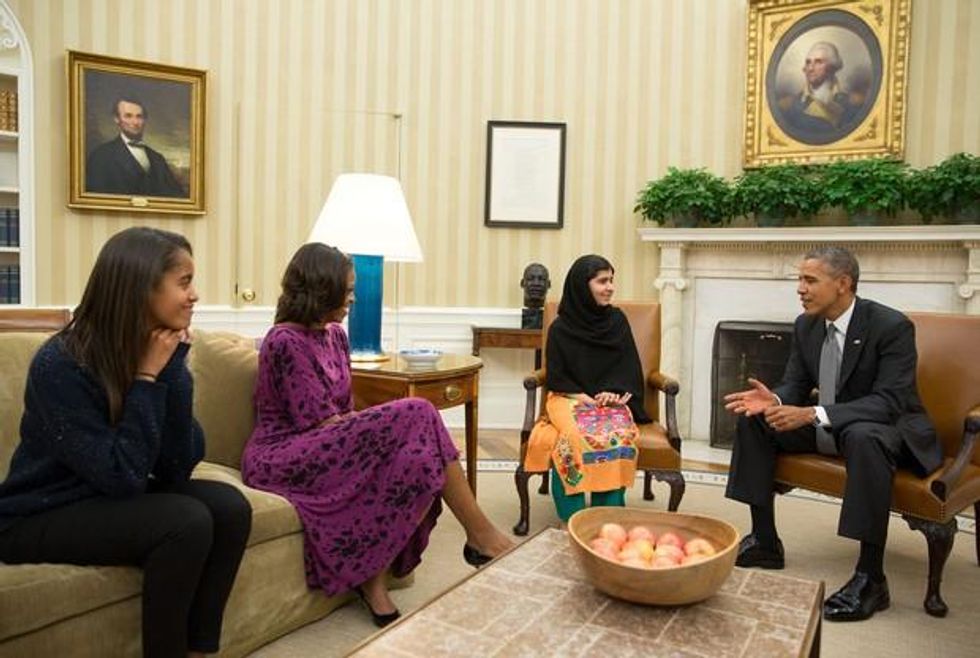 Malala Yousafzai, the sixteen-year-old Pakistani girl who survived a gunshot to the head by members of the Taliban for speaking out on women's right to education,
told President Barack Obama
in an Oval Office meeting on Friday that he should stop drone strikes in countries such as Pakistan.
In a statement released after the meeting, Yousafzai said that she told Obama that she is concerned about the effect of U.S. drone strikes in her country--a portion of the conversation that was omitted from White House statements so far.
"I [expressed] my concerns that drone attacks are fueling terrorism," Yousafzai said in a statement released by the Associated Press. "Innocent victims are killed in these acts, and they lead to resentment among the Pakistani people. If we refocus efforts on education it will make a big impact."
Yousafzai--the youngest ever nominee for the Nobel Peace Prize--was invited to the White House "for her inspiring and passionate work on behalf of girls education in Pakistan," according to a White House statement.
Yousafzai also recently called on the U.S. and U.K. governments to end military attacks in Afghanistan and Pakistan in an interview with BBC.
"The best way to solve problems and to fight against war is through dialogue," she told BBC. "That's not an issue for me, that's the job of the government... and that's also the job of America."
Yousafzai was awarded a prestigious international human rights award--the Sakharov Prize for Freedom of Thought--on Thursday, but did not win the Nobel Peace Prize, as was announced on Friday.
_______________________
We've had enough. The 1% own and operate the corporate media. They are doing everything they can to defend the status quo, squash dissent and protect the wealthy and the powerful. The Common Dreams media model is different. We cover the news that matters to the 99%. Our mission? To inform. To inspire. To ignite change for the common good. How? Nonprofit. Independent. Reader-supported. Free to read. Free to republish. Free to share. With no advertising. No paywalls. No selling of your data. Thousands of small donations fund our newsroom and allow us to continue publishing. Can you chip in? We can't do it without you. Thank you.