Is it enough for Illinois Gov. Pat Quinn and state treasurer candidate Mike Frerichs to hustle today to purge their campaigns of tainted coal industry contributions from a growing mine safety regulator scandal, or should citizens groups and
environmentalists hold the Democratic candidates accountable for their full-throttle push behind the state's unprecedented coal mining rush and spiraling fracking debacle?
Questions abound in Illinois, where coal mining production and its toxic slurry fallout has skyrocketed by a mind-boggling 70 percent during the Quinn administration, as Gov. Quinn also touts a controversial and widely denounced fracking regulation law, opening the floodgates for oil and natural gas drilling in the state's beloved Shawnee forest region.
Earlier this week, in fact, despite a public promise by Quinn's deputy chief of staff that no fracking permits would be issued without strengthened fracking rules, Quinn apparently intervened to push through a second horizontal drilling permit for Denver-based Strata-X Energy.
Bottom line: Should the Sierra Club, and other environmental organizations, endorse the disastrous pro-coal and pro-fracking Quinn for governor, in default of the Republican candidate, or hold him accountable to the environmental group's principles?
"The Sierra Club should expect Quinn to stand by his green values in every part of Illinois," said Will Reynolds, the former chair of the Sierra Club Illinois Chapter and a key environmental blogger.
The Sierra Club recently endorsed Frerichs, despite his long-time support for "clean coal" boondoggles like FutureGen, Taylorville, and his leadership role in shaping a fracking regulatory bill, in his words, "so that we can start the process of bringing the hydraulic fracturing jobs to Illinois."
Quinn, of course, took large contributions from out-of-state coal companies, in his last campaign: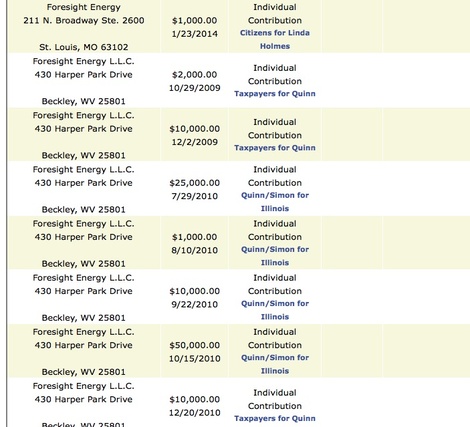 (from IL State Board of Elections)
Never Miss a Beat.
Get our best delivered to your inbox.

While Quinn supporters often tout his administration's role in clean water initiatives and bringing clean energy and green jobs to the state (virtually all in Chicago and central-north Illinois), the governor's two-sided approach for downstate's reckless coal and fracking industries has been disastrous for the state and climate change concerns.
Last spring, Quinn famously triumphed the state's 5-fold increase in coal exports, on the same week climate scientists warned CO2 emissions had reached historic 400ppm levels.
Meanwhile, violation-ridden strip mining and longwall mining operations under the Quinn administration have continued unabated downstate, while high hazard coal slurry dams rise in central Illinois farm towns. Quinn even signed off on strip mining the Pyramid State Park.
Toxic coal ash piles under the Quinn administration continue to rank as some of the worst in the nation.
Quinn's appointed Illinois Pollution Control Board granted waivers last fall for five decrepit and pollution-spewing coal-fired plants.
Under Quinn, millions of state tax dollars also go to subsidies for out-of-state coal companies, like Peabody Energy, which posted $7 billion in revenues last year.
Even coal miners note that the Quinn administration remains in violation of state law for its lack of mine safety inspectors.
"Quinn has given out some clean energy nuggets to the Chicago area," Reynolds added, "but for downstate his administration is an environmental disaster. Instead of showing leadership on climate change, he's launching a two-pronged crisis of fracking and expanded coal mining. There's a long Illinois tradition of politicians pandering to environmentalists in Chicago while promoting coal and dirty energy farther south. Rod Blagojevich was the master of promoting clean energy laws while heavily subsidizing coal. That's not good enough anymore for the growing downstate environmental movement."