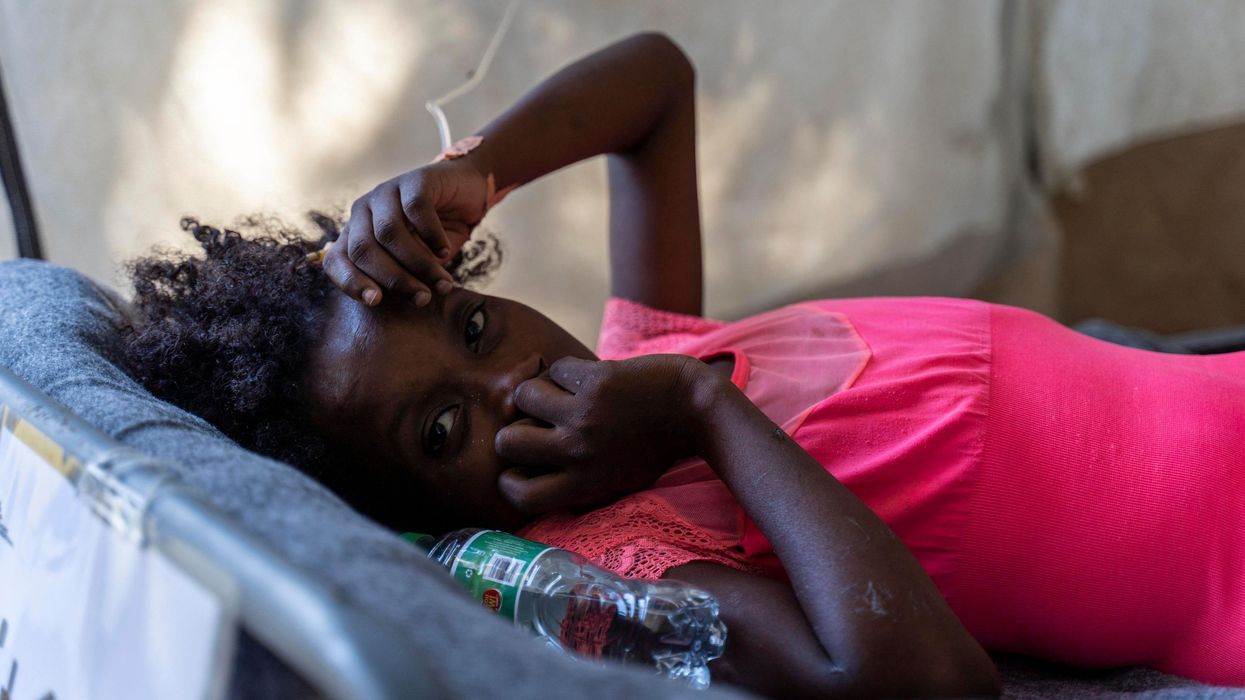 Warning of "mortal danger," one advocacy group argues extending and redesignating Temporary Protected Status for Haitians "is a matter of life and death."
The Biden administration faced fresh pressure Thursday to protect Haitians who are in the United States from being deported to a country that has endured increasing economic and political turmoil since a presidential assassination and devastating extreme weather last year.
"Given the deteriorating situation in Haiti, this administration should prioritize humanitarian relief."
In a letter to Homeland Security Secretary Alejandro Mayorkas, Reps. Cori Bush (D-Mo.), Ayanna Pressley (D-Mass.), and Mondaire Jones (D-N.Y.), along with 14 other House Democrats, urged a Temporary Protected Status (TPS) extension for Haitians not affected by Ramos v. Mayorkas, and redesignation for people who arrived in the United States after July 29, 2021.
"Haiti is currently experiencing one of its worst outbreaks of violence in decades," the letter states. "The rule of law has effectively collapsed. Powerful gangs rule with impunity, and in some cases with government complicity."
"For months, a gang blockade at Haiti's principal fuel terminal crippled day-to-day operations, severely restricting the movement of medicine, food, and supplies," the letter continues. "The situation paralyzed an already crippled economy in the country, where the inflation rate reached a staggering 30%."
The letter adds that "this has all occurred amid a resurgence of cholera in the country, particularly in Haiti's National Penitentiary in Port-au-Prince. Since October, the disease has killed at least 100 people and sickened 8,000 more, though experts say the numbers are likely higher."
\u201cWe have a moral obligation to protect Haitians fleeing violence, persecution, & poverty.\n\n@RepPressley, @RepMondaire & I are urging @DHSgov to extend and redesignate Haiti for Temporary Protective Status.\u201d

— Congresswoman Cori Bush (@Congresswoman Cori Bush) 1669912375
"Given the deteriorating situation in Haiti, this administration should prioritize humanitarian relief, especially given the positive impact that extending and redesignating Haiti for TPS will have for our nation," the lawmakers argued, also highlighting how Haitians positively contribute to the American workforce.
House Democrats' letter calling on the Biden administration to refrain from sending Haitians to "face an unprecedented crisis in their home country" was also sent to Secretary of State Antony Blinken and echoes recent demands from civil society.
More than 400 groups--including the Florida Immigrant Coalition (FLIC)--sent Biden, Blinken, and Mayorkas a letter last month, stressing the need for urgent action given that "the TPS designation for Haiti will expire on February 3, 2023."
FLIC renewed its call for action in a statement Thursday, warning that "Haitians are in mortal danger" and asserting that extending and redesignating TRS "is a matter of life and death!"
Last month, a Florida-bound vessel overloaded with almost 200 Haitians--including 46 children--struck a sandbar. After the rescue effort, the U.S. Coast Guard returned nearly all of them "to a Haiti plagued by a rapidly spreading cholera," noted FLIC's co-executive director, Tessa Petit.
Petit, who immigrated to Florida from Haiti, stressed that "you do not have to be Haitian to be outraged by the blatant human rights violations currently perpetrated by both the United States and the Dominican Republic on Haitian nationals."
Along with FLIC's TPS demands, the group is calling on the Biden administration to "provide all possible support required and needed to stop the abuse of Haitians in the Dominican Republic."
In the Dominican Republic, which shares an island with Haiti, "the violent attacks against Haitians have intensified, to include hateful bodily harm using whips and wooden sticks," Petit pointed out. "All this added to the mass deportation of Haitians regardless of their immigration status, their safety, and in a discriminatory manner, using the color of their skin as a crime."
\u201cThe current #TPS designation for Haiti will expire on February 3, 2023. It is becoming increasingly urgent for the Biden-Harris Administration @POTUS @SecMayorkas to extend and redesignate temporary protected status (TPS) for #Haiti.\n#TPSforHaiti \n#ImmigrationIsABlackIssue\u201d

— UndocuBlack Network (@UndocuBlack Network) 1669923920
Like the lawmakers, in addition to the moral appeal, FLIC director of politics and policy David Metellus--the son of Haitian immigrants--made an economic case for federal action.
"Haitians living in the United States currently eligible for TPS contribute $2.6 billion annually to our economy, and 81% of them are part of the American labor force, providing essential services at a time of worker shortages and high inflation," said Metellus. "They have lived here for 15 years, on average, and have built families of almost 200,000 American citizens."
"Continuing to provide TPS protections for Haitian nationals would ensure families remain together and continue building meaningful lives in our society," he added. "Moreover, redesignating Haiti for TPS would allow more Haitians in the U.S. to enroll in the program, and contribute their skills and talents to the American workforce and communities around the country."
News