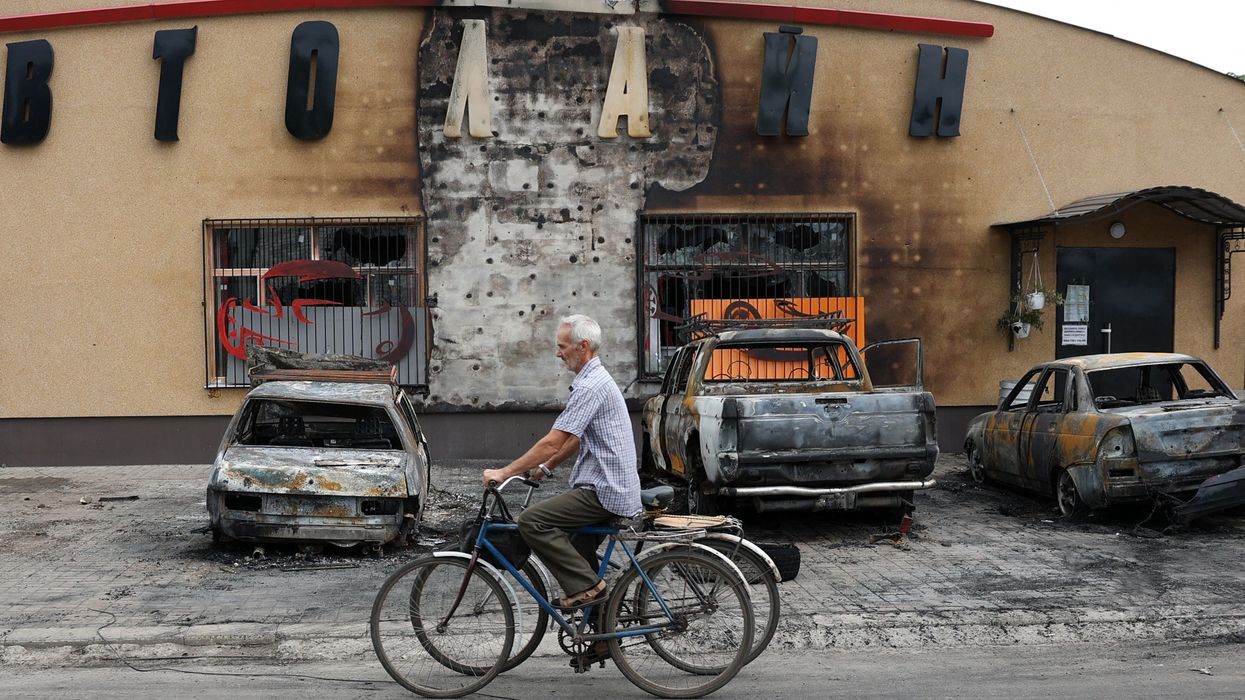 Nobel laureate Mary Wareham admonished nonsignatories to the Convention on Cluster Munitions to join "without delay" as Bulgaria, Slovakia, and South Africa said they have dismantled their arsenals.
As the U.S. gives cluster bombs to Ukraine—and as the Biden administration reportedly moves to send longer-range missiles armed with them to Kyiv—three nations this week said they've finished destroying their stockpiles of the internationally banned weapons amid renewed calls for more countries to join the Convention on Cluster Munitions.
The 11th meeting of parties to the 2008 Convention on Cluster Munitions (CCM), to which 112 nations are party, wrapped up Thursday in Geneva on a high note as Bulgaria, Slovakia, and South Africa announced that they have completed the destruction of a combined 9,582 bombs and 585,422 bomblets. South Africa is the only country that once possessed but gave up both nuclear weapons and cluster bombs.
"Countries that have joined the Convention on Cluster Munitions have repeatedly demonstrated their commitment to destroy their stockpiles, clear remnants, and oppose the weapon's use," said Human Rights Watch acting arms director Mary Wareham, who played a key role in the CCM's success.
"The main concern remains with countries unwilling to ban the weapon that may continue to use them now or start using them in the future," added Wareham, who was also jointly awarded the 1997 Nobel Peace Prize for her work with the International Campaign to Ban Landmines.
As Common Dreamsreported earlier this month, the refusal of countries including Russia, Ukraine, and the United States to end the use and transfer of cluster munitions caused nearly 1,000 civilian casualties last year.
"Countries that have not banned cluster munitions should heed the call of the United Nations secretary-general and join the convention without delay," Wareham asserted.
A youth contingent of the advocacy group Mine Action Fellows, members of which attended the Geneva meeting, said in a statement that "while we have much to celebrate, we cannot ignore the harm done by states not party and the escalation in deaths from cluster munitions."
"Producing, using, and transferring cluster munitions by any actor, under any circumstance is unacceptable," the group added. "We call for an immediate stop to the transfer and use of this indiscriminate weapon."
The remarks from Wareham and Mine Action Fellows came as the Biden administration is reportedly close to approving the shipment of longer-range ballistic missiles armed with cluster munitions to Ukrainian forces defending their country from a 19-month Russian invasion. This, after the U.S. began sending 155mm artillery shells to Kyiv earlier this summer. Russian and Ukrainian forces have both killed and wounded soldiers and civilians with cluster bombs during the war.

Earlier this month, the U.S. also started sending Ukraine depleted uranium munitions, which have been linked to birth defects, miscarriages, and cancers after their use by U.S. forces in Iraq and Yugoslavia.
Multiple congressional efforts to prohibit the export of U.S. cluster munitions to any country have failed to advance. Earlier this summer, the Republican-controlled House Rules Committee voted down a resolution proposed by Reps. Ilhan Omar (D-Minn.) and Sara Jacobs (D-Calif.), while backing a new one led by Rep. Marjorie Taylor Greene (R-Ga.)—whose controversial sponsorship doomed the measure.
The latest effort to thwart the transfer of cluster bombs is an amendment spearheaded by Jacobs and Rep. Matt Gaetz (R-Fla.), with Reps. Jesús "Chuy" García (D-Ill.), Barbara Lee (D-Calif.), Thomas Massie (R-Ky.), Jim McGovern (D-Mass.), Andrea Salinas (D-Ore.), Rashida Tlaib (D-Mich.), and Jill Tokuda (D-Hawaii) as co-sponsors.
"Sending cluster munitions anywhere in the world makes the United States complicit in the unavoidable and inevitable civilian harm that follows," Jacobs toldThe Intercept on Thursday. "No amount of guardrails or promised precautions are enough because these weapons are unpredictable and maim and kill indiscriminately—potentially years after their intended use."
Claiming that the U.S. "has a strong reputation for upholding human rights around the world," Jacobs added that "that message is muddied when we're willing to send these weapons that are infamous for the carnage they cause."
Since the end of the Vietnam War, unexploded cluster munitions—which can look like inviting toys to children who find them—have killed approximately 20,000 civilians in Laos, where the U.S. dropped more bombs than all sides in World War II combined. The U.S. dropped as many as 270 million cluster bombs on Laos, and less than 1% of the unexploded bomblets have been cleared since. They are still killing civilians to this day.
News