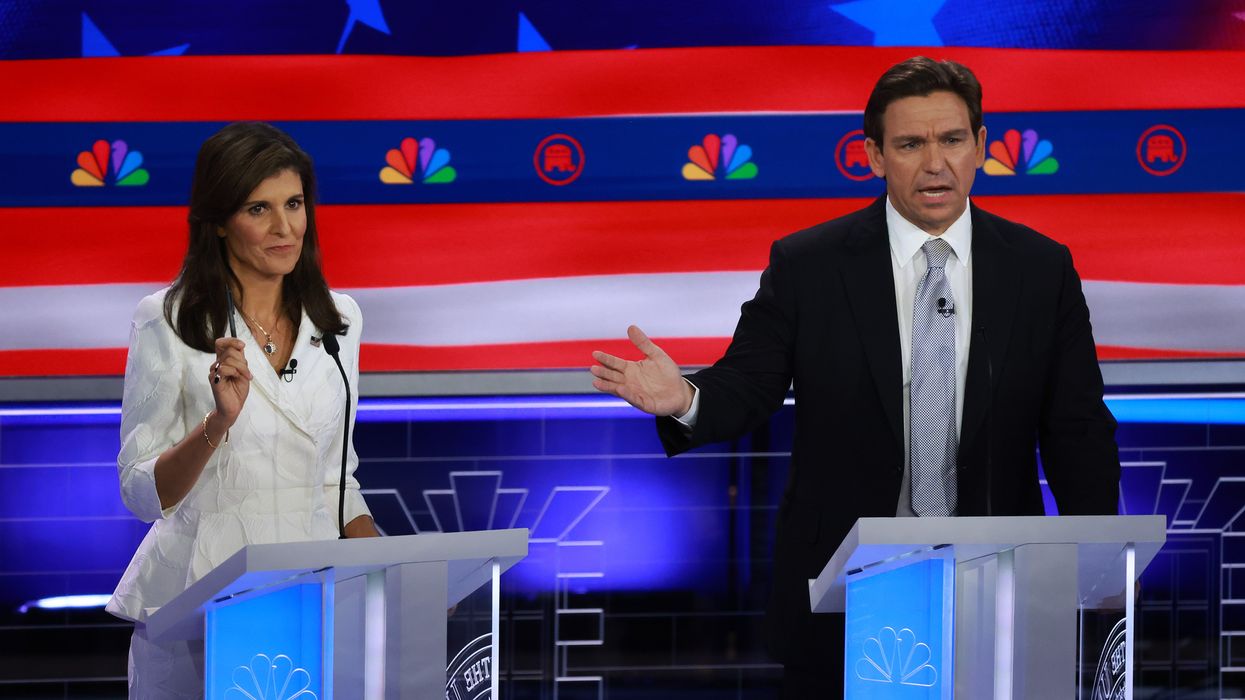 A DNC representative said it is "no surprise" given that she "checks all of their boxes: slashing taxes for the ultrawealthy, gutting Social Security and Medicare, and ripping healthcare away from millions of Americans."
While former U.S. President Donald Trump remains the Republican Party's front-runner for 2024, the political network founded by right-wing billionaire brothers Charles and David Koch announced Tuesday that it is instead backing Nikki Haley.
The Americans for Prosperity Action (AFPA) endorsement is a big win for Haley, who served as Trump's ambassador to the United Nations during the first half of his presidency and before that as governor of South Carolina. She has been battling Florida Gov. Ron DeSantis for the second GOP spot, and the Iowa caucuses are now less than two months away.
"Subtext: Prior to the democratic primaries are the billionaire primaries," journalist Jane Mayer—who has reported extensively on the Koch Brothers and other rich donors behind the rise of the radical right in the United States—wrote on social media Tuesday.

Both DeSantis and Haley trail Trump significantly in national polling, but the ex-president is facing four criminal cases and legal arguments that he is constitutionally disqualified from holding office after inciting an insurrection, so the next top GOP candidate could end up challenging Democratic President Joe Biden, who is seeking reelection next year.
"AFP Action is proud to throw our full support behind Nikki Haley, who offers America the opportunity to turn the page on the current political era," says a memo from Emily Seidel, a senior adviser to the group. "She has what it takes to lead a policy agenda to take on our nation's biggest challenges and help ensure our country's best days are ahead."
"With the grassroots and data capability we bring to bear in this race, no other organization is better equipped to help her do it," the memo continues. Citing internal polling, the document claims that Haley is "in the best position to defeat Donald Trump in the primaries" and "by far the strongest candidate Republicans could put up against Joe Biden in a general election."
The memo adds that "in sharp contrast to recent elections that were dominated by the negative baggage of Donald Trump and in which good candidates lost races that should have been won, Nikki Haley, at the top of the ticket, would boost candidates up and down the ballot, winning the key independent and moderate voters that Trump has no chance to win."
Some critics have pushed back against such presentations of Haley. Stephen Prager wrote last month for Current Affairs that "the media framing of Haley and other candidates as 'moderate' helps to soften their vicious policy prescriptions and inure liberals who'd ordinarily be skeptical of them. As a result, liberals who despise Trump end up having a favorableview of someone like Haley—even though she often holds more conservative policy inclinations in many places."
As Common Dreamshighlighted when Haley confirmed her candidacy in February, Christina Harvey, executive director of progressive advocacy group Stand Up America, warned, "Make no mistake: Nikki Haley is no moderate."
"From her support of Trump's policy of putting children in cages and the regressive reproductive health policies she pushed as governor of South Carolina to her opposition to federal voting rights legislation and her unwavering support of Donald Trump—even after he incited the January 6 insurrection—Nikki Haley has shown her true colors," Harvey said.
The Democratic National Committee similarly pointed to her policy positions in response to the AFPA endorsement on Tuesday. DNC national press secretary Sarafina Chitika said that "it's no surprise the Koch network, architects of Trump's MAGAnomics agenda, found their match in Nikki Haley, who checks all of their boxes: slashing taxes for the ultrawealthy, gutting Social Security and Medicare, and ripping healthcare away from millions of Americans."

"Republicans have entered a new stage in their primary—lighting millions of dollars on fire to attack each other, all the while reminding voters that every MAGA Republican candidate is in lockstep support of the same extreme, out-of-touch agenda the American people rejected in 2018, 2020, 2022, 2023, and will also reject next November, regardless of who emerges from this messy primary," Chitika charged.
Haley, meanwhile, shared an AFPA video about her on social media and said that she was "honored" to have the group's support.

DeSantis spokesperson Andrew Romeo said: "Congratulations to Donald Trump on securing the Koch endorsement. Like clockwork, the pro-open borders, pro-jail break bill establishment is lining up behind a moderate who has no mathematical pathway of defeating the former president. Every dollar spent on Nikki Haley's candidacy should be reported as an in-kind to the Trump campaign. No one has a stronger record of beating the establishment than Ron DeSantis, and this time will be no different."
Trump campaign spokesperson Steven Cheung toldThe New York Times that "Americans for Prosperity—the political arm of the China First, America Last movement—has chosen to endorse a pro-China, open borders, and globalist candidate in Nikki 'Birdbrain' Haley" and claimed that no amount of "shady money" would stop the former president from winning the party nomination.
The newspaper noted that AFPA "has been among the country's largest spenders on anti-Trump material this year, buying online ads and sending mailers to voters in several states, including Iowa, New Hampshire, and South Carolina. All told, the group has spent more than $9 million in independent expenditures opposing Mr. Trump."
News