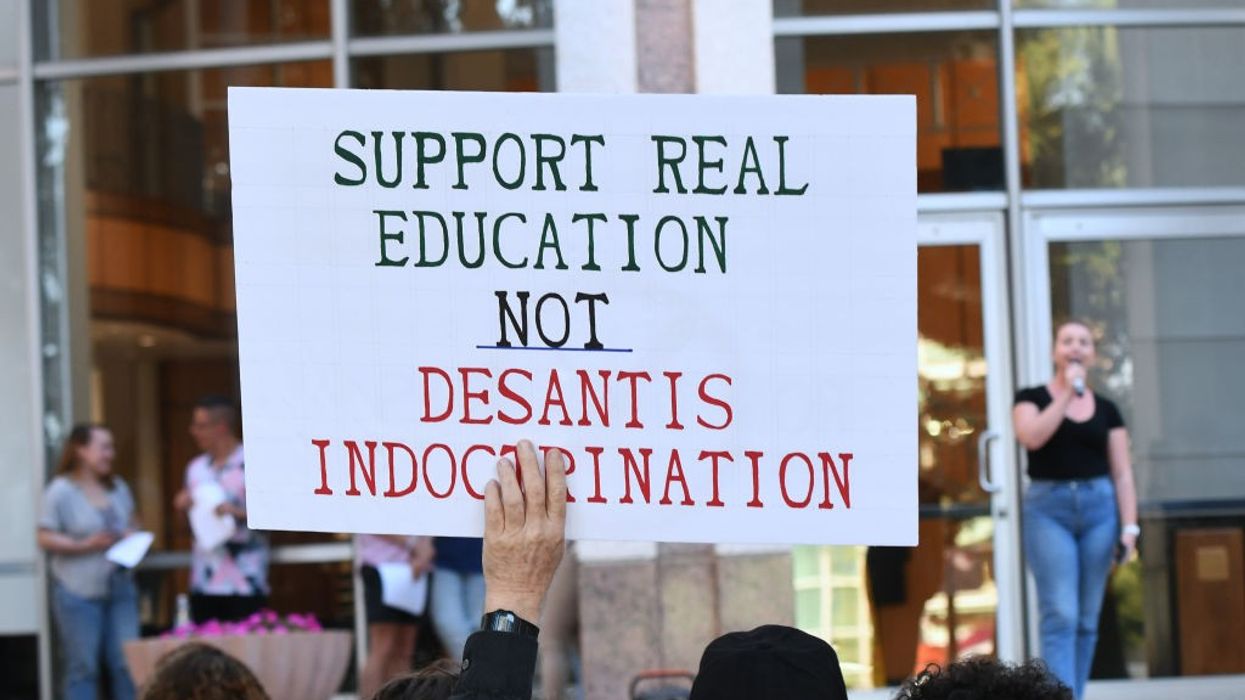 "Sadly, it's all part of the DeSantis playbook of eroding rights, censoring those he disagrees with, and undermining access to knowledge," said one critic.
The Republican-controlled Florida Board of Education on Thursday effectively banned Advanced Placement Psychology by notifying school district superintendents that teaching about sexual orientation and gender identity—key subjects in college-level psychology curricula—is prohibited under the state's so-called "Don't Say Gay or Trans" law.
That means class schedules for the fall semester—which begins next week in most Florida school districts—are in limbo for thousands of students. Last year, around 28,000 pupils in more than 500 Florida high schools took AP Psychology.
"What a terrible decision that is 100% politically motivated."

In a statement, the College Board—the New York-based national body that approves AP courses and runs SAT testing—called sexual orientation and gender identity "essential topics" in psychology.
"The AP course asks students to 'describe how sex and gender influence socialization and other aspects of development,'" the board explained. "This element of the framework is not new: gender and sexual orientation have been part of AP Psychology since the course launched 30 years ago."
"We cannot modify AP Psychology in response to regulations that would censor college-level standards for credit, placement, and career readiness," the body continued. "Our policy remains unchanged. Any course that censors required course content cannot be labeled 'AP' or 'Advanced Placement,' and the 'AP Psychology' designation cannot be utilized on student transcripts."
"To be clear, any AP Psychology course taught in Florida will violate either Florida law or college requirements," the College Board added. "Therefore, we advise Florida districts not to offer AP Psychology until Florida reverses their decision and allows parents and students to choose to take the full course."
As originally signed into law by Republican Florida Gov. Ron DeSantis in March 2022, H.B. 1557—dubbed the "Don't Say Gay or Trans" bill by critics—"prohibits classroom discussion about sexual orientation or gender identity" in grades K-3 or at any level "that is not age-appropriate." In May, DeSantis expanded the legislation to include all grades K-12.
Randi Weingarten, president of the American Federation of Teachers, condemned the "slippery slope of government censorship and bans" in DeSantis' Florida.
"Sadly, it's all part of the DeSantis playbook of eroding rights, censoring those he disagrees with, and undermining access to knowledge," Weingarten said of the 2024 GOP presidential candidate, whose campaign has been accused of embracing homophobia.
"Just this year, countless educators have been forced to remove or cover up their classroom libraries under threat of sanctions and jail, countless students have lost out because the governor ended AP African American Studies, and now this assault on AP Psychology," she added. "It's an unconscionable but far-from-surprising move from an extremist and increasingly unpopular leader who is fast becoming both a national pariah and a global embarrassment."
At the Human Rights Campaign, the nation's largest LGBTQ+ advocacy group, president Kelley Robinson said that "psychology is centered around people—all people."
"Erasing us from the curriculum ignores our existence, sets back Florida students who want to pursue psychology in higher education, and disrupts pathways for future mental health professionals to provide comprehensive, culturally competent mental healthcare for the LGBTQ+ community," she continued.
"College Board's AP Psychology curriculum is science-driven and endorsed by both educators and experts," Robinson noted. "Educational systems that reject the inclusion of LGBTQ+ people from their psychology courses are failing in their commitment to students."

"As anti-LGBTQ+ lawmakers pass discriminatory legislation and spread dangerous misinformation, we're continuing to see disturbing attempts to rewrite history and censor education, misaligned with the realities of our country," she added.
Florida State Rep. Anna Eskamani (D-42) said in a statement, "As someone who graduated from Florida public schools with college credit via AP classes, I know how powerful and effective these classes are and I am sick to my stomach to see what Gov. Ron DeSantis and the Republican Party are doing in our state."
Florida Department of Education Spokesperson Cassie Pelelis accused the College Board of "attempting to force school districts to prevent students from taking the AP Psychology."
"The department didn't 'ban' the course," she insisted. "The course remains listed in Florida's Course Code Directory for the 2023-24 school year. We encourage the College Board to stop playing games with Florida students and continue to offer the course and allow teachers to operate accordingly."
During the previous academic year, educators, students, parents, and Democratic lawmakers reacted angrily after the DeSantis administration rejected a new high school AP African American Studies course—without even seeing its syllabus—claiming it violated the state's ban on "woke" education and lacked "educational value."
In March, the 11th U.S. Circuit Court of Appeals upheld a lower court's preliminary injunction against the Stop WOKE Act.

News