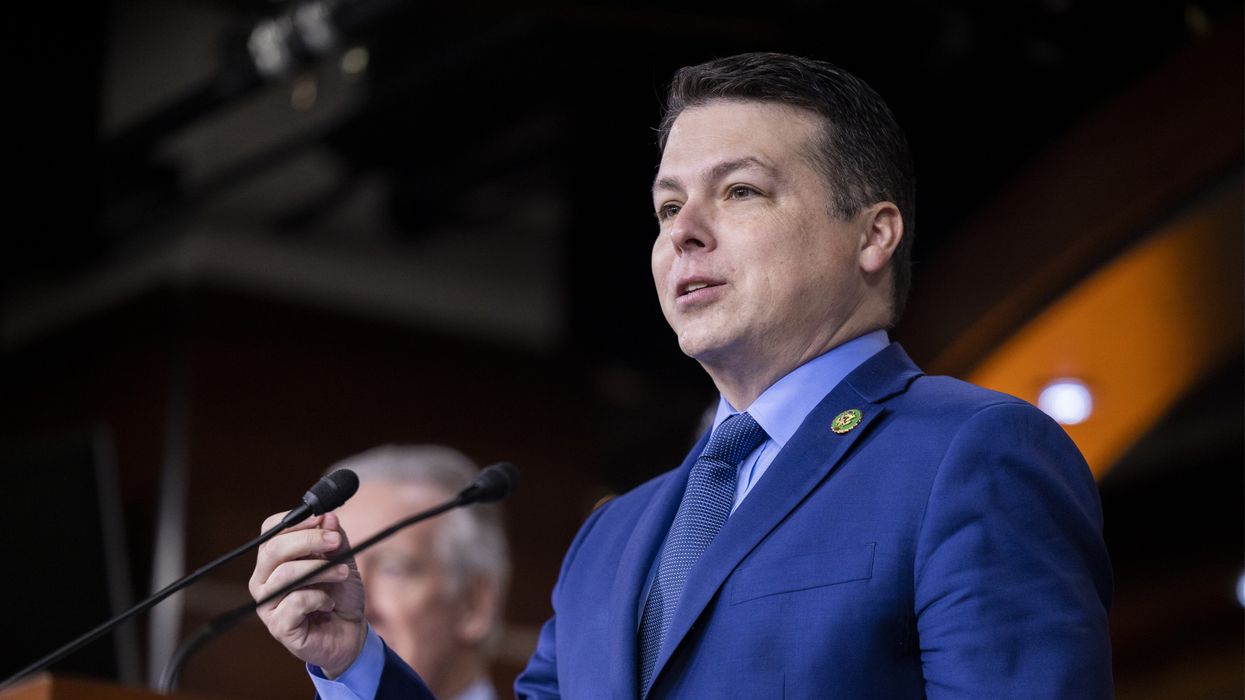 To "avoid economic catastrophe," said Democratic Rep. Brendan Boyle, "we must try whatever it takes."
House Democrats on Wednesday formally launched a longshot bid to raise the debt ceiling through a procedural maneuver known as a discharge petition, which would force a floor vote on a debt limit increase without the approval of Republican Speaker Kevin McCarthy.
The move came after McCarthy and other congressional leaders sat down with President Joe Biden at the White House on Tuesday, a meeting that did not yield an agreement as Republicans continue to push for steep spending cuts and work requirements that Democratic lawmakers say are cruel nonstarters.
Rep. Brendan Boyle (D-Pa.), the top Democrat on the House Budget Committee, filed the discharge petition on Wednesday morning, tellingThe Wall Street Journal that "we must raise the debt ceiling now and avoid economic catastrophe."
"We only have two weeks to go until we may hit the X-date," said Boyle, referring to the Treasury Department's warning that the federal government may no longer be able to pay its bills by June 1 if Congress doesn't increase the debt limit, raising the possibility of a default.
A discharge petition requires at least 218 signatures to force a floor vote, meaning a minimum of five House Republicans would need to join every Democrat in supporting the effort. In a letter to his caucus on Wednesday, House Minority Leader Hakeem Jeffries (D-N.Y.) wrote that it is "imperative that members make every effort to sign the discharge petition today."
"In the next few weeks, at the reckless urging of former President Trump, we confront the possibility that right-wing extremists will intentionally plunge our country into a default crisis," Jeffries wrote. "Emerging from the White House meeting, I am hopeful that a real pathway exists to find an acceptable, bipartisan resolution that prevents a default."
Citing a former House parliamentarian, the Journal noted that "if Democrats gather all the signatures in one day, the earliest the bill could come to the House floor is June 8, assuming the House keeps its current schedule."
"The Senate would then have to pass it, too," the Journal added.
It's not yet clear what legislative language House Democrats intend to attach to the discharge petition.

\u201cNEW: Dems will gather signatures today on the \u201cdischarge petition,\u201d their backup plan to raise the debt ceiling. @RepBrendanBoyle will file the petition at 10am. \n\n@RepJeffries encourages Dems to sign it today. It needs 218 supporters, so at least 5 GOP would need to back it.\u201d

— Kyle Stewart (@Kyle Stewart) 1684329222
Boyle acknowledged the discharge petition is "not a high probability move" but said that "we must try whatever it takes."
"I urge my Republican colleagues, especially those who like to call themselves moderate at election time, to join us and ensure America pays its bills," Boyle added.
House Republicans have pushed the U.S. to the brink of default by using the debt ceiling as leverage to pursue sweeping spending cuts to key safety net programs, a massive giveaway to Big Oil, and other right-wing policy goals.
Congressional Democrats and the White House have called for a clean debt ceiling increase, but in recent weeks the president has shown an openness to negotiating with the GOP on spending and work requirements, alarming progressives who say any concessions to hostage-taking House Republicans would be met with backlash.

"Democrats cannot give ground on work requirements in the debt ceiling talks," Rep. Pramila Jayapal (D-Wash.), the chair of the Congressional Progressive Caucus, tweeted Tuesday. "All work requirements do is limit the availability of food aid for families and hurt poor, marginalized communities—the very people we were elected to defend."
Sen. John Fetterman (D-Pa.) said Tuesday that he could not "in good conscience support a debt ceiling proposal that pushes people into poverty."
Sen. Elizabeth Warren (D-Mass.) echoed that position, calling the GOP's proposed work requirements "despicable" and saying she "cannot support a deal that is only about hurting people."

In remarks on Wednesday, Biden said he is "not going to accept any work requirements" that impact "medical health needs of people," an apparent reference to Medicaid.
But the president, who is facing growing pressure to act unliterally to raise the debt limit, added that "it's possible there could be" work requirements for other programs in a possible deal with Republicans, who have advocated additional work mandates for recipients of Supplemental Nutrition Assistance Program (SNAP) and Temporary Assistance for Needy Families (TANF) benefits.
Analysts have warned that the work requirements put forth by the House GOP would strip food aid from millions of people, including many children.
Rep. Jamaal Bowman (D-N.Y.) toldSemafor on Tuesday that "we're giving credibility to the Republican Party as hostage-takers by even having these meetings and saying publicly... that we're willing to negotiate on something like SNAP benefits."
"Why are we even giving credibility to a party that has not negotiated anything in good faith?" Bowman asked.

News