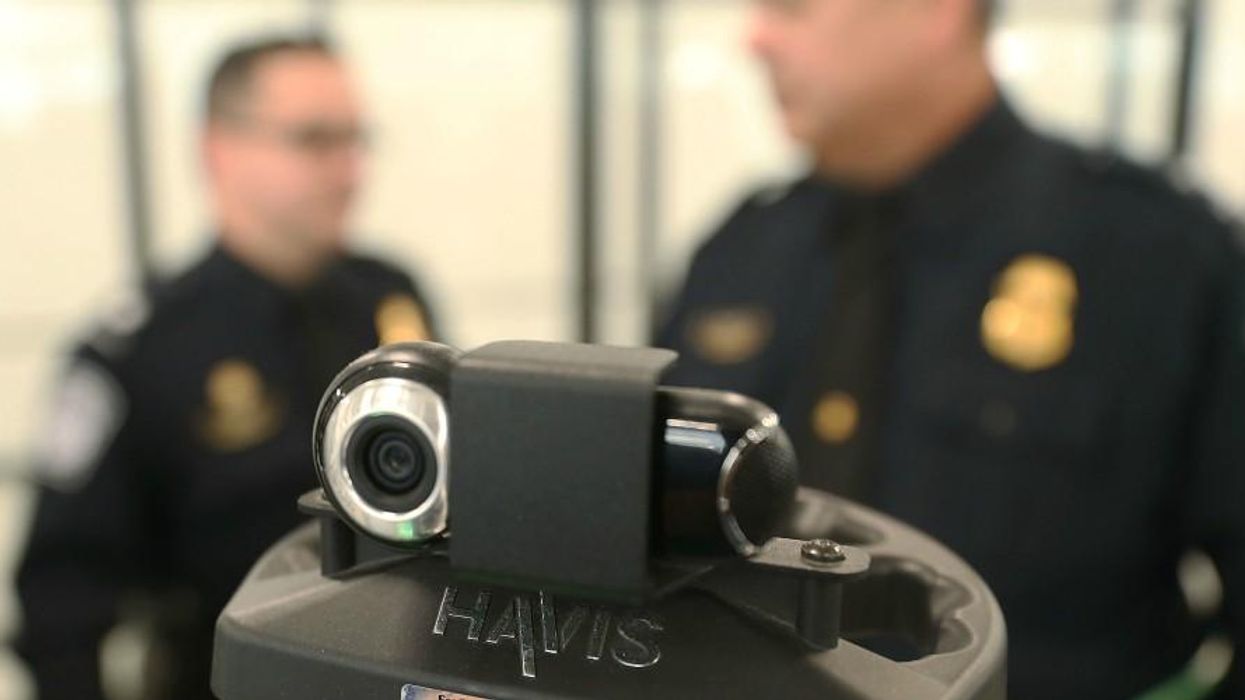 "Biometric data collection poses serious risks of privacy invasion and discrimination, and Americans know they should not have to forgo personal privacy for safety," said Sen. Ed Markey.
As evidence mounts that facial recognition technology is racially biased and has led to wrongful arrests of people in the U.S., Sen. Ed Markey and Rep. Pramila Jayapal on Tuesday reintroduced their legislation to impose sweeping prohibitions on the use of the technology by federal agencies and entities that receive federal funding.
The Facial Recognition and Biometric Technology Moratorium Act of 2023 would prohibit federal agencies from using facial recognition as well as biometric technology, including "voice recognition, gate recognition, and recognition of other immutable physical characteristics," according to Markey.
The Massachusetts Democrat has in recent months called on federal agencies including the Transportation Security Administration (TSA) and Immigration and Customs Enforcement (ICE) to stop using such surveillance mechanisms to identify people who may have committed crimes, warning the TSA last month that a recent federal study found "Asian and African-American people were up to 100 times more likely to be misidentified than white men by facial recognition technology."
The use of facial recognition stands "in the way of progress and perpetuate[s] injustice," said Markey in a statement.
"The year is 2023, but we are living through 1984. The continued proliferation of surveillance tools like facial recognition technologies in our society is deeply disturbing," said Markey. "Biometric data collection poses serious risks of privacy invasion and discrimination, and Americans know they should not have to forgo personal privacy for safety."
In addition to imposing a strict ban on the use of facial recognition and biometric technologies by federal entities, said Markey, the legislation would:
Condition federal grant funding to state and local entities, including law enforcement, on those entities enacting their own moratoria on the use of facial recognition and biometric technology;
Prohibit the use of federal dollars for biometric surveillance systems;
Prohibit the use of information collected via biometric technology in violation of the law in any judicial proceedings;
Provide a private right of action for individuals whose biometric data is used in violation of the act and allow for enforcement by state attorneys general; and
Allow states and localities to enact their own laws regarding the use of facial recognition and biometric technologies.
Jayapal, a Democrat from Washington state,
called
the technology "invasive, inaccurate, and unregulated" and warned law enforcement agencies have already "weaponized" the surveillance systems against people of color.
In Maryland, Alonzo Sawyer was recently arrested near Baltimore for assaulting a bus driver and stealing their phone, despite the fact that he was home at the time of the attack and his wife confirmed his alibi. An intelligence agency used facial recognition technology to match Sawyer to CCTV footage from the bus.
Sawyer was just the latest Black American man to be arrested after being misidentified using facial recognition technology.
Those wrongful arrests are "why I have long called on government to halt the deployment of facial recognition technology," said Jayapal. "This legislation will not only preserve civil liberties but aggressively fight back against injustice by stopping federal entities from irresponsibly using facial recognition and biometric surveillance tools."
"Facial recognition has continued to harm vulnerable communities and erode our privacy, making this legislation more important than ever," said Caitlin Seeley George, campaigns and managing director for digital rights group Fight for the Future, which supports an outright ban on law enforcement use of the technology. "We cannot afford to wait any longer to put this invasive technology in check, and any lawmaker who claims to care about privacy and justice must prove it by supporting this legislation."
As they introduced the bill, Markey and Jayapal were joined by Sens. Jeff Merkley (D-Ore.), Bernie Sanders (I-Vt.), Elizabeth Warren (D-Mass.), and Ron Wyden (D-Ore.) and Reps. Ayanna Pressley (D-Mass.), Rashida Tlaib (D-Mich.), Earl Blumenauer (D-Ore.), Cori Bush (D-Mo.), Greg Casar (D-Texas), Adriano Espaillat (D-N.Y.), Barbara Lee (D-Calif.), Eleanor Holmes Norton (D-D.C.), Jamaal Bowman (D-N.Y.), and Jan Schakowsky (D-Ill.).
As Common Dreamsreported Tuesday, a lawsuit filed by the ACLU unveiled a "major investment" by the FBI in the development of facial recognition software.
\u201cThe FBI and the Department of Defense have been actively researching and developing facial recognition software for years.\n\nThe ultimate goal is to track large numbers of people using footage from any public surveillance camera \u2014 no matter how grainy, far, or obscured we are.\u201d

— ACLU (@ACLU) 1678202897
"This sweeping government surveillance software is a nightmare for our privacy rights," said the ACLU Tuesday. "Lawmakers need to close the door on government abuse of this technology now, before it's too late."
The newly reintroduced legislation demonstrates that "Markey understands Congress should not be using federal funds to underwrite the use of technologies that threaten our most sacred civil rights and civil liberties," said Chad Marlow, senior policy counsel for the organization. "The ACLU applauds Sen. Markey's leadership on this issue and thanks all the members of Congress who join him in safeguarding our freedoms against the prying eyes of unchecked government surveillance."

News