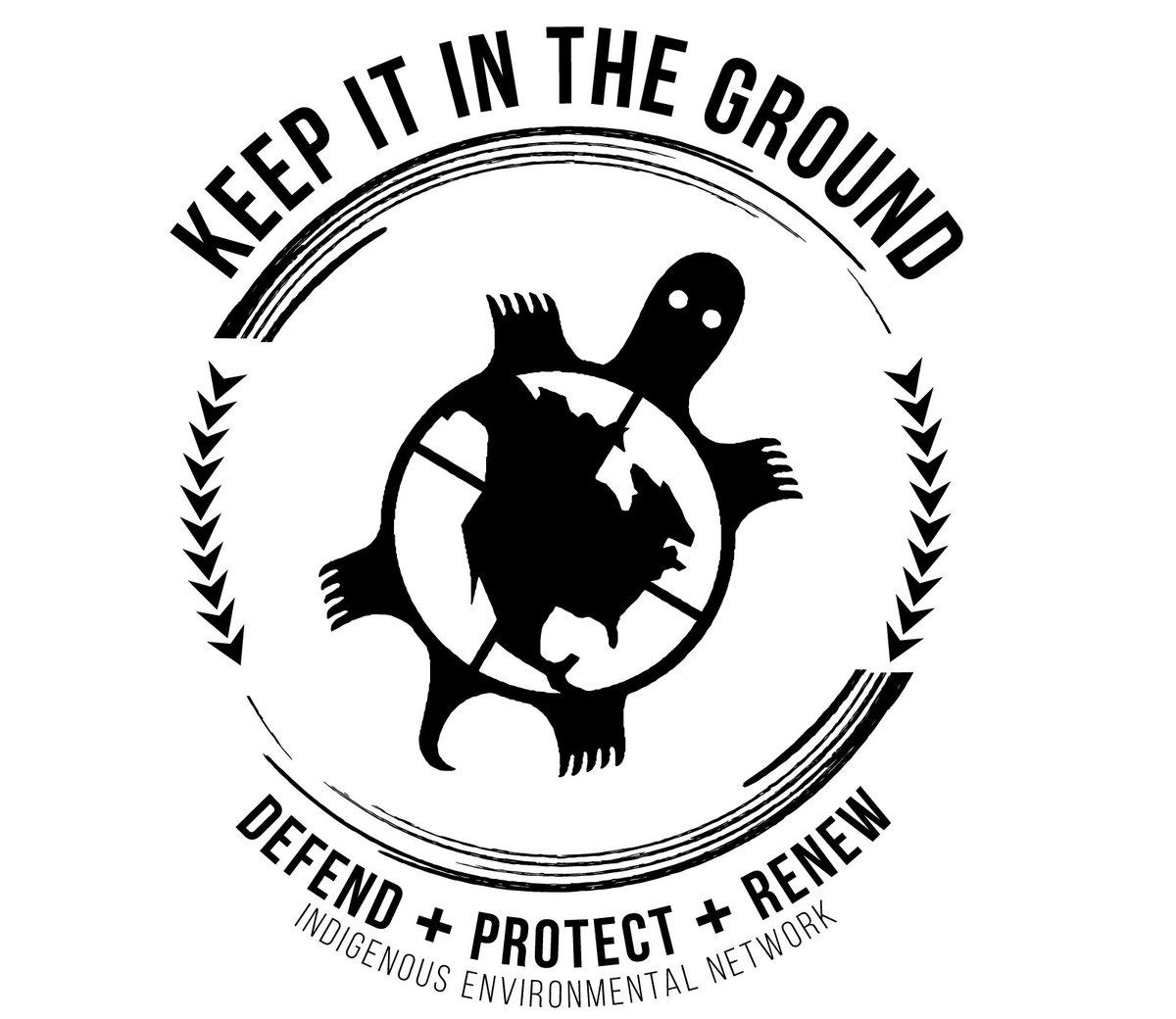 For Immediate Release
Contact:
Nathalia Clark
Communications Director, Fossil Fuel Non-Proliferation Treaty (Brazil)
nathalia@fossilfueltreaty.org, +55 61 99137-1229
Cari Barcas
Communications Director, Stand.earth (USA)
cari.barcas@stand.earth
BJ McManama
Public Relations and Web Manager, Indigenous Environmental Network
bjmcmanama@ienearth.org
In a Historic Vote, the State of California Becomes the Largest Economy in the World to Endorse the Call for a Fossil Fuel Non-Proliferation Treaty
In a historic move, the resolution calling on the State of California to endorse the call for a Fossil Fuel Non-Proliferation Treaty passed today the final vote in the State Assembly, making California the largest global economy to support the proposal. Facing big opposition from oil & gas lobbyists and 40 industry groups, who joined forces in an attempt to block it, the proposal was backed by a majority of 43 votes.
The SJR 2 resolution was introduced by California Senate Majority Whip Senator Lena A. Gonzalez, and co-sponsored by Indigenous Environmental Network, Stand.earth, and SAFE Cities. The resolution calls on President Biden to support Pacific nations moving ahead with seeking a negotiating mandate for a Fossil Fuel Non-Proliferation Treaty.
Solidifying its commitment to combating the ongoing climate crisis, the State of California now joins over 100 other governments from around the world in a global effort to make the Fossil Fuel Treaty proposal a reality. From the bloc of six Pacific Island Nations - Vanuatu, Tuvalu, Tonga, Fiji, Niue and the Solomon Islands - to the European Parliament and the Hawai'i State Legislature.
The Fossil Fuel Treaty proposal is gaining significant momentum across the world and across sectors of society, being supported by the World Health Organization, near 100 cities, 2,500+ civil society organizations, over half a million individuals, including Nobel Laureates, 3,000 leading academics, scientists, hundreds of Indigenous, health, youth and faith groups, celebrities and influencers who understand the imperative of this crucial crusade.
California Senate Majority Whip Senator Lena A Gonzalez (D – Long Beach), said: "It is essential that we commit once and for all to ending our reliance on fossil fuels. People around the world, especially low-income people of color, are suffering the adverse health impacts of fossil fuel pollution, from asthma to cancer. The recent devastating fires and hurricanes emphasize the urgency of taking action, to prevent further extreme weather changes. The science has been clear for decades—fossil fuels are responsible for the climate crisis. We can prevent further harm to our communities, and that is why I am proud that California has now been added to the growing list of governments endorsing the Fossil Fuel Non-Proliferation Treaty. It is time for our nation to be a part of the solution, to forge strong unity and commitment to phasing out the use of fossil fuels."

Tom Goldtooth, Executive Director of the Indigenous Environmental Network, said: "This decision of the State of California is a commitment to take down the single biggest contributor to the climate crisis: the fossil fuel industry. California joins the millions of voices across Turtle Island and Mother Earth calling on Biden to follow in the footsteps of our Pacific Island brothers and sisters from the small Island states and negotiate a mandate for a Fossil Fuel Non-Proliferation Treaty. As the state with the highest population of Indigenous Peoples in the country, it is important to pass legislation that would put a halt to the devastation and destruction of the compounding effects of climate change caused by fossil fuels."

The resolution supports a global plan to create the missing framework for managing fossil fuel production, first by stopping expansion and then carefully phasing out coal, oil, and gas in a way that is fair and fast. It also looks to protect the most impacted workers and local government services through this transition to abundant and clean renewable energy.
As the world grapples with the catastrophic impacts of climate change, and Californians witness the increasing frequency of devastating wildfires, severe droughts, and rising sea levels, it is evident that bold and immediate action is needed. The resolution has the potential to inject a huge wave of momentum into the global campaign for a Fossil Fuel Treaty and build significant pressure on President Biden who earlier this year approved the controversial Willow Project in Alaska.
Alex Rafalowicz, Executive Director of the Fossil Fuel Non-Proliferation Treaty Initiative, said "As the largest economy to embrace the Fossil Fuel Treaty, California sets a powerful example to the international community, underscoring the urgency of fast-tracking an equitable transition away from oil, gas and coal. This move will catalyze a ripple effect that reaches far beyond state borders. By aligning its immense economic and cultural influence with the Fossil Fuel Treaty proposal, California can accelerate its own energy transition, inspiring global cooperation to safeguard our planet and communities. We hope this move locks in real action on ending the era of fossil fuels in California, and spurs other regions, states, and countries to join forces in tackling the root cause of the climate crisis: the production of coal, oil and gas."

Nathan Taft, Senior Digital Campaigner for SAFE Cities with Stand.earth and California resident, said:"Los Angeles was one of the first cities in the world to endorse the Fossil Fuel Treaty, and it's great to see California following its lead by becoming one of the first subnational governments joining this movement to address the climate crisis with the scale and urgency required. At the same time, California must follow this historic resolution with concrete policies that protect its residents and the climate from fossil fuels. At a bare minimum, California should stop issuing new fossil fuel permits, divest its massive pensions from fossil fuels, and implement all-electric building codes."

The resolution must also be complemented by urgent policy reforms in California to stop all new fossil fuel permits, drop existing oil drilling, and roll out health and safety buffers as clearly stated by the powerful Last Chance Alliance, a coalition of over 900 organizations active in California.
Cesar Aguirre, Oil & Gas Director, Central California Environmental Justice Network, said: "California calling for a Fossil Fuel Non-Proliferation Treaty only holds weight if we see meaningful protections come from it. Of the 97 governments that signed on, only in California did the oil industry mobilize paid lobbyists to fight the endorsement. If we want to be seen as a state that stands up to fossil fuels, setbacks and no new neighborhood drilling should be the first priority."

Fossil fuels contribute to air pollution, respiratory illnesses, and a host of other health problems. By taking decisive action to phase out coal, oil, and gas, California can improve air quality, protect vulnerable communities, and enhance the well-being of its population. Embracing the call for a Fossil Fuel Treaty would send a clear message that California recognizes the incompatibility of fossil fuel dependency with the urgent need to reduce greenhouse gas emissions.
The Fossil Fuel Treaty proposal has gained significant momentum in recent months, with a bloc of Pacific nation states - Vanuatu, Tuvalu, Tonga, Fiji, Niue and the Solomon Islands – formally and publicly expressing their intention to seek a negotiating mandate for a new treaty. They are now pushing to build an alliance of national and subnational governments globally who can join them in developing the initiative.
Established in 1990 within the United States, IEN was formed by grassroots Indigenous peoples and individuals to address environmental and economic justice issues (EJ). IEN's activities include building the capacity of Indigenous communities and tribal governments to develop mechanisms to protect our sacred sites, land, water, air, natural resources, health of both our people and all living things, and to build economically sustainable communities.
LATEST NEWS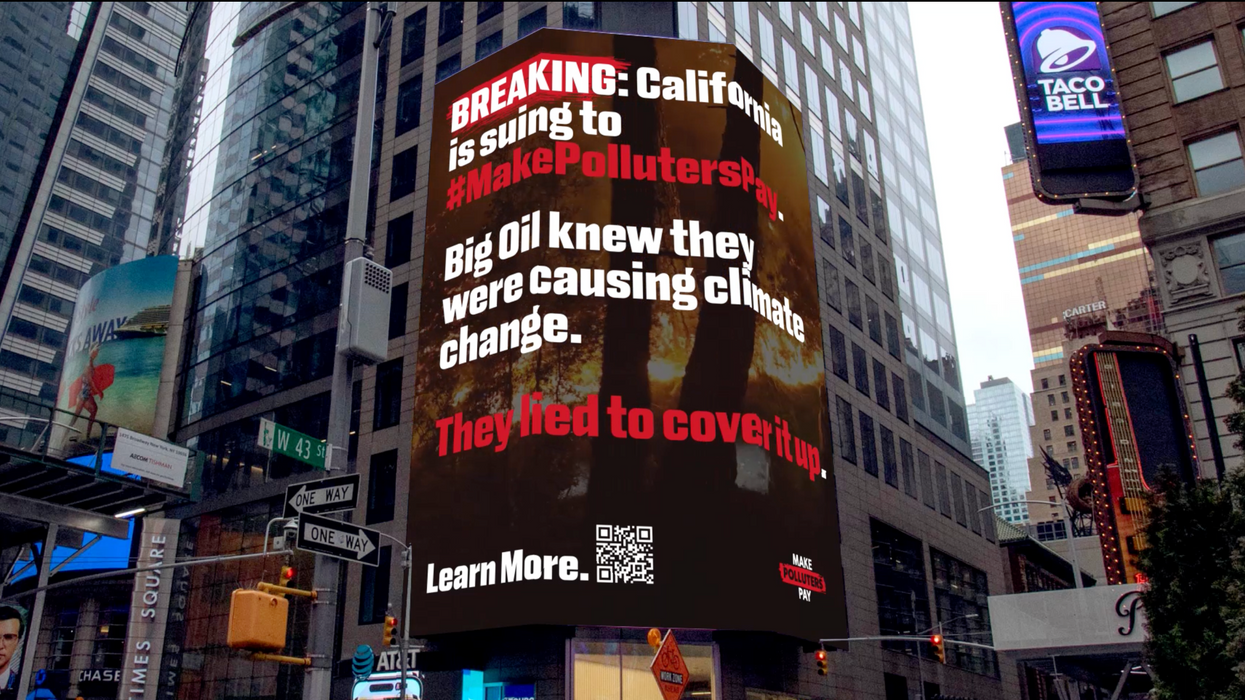 "It's time to come together and finally hold the fossil fuel industry accountable for the damage they've done."
Shortly after California sued five fossil fuel giants over their decades of climate deception and damage, activists on Saturday announced the launch of a new campaign aimed at pressuring the Biden Justice Department and state attorneys general across the U.S. to join the growing legal fight against Big Oil.
The "Make Polluters Pay" campaign is set to formally kick off Monday with a billboard display in Times Square and a six-figure digital ad buy designed to build public support for lawsuits against leading oil and gas firms, which knew about the link between their products and climate change long before they publicly acknowledged it.
"Climate change isn't just a tragedy, it's a crime," said Jamie Henn, founder of Fossil Free Media, one of the groups behind the new campaign. "Fossil fuel companies knew, they lied, and now it's time to make them pay. Right now, billions of us around the world are experiencing the impacts of the climate crisis firsthand. It's time to come together and finally hold the fossil fuel industry accountable for the damage they've done."
Dozens of U.S. counties, cities, and states have sued fossil fuel companies in recent years over the destruction wreaked by oil, gas, and coal projects, which remain a dire threat to global efforts to limit planetary warming and prevent the kinds of catastrophic weather events the world has seen in recent months from becoming even more intense and deadly.
On Friday, California became the largest economy in the world to take legal action against the fossil fuel industry, suing ExxonMobil, Shell, BP, ConocoPhillips, Chevron, and the American Petroleum Institute for engaging in a "multidecade, ongoing campaign to seek endless profits at the expense of our planet."
The new pressure campaign, modeled after the national effort to inform the public about the threat of tobacco, hopes to push other states—and U.S. Attorney General Merrick Garland—to follow in California's footsteps.
"Knowingly wrecking the climate is criminal," Leah Qusba of Action for the Climate Emergency (ACE) said in a statement. "Make no mistake—they will pay for losses and damages."
The campaign is set to launch ahead of United Nations Secretary-General António Guterres' Climate Ambition Summit on Wednesday.
The summit, billed as a "no-nonsense" effort to generate more aggressive action plans to phase out planet-warming energy, will be preceded by hundreds mass demonstrations across the globe imploring U.S. President Joe Biden and other world leaders to "end fossil fuels."
The protests will culminate in the "March to End Fossil Fuels" in New York City on Sunday afternoon.

"Big Oil owes us for the lives and livelihoods lost to climate change-linked extreme weather, illness, and death," said Alex Witt, the senior adviser for oil and gas at Climate Power. "The industry's C-suite has known for decades the horrific impact oil and gas have on the climate, and they kept drilling. That's not just negligent; it's reprehensible."
"The tide has turned against Big Oil," Witt added, "and they know it."
News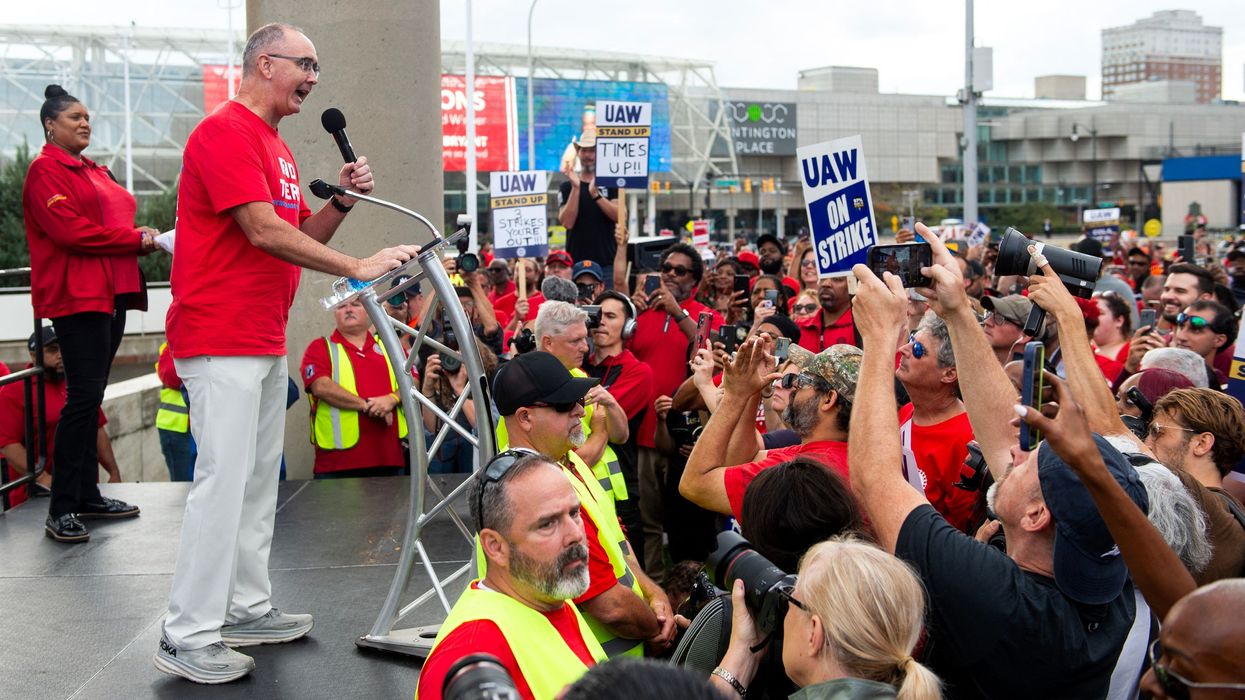 United Auto Workers president Shawn Fain accused the companies of "trying to put the squeeze on our members to settle for less."
The president of the United Auto Workers condemned Ford and General Motors on Saturday after the companies said they plan to temporarily lay off thousands of nonstriking employees, blaming the union's walkouts at two plants in Michigan and Ohio.
Ford said in a statement Friday that it is laying off roughly 600 workers at its Michigan Assembly Plant, pointing to "knock-on effects" from the UAW's walkouts at the facility's final assembly and paint departments.
General Motors, meanwhile, said it expects 2,000 workers at its Fairfax Assembly plant in Kansas "to be idled as soon as next week," a decision the company called "a negative ripple effect" of the UAW's historic strike.
But UAW president Shawn Fain argued the layoffs are completely unnecessary—and an obvious attempt by Ford and General Motors to "put the squeeze on our members to settle for less."
"With their record profits, they don't have to lay off a single employee. In fact, they could double every autoworker's pay, not raise car prices, and still rake in billions of dollars," said Fain. "Their plan won't work. The UAW will make sure any worker laid off in the Big Three's latest attack will not go without an income. We'll organize one day longer than they can, and go the distance to win economic and social justice at the Big Three."
The UAW's response to the layoffs came as union negotiators and the Big Three automakers returned to the bargaining table to continue negotiating over a new contract.
More than 12,000 UAW autoworkers are currently on strike at three plants, and—as part of its "stand-up strike" strategy—the union is expected to call on additional locals to strike in the coming days if the car manufacturers don't make a sufficient contract offer.
The UAW says a gradual wave of strikes at select plants will give its negotiators maximal leverage—and keep the Big Three guessing—as the union attempts to win significant benefit and wage improvements. Fain has said an "all-out" strike is still on the table.

Reutersreported Saturday morning that Stellantis has increased its wage-hike offer to nearly 21% over the life of the contract—the biggest total wage boost proposed by a Big Three automaker thus far, but still well shy of the union's demand for a 36% raise.
Ford and General Motors have proposed raises of 20% and 18%, respectively.
Ford CEO Jim Farley, whose compensation package totaled nearly $21 million last year, faced backlash from the UAW and lawmakers for claiming earlier this week that the union's wage demands would "bankrupt" the company.
"There's no way you can continue wasting hundreds of millions of dollars on stock buybacks to manipulate prices, jack up CEO pay to ludicrous levels, all while starving the workers who actually make the product you sell," Rep. Alexandria Ocasio-Cortez (D-N.Y.) replied on social media. "THAT is what is unsustainable. Pay your workers."
Fain, for his part, called Farley's claim "a lie like everything else that comes out of their mouths."
As Fortunereported on Friday, Morgan Stanley's auto analyst estimated in a recent note that a 40% pay raise for autoworkers would result in $2.6 billion in additional labor costs for Ford, which expects to bring in $168 billion in total revenue this year.
The company spent nearly $500 million on stock buybacks last year.
"They could double our wages and not raise the prices of vehicles, and they would still make billions of dollars," Fain said from the picket line on Friday.
News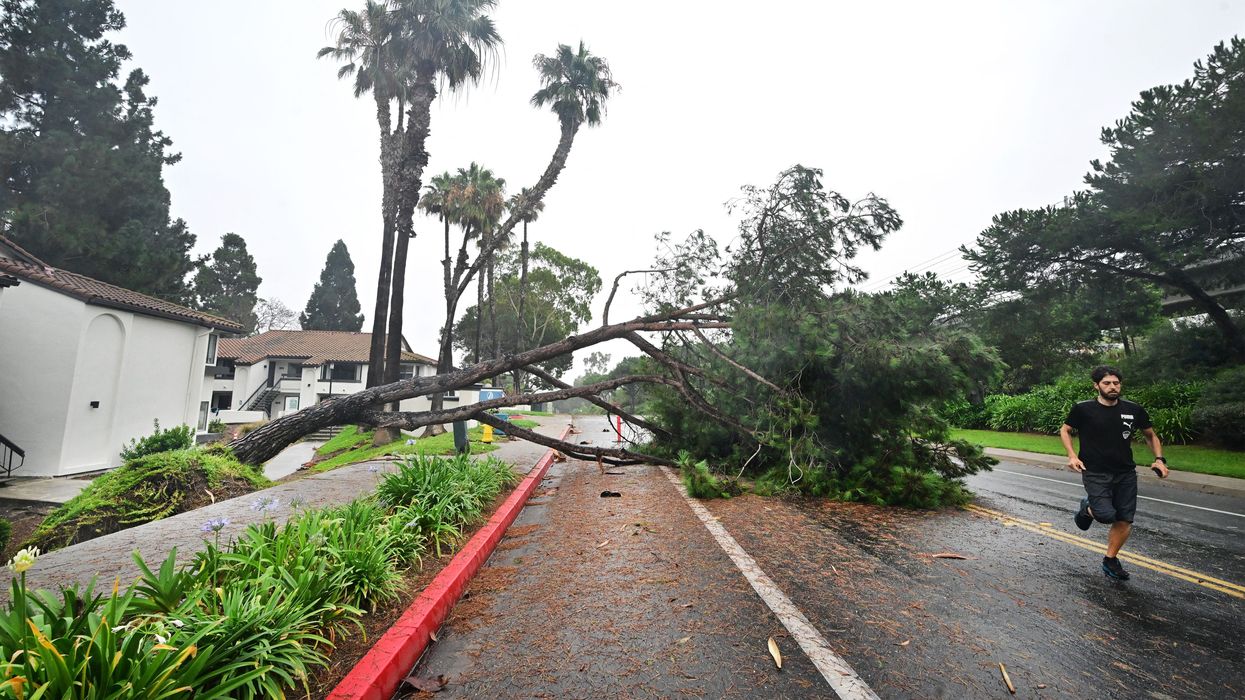 "California's move is an unmistakable sign that the wave of climate lawsuits against Big Oil will keep growing and that these polluters' days of escaping accountability for their lies are numbered."
The state of California on Friday filed suit against ExxonMobil, Shell, BP, ConocoPhillips, and Chevron, accusing the five oil and gas giants of a decadeslong campaign to mislead the public about the threat fossil fuels pose to the climate.

The lawsuit makes California the largest economy on the planet to take legal action against fossil fuel companies over their efforts to deceive the world about their destructive—and immensely profitable—business model. California is also a major producer of oil and gas.
"This has been a multi-decade, ongoing campaign to seek endless profits at the expense of our planet, our people, and the greedy corporations and individuals need to be held accountable," California Attorney General Rob Bonta toldThe New York Times in an interview on Friday. "That's where we come in."
With its new civil lawsuit, filed in a San Francisco court, California joins Rhode Island, Minnesota, Connecticut, Massachusetts, Vermont, and other states that have sued the fossil fuel industry over its role in massive climate damages. Dozens of municipalities, including several in California, have also filed lawsuits against oil giants.
According to the National Oceanic and Atmospheric Administration, the U.S. has experienced a record-breaking 23 billion-dollar extreme weather disasters this year, from deadly flooding in California to the catastrophic wildfire that killed nearly 100 people in Maui, Hawaii—which is also suing Big Oil.
Cities and states representing 25% of the U.S. population are currently taking part in some kind of climate-related legal action against the fossil fuel industry, according to Fossil Free Media, and the Biden Justice Department is facing growing pressure to join the fight.

In an effort to improve their chances of winning the mounting legal battles, fossil fuel giants have tried to move climate liability lawsuits from state to federal court—but the U.S. Supreme Court declined to hear their appeals earlier this year.
"Just like tobacco and opioid companies, the oil and gas industry will have to face the evidence of its deception in court."
Richard Wiles, the president of the Center for Climate Integrity, said in a statement Saturday that "California's decision to take Big Oil companies to court is a watershed moment in the rapidly expanding legal fight to hold major polluters accountable for decades of climate lies."
"Whether it's fires, droughts, extreme heat, or sea-level rise, Californians have been living in a climate emergency caused by the fossil fuel industry, and now the state is taking decisive action to make those polluters pay," said Wiles. "As similar cases proceed toward trial, California's move is an unmistakable sign that the wave of climate lawsuits against Big Oil will keep growing and that these polluters' days of escaping accountability for their lies are numbered. Just like tobacco and opioid companies, the oil and gas industry will have to face the evidence of its deception in court."
California's lawsuit, which also names the American Petroleum Institute as a defendant, comes days after The Wall Street Journalpublished a front-page story based on previously unreported documents that detail Exxon's behind-closed-doors effort to cast doubt on climate science after 2006, when the company publicly acknowledged the link between fossil fuels and climate change for the first time.

Exxon and other oil companies have been aware of the connection since the 1970s.

"For more than 50 years, Big Oil has been lying to us—covering up the fact that they've long known how dangerous the fossil fuels they produce are for our planet," California Gov. Gavin Newsom said in a statement. "It has been decades of damage and deception."

"Wildfires wiping out entire communities, toxic smoke clogging our air, deadly heatwaves, record-breaking droughts parching our wells," Newsom continued. "California taxpayers shouldn't have to foot the bill. California is taking action to hold big polluters accountable."

The Times noted Friday that California's lawsuit aims to establish "a fund that would be used to pay for recovery from extreme weather events and mitigation and adaptation efforts across the state."

"The lawsuit claims that California has already spent tens of billions of dollars paying for climate disasters, and expects costs to rise significantly in the years ahead," the Times added.
Jamie Henn, the director of Fossil Free Media, said Saturday that with its lawsuit, "California just kicked open the door for every city and state in America to sue the fossil fuel industry for climate damages."
"After this summer of brutal heat waves and climate disasters, I think the public is hungry for a way to hold the fossil fuel industry accountable for the damage they've done," said Henn. "Big Oil knew, they lied, and now it's time to make them pay."

News
Independent, nonprofit journalism needs your help.
Please Pitch In
Today!