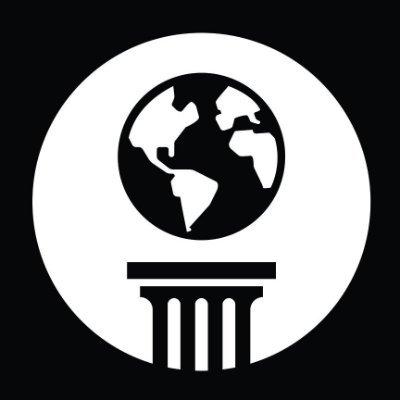 WASHINGTON
Over the past two weeks, world leaders met in Montreal at the Convention on Biological Diversity to negotiate a new Global Biodiversity Framework. Today, member nations agreed to protect 30 percent of the planet's land and oceans by 2030, manage the remaining 70 percent of the planet to avoid losing areas of high importance to biodiversity, and ensure that industry discloses biodiversity risks and impacts. While the U.S. is not a signatory to the convention, its delegates engaged with other countries and civil society at the meeting around the need for the U.S. to play a critical role in biodiversity protection.
In response to today's news, Earthjustice Legislative Director Addie Haughey said:
"Today's agreement is an important step in the fight to tackle the biodiversity crisis and must spur additional action in the U.S. At this pivotal moment, the Biden administration must set its sights on what it will achieve on biodiversity in the next two years. First and foremost, the administration has a responsibility to reverse the harmful changes made to Endangered Species Act (ESA) regulations by the Trump administration. These new regulations must be advanced immediately to ensure they are completed by the end of President Biden's first term. It is time for bold action to protect and strengthen the ESA for its next 50 years.
"The Inflation Reduction Act (IRA) also provides unprecedented opportunities to make progress on ecosystem protection and addressing the biodiversity crisis. The IRA directs the federal government to pursue protections for carbon rich forests to meet our climate emissions goals, which will also provide significant protections for biodiversity in our forests and contribute to efforts to protect 30% of habitats. Through the Fish and Wildlife Service and the Interior and Commerce Departments, IRA funds can also support the recovery of our most imperiled species and the protection of key ecosystems and habitats.
"President Biden has already committed to restore the ESA, protect 30% of our lands and waters by 2030, and create new protections for mature and old growth forests - with unprecedented resources through the IRA to help achieve these goals. Along with a will to act, the Biden administration has every tool it needs to make significant progress fighting the biodiversity crisis in the United States in the next two years and meeting the global targets that are now in place."
Earthjustice is a non-profit public interest law firm dedicated to protecting the magnificent places, natural resources, and wildlife of this earth, and to defending the right of all people to a healthy environment. We bring about far-reaching change by enforcing and strengthening environmental laws on behalf of hundreds of organizations, coalitions and communities.
800-584-6460
LATEST NEWS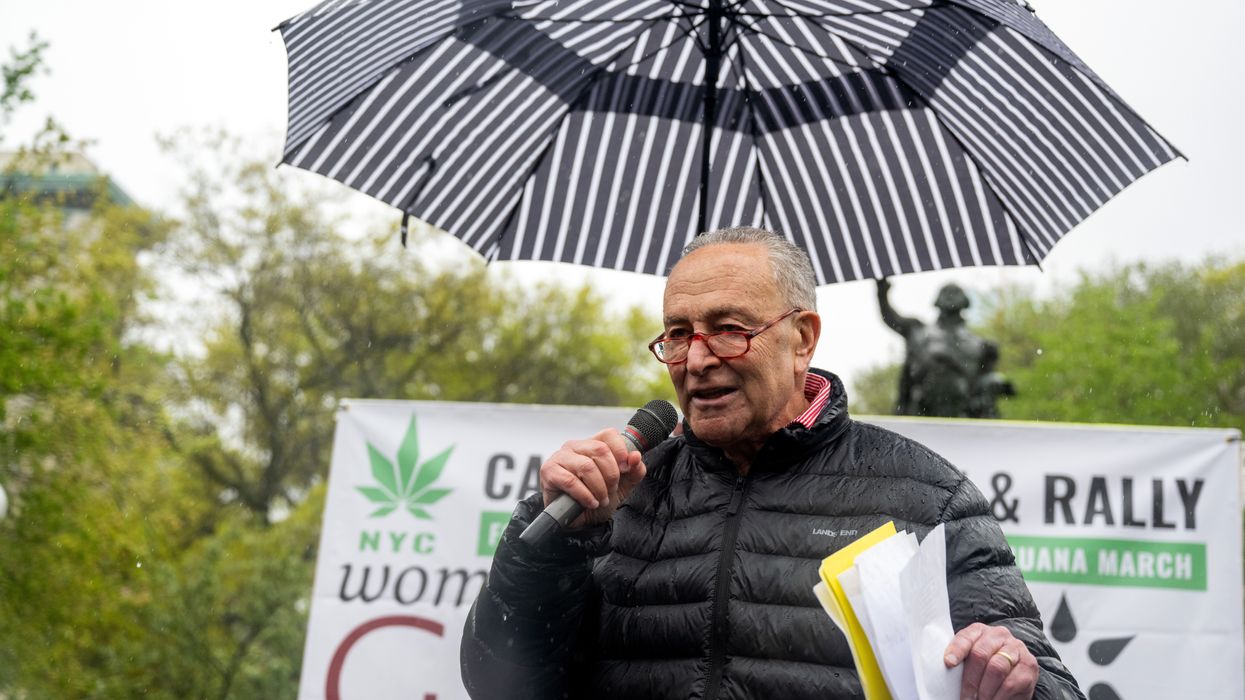 Co-sponsors said it "will help make our communities and small businesses safer by giving legal cannabis businesses access to traditional financial institutions, including bank accounts and small business loans."
A bipartisan group of senators, including Senate Majority Leader Chuck Schumer, on Wednesday unveiled a revised bill that aims to "ensure that all businesses—including state-sanctioned cannabis businesses—have access to deposit accounts, insurance, and other financial services."
The bill is now called the Secure and Fair Enforcement Regulation (SAFER) Banking Act, as a few journalists revealed late Tuesday.
In addition to Schumer (D-N.Y.), the legislation is led by Sens. Jeff Merkley (D-Ore), Steve Daines (R-Mt.), Kyrsten Sinema (I-Ariz.), Cynthia Lummis (R-Wy.), Kevin Cramer (R-N.D.), Cory Booker (D-N.J.), Dan Sullivan (R-Alaska), and Bob Menendez (D-N.J.). Merkley and Daines put out a previous version of the bill earlier this year.
"This legislation will help make our communities and small businesses safer by giving legal cannabis businesses access to traditional financial institutions, including bank accounts and small business loans," some of the co-sponsors said in a statement. "It also prevents federal bank regulators from ordering a bank or credit union to close an account based on reputational risk. We look forward to the markup of this bill in the Senate Committee on Banking, Housing, and Urban Affairs on September 27th."
Separately, Schumer, a supporter of legalization, said that "for too long, the federal government has continued to punish marijuana users and business owners—even when doing so is actively harmful to our country. This 'war on drugs' has turned into a war on people and communities—specifically people and communities of color—and a war on business."
"This agreement allows cannabis businesses that have traditionally operated in cash to finally have the opportunity to accept credit and debit cards, allowing them to grow their businesses, pay their employees, protect their customers, and ensure public safety," he continued. "I intend to bring the SAFER Banking Act to the Senate floor with all due speed."
The majority leader added that he is "committed to including" the Harnessing Opportunities by Pursuing Expungement (HOPE) Act and Gun Rights and Marijuana (GRAM) Act. The former would provide federal grants to help states with expunging cannabis offenses while the latter would end the ban of gun sales to cannabis users in states that allow medical or recreational use.
Marijuana Momentreported that "the newly released bill reveals the types of compromises senators made over recent weeks. Most of the new provisions are described under Section 10—a component of the reform that Republicans have strongly favored and certain Democrats opposed over concerns it could undermine broader banking regulations."
The legislation's introduction answers demands for federal action by drug policy reform groups and unions as well as banking, cannabis, and insurance trade associations. One joint letter sent to Congress on Tuesday argued that "it is a moral imperative" to pass some version of the bill this year, "in order to progress our country toward a safe environment for the workers, owners, customers, and other visitors of state-legal cannabis retail stores."
Medicinal use of marijuana is permitted by 38 states, three U.S. territories, and the District of Columbia, and recreational adult use is allowed in 23 states, two territories, and D.C., according to the National Conference of State Legislatures.
Cannabis not only remains illegal at the federal level but is a Schedule I drug, the most restricted category under the Controlled Substance Act. However, following a review requested by President Joe Biden, a Department of Health and Human Services official last month urged the Drug Enforcement Administration chief to reclassifying it as Schedule III.
While welcoming "the historic nature" of that move, Cat Packer at the Drug Policy Alliance stressed at the time that "rescheduling falls woefully short of President Biden's promise and the relief our communities need," and urged the administration to "actively work with Congress to pass comprehensive legislation such as the Cannabis Administration and Opportunity Act," which would federally decriminalize marijuana and begin to address decades of harm caused by criminalization.
The new Senate proposal was introduced as the Republican-controlled U.S. House Oversight and Accountability Committee on Wednesday voted 30-14 in favor of the bipartisan Cannabis Users' Restoration of Eligibility (CURE) Act, which would allow past marijuana users to serve as federal employees and qualify for security clearances.
NORML political director Morgan Fox said in a statement that "while it is disappointing that the committee did not see fit to stop federal agencies from discriminating against responsible adults and patients who are current consumers of cannabis, this legislation will nonetheless open up new opportunities to millions of Americans, increase the talent pool available to federal employers, and ultimately make our country safer."
News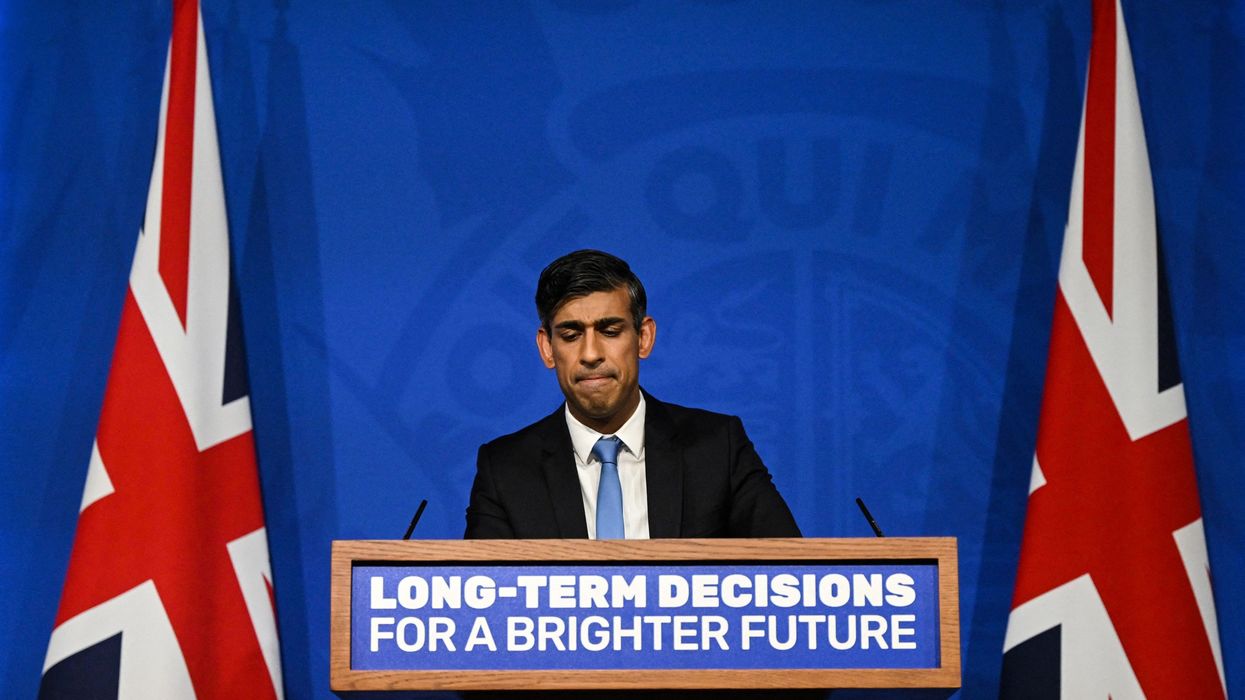 "Sunak's U-turn today will be devastating for the people of the U.K. and for the planet we call home," warned one Scottish Green. "It's nothing short of evil."
Critics across the political spectrum—from Conservative members of Parliament and corporations to Greens and climate campaigners—reacted with anger and resolve Wednesday following the announcement by U.K. Prime Minister Rishi Sunak that his Tory government would retreat from some of its key net-zero commitments.
Speaking Wednesday at the Downing Street Press Briefing Room in London, Sunak said his government is still committed to reaching net-zero by 2050, but in a "more proportionate way" that would bring a "greener planet and a more prosperous future."
The rollback will reportedly include delaying a ban on the sale of petrol- and diesel-powered vehicles from 2030 to 2035, pushing back the phaseout of gas boilers, scrapping energy efficiency targets for some homes, dropping recycling plans, and canceling a planned air travel tax.
"This is a U-turn that will leave the Tories facing in the opposite direction of almost everyone, and finally end their hopes of reelection."
"No one can deny climate change is happening," Sunak said, adding that the county needs "sensible green leadership" instead of false choices that "never go beyond a slogan."
However, Conservative peer Lord Zac Goldsmith—who resigned his ministerial post earlier this summer due to what he called Sunak's climate "apathy"—called the prime minister's reversal "a moment of shame."
"His short stint as PM will be remembered as the moment the U.K. turned its back on the world and on future generations," he added.
Shadow Climate Secretary Ed Miliband led Labour condemnation of the reversal, which he called "a complete farce from a Tory government that literally does not know what they are doing day to day."

Brighton Pavilion Green MP Caroline Lucas slammed what she called Sunak's "coordinated, calculated, and catastrophic rollback."
"What this all reveals is that Sunak really doesn't seem to care about the climate in the slightest—it's little more than an afterthought," Lucas wrote in a Guardian opinion piece published Wednesday.
Sunak must call a general election by January 2025, and his Tories are trailing the opposition Labour Party in opinion polls amid persistently high inflation, slow economic growth, and rising inequality.
"If Sunak mistakenly thinks the climate is merely a political device to draw dividing lines between his party and Labour, he will fail on his own terms," wrote Lucas. "All it will do is draw an ever-greater divide between him and the people he seeks to govern."
Climate campaigners roundly condemned Sunak's decision.
"The government needs to double down now, not U-turn," Kennedy Walker, a U.K. organizer with the climate action group 350.org, said in a statement. "We have the opportunity to show what a transition to a greener economy that works for people and the planet can look like; we need to hold leadership to account to make sure it happens and they follow through on their own promises."
Riffing on the government's "long-term decisions for a brighter future" slogan, Extinction Rebellion U.K. wrote on the social media site X: "Short-term decisions for a shitter future. Remember, this government took £3.5 million in donations from Big Oil and other industries before licensing new gas and oil."
Many companies including automaker Ford and energy giant E.ON joined in criticism of the rollback.
"Our business needs three things from the U.K. government: ambition, commitment, and consistency. A relaxation of 2030 would undermine all three," Ford U.K. chair Lisa Brankin said Wednesday. "We need the policy focus trained on bolstering the EV market in the short term and supporting consumers while headwinds are strong: infrastructure remains immature, tariffs loom, and cost-of-living is high."
Some critics noted that Sunak's announcement came on the same day the leaders of many nations—but not Britain or the world's two top carbon polluters, China and the United States—gathered in New York for the United Nations Climate Ambition Summit.
"We're in a climate emergency. The deadly impacts of climate change are here now and we have to act urgently," Labour London Mayor Sadiq Khan—the only U.K. speaker at the summit—toldThe Guardian Wednesday. "We have seen record high temperatures in London earlier this month and the hottest ever July. Over the last two years, we have experienced unprecedented wildfires and flash floods, destroying homes and livelihoods."
"This government's response flies in the face of common sense and shows they are climate delayers," Khan added. "It beggars belief that not only are they watering down vital commitments, but they are also passing up the opportunity to create green jobs, wealth, and lower energy bills—as well as failing to give investors the certainty they need to boost the green economy."
Sunak's reversal also infuriated many people in Scotland.

"Rishi Sunak has blood on his hands," National Union of Students Scotland president and Scottish Young Greens co-convener Ellie Gomersall toldThe National. "His excuse? It's too costly. Well then all the more kudos to the Scottish government who are still moving forward with net-zero policies like low-emission zones, phasing out gas boilers, cheaper public transport, all the while on a budget severely restrained by the confines of devolution."
"And of course when the Scottish government does try to implement simple yet effective measures like a deposit return scheme, Westminster comes along and blocks it," she added. "Sunak's U-turn today will be devastating for the people of the U.K. and for the planet we call home. It's nothing short of evil."
Alistair Heather, a Scottish writer and TV presenter, told The National that he was "almost pleased" by Sunak's announcement.
"This is a U-turn that will leave the Tories facing in the opposite direction of almost everyone, and finally end their hopes of reelection," he explained. "For mainstream voters, who understand that a clear, urgent movement of travel towards a green future is the best chance we have of mitigating the worst effects of the climate collapse, the Tories have made themselves completely unelectable. Good... Fuck the Tories. Mon the independence."
"With the Left AWOL, our species is being quick-marched to extinction."
The outrage was felt far beyond U.K. shores.
"At a time when the U.K. should be providing global leadership in transitioning off fossil fuels, especially in recognition of the impact its historical emissions have had in bringing about the climate crisis, the U.K. government is considering backtracking on already insufficient commitments," 350.org Europe regional director Nicolò Wojewoda said in a statement.
Yanis Varoufakis, a former Greek finance minister who heads the left-wing MeRA25 party, wrote on X that "Sunak's U-turn is a reflection of the total Europe-wide collapse of the market-based, neoliberal consensus on how to tackle the climate crisis. It marks the center‐right's new path."
"And with the Left AWOL," he added, "our species is being quick-marched to extinction."
News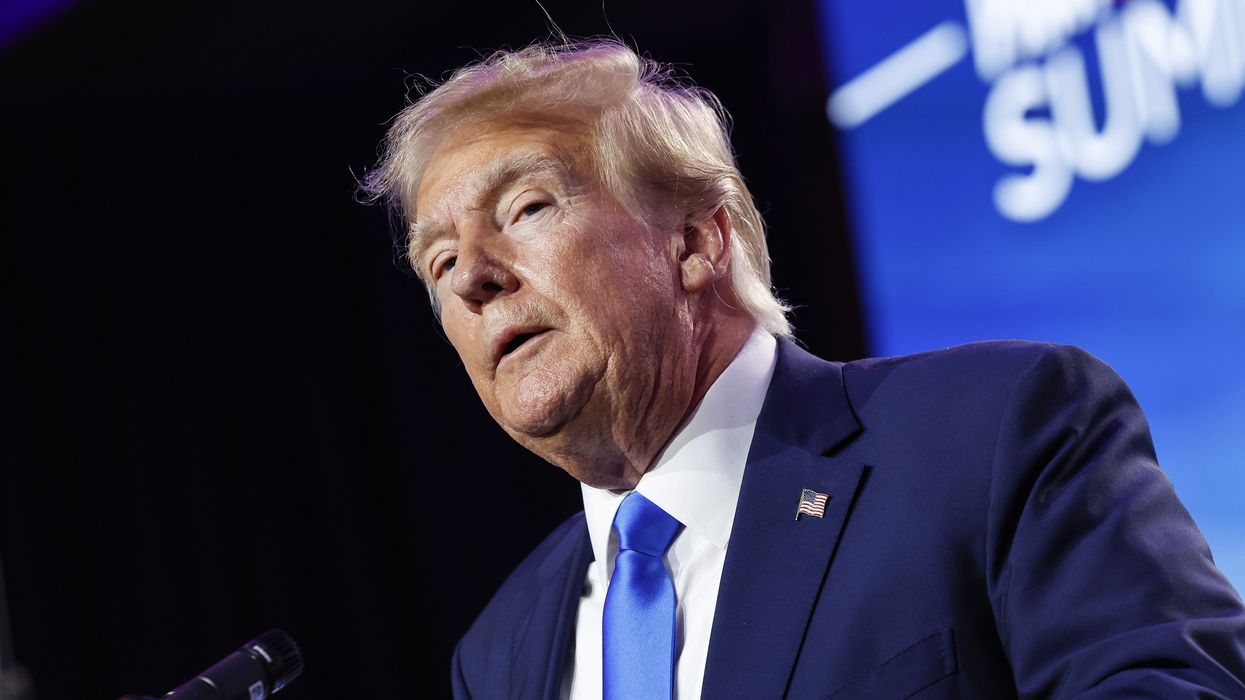 "Every fiber of our union is being poured into fighting the billionaire class and an economy that enriches people like Donald Trump at the expense of workers," said UAW president Shawn Fain.
Posturing as a friend and ally of the working class, former President Donald Trump is planning to travel to Detroit next week amid the historic United Auto Workers strike against General Motors, Ford, and Stellantis.
But during his four years in power, Trump took an openly hostile stance toward workers, stacking the National Labor Relations Board (NLRB) with anti-union officials, gutting Labor Department regulations aimed at protecting workers' wages and benefits, and nominating Supreme Court justices and agency heads with long histories of siding with companies over employees—all while delivering huge tax cuts to the rich and big corporations, including major automakers.
"At every turn, Donald Trump and his appointees have made increasing the power of corporations over working people their top priority," the Communications Workers of America wrote while the former president was still in office. "Trump has encouraged freeloaders, made it more difficult to enforce collective bargaining agreements, silenced workers, and restricted the freedom to join unions."
It's no surprise, then, that Trump's 2024 presidential campaign is glossing over the actual substance of his record as the billionaire former president and current Republican frontrunner attempts to insert himself into one of the most significant labor actions in decades.
The New York Timesreported Monday that the Trump team has "produced a radio ad that will begin running on Tuesday in Detroit and Toledo, Ohio, trying to cast Mr. Trump as aligned with autoworkers."
The narrator of the spot declares that Trump "has always had their backs," even though he said on at least two occasions during his 2016 campaign that U.S. workers' wages are "too high" and spent much of his administration trying to disempower employees.
Trump is expected to speak to hundreds of workers—including autoworkers and plumbers—during his Detroit visit next Wednesday. According to the Times, the former president is also considering "an appearance at the picket line."
"The last time Donald Trump 'visited' striking union workers, it was to cross our picket line against 'The Apprentice' in 2004," the International Alliance of Theatrical Stage Employees wrote in a social media post on Tuesday.
"Now he wants to visit a UAW picket line? When billionaires show you what they think of labor, believe them," the union added.
It's far from clear that Trump would get a warm reception from the roughly 13,000 autoworkers who are currently on strike in Missouri, Ohio, and Michigan—a number that's expected to grow in the coming days if management does not meet the UAW's demands for substantial wage and benefit improvements.
A majority of the U.S. public supports the strikes, which are the first simultaneous walkouts targeting the Big Three automakers in the UAW's history.

Just two days after the union launched the strikes, NBC News aired an interview with Trump in which the former president lashed out at UAW president Shawn Fain, claiming he is "not doing a good job in representing his union because he's not going to have a union in three years from now."
"Those jobs are all going to be gone because all of those electric cars are going to be made in China," Trump said. "The autoworkers are being sold down the river by their leadership, and their leadership should endorse Trump."
Fain, the first UAW president directly elected by rank-and-file members, hit back in a statement on Monday.
"Every fiber of our union is being poured into fighting the billionaire class and an economy that enriches people like Donald Trump at the expense of workers," said Fain. "We can't keep electing billionaires and millionaires that don't have any understanding what it is like to live paycheck to paycheck and struggle to get by and expecting them to solve the problems of the working class."
"Donald Trump's anti-worker, anti-union record is one of the key reasons Michigan rejected Trump in 2020."
Reports that Trump is considering a picket-line visit have generated some consternation among Democratic lawmakers and strategists, who fear that the former president is " outmaneuvering" Biden on the autoworker strike.
The day the walkouts began, Biden—whose NLRB has fought to strengthen workers' rights—said the Big Three automakers "should go further to ensure record corporate profits mean record contracts for the UAW" and announced he would dispatch Acting Labor Secretary Julie Su and White House senior adviser Gene Sperling to Detroit to support the contract negotiations, a move that reportedly frustrated UAW leaders wary of any outside intervention in the high-stakes talks.
The Biden administration has since decided against sending Su and Sperling to Detroit.

The Washington Post's Jeff Stein reported earlier this week that Biden is facing "increasing pressure from some Democratic lawmakers to do something none of his predecessors appear to have done in office: join striking workers walking a picket line."
"Numerous Democrats in Michigan and around the country have expressed concern as Biden's likely rival in next year's election, former president Donald Trump, tries to woo union voters and weaken a crucial Democratic constituency by making his own visit to a strike site," Stein wrote. (Biden beat Trump 57%-40% among members of union households nationwide in 2020.)
Rep. Rashida Tlaib (D-Mich.) told the Post that she believes "the UAW family would love the most powerful person in the world—the president of the United States—to come and hold a sign in solidarity with them."
"But I hope he does it in a way where he actually sits down and has a roundtable with some key people, and really listens to how hard it's been," Tlaib added. "Of course, the president coming would be extremely important. But people want someone who's advocating for them and demanding a form of economic justice for them and their families—to come in solidarity."
Politicoreported Tuesday that "Biden's team has privately weighed whether to dispatch a top lieutenant to the picket line to stand alongside the UAW workers," but a decision has yet to be made.
One Democratic strategist, granted anonymity by Politico, expressed concern that Trump "scooped" the Biden administration by announcing a Detroit trip first.

"Now if we announce we're going, it looks like we're just going because of Trump," said a national Democratic strategist. "We waited too long. That's the challenge."
The Biden campaign waved away that assessment, arguing that Trump's visit provides "an opportunity to remind voters across the Midwest that as president he cut taxes for billionaires."
"Donald Trump's anti-worker, anti-union record is one of the key reasons Michigan rejected Trump in 2020 and sent Joe Biden to the White House," Ammar Moussa, a spokesperson for the Biden campaign, told Politico. "His failed presidency is defined by auto companies shuttering their doors and shipping American jobs overseas while lining the pockets of the wealthy and big corporations."
Rep. Debbie Dingell (D-Mich.) expressed a similar sentiment in a social media post earlier this week, writing: "Trump is not going to fight for pay increases, pensions, healthcare, benefits, or job security for workers. He will not work to strengthen our domestic auto industry during this transition and he's not going to fight to keep these jobs in America."
"I hope people see exactly what this is about at a time when this industry and our workers are at a crossroads," Dingell added.
News
Independent, nonprofit journalism needs your help.
Please Pitch In
Today!