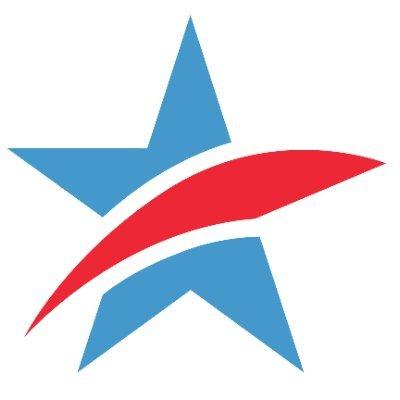 For Immediate Release
May, 25 2021, 12:00am EDT
On the Anniversary of the Murder of George Floyd
Statement of Annastacia Belladonna-Carrera, Executive Director of Common Cause Minnesota
WASHINGTON
Change is long overdue to a system that has delivered unequal justice to far too many in our state for far too long. In the year since the tragic murder of George Floyd, we have seen the conviction of Mr. Floyd's murderer, but Minnesotans are still waiting for justice. Minnesotans deserve real reforms to prevent what happened to Mr. Floyd, and others, from ever happening again. Our legislative leaders must make commonsense policing reforms a top priority and they must not come up short again.
The people of Minnesota are demanding change and we expect our elected leaders to deliver it. This is not a demand for special treatment. This is a demand for basic human rights, for accountability, and for justice for each and every Minnesotan.
Statement of Karen Hobert Flynn, President of Common Cause

In the year since George Floyd's brutal and senseless murder, the nation has looked in the mirror and begun a serious discussion, but we need action and we need progress and we need them now before any more lives are needlessly lost. We have seen the conviction of the former Minneapolis police officer who murdered Mr. Floyd, but it's not enough to address the longstanding and pervasive problems that led to his tragic death. As a nation we must do more to grapple with the realities of racism, unchecked police brutality, and the lack of police accountability that continues to claim the lives of far too many Black and Brown people. We must combat those cancers within in our nation and we must prevail.
The horrible and unnecessary deaths at the hands of police officers have continued since the murder of George Floyd and they have continued since the conviction of his murderer. As we mark the anniversary of Mr. Floyd's death, we must redouble our efforts to bring about systemic change. We must push for reforms at the local level, at the state level, and at the federal level. We must push for true and equal justice under the law for every American, regardless of the color of their skin.
Statement of Keshia Morris Desir, Common Cause Census and Mass Incarceration Project Manager
George Floyd, Breonna Taylor, Daunte Wright, Sandra Bland, Adam Toledo, Alton Sterling, Freddie Gray, Ahmaud Arbery, Tamir Rice, Trayvon Martin and the countless other people that have been murdered by police and vigilantes are not just victims, or rallying cries for justice, they are people, they are Americans, they are brothers, sisters, fathers and mothers. They had hopes; they had dreams - and they should be alive today. In the name of George Floyd, and in the names of countless other Black and Brown Americans needlessly and heartlessly taken before their time, we need to address this national crisis head on. It is imperative that that Congress set in motion long-overdue reforms by passing the George Floyd Justice in Policing Act of 2021.
At Common Cause we strongly support legislation that will combat police misconduct, the use of excessive force, and racial bias in policing. The George Floyd Justice in Policing Act of 2021 will prohibit no-knock warrants for drug offenses, ban chokeholds and police profiling and put in place standards to bring accountability to policing in our nation. It will create a national use of force standard, establish a national police misconduct registry and it will end qualified immunity, and make it easier to prosecute police officers for misconduct.
It is long-past time to enact these common-sense reforms that can begin to bring about substantive changes and stem the tide of police racism and brutality in our nation. Far more must be done, at the local, state and national level but this legislation represents a first step. It is a first step that we must take for the good of the nation, and it is a first step that we must take now.
To view these statements online, click here.
Common Cause is a nonpartisan, grassroots organization dedicated to upholding the core values of American democracy. We work to create open, honest, and accountable government that serves the public interest; promote equal rights, opportunity, and representation for all; and empower all people to make their voices heard in the political process.
(202) 833-1200
LATEST NEWS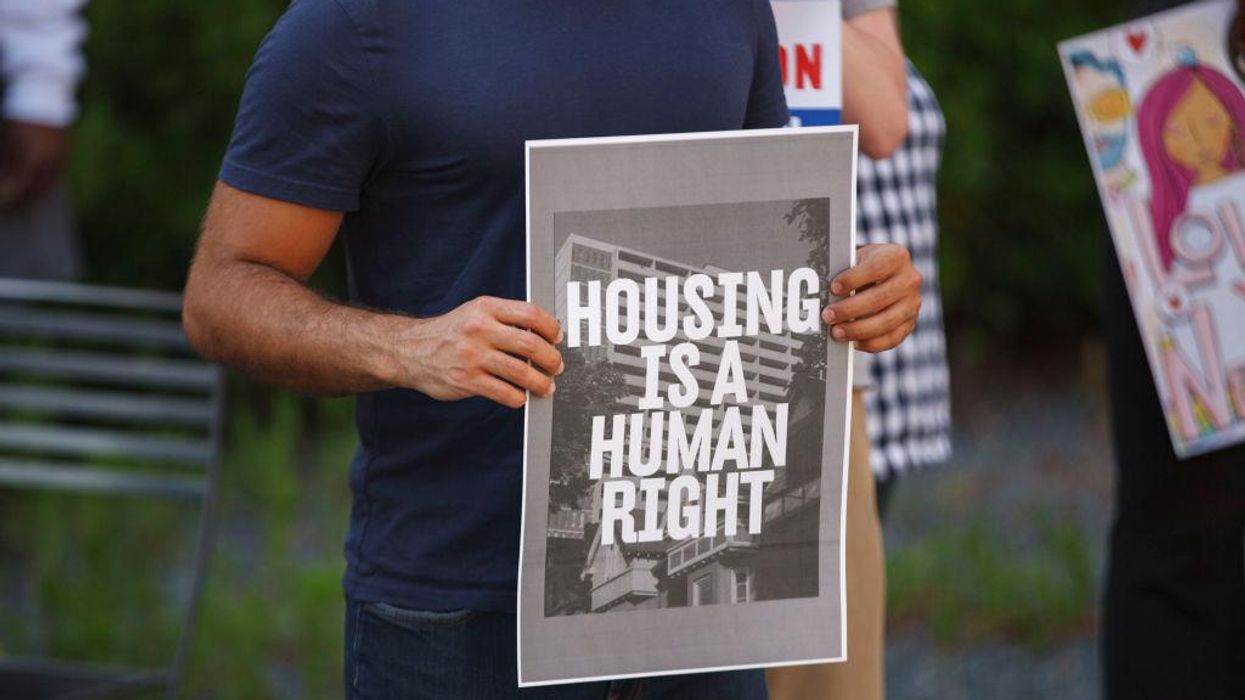 "The Biden administration has apparently decided to assume that corporate landlords are good-faith actors with their tenants' best interests at heart, despite all of the evidence to the contrary, and just plain common sense."
Economic justice advocates on Thursday said that to determine the strength of the Biden administration's new nonbinding push for renter protections from the federal and state governments and private sector, one needs to look only at the elated response from corporate landlords.
The Revolving Door Project (RDP) pointed to comments from the National Apartment Association (NAA) and the National Multifamily Housing Council (NMHC), lobbying groups that represents landlords, that followed the White House's unveiling on Wednesday of its "Resident-Centered Housing Challenge" and "Blueprint for a Renters Bill of Rights."
"What we can say with certainty is NAA's advocacy helped avert an executive order advanced by renters advocates and members of Congress, which would have imposed immediate policy changes," said the NAA in a statement on Thursday.
\u201cNEW: Corporate landlords are celebrating Biden's weak new renter protection plan, openly boasting that their lobbying efforts stopped the White House from issuing a more powerful executive order to immediately crack down on rent-gouging. \nhttps://t.co/3lLbUwXhXB\u201d

— Revolving Door Project (@Revolving Door Project) 1674758300
"The NMHC—which does the bidding of the nation's leading corporate landlords—celebrated the omission of national rent control from the White House plan while also objecting to other 'onerous regulations' contained in the release, which it claimed would 'discourage much-needed investments in housing supply,'" said Andrea Beaty, research director for the RDP.
"The Biden administration has apparently decided to assume that corporate landlords are good-faith actors with their tenants' best interests at heart, despite all of the evidence to the contrary, and just plain common sense," added Beaty. "The best the Biden administration offered is industry-approved, nonbinding measures that kick the can down the road."

The lobbying groups' response came as housing justice advocates noted that they have spent roughly a year calling on President Joe Biden to do everything in its power to address housing insecurity and the crisis facing households that are rent-burdened.
As Moody's Analytics reported on Thursday, the average U.S. tenant is now rent-burdened, which is defined as paying 30% or more of a household's income on rent.
"Tenant stories and expertise informed these actions, and tenants will continue to be central to policymaking that concerns their lives."
The firm compared the national median household income—$71,721—with 2022's average rent of $1,794. In 2021 the average renter paid 28.5% of their income on rent, and in 2020 they paid 25.7%.
The latest statistics represent "a symbolic threshold, a milestone," Thomas LaSalvia, director of economic research at Moody's, toldThe New York Times.
"The rent-to-income ratio continued to climb up because income growth was not able to catch up with the rent growth," Lu Chen, a senior economist at the firm, told the newspaper.
Following months of meetings between tenant groups and administration officials, as well as advocacy by Sen. Elizabeth Warren (D-Mass.) on behalf of renters, the White House on Wednesday proposed a number of actions the government will take to gather data about the housing crisis and push federal agencies—but not require them—to consider how they can curb rent costs.
The White House said it had secured commitments from the Federal Trade Commission and the Consumer Financial Protection Bureau to "collect information to identify practices that unfairly prevent applicants and tenants from accessing or staying in housing."
The Federal Housing Finance Agency (FHFA) said it would "launch a new public process to examine proposed actions promoting renter protections and limits on egregious rent increases for future investments," while a workshop by the U.S. Department of Justice will address "anti-competitive information sharing, including in rental markets."
The Biden administration also said the U.S. Department of Housing and Urban Development will propose new rules requiring public housing and rental assistance authorities to provide 30 days' notice before terminating a lease due to rent nonpayment.
The White House also released a nonbinding Blueprint for a Renters Bill of Rights, affirming tenants have the right to clear and fair leases, to organize, and to have access to safe, quality, and affordable housing. Its Resident-Centered Housing Challenge, starting in the spring, will encourage state and local governments to enhance policies that promote fairness in the rental market, urging them to "make their own independent commitments that improve the quality of life for renters."
People's Action, whose Homes Guarantee campaign helped lead efforts to secure renter protections and rent price regulations, said its organizers helped "shape this policy for the better," and said the commitment from the FHFA offers an opportunity for the agency "to create a policy that helps check the power of landlords."
But as the NAA boasted, People's Action told The Washington Post that the policies will not change "tenants' lives materially today."

"Tenant stories and expertise informed these actions, and tenants will continue to be central to policymaking that concerns their lives," said Tara Raghuveer, director of the Homes Guarantee campaign. "The rent is still too damn high. While the White House announcement affirms a role for the federal government in correcting the imbalance of power between landlords and tenants, the president can do much more to provide relief to tenants. We are counting on this administration to continue working with our campaign to make it happen."
Ahead of Biden's proposal, People's Action led 281 national and local tenant organizations in calling on the White House to direct federal agencies to:
Protect tenants from unfair, unjust, and unaffordable rent hikes, fines, and fees through rent regulation;
Expand and enforce tenant protections by defining "good cause" eviction; and
Address the consolidation of the rental market by corporate landlords.
"Rent is a significant economic issue the Biden administration has the opportunity to tackle. They should take it," Raghuveer said. "These actions are the essential components of any meaningful strategy to protect tenants, and they complement other White House priorities to strengthen and grow the American economy, like their work to limit market consolidation and monopoly price-setting power."
News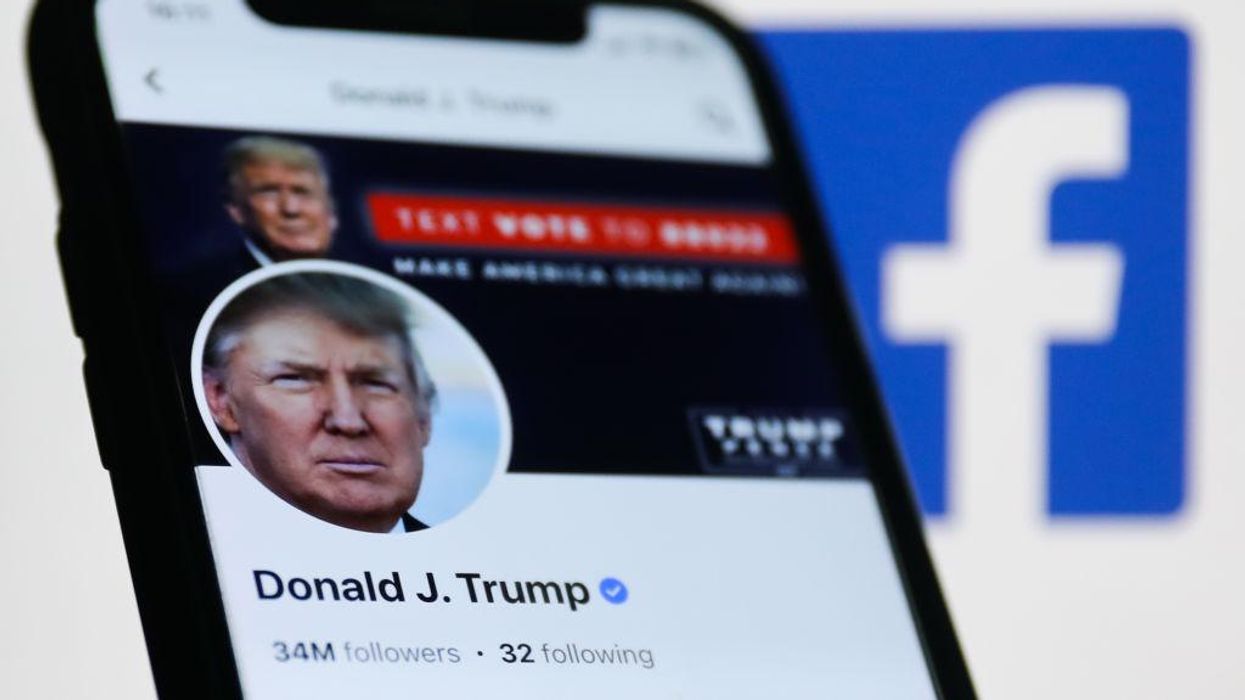 By obsessing about the former president's online status, warns one digital rights advocate, "we are utterly missing the point."
Fight for the Future director Evan Greer argued Wednesday that the battle over whether former President Donald Trump should be banned from major social media platforms like Facebook is "a huge distraction" from broader Big Tech conversations that are urgently needed.
"Discussions about online content moderation and what policies are needed to ensure human rights, free expression, and safety are some of the most important and consequential societal debates in human history," Greer said in a statement. "When we center these debates about specific moderation decisions, especially ones involving high-profile, wealthy, politically powerful individuals like Donald Trump, we are utterly missing the point."
Greer's comments came as free speech advocates and Trump critics faced off over Meta's decision to allow the twice-impeached former president back on Facebook and Instagram. Trump, who is now seeking the GOP's 2024 presidential nomination, was suspended from both platforms—and others—after his supporters attacked the U.S. Capitol attack on January 6, 2021.
"We need to... instead focus on putting in place transformative policies based in human rights, and regulations that strike at the root of Big Tech giants' harm."
Meta global affairs president explained Wednesday that his accounts will be reinstated in the coming weeks "with new guardrails in place to deter repeat offenses." The move was blasted by groups including Common Cause, Free Press, Media Matters for America, and the NAACP, while others—including some Trump adversaries—agreed with the ACLU that "this is the right call. Like it or not, President Trump is one of the country's leading political figures and the public has a strong interest in hearing his speech."
Greer, meanwhile, echoed some of the warnings from Big Tech experts two years ago, when tech giants began banning Trump—a serial liar who ultimately launched his own platform called Truth Social, which strongly resembles Twitter.
The digital rights advocate pointed out that Trump "doesn't need social media to spread his hateful ideas. He has access to the mainstream press, who religiously cover his every move. And he can afford to hire public relations firms, pay for advertising, and leverage his notoriety and influence to gain attention, something he has shown himself to be uniquely good at."
"The Donald Trumps of the world are not the people most impacted by deplatforming, censorship, and overreaching moderation," Greer stressed. "It is the most marginalized who are the most censored online. Arab and Muslim folks living outside the U.S. routinely have their posts erroneously censored and their accounts unjustly banned by hamfisted 'anti-terrorism' filters used by most of the largest platforms."
"LGBTQ content creators, sex workers, and sexual health educators face constant deplatforming, debanking, and demonetization," she continued. "Abortion rights organizations consistently encounter obstacles placing online ads, and have seen an uptick in unjust account suspensions and post removals in the wake of the overturning of Roe v. Wade."
According to Greer:
By allowing the former president to remain the center of attention in world-changing debates about content regulation, free speech, and the harms of Big Tech, we're helping him accomplish his vile goals of silencing and oppressing the most vulnerable. We need to move past circular discussions over specific moderation decisions impacting high-profile elites, and instead focus on putting in place transformative policies based in human rights, and regulations that strike at the root of Big Tech giants' harm. Passing a privacy law would do way more to slow the viral spread of hateful content and disinformation than keeping Trump off of any specific platform. Enacting antitrust reforms would do far more to protect our democracy from Trump and his ilk than banning any one account.

Let's refuse to let Trump derail the conversations we need to have. Let's keep fighting for policies that lead not just to the type of internet we want to have, but the type of world we want to live in: a world where everyone has a voice, and decisions that impact our lives are made transparently and democratically, rather than in closed-door corporate meetings.
However, even modest legislation to rein in Big Tech seem unlikely in the second half of President Joe Biden's first term, with the U.S. House of Representatives now narrowly held by Republicans and after two years of Democrats controlling Congress but failing to advance relevant bills—which many critics largely blame on Senate Majority Leader Chuck Schumer (D-N.Y.).
News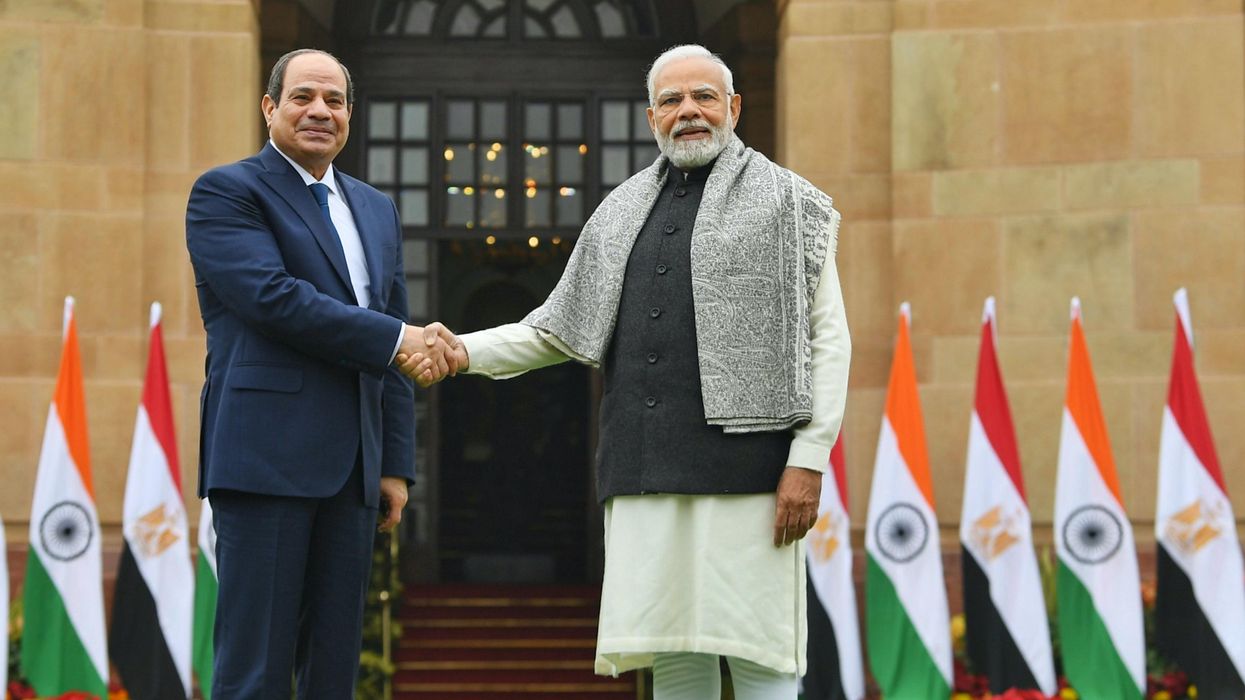 "Both countries show striking parallels in their attempts to harass and intimidate into silence all actual or perceived government critics and opponents."
As Indian Prime Minister Narendra Modi welcomed Egyptian President Abdel Fattah El-Sisi as the chief guest at his nation's 74th Republic Day celebrations, Amnesty International on Thursday led calls for both right-wing leaders to "address the ongoing human rights and impunity crises" in their respective countries.
Meeting ahead of events commemorating the adoption of India's constitution—including a military parade in which members of the Egyptian army marched—Modi and El-Sisi agreed to elevate bilateral ties to a "strategic partnership," while calling for a "coordinated and concerted" effort to combat "terrorism."

Modi—who said Wednesday that he and El-Sisi "are in agreement that terrorism is the biggest threat to humanity"—has, like his Egyptian counterpart, been accused of using anti-terrorism laws to crush critics and silence dissent.
"The current human rights crises in India and Egypt are characterized by entrenched impunity and misuse of counterterrorism legislation to clamp down on civic space and peaceful dissent."
"The current human rights crises in India and Egypt are characterized by entrenched impunity and misuse of counterterrorism legislation to clamp down on civic space and peaceful dissent," Philip Luther, Middle East and North Africa research and advocacy director at Amnesty International, said in a statement.
"Both countries show striking parallels in their attempts to harass and intimidate into silence all actual or perceived government critics and opponents. This unrelenting assault on human rights must end," he added.
\u201cThe Indian and Egyptian authorities must address the ongoing human rights and impunity crises in the two countries. Both show striking parallels in their unrelenting assault on rights. https://t.co/gbmoAkMnXT\u201d

— Amnesty India (@Amnesty India) 1674710907
As Amnesty noted:
In recent years, authorities in both countries have severely repressed the rights to freedom of expression, association, and peaceful assembly and failed to address entrenched discrimination against religious minorities.

[...]

Human rights defenders, lawyers, political opponents, peaceful protesters, academics, and students, face arbitrary arrests and detention, unjust prosecutions, and other forms of harassment and intimidation solely for their peaceful exercise of their human rights in both India and Egypt.
"India and Egypt seem to have taken their long-standing bilateral cooperation to a different level where they share tactics to increasingly repress rights and freedoms," Amnesty International India board chief Aakar Patel said in a statement. "As the leaders of the two countries take the center stage, celebrations of the adoption of India's constitution 74 years ago should not overshadow the grim reality that the human rights situations in both countries have been on a downward spiral."
\u201c\u201cThe current human rights crises in #India & #Egypt are characterized by entrenched impunity and misuse of counterterrorism legislation to clamp down on civic space & peaceful dissent\u201d, @amnesty said today, as India hosts President Sisi as the chief guest at its Republic Day.\u201d

— Nuria Tes\u00f3n (@Nuria Tes\u00f3n) 1674743767
Leading an open letter from Egyptian and Indian diaspora members published Tuesday by the Canadian alternative news site rabble.ca, Ehab Lotayef, Samaa Elibyari, and Jooneed Jeeroburkhan noted that India's constitution "guarantees full equality and rights to all Indians and declares the country a secular, socialist republic."
"However today's India is led by a Hindu ethno-nationalist party committed to converting it into a Hindu nation," the authors continued, and "the government of India has been called out by domestic and international human rights organizations for unleashing and engendering violence and detentions against Muslim, Dalit, and Christian minorities as well as any human rights defenders."
"Meanwhile, January 25 marks the start of the 17 days in 2011 which forced one of the region's longest-serving and most influential leaders, Egyptian President Hosni Mubarak, from power," they continued. "We recall that moment of incredible exhilaration as all Egyptians aspired to more democracy and social justice. Unfortunately, on July 3, 2013, then-Gen. Abdel Fattah El-Sisi staged a coup d'état that toppled President Mohamed Morsi, the first democratically elected president of Egypt, and returned the country to dictatorial rule."
\u201c"What is happening in Egypt and India should be of interest to all Canadians, even if they are not of Egyptian or Indian origin. Support for governments that violate fundamental rights diminishes democracy everywhere." https://t.co/sXAmcQlOba\u201d

— Canadians for Justice and Peace in the Middle East (@Canadians for Justice and Peace in the Middle East) 1674656645
"Since his ascent to power through dubious elections, El-Sisi has governed Egypt with an iron fist," the trio wrote. "Under his direct command, on August 14, 2013, two encampments of protesters in Rabaa and al-Nahda squares, demanding that President Morsi be reinstated, were dismantled by lethal force and more than 1,000 people were killed."
"To date, no one has been held accountable," the authors added. "Since then, all dissenting voices have been silenced and more than 60,000 political prisoners languish behind bars in abject conditions."
News
SUPPORT OUR WORK.
We are independent, non-profit, advertising-free and 100%
reader supported.