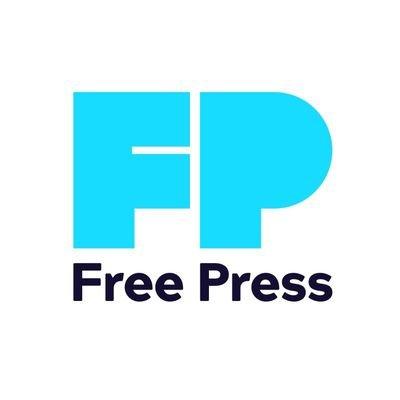 For Immediate Release
Contact:
Timothy Karr, 201-533-8838
Matt Wood Testifies Before Congress in Support of Affordable Broadband During the COVID Crisis and Beyond
What follows is the spoken testimony of Free Press Action Vice President of Policy and General Counsel Matt Wood, which will be delivered today before the House of Representatives' Subcommittee on Communications and Technology.
Wood is testifying in support of treating broadband as an essential utility, and centering affordability and race in federal, state and local efforts to bridge the digital divide.
WASHINGTON
What follows is the spoken testimony of Free Press Action Vice President of Policy and General Counsel Matt Wood, which will be delivered today before the House of Representatives' Subcommittee on Communications and Technology.
Wood is testifying in support of treating broadband as an essential utility, and centering affordability and race in federal, state and local efforts to bridge the digital divide.
Wood's full written testimony is available here (PDF).
Connecting America: Broadband Solutions to Pandemic Problems
Feb. 17, 2021
It's an honor to appear before the subcommittee again. Of course, appearing today means on your screens, not in Rayburn where I think we'd all rather be.
In a sense, that's just what this hearing is about. I can afford good enough internet service for three kids to attend school from home, and for me to join you online this morning too. But why can people who look like me more easily pay for this service, while it's still out of reach for nearly a quarter of the people in this country?
The answer is all too obvious.
COVID has changed everything, as social distance showed beyond a doubt that broadband is an essential utility for learning and livelihoods. Yet it's also changed nothing, merely highlighting and heightening the racial injustice and income inequality at our country's root.
Measuring the digital divide depends on how we count people with mobile phones alone. But U.S. Census data shows more than 77 million people lack adequate home connections. This divide is based on income. Nine out of ten in the top income bracket are online; only two-thirds in the bottom bracket are. And that group is overly reliant on mobile. Just 48 percent of low-income people have wired broadband.
But we're divided by race and ethnicity too. 26 percent of white people lack wired broadband at home, compared to 34 percent of Black people, 35 percent of Latinx people, and 41 percent of Indigenous people.
So 13 million Black, 18 million Latinx, and 13 million Indigenous Americans are without the broadband services they need. This means affordability is an even bigger challenge than rural deployment. Non-adopters in rural and urban areas surpass the number who lack physical access to broadband.
That's why Mr. Veasey's Emergency Broadband Benefit legislation, passed in the December spending and stimulus bill, was a landmark bipartisan achievement. It provides up to $50 a month, or $75 on Tribal lands, for any plan an eligible household can buy from participating ISPs. That's enough to give people better options, and connect many who've never been online or who lost service in the pandemic.
That number spared disconnection by the previous FCC's "Pledge," as best we can tell, was something like one or two million customers. That's a lot, but relatively few compared to the country as a whole. Yet that's likely because many people most impacted by COVID were already offline. They couldn't lose what they already lacked.
Why are so many still unconnected? High prices, plain and simple.
Now many people, including many of us here today, likely can't say precisely what we pay for broadband. That's because we may pay for it with less hardship; also because broadband's often bundled with other services, at promotional rates that vanish over time, with modem-rental charges, overages, and other fees.
Even through that haze, we see concerning reports about price hikes and renewed data caps, all while big ISPs make record profits. Broadband has been a pandemic-proof business, in peak demand, with ISP revenues rising and subscriber rolls growing.
We need the FCC to collect more granular pricing data to get the full picture. But the Bureau of Labor Statistics Consumer Expenditures Survey shows average U.S. internet bills increased 19 percent in the first three years of the Trump administration. That means nominal broadband prices rose at more than four times the rate of inflation.
Wireless prices over that span weren't quite as bleak, but with the T-Mobile/Sprint merger closing last April, the wireless Consumer Price Index spiked 4.1 percent in 2020. No other annual increase had exceeded 1 percent since tracking began in 1998. Coincidence? Not likely.
Prices are rising for entry-level tiers too. FCC data shows rates for lower-priced standalone broadband up 20 percent in five years, more than double the rate of inflation, and up 50 percent in some cities.
So what can we do? Stopping the prior FCC's attacks on Lifeline is a start, but bigger permanent broadband benefits must come with more progressive sustainable funding -- not increased regressive contributions.
We also need lower prices and increased choice from competition policy, and restored FCC authority so the agency can do more than ask ISPs to pledge just and reasonable service for all.
My written testimony details the failed efforts of the past four years, explaining that the prior FCC chairman didn't actually spur broadband deployment or decrease prices like he claimed.
In fact, investment declined every year of Chairman Pai's tenure. AT&T investment dropped 20 percent in 2020, and 52 percent from its peak in the last year for the Obama FCC. Comcast's dropped 4 and half percent last year, down 22 percent from 2016.
But even if deregulation alone had increased deployment -- and it didn't -- buildout alone would not lower price or increase adoption in the absence of competition, oversight, and more robust adoption subsidies.
Thank you, and I look forward to your questions.
Free Press was created to give people a voice in the crucial decisions that shape our media. We believe that positive social change, racial justice and meaningful engagement in public life require equitable access to technology, diverse and independent ownership of media platforms, and journalism that holds leaders accountable and tells people what's actually happening in their communities.
(202) 265-1490
LATEST NEWS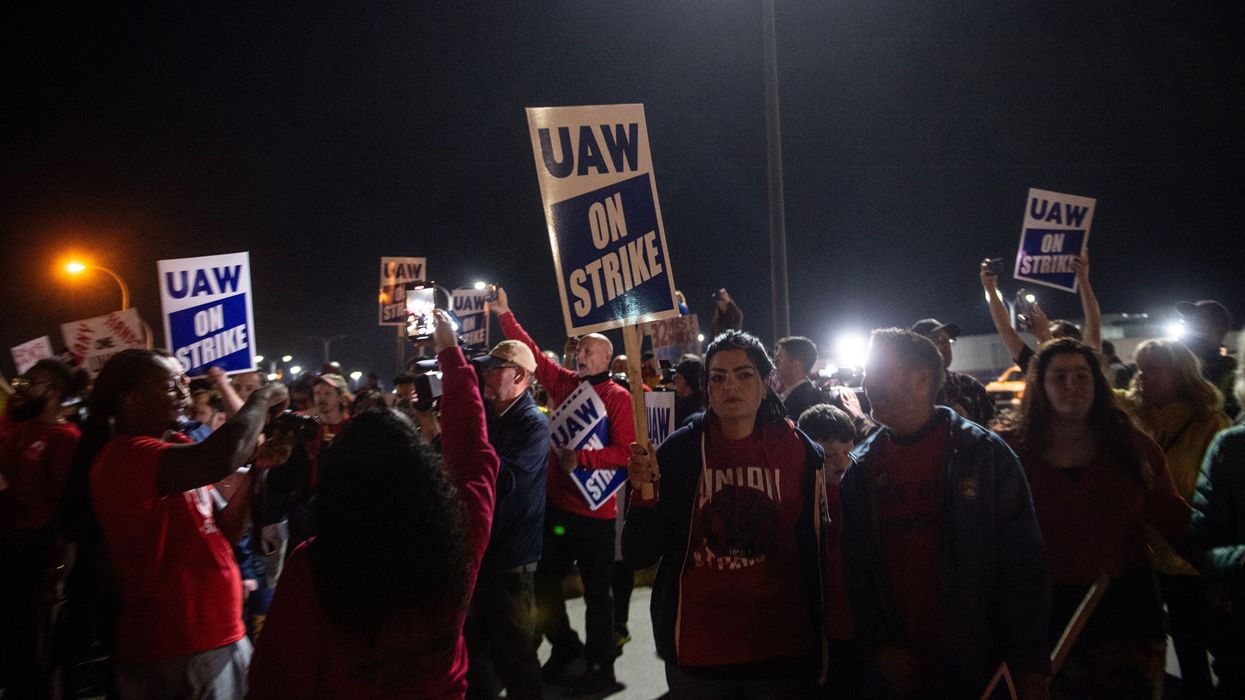 "The money is there, the cause is righteous, the world is watching, and the UAW is ready to stand up," said Shawn Fain, the union's president.
The United Auto Workers union kicked off historic strikes against the Big Three U.S. car manufacturers early Friday morning after the companies failed to meet workers' demands for adequate pay increases and benefit improvements.
The initial wave of strikes hit select Ford, General Motors, and Stellantis facilities, with the union deploying a tactic it has described as a " stand-up strike."
UAW members at General Motors' Wentzville Assembly in Missouri, Ford's Michigan Assembly, and Stellantis' Toledo Assembly in Ohio were the first to walk off the job on Friday, and additional locals will be called on to strike in the coming days as negotiations continue.
Those who remain on the job will be working under an expired collective bargaining agreement, though they still have status quo protections.
The labor actions mark the first time the UAW has ever gone on strike against all three major automakers simultaneously.
"We've been working hard, trying to reach a deal for economic and social justice for our members," UAW president Shawn Fain said in a speech late Thursday, just ahead of the midnight strike deadline. "We have been firm. We are committed to winning an agreement with the Big Three that reflects the incredible sacrifice and contributions UAW members have made to these companies."
"The money is there, the cause is righteous, the world is watching, and the UAW is ready to stand up," Fain added. "This is our defining moment."
The companies' latest publicized offers to the UAW included raises of up to 20% over the course of a four-year contract, but the proposals thus far have fallen well short of the union's demands on wages, cost-of-living adjustments, retiree benefits, and other key issues.

Ford CEO Jim Farley, who brought in nearly $21 million in total compensation last year, told CNN that the UAW's push for a near-40% wage increase would "put us out of business," a claim that Fain dismissed as a "joke."
"The cost of labor for a vehicle is 5% of the vehicle," Fain said from the picket line outside Ford's Michigan Assembly plant. "They could double our wages and not raise the prices of vehicles, and they would still make billions of dollars. It's a lie like everything else that comes out of their mouths."
Between 2013 and 2022, according to an Economic Policy Institute analysis released this week, the Big Three automakers saw roughly $250 billion in total profits—an increase of 92%—and the companies' CEOs received a 40% pay increase. The automakers also rewarded shareholders with $66 billion in dividend payouts and stock buybacks.
U.S. autoworkers' wages, meanwhile, have declined by over 19% since the car industry's 2008 crisis, during which workers gave up cost-of-living adjustments and other benefits to help keep the major automakers afloat.
"As a single parent, I'm working paycheck to paycheck," Adelisa LeBron, a striking Ford worker, toldThe Washington Post. "I love the way Shawn is fighting for us, how he's not going to settle."
In his address late Thursday, Fain urged locals that are not currently on strike to "keep organizing" to "show the companies you are ready to join the stand-up strike at a moment's notice."
"This strategy will keep the companies guessing," he said. "It will give our national negotiators maximum leverage and flexibility in bargaining. And if we need to go all out, we will. Everything is on the table."
On Friday evening, the UAW is planning to hold what Fain dubbed a "mass rally" outside of a Ford building in downtown Detroit, where U.S. Sen. Bernie Sanders (I-Vt.) is expected to appear.

"We must show the world that our fight is a righteous fight," said Fain.
News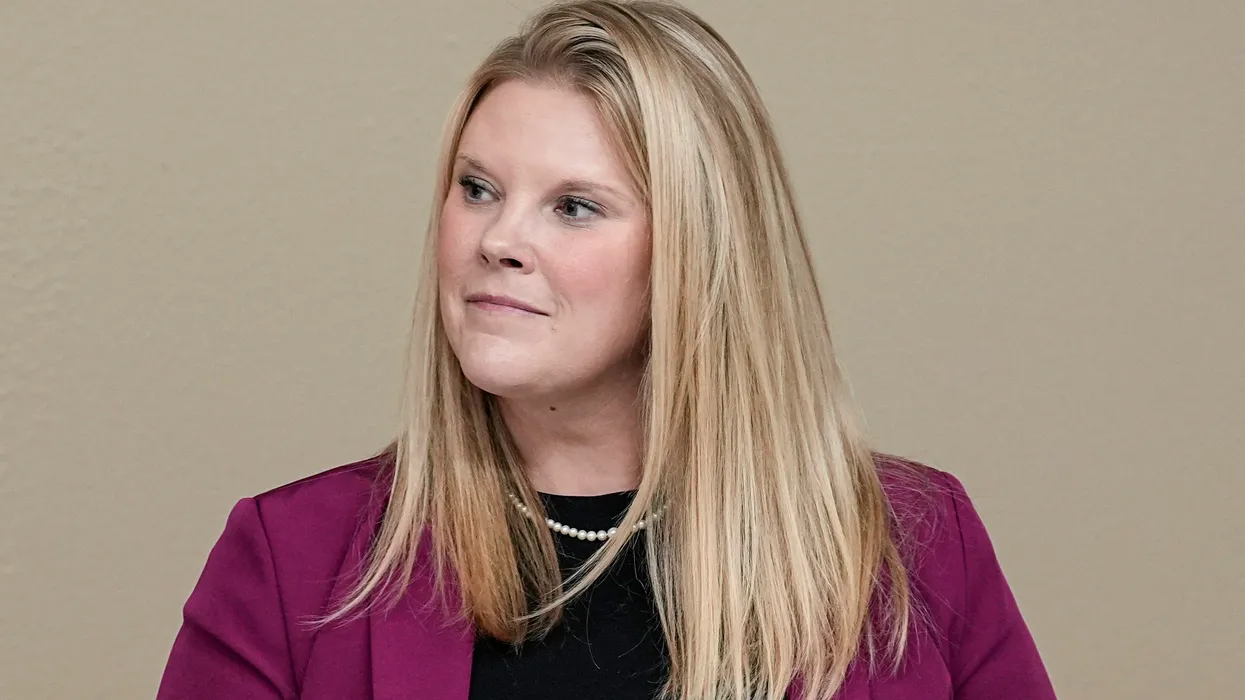 One expert said Republicans are using "extreme tactics" like the Senate vote and threats of impeaching a state Supreme Court justice "to subvert fair elections and maintain anti-democratic grip on power."
Democratic Wisconsin Attorney General Josh Kaul on Thursday swiftly filed a lawsuit after Republican senators attempted to oust the state's top election official, Meagan Wolfe, despite arguments that they lacked authority to do so.
The Wisconsin Senate's 22-11 party-line vote on Wolfe was "a bid to give election deniers and conspiracy theorists more control over how elections are run in the state," explainedMother Jones national voting rights correspondent Ari Berman.
"That follows threats by Republican legislative leaders to impeach newly elected state Supreme Court Justice Janet Protasiewicz before she has even ruled on a case," he added, "so that the court's new 4-3 liberal majority will be unable to strike down the heavily gerrymandered maps that have been integral to the GOP's stranglehold over the Legislature for the past decade-and-a-half."
Wolfe began serving as interim administrator of the Wisconsin Elections Commission (WEC) in early 2018 and was unanimously confirmed by the state Senate the following year. As Politicoreported Thursday:
Wolfe's position is a nonpartisan, nonvoting one tasked with implementing the decisions made by the three Democratic and three Republican commissioners.

As the head of the commission, Wolfe has been the target of GOP attacks following the 2020 presidential election, when President Joe Biden narrowly beat former President Donald Trump in the state. Wolfe has garnered vitriol from Republicans who amplified Trump's false claims about widespread fraud in the election.
The administrator's term expired on July 1, but the WEC's three Democrats abstained from voting to renominate Wolfe because they feared GOP senators would refuse to confirm her and, as Kaul highlighted last month, "the Wisconsin Supreme Court has squarely held that a holdover appointee may legally remain in office following the expiration of the term."
GOP legislators—led by Senate Majority Leader (R-9) Devin LeMahieu—went ahead with the vote on Thursday even though "the Republicans' own lawyers, as well as the state's Democratic attorney general, told the senators before the vote that they didn't have the authority to remove Meagan Wolfe," according toThe Washington Post.
"Wisconsin Republicans' attempt to illegally fire Wisconsin's elections administrator without cause today shows they are continuing to escalate efforts to sow distrust and disinformation about our elections, denigrate our clerks, poll workers, and election administrators, and undermine basic tenets of our democracy, including the peaceful transfer of power," declared Democratic Gov. Tony Evers.
Referencing a "bogus" bill unveiled earlier this week by GOP leaders, the governor said that "just days after Republicans announced they want Legislature-picked, Legislature-approved map drawers to conduct redistricting, Republicans today demonstrated why they cannot be trusted with that important responsibility—because they will threaten, intimidate, punish, and even attempt to illegally fire anyone who stands in the way of their relentless pursuit to retain political power."
"Our chief election administrator is a consummate, qualified professional who's worked in voter registration and outreach and election security for more than a decade—experience that I have no doubt was among the reasons she was unanimously confirmed by many of these same Republicans just a few years ago," he added. "I'm requesting the Wisconsin Department of Justice provide immediate representation to defend Ms. Wolfe so she can remain in this important role."
The Wisconsin attorney general, who filed a complaint in Dane County Circuit Court, said that "the story today is not what the Senate has purported to do with its vote. It's that the Senate has blatantly disregarded state law in order to put its full stamp of approval on the ongoing baseless attacks on our democracy."
"We are going to court to minimize the confusion resulting from today's stunt," Kaul continued, "and to protect a pillar of our democracy—the fair administration of elections."
The Cap Timesreported that "there is no formal appeals process for Wolfe to tap in order to push back against her ousting, according to the Wisconsin Legislative Council, a nonpartisan agency that provides legal and policy analysis for the Legislature. That leaves a lawsuit as her only option."
Wolfe welcomed the lawsuit and confirmed that she will continue to serve as administrator unless a majority of the WEC or a court orders her out. She said that "the Senate's vote today to remove me is not a referendum on the job I do but rather a reaction to not achieving the political outcome they desire."
The controversy comes as the state prepares for next year's elections. At the presidential level, Biden is seeking reelection and Trump is currently the GOP front-runner, despite facing four criminal cases—including two related to his efforts to overturn the 2020 results—and arguments that inciting the January 6, 2021 insurrection constitutionally disqualifies him from holding office.
"I think it's really worrisome because we're in the final stages of preparation for the 2024 elections," Barry Burden, a political scientist at the University of Wisconsin-Madison and director of its Elections Research Center, told the Post. "The elections commission is training clerks around the state and issuing guidance, so to have uncertainty about who the top administrator is going into this crucial election season, I think is a real problem."
News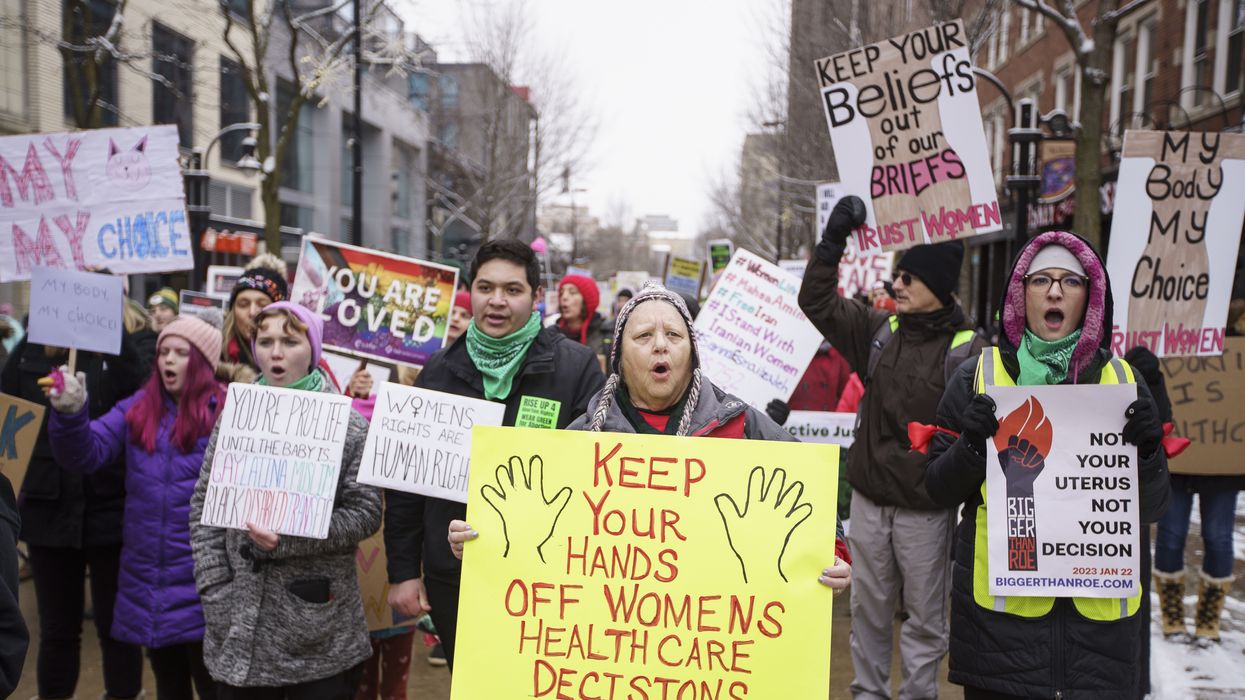 While welcoming the shift, Gov. Tony Evers also stressed that the broader battle is far from over and "I will keep fighting like hell every day until Wisconsinites have the right to make their own healthcare decisions."
Wisconsin residents, reproductive rights advocates, and Democratic political leaders on Thursday celebrated after Planned Parenthood announced that it will resume abortion care at Madison and Milwaukee clinics next week following a recent court ruling.
"With patients and community as our central priority and driving force, we are eager to resume abortion services and provide this essential care to people in our state," said Planned Parenthood of Wisconsin (PPWI) president and CEO Tanya Atkinson in a statement.

"With the recent confirmation from the court that there is not an enforceable abortion ban in Wisconsin, our staff can now provide the full scope of sexual and reproductive healthcare to anyone in Wisconsin who needs it, no matter what," added Atkinson.
After the U.S. Supreme Court's right-wing majority reversedRoe v. Wade last year, PPWI stopped providing abortion care due to uncertainty over an 1849 Wisconsin law—which is still being challenged and expected to eventually reach the state Supreme Court.
As Atkinson explained in a two-minute video posted on social media Thursday, PPWI decided to resume care after Dane County Judge Diane Schlipper ruled in July that "there is no such thing as an '1849 abortion ban' in Wisconsin."
Schlipper determined that the law only applies to feticide, or the act of killing a fetus, and wrote that "a physician who performs a consensual medical abortion commits a crime only 'after the fetus or unborn child reaches viability.'"
The Guttmacher Institute—which tracks state-level policy changes on abortion rights across the country—declared Thursday on X, formerly Twitter, that "this is a win for people in Wisconsin seeking care, advocates, and providers!"
The pause on abortion care in Wisconsin forced patients to continue dangerous or unwanted pregnancies, self-manage abortions, or seek care elsewhere—such as in Democrat-controlled Illinois, which is surrounded by states with strict anti-choice laws, including Wisconsin, and has been flooded with "abortion refugees" since the Roe reversal.
"The ability to provide abortion services in Wisconsin again is crucial to being able to address the full scope of care for our patients," PPWI associate medical director Dr. Allie Linton said Thursday. "Patients who walk through our doors can again know they will receive the comprehensive, high quality, nonjudgmental, and confidential reproductive care they deserve."
In a statement welcoming PPWI's decision, Democratic Wisconsin Gov. Tony Evers noted that Schlipper's ruling in July stemmed from an attempt to dismiss a lawsuit that he and state Attorney General Josh Kaul filed to clarify that the 1849 law could not be used to prevent abortion care.
"I've been clear from the beginning that I would fight to restore reproductive freedom in our state with every power and every tool we have, and I've spent every day over the last year doing just that," said Evers. "This is critically important news for Wisconsin women and patients across our state who, for a year now, have been unable to access the healthcare they need when and where they need it."
"But I also want to be clear today: I will never let up. And we must not let up. Our fight to restore the same reproductive rights and freedoms Wisconsinites had up until the day the U.S. Supreme Court overturned Roe must continue," he added. "I will keep fighting like hell every day until Wisconsinites have the right to make their own healthcare decisions without interference from politicians who don't know anything about their lives, their family, or their circumstances."
Other Democratic political leaders in Wisconsin who applauded the development included former Lt. Gov. Mandela Barnes, Secretary of State Sarah Godlewski, U.S. Sen. Tammy Baldwin, and Congresswoman Gwen Moore, who has previously spoken about her decision, as a low-income 19-year-old mother, to end her second pregnancy before Roe.
Praising PPWI's announcement as "an important step toward restoring reproductive freedom for everyone in our state," Opportunity Wisconsin said that "no Wisconsinite should face a massive financial burden just to access the basic healthcare services they need."
The coalition also called out Wisconsin Republicans in Congress who have joined their GOP colleagues in blocking federal legislation that would affirm abortion rights nationwide.

Abortion—and specifically, fights over the 1849 law—was a key issue in the April election in which voters elected Milwaukee County Judge Janet Protasiewicz to the Wisconsin Supreme Court, which now has a liberal majority for the first time in 15 years. Republicans in the state Legislature are threatening to impeach her before she even hears a case.
"Wisconsin Republicans are threatening to impeach Justice Protasiewicz for one reason: to stay in power," Moore said Sunday. "They know they're outnumbered on issues like abortion, so the only way to keep their extreme policies in place is to subvert the will of the voters."
News
Independent, nonprofit journalism needs your help.
Please Pitch In
Today!