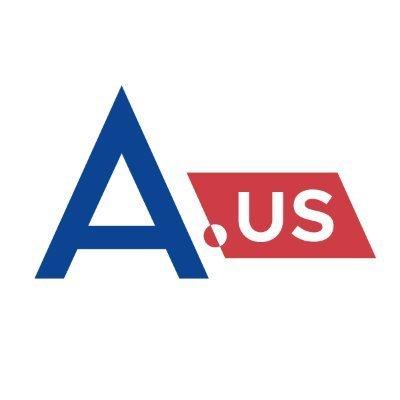 Senate Republicans Choose Special Interests Over American People with Plans to Obstruct Becerra's Confirmation Amid Global Pandemic
New LA Times article lays out how Senate Republicans are throwing any bogus attack against Becerra against the wall to see what sticks Adamant on rejecting him without real cause, Republicans have delayed his nomination while they attempt to build a case against Becerra—facts be damnedAccountable Senate War Room: "It's no secret why these Republican senators are working so hard to reject Becerra: they see his track record of taking on special interests, especially Big Pharma, as a direct threat to their donors' bottom line" Los Angeles Times: "Rarely before in his 30-year career in politics has Becerra been known as a firebrand, or 'culture warrior'—a label Republicans now use for him…"FLASHBACK: Senator Cornyn wanted an HHS secretary who'd be in the pocket of Big Pharma
WASHINGTON
Today, Accountable Senate War Room reacted to a new report from the Los Angeles Times that highlighted the dangerous games Republican senators are playing to try to obstruct the critically-needed confirmation of Xavier Becerra, President Biden's pick for Health and Human Services (HHS) Secretary. Amid a global pandemic that has killed more than 465,000 Americans, created one of the worst unemployment crises in our country's history, and forced millions into poverty, Republicans are signaling their intent to delay and obstruct the confirmation of Xavier Becerra by pulling out one flimsy objection after another to distract from their fear that Becerra will take on special interests, including Big Pharma. Further delaying Becerra's confirmation will hinder our country's ability to recover from the pandemic, risking more sickness and death that could have been avoided.
"Republican senators are grasping at straws to find something wrong with Becerra, but their attacks have fallen short," said Mairead Lynn, spokesperson for Accountable Senate War Room. "It's no secret why these Republican senators are working so hard to reject Becerra: they see his track record of taking on special interests, especially Big Pharma, as a direct threat to their donors' bottom line. As Americans continue to suffer through the pandemic nearly a year later, Republican senators must stop playing games with our nation's COVID-19 response and ensure that President Biden has a fully confirmed Cabinet who can continue working to tackle the pandemic."
Evan Halper with the Los Angeles Times outlined the desperate tactics Republicans are using to try to torpedo Becerra's confirmation - and why they are wrong.
GOP senators attempt to call Becerra "too partisan":
The GOP is fixated on rejecting President Biden's pick to helm the Department of Health and Human Services, but not for the type of personal failings that typically doom early nominees. It is Becerra's perceived political and policy sins that are fueling the bid to block him. His California credentials aren't helping in a Senate where Republicans have no shortage of hostility toward the state, particularly after Becerra led the filing of more than 100 lawsuits against the Trump administration.
Biden backers argue that in the 63-year-old Becerra, the president has found the technocrat to fit the time: a seasoned, low-drama public executive and child of immigrants who helps fulfill the president's pledge to name a Cabinet that reflects the diversity of America. Rarely before in his 30-year career in politics has Becerra been known as a firebrand, or "culture warrior" -- a label Republicans now use for him, highlighting his support from groups that advocate for immigrant and abortion rights.
"There are a lot of partisans in Washington," said Charlie Dent, a former GOP congressman from Pennsylvania who was Becerra's neighbor in Washington. "That is not Xavier's style. He doesn't have sharp elbows. Yes, he's left of center. But he is not a 'my way or the highway' type."
GOP senators are sending mixed messages: Is Becerra too close to the insurance industry or not close enough?
Now GOP operatives are portraying Becerra at once as a leftist radical who will impose socialized medicine and a healthcare dilettante who will be manipulated by big insurance companies.
When then-Gov. Jerry Brown tapped him in 2017 to fill the post of attorney general, left vacant by Kamala Harris' election to the Senate, Becerra bolstered his healthcare portfolio. His $575-million antitrust settlement with Sutter Health, accused of using its market power to drive up prices, is heralded by activists as a monumental blow against price fixing by hospital conglomerates. He led the group of states defending Obamacare from a GOP legal assault. He enraged religious conservatives by suing a nonprofit led by Roman Catholic nuns that refused to cover contraceptives in its health plan.
"My main beef is this needs to be someone with deep experience willing to take on the healthcare industry," said Sen. Mike Braun (R-Ind.).

Though recent Health and Human Services chiefs have included ex-governors with arguably no more medical experience than Becerra, Republicans say the pandemic era demands a doctor in the role. Braun said Becerra's "tightness" with the insurance industry may be disqualifying, pointing to political contributions.

Flashback to December: Senator Cornyn (R-TX) suggested he would oppose Becerra because he didn't have enough ties to the pharmaceutical industry.
"The same partisans accusing him of wanting to destroy the health insurance industry with single payer are saying he's in the pocket of the insurance industry," said a Becerra advisor involved in the nomination process not authorized to talk publicly. "These scattershot, logically inconsistent attacks are desperate."
Accountable.US is a nonpartisan watchdog that exposes corruption in public life and holds government officials and corporate special interests accountable by bringing their influence and misconduct to light. In doing so, we make way for policies that advance the interests of all Americans, not just the rich and powerful.
LATEST NEWS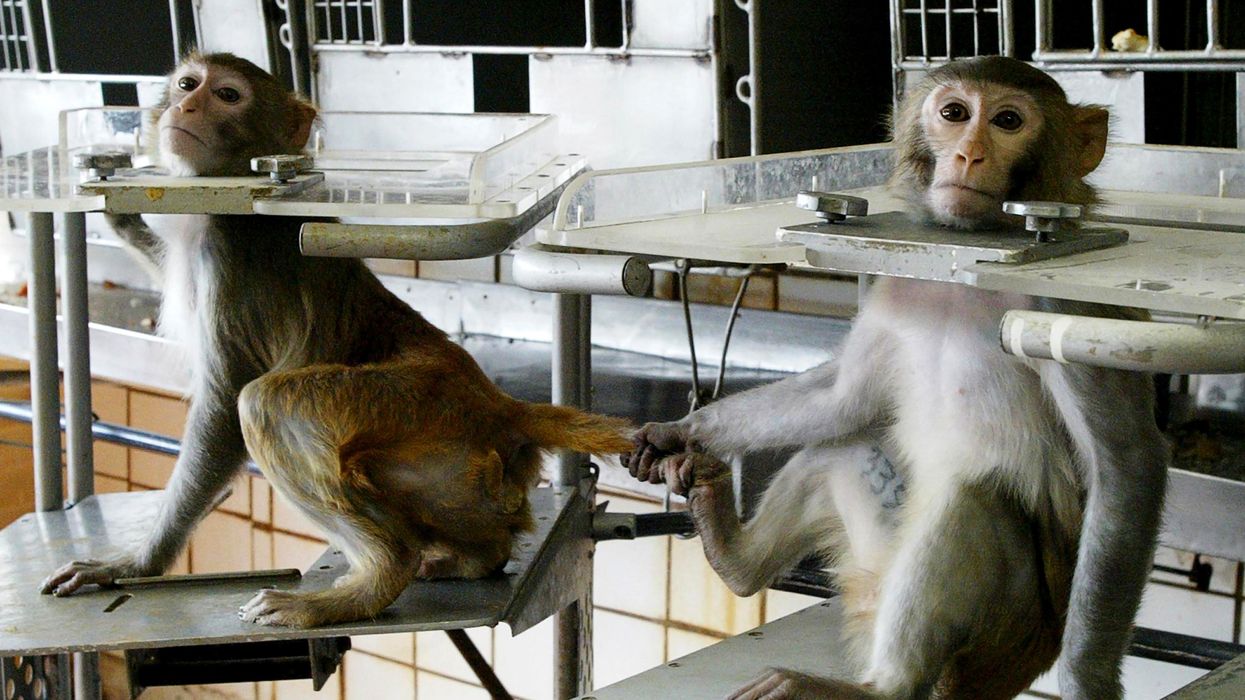 "It seems obvious to everyone but Elon Musk that Neuralink's device is unsafe," said one critic. "Now he is deliberately misleading investors and the public by outright lying about the company's monkey experiments."
After obtaining records showing a dozen monkeys were euthanized in "gruesome" trials, a national physicians group on Wednesday asked the U.S. Securities and Exchange Commission to investigate claims made by Elon Musk, owner of the biotech firm Neuralink, about the company's experimental brain implants.
Physicians Committee for Responsible Medicine (PCRM) requested an SEC probe into possible securities fraud committed by Musk when he claimed that "no monkey has died as a result of a Neuralink implant" during testing of the company's implantable brain-computer interfaces (BCI), and that the animals who died were all already terminally ill when chosen for experiments.
However, records obtained by PCRM and WIRED revealed that 12 previously healthy Rhesus macaques were euthanized by Neuralink due to problems with the company's implant. Health records offer no evidence that the 12 monkeys were terminally ill, as Musk claimed. Rhesus macaques commonly live around 20 years in captivity, with some reaching the age of 40. The average age of the 12 monkeys who died during Neuralink experiments was 7.25 years.

"It seems obvious to everyone but Elon Musk that Neuralink's device is unsafe and dangerous," PCRM research and advocacy director Ryan Merkley said in a statement. "Now he is deliberately misleading investors and the public by outright lying about the company's monkey experiments."
Veterinary records paint what WIREDcalled a "gruesome portrayal" of suffering endured by monkeys during Neuralink trials.
PCRM recounted the story of "Animal 15," a 6-year-old female Rhesus macaque assigned to Neuralink trials at the California National Primate Research Center (CNPRC) at the University of California, Davis in September 2017. The following spring, she began "task training," during which the animal is confined in a restraint device. She did not take well to the training and refused to eat. Then she and another monkey escaped from their cages.
On December 17, 2018, "Neuralink staff drilled holes into Animal 15's skull, removed part of her skull and skin to expose her brain, and implanted two electrodes, one in each hemisphere of her brain. The surgery lasted five hours."
According to research records, Animal 15 developed a host of medical problems, including excessive itching, bloody discharge, and loss of balance. She was repeatedly observed pulling on the port connector in her skull and was seen pressing her head against the floor, a possible sign of pain or neurological impairment.
On Christmas 2018, Animal 15 was seen "pulling and picking at the incision sites." Both of her eyes were swollen half-shut. By March, large quantities of discharge were observed coming from Animal 15's head; lab tests showed multiple bacterial infections on her implants. Her health declined until she was euthanized on March 21, 2019.
"A necropsy found that the Neuralink implants left parts of Animal 15's brain 'focally tattered,' that 'remnant electrode threads' were found in her brain, and there were indications of hemorrhaging," PCRM said.
In the case of "Animal 22," a monkey euthanized in March 2020, a necropsy report states that "the failure of this implant can be considered purely mechanical and not exacerbated by infection," an apparently direct contradiction of Musk's claim that no animals died from Neuralink implants.
A former Neuralink employee, who did not want to be named for fear of retaliation, told WIRED that Musk's claim is "ridiculous" and "straight fabrication."
A doctoral candidate currently researching at CNPRC—who also requested anonymity for similar reasons—told the outlet that "these are pretty young monkeys."
"It's hard to imagine these monkeys, who were not adults, were terminal for some reason," the researcher added.
As WIRED reported Wednesday:
If the SEC does investigate Musk's comments, it would mark at least the third federal probe linked to Neuralink's animal testing. In December 2022, Reutersreported that the U.S. Department of Agriculture's Office of Inspector General had launched a probe into Neuralink's treatment of some animal test subjects. In February 2023, the U.S. Department of Transportation opened an investigation into Neuralink over allegations of unsafe transport of antibiotic-resistant pathogens.

These investigations followed the U.S. Food and Drug Administration initially rejecting Neuralink's application, in early 2022, for approval to conduct in-human clinical trials. According toReuters, the agency's major concerns involved the device's lithium battery, as well as the possibility that the implant's wires might migrate to other parts of the brain.
Despite this, the FDA in May gave Neuralink the green light to begin human trials. On Wednesday, the company announced it would start recruiting adults with quadriplegia due to vertical spinal cord injury or amyotrophic lateral sclerosis—ALS, or Lou Gehrig's disease—for trials.
Called the PRIME study, the trials will test Neuralink's ability to help people with paralysis control devices. The company said Wednesday that it aims to "grant people the ability to control a computer cursor or keyboard using their thoughts alone."
In 2018, the SEC charged Musk with securities fraud for a series of false and misleading posts on Twitter—which he later bought and rebranded as X—about potentially taking his electric car company Tesla private. In a settlement, Musk agreed to resign as Tesla's chairman and pay a $20 million penalty. The company was also hit with a $20 million fine.

News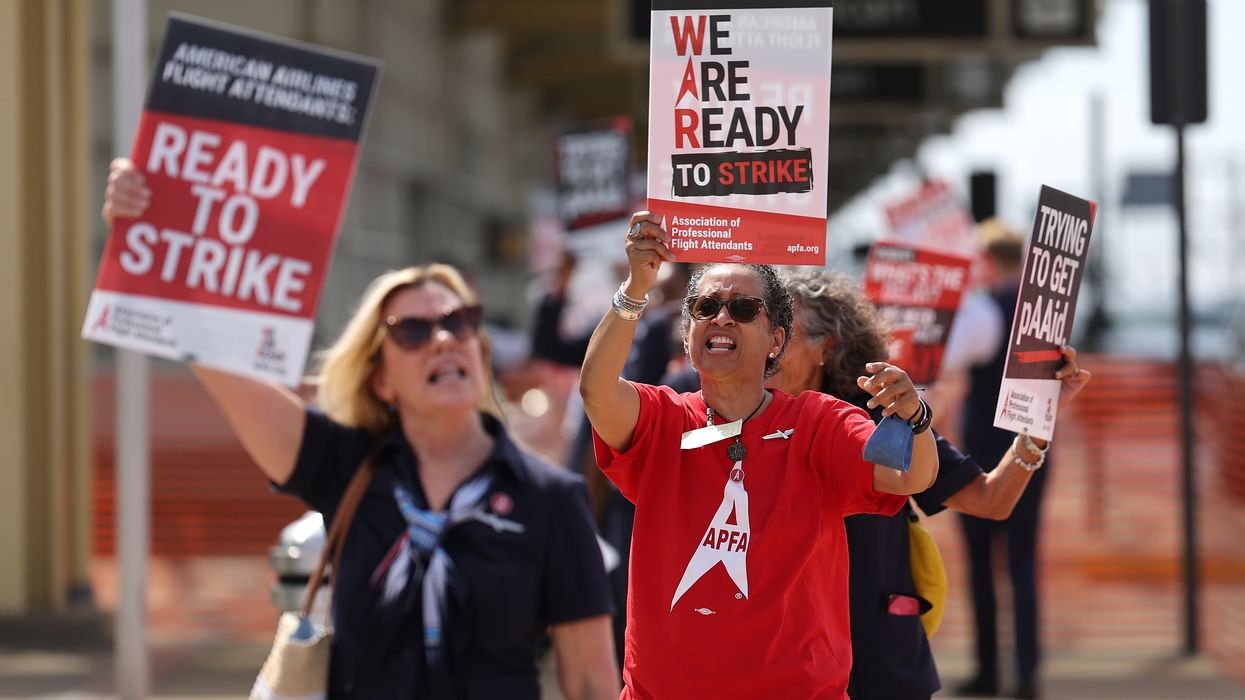 "We are not alone," said the Association of Professional Flight Attendants. "Our struggle is part of a larger struggle by working people standing up against corporate greed."

The nationwide U.S. strike wave that has seen hundreds of thousands of autoworkers, screenwriters, actors, hotel workers, baristas, and others walk off the job to win better wages and benefits could soon get even bigger, as tens of thousands of flight attendants and Kaiser Permanente employees prepare to take action amid stalled contract talks.
"We are not alone," the Association of Professional Flight Attendants (APFA), which represents more than 26,000 American Airlines flight attendants, told its members in an update on contract negotiations earlier this week. "Our struggle is part of a larger struggle by working people standing up against corporate greed. Autoworkers are on strike against the Big Three, as are actors and screenwriters."
Late last month, APFA members voted overwhelmingly to authorize a strike if management stands by a contract proposal that the union criticized as inadequate.
More than 6,500 Alaska Airlines flight attendants represented by the Association of Flight Attendants-CWA are also threatening walkouts as they push for substantial wage increases. The flight attendants have been working under the same contract since 2014.
Flight attendants with Southwest and United Airlines are also fighting for new contracts.

Meanwhile, the largest healthcare strike in U.S. history is looming as 85,000 Kaiser Permanente employees represented by the Coalition of Kaiser Permanente Unions demand a new contract that addresses understaffing and insufficient pay. Their current contract expires on September 30.
In recent weeks, Kaiser Permanente workers in Colorado, Oregon, California, and the Washington, D.C. area have voted to authorize strikes.
"We will take action if Kaiser Permanente does not come to the bargaining table to properly address our priorities—including staffing, patient care, and a consistent national wage increase to reward and retain our healthcare workers," the Office and Professional Employees International Union Local 2 said in a statement earlier this week after 98% of its members voted to authorize a strike.
Caroline Lucas, the executive director of the Coalition of Kaiser Permanente Unions, toldThe Washington Post that "we hope that there will be no work stoppage, that there will be no need to strike, and that we'll reach a resolution this week."
"But our workers are so burned out and so pushed to the brink that they're ready to walk off for up to two weeks if that's what it takes to get a respectful contract," Lucas added.
Management of Kaiser Permanente—which reported roughly $3.3 billion in net income during the first half of 2023—and union negotiators are currently holding a two-day national bargaining session.
More than 50,000 Las Vegas hotel workers could also soon be joining the wave of labor action, with the Culinary and Bartenders Unions set to hold a strike authorization vote on September 26.
"The current wave of strikes isn't bad for America. It's good for America."
More than 350,000 workers have gone on strike across the U.S. this year in pursuit of higher wages, improved benefits, and better working conditions that reflect the surging profits of their employers. Recent data from the U.S. Labor Department showed that 4.1 million days of work were lost nationwide last month due to strikes—the highest monthly total in more than two decades.
Last week, nearly 13,000 autoworkers walked out at three General Motors, Ford, and Stellantis facilities as the profitable companies refused to meet the United Auto Workers' demands, which include a 36% wage increase, an end to tiered compensation structures, and improved pension and healthcare benefits.

On Friday, the UAW is expected to announce strikes at additional locations as it ramps up pressure on the automakers, and the union's president has stressed that an all-out strike involving around 150,000 autoworkers remains an option.
With the UAW strike just beginning, it appears as if the monthslong writer and actor strike could be moving toward a conclusion.
CNBCreported that writers represented by the Writers Guild of America and Hollywood producers are "near an agreement" following a bargaining session on Wednesday.
"If a deal is not reached," the outlet noted, "the strike could last through the end of the year."
In a column for The Guardian earlier this week, former U.S. Labor Secretary Robert Reich argued that "the current wave of strikes isn't bad for America. It's good for America."

"American workers still have little to no countervailing power relative to large American corporations. Unionized workers now comprise only 6% of the private-sector workforce—down from over a third in the 1960s," Reich wrote. "Which is why the activism of the UAW, the Writers Guild, SAG-AFTRA, the Teamsters, flight attendants, Amazon warehouse workers, and Starbucks workers is so important."
News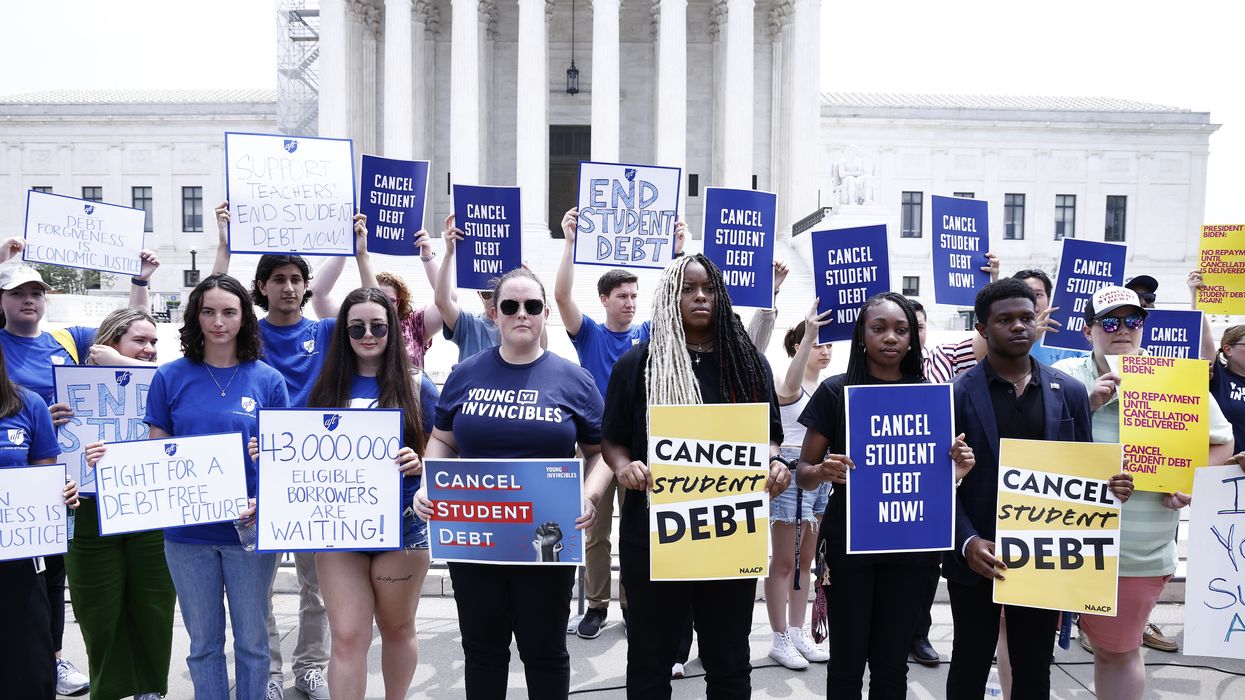 The letter highlights "the crushing weight of the student debt crisis on borrowers and their communities, and the extended economic limbo millions of borrowers have been forced to endure."
Leaders of 20 U.S. cities and counties, representing more than 1.2 million borrowers with nearly $50 billion in student debt, wrote to President Joe Biden on Thursday demanding swift action on long-promised and long-delayed relief.
Biden's first plan to cancel up to $20,000 per borrower was struck down by the U.S. Supreme Court in June. The administration is now working on a new relief plan involving the Higher Education Act (HEA) of 1965 but has chosen to initiate a drawn-out rulemaking process that campaigners say is unnecessary.
While welcoming the HEA effort, the letter stresses the urgent need among borrowers whose loan payments are set to resume October 1 after being paused for over three years in response to the Covid-19 pandemic.
"Given the crushing weight of the student debt crisis on borrowers and their communities, and the extended economic limbo millions of borrowers have been forced to endure as partisan lawsuits blocked transformative debt relief in the courts, we urge you to continue the necessary work to deliver on your promise of up to $20,000 in student debt relief and enact your new debt relief plan as swiftly as possible," local leaders from more than a dozen states wrote to the president.
"The Supreme Court's decision to ignore the clear letter of the law and strike down your life-changing debt relief plan is further evidence of its willingness to put politics and special interests before the American people," they argued.
The letter is signed by mayors, city attorneys, and other officials from Little Rock, Arkansas; Berkeley, Oakland, and San Francisco, California; Evanston, Illinois; Gary, Indiana; Mount Rainier, Maryland; Boston, Massachusetts; Ann Arbor, Lansing, and Washtenaw County, Michigan; Kansas City, Missouri; Carrboro and Hillsborough, North Carolina; Hoboken and Newark, New Jersey; Cleveland, Ohio; Philadelphia, Pennsylvania; Travis County, Texas; and Madison, Wisconsin.
As they detailed:
America's cities are on the frontlines of the $1.7 trillion student debt crisis. This crisis has spiraled out of control, reinforcing deeply embedded inequities in our country and creating financial despair in our communities—and the pandemic has exacerbated these challenges. Relief is urgently needed to help alleviate the financial burden on residents, helping families cover rising costs and invest in our local economies and their own future. As officials in your administration have consistently stated, resuming loan payments this fall without first providing broad-based student debt relief would result in a catastrophic wave of borrower distress, dealing a punishing blow to millions of families in our communities while destabilizing our local economies and increasing demand for public benefits and services.
As the letter notes, the Consumer Financial Protection Bureau said in June that around 2.5 million student loan borrowers already have a delinquency on another loan. The federal agency also found that about 1-in-5 student loan borrowers "have risk factors that suggest they could struggle when scheduled payments resume."
Recent polling suggests that number could be even higher. As Common Dreamsreported last month, 49% of borrowers surveyed by Intelligent.com said they aren't sure they can afford the looming loan bills, and 62% said they are likely to boycott repayments.
"Your administration is now only days away from restarting a fundamentally broken and underfunded student loan servicing system, throwing 45 million Americans into chaos," the new to Biden letter warns. "While we appreciate your administration's announcement to shield borrowers from the most severe economic consequences of default, millions of borrowers will be forced to navigate the complex system for the first time in more than three and a half years."
Potentially compounding the stress for borrowers, the resumption of payments could coincide with a looming government shutdown—and as Insiderreported Monday, the U.S. Department of Education "does not yet have a contingency plan for managing Federal Student Aid's operations without funding in two weeks."
Whether or not the government will be shut down when payments resume, borrowers are bracing for the impacts of another monthly bill, as are restaurants, retailers, and overcrowded animal shelters—and economists are warning of the consequences for the U.S. economy.
Pausing payments "helped ensure that people did not face financial ruin as a part of a pandemic they did not cause, and borrowers found themselves on more solid financial footing, for many, for the first time in years," Angela Hanks, chief of programs at Demos and a former Biden administration official, toldNewsweekon Thursday.
"This meant that people were able to pay other bills on time, including basics like rent and groceries," Hanks said. "For the millions of borrowers who will be forced into repayment in just a few weeks, this transition will undermine whatever stability they've been able to create for their families over the last few years."
"The end of the student loan forbearance risks disrupting an otherwise growing economy," she added. "Wages are outpacing inflation, and unemployment is down, but saddling families with another expensive bill risks undermining our collective economic progress."
News
Independent, nonprofit journalism needs your help.
Please Pitch In
Today!