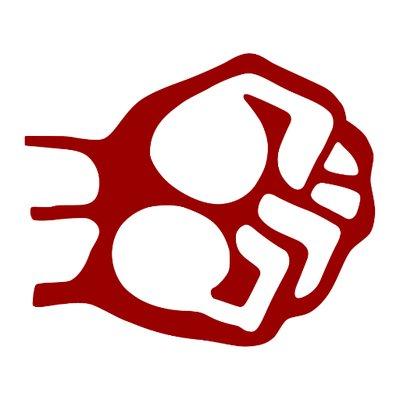 For Immediate Release
Contact:
Email:,press@demandprogress.org
Demand Progress Praises Unprecedented Senate Passage of Yemen War Powers Resolution
Urges activists to remain vigilant, and hold House Democrats and all members of Congress accountable until American involvement in the war on Yemen ends
WASHINGTON
The following may be attributed to Demand Progress Executive Director David Segal:
"Today's unprecedented Senate passage of a War Powers Resolution on a 56-41 vote is an extraordinary step towards ending the Saudi-led war in Yemen, which has caused the world's largest ongoing humanitarian crisis. The Senate should be praised for taking such bold action to bring the war to a close, and for asserting its authority under the War Powers Act for the first time since it became law 45 years ago.
"Not only will this step serve to contain the ongoing atrocities in Yemen, but it sets a precedent that will serve as a constraint on undue use of military force for decades to come. The margin of victory was substantial enough that passage of another War Powers Resolution appears to be likely even after the Senate's composition shifts further towards Republicans in January.
"Today's events are made bittersweet in light of yesterday's razor-thin vote in the House against proceeding to debate an analogous measure. Debate on the House War Powers Resolution would have moved forward had five Democrats not defected and voted with Speaker Paul Ryan and the bulk of House Republicans.
"House Democratic Leadership's admission that they did not even whip on the measure -- even though most high-ranking Democrats sponsored it, and outside organizations called on them to do so -- calls into question Whip Steny Hoyer's commitment to ending the war. Activists must continue to hold Hoyer, House Democratic Leadership, and all members of the House and Senate accountable and ensure that War Powers Resolutions pass both chambers of Congress as quickly as possible come January."
Earlier this week Demand Progress and other organizations sent a letter to House Democratic Leadership urging them to whip on the House War Powers Resolution vote. It can be found here: https://s3.amazonaws.com/demandprogress/letters/2018-12-10_Yemen_resolution.pdf
The Washington Post's Jeff Stein has reported that Democratic Whip Steny Hoyer did not whip on the House vote yesterday. https://twitter.com/JStein_WaPo/status/1073042092199436288
Demand Progress has co-led an online coalition of organizations in support of the Yemen War Powers Resolution effort throughout the year at StopTheWar.us, with hundreds of thousands of constituents emailing their lawmakers, and tens of thousands placing phone calls.
Demand Progress amplifies the voice of the people -- and wields it to make government accountable and contest concentrated corporate power. Our mission is to protect the democratic character of the internet -- and wield it to contest concentrated corporate power and hold government accountable.
LATEST NEWS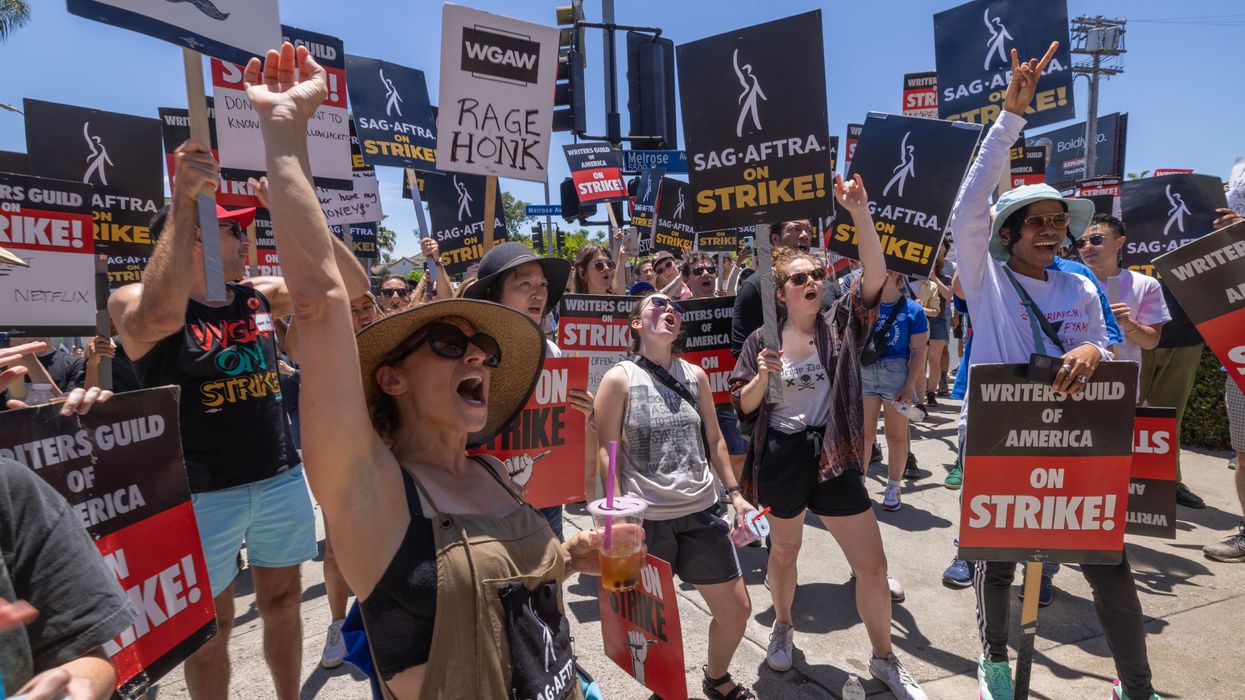 "For the first time in a generation the labor movement is held in high esteem by the American public. It is widely understood that working people need the protections only collective bargaining can provide."
Even as Republicans vying for the 2024 presidential nomination publicly promote their union-busting vision for the country, a new poll shows that U.S. voters across the political spectrum support Hollywood writers and actors as well as autoworkers currently on strike in demand for better pay and conditions.
The new Reuters/Ipsos poll out Wednesday found that 58% of voters, regardless of partisan affiliation, approve of the strike by the United Auto Workers (UAW), while a full 60% support the dual strike by writers and performers underway by the Writers Guild of America (WGA) and the Screen Actors Guild - American Federation of Television and Radio Artists (SAG-AFTRA).
Among those not in favor of the UAW strike, 32% actually opposed the walkout, while another 10% were unsure. In terms of the writers and actors strike, just 27% opposed while 13% remained unsure. Overall, support for both strikes was higher among self-identified Democrats, with 72% backing the UAW and 79% in support of those working in the TV and film industries.
New reporting Thursday suggests that the strikes in Hollywood could be having their desired impact and heading for a conclusion as fresh talks between union negotiators and studio owners may be inching towards an agreement. Meanwhile, the autoworkers strike remains much more in its infancy stage, with UAW president Shawn Fain this week saying that more union locals are ready to join the walkout Friday if the union's demands are not met.
But as the new poll shows broad public support for the workers standing their ground, Republican presidential hopefuls this week have been outspoken in their hostility to unions trying to improve their members' lives.
On Monday, Sen. Tim Scott (R-S.C.) invoked former president and infamous strike-breaker Ronald Reagan—who terminated over 11,000 striking air-traffic controllers in 1981—to explain what he would do if he were president.

"Ronald Reagan gave us a great example when federal employees decided they were going to strike," Scott said during a campaign event in Fort Dodge, Iowa. "He said, 'You strike, you're fired.' Simple concept to me. To the extent that we can use that once again, absolutely." While Scott didn't remark on the fact that autoworkers are not federal employees, his campaign team later emphasized that distinction to reporters.
Not to be outdone, former Republican governor and Trump appointee Nikki Haley told Fox News last weekend that she was a proud "union-buster" when leading South Carolina. "I didn't want to bring in companies that were unionized simply because I didn't want to have that change the environment in our state," Haley said.
Donald Trump, meanwhile, as Common Dreamsreported Wednesday, is under fire over his plans to parachute into Michigan next week as a hero to struggling families and the working class despite his "viciously anti-worker" record when he was in the White House.

In a Los Angeles Times op-ed published Wednesday, Les Leopold, the executive director of the Labor Institute, argued that instead of blaming workers for demanding better wages and working conditions, anyone upset about the ongoing strikes should aim their ire at Wall Street greed and a financial system that rewards profit-seeking over all else.
"For the first time in a generation the labor movement is held in high esteem by the American public. It is widely understood that working people need the protections only collective bargaining can provide," argued Leopold. "This puts unions like the UAW at the forefront of the struggle to protect jobs and the environment."
News
"More kids are losing access to books, more libraries are taking authors off the shelves, and opponents of free expression are pushing harder than ever to exert their power."
A new report released Thursday by the free expression group PEN America warns that the Republican-led book banning movement is intensifying nationwide, with U.S. classrooms and libraries prohibiting more than 1,500 unique titles during the 2022-23 school year.
PEN recorded 3,362 total instances of book bans across the U.S., a 33% increase compared to the previous school year. More than 40% of all book bans in the U.S. in 2022-23 took place in Florida, where Republican Gov. Ron DeSantis—a GOP presidential candidate—has launched a massive assault on public education.
"Florida isn't an anomaly—it's providing a playbook for other states to follow suit," said Kasey Meehan, director of PEN America's Freedom to Read program and lead author of the new report. "Students have been using their voices for months in resisting coordinated efforts to suppress teaching and learning about certain stories, identities, and histories; it's time we follow their lead."
PEN noted that officials and outside groups pushing for book bans often deployed "hyperbolic and misleading rhetoric about 'porn in schools' and 'sexually explicit,' 'harmful,' and 'age inappropriate' materials led to the removal of thousands of books covering a range of topics and themes for young audiences."
"Overwhelmingly, book bans target books on race or racism or featuring characters of color, as well as books with LGBTQ+ characters," the group found. "This year, banned books also include books on physical abuse, health and well-being, and themes of grief and death. Notably, most instances of book bans affect young adult books, middle-grade books, chapter books, or picture books—books specifically written and selected for younger audiences."
Suzanne Nossel, PEN America's chief executive officer, said in a statement that "the toll of the book banning movement is getting worse."
"More kids are losing access to books, more libraries are taking authors off the shelves, and opponents of free expression are pushing harder than ever to exert their power over students as a whole," said Nossel. "Those who are bent on the suppression of stories and ideas are turning our schools into battlegrounds, compounding post-pandemic learning loss, driving teachers out of the classroom, and denying the joy of reading to our kids. By depriving a rising generation of the freedom to read, these bans are eating away at the foundations of our democracy."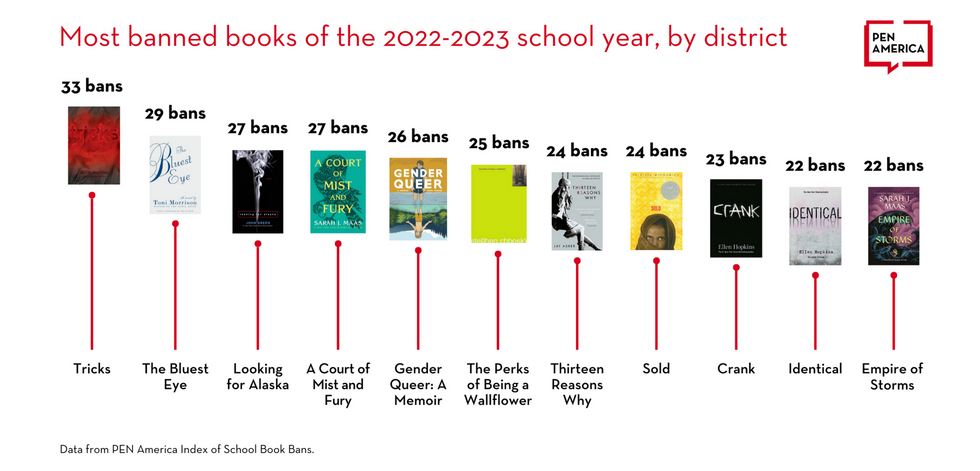 PEN's report comes days after the American Library Association said that a record number of library books—1,915—have been challenged during the first eight months of this year.
As The Associated Pressreported earlier this week, "The most sweeping challenges often originate with such conservative organizations as Moms for Liberty, which has organized banning efforts nationwide and called for more parental control over books available to children."
PEN noted that 80% of the U.S. school districts that banned at least one book during the 2022-23 school year "have a chapter or local affiliate nearby of one or more of the three most prominent national groups pushing for book bans—Moms for Liberty, Citizens Defending Freedom, and Parents' Rights in Education."
"These districts are where 86% (2,902) of book bans have occurred," PEN found.
But the group stressed that book bans aren't just happening in traditionally conservative areas, noting that 42% of the states with book bans during the 2022-23 school year voted Democratic in the 2020 presidential election.
"However, Republican-leaning states had more districts banning books than Democratic-leaning states; 50 districts out of 153 (33 percent) are in states that voted Democratic in the 2020 presidential election, while 103 districts are in states that voted Republican," the group added. "These 103 districts account for 88 percent of all book ban cases in the 2022–23 school year."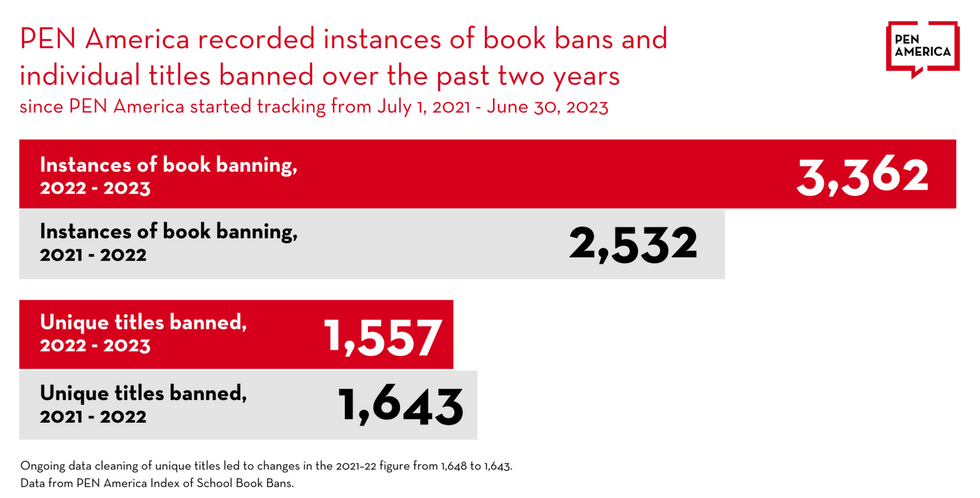 Author John Green—whose bestselling book "Looking for Alaska" was the third-most banned book in U.S. schools during the 2022-23 school year—said in a statement that "it's disappointing to see such a steep rise in the banning and restriction of books."
"We should trust our teachers and librarians to do their jobs," said Green. "If you have a worldview that can be undone by a book, I would submit that the problem is not with the book."
Hundreds of other authors, artists, celebrities, and activists signed an open letter earlier this week echoing that sentiment and urging "everyone to join us in pushing back against these book bans."
"We cannot stress enough how these censorious efforts will not end with book bans," the open letter states. "It's only a matter of time before regressive, suppressive ideologues will shift their focus toward other forms of art and entertainment, to further their attacks and efforts to scapegoat marginalized communities, particularly BIPOC and LGBTQ+ folks."
"We refuse to remain silent as one creative field is subjected to oppressive bans," the letter continues. "As artists, we must band together, because a threat to one form of art is a threat to us all."
News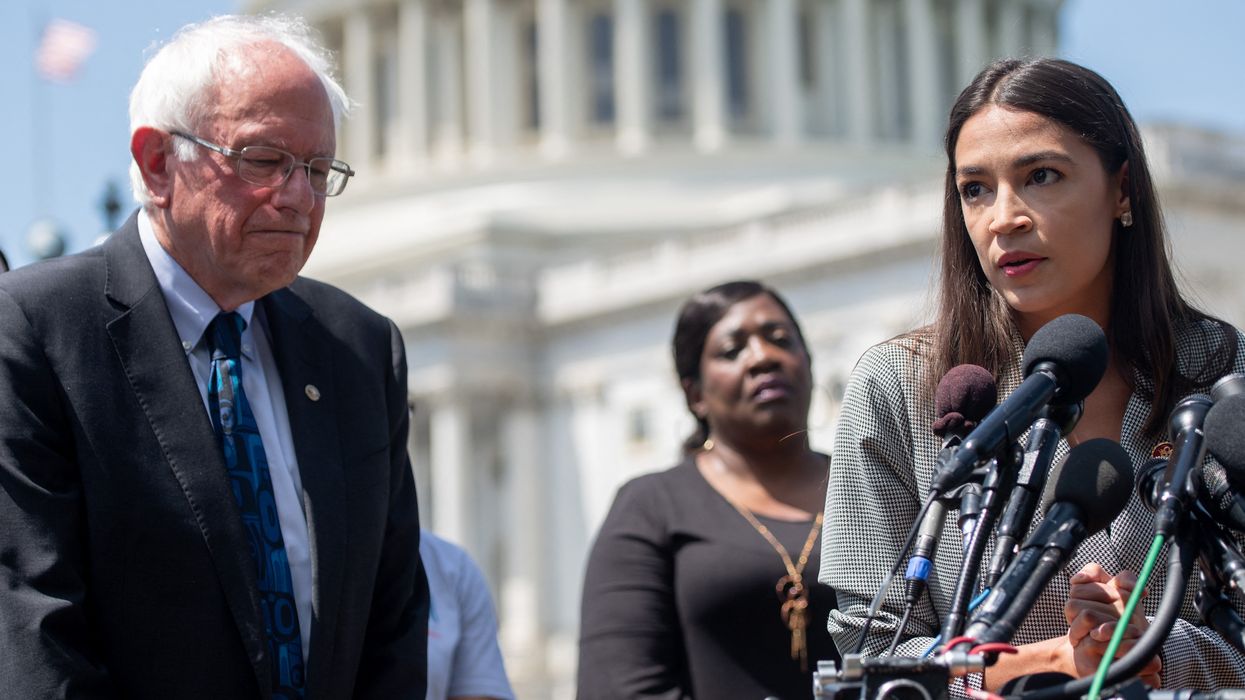 "We must make clear that we regret our involvement and commit to supporting Chilean democracy," said Sen. Bernie Sanders.
Sen. Bernie Sanders, Rep. Alexandria Ocasio-Cortez, and several other U.S. lawmakers introduced a resolution on Thursday that formally commemorates the 50th anniversary of the deadly 1973 military coup in Chile and apologizes for the role the United States played in the toppling of the Latin American nation's democratically elected government.
The resolution also calls for the declassification of all remaining U.S. documents related to the coup and the events preceding and following it.
"Let me be clear: we must stand up for democracy here in the United States and beyond," Sanders (I-Vt.) said in a statement. "And that means we must also acknowledge that the United States has not always defended democracy abroad, and in fact, has sometimes done the opposite."
"As we mark the 50th anniversary of the horrific coup in Chile, we must make clear that we regret our involvement and commit to supporting Chilean democracy," he added. "To build the lasting partnerships we need in this hemisphere, we will need to establish a basis of trust and respect. Part of that process includes full accountability for the coup and its aftermath."
"Fifty years ago, the U.S. government supported a violent coup that toppled democracy in Chile and brought years of mass murder and authoritarianism to the country."
The new resolution comes after Ocasio-Cortez (D-N.Y.) joined a group of U.S. lawmakers on a Latin America trip that included a stop in Chile, where the New York Democrat stressed the importance of declassifying the coup-related documents to shed more light on the Nixon administration's role in the violent ouster of Salvador Allende on September 11, 1973.
That day, Gen. Augusto Pinochet led the Chilean military in seizing control of the nation's government and ushering in a decadeslong reign of brutal repression and terror. Tens of thousands of Chileans were tortured, killed, or disappeared by the Pinochet regime.
In the lead-up to the coup, then-President Richard Nixon ordered the CIA to make Chile's economy "scream" as part of an effort to prevent Allende, a democratic socialist, from taking office.
Decades after the coup—during which Allende took his own life after refusing to step aside—the CIA acknowledged that it "actively supported" the Pinochet regime and that some of its agents were involved in human rights abuses.
"The U.S. cannot credibly show up as a trustworthy partner that can help advance democracy in the present if we don't own up to our complicated past," Ocasio-Cortez said Thursday.
Following the congressional delegation's visit to Chile last month, the U.S. State Department declassified two briefs that Nixon received on the day of the 1973 coup and three days prior.

"While we appreciate President Biden listening to our call and declassifying two relevant documents, there are still many outstanding questions," said Ocasio-Cortez. "The people of Chile and the victims of Pinochet's violence deserve answers."
The new resolution—also backed by Sens. Tim Kaine (D-Va.), Jeff Merkley (D-Ore.), and Chris Murphy (D-Conn.) in the Senate and Reps. Greg Casar (D-Texas) and Joaquin Castro (D-Texas) in the House—highlights the CIA's support for the Pinochet regime and points specifically to the involvement of Henry Kissinger, who served as Nixon's national security adviser and later as the U.S. Secretary of State.
"Then-Secretary of State Henry Kissinger told coup leader General Augusto Pinochet in a private meeting, 'We want to help, not undermine you. You did a great service to the West in overthrowing Allende,'" the resolution states, citing a declassified transcript of a conversation between Kissinger and Pinochet in June 1976.
The resolution "expresses profound regret for the United States' contribution to destabilizing Chile's political institutions and constitutional processes" and praises "the Chilean people for rebuilding a strong and resilient democracy against the forces of authoritarianism."
The measure adds that "full accountability requires a full accounting in the form of disclosure and declassification of remaining United States records relating to events leading up to, during, and after the military coup of 50 years ago."
"Fifty years ago, the U.S. government supported a violent coup that toppled democracy in Chile and brought years of mass murder and authoritarianism to the country," Casar said in a statement. "We should apologize and be transparent about the role that the U.S. government and major economic interests played in supporting the coup and the following years of authoritarian rule. Together, we can build a new relationship based on mutual respect and a commitment to peace."
News
Independent, nonprofit journalism needs your help.
Please Pitch In
Today!