New Report Says U.S. Return to Iran Nuclear Deal is Possible, Urges Incoming Congress and 2020 Presidential Challengers to Make JCPOA Restoration Foreign Policy Priority
First-of-Its-kind report from National Iranian American Council experts says there is still time to salvage the historic deal
WASHINGTON
Today, the National Iranian American Council has launched a first-of-its-kind report detailing the urgency and legislative feasibility for the United States to return to the Joint Comprehensive Plan of Action (JCPOA), also known as the Iran Nuclear Deal. The report makes the case that seeking to return the United States into the JCPOA should be a significant foreign policy priority for the incoming Congress, and central to the foreign policy platform of those seeking to challenge Trump in 2020.
READ THE FULL TEXT OF THE REPORT HERE: https://www.niacouncil.org/jcpoa-report/
On May 8, 2018, President Trump announced his decision to withdraw the United States from the JCPOA and to re-impose all nuclear-related sanctions lifted under the nuclear accord following 90- and 180-day wind-down periods. The Trump administration also promised to utilize existing U.S. sanctions authorities to aggressively target Iran and companies engaged in sanctionable conduct therewith.
The report also outlines the damage to U.S. national interests triggered by the Trump administration's violation of the deal, including strained relations with European Union allies and the ever-increasing threat of the U.S.-Iran conflict escalating into military action. The report concludes with recommendations to Congress and 2020 Presidential contenders to salvage the JCPOA and rehabilitate the United States on the global stage.
Jamal Abdi, President of the National Iranian American Council, explained:
"Donald Trump's assault on the Iran nuclear deal sabotages America's credibility and influence on the world stage, and threatens to provoke a new nuclear crisis in the Middle East. The President is armed with an ideologically hawkish cabinet on track to fully collapse the accord, increasing the risks of both war with Iran and an Iranian nuclear weapon. The incoming Congress and any 2020 Presidential challengers must vow to mitigate the damage from Trump's Iran deal exit by signaling support for a return to the JCPOA. The benefits of re-entering the Iran Deal cannot be overstated: It would solidify Iranian nuclear concessions that last through 2030 and beyond, signal to Saudi Arabia that the blank check for their brazen behavior is at an end, and guarantee diplomacy with Iran that will take the United States away from the brink of yet another endless war in the Middle East."
Expert Reactions to 'Restoring U.S. Credibility: Returning to the Iran Nuclear Agreement'
*Titles are for identification purposes only*
Narges Bajoghli, Assistant Professor at Johns Hopkins School of Advanced International Studies
"It is crucial for America's standing in the world that we work to re-enter the JCPOA in the near future. This report provides concrete steps that Congress can take now to ensure that we return to the promises we made to the international community. Without doing so, America will continue to act as a force of instability in the Middle East."
Farideh Farhi, Independent Scholar and Affiliate Graduate Faculty at the University of Hawai'i at Manoa:
"The Trump Administration's ill-conceived rejection of the JCPOA and policy of 'maximum pressure' can no doubt inflict pain on the Iranian people. It can also court disaster in risking Iran's resumption of its nuclear activities, further destabilization of the Middle East, and possibly even another costly US war in the region. Remaining quiet in the face of these predictable harms is not an option. This report offers timely and reasonable recommendations for keeping the JCPOA alive as a pathway for the re-emergence of a saner approach to Iran."
Bijan Khajehpour, economist and a managing partner at Eurasian Nexus Partners
"The US rejoining the JCPOA and helping to sustain a multilateral agreement will not only reduce the likelihood of an unnecessary nuclear arms race in the Middle East, but also prevent a radicalisation of Iranian politics. A moderate Iran is important for regional stability, the containment of jihadist movements and the future energy security for US allies globally."
Hooman Majd, Iranian-American writer:
"It almost goes without saying that the best option for de-escalating tensions in the Middle East, and preventing nuclear proliferation, is for the U.S. to return to the JCPOA nuclear accord. It is unimaginable that Iran would agree to a new deal--or indeed any other deal on other issues of contention--without the U.S. first abiding by the commitments that it made when it signed on, along with five other powers, to the nuclear deal with Iran."
Nicholas Miller, Assistant Professor of Government at Dartmouth College
"The JCPOA has successfully curtailed Iran's nuclear program and remains the surest tool for preventing an Iranian bomb. The new Congress should do what it can to limit the serious damage done by the Trump administration's withdrawal from the deal. If the administration's 'maximum pressure' campaign continues to escalate, the odds increase that Iran will exit the agreement and move closer to a nuclear weapon, which could in turn spark a costly war."
Paul Pillar, Nonresident Senior Fellow at the Center for Security Studies at Georgetown University
"Candidates and legislators of all political persuasions would do well to read and heed this report. The Trump administration's abandonment of arms control and diplomacy in favor of conflict and confrontation has brought the United States only isolation and infamy as well as heightened risk of war. It is not too late to return to compliance with the JCPOA and to a course that demonstrably serves U.S. interests better than the current policy does."
Ned Price, Director of Policy and Communication at National Security Action
"There is much that we still don't know about the Trump administration's plans and intentions regarding Iran, but here's what we do know: the withdrawal from the Iran deal was a political maneuver designed solely to satisfy the President's base. It was manifestly not in our national security interest, as it has the potential to free Iran from the most stringent verification and monitoring regime ever negotiated, while also simultaneously setting us on a possible path toward another disastrous Middle Eastern conflict. What we also know, however, is that the new Democratic House now has the oversight tools to spotlight and constrain the administration's recklessness, just as we begin to clear the path for the next administration's reentry into the deal. There may be tactical disagreements regarding how to most effectively confront Iran's destabilizing regional activities, but there must be a strategic recognition that only the JCPOA provides a baseline that allows us to achieve our most important objective: a nuclear weapons-free Iran."
Barbara Slavin, Director of the Future of Iran Initiative at The Atlantic Council:
"I concur that the next US administration should return to the JCPOA-- assuming Iran has remained compliant -- and also lift the travel ban. The US should also request new talks with Iran both on repairing the damage from the unilateral withdrawal from the JCPOA and on other issues of mutual concern."
Lawrence Wilkerson, Col, USA (Ret), former chief of staff to secretary of state Colin Powell
"NIAC's report, "Restoring U.S. Credibility - Returning to the Iran Nuclear Agreement", is not only a powerful indictment of the Trump Administration's security policy, it is a clear and clarion call for redress. The report makes quite clear that without a resumption of our agreed responsibilities under the JCPOA, alliances will fracture, de-dollarization movements will proceed apace, enemies will gain ground, and Iran will not be substantially prevented from acquiring a nuclear weapon. War could even result. The wonder is that the U.S. withdrew from the agreement in the first place; even more of a marvel--but entirely wise and proper--would be a successful return. Every concerned party should be working toward that end."
NIAC Action is the grassroots, civic action organization committed to advancing peace and championing the priorities of the Iranian-American community. We are a nonpartisan nonprofit and the 501(c)4 sister organization of the National Iranian American Council, which works to strengthen the Iranian-American community and promote greater understanding between the American and Iranian people.
LATEST NEWS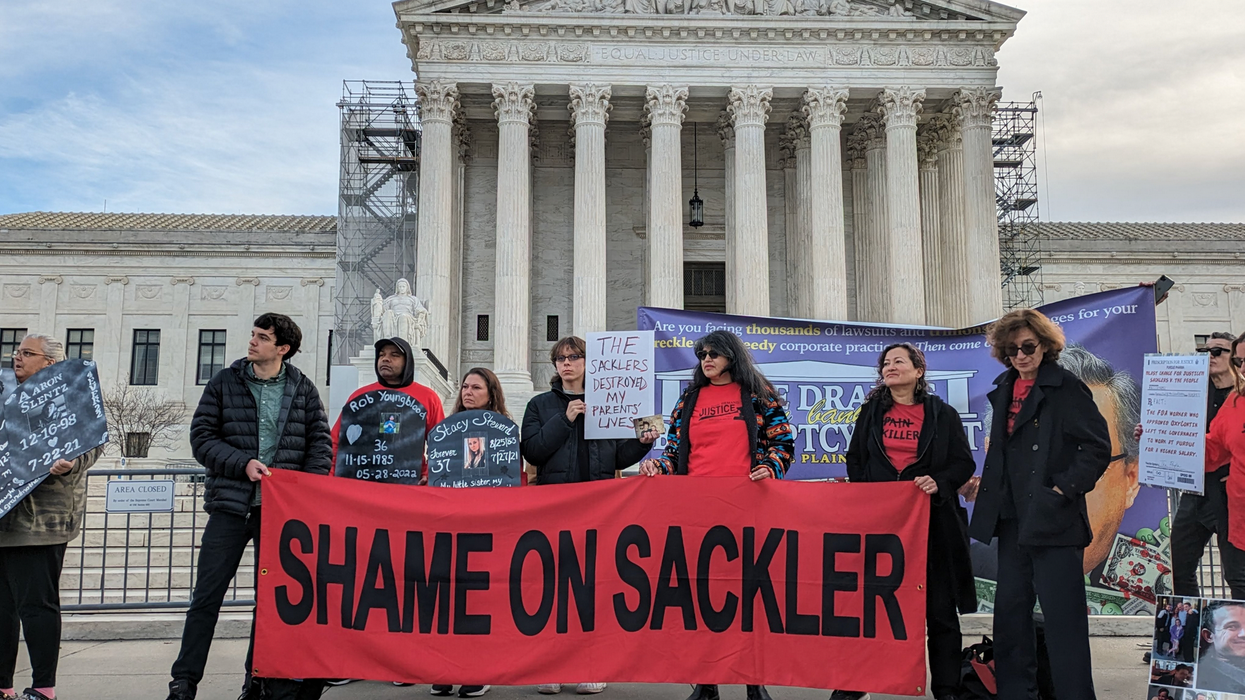 "I don't want their money," one woman who lost a son to the opioid crisis said of the Sackler family. "I want them in prison."
At the U.S. Supreme Court on Monday, families whose loved ones are among the tens of thousands of Americans who have died of opioid use disorder each year over the past two decades rallied to push the nine justices to reject a proposed bankruptcy plan that would give the former owners of Purdue Pharma legal immunity—with many joining the U.S. Justice Department in arguing that the company should not be released from accountability for the opioid epidemic.
Purdue Pharma filed for bankruptcy in 2019, as the number of Americans killed by opioids hit 50,000 and the OxyContin manufacturer faced thousands of lawsuits alleging its aggressive marketing of the addictive painkiller had fueled the rising death toll.
The company agreed to settle the lawsuits for $10 billion, with the Sackler family—which oversaw Purdue when OxyContin was introduced and flooded communities across the U.S.—contributing $4 billion. In exchange, the Sacklers would be shielded from future lawsuits.
The bankruptcy plan—which now includes $6 billion from the Sacklers following a push from lawsuit plaintiffs—has been approved by state and local governments, tribes, and families and individuals who would be entitled to money.
But the U.S. Trustee Program, a watchdog at the Justice Department, has joined some families in arguing that the Sacklers should not be shielded from liability for the opioid crisis.
"No Sackler immunity at any $$," read one sign held by a woman outside the Supreme Court on Monday, while another said, "My dead son does not release Sacklers."

The issue at hand in the case, Harrington v. Purdue Pharma, is whether it is legal to give a third party—the Sackler family—legal immunity in a bankruptcy case even though they themselves have not declared bankruptcy, also known as nonconsensual third-party release.
A lawyer for groups and individuals told the court that families and governments are highly unlikely to get any more out of Purdue and the Sacklers than the money the company and family have offered as part of the deal.
The plan would include $161 million in a trust set aside for Native American tribes and $700 million to $750 million in a trust for families and individuals who were able to file claims, with payouts expected to range from about $3,500 to $48,000. Governments would use the money to set up addiction treatment centers and other programs to mitigate the opioid crisis.
"Forget a better deal—there is no other deal," lawyer Pratik Shah told the Supreme Court on Monday.
Curtis Gannon, representing the U.S. Trustee Program, noted that the Sackler family already showed that a "better deal" could be possible when it offered $6 billion for the plan instead of $4 billion. The Justice Department is advocating for a new settlement that would not include nonconsensual third-party releases, saying the current bankruptcy deal violates federal law.
"We do hope there is another deal at the end of this," said Gannon.
The justices appeared split on the case, in which a ruling is expected next summer. Justice Ketanji Brown Jackson noted that appeals courts do not allow bankruptcy plans that take away the rights of alleged victims to sue parties that have not declared bankruptcy.

Outside the court, Alexis Pleus, who lost her son to opioid use disorder, told Aneri Pattani of KFF Health News that many families, including hers, will not be entitled to money under the current deal because they are required to provide records such as the original opioid prescription.
Beth Macy, author of the book Dopesick, told CNN Monday morning that while some families "are divided" about whether the bankruptcy plan and payouts should move forward, as the U.S. Trustee Program "has pointed out, only 20% of the families who were eligible to vote on [the proposal], even voted."

"I don't want their money," Jen Trejo, whose son Christopher was prescribed OxyContin at age 15 and died of an overdose when he was 32, told Pattani. "I want them in prison."
News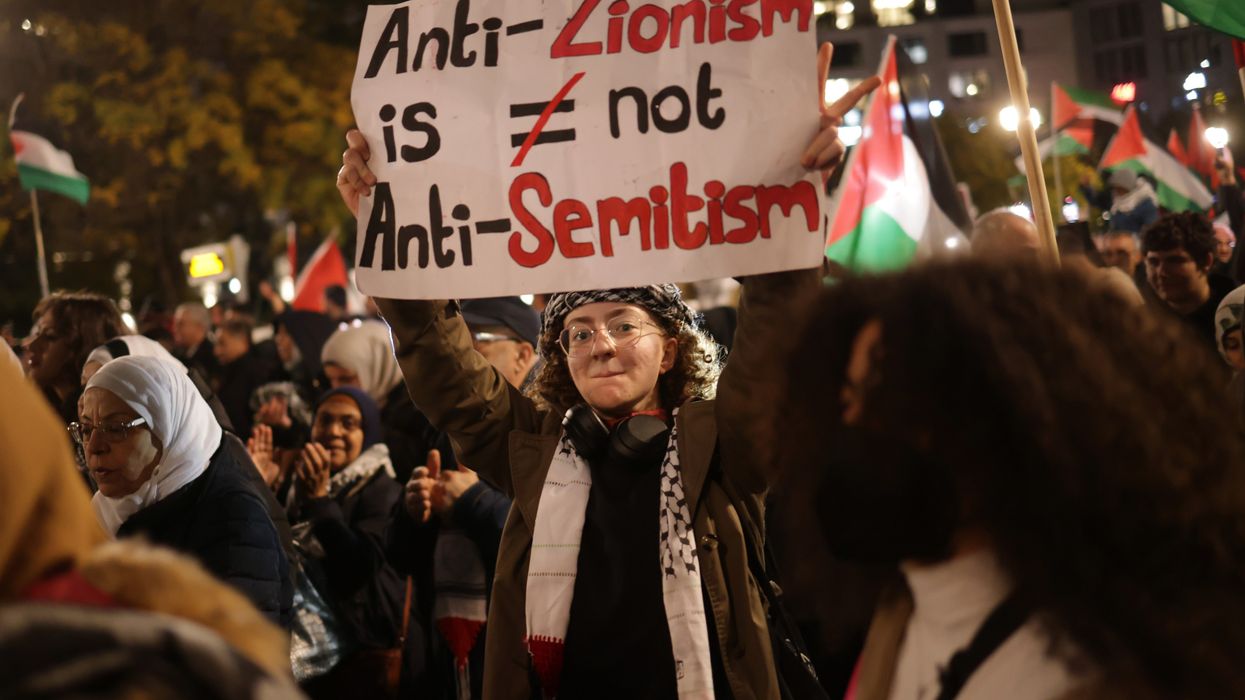 "The fact that Congress has to pass a resolution saying that anti-Zionism and antisemitism are the same thing means that people's efforts to end the conflation of the two are getting somewhere," argued one critic.
The U.S. House of Representatives is expected to vote this week—possibly as soon as Monday evening—on a resolution declaring that "anti-Zionism is antisemitism," a measure that Jewish peace campaigners called "deeply antisemitic."
House Resolution 894—introduced by a pair of Jewish Republicans, Reps. David Kustoff (Tenn.) and Max Miller (Ohio)—embraces the International Holocaust Remembrance Alliance's (IHRA) controversial working definition of antisemitism, which, while not explicitly mentioning anti-Zionism, includes "denying the Jewish people their right to self-determination" and "claiming that the existence of a state of Israel is a racist endeavor."
Kustoff said in a statement last Tuesday, when the measure was introduced, that "since October 7, we have seen an alarming rise in antisemitic incidents, attacks, harassment, and discrimination both in the United States and across the globe."
"Such hate has no place in our national discourse, and it is imperative leaders voice their strong opposition to these horrifying acts of violence and discrimination," he added.
"This is a cynical effort to conflate criticism of the government of Israel with antisemitism."
Many Jewish American critics, however, bristled at the conflation of hatred of Jews with opposition to Israel, a settler-colonial apartheid state with codified Jewish primacy illegally occupying and oppressing Palestine while waging what many call a genocidal war on Gaza.
"This is a cynical effort to conflate criticism of the government of Israel with antisemitism," Leah Greenberg, co-executive director of the progressive political action group Indivisible, said on social media. "It's not about protecting Jews. It's about shutting down dissent. And in doing so it makes all of us less safe."
The new resolution—which details numerous recent instances of antisemitism while completely ignoring concurrently rising and sometimes violent Islamophobia sweeping the United States—resolves that the House:
Strongly condemns and denounces all instances of antisemitism occurring in the United States and globally;
Reaffirms and reiterates its strong support for the Jewish community at home and abroad;
Calls on elected officials and world leaders to condemn and fight all forms of domestic and global antisemitism;
Clearly and firmly states that anti-Zionism is antisemitism; and
Rejects all forms of terror, hate, discrimination, and harassment of members of the Jewish community.
Referencing the trope that anti-Zionists are antisemites and Jewish people who oppose Israel are "self-hating," the Bay Area chapter of Jewish Voice for Peace asked on social media, "So what, we're all self-hating Jews?"

The IHRA definition of antisemitism has been rejected by the scholars and other experts—many of them Jewish—behind the Jerusalem Declaration on Antisemitism, which states that while anti-Israel sentiment "could be an expression of an antisemitic animus," it could also be "a reaction to a human rights violation, or it could be the emotion that a Palestinian person feels on account of their experience at the hands of the [Israeli] state."
The modern state of Israel was established largely by ethnically cleansing over 750,000 Arabs from Palestine 75 years ago. In the decades since, Israel illegally occupied the West Bank, East Jerusalem, and Gaza, whose 2.3 million people endure periodic wars that have claimed nearly 20,000 lives—most of them in the past two months—while living and dying in what human rights defenders call the "world's largest open-air prison."

The House resolution comes as Israel intensifies its retaliatory war on Gaza, where officials say that more than 60,000 Palestinians have been killed, maimed, or left missing by Israeli attacks.
Jewish Americans—from progressive left-wing activists to the Orthodox Torah Judaism movement—have been at the forefront of opposition to both Israel's war and U.S. support for it.
"Zionism is the greatest source of real antisemitism today," Jewish American filmmaker Dan Cohen said in a Monday social media post condemning "Israel's genocide of Palestinians."

"The Israel lobby and the elected representatives it controls are responsible," he added.

Dr. Eric Reinhart, a Harvard scholar, asserted that "not only is anti-Zionism not antisemitism, but a strong argument can be made that Zionism is in fact antisemitic."

"It is used to license Zionist violence against Jews who refuse to back it," he added, including "the Israeli government's recent attacks on their own anti-Zionist Jewish citizens."
Richard Beck, a senior writer at n+1, called the resolution "very dark."
"But," he added, "the fact that Congress has to pass a resolution saying that anti-Zionism and antisemitism are the same thing means that people's efforts to end the conflation of the two are getting somewhere."
News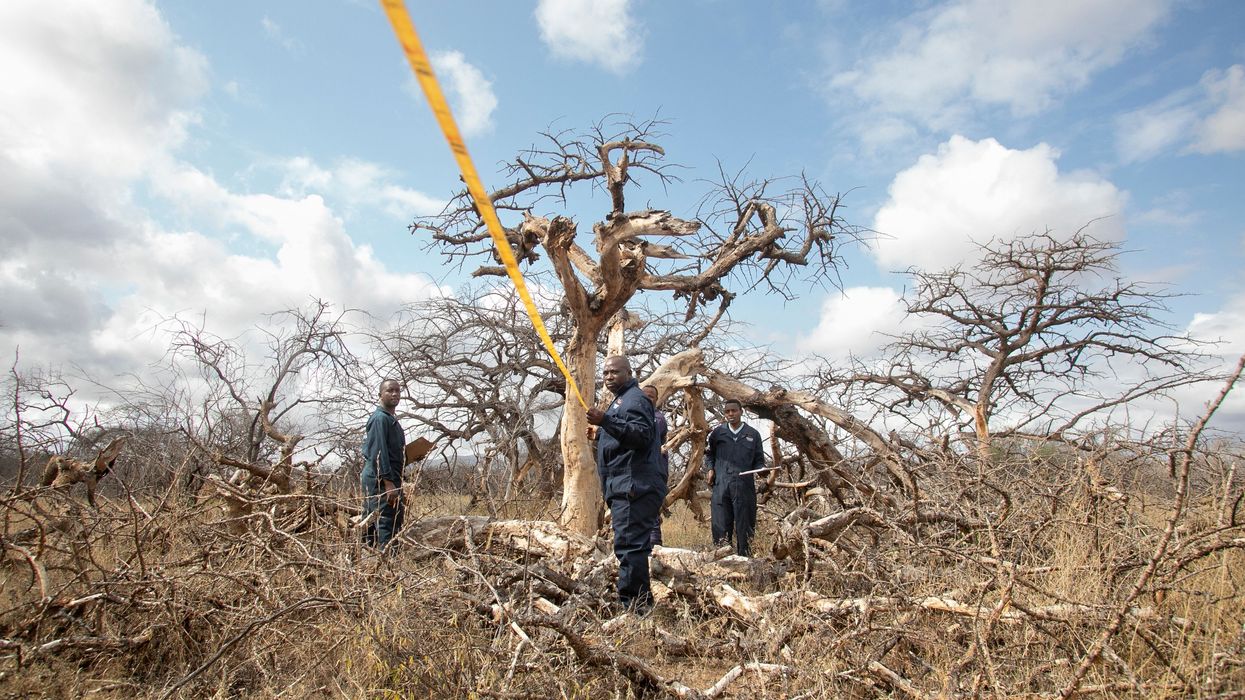 "Carbon offset trading is reckless and irresponsible," said one campaigner.
A coalition of climate groups had a message for world leaders on Monday, Finance Day at the United Nations Climate Change Conference: "Stop carbon offsetting now!"
The conference, COP28, is hosted in Dubai by the United Arab Emirates—which, as the coalition highlighted in a joint statement, is set to "hold numerous promotional thematic events," despite two decades of negative impacts from carbon offset schemes.
"Carbon offset trading is reckless and irresponsible," declared Jutta Kill of the World Rainforest Movement—part of the coalition that includes ETC Group, Focus on the Global South, GRAIN, Indigenous Environmental Network, Just Transition Alliance, and the Oakland Institute.
"Throughout 2023, academic research, media, and civil society investigations have exposed how these projects routinely generate phantom offsets and result in land grabbing and human and Indigenous rights violations," the organizations noted, pointing to "the forced relocation of Ogiek Peoples in Kenya's Mau Forest" and "extensive sexual abuse at a Kenyan offset project."
"Over the past months, Kenya, along with Liberia, Tanzania, Zambia, and Zimbabwe, have signed deals with Dubai-based Blue Carbon covering a total of over 24 million hectares of community lands," the coalition continued. "Carbon offset project developers, standards bodies, auditors, and credit providers have pocketed millions from churning out carbon credits that have failed to reduce emissions and exacerbated the climate crisis."

One "damning" probe from September found that nearly 80% of the top carbon offset schemes be deemed "likely junk or worthless." Another study from that month, focused on Reducing Emissions from Deforestation and Forest Degradation (REDD+) projects, similarly concluded that reductions were dramatically exaggerated.
"At COP28, world leaders and climate negotiators need to recognize once and for all that carbon markets are a failed source of climate finance. They are volatile and unstable, marked by fraud, incapable of reducing emissions, and actually harm communities," Oakland Institute executive director Anuradha Mittal said Monday.
The coalition pointed out that in addition to impacts such as relocations and abuse, "these projects, many of which are repackaged as so-called 'nature-based solutions' or 'natural climate solutions' or, when done at coastal and marine areas, as 'blue carbon,' have also drawn peasant and Indigenous communities into costly and complicated legal battles in their effort to affirm their rights and reclaim community territories and in their fights to resist the projects."
The Kichwa communities in the Peruvian Amazon, Dayak communities in Indonesia, and Aka Indigenous communities and Bantu farmers in the Republic of Congo's Bateke Plateau are among those negatively affected by carbon offsetting schemes.
"Over 20 years of history with offsets have resulted in the rights of Indigenous peoples being violated, increased land grabbing, and disproportionate impacts on Indigenous environmental defenders," stressed Indigenous Environmental Network executive director Tom Goldtooth. "The false solutions will become a crime against humanity and Mother Earth."
GRAIN's Devlin Kuyek said that "they prop up a system that has enabled corporate polluters and rich countries to delay action and profit from the crisis. Whether unregulated or with a U.N. seal of approval, carbon offsetting in all its shapes and forms, including REDD or so-called 'nature-based solutions' and 'blue carbon,' is a fraud that must be immediately scrapped."
The coalition asserted that rather than carbon offsetting, "what is urgently needed is renewed focus on keeping fossil fuels in the ground and commitments to real climate action based on equity and justice."
As Friends of the Earth International's Kirtana Chandrasekaran put it: "What we need are real emissions reductions and real climate finance. Anything less is failure."
The coalition's demands contrasted sharply with Sunday comments from Sultan Ahmed Al Jaber, COP28 president and Abu Dhabi National Oil Company CEO, who claimed there is "no science" behind the push to rapidly phase out planet-heating fossil fuels—which one leading expert said "dismisses decades of work" by global scientists.
Going into COP28, a U.N. analysis warned that countries' currently implemented policies put the world on track for 3°C of warming by 2100, or double the Paris agreement's 1.5°C target. Already, the planet has warmed about 1.1°C relative to preindustrial levels.
Even though the international community is way off track in terms of meeting its climate goals, Bronwen Tucker, global public finance lead at Oil Change International, pointed out Monday that "on Finance Day at COP28, instead of rich country governments committing to pay their fair share for a fossil fuel phaseout, they tried to shirk their responsibilities."
The biggest historical contributor to planet-heating pollution, the United States, and foundation partners on Sunday announced the Energy Transition Alliance. Rachel Cleetus, the policy director and a lead economist for the Union of Concerned Scientists' Climate and Energy Program, said the offset initiative "is still very much a work-in-progress, and the details shared thus far raise a fair degree of skepticism about its ability to meaningfully contribute to addressing the climate crisis."
"Richer nations and large corporations should have no claim over monetizing the scarce remaining carbon budget and yet this program is premised on that unjust idea," Cleetus added. "At COP28, the primary focus should be on securing an agreement among nations for a fast, fair fossil fuel phaseout and ramping up public finance."
News