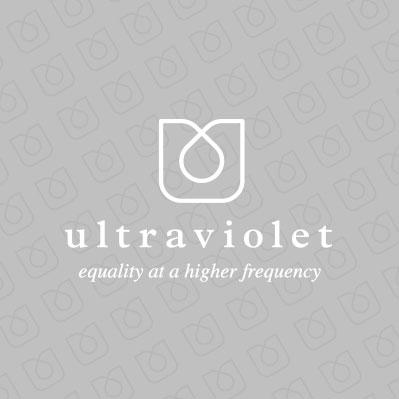 UltraViolet on MSU President Simon's Resignation
WASHINGTON
Last night, news broke that Michigan State University President Lou Anna K. Simon will step down as President before the end of the week. The announcement comes hours after former MSU employee and doctor for the American gymnastics team Larry Nassar was sentenced to 40 to 175 years in prison on Wednesday for sexually assaulting former gymnasts and patients in his care.
In response to the news, Nita Chaudhary, co-founder of UltraViolet, a national women's advocacy group, issued the following statement:
"The highest rungs of MSU's administration knew that Larry Nassar was sexually abusing female athletes under his care and did nothing--and that complicity goes all the way up to President Lou Anna Simon, who kept Nassar on her staff even after he was fired from USA Gymnastics for assaulting young girls.
"Simon's resignation cannot undo the trauma inflicted on the brave survivors of Larry Nassar's abuse, and it is long past time she be held accountable for a cover-up of such an unimaginable scale. Sexual harassment and assault are crimes, and students deserve better than an administration that protects predators.
"MSU could have prevented the molestation and abuse of women and girls if they simply believed survivors rather than give cover to someone like Larry Nassar. We strongly support thorough and independent investigations into the cover-up of Larry Nassar's crimes and demand that all those complicit be held accountable."
For more information, or for interviews with an UltraViolet spokesperson, please contact Yasmina Dardari at 407-922-8149 or by email at yasmina@unbendablemedia.com.
UltraViolet is a powerful and rapidly growing community of people mobilized to fight sexism and create a more inclusive world that accurately represents all women, from politics and government to media and pop culture.
LATEST NEWS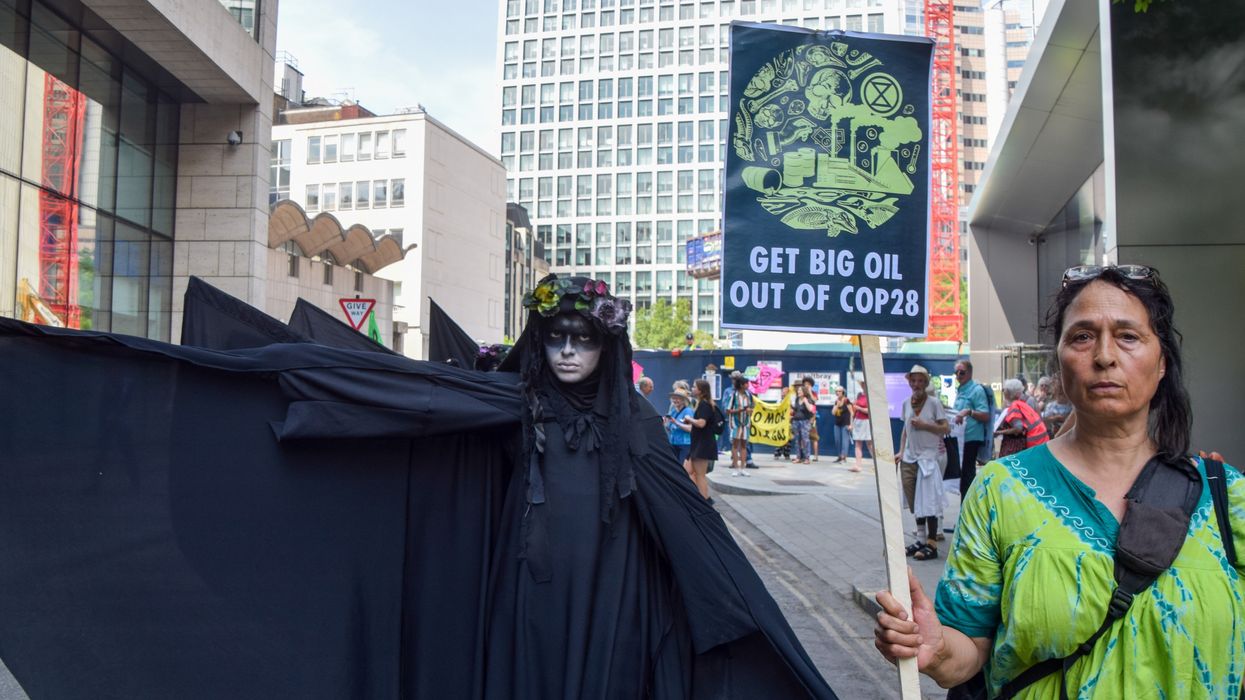 "The multinational $4 trillion fossil fuel industry has not only corrupted citizens' understanding of the climate crisis but also contributed to the erosion of democracy around the world."
As more people around the world demand an end to the fossil fuel era in the face of a worsening planetary emergency, Big Oil is "undermining democratic functions to stem the tide of climate action," a report published Tuesday revealed.
"Through a wide array of tactics, the multinational $4 trillion fossil fuel industry has not only corrupted citizens' understanding of the climate crisis but also contributed to the erosion of democracy around the world," the Center for American Progress (CAP) said in a new analysis.
CAP's Chris Martinez, Laura Kilbury, and Joel Martinez examined "what these tactics look like in practice and how they work against democratic systems to stifle climate action."
According to the authors, the three main democracy-destroying tactics are:
Polluting democratic societies' information ecosystems with deception and false climate solutions;
Using massive financial and lobbying influence over policymakers to defeat climate action and serve industry interests; and
Directly undermining democratic rights and freedoms.
The fossil fuel industry is "stifling democratic rights through lawsuits, anti-protest laws, and voter suppression," the report states. Meanwhile, Big Oil greenwashes its harmful practices through direct advertising and via lobby groups like the American Petroleum Institute, which "regularly publicizes its member companies' investments in renewable energy and carbon reduction technologies."
"On closer inspection, however, industry's declared efforts to fight climate change fall woefully short, with oil and gas companies often devoting more attention to creating the appearance of working on climate solutions than actually developing them," the analysis contends.
Big Oil also uses the tactic of "astroturfing," or creating the appearance of grassroots support for policies and practices that are beneficial to the industry but harm the climate by perpetuating the fossil fuel era.
"The oil and gas industry's strategy is clear: Manipulate the levers of power to obstruct any climate policies that may reduce the world's reliance on fossil fuels," Martinez, CAP's associate director for domestic climate, said in a statement. "If left unchecked, these tactics stifle democratic rights, making governments more responsive to corporations than their own citizens."
The CAP analysis comes as a record 2,456 fossil fuel lobbyists flood the floors of the United Nations Climate Change Conference, or COP28, in Dubai, peddling influence and false climate solutions like so-called "abated" emissions, biofuels, and hydrogen.
"In the case of the [United Arab Emirates'] COP28 presidency, the industry capture of these spaces is complete, with a state-backed fossil fuel company threatening to interfere with multilateral climate progress at the highest and most consequential level," the report states, referring to summit president Sultan Ahmed Al Jaber, who is also the CEO of the UAE's national oil firm—and who has reportedly been using the run-up to the conference to pursue new fossil fuel deals.
"As warning lights of democratic backsliding strobe across the world and endanger critical efforts to address the climate crisis," the analysis adds, "the twin threat of the fossil fuel industry's attacks on climate action and the democratic functions necessary to take that action must not be ignored."
News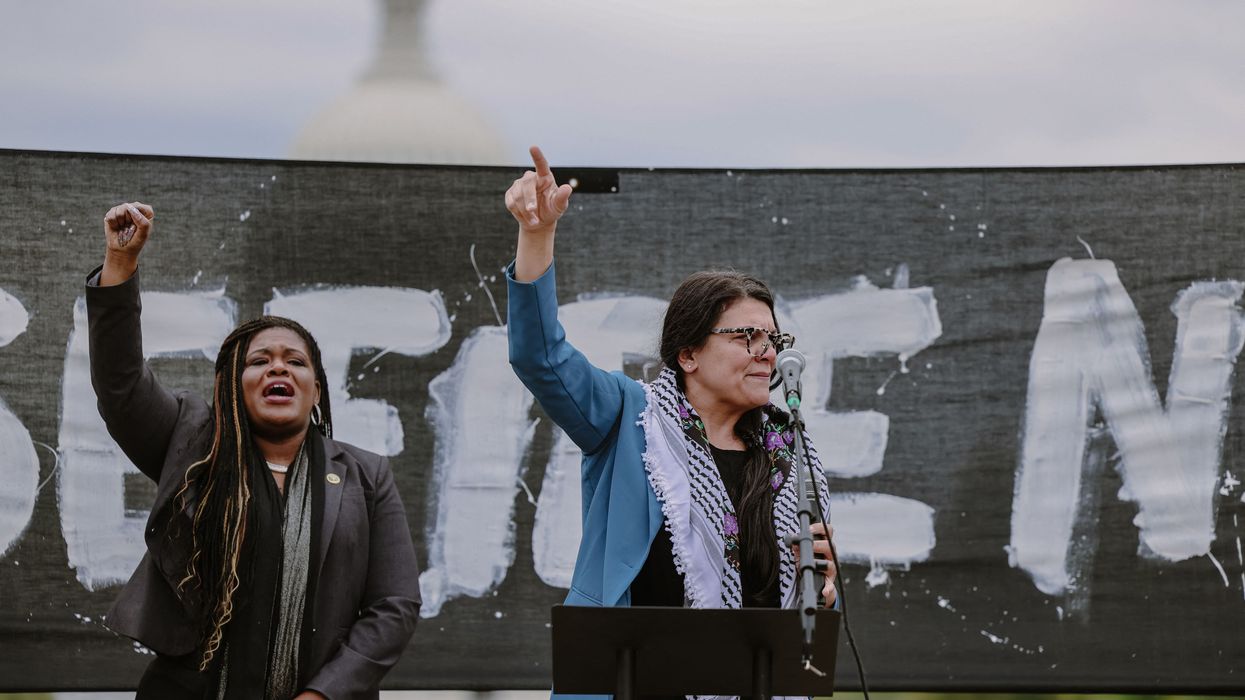 "This extreme and cynical Republican resolution does nothing to combat antisemitism," said Rep. Ilhan Omar, stressing the importance of "legitimate criticism" of the Israeli government and its war on Gaza.
As Israel continued to wage what critics are calling a genocidal war on the Gaza Strip, just 13 U.S. House Democrats and one Republican on Tuesday voted against a GOP resolution that conflates anti-Zionism and antisemitism.
House Resolution 894 passed with support from 95 Democrats and 216 Republicans, including its sponsors, Reps. David Kustoff (Tenn.) and Max Miller (Ohio), who are both Jewish. Almost as many Democrats—92—voted present.
The resolution, which embraces the International Holocaust Remembrance Alliance's controversial working definition of antisemitism, was widely condemned by progressive and Jewish groups this week ahead of the vote.
Republican Congressman Thomas Massie (Ky.) joined the 13 Democrats who opposed H.Res. 894: Reps. Jamaal Bowman (N.Y.), Cori Bush (Mo.), Gerry Connolly (Va.), Jesús "Chuy" García (Ill.), Raúl Grijalva (Ariz.), Pramila Jayapal (Wash.), Summer Lee (Pa.), Alexandria Ocasio-Cortez (N.Y.), Ilhan Omar (Minn.), Ayanna Pressley (Mass.), Delia Ramirez (Ill.), Rashida Tlaib (Mich.), and Bonnie Watson Coleman (N.J.).
"This extreme and cynical Republican resolution does nothing to combat antisemitism, relies on a definition that conflates criticism of the Israeli government with antisemitism, paints critics of the Israeli government as antisemites, and falsely states that anti-Zionism is antisemitism," Omar said in a statement about her vote. "We must stand against any attempt to define legitimate criticism of this war and the government perpetrating it as antisemitism."
According to The Hill, Bowman said after the vote that while he "strongly condemn[s] antisemitism and hate in all of its forms," he voted against H.Res. 894 because "it fuels division and violence, conflates criticism of the Israeli government with antisemitism, and ignores one of the greatest threats to the Jewish community, white nationalism."
Bowman and Omar are among the House progressives facing serious primary challenges for the next cycle, in part because of their criticism of the Israeli government and its war on Gaza that has killed nearly 16,000 Palestinians in under two months.
They joined with Bush, Lee, Massie, Ocasio-Cortez, Ramirez, Tlaib, and Reps. André Carson (D-Ind.) and Al Green (D-Texas) in October to oppose a bipartisan resolution, which declared that the House unconditionally "stands with Israel as it defends itself against the barbaric war launched by Hamas and other terrorists," and did not mention Palestinian suffering.
News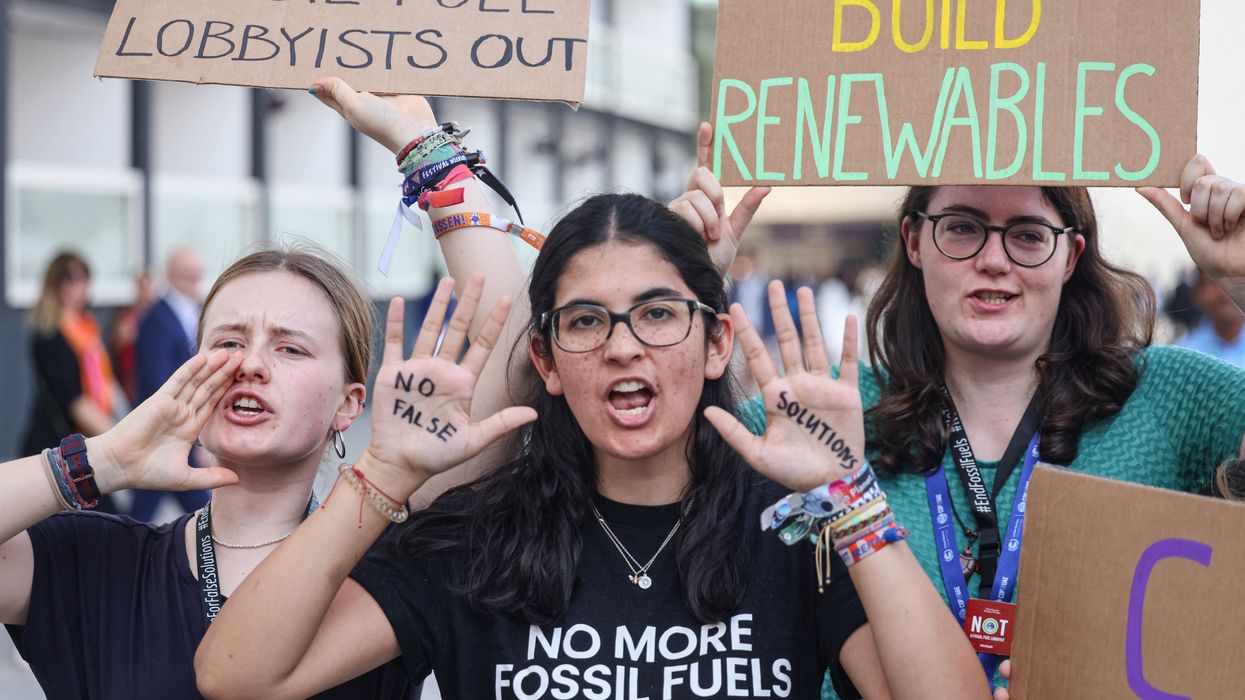 "We need to cut through the smoke and mirrors of 'abated' fossil and keep our eyes fixed on the goal of 1.5°C," said a co-author of a new analysis.
While the United Nations climate summit continued in the Middle East, researchers in Germany warned Tuesday that depending on technology to trap and sequester planet-heating pollution could unleash a "carbon bomb" in the decades ahead.
Specifically, the new briefing from the Berlin-based think thank Climate Analytics states that reliance on carbon capture and storage (CCS) could release an extra 86 billion metric tons of greenhouse gases into the atmosphere between 2020 and 2050.
"The climate talks at COP28 have centered around the need for a fossil fuel phaseout," the publication notes, referring to the United Arab Emirates-hosted U.N. conference. "But some are calling for this to be limited to 'unabated' fossil fuels."
"The term 'abated' is being used as a Trojan horse to allow fossil fuels with dismal capture rates to count as climate action."
Over 100 countries at COP28 support calling for "accelerating efforts toward phasing out unabated fossil fuels," or operations that don't involve technological interventions such as CCS," as Common Dreamsreported earlier Tuesday.
The new briefing highlights the risks of targeting only unabated fossil fuels. Contrary to claims that significant oil and gas consumption can continue thanks to new tech, it says, "pathways that achieve the Paris agreement's 1.5°C limit in a sustainable manner show a near complete phaseout of fossil fuels by around 2050 and rely to a very limited degree, if at all, on fossil CCS."
Additionally, "there is no agreed definition of the concept of abatement," and "a weak definition of 'abated'—or even no definition at all—could allow poorly performing fossil CCS projects to be classed as abated," the document explains. The report's authors suggest that the focus on unabated fossil fuels is driven by polluters who want to keep cashing in on wrecking the planet.
"The term 'abated' is being used as a Trojan horse to allow fossil fuels with dismal capture rates to count as climate action," declared report co-author Claire Fyson. "'Abated' may sound like harmless jargon, but it's actually language deliberately engineered and heavily promoted by the oil and gas industry to create the illusion we can keep expanding fossil fuels."
Climate Analytics CEO Bill Hare, who also contributed to the document, said that "the false promises of 'abated' fossil fuels risks climate finance being funneled to fossil projects, particularly oil and gas, and will greenwash the 'unabatable' emissions from their final use, which account for 90% of fossil oil and gas emissions."
Report co-author Neil Grant stressed that "we need to cut through the smoke and mirrors of 'abated' fossil and keep our eyes fixed on the goal of 1.5°C. That means slashing fossil fuel production by around 40% this decade, and a near complete phaseout of fossil fuels by around 2050."
As a Tuesday analysis from the Civil Society Equity Review details, a "fair" phaseout by mid-century would involve rich nations ditching oil and gas faster than poor countries, and the former pouring billions of dollars into helping the latter. The United States, for example, should end fossil fuel use by 2031 and contribute $97.1 billion per year toward the global energy transition.
The United States is putting money toward what critics call "false solutions" like carbon capture, and it is not alone. An Oil Change International (OCI) report from last week notes that "governments have spent over $20 billion—and have legislated or announced policies that could spend up to $200 billion more—of public money on CCS, providing a lifeline for the fossil fuel industry."
OCI found that rather than permanently sequestering carbon dioxide, 79% of the global CCS capacity sends captured CO2 to stimulate oil production in aging wells, which is called "enhanced oil recovery." The group also reviewed six leading plants in the United States, Australia, and the Middle East, and concluded that they "overpromise and underdeliver, operating far below capacity."
Lorne Stockman, OCI's research director, asserted last week that "governments need to stop pretending that fossil fuels aren't the problem. Instead of throwing a multibillion-dollar lifeline to the fossil fuel industry with our tax dollars, they should fund real climate solutions, including renewable energy and energy efficiency. Fossil fuel phaseout must be the central theme of COP28, not dangerous distractions like CCS propped up with public money."
Underscoring Stockman's point that such projects are incredibly expensive, the University of Oxford's Smith School of Enterprise and the Environment on Monday published research showing that a high carbon capture and storage pathway to net-zero emissions in 2050 could cost at least $30 trillion more than a low CCS pathway.
"Relying on mass deployment of CCS to facilitate high ongoing use of fossil fuels would cost society around a trillion dollars extra each year—it would be highly economically damaging," said Rupert Way, an honorary research associate at the school.
"Any hopes that the cost of CCS will decline in a similar way to renewable technologies like solar and batteries appear misplaced," he added. "Our findings indicate a lack of technological learning in any part of the process, from CO2 capture to burial, even though all elements of the chain have been in use for decades."
News