For Immediate Release
Contact:
Tel: +1-212-216-1832,Email:,hrwpress@hrw.org
US: Raped in Military--Then Punished
Unjust Discharges Cause Lasting Harm
WASHINGTON
Thousands of United States service members who lost their military careers after reporting a sexual assault live with stigmatizing discharge papers that prevent them from getting jobs and benefits, Human Rights Watch said in a report released today. The report is the result of a 28-month investigation by Human Rights Watch, with the support of Protect Our Defenders, a human rights organization that supports and advocates for survivors of military sexual assault. Under pressure from the public and Congress, the US military has in recent years implemented some protection for service members who report sexual assault, but nothing has been done to redress the wrongs done to those who were unfairly discharged.
The 124-page report, "Booted: Lack of Recourse for Wrongfully Discharged US Military Rape Survivors," found that many rape victims suffering from trauma were unfairly discharged for a "personality disorder" or other mental health condition that makes them ineligible for benefits. Others were given "Other Than Honorable" discharges for misconduct related to the assault that shut them out of the Department of Veterans Affairs healthcare system and a broad range of educational and financial assistance. The consequences of having "bad paper" - any discharge other than "honorable" - or being labeled as having a "personality disorder" are far-reaching for veterans and their families, impacting employment, child custody, health care, disability payments, burial rights - virtually all aspects of life.
"Military rape victims with bad discharges are essentially labeled for life," said Sara Darehshori, senior counsel in the US program at Human Rights Watch and author of the report. "Not only have they lost their military careers, they have been marked with a status that may keep them from getting a job or health care, or otherwise pursuing a normal life after the military."
"Bad paper" has been correlated with high rates of suicide, homelessness, and imprisonment among veterans. Those with "personality disorder" or other mental health discharges have to live with the additional stigma of being labeled "mentally ill."
Despite the high stakes, there is little veterans can do to fix an unjust discharge, Human Rights Watch found. US law prohibits service members from suing the military for any harm suffered related to their service. The Boards for Correction of Military Records and Discharge Review Boards, the administrative bodies responsible for correcting injustices to service members' records, are overwhelmed with thousands of cases.
Human Rights Watch, with assistance from Protect Our Defenders, conducted more than 270 in-person and telephone interviews, examined documents produced by US government agencies in response to numerous public record requests, and analyzed data on cases in the Boards for Correction reading room that referenced "personality disorder" or "adjustment disorder." Researchers spoke to 163 survivors of sexual assault from the Vietnam War era to the present day.
"As I look back on the incident I have at times cursed myself for speaking up and reporting what happened," one rape survivor said. "I cannot even begin to express how this entire ordeal has affected my life."
In recent years, public attention has been drawn to the problem of combat veterans being given bad discharges for mental health conditions or misconduct that may in fact be symptomatic of Post-Traumatic Stress Disorder (PTSD). Congress has made it harder to discharge combat veterans on mental health grounds without checking for PTSD. However, the additional protections have not been extended to sexual assault survivors even though they also suffered trauma in service and the prevalence of PTSD is higher among rape victims than combat veterans.
Lack of Recourse for Wrongfully Discharged US Military Rape Survivors
"We regularly hear from people who report sexual assault that they are being threatened with discharge for mental health reasons or trumped-up misconduct charges," said Colonel Don Christensen, president of Protect Our Defenders and a former Air Force chief prosecutor. "Traumatized young service members may be willing to take a bad discharge just to escape their perpetrator without realizing the costs of their decision. Many more buy into the myth that it will be easy to upgrade their discharge later."
The Defense Department's standard response to service members who suffered sexual assault and allege improper discharge is to recommend they seek review by the Boards for Correction of Military Records or Discharge Review Boards. However, well over 90 percent of those applying to the Boards are rejected with almost no opportunity to be heard or any meaningful review. Lawyers for veterans say their cases often include considerable evidence and supporting documents. Yet Board members often spend only a few minutes deciding a case and may reach a decision without reading the submitted material. Because the courts give special deference to military decisions, judicial oversight of the Boards is virtually nonexistent.
"Military lawyers and veterans see the Boards as a virtual graveyard for their cases," Darehshori said. "Many veterans we spoke with were reluctant to put themselves through the trauma of reliving their assault to try to fix their record when they saw no hope for success."
Congress should require the Defense Department to expedite review of cases of sexual assault victims who believe they were wrongfully discharged. The defense secretary should instruct the Boards to be more open to considering upgrade requests from sexual assault victims, bring evidentiary requirements for proving a sexual assault into line with those used by the Department of Veterans Affairs, and create a presumption in favor of changing the reason for discharge from personality disorder to "Completion of Service," in certain cases.
To ensure that all service members receive due consideration of their claims, Congress should create a right to a hearing before the Boards for Correction of Military Records and provide greater information to the public on all decisions. A representative working group should be created to study standards for granting relief and determine best practices and procedures.
"Immediate reform is desperately needed to ensure that military sexual assault survivors can get a meaningful remedy for the wrongful discharges that darken their lives," Darehshori said. "They deserve support, not censure."
The following are quotes from rape survivors and advocates interviewed by Human Rights Watch or contained in documents Human Rights Watch reviewed. Starred victims' names have been replaced with pseudonyms to protect their privacy.
"Why should I be discharged because I was raped? I did what I was supposed to do. Had I never come forward I truly believe I would still be in the Air Force."
-A1C Juliet Simmons,* November 2012
"I carry my discharge as an official and permanent symbol of shame, on top of the trauma of the physical attack, the retaliation and its aftermath."
-Brian Lewis, March 2013
"Although agencies exist to which you may apply to upgrade a less than Honorable Discharge, it is unlikely that such application will be successful."
-Army Developmental Counseling Form
"I defy any of you not to have mental consequences if you were raped and harassed repeatedly and even set on fire, while management looked the other way and just laughed."
-Testimony of Amy Quinn before the Judicial Proceedings Panel on Sexual Assault in the Military, May 19, 2015
"I was 18 years old, was a mental mess, and was terrified to be back aboard [the ship] any longer than I had to. I wasn't protected, I wasn't helped, I wasn't safe from any type of harm! So how did I actually know what I was signing or even in fact what an OTH [Other Than Honorable] discharge was to mean? How was I to know that from all the sexual attacks that I had to suffer and the harassment, assaults, threats to my life and safety that for all these years [the discharge would be] a huge factor to how I lived and how my life ended up?"
-SR Heath Phillips, 2013
"It is bad enough to go through military sexual trauma, but to be discredited and labeled is difficult to overcome and causes so much damage. PD [Personality Disorder] is another level of betrayal because it is so stigmatizing.... People think there is something wrong with me and don't realize it was a label just stuck on people."
-PFC Eva Washington*, October 2013
"I have practiced law in Texas for 31 years now, and I've appeared in different state and federal courts in a variety of administrative settings and this is the only time that I've been before a discharge review board. It was a horrific experience ... I found myself being cut off and my client being screamed at which was unlike any experience I have ever had before. My client was just completely re-victimized. They didn't really care what we had to say. We got a decision a few months later that was erroneous in a number of different respects ... and it was a 5-nothing decision not to upgrade."
-JoAnn Merica, attorney for a veteran who was discharged for misconduct after reporting sexual harassment, March 2016
"As I look back on the incident I have at times cursed myself for speaking up and reporting what happened but ... I thought I was doing the right thing ... I cannot even begin to express how this entire ordeal has affected my life; it won't go away and I still struggle with self-esteem and trust and the entire myriad of symptoms victims of sexual assault suffer ... the Navy discarded me like a piece of scrap iron or less; truthfully, this ordeal continues to haunt me ... I am a broken man."
-SA Ken Nelson,* October 2012
Human Rights Watch is one of the world's leading independent organizations dedicated to defending and protecting human rights. By focusing international attention where human rights are violated, we give voice to the oppressed and hold oppressors accountable for their crimes. Our rigorous, objective investigations and strategic, targeted advocacy build intense pressure for action and raise the cost of human rights abuse. For 30 years, Human Rights Watch has worked tenaciously to lay the legal and moral groundwork for deep-rooted change and has fought to bring greater justice and security to people around the world.
LATEST NEWS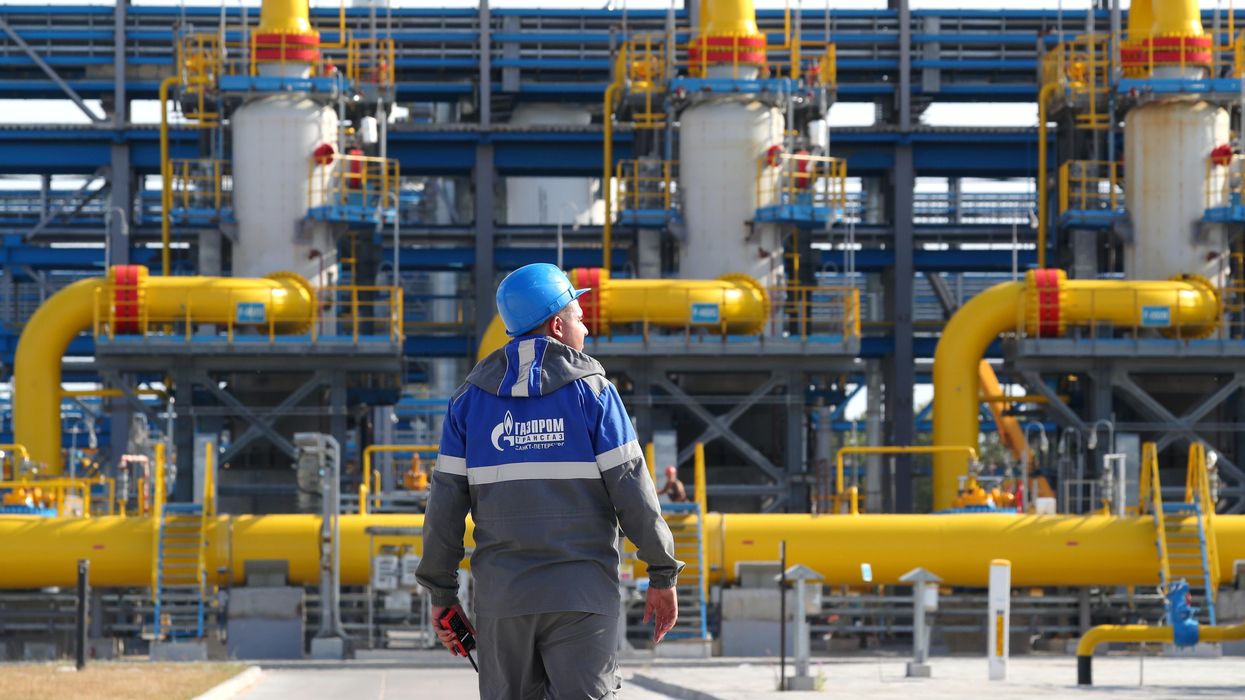 The veteran investigative journalist alleged that Biden administration officials have been "feeding" the press false stories to "protect a president who made an unwise decision and is now lying about it."
In a follow-up to his explosive story accusing U.S. President Joe Biden of ordering the sabotage of the Nord Stream pipelines, veteran U.S. journalist Seymour Hersh charged Wednesday that the White House—in collaboration with German Chancellor Olaf Scholz—is attempting a "cover-up of its operation" by "feeding" false alternative narratives to the press, most prominently The New York Times.
Hersh's initial reporting, which was based on anonymous sourcing, was quickly dismissed by the Biden administration, with State Department Spokesperson Ned Price calling the detailed February account "false" and suggesting that those who believe its version of events are "naive" and "gullible."
Hersh, who famously exposed U.S. forces' massacre of Vietnamese civilians in My Lai and the torture of detainees at Abu Ghraib prison in Iraq, forcefully hit back at the Biden administration on Wednesday and criticized the American press for failing to push the White House on the September attack, which has major geopolitical implications.
"Press aides for the White House and Central Intelligence Agency have consistently denied that America was responsible for exploding the pipelines, and those pro forma denials were more than enough for the White House press corps," Hersh wrote on his Substack.
"There is no evidence that any reporter assigned there has yet to ask the White House press secretary whether Biden had done what any serious leader would do: formally 'task' the American intelligence community to conduct a deep investigation, with all of its assets, and find out just who had done the deed in the Baltic Sea," the journalist continued. "According to a source within the intelligence community, the president has not done so, nor will he. Why not? Because he knows the answer."
Officials from Norway, Germany, and Sweden told the United Nations last month that they are still investigating the explosions that severely damaged the Nord Stream pipelines, setting off an environmental nightmare and immediate speculation as to who was responsible. Such speculation is ongoing, with both official and unofficial probes attempting to determine the perpetrator.
The Nord Stream 2 pipeline—which Biden vocally opposed—never became operational, as the German government put it on hold just ahead of Russia's invasion of Ukraine in February 2022.
During a press briefing late last month, Price said the U.S. "is not a party to this investigation because there are countries on whose sovereign territory this attack occurred, and we're deferring it to them to conduct this investigation."
On March 7, nearly a month after Hersh published his report, The New York Timesran a story—also based on anonymous sourcing—alleging that "new intelligence reviewed by U.S. officials" indicates "a pro-Ukrainian group carried out the attack on the Nord Stream pipelines last year."
The Ukrainian government has denied any involvement in the attack.

"U.S. officials said there was much they did not know about the perpetrators and their affiliations," notes the Times report, which makes brief mention of Hersh's story and quotes unnamed U.S. officials denying any Biden administration involvement.
"The disinformation professionals inside the CIA understand that a propaganda gambit can only work if those on receiving are desperate for a story that can diminish or displace an unwanted truth."
The same day as the Times published its story, the German weekly newspaper Die Zeit ran a report alleging that German investigators "succeeded in identifying the boat that was allegedly used for the secret operation" to sabotage the Nord Stream pipelines.
"It is said to be a yacht rented from a company based in Poland, apparently owned by two Ukrainians," Die Zeit reported. "According to the investigation, the secret operation at sea was carried out by a team of six people. It is said to have been five men and one woman."
In his Wednesday piece, Hersh contended that the message of the Times and Die Zeit stories—both of which emphasized that much of the sabotage operation remains shrouded in mystery—"was that the press and the public should stop asking questions and let the investigators unravel the truth."
"Holger Stark, the author of the report in Die Zeit, went a step further and noted that there were some 'in international security services' who had not excluded the possibility that the yacht story 'was a false flag operation.' Indeed, it was," Hersh alleged, citing an anonymous source inside the U.S. intelligence community.
That source told Hersh that the yacht narrative reported by Die Zeit "was a total fabrication by American intelligence that was passed along to the Germans, and aimed at discrediting your story."

Hersh went on to add that "the disinformation professionals inside the CIA understand that a propaganda gambit can only work if those on receiving are desperate for a story that can diminish or displace an unwanted truth."
"And the truth in question is that President Joe Biden authorized the destruction of the pipelines and will have a difficult time explaining away his action as Germany and its Western European neighbors suffer as businesses are shuttered amid high day-to-day energy costs," wrote Hersh, citing an energy expert who argued that the damage to the Nord Stream pipelines "led to a further surge of natural gas prices."
According to Hersh, the "most telling evidence" of the "weakness" of the Times reporting can be found in a podcast interview featuring Julian Barnes, one of three reporters whose bylines appeared on the March 7 story.
Barnes told podcast host Michael Barbaro that "we know really very little" about the pro-Ukrainian group that the Times reporting alleges may have been behind the Nord Stream attack.
"This group remains mysterious," Barnes said. "And it remains mysterious not just to us, but also to the U.S. government officials that we have spoken to. They know that the people involved were either Ukrainian, or Russian, or a mix. They know that they are not affiliated with the Ukrainian government. But they know they're also anti-Putin and pro-Ukraine."
In response, Hersh wrote that "the Times reporters in Washington were at the mercy of White House officials 'who had access to intelligence.'"
"But the information they received," he added, "originated with a group of CIA experts in deception and propaganda whose mission was to feed the newspaper a cover story—and to protect a president who made an unwise decision and is now lying about it."
Hersh also alleged that while it remains an "open question" whether Scholz was aware of the planned pipeline sabotage in advance, the German leader has "clearly been complicit since last fall in support of the Biden Administration's cover-up of its operation in the Baltic Sea."
Hersh wrote:

In early March, President Biden hosted German Chancellor Olaf Scholz in Washington. The trip included only two public events—a brief pro forma exchange of compliments between Biden and Scholz before the White House press corps, with no questions allowed; and a CNN interview with Scholz by Fareed Zakaria, who did not touch on the pipeline allegations. The chancellor had flown to Washington with no members of the German press on board, no formal dinner scheduled, and the two world leaders were not slated to conduct a press conference, as routinely happens at such high-profile meetings. Instead, it was later reported that Biden and Scholz had an 80-minute meeting, with no aides present for much of the time.
Citing an anonymous official with "access to diplomatic intelligence," Hersh wrote that "certain elements in the Central Intelligence Agency were asked to prepare a cover story in collaboration with German intelligence that would provide the American and German press with an alternative version for the destruction of Nord Stream 2."
"In the words of the intelligence community," Hersh continued, "the agency was 'to pulse the system' in an effort to discount the claim that Biden had ordered the pipelines' destruction."

News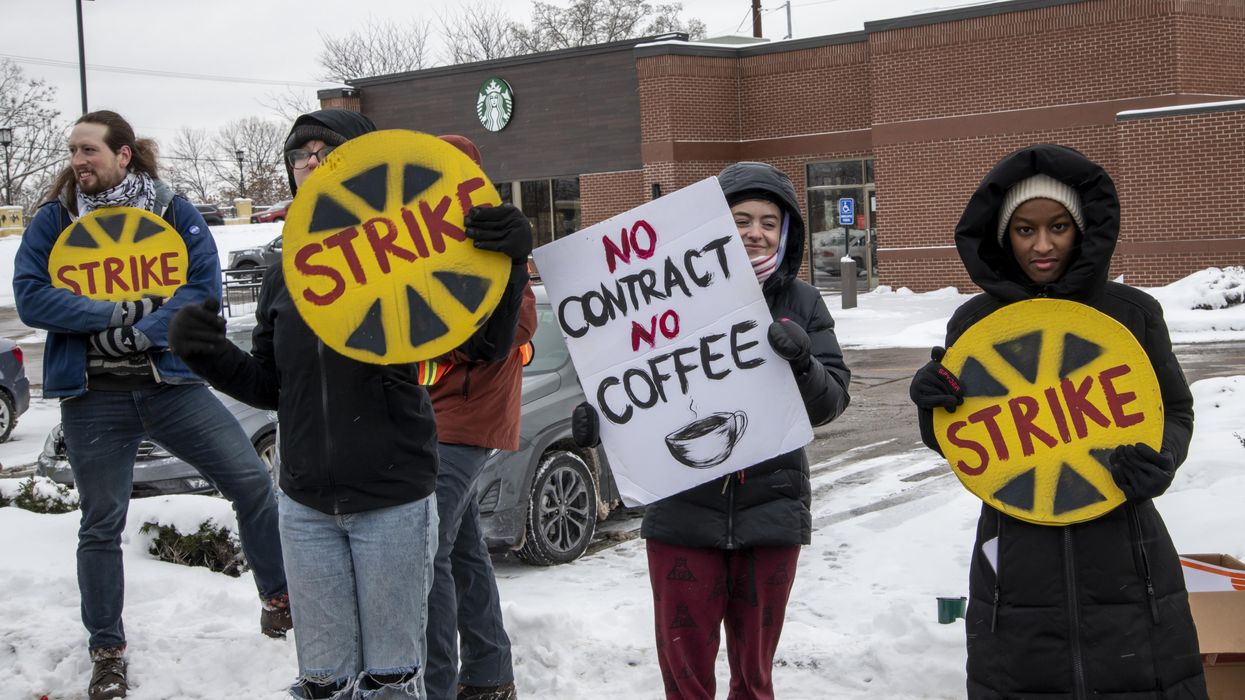 "Instead of celebrating the law-breaking former CEO hell-bent on silencing us, Starbucks should respect our right to organize and meet us at the bargaining table," said one Seattle barista and member of Starbucks Workers United.
Amid an ongoing unionization wave, Starbucks workers across the United States are holding a national day of action on Wednesday to demand a living wage, consistent scheduling, safe working conditions, and the right to organize free from fear and intimidation.
Baristas plan to strike at more than 100 of the coffee giant's shops from coast to coast, including at cafes in Seattle, New York, Los Angeles, Memphis, and other cities. In Seattle, where Starbucks was founded and is headquartered, a major protest is planned—one day before shareholders vote on an assessment of workers' rights at the corporation's annual meeting.
At 12:00 pm PT, workers will march outside Starbucks' headquarters, declaring that the company's illegal union-busting won't stop their fight for higher wages, better benefits, and democratic workplaces.
Since December 2021, when baristas in Buffalo made history by forming the first unionized Starbucks in the U.S., more than 7,500 workers at over 280 of the coffee chain's locations nationwide have voted to unionize. Organizers have won more than 80% of their campaigns despite the company's unlawful intimidation and retaliation tactics.
According to Starbucks Workers United:
In this same time period, the NLRB's [National Labor Relations Board] regional offices have issued more than 80 official complaints against Starbucks, prosecuting the company for over 1,400 specific alleged violations of federal labor law, including accusations that former CEO Howard Schultz personally threatened a worker who expressed support for organizing.

To date, NLRB administrative law judges have issued nine decisions, eight of which collectively found that the company has committed 130 violations, including illegally monitoring and firing organizers, calling the police on workers, and outright closing a store that recently attempted to organize.
Due to Starbucks' refusal to bargain in good faith, none of the locations that voted to unionize have reached a contract agreement.
With his unlawful crackdown on organizing coming under increased scrutiny, Schultz moved up his resignation from April 1 to March 20. Schultz is still scheduled to testify at next Wednesday's hearing convened by Independent Sen. Bernie Sanders of Vermont. He only agreed to do so under threat of subpoena.
Sarah Pappin, a Seattle Starbucks worker and member of Starbucks Workers United, said Wednesday in a statement: "Baristas like me are the ones who keep our stores running. We remember our customers' regular orders, make the lattes, clean up spills, and are often the bright spot of our customers' days. We are the heart and soul of Starbucks."
"Instead of celebrating the law-breaking former CEO hell-bent on silencing us, Starbucks should respect our right to organize and meet us at the bargaining table," said Pappin. "We are Starbucks, and we deserve better."
Starbucks Workers United said that "Wednesday's day of action will also serve to welcome the company's new chief executive, Laxman Narasimhan, and send him a message that the transition in the C-suite provides an opportunity for the company to stop its unprecedented campaign of union-busting and instead partner with its workers and our union to build a company that truly lives up to its stated progressive values."
Earlier this month, Starbucks Workers United sent a letter to shareholders urging them to vote for a third-party evaluation of Starbucks' purported commitment to affirming workers' rights, arguing that the corporation's anti-union actions are inconsistent with its International Labor Organization commitments.
According to the union, "Two proxy advisory firms, International Shareholder Services and Glass Lewis, have already recommended Starbucks shareholders vote in favor of the proposal from Trillium Asset Management, the New York City Pension Funds, and other investors."
News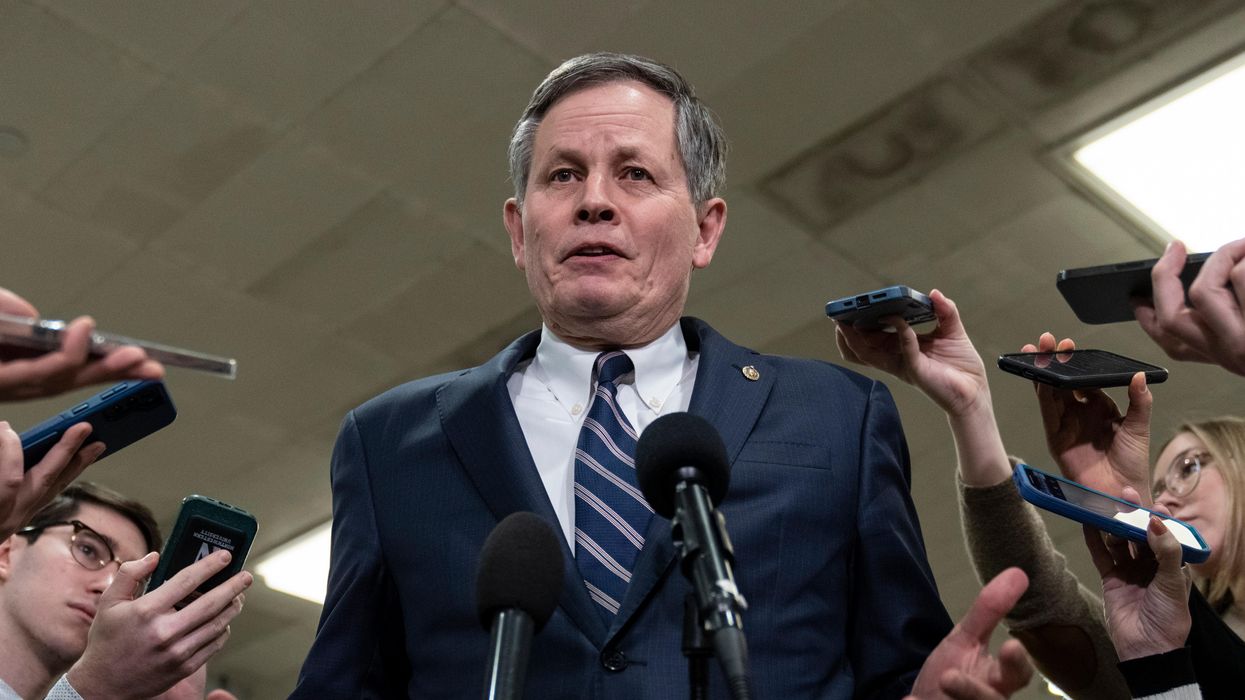 The American Bankers Association, whose PAC has donated to Sen. Steve Daines, welcomed the Republican's defense of a 2018 law that weakened post-financial crisis regulations.
Republican Sen. Steve Daines of Montana garnered applause from a room full of bankers on Tuesday after he dismissed calls for tougher regulations following the collapse of Silicon Valley Bank and Signature Bank.
"There are a lot of talking heads out there who are saying that the solution is more regulation, and I strongly disagree," Daines said in remarks to the American Bankers Association's Washington Summit, an annual gathering of bank CEOs and other top executives.
The Montana Republican went on to defend a 2018 law that progressive lawmakers and experts have said is at least partly responsible for the recent bank failures. That measure, known as S.2155, weakened post-financial crisis regulations for banks with between $50 billion and $250 billion in assets, subjecting firms such as SVB—which lobbied for the changes—to less stringent oversight and paving the way for more risk-taking and industry consolidation.

Daines, a member of the Senate Banking Committee and a major recipient of securities industry donations, called the stricter liquidity requirements and other rules gutted by the 2018 law "overreaching regulations" and claimed that efforts to revive the safeguards are creating "more worry" in the banking sector.
"This was not the cause of this failure," Daines said of S.2155, which former President Donald Trump signed into law after it passed with bipartisan support.
Watch the senator's remarks, which begin at the 1:32:04 mark:
It's unsurprising that Daines' defense of S.2155 was received favorably by a gathering of the American Bankers Association, which was one of many industry groups that lobbied aggressively for the measure.
"The lobbyists were everywhere. You couldn't throw an elbow without running into one," Sen. Elizabeth Warren (D-Mass.), who vocally opposed S.2155, told reporters last week.
Warren and Rep. Katie Porter (D-Calif.) have introduced legislation that would repeal a critical section of the 2018 law.

The Associated Pressreported Tuesday that in the hours before Congress approved the measure, Sen. Jon Tester (D-Mont.)—one of the legislation's top Democratic supporters—"huddled with executives from Bank of America, Citigroup, Discover, and Wells Fargo, who were there on behalf of the American Bankers Association."
"The American Bankers Association, which helped lead the push, later paid $125,000 for an ad campaign thanking Tester for his role in the bill's passage," the Associated Press noted.
The banking group's PAC spent more than $2.6 million on campaign contributions during the 2018 election cycle, with more than 76% of the donations going to Republicans, according to OpenSecrets.
Daines, who won reelection in 2020, received $10,000 from the American Bankers Association PAC during that year's campaign.

News
SUPPORT OUR WORK.
We are independent, non-profit, advertising-free and 100%
reader supported.