For Immediate Release
Contact:
Reprieve's London office can be contacted on: communications [at] reprieve.org.uk / +44 (0) 207 553 8140.,Reprieve US,, based in New York City, can be contacted on Katherine [dot] oshea [at] reprieve.org
Death-Row Paraplegic in Pakistan Pleads for Mercy as Stay of Execution Expires
A severely disabled prisoner on Pakistan's death row has called on the country's President to spare his life, as a stay of execution granted to him in January expired.
WASHINGTON
Abdul Basit, who is paralyzed from the waist down, has had his execution halted at the last minute three separate times in the past year, after his lawyers raised concerns that his execution could be illegal. Pakistan's Supreme Court has said Basit's execution must comply with the country's Prison Rules, which set Pakistan's execution procedure - however, the rules contain no provisions for the hanging of prisoners in wheelchairs.
The Pakistani government has said it is carrying out an 'inquiry' into Basit's medical condition, but has sought to block his lawyers from accessing the results of its tests on him. This weekend, the most recent stay of execution granted to Basit, in January this year, was due to expire.
In comments to the Telegraph that were published today, Basit said that he still hoped that the President of Pakistan, Mamnoon Hussain, would grant a petition for mercy submitted by his lawyers. He said: "The last two stays [of execution] have given me a hint of hope that Mr. President acknowledges that I am a helpless paralyzed man who cannot even stand on my feet. I don't know what will happen when my stay expires. I don't know if they will hang me or let me live."
The UN Special Rapporteur on Torture and Other Cruel, Inhuman or Degrading Treatment or Punishment, Juan Mendez, has said that Basit's execution would be illegal under international law, and has called on Pakistan to permanently commute Basit's death sentence in line with the petition for mercy submitted to the country's President.
Pakistan is thought to have the largest death row in the world, at over 8,000 people. The government resumed executions in December 2014, and has claimed to be executing only 'terrorists.' However, an investigation this year by international human rights organization Reprieve and the Justice Project Pakistan found that, of 351 prisoners executed since 2014, only 1 in 10 involved people who could be linked to militancy.
Commenting, Maya Foa, director of the death penalty team at Reprieve, said:
"It's deeply worrying that the Pakistani authorities may now be gearing up to try and execute Abdul Basit - a paralyzed man who once again faces the prospect of being hanged in his wheelchair. Following three previous last minute stays, the government has still given no explanation of how it plans to avoid a horribly botched execution. The UN Special Rapporteur on Torture has confirmed that Abdul Basit's death sentence is illegal and should be commuted. The international community must urgently call on Pakistan's President to halt this cruel spectacle, and grant Basit's plea for mercy."
Reprieve is a UK-based human rights organization that uses the law to enforce the human rights of prisoners, from death row to Guantanamo Bay.
LATEST NEWS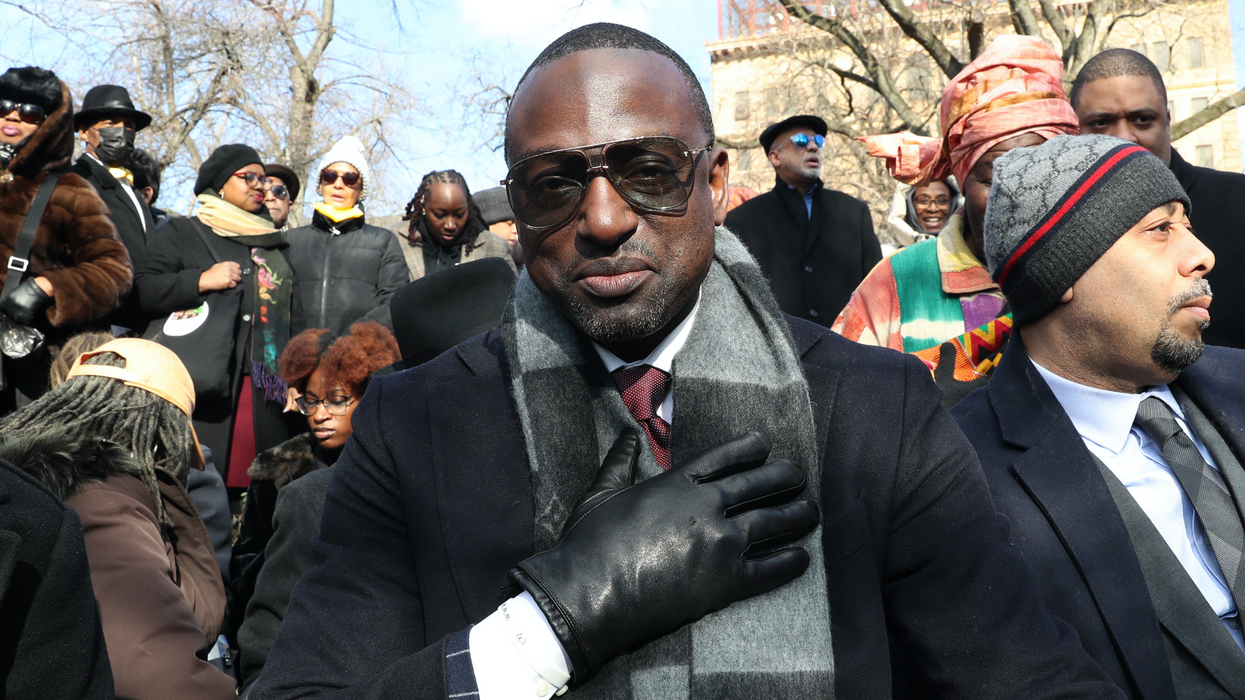 "For those asking about my statement on the indictment of Donald Trump—who never said sorry for calling for my execution—here it is," said Yusef Salaam.
Yusef Salaam, one of the five New York teens wrongfully convicted and imprisoned for the 1989 rape of a jogger in Central Park, issued a brief statement following Thursday's criminal indictment of former U.S. President Donald Trump—who called for bringing back the state's death penalty to execute the defendants and never apologized after they were cleared.
Salaam tweeted: "For those asking about my statement on the indictment of Donald Trump—who never said sorry for calling for my execution—here it is: Karma."
\u201c#PowerPost\u270a\ud83c\udffb\u270a\ud83c\udffc\u270a\ud83c\udffd\u270a\ud83c\udffe\u270a\ud83c\udfff\u2122\ufe0f\n\nFor those asking about my statement on the indictment of Donald Trump - who never said sorry for calling for my execution - here it is:\n\nKarma\u201d

— Yusef Abdus Salaam (@Yusef Abdus Salaam) 1680212837
Trump spent $85,000—over $200,000 today—on a full-page ad that ran in all four of New York's major newspapers calling for the restoration of capital punishment so that the Central Park Five could be executed.
\u201cOne of the exonerated five aka Central Park five reacting to Trump indictment. \n\nTrump took out this ad in four NY newspapers in 1989 and never apologized for it.\u201d

— Yashar Ali \ud83d\udc18 \u06cc\u0627\u0634\u0627\u0631 (@Yashar Ali \ud83d\udc18 \u06cc\u0627\u0634\u0627\u0631) 1680214390
The ad read, in part:
Mayor [Ed] Koch has stated that hate and rancor should be removed from our hearts. I do not think so. I want to hate these muggers and murderers. They should be forced to suffer... Yes, Mayor Koch, I want to hate these murderers and I always will... How can our great society tolerate the continued brutalization of its citizens by crazed misfits?
The five Black and Latino teens—Antron McCray, Kevin Richardson, Raymond Santana, Korey Wise, and Salaam—were beaten and coerced by New York City police into falsely confessing to the rape. They spent years behind bars for the horrific crime that they did not commit.
Salaam, who was 15 years old when his life was upended, was imprisoned for six years and eight months before his exoneration.

In a 2019 interview with the BBC, Salaam—who is now a motivational speaker—said that "I look at Donald Trump, and I understand him as a representation of a symptom of America."
"We were convicted because of the color of our skin. People thought the worst of us," he added. "And this is all because of prominent New Yorkers—especially Donald Trump."
In a statement, National Action Network founder and president Rev. Al Sharpton said that "it's not lost on those of us who were there in 1989 that Donald Trump will likely walk into the same courthouse where the Exonerated 5 were falsely convicted for a crime they did not commit."
\u201cREV. AL SHARPTON RESPONDS TO REPORTS OF PENDING TRUMP INDICTMENT\u201d

— NationalActionNet (@NationalActionNet) 1680216860
"Let's not forget that it was Donald Trump who took out full-page ads calling for these five Black and Brown young men to get the death penalty," Sharpton continued. "This is the same man who's now calling for violence when he has to go through the same system. The same man will have to stand up in a courtroom and see firsthand what the criminal justice system is like."
"All I can say is, what goes around comes around," he added.

News
The historic charges against the 2024 candidate "are the first ever brought against him, but they will not be the last," said one Trump critic, noting that "we know of literally dozens of credible allegations of crimes."
This is a developing story… Please check back for possible updates...
A Manhattan grand jury voted to indict former U.S. President Donald Trump for his role in a hush money payment to porn star Stormy Daniels, The New York Timesreported Thursday, citing five people with knowledge of the matter.
The grand jury's move makes Trump the first ex-president to face criminal charges—and comes as the 76-year-old is seeking the 2024 Republican presidential nomination. An indictment or even conviction in the case would not prevent him from running.
After other outlets also confirmed the historic vote, a spokesperson for District Attorney Alvin Bragg said that "this evening we contacted Mr. Trump's attorney to coordinate his surrender to the Manhattan DA's office for his arraignment on a [New York] Supreme Court indictment, which remains under seal. Guidance will be provided when the arraignment date is selected."
Citing two unnamed sources familiar with the case, CNNreported that Trump faces over 30 counts related to business fraud.

"Donald Trump has spent his entire political career dodging accountability for his wanton disregard for the law. It is finally catching up to him."
In a phone call with ABC News producer John Santucci, Trump said this is an "attack on our country" and "political persecution," adding that "they are trying to impact an election." The twice-impeached former president made similar remarks in a lengthy statement.
Asked by Santucci asked if he will turn himself in, Trump responded, "You take care, John," and hung up. Trump attorney Joe Tacopina toldNBC News that his client is expected to surrender to the DA's office early next week.
Trump supporters expressed outrage over the development—as did Republican Florida Gov. Ron DeSantis, who is expected to also run for the 2024 GOP presidential nomination but said Thursday that his state "will not assist in an extradition request."
Despite warnings that this case "is the first to result in an indictment, though arguably the toughest to win," as Mark Joseph Stern wrote for Slate, critics of Trump still welcomed the news as a long-awaited step toward accountability.

\u201cDonald Trump was the most corrupt president in American history. He was the first president to be impeached twice, and now he\u2019s the first former president to be criminally indicted.\n\nTrump's corruption is finally catching up to him.\u201d

— Citizens for Ethics (@Citizens for Ethics) 1680214108
"We know of literally dozens of credible allegations of crimes committed by Donald Trump as president or running for it, with no charges filed. Until now," tweeted Noah Bookbinder, president of the watchdog group Citizens for Responsibility and Ethics in Washington (CREW). "We can't yet evaluate these charges, but make no mistake, this is a huge deal for accountability."
"Donald Trump has spent his entire political career dodging accountability for his wanton disregard for the law. It is finally catching up to him," Bookbinder added. "The charges in New York are the first ever brought against him, but they will not be the last."
Congresswoman Ilhan Omar (D-Minn.) similarly said "this is just one of many criminal acts for which Donald Trump is being investigated. Make no mistake: the fact that one of the most powerful people in the world was investigated impartially and indicted is testament to the fact that we still live in a nation of laws. And no one is above the law."
Daniels has alleged that she had an extramarital sexual affair with Trump, which he denies. Daniels' attorney, Clark Brewster, said that "the indictment of Donald Trump is no cause for joy. The hard work and conscientiousness of the grand jurors must be respected. Now let truth and justice prevail. No one is above the law."
Trump's former fixer Michael Cohen, who made a $130,000 payment to Daniels, said Thursday that "accountability matters and I stand by my testimony and the evidence I have provided" to the district attorney.
Aaron Scherb, senior director of legislative affairs at Common Cause, pointed to Cohen's prison time on Thursday.
"No American is above the law, including former presidents, and Donald Trump will get his day in court," said Scherb. "Donald Trump and his co-conspirators clearly appeared to have broken the law and his attorney at the time has already served time in federal prison for charges related to the $130,000 hush money payout. The Manhattan district attorney's office is right to hold the former president to the same standard as every other American."
\u201cHere\u2019s my new piece for \u2066@MSNBCDaily\u2069 on the importance of Donald Trump being indicted. Hope you\u2019ll have a look. https://t.co/QzNpk2iM2Q\u201d

— Glenn Kirschner (@Glenn Kirschner) 1680212959
John Bonifaz, president of Free Speech for People, said that "Donald Trump must face the rule of law for all of the crimes he has committed, and this indictment by the Manhattan grand jury is an important first step."
Free Speech for People has argued that Trump and congressional Republicans who provoked and supported the January 6, 2021 attack on the U.S. Capitol should be ineligible to serve, citing the
section
of the 14th Amendment that
bars
from federal office anyone who has taken an oath to support the Constitution then "engaged in insurrection or rebellion."
Urging secretaries of state and chief election officials across the country to "do their job," Bonifaz said that "the insurrectionist disqualification clause of the 14th Amendment makes clear that Trump is disqualified from holding any future public office based on his role in inciting and mobilizing the January 6th insurrection."
"No prior indictment or conviction is required in order to enforce Section 3 of the Fourteenth Amendment against Trump," he added. "To protect our republic, we must uphold this critical constitutional provision at this moment in history."
News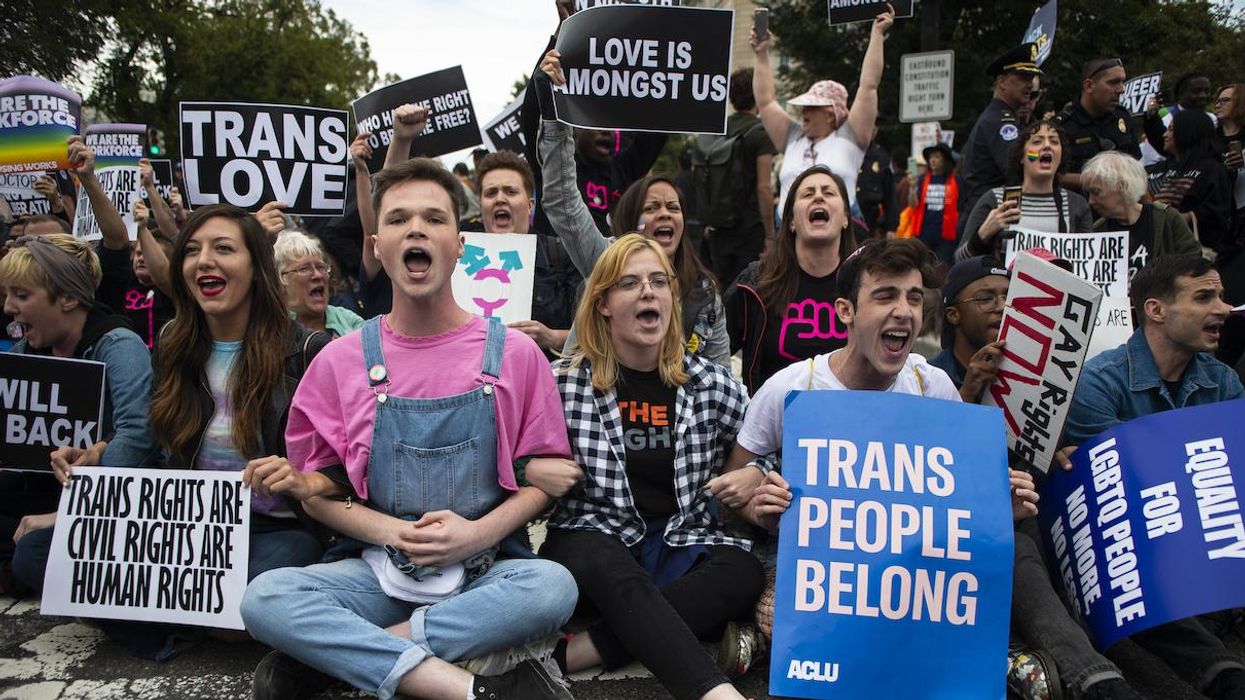 "Lives are at stake. The health, safety, and freedom of trans people are at stake," said Sen. Ed Markey. "Congress must take a stand in the face of dangerous, transphobic attacks waged by far-right state legislatures."
Amid a growing wave of Republican attacks on transgender rights—including a recently passed U.S. House bill targeting trans youth—a pair of progressive congressional lawmakers on Thursday prepared to reintroduce a resolution codifying protections for transgender Americans.
The revived Transgender Bill of Rights—introduced by Rep. Pramila Jayapal (D-Wash.) and Sen. Ed Markey (D-Mass.) and co-sponsored by dozens of congressional Democrats—comes a day ahead of International Transgender Day of Visibility on March 31. According to Jayapal's office, the measure "provides a comprehensive policy framework to provide protections for transgender and nonbinary people, ensuring that everyone has the opportunity to thrive, regardless of their gender identity or expression."
Jayapal, who co-chairs the Transgender Equality Task Force and whose daughter is trans, said in a statement: "Day after day, we see a constant onslaught of anti-trans rhetoric and legislation coming from elected officials. Today we say enough is enough."
"Day after day, we see a constant onslaught of anti-trans rhetoric and legislation coming from elected officials."
Markey asserted that "on this and every International Transgender Day of Visibility, we are reminded of our moral obligation to defend the fundamental rights of trans people against the violence, discrimination, and bigotry that too often mark their lived experience in our country."
"Lives are at stake. The health, safety, and freedom of trans people are at stake," he added. "Congress must take a stand in the face of dangerous, transphobic attacks waged by far-right state legislatures and once again reaffirm our nation's bedrock commitment to equality and justice for all."
According to Jayapal's office, "in 2023 alone, there have been more than 450 anti-LGBTQ+ bills proposed in both state and federal legislature, jeopardizing the safety and mental health of LGBTQ+ youth and trans youth in particular."
"Trans Americans are also four times more likely than cisgender peers to be victims of violent crime and more than 40% have attempted suicide," the congresswoman's office added.
State laws targeting transgender people include—but are not limited to—bans on lifesaving gender-affirming healthcare for trans youth and on trans students from participating on sports teams or using the bathrooms that match their gender identity; and prohibition of public drag shows.
Common Dreamsreported Thursday that West Virginia and Kentucky are the latest states to ban gender-affirming care for trans minors.
Meanwhile, the Kansas House of Representatives on Wednesday approved a bill which would bar transgender individuals from entering single-sex spaces including bathrooms, domestic violence shelters, and prison wards, while labeling intersex people as disabled.

No state is safe from at least the introduction of transphobic legislation, including California, where a Republican state lawmaker earlier this month proposed a bill that would force schools "out" transgender students to their parents under the pretext of boosting parental rights and helping children.
Not content with banning gender-affirming healthcare in their own state, a bill passed earlier this month by Idaho's Republican-controlled House of Representatives included a provision that criminalizes parents or guardians who allow their children to travel outside the state to receive such care.

At the federal level, anti-trans legislation includes the Parents Bill of Rights, passed last week by the Republican-controlled House in a 213-208 vote along party lines.
Among other things, the Transgender Bill of Rights calls on the federal government to amend the Civil Rights Act of 1964 to explicitly include gender identity and to codify the U.S. Supreme Court's Bostock v. Clayton County ruling, which affirmed that Title VII of the Civil Rights Act protects LGBTQ+ employees from discrimination.

Biden continued:
As kids, they deserve what every child deserves: the chance to learn in safe and supportive schools, to develop meaningful friendships, and to live openly and honestly. As adults, they deserve the same rights enjoyed by every American, including equal access to healthcare, housing, and jobs and the chance to age with grace as senior citizens. But today, too many transgender Americans are still denied those rights and freedoms. A wave of discriminatory state laws is targeting transgender youth, terrifying families and hurting kids who are not hurting anyone. An epidemic of violence against transgender women and girls, in particular women and girls of color, has taken lives far too soon. Last year's Club Q shooting in Colorado was another painful example of this kind of violence—a stain on the conscience of our nation.
The president highlighted how his administration "fought to end these injustices from day one":
On my first day as president, I issued an executive order directing the federal government to root out discrimination against LGBTQI+ people and their families. We have appointed a record number of openly LGBTQI+ leaders, and I was proud to rescind the ban on openly transgender people serving in the military. We are also working to make public spaces and travel more accessible, including with more inclusive gender markers on United States passports. We are improving access to public services and entitlements like Social Security. We are cracking down on discrimination in housing and education. And last December, I signed the Respect for Marriage Act into law, ensuring that every American can marry the person they love and have that marriage accepted, period.
"There is much more to do," Biden added. "I continue to call on Congress to finally pass the Equality Act and extend long-overdue civil rights protections to all LGBTQI+ Americans to ensure they can live with safety and dignity."
News
SUPPORT OUR WORK.
We are independent, non-profit, advertising-free and 100%
reader supported.