For Immediate Release
January, 11 2016, 09:15am EDT
Groups Gather Today at Noon at White House to Protest 14th Guantanamo Anniversary
Coalition Demands Obama Step Up Pace of Transfers and Review Boards, Take Charge of Insubordinate DOD, and Finally Close Prison
WASHINGTON
Today, a coalition of human rights activists, torture survivors, Guantanamo attorneys, and members of diverse faith communities will hold a rally at the White House to mark the 14th anniversary of the first arrival of detainees at Guantanamo on January 11, 2002.
The coalition is calling on the Obama administration in its last, crucial year in office, to close Guantanamo and end indefinite detention. With recent transfers, 104 men remain at Guantanamo, dozens of them cleared for release, the majority from Yemen.
Schedule:
12:00pm: Interfaith service in front of the White House sponsored by the National Religious Coalition Against Torture
12:30pm: Rally and program in front of the White House, followed by procession
1:45pm: Witness Against Torture lead a "homecoming ceremony" in front of the White House, using pictures of the detained men to implore President Obama to close the prison
Visuals:
* A giant, inflatable figure of Shaker Aamer - the last UK resident held at Guantanamo, released in October. The figure was displayed outside the British Parliament where MPs and celebrities posed with it to press for Mr. Aamer's release.
* A banner with a picture of every hostage still remaining
* Signs, posters, and a "detainee procession" of figures in orange jumpsuits and black hoods
Members of the coalition will share the words of Mr. Aamer and of Mohammed Al Hamiri, Ghaleb Al Bihani, Zaher Hamdoun, and Mustafa al-Hawsawi, all of whom remain at Guantanamo.
Also today, in London, former Guantanamo detainees will join activists, MPs, and celebrities to protest outside the U.S. embassy.
The organizations drafted a call to action:
Last Chance for Leadership: Close Guantanamo
President Obama has just one year left to fulfill his first-term promise by closing Guantanamo and ending indefinite detention. Doing so will demonstrate leadership and fidelity to the principles on which he campaigned and won office.

On January 11, 2016, the prison at Guantanamo will enter its 15th year of operation. More than 100 men remain there; the vast majority will never be charged with crimes. Dozens of prisoners are cleared for transfer. Some remain on hunger strike and are force-fed, and a handful are facing charges in unfair trials. There has been no accountability for the torture that many detainees have suffered.

hough Congress has placed obstacles to closing Guantanamo, President Obama can and should make significant progress towards reducing the population and shuttering the prison. He must order the Secretary of Defense to expedite transfers and accelerate the Periodic Review Board process, and tell the Justice Department not to reflexively oppose habeas petitions in federal court. He must also reject a policy of indefinite detention, and formally try or release all detainees.

In addition, President Obama should order all relevant agencies to read the full Senate torture report. Refusing to read the report, more than a year after receiving it, reflects the "bury your head in the sand" mentality that will prevent the country from adequately learning from its past and permanently ending torture. Further, the Obama administration should prompt the Department of Justice to open a new, comprehensive investigation into the clear acts of criminality described in the report.

Now is the time for Obama to accomplish a central goal of his administration by closing Guantanamo. There is today a renewed climate of fear and hate reminiscent of the post-September 11 mindset that led to torture and indefinite detention in the first place. Guantanamo is the bitter legacy of a politics of fear, which must be rejected.

This is the president's last chance to keep his promise and close Guantanamo. If he does not do so, there is a real chance that the current detainees will die there, and that more detainees will join them.

We cannot let that happen. Close Guantanamo now.
***Sponsors: Amnesty International USA, Bill of Rights Defense Committee and Defending Dissent Foundation, Center for Constitutional Rights, CODEPINK, Council on American-Islamic Relations, CloseGuantanamo.org, Interfaith Action for Human Rights, National Coalition to Protect Civil Freedoms, National Religious Campaign Against Torture, No More Guantanamos, September 11th Families for Peaceful Tomorrows, Torture Abolition and Survivors Support Coalition (TASSC), Witness Against Torture, and others.
Organizational Quotes
"Every year, for the last seven years, concerned activists and citizens have called on President Obama to fulfill his promise during his first year in office and demanded that Guantanamo be closed once and for all; every year, these calls have remained unheeded. This is President Obama's final year in office. That means this is also his final opportunity to follow through on his promise, shut down Guantanamo, and restore some semblance of dignity to our justice system. This opportunity must not be left ignored." ~ Dr. Zainab Chaudry, Interfaith Action for Human Rights
"It's not enough for President Obama to say he tried, but that Congress and other obstacles are preventing him from closing Guantanamo. Obama has the authority to make significant progress. He is the Commander in Chief, yet officials within the Department of Defense openly defy his policy objectives and derail closure efforts. He could order the Department of Justice not to fight the habeas petitions of cleared men like 74-lb Tariq Ba Odah, but he hasn't. There are more than 40 men, cleared for release, who could go home today, yet they continue to languish as the prison enters its 15th year. The president has real choices in front of him. Now is the time for him to take meaningful action. The clock is ticking." ~ Aliya Hussain, Center for Constitutional Rights
"In November 2015, a CODEPINK delegation traveled to Guantanamo Bay and met with members of the Cuban government and civil society who are calling for the base to be closed immediately and the land given back to the Cubans. The Cubans are horrified that the United States government has committed torture on their land and continues to indefinitely detain prisoners who have never been charged with any crime. The prison facility within the naval base is a stain on US foreign policy, and we urge President Obama to issue an executive order to close the prison -- and the base -- immediately." ~ Nancy Mancias, organizer, CODEPINK
"One day let alone 14 years is too long for the U.S. to imprison one hundred men at Guantanamo without charge or trial. For seven years the president has promised to close this prison - a blemish on our nation's commitment to the rule of law - yet the situation has not improved. We are responsible for safeguarding the constitutional values which are meant to protect all Americans, persons who reside in the U.S., and those in our custody from the abuses of indefinite detention and lack of due process. We must shut down Guantanamo." ~ Nihad Awad, national executive director, Council on American-Islamic Relations
"It must be stated clearly and boldly that the premise upon which Guantanamo Bay prison exists is illegal. Moreover, the prison symbolizes the ways in which Muslims have been dehumanized, while at the same time, criminalizing the Muslim identity by virtue of housing a population of men adhering to Islam. While the number of prisoners has decreased from its height at 779 to 104, it is disturbing that the United States government continues to house men cleared for release while holding others hostage in protracted military commissions that seemingly have no resolution in sight. We call on President Obama to close the prison once and for all and end the destructive policies of the War on Terror that have so callously targeted Muslims." ~ Dr. Maha Hilal, executive director, National Coalition to Protect Civil Freedoms
"After fourteen years, our experience with an official policy of detaining suspected terrorists without trial has not brought us security, but only more fear, more terrorism and worst of all, a deep stain on our honor and debasement of our most basic values. It's long past time for us to end this inhumane and profoundly ineffective experiment with lawlessness." ~ Bruce Miller, president, No More Guantanamos
"As an organization that serves torture survivors from all over the world, TASSC is appalled by the fact that Guantanamo -synonymous with a U.S. torture chamber - is still open after 14 years. During his last year in office, President Obama should honor his promise to finally close this facility and either release the detainees or transfer them to other locations where they have access to justice." ~ Gizachew Emiru, Esq., executive director, Torture Abolition and Survivors Support Coalition (TASSC)
"As Guantanamo enters its fifteenth year of operation, there is a real risk it is becoming a permanent offshore prison for an endless global war. The longer Guantanamo stays open, the more likely it is to become a fixture of U.S. counterterrorism--and a permanent system of American injustice. President Obama has just one year left in office to make good on his commitment to close Guantanamo. His human rights legacy, and that of the nation, are on the line. It won't be easy, but President Obama can and must come through." ~ Naureen Shah, director of Amnesty International USA's Security With Human Rights Program
"Guantanamo is a moral disaster zone where the U.S. tortured people and continues to hold people without charge or trial, some for more than a decade. It would be a grave sin and a national disgrace for President Obama to leave office without closing Guantanamo." ~ Rev. Ron Stief, executive director, National Religious Campaign Against Torture
Witness Against Torture is a grassroots movement that came into being in December 2005 when 24 activists walked to Guantanamo to visit the prisoners and condemn torture policies. Since then, it has engaged in public education, community outreach, and non-violent direct action. For the first 100 days of the Obama administration, the group held a daily vigil at the White House, encouraging the new President to uphold his commitments to shut down Guantanamo.
LATEST NEWS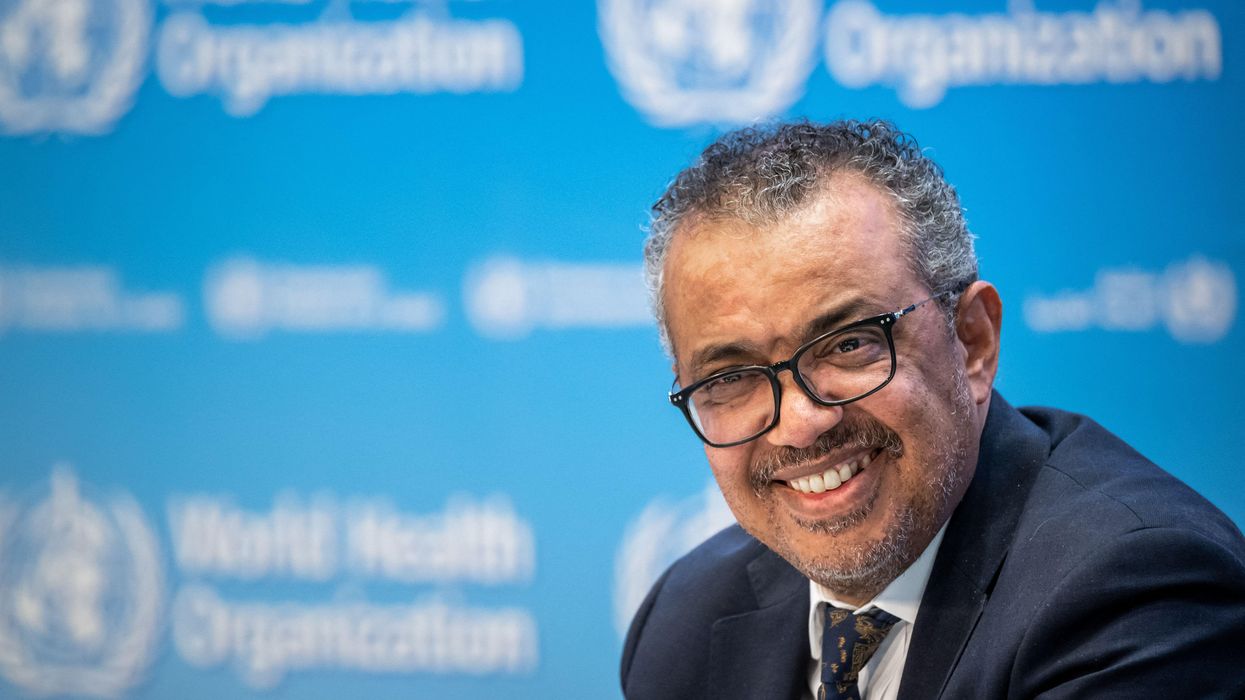 "As negotiations over a pandemic treaty begin in earnest, governments must look to the greed, nationalism, and profiteering that characterized the world's response to Covid-19 and say: 'never again.'"
As a draft of the World Health Organization's pandemic treaty circulated Wednesday, human rights champions praised the text as a welcome departure from the corporate-friendly intellectual property regime that has constrained the global supply of lifesaving medical tools and worsened preventable suffering throughout the coronavirus pandemic.
"After the collective trauma of the Covid-19 pandemic, we have a glimmer of hope," Mohga Kamal-Yanni, policy co-lead for the People's Vaccine Alliance, said in a statement. "This text contains measures to provide everyone, everywhere with access to the tools needed to prevent and combat pandemics."
"This draft marks a powerful recognition that pandemic response cannot succeed on charity, rather it requires global solidarity."
Kamal-Yanni was not alone. James Love, director of Knowledge Ecology International, said that the WHO pandemic treaty draft "is surprisingly strong on several topics."
Love pointed to the draft treaty's intellectual property provisions, which stipulate that in the event of a pandemic, parties "will take appropriate measures to support time-bound waivers of intellectual property rights that can accelerate or scale up manufacturing of pandemic-related products."
Among other things, the text also states that parties "shall encourage all holders of patents related to the production of pandemic-related products to waive, or manage as appropriate, payment of royalties by developing country manufacturers on the use, during the pandemic, of their technology for production of pandemic-related products, and shall require, as appropriate, those that have received public financing for the development of pandemic-related products to do so."
\u201cThe WHO zero draft of the pandemic treaty is out, it is surprisingly strong on several topics. This is one section on intellectual property rights.\u201d

— James Love (@James Love) 1675249804
Dose hoarding by high-income nations and knowledge hoarding by pharmaceutical corporations whose Covid-19 vaccines, tests, and treatments owe their existence to billions of dollars in public funding has resulted in artificial scarcity, prolonging the pandemic while turning several executives into billionaires. According to the latest figures from Our World in Data, less than 27% of people in low-income countries have received a single jab to date, and similar inequalities have been observed with respect to therapeutics and diagnostics.
Policymakers from wealthy countries have refused to force profitable drugmakers like Pfizer and Moderna to relinquish their monopoly power over publicly funded technology even as the pandemic's global death toll soared to well over 15 million. The coronavirus continues to kill nearly 2,600 people around the world each day. Moreover, excess mortality—an estimate of the difference in the number of deaths that occur amid a crisis compared with what would have been expected under "normal" conditions—has been four times higher in poorer countries than rich ones throughout the pandemic.
The emerging pandemic treaty acknowledges this injustice, declaring that the document's creation began in December 2021 in response to "the catastrophic failure of the international community in showing solidarity and equity in response to the coronavirus disease."
Kamal-Yanni stressed Wednesday that the new WHO document "is a draft, not a final text."
"Governments need to demonstrate their commitment to a treaty based on equity and human rights" during negotiations, she said.
The WHO's Intergovernmental Negotiating Body (INB), which assembled the draft and will lead negotiations, is scheduled to meet next on February 27. It has until the WHO's 2024 World Health Assembly to finalize the pact.
Health Policy Watchreported that the draft "is unlikely to survive in its current form given the strong pharmaceutical lobby, particularly in the European Union," while Kamal-Yanni tweeted, "Now the real fight begins!"
\u201c@FilesGeneva @ThiruGeneva @WHO Now the real fight begins! The negotiation is a Litmus test of how serious1) rich govts are about equitable access to medical tools, & preventing n controlling pandemics and 2) developing countries are about prioritising healthcare\n@peoplesvaccine \nBoth have to address funding\u201d

— Geneva Health Files (@Geneva Health Files) 1675250968
James Cole, advocacy manager at STOPAIDS, echoed his colleagues.
"This draft marks a powerful recognition that pandemic response cannot succeed on charity, rather it requires global solidarity," Cole said in a statement. "With vaccines, tests, and treatments being delivered thanks to billions in public funding, it is welcome to see this text include support for intellectual property waivers, increased local production capacity, and conditions on public funding for research."
"The text is a strong first step to loosening the grip on intellectual property that Big Pharma companies have used to uphold monopolies and deny access to lifesaving health tools through the Covid pandemic," Cole continued. "By loosening this chokehold, the world will not have to fight the next pandemic with one hand behind its back."
"However," he warned, "language of 'promoting' and 'encouraging' manufacturers to enact the measures outlined lets industry off the hook and should be strengthened to ensure all stakeholders are committed to achieving an equitable pandemic response. Now, low- and middle-income member states must stand firm through negotiations and ensure that rich nations do not dilute the text in the interests of private profits."
"Low- and middle-income member states must stand firm through negotiations and ensure that rich nations do not dilute the text in the interests of private profits."
Kamal-Yanni, for her part, stated that "building manufacturing capacity in developing countries is critical to controlling pandemics, which will ultimately save lives everywhere."
Notably, the WHO has sought to facilitate knowledge sharing and ramp up local production capacity in low- and middle-income nations through its mRNA Vaccine Technology Transfer Hub.
The first consortium—based at Afrigen Biologics in Cape Town, South Africa—has successfully replicated the mRNA Covid-19 vaccine co-created by Moderna and the U.S. National Institutes of Health despite Big Pharma's best attempts to undermine their work.
As of last April, 15 manufacturers in developing countries have been named as "spokes," or recipients of mRNA technology and training from the Afrigen hub. In addition, the WHO has teamed up with South Korea to establish a global teaching facility that can share best practices.
Bolstering such efforts "will address the injustice of the Covid-19 and AIDS pandemics that saw people in lower-income countries forced to wait at the back of the line for vaccines, tests, and treatments," said Kamal-Yanni.
"To achieve this, we need more than just words," she continued. "Governments must commit to sharing medical technology and know-how. The intellectual property rules that uphold pharmaceutical company monopolies must be waived automatically when a health emergency is declared. And governments must place conditions to ensure that publicly funded innovations are available to manufacturers in the Global South."
"As negotiations over a pandemic treaty begin in earnest," Kamal-Yanni added, "governments must look to the greed, nationalism, and profiteering that characterized the world's response to Covid-19 and say: 'never again.'"
News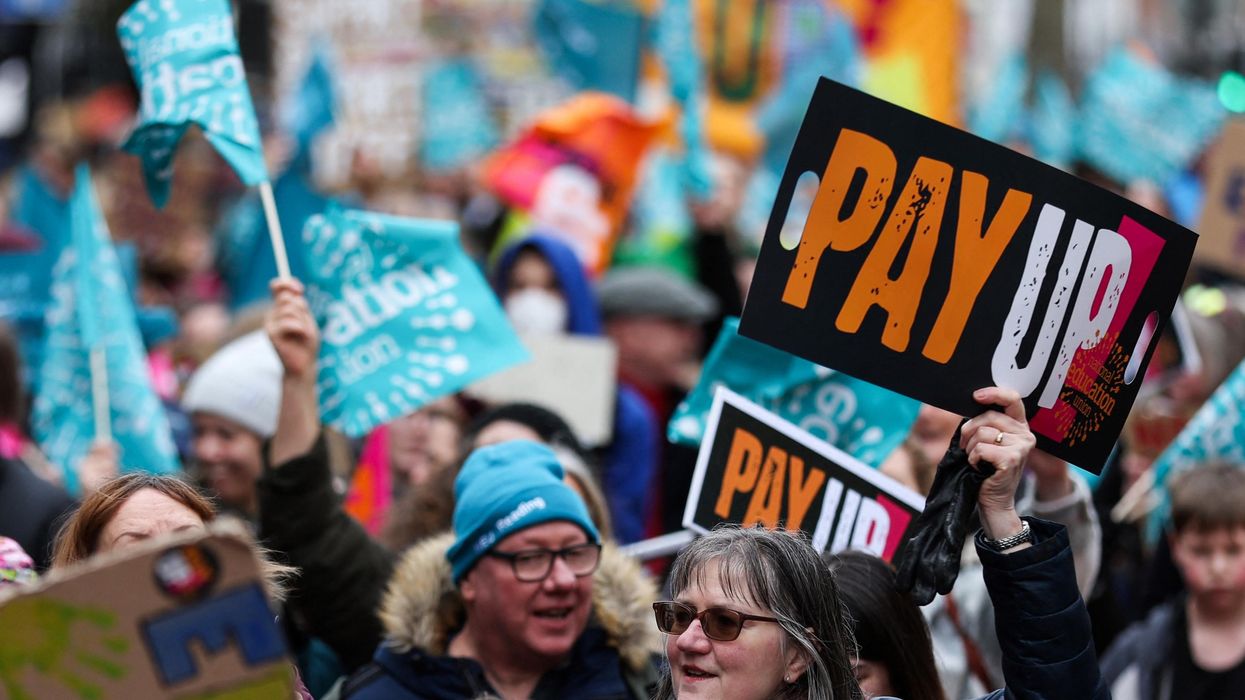 "We are the working class, and we are back," said one union leader. "We are here, we are demanding change, we refuse to be bought."
With organizers saying it's entirely within the power of the United Kingdom's Conservative government to ensure public sector employees are paid fairly, roughly half a million workers walked out on Wednesday in the country's largest coordinated strike in more than a decade.
About 300,000 of the striking employees are educators, and they were joined by civil servants, railroad workers, university professors, London bus drivers, museum workers, and border officials, among others, with 59% of Britons telling YouGov in a recent poll that they supported the walkout.
The strong support comes even as an estimated 85% of schools across the U.K. were closed on Wednesday. Students and parents stood on picket lines alongside teachers, whose wages have not kept up with inflation and who are struggling to teach in schools where per-pupil spending for the 2024-25 school year is now expected to be 3% lower than it was in 2010.
\u201cMassive turnout in London today to support striking workers \ud83d\udc4a\n\nThe message to the government is clear: \n\n#EnoughlsEnough \n\nhttps://t.co/6qQEc61CzJ\u201d

— Enough is Enough (@Enough is Enough) 1675255443
"It's partly about pay, which has been reduced by 11% over the last 10 years," Jon Voake, a drama teacher in South Gloucestershire, toldThe Guardian. "But it's also about how our workload's going up. We're all working with bigger groups. Children's education is going to suffer and enough is enough."
In the most economically deprived parts of the country, the National Education Union said, teachers' pay has gone down by more than 20% since 2010 as the rate of inflation in the U.K. stands at 10.5%—"the highest among the G7 group of advanced economies," according toAl Jazeera.
"We're struggling," a London teacher named Mehnaz
told
Tribune
magazine last October. "Many of us are living in cold homes because we need to save wherever we can... I know colleagues who are worried about how they'll pay their rent or their mortgage, or how they'll be able to afford childcare when they're at work because their children's schools are also having to reduce hours and close earlier than they previously did."
The Trades Union Congress (TUC) says that the average public sector worker in the U.K. now has $250 less per month than they did in 2010, accounting for inflation. A graph the organization shared on social media as the workers walked out showed that teachers' real compensation is now far lower than the range among other countries in the Organization for Economic Cooperation and Development.
\u201cEngland primary teachers' real pay vs other OECD countries. \n\nThis is why teachers are on strike.\u201d

— Trades Union Congress (@Trades Union Congress) 1675260664
A 5% pay raise offered to public sector workers last year is actually a 7% pay cut when accounting for soaring inflation, union leaders say.
The walkout comes a day after members of Parliament passed an anti-strike law that would enforce "minimum service levels" in a railroad sector and emergency services, threatening workers with termination if they take part in a work stoppage. The bill still needs to pass in the House of Lords before becoming law. The TUC has said it could take the government to court over the proposal, which TUC assistant general secretary Kate Bell told The Guardian is "unnecessary, unfair, and almost certainly illegal."
Ambulance drivers and nurses are reportedly planning to stage a work stoppage in the coming days.
Conservative Prime Minister Rishi Sunak told public health workers on Monday, "I would love, nothing more would give me more pleasure than, to wave a magic wand and have all of you paid lots more"—but organizers and labor advocates on Wednesday said Sunak's government simply needs to change its tax policies to mitigate the cost-of-living crisis.
"We just need a fair taxation system," John McDonnell, a Labour MP former shadow chancellor of the exchequer, told The Guardian, calling on the Tories to tax capital gains at the same level of income to pay for raises. "The issue at the moment is that we seem to have a government that is redistributing wealth upwards."
Mark Serwotka, general secretary of the Public and Commercial Services union, toldThe Guardian that the Tories have claimed it would cost £29 billion ($35 billion) to give raises to public sectors, while the actual amount is about £10 billion ($12 billion).

"And £10 billion in an economy like ours can easily be found," said Serwotka.
Mick Lynch, secretary general of the National Union of Rail, Maritime, and Transport Workers, rallied thousands of teachers outside Downing Street in London.
"We are the working class, and we are back," said Lynch. "We are here, we are demanding change, we refuse to be bought, and we are going to win for our people on our terms."
News
"Only Medicare is Medicare," said Rep. Mark Pocan. "These non-Medicare plans run by private insurers undermine traditional Medicare."
In an effort to crack down on the misleading practices of Medicare Advantage providers, Democratic Reps. Mark Pocan, Ro Khanna, and Jan Schakowsky reintroduced legislation Tuesday that would ban private insurers from using the "Medicare" label in the names of their health plans.
The legislation, titled the Save Medicare Act, would formally change the name of the Medicare Advantage program to the Alternative Private Health Plan, an attempt to make clear to seniors that the plans are run by private entities such as Anthem, Humana, Cigna, and UnitedHealthcare.

"Only Medicare is Medicare," Pocan (D-Wis.) said in a statement. "It is one of the most popular and important services the government provides. These non-Medicare plans run by private insurers undermine traditional Medicare. They often leave patients without the benefits they need while overcharging the federal government for corporate profit."
Khanna (D-Calif.) declared that "it's time to call out 'Medicare Advantage' for what it is: private insurance that profits by denying coverage and the name is being used to trick seniors into enrolling."
"That's not right," he added. "This bill will end the scam by preventing private insurers from profiting off the Medicare brand. Our focus should be on strengthening and expanding real Medicare."
The bill, which faces long odds in the Republican-controlled House, was introduced as GOP lawmakers push for cuts to traditional Medicare as part of their broader austerity campaign.
It also comes as the Biden administration is moving ahead with a Medicare privatization scheme known as ACO REACH, a pilot program that critics warn could fully engulf traditional Medicare in a matter of years.
The Democratic trio's legislation does not specifically address ACO REACH, opting to zero in on Medicare Advantage plans that are notorious for denying necessary care to vulnerable seniors and overbilling the federal government.
The measure would impose a $100,000 penalty each time a private insurer uses the Medicare name in the title of one of their plans.

"So-called Medicare Advantage is neither Medicare nor an advantage. It is simply another scheme by the insurance companies to line their pockets."
Earlier this week, the Biden administration proposed a new rule that would strengthen audits of Medicare Advantage plans, which are paid an annual per-person rate by the federal government. Recent investigations have exposed how Medicare Advantage plans frequently overcharge the government by making patients appear sicker than they are, resulting in a higher payment.
The federal government currently expects to pay Medicare Advantage providers more than $6 trillion over the next eight years.
"Medicare reimburses Medicare Advantage plans using a complex formula called a risk score that computes higher rates for sicker patients and lower ones for healthier people," Kaiser Health Newsreported in December. "But federal officials rarely demand documentation to verify that patients have these conditions, or that they are as serious as claimed. Only about 5% of Medicare Advantage plans are audited yearly."
Medicare Advantage has grown rapidly over the past decade, with more than 28 million people in the U.S. enrolled in such plans as of 2022. MA plans often provide coverage for hearing, vision, and dental—benefits not offered by traditional Medicare, despite the efforts of progressive lawmakers to expand the program.
Some Democratic lawmakers have warned that part of the massive growth rate of Medicare Advantage plans could be due to their deceptive advertising practices.
In November, Senate Finance Committee Chair Ron Wyden (D-Ore.) released an investigative report laying out evidence of a range of "predatory actions" by private insurance companies that offer Medicare Advantage plans.

"Agents were found to sign up beneficiaries for plans under false pretenses, such as telling a beneficiary that coverage networks include preferred providers even when they do not," the investigation found. "Of particular concern to the committee were reports across states of agents changing vulnerable seniors' and people with disabilities' health plans without their consent."
Wendell Potter, president of the Center for Health and Democracy, said Tuesday that "so-called Medicare Advantage is neither Medicare nor an advantage."
"It is simply another scheme by the insurance companies to line their pockets at the expense of consumers," said Potter, a former health insurance executive with first-hand experience of the industry's misleading practices. "I applaud Congressman Pocan and Congressman Khanna for introducing this vital legislation. The healthcare market is confusing for consumers and misleading branding like so-called Medicare Advantage just makes it worse."
News
SUPPORT OUR WORK.
We are independent, non-profit, advertising-free and 100%
reader supported.