For Immediate Release
Contact:
UK: clemency [dot] wells [at] reprieve.org.uk / +44 (0) 207 553 8140
US: katherine [dot] oshea [at] reprieve.org / +1 917 855 8064
UK Supports Dubai Police Fair, Despite UAE Torture Record
UK Trade and Investment (UKTI) is supporting a trade fair hosted by the Dubai police this week, despite widespread use of police torture in the UAE.
The event, the Emirates Security Exhibition and Conference (Emsec), is said by its organizers to be 'designed to support and encourage UK exports'. It is officially hosted by the Dubai police, though UKTI has organized a reception at the British embassy in Dubai for UK companies taking part.
WASHINGTON
UK Trade and Investment (UKTI) is supporting a trade fair hosted by the Dubai police this week, despite widespread use of police torture in the UAE.
The event, the Emirates Security Exhibition and Conference (Emsec), is said by its organizers to be 'designed to support and encourage UK exports'. It is officially hosted by the Dubai police, though UKTI has organized a reception at the British embassy in Dubai for UK companies taking part.
Human rights organization Reprieve - which assists British and other victims of police torture in the Emirates - has previously raised concerns with UKTI about its support for the event. Reprieve's research has found that some 75 per cent of prisoners in Dubai Central Jail reported having been tortured into 'confessing'. They include British citizens who say they were subjected to electric shocks. Despite this, a recommended 'product requirement list' given to UK companies ahead of this week's event included the category 'Public Order Equipment - Electronic'.
British student Ahmad Zeidan, from Reading, was arrested and tortured in December 2013, and was eventually convicted on the sole basis of a 'confession' he signed in Arabic - a language he neither reads nor writes. Ahmad, who initially faced a potential death sentence, recently learned that he was not included in a royal pardon that saw hundreds of other prisoners freed - despite his requests to the UK Foreign Office to support his case.
A 2013 UKTI strategy document unearthed by Reprieve lists security export events such as Emsec as a new priority for the Government, and a Reprieve Freedom of Information request has revealed that last year the government spent PS12,000 on encouraging British companies to attend.

The event comes as the UAE was expected to secure re-relection to the United Nations Human Rights Council, in a vote today. In a submission to the body in support of their bid, Emirati representatives said: "Our wish to serve a second term on this esteemed body reflects our view that societies that uphold human rights are more resilient, more sustainable and more secure."
Commenting, Maya Foa, head of the death penalty team at Reprieve, said: "The Emirati authorities have boasted to the UN about their human rights record, but the reality is dismal. the UAE systematically uses torture to secure convictions - and death sentences - based on bogus statements. British student Ahmad Zeidan is still languishing in prison after he was forced to sign one of these 'confessions'. Instead of lending UK support to the Emirati police responsible for his torture, the British Government should make clear that we want no part in such abuses - and should demand the release of victims like Ahmad without delay."
Reprieve is a UK-based human rights organization that uses the law to enforce the human rights of prisoners, from death row to Guantanamo Bay.
LATEST NEWS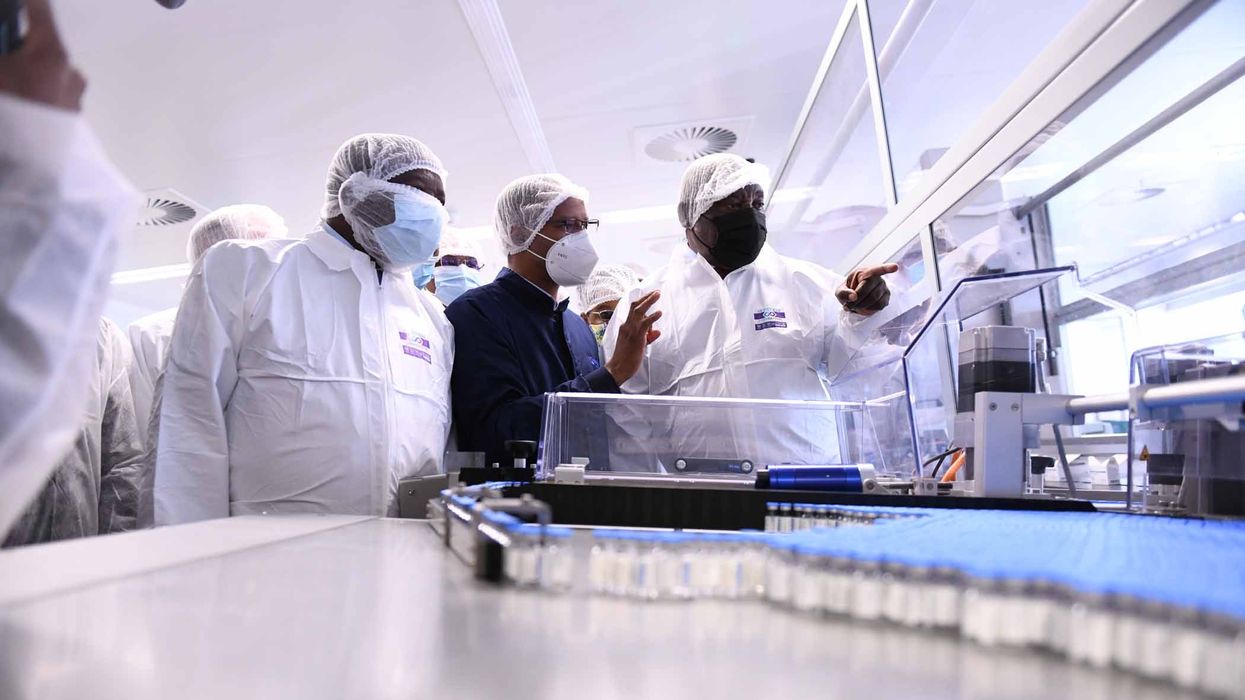 "We were bullied into unfair and undemocratic terms," said one public health campaigner. "And we must ask: did they do it to other countries, too?"
Newly disclosed Covid-19 vaccine procurement contracts that the South African government signed with pharmaceutical companies included "overwhelmingly one-sided" terms that favored drug companies' bottom lines over public health, according to a review conducted by a coalition of experts and advocates.
Last month, a South African court ruled that the nation's government must make its vaccine contracts with pharmaceutical companies public after the Health Justice Initiative (HJI) sued in an effort to shine light on the secretive agreements.

HJI has published the government's contracts with Pfizer, Johnson & Johnson subsidiary Janssen, the Serum Institute of India, and Covax online, arguing that they reveal how Big Pharma "held South Africa to ransom."

In a detailed report released Tuesday, HJI and other organizations wrote that the contracts "placed governments in the Global South, and in turn, the people living in these countries, in an unenviable position of having to secure scarce supplies in a global emergency (2020-2022) with unusually hefty demands and conditions, including secrecy, a lack of transparency, and very little leverage against late or no delivery of supplies or inflated prices, resulting in gross profiteering."
The "most egregious example," according to the new report, was the South African government's deal with Johnson & Johnson, which traded "scarce or very delayed supplies for extractionist terms and conditions that undermine national sovereignty."
The U.S.-based company charged South Africa $10 per dose for its vaccine in the agreement, which was carried out under English and Welsh law. (The European Union reportedly paid $8.50 per dose for the Johnson & Johnson vaccine.)
Additionally, the deal required South Africa to make a nonrefundable down payment of $27.5 million.
According to HJI, the contracts with pharmaceutical giants made South Africa liable for at least $734 million in payments "with no guarantees of timely delivery." The contracts, none of which were agreed to under South African legal jurisdiction, also required South Africa to "seek permission" from drug companies to "divert or donate or sell doses which have already been paid for by the [South African] public, despite the benefit to other poorer countries or buyers."
"In a global pandemic, this is paternalistic and imperialist, harms public health programmatic planning, and deliberately reduces the autonomy of African states," the report says. "In particular—J&J, Pfizer, and COVAX did not commit... to supply volumes and dates, making it increasingly difficult to plan and run a timely and proper vaccination program."
Fatima Hassan, HJI's director, said Tuesday that "this deference to and fear of powerful pharmaceutical companies—in the middle of a crisis and in a constitutional democracy—is incredibly concerning."
"It shows how much power was put into the hands of private sector actors and how few options governments had, when acting alone, in the middle of a pandemic," said Hassan.
The pharmaceutical industry's control over vaccine supply and distribution in South Africa and around the world spawned what public health advocates described as vaccine apartheid, a system under which poor nations were left with little to no access to lifesaving shots as rich countries and drugmakers prioritized upholding restrictive patents in the face of a catastrophic pandemic.
Hassan said the newly disclosed contracts "reveal the phenomenal power that pharmaceutical companies wielded in negotiations."
"In our scramble for desperately needed vaccines, South Africa was forced to hand over unimaginable sums of money for overpriced vaccine doses," Hassan added. "We were bullied into unfair and undemocratic terms in contracts that were totally one-sided. Put simply, pharmaceutical companies held us to ransom. And we must ask: did they do it to other countries too?"
A 2021 report by the U.S.-based consumer advocacy group Public Citizen—which uncovered several unredacted Pfizer vaccine contracts—detailed how the corporation used its power in agreements with Brazil, Colombia, the European Commission, and the U.S. to "silence governments, throttle supply, shift risk, and maximize profits in the worst public health crisis in a century."

News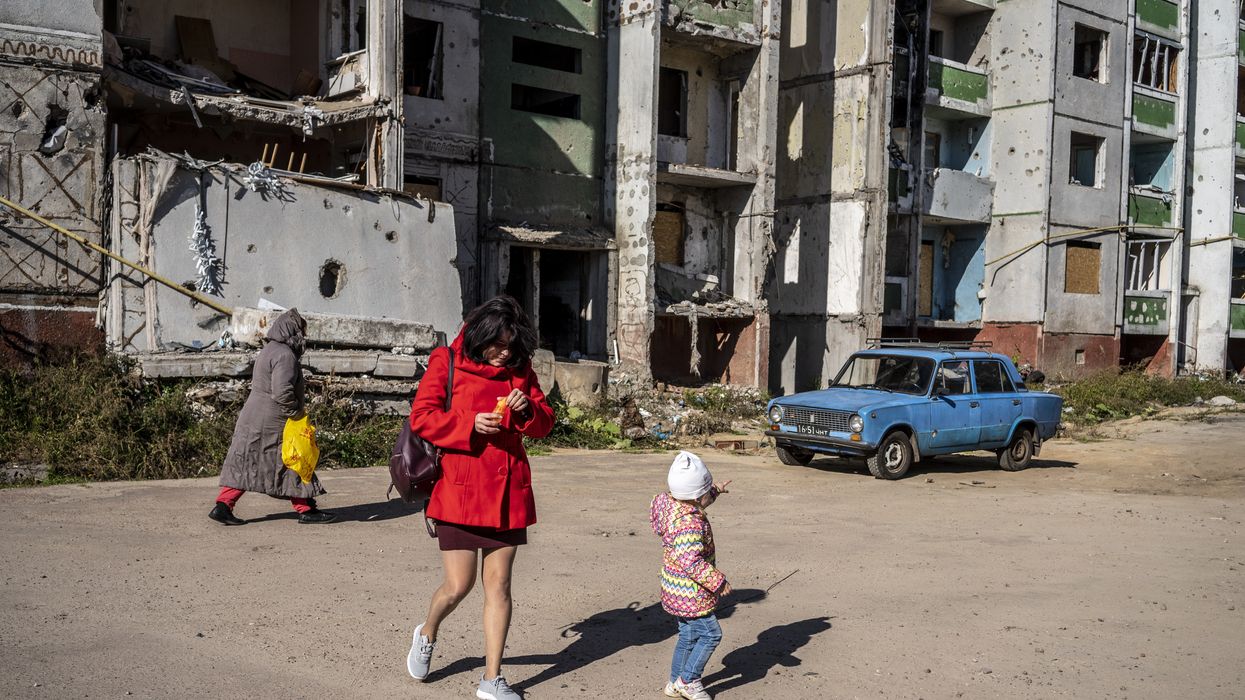 "It's unconscionable that civilians are still dying from cluster munition attacks 15 years after these weapons were outlawed," said one advocate.

The refusal of countries including Russia, Ukraine, and the United States to end the use and transfer of cluster munitions caused nearly 1,000 civilian deaths and injuries in 2022, according to the latest international report on the use of the widely banned weapons.
In the Cluster Munition Monitor 2023 reporton Tuesday, a coalition including Human Rights Watch (HRW), Humanity & Inclusion, and the Colombian Campaign to Ban Landmines reported that cluster munitions killed or wounded at least 1,172 people last year.
Nearly 1,000 people were killed or injured by cluster bomb attacks—including 890 in Ukraine, which has been under invasion by Russia since February 2022—while at least 185 people were killed or wounded by the remnants of cluster munitions.
Cluster munitions explode in the air after being fired by rockets or aircraft and can disperse numerous submunitions across a wide area, creating de facto landmines in residential neighborhoods and other places frequented by civilians and making the bombs deadly for years after they initially explode.
The "immediate and long-term civilian harm and suffering" caused by cluster munitions are the reason they have been banned by 112 countries that have ratified the 2008 Convention on Cluster Munitions, said Mary Wareham, arms advocacy director at HRW.

"It's unconscionable that civilians are still dying from cluster munition attacks 15 years after these weapons were outlawed," she said in a statement.
Twelve additional countries have signed the convention, signaling a willingness to abide by its ban on the use, production, stockpiling, or transfer of cluster munitions.
More than 70 countries, however, have yet to sign onto the agreement, leaving civilians in countries including Ukraine, Myanmar, and Syria in danger of the bombs.
In 2022, the remnants of cluster munitions killed or maimed civilians in Azerbaijan, Iraq, Laos, Lebanon, Syria, Ukraine, and Yemen, with 71% of the casualties recorded among children, who sometimes mistake unexploded ordnance for harmless metal balls and pick them up to play with them.
There were no new cluster bomb attacks in Iraq in 2022, but 15 people were killed by their remnants and 25 were wounded, according to HRW. Ninety people were wounded by remnants in Yemen, where there were also no new attacks, and five were killed.

"This weapon must be stopped," said Beatrice Fihn, former executive director of the International Campaign to Abolish Nuclear Weapons, after HRW's study was released.
According to HRW's report, Russia used old stockpiles of cluster munitions as well as new weapons in 2022 and the first half of this year. This past July, the U.S. began transferring to Ukraine cluster munitions that have a 6%-14% rate of delivering unexploded ordnance.
HRW says that the progress made by countries that have ratified the Convention on Cluster Munitions suggests that casualties caused by the bombs would be drastically reduced if the U.S. and other countries signed the treaty.

"The greatest obstacle to countries working to eradicate cluster munitions are governments that are unwilling to join the convention and that undermine its principles by using or transferring the weapon," Wareham said. "Overall, countries that have banned cluster munitions are making steady progress to destroy their stockpiles and clear contaminated areas, despite wide-ranging challenges."
There have been no confirmed reports of new use, production, or transfers of cluster munitions by any of the countries that have ratified the agreement.
State parties that have signed onto the treaty have collectively destroyed 99% of their cluster bomb stockpiles, amounting to 1.47 million munitions and 178.5 million submunitions.
Bulgaria destroyed the last of its stockpile in June, and Belgium destroyed 95% of its munitions in 2022. Eleven countries have retained live cluster munitions "for permitted research and training purposes," according to HRW.
"Cluster munitions are widely stigmatized weapons for ethical, legal, and humanitarian reasons," Wareham said. "Governments that buck the stigma against cluster munitions should reconsider their position in light of the terrible harm these weapons cause and join the international ban."
News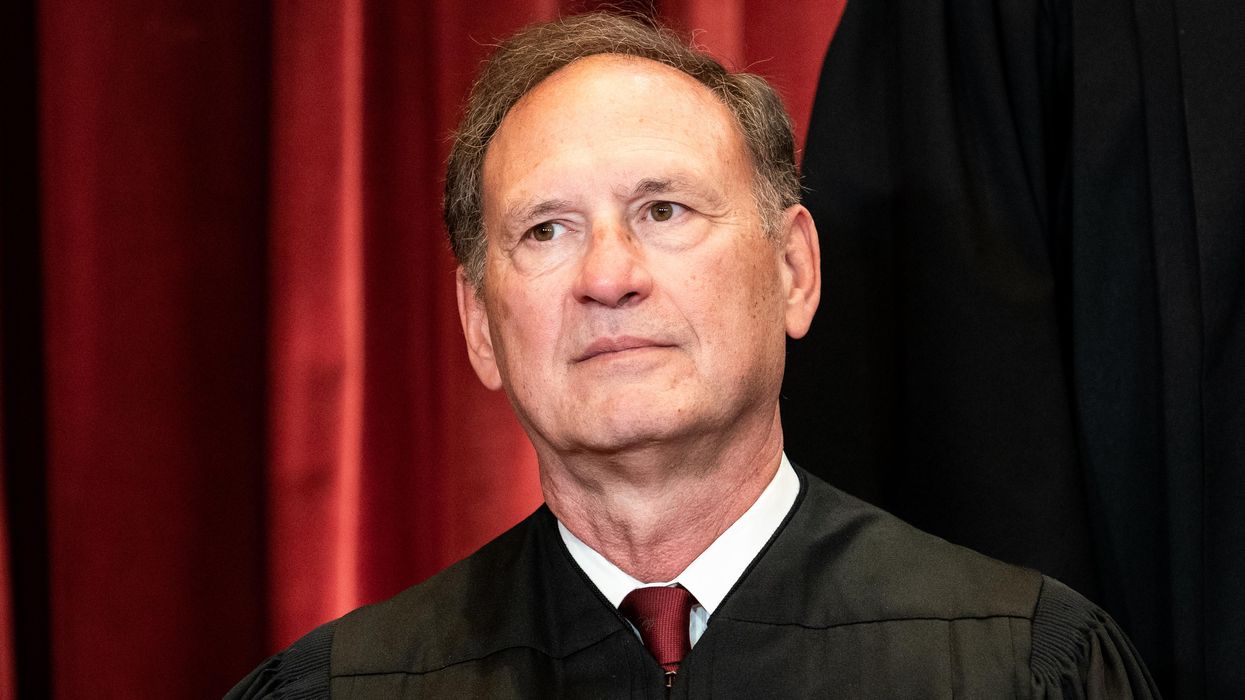 "Justice Alito was involved in an organized campaign to block congressional action with regard to a matter in which he has a personal stake," reads the complaint filed by Sen. Sheldon Whitehouse.
Democratic Sen. Sheldon Whitehouse filed an ethics complaint against Supreme Court Justice Samuel Alito on Tuesday, accusing the right-wing judge of improperly interfering with congressional efforts to reform the scandal-plagued high court.
The complaint points to Alito's comments in a recent Wall Street Journal interview conducted in part by David Rivkin, an attorney for notorious Federalist Society co-chair Leonard Leo. Rivkin is also representing the plaintiffs in a case that could preemptively ban lawmakers from enacting a wealth tax.
In their write-up of the Alito interview, Rivkin and Journal editor James Taranto specifically mention Whitehouse's Supreme Court ethics legislation, which passed out of the Senate Judiciary Committee in a party-line vote in July. The bill, which has not yet received a vote in the full Senate, would require the Supreme Court to adopt a binding code of ethics—something every other federal court in the U.S. has done.
Rivkin and Taranto follow their brief summary of the legislation with a quote from Alito, who said, "No provision in the Constitution gives [Congress] the authority to regulate the Supreme Court—period."
Whitehouse argued in his new ethics complaint that Alito's "decision to opine publicly on the constitutionality of that bill may well embolden legal challenges to the bill should it become law."
The complaint, which was sent to Chief Justice John Roberts, continues:
Justice Alito's opining will also fuel obstruction of our Senate investigations into these matters. To inform its work on my bill and other judicial ethics legislation, and oversee the performance of the statutory Judicial Conference in this arena, the Senate Judiciary Committee is investigating multiple reports that Supreme Court justices have accepted and failed to disclose lavish gifts from billionaire benefactors.

Separately, the Senate Finance Committee is investigating the federal tax considerations surrounding the billionaires' undisclosed gifts to Supreme Court justices. Both committees' inquiries have been stymied by individuals asserting that Congress has no constitutional authority to legislate in this area, hence no authority to investigate. Justice Alito's public comments prop up these theories.
Alito's comment about Congress' supposed powerlessness to regulate the high court prompted outrage and rebuttals at the time, with New York Times columnist Jamelle Bouie calling it "a categorical statement of judicial supremacy that also stands as a glimpse into the arrogance of one justice on a court that falsely sees itself as the only and final authority on what the Constitution means."
Whitehouse's complaint emphasizes that Alito's comment was made to an individual who is representing Leo—a key architect of the right-wing takeover of the Supreme Court—as the Senate investigates him over "actions to facilitate gifts of free transportation and lodging that Justice Alito accepted from Paul Singer and Robin Arkley II in 2008."
As ProPublicareported in June, Leo "helped organize" the undisclosed luxury fishing vacation that Alito took with Singer, a billionaire hedge fund tycoon who later had business before the Supreme Court. Singer also had financial ties to supporters of legal challenges filed against President Joe Biden's initial student debt cancellation plan, which Alito and the rest of the high court's conservative supermajority struck down in June.
"The timing of Justice Alito's opining suggests that he intervened to give his friend and political ally [Leo] support in his effort to block congressional inquiries," Whitehouse's complaint states.
The complaint also points to the "unpleasant fact" that "Alito's opining apparently at the behest of his friend and ally's lawyer, props up an argument being used to block inquiry into undisclosed gifts and travel received by Justice Alito."
"In the worst case facts may reveal, Justice Alito was involved in an organized campaign to block congressional action with regard to a matter in which he has a personal stake," the complaint reads. "Whether Justice Alito was unwittingly used to provide fodder for such interference, or intentionally participated, is a question whose answer requires additional facts. The heart of any due process is a fair determination of the facts. Uniquely in the whole of government, the Supreme Court has insulated its justices from any semblance of fair fact-finding."
"The obstructive campaign run by Mr. Rivkin and Mr. Leo, fueled by Justice Alito's opining, appears intended to prevent Congress from gathering precisely those facts," the complaint adds. "The Supreme Court should not be helpless when it comes to policing its own members' ethical obligations. But it is necessarily helpless if there is no process of fair fact-finding, nor independent decisionmaking. I request that you as chief justice, or through the Judicial Conference, take whatever steps are necessary to investigate this affair and provide the public with prompt and trustworthy answers."
News
Independent, nonprofit journalism needs your help.
Please Pitch In
Today!